Arroz Caldo is a savory, flavorful Filipino rice porridge with chicken and a crispy garlic topping. Try this perfect comfort food tonight!
This flavorful Filipino soul food Soup Recipe is similar to American Chicken and Rice Soup, but with a much thicker consistency and richer depth of flavor. The warm, savory rice porridge, filled with tender chunks of chicken and topped with crispy garlic chips, is ready in only an hour too!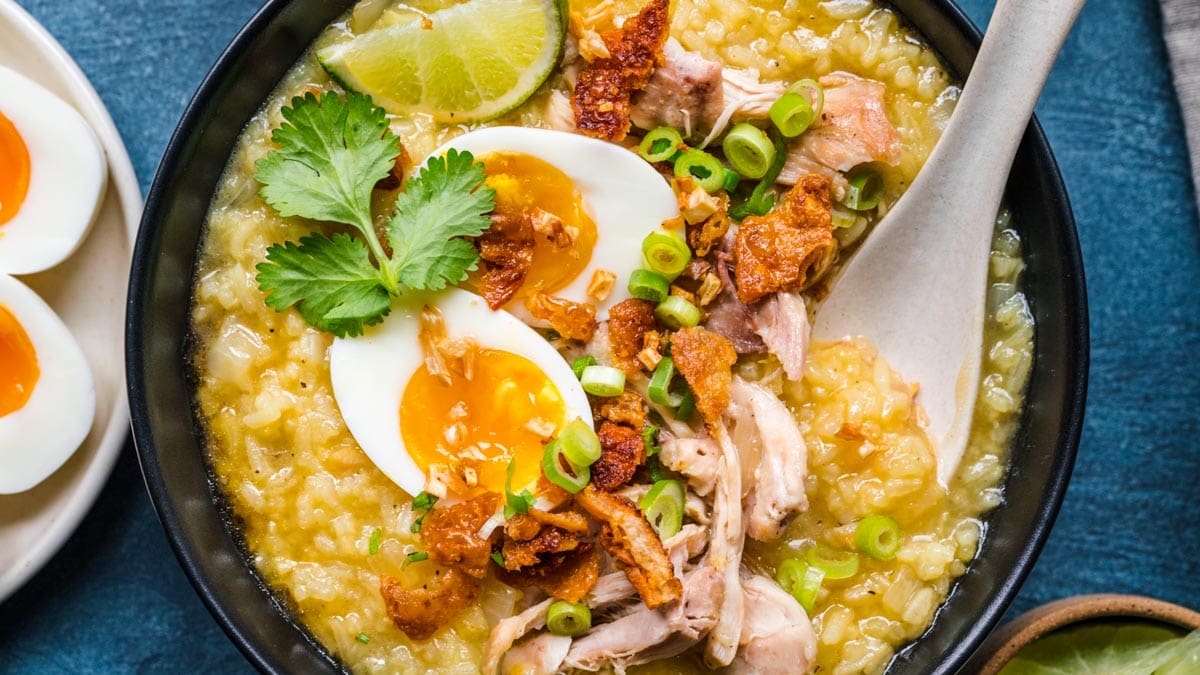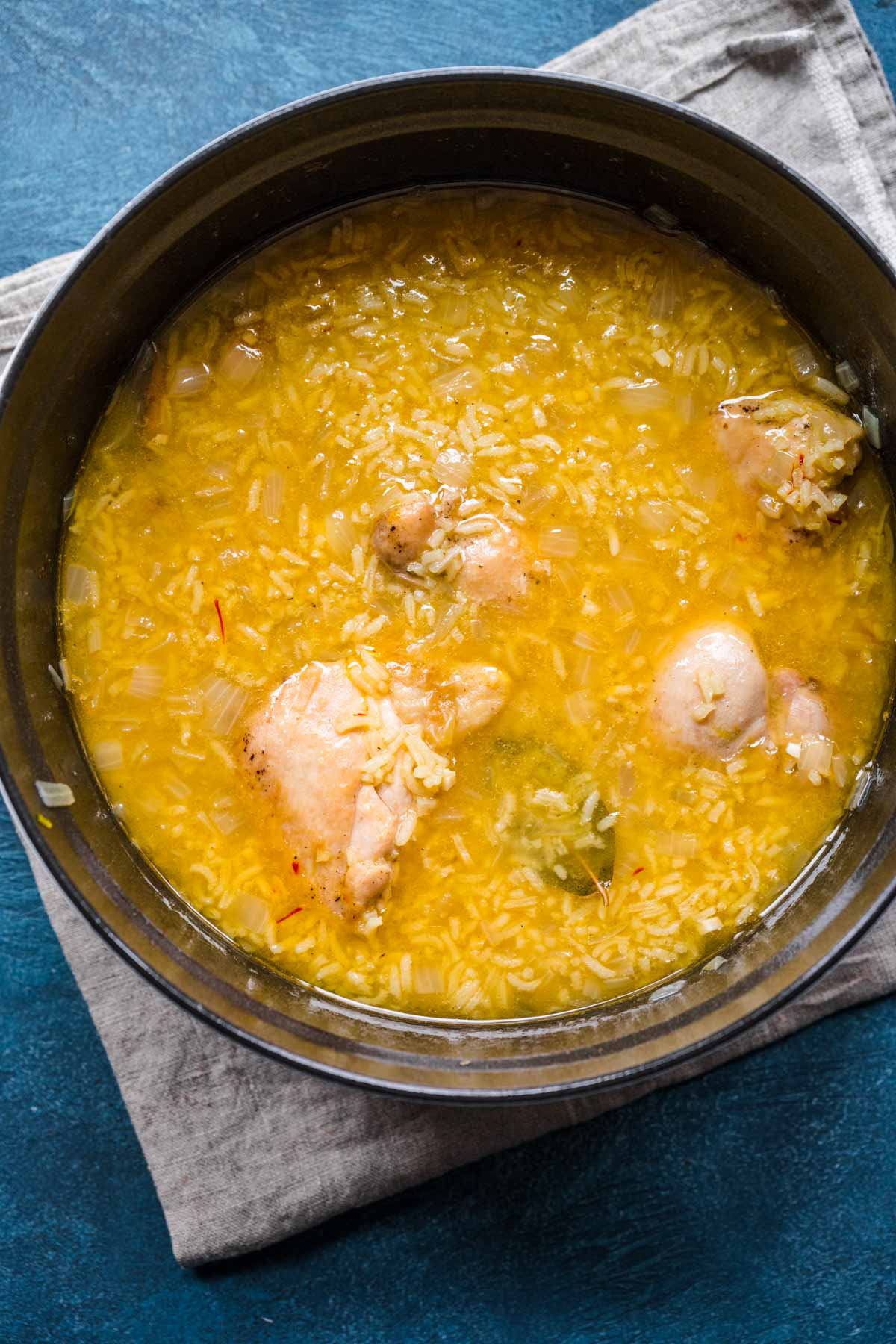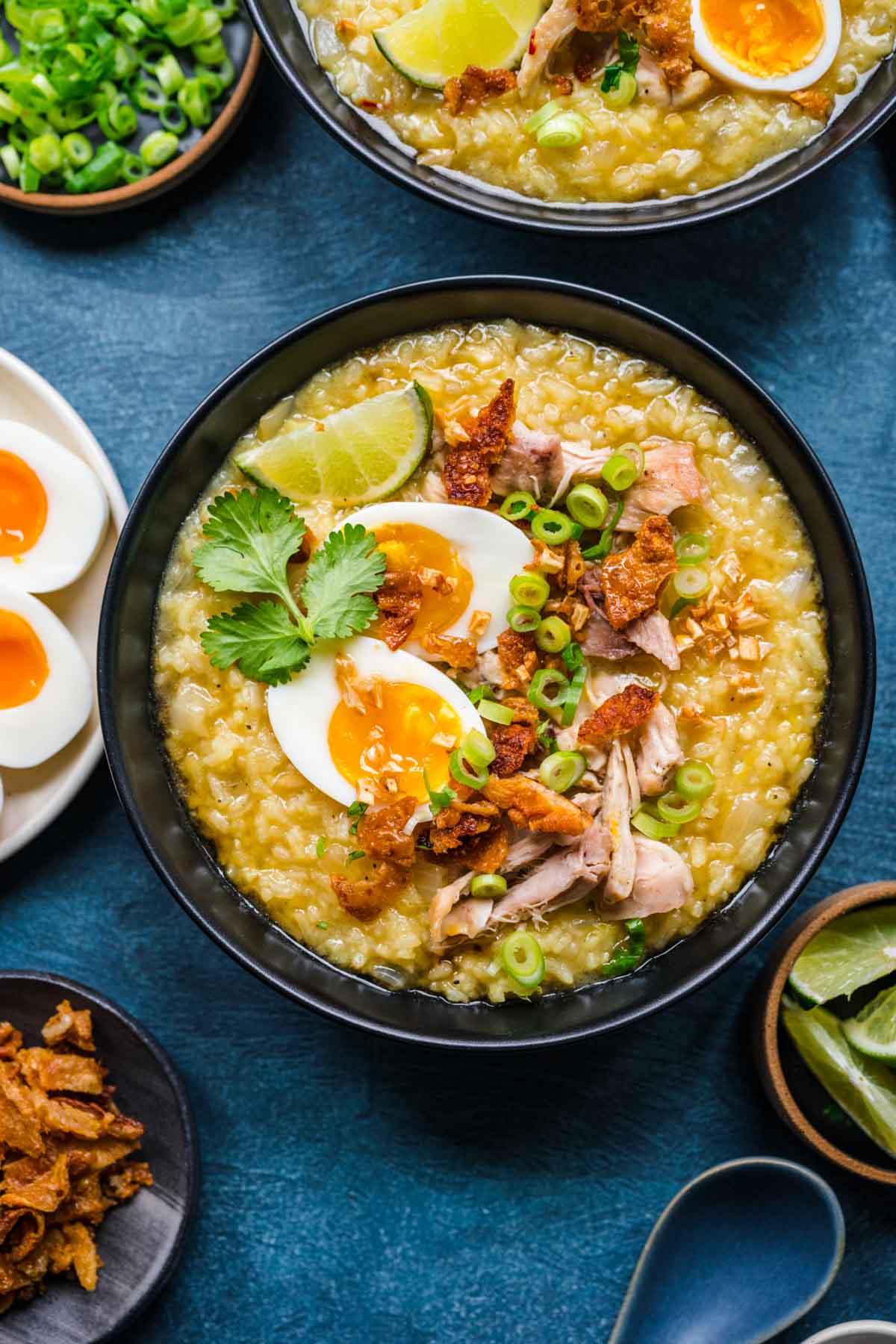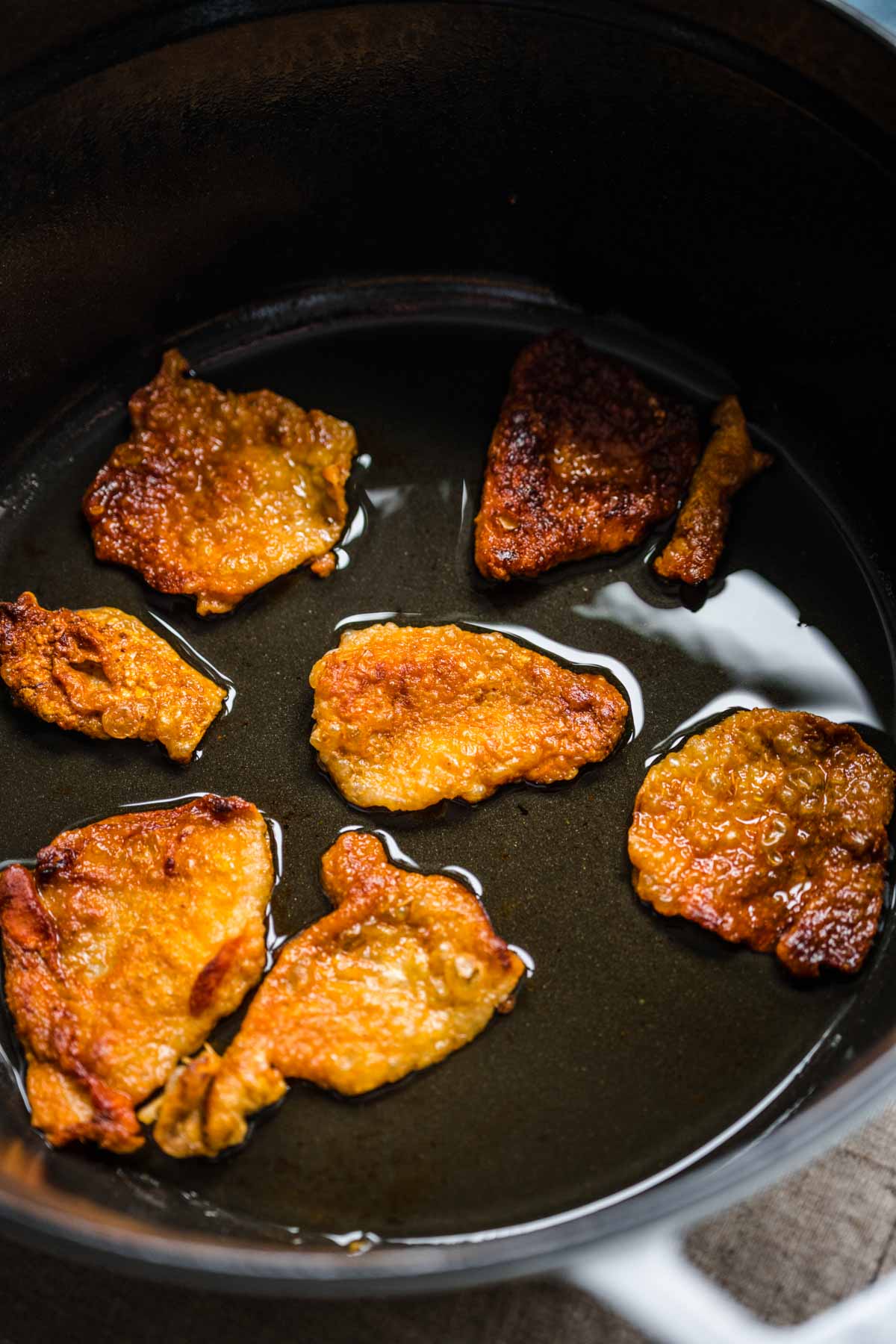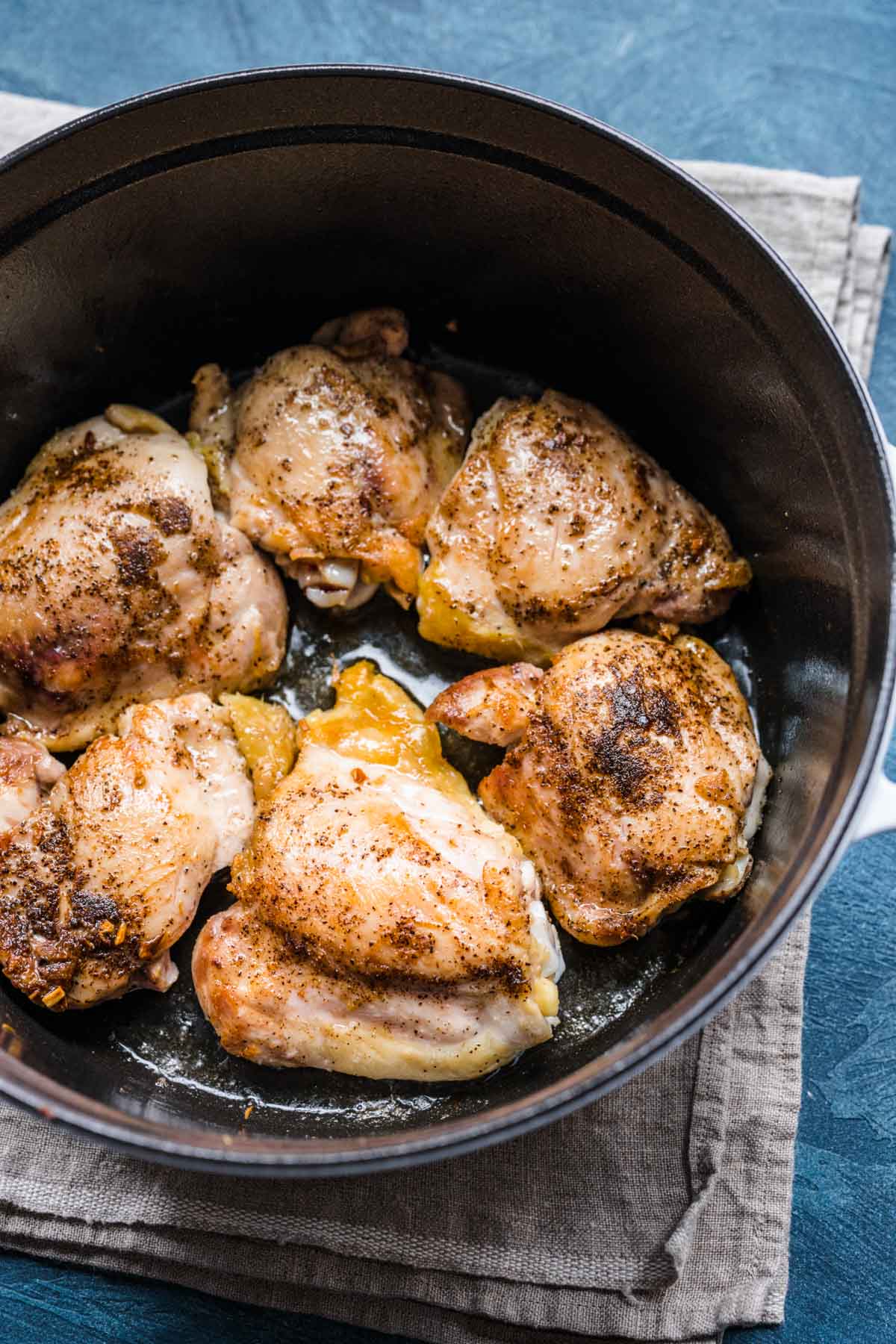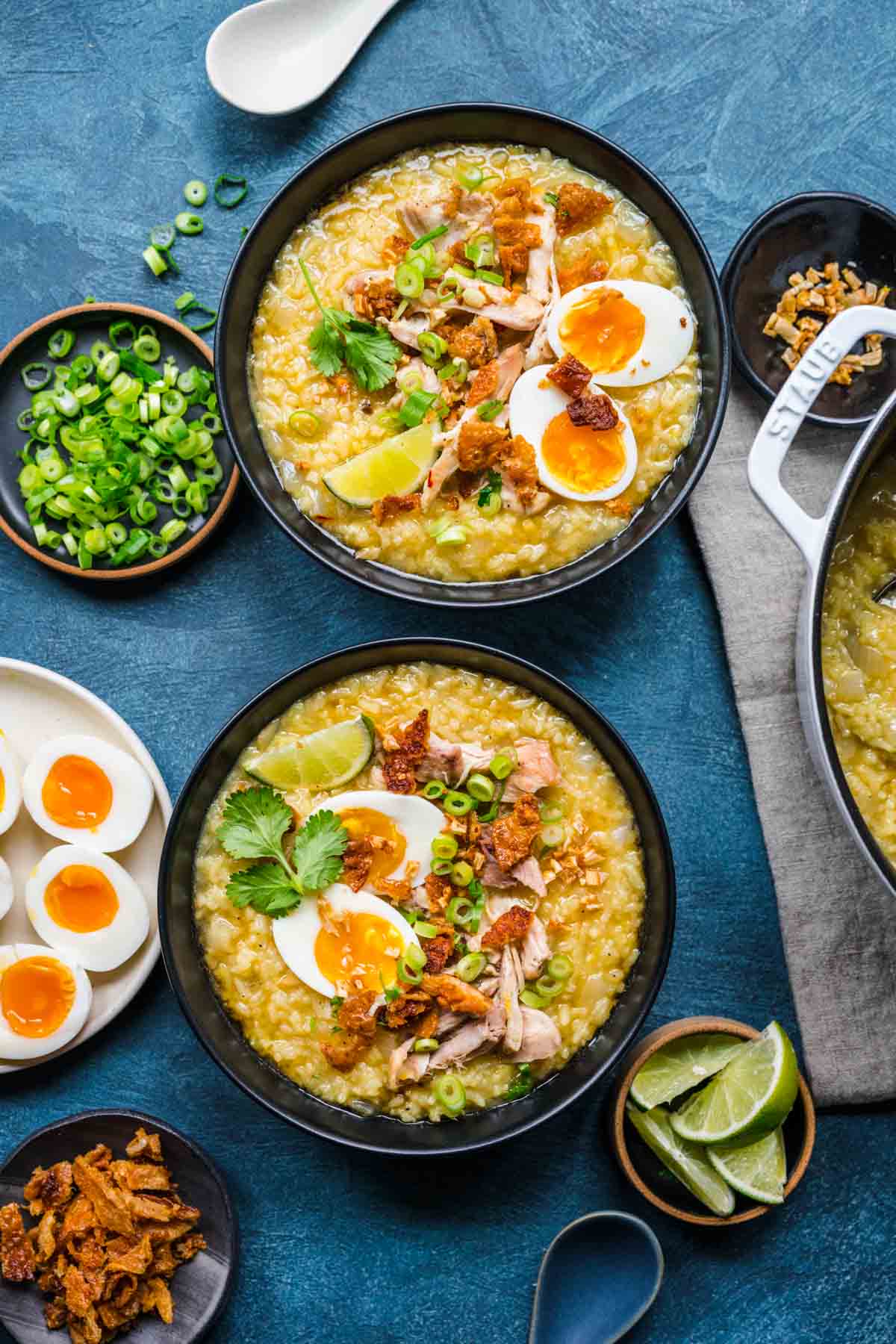 About our Arroz Caldo Recipe
A comforting bowl of Arroz Caldo is a staple food in the Philippines. It's a chicken rice congee. Congee is like a rice porridge, common in Asian cooking. But, unlike Rice Pudding, which you might be used to, this is a main dish and not a dessert. Basically this classic comfort food dish is like a Filipino Chicken and Rice Soup, but with a consistency similar to rice porridge.
The rice and chicken porridge is the ultimate cold weather comfort food dish to enjoy on cool weather days with some sweet Hawaiian Bread. There's nothing like a bowl of soup to get you feeling warm. In the Philippines, Chicken Arroz Caldo is also a common breakfast dish. The filling and protein-rich dish is sure to keep you satisfied through the day.
Arroz Caldo Ingredients
Chicken Thighs: Chicken thighs have juicy dark meat that is perfect for this delicious hearty dish. If you prefer, you can make this recipe with bone-in chicken breast instead of chicken thighs. You don't want to use boneless chicken or you can't make the delicious crispy topping. The chicken breast will also take a few fewer minutes to cook through than chicken thighs do.
Rice: Use an aromatic white rice like Jasmine rice or Basmati rice for the best flavor and texture. You can also use other long grain white rice if you prefer though. If you use brown rice, you will need to add more broth and cook it longer.
Seasonings: The blend of zesty lime and fresh ginger pieces add brightness to this savory dish. The gingery flavor cuts through the fattiness from the chicken skin. Even more cloves of garlic add lots of aromatic warmth. Finally there is a floral earthiness from the saffron and bay leaves.
Toppings: You can skip the toppings if you don't have them on hand. But, for the most authentic presentation and flavor, add fish sauce, a soft or hard-boiled egg, salt, cilantro, and green onions to each bowl of rice porridge. The fish sauce is particularly important to the taste of the overall dish.
Kitchen Tools & Equipment
Dutch Oven: A good quality dutch oven is the best tool for making this thick savory rice porridge! It can handle high heat, so you don't lose any of that amazing flavor you built up by rendering the chicken fat and frying the garlic.
Kitchen Shears: Having a sharp pair of kitchen shears makes tasks like trimming the chicken skin easy and quick. Plus if you start with a whole chicken instead of thighs, it makes breaking down the bird much easier.
How to Make Arroz Caldo
Time needed: 1 hour.
Prep the Chicken

If the chicken thighs are frozen, make sure you transfer them to the fridge with enough time for them to thaw before starting the recipe. Then remove the chicken skin from the chicken.

Fry the Chicken Skin

Add vegetable oil to a large dutch oven or heavy pot. Start with the heat at medium heat, then reduce it to medium-low. Add the chicken skin to the pot and let it cook for 8-10 minutes. The fat will render from the skin and crisp up. You want the skin as crispy as you can make it before it burns. Remove the chicken skin from the heat, and trim off any parts that didn't crisp up well. Then chop the rest and reserve it for later.

Make the Garlic Chips

Add the garlic to the pot, and stir to coat the minced cloves garlic. Cook for 1 minute so that the garlic is just starting to brown. The garlic cloves will continue to brown after you remove them from heat, so be careful to remove them and not let them burn. Use a slotted spoon to remove the garlic, and leave it with the crisp chicken skin for later.

Cook the Chicken

Season the skinless chicken thighs with kosher salt and black pepper. Raise the stove heat to medium, and add the chicken thighs to the same pot you prepared the crispy topping in. Cook them for 5-7 minutes on each side. Then remove the chicken from the pot.

Prepare the Rice

Add the onion, stir and cook for 4-5 minutes until it's translucent. Then add the ginger and garlic, and cook for another minute. Add the grains of rice, and stir so that they're coated in the fat from the pan. Cook for 30 seconds like that, then add the chicken broth and bring it to a boil. Reduce the heat to a simmer, then add the chicken thighs, bay leaves, and saffron.

Cook the Porridge

Cook the chicken and rice for 25-30 minutes until they're both tender. You can leave the thighs whole for a more authentic look or remove them to slice into smaller chicken pieces for eating. Then remove the bay leaves and stir in the lime juice. You can also add additional wedges to garnish.

Garnish and Serve

Microwave the garlic and chicken skin for 5 seconds to reheat them. To serve, spoon the rice soup into a bowl topped off with one chicken thigh, 1 halved soft boiled egg, salt, cilantro, a lime wedge, Asian fish sauce, and green onions. Then finish it all by sprinkling the crispy garlic and chicken on top of the Arroz Caldo.
Nutritional Facts
Nutrition Facts
Arroz Caldo
Amount Per Serving
Calories 497
Calories from Fat 252
% Daily Value*
Fat 28g43%
Cholesterol 177mg59%
Sodium 1464mg64%
Potassium 461mg13%
Carbohydrates 31g10%
Protein 29g58%
Vitamin A 195IU4%
Vitamin C 7mg8%
Calcium 55mg6%
Iron 2mg11%
* Percent Daily Values are based on a 2000 calorie diet.
Cooking Arroz Caldo Recipe Tips & Tricks
Make your Arroz Caldo taste authentic and traditional with these tips.
Don't Burn the Garlic

Nothing can turn a dish faster than burnt garlic, so make sure to keep an eye on it and don't let it burn. The key is to heat the oil on low so that it's hot but not hot enough to fry the garlic. As soon as the garlic turns golden brown, take it out and drain it. It will get crunchy as it rests and cools.

Crispy Chicken Skin

Before you start frying your chicken skin, you want to pat it dry as well as you can. Any excess moisture could make the skin boil in the oil instead of fry which will make it soggy. Letting it cool and drain on a wire rack instead of paper towels so the air circulates around it will keep it crispy.
How to Store Arroz Caldo
Store: After cooking, don't leave Arroz Caldo at room temperature for more than 2 hours. To keep leftovers, transfer the rice and chicken pudding to an airtight container. It can stay good in the fridge for 2-3 days.
Reheat: It's best to reheat Arroz Caldo slowly on the stove top in a covered pan. Stir it occasionally until it's heated through. Since it will probably be much thicker the next day, add some extra broth until it's the consistency you like.
Freeze: You could also divide up the pot into freezer-safe containers. Keep it frozen for up to 3 months. Let the porridge thaw overnight before reheating as above.
FAQ for Arroz Caldo
Where does Arroz Caldo come from?
Arroz Caldo is a Filipino chicken and rice dish. This recipe was inspired by the traditional Arroz Caldo I had the chance to eat in the Philippines. I've included all the traditional add-ins: a soft-boiled egg, fish sauce, green onions, and a crispy garlic topping to finish the comforting chicken bowl.
What is the difference between Arroz caldo and Lugaw?
Basically, Lugaw refers to most rice porridge dishes, but it is more of a simple rice porridge recipe. Arroz Caldo on the other hand includes ginger and chicken pieces so that is what makes it different than just a basic Lugaw dish.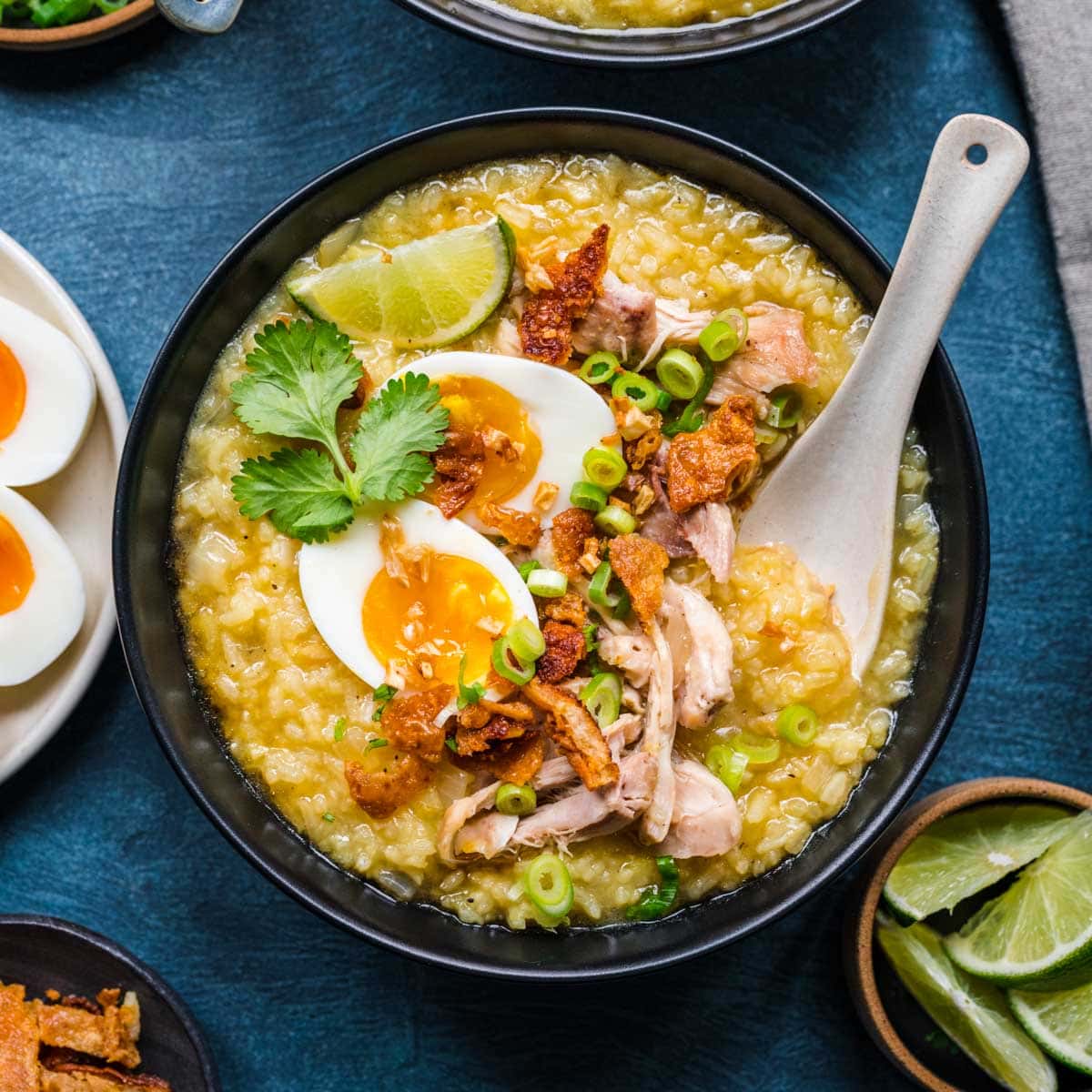 Recipe Card


Ingredients
For Crispy Topping:
1

tablespoon

vegetable oil

6

chicken thighs

, bone in, skin on

8

cloves

garlic

, chopped (do not mince too finely)
Soup:
1

teaspoon

kosher salt

1/2

teaspoon

coarse ground black pepper

1

yellow onion

, chopped

1

tablespoon

fresh ginger

, minced

3

cloves

garlic

, minced

1

cup

jasmine rice

6

cups

chicken broth

2

bay leaves

1

pinch

saffron

1

lime

, juiced
To Finish:
1

teaspoon

fish sauce

, to taste (about 1 teaspoon per bowl)

1

soft boiled eggs

, cut in half (1 per bowl)

kosher salt

, (sprinkled over egg)

1

tablespoon

cilantro

, minced (1 tablespoon per bowl)

2

tablespoons

thinly sliced green onions

, (about 2 tablespoons per bowl)

lime wedges

, (1-2 per bowl)
Instructions
Crispy Topping:
To a large dutch oven or heavy pot add the vegetable oil on medium heat, then reduce heat to medium-low.

Add the chicken skin and let cook for

8-10 minutes

as the fat renders from the skin and the skin crisps up (the crispier the better as long as it doesn't burn).

Remove the chicken skin, trim off any non-crispy parts, chop the rest of it and reserve.

Add the garlic, stir to coat and cook for

1 minutes

until garlic just barely begins to brown (it will continue to brown as you remove it, so don't wait too long or you will burn the garlic).

Remove garlic with a slotted spoon and set aside with the crispy chicken skin.
Soup:
Season the chicken thighs with salt and black pepper.

Raise heat to medium, add in the chicken thighs and cook for

5-7 minutes

on each side.

Remove the chicken from the pot, add in onion, stir well and cook for

4-5 minutes

until onion is translucent.

Add in ginger and garlic, stir and cook for

1 minute

.

Add in rice, stir to coat with the fat in the pan and cook for

30 seconds

.

Add in chicken broth, stir well and bring to a boil.

Reduce heat to a simmer, add in the chicken thighs, bay leaves and saffron.

Cook for

25-30 minutes

until rice is tender and the chicken is tender (you can leave on both for authentic presentation or remove chicken and cut into chunks for easier eating).

Remove the bay leaves, stir in lime juice before serving.
To Finish:
Microwave garlic and chicken skin for just

5 seconds

to heat through.

To serve, spoon rice soup into bowl, top with one chicken thigh, 1 halved soft boiled egg, salt, cilantro, lime wedge, 1 teaspoon fish sauce, green onions, crispy garlic and crispy chicken skin.
Nutrition
Calories:
497
kcal
|
Carbohydrates:
31
g
|
Protein:
29
g
|
Fat:
28
g
|
Saturated Fat:
7
g
|
Polyunsaturated Fat:
7
g
|
Monounsaturated Fat:
11
g
|
Trans Fat:
1
g
|
Cholesterol:
177
mg
|
Sodium:
1464
mg
|
Potassium:
461
mg
|
Fiber:
1
g
|
Sugar:
2
g
|
Vitamin A:
195
IU
|
Vitamin C:
7
mg
|
Calcium:
55
mg
|
Iron:
2
mg
Arroz Caldo Variations
Lemon Juice: To make Arroz Caldo with a fresh lemon flavor, you can use lemon juice instead of lime juice. Just mix the lemon juice into the recipe as usual, then serve the dish with a lemon wedge in each delicious bowl.
Seasonings: You could also add different flavorings to the rice and chicken soup with some simple spices. White pepper, coriander, fennel seeds, cumin, and curry powder would all taste quite good with the saffron flavor already in the recipe.