Black Pepper Bacon Biscuits are peppery, full of delicious bacon, cream cheese and buttermilk, they are fluffy and flaky.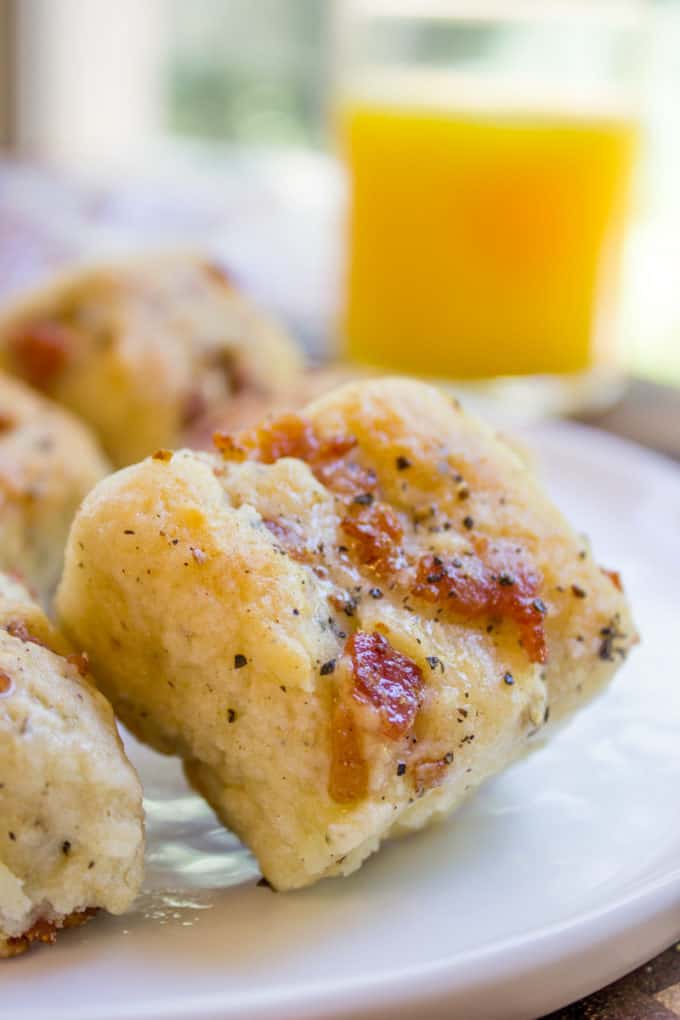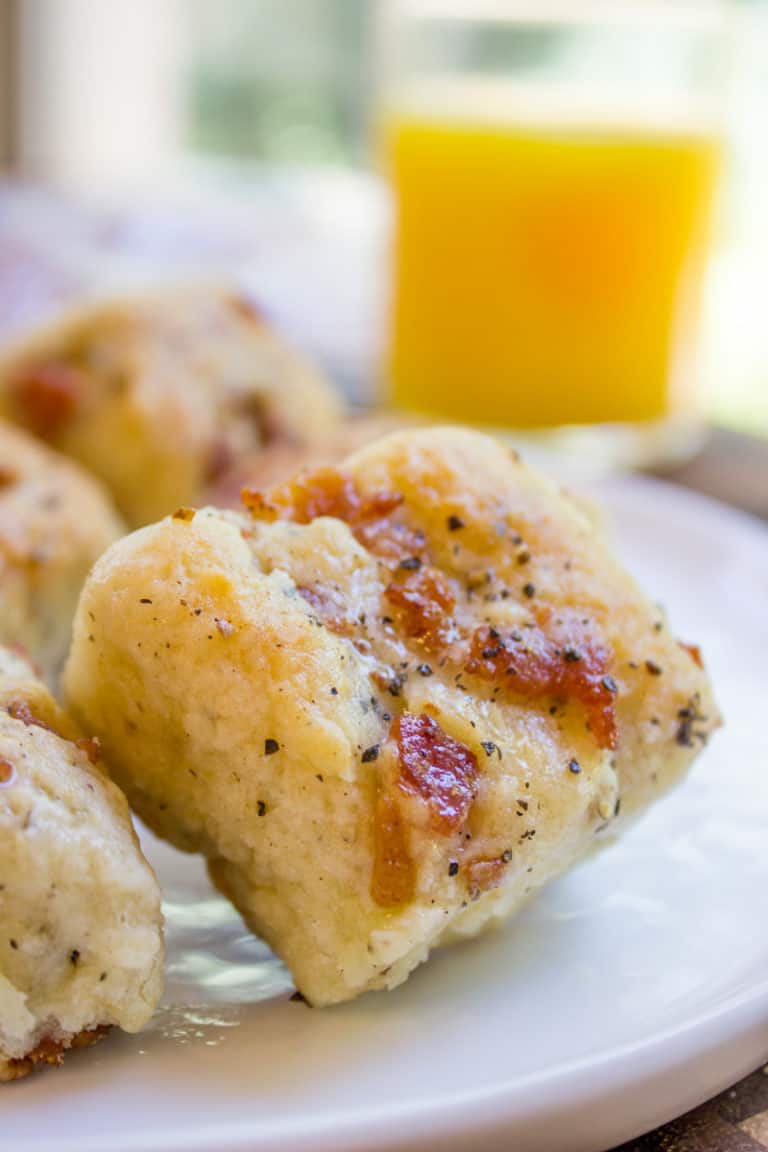 Black Pepper Bacon Biscuits may sound like a difficult biscuit to make, but they're actually super simple and easy and ready to go in the oven in less than 20 minutes. No mixers needed, and the biscuits are small enough that you can eat 2-3 of them and not even feel guilty. Not even a little bit.
The most important part when it comes to making biscuits is working quickly with your dough, the less you "handle" it the better, so once you get in there and incorporate the butter and cream cheese you really only need to mix in the Smithfield Hometown Original Bacon and black pepper for just a couple of seconds. Smithfield was generous enough to sponsor all this delicious bacon goodness going on in these Black Pepper Bacon Biscuits. I mean look at ALL THAT BACON! ?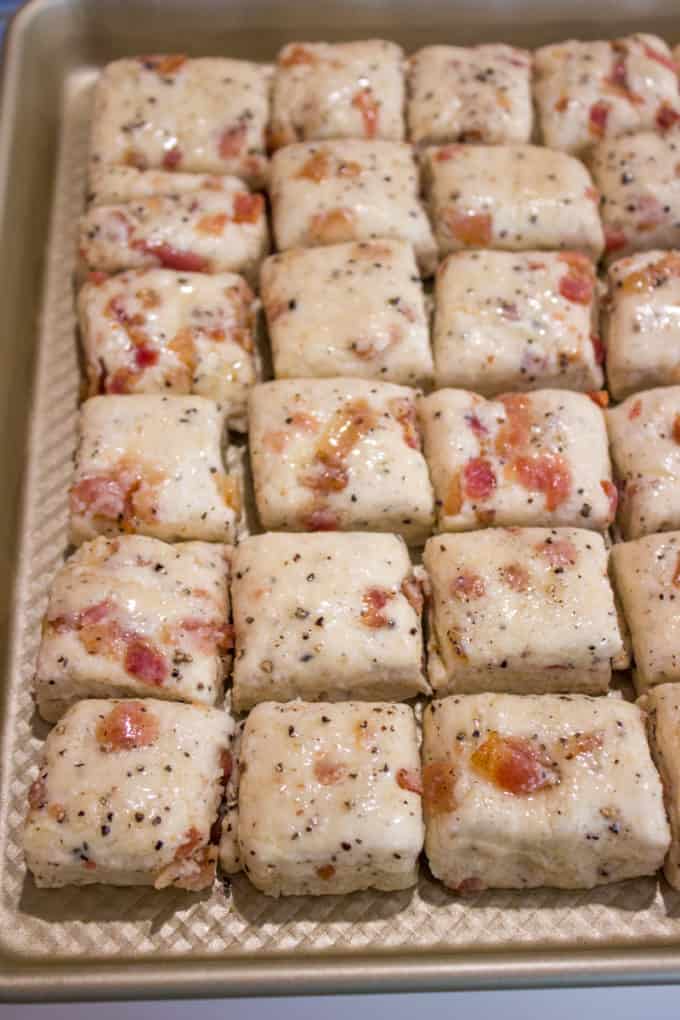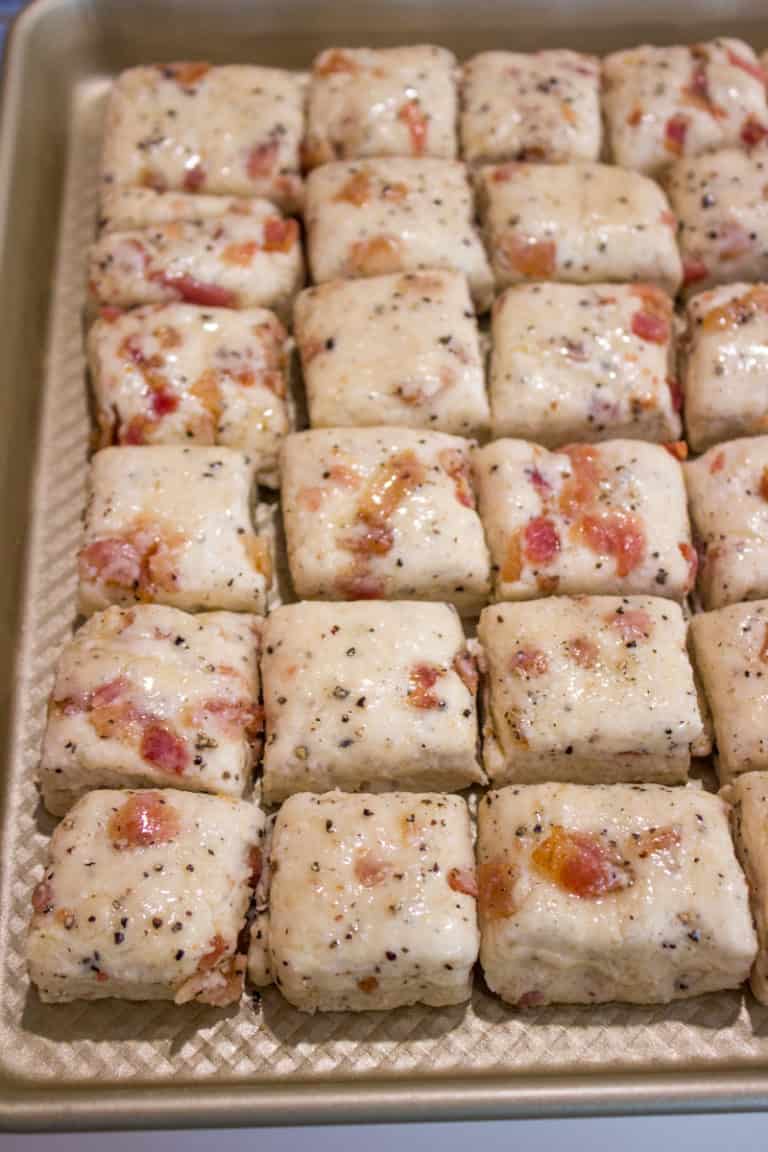 Smithfield has a large variety of flavors and cuts including the Hometown Original that I used in this recipe, Thick Cut which is my go to for when we have bacon served as a side to our breakfasts (especially when I oven bake with toppings like brown sugar), Cherrywood and Applewood.
You can find Smithfield bacon pretty easily at your local grocery store. If you like chewier bacon instead of crispier bacon, I would also suggest the Thick Cut bacon, which is awesome in it's own right.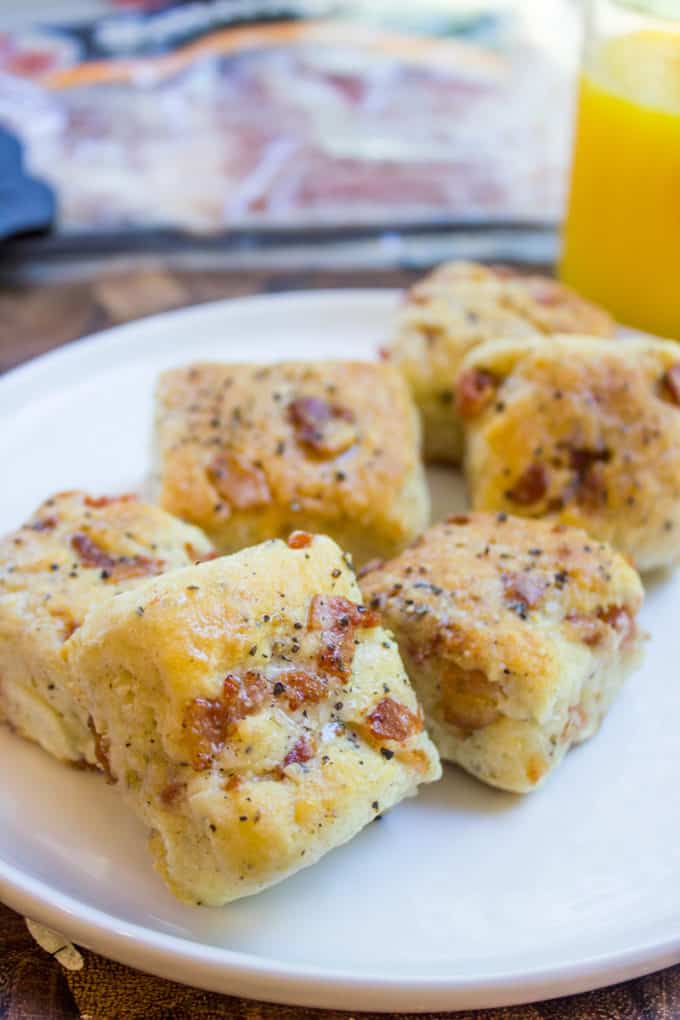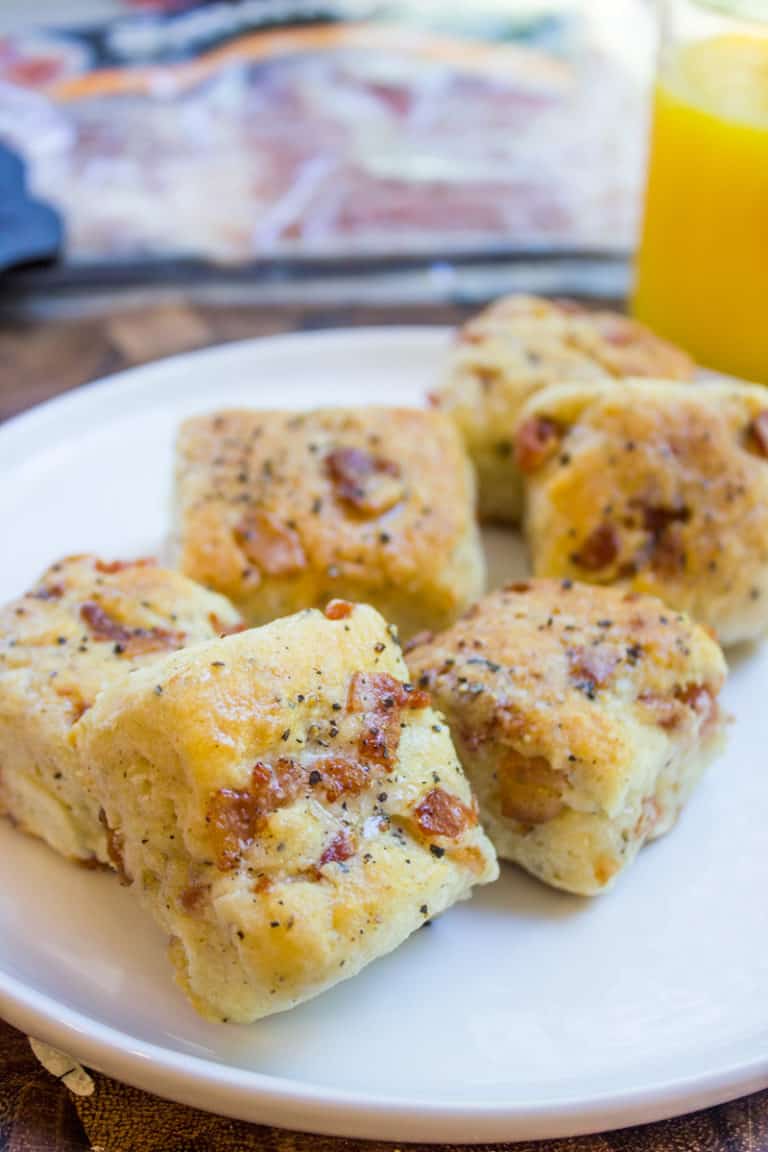 The best part of this recipe is that with just a few minutes of work you can feed a huge crowd (this recipe makes 36 biscuits!) or you can cut them into larger sandwich sized biscuits and still make 16 very generously sized biscuits.
I made these Black Pepper Bacon Biscuits for a brunch with a large group of friends. I cut the dough into 16 biscuits, then filled each one with scrambled eggs and some sharp cheddar (I'm a huge fan of sharp cheddar). I wrapped each one in foil and kept them warm in the oven. The foil helps to keep the moisture in sandwich. At least 2 or 3 people requested maple syrup for their sandwiches… which tasted AMAZING.
You can also prepare the dough, bake them, and freeze them for later. I keep them in the freezer and take them out to toast on low heat in the toaster oven.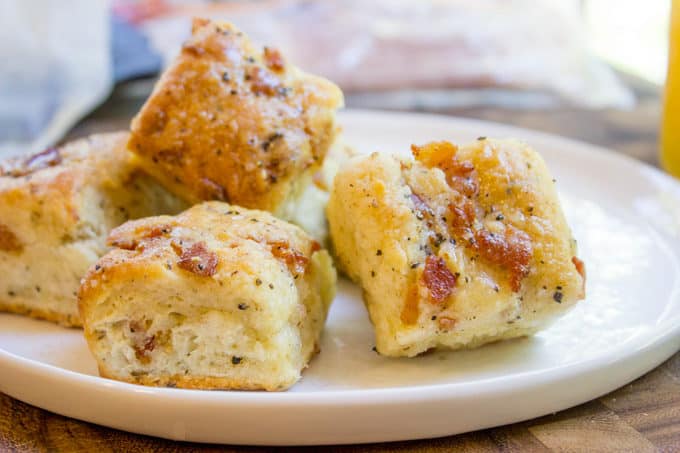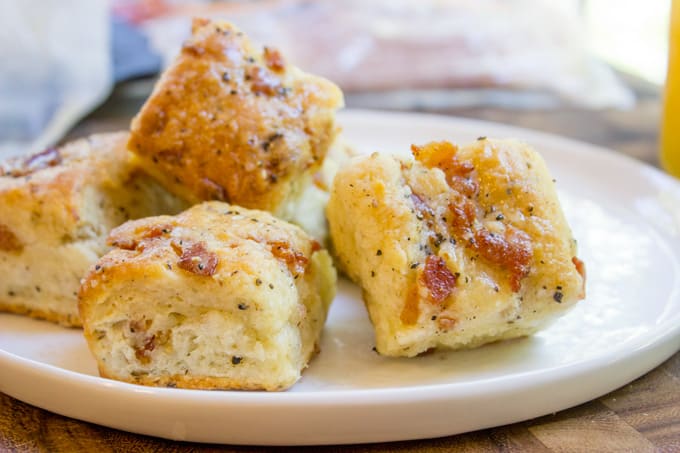 Ingredients
4

cups

self-rising flour

, plus more for dusting

8

tablespoons

cold butter

, cut into small cubes

4

ounces

cold cream cheese

, in small chunks (½ box)

2

teaspoons

coarsely ground black pepper

1 1/2

cups

whole buttermilk

1

pound

cooked Smithfield Hometown Original Bacon

, crumbled

topping: 1 teaspoon Kosher salt and ¼ teaspoon coarsely ground black pepper
Instructions
Preheat oven to 450 degrees.

In a large bowl, add in the flour and add the cubed butter into the flour, then the cream cheese into the mixture with a

pastry cutter

or mixing with your hands quickly until it looks like little pea sized crumbles and some flour.

Add in the black pepper and the bacon.

Make a well in the center of the mixture and add the buttermilk and mix together with your hands.

Flour the mixture just enough to separate the dough from the bowl. Flour a flat surface and dump the dough onto the surface.

Flour a rolling pin and roll the dough out to ½ inch thickness in a rectangle.

Cut the biscuits into 2 inch by 2 inch squares.

Place the biscuits on an ungreased baking sheet so that the sides are touching, but not snugly pressed against each other.

Brush the tops of the biscuits with butter, and sprinkle the salt and pepper topping on top.

Bake

15-17 minutes

, rotating the pan halfway through baking.
Nutrition
Calories:
142
kcal
|
Carbohydrates:
10
g
|
Protein:
3
g
|
Fat:
9
g
|
Saturated Fat:
4
g
|
Cholesterol:
19
mg
|
Sodium:
126
mg
|
Potassium:
58
mg
|
Vitamin A:
140
IU
|
Calcium:
19
mg
|
Iron:
0.2
mg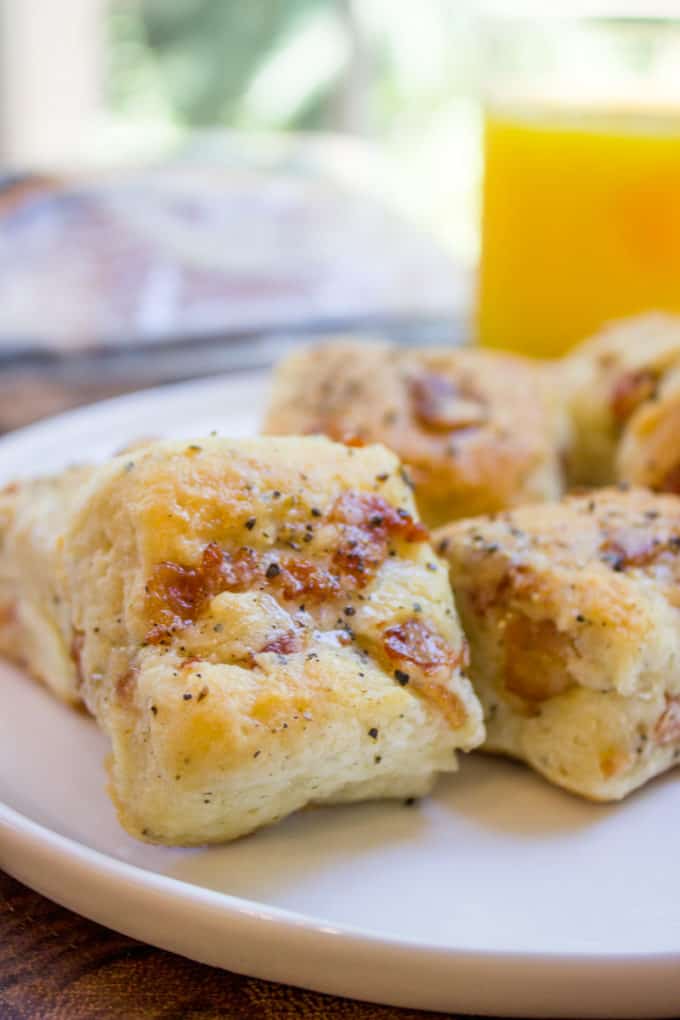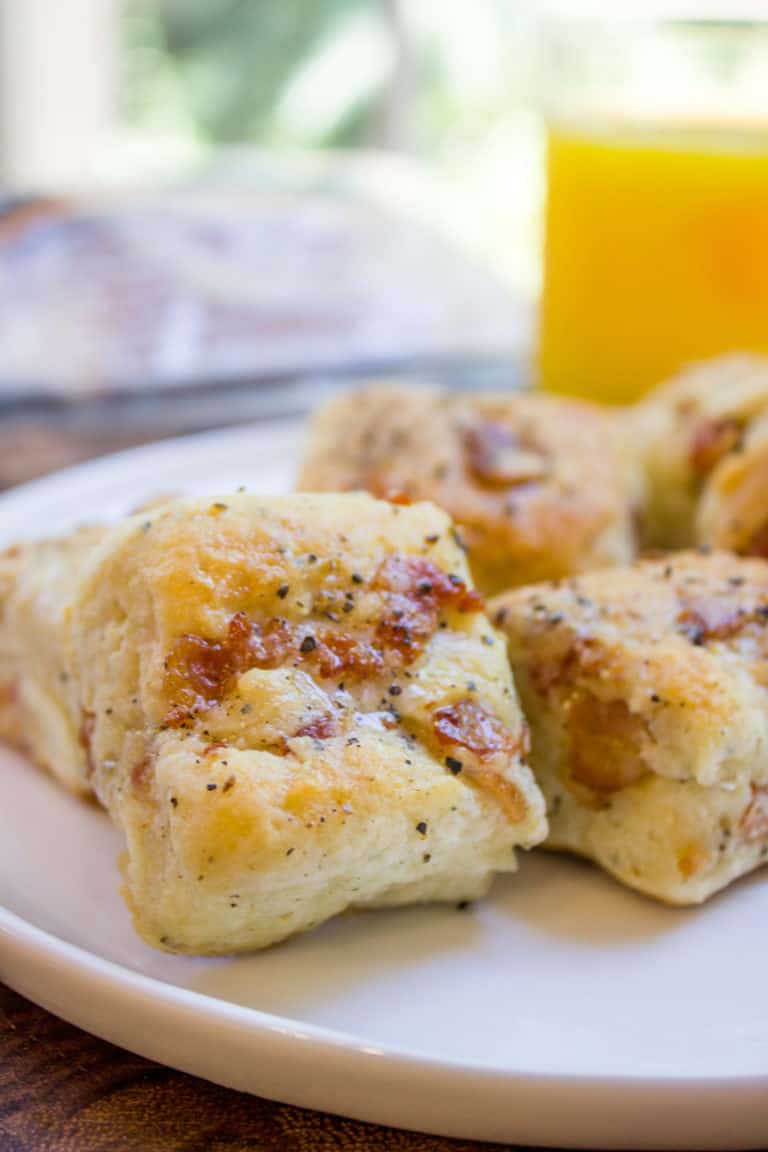 For more meal inspiration and recipe ideas, visit Smithfield's Website or visit them on Facebook.
This is a sponsored post written by me on behalf of Smithfield. All references to how delicious this bacon is and how amazing these biscuits taste are my own opinion.