Sweet Cinnamon Stix (Pizza Sticks) like the ones from Domino's… but better because of real butter! and sweet vanilla dipping sauce make pizza night at home feel like you ordered delivery.
It has been a while since I've posted a copycat recipe here. I know there was a wave of copycat recipes we were riding there a little while ago but with the holiday season my mind has wandered to the flavors of the season. Pumpkin has been a huge flavor of the month and with Halloween around the corner my mind has been focused on desserts. This dessert is a nice departure from all the pumpkin and candy.
This recipe also benefits from using a similar dough to the Pizzeria Garlic Knots I recently posted. The differences are the oil used in the dough (olive oil would be too strong a flavor for this recipe) and way it is baked. With the pizza knots we cut the dough into strips and make them into knots, but here we leave it in one piece. You could, if you weren't looking to mimic the Domino's recipe actually make these into knots too, they would still be absolutely delicious that way!
The original Cinnastix are basically a half a pizza dough brushed with a butter substitute, sprinkled with cinnamon sugar, then baked. This recipe makes a full tray full of slices and is made with all natural ingredients and actual butter. Something else to consider is these won't even cost you a dollar. Okay, okay maybe for the whole batch *which is twice what you would get at Dominos* this recipe may cost a dollar. That is less than you would tip your delivery guy (at least I hope it is less!).
The great thing about this dough, that I mentioned last week too, is that you don't have to take the extra time to let it rise. If you have a bit of extra time to let it sit it will be slightly chewier and more flavorful, but the beauty of this dough is that it doesn't need the extra time. We also add the cinnamon sugar in two parts to the dough, half before baking and half after. This makes for a nice crunch on the dough where the sugar caramelized in the oven and has a soft coating of fresh cinnamon sugar for after that will leave a nice cinnamon sugar lipstick on you with each bite!
So pull out the stand mixer, give yourself just a few extra minutes and save the cash you would be spending ordering out!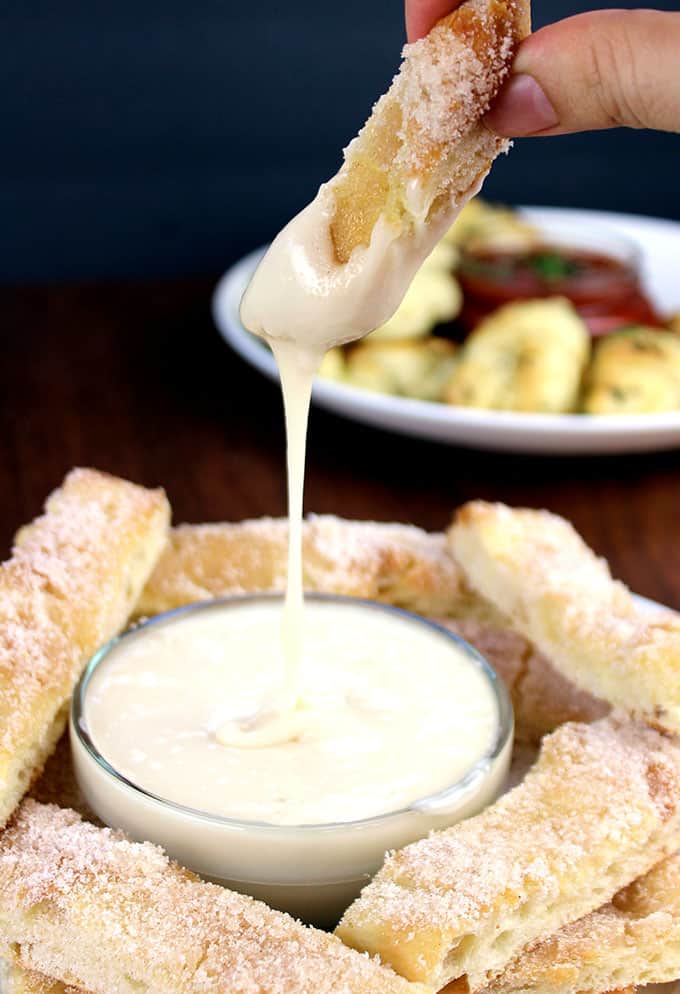 Ingredients
3

cups

all-purpose flour

2 1/4

teaspoons

active dry yeast

2

tablespoons

canola oil

1/2

teaspoon

salt

1

tablespoon

white sugar

1

cup

warm water

(110 degrees F)

2

tablespoons

unsalted butter

, melted

1/2

cup

sugar

2

teaspoons

cinnamon

4

cups

powdered sugar

3

tablespoons

milk

2

teaspoons

vanilla
Instructions
To make the dough:

Add the flour, salt, sugar, and yeast in a large bowl.

Add in the canola oil and warm water.

Roll the dough out into a 13x6 dough rectangle.

Add to baking sheet that has been lined with foil or sprayed with oil.

Brush with melted butter.

Add the cinnamon to the sugar and mix.

Sprinkle half the mixture over the dough.

Bake at 375 degrees for

10-12 minutes

or until browned.

Sprinkle over the remaining cinnamon sugar mixture.

Cut into 1 inch strips.

To make the sweet dipping sauce:

Add the powdered sugar, milk and vanilla together and mix.

Microwave for

five seconds

to warm.
Nutrition
Calories:
177
kcal
|
Carbohydrates:
37
g
|
Protein:
2
g
|
Fat:
2
g
|
Cholesterol:
2
mg
|
Sodium:
51
mg
|
Potassium:
29
mg
|
Sugar:
24
g
|
Vitamin A:
30
IU
|
Calcium:
6
mg
|
Iron:
0.8
mg