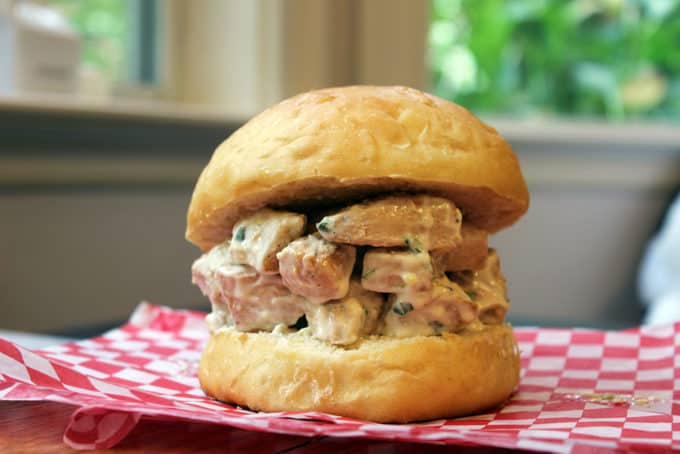 Perfect for a picnic, these Tarragon Lemon Chicken Salad Sandwiches are done in less than five minutes. Also works great as a refreshing tarragon lemon aioli! Tell me if this has ever happened to you… You find an amazing recipe online that you just HAVE to try! Then you go out to buy all the ingredients, walk over to the fresh herb section and see that the herb you need is 2.99 and you need exactly 1 teaspoon of it.  For me, a mental game ensues in my head:  "C'mon, I have this herb in my spice cabinet, how much worse could it make the dish if I used the dry version??" then the OCD, chef part of my head takes over and I think "NO!! It looked amazing, you have to recreate it PERFECTLY!"
Fast forward to me, waiting in the checkout line, resigned to paying the 2.99 because I have to make it exactly as written. Quick note, anytime I try a new recipe I do it EXACTLY as written. Then if I love it or if it has potential I make it a second time and make adjustments to taste. This makes for a fun game! You will also surprise yourself if you follow this philosophy. I have found new flavor combinations I otherwise would not have tried on my own that I absolutely love by following a recipe instead of adjusting it to flavors I'm used to.
Today's herb in the spotlight: Tarragon.  Every time I buy tarragon for a recipe, I use exactly 5% of it and end up with moldy tarragon in the fridge three days later. I am normally a pretty easy going person, but seeing food go to waste is one of my biggest pet peeves, so every time I buy a fresh herb or some other similarly seldom used ingredient, I try to make other recipes that use it as well.  In this case I made a new recipe that I hoped would be delicious (spoiler… it was not) and I was left with almost all of the tarragon. It took me 5 seconds of disappointment in my recipe fail before I pulled out my defrosting skinless chicken breasts and got to work making this chicken salad.
This recipe has some nostalgia for me. When I was pregnant with my youngest I was feeling pretty awful most of the time. I didn't want the attention and just wanted to hibernate. 22 weeks of morning sickness so bad you need two different prescriptions for nausea will do that to you! My mother-in-law offered to throw me a baby shower. I initially refused, but then came around to the idea. This chicken salad was made into tea sandwiches at the shower and was my favorite recipe of the day. I've since made this recipe a half dozen times and I am always reminded of that lovely day and my dear friends and family who were there to celebrate.
This recipe is a really quick and simple dish. The flavors are bright and lemony. If you skip the chicken, this makes a fantastic aioli that can be used on almost any sandwich to your hearts content (I have also used it to dip freshly roasted yukon potato wedges in it and I have to tell you I did it quietly so I didn't have to share any!)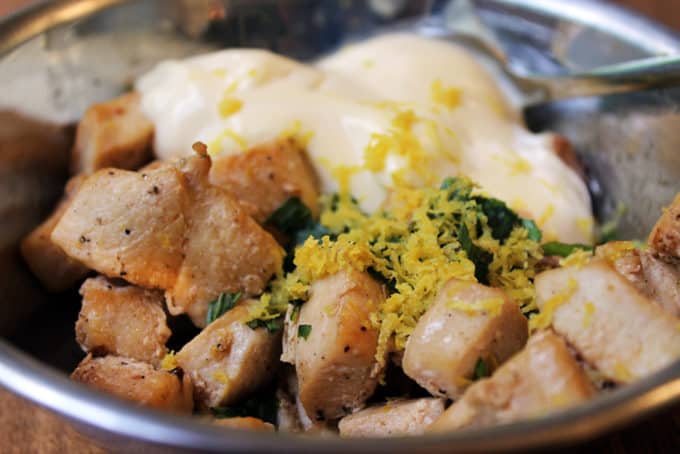 Ingredients
2

pounds

chicken

, cooked and cubed (I grill my chicken, but have also roasted, skin on with salt and pepper in the past)

1/2

cup

mayonnaise

3

tablespoons

fresh lemon juice

2

teaspoons

lemon zest

2

tablespoon

tarragon

12

slices

sandwich bread
Instructions
Mix all the ingredients together.

Let sit for

30 minutes

for flavors to combine before spooning onto sandwich bread.
Nutrition
Calories:
404
kcal
|
Carbohydrates:
37
g
|
Protein:
9
g
|
Fat:
24
g
|
Saturated Fat:
5
g
|
Cholesterol:
20
mg
|
Sodium:
1427
mg
|
Potassium:
210
mg
|
Fiber:
2
g
|
Sugar:
4
g
|
Vitamin A:
385
IU
|
Vitamin C:
5
mg
|
Calcium:
178
mg
|
Iron:
4
mg

 If you chop the chicken much smaller, you can make this filling into tea sandwiches as well. That is how the original recipe was made. A good addition to it would also be some thinly sliced cucumbers for a refreshing crunch!