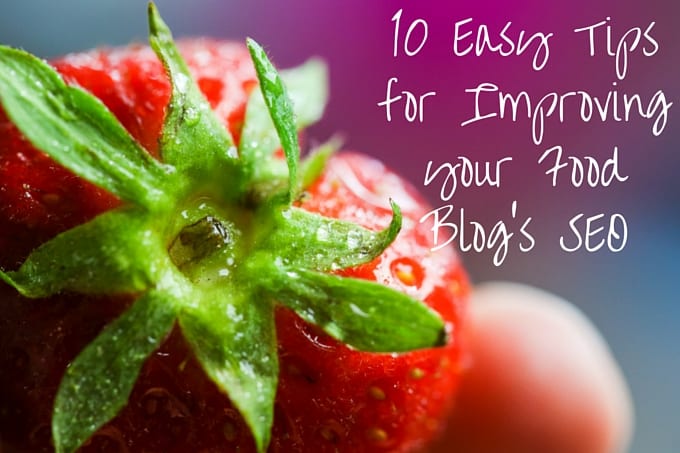 10 Easy Tips for Improving your Food Blog's SEO as a happy Friday to all my fellow bloggers! It has been a while since my last blogging post but in the last few days I've gotten a handful of comments here on the blog and almost a dozen emails asking for more details about how I have grown my Organic Google search traffic. I figured a fun top 10 (okay 11) would be a nice way to head into the weekend where you will hopefully have a bit of time to review and make some small edits.
Own your own domain, google loves blog's who are self hosted. It may be easier to start a free blog like dinnerthendessert.wordpress.com but you'll do yourself no favors when it comes to Google and your options for monetizing are almost non-existant.
Go secure. Google has released info that sites with SSL certificates will be ranked more favorably in new algorithms. Something to note, this may adversly affect ads being served on your page. The ads on my page are managed by AdThrive and in discussion with them, I learned an SSL certificate would impact my ads, so I am looking into other options. If your monetization strategy does not include ads on your page I highly suggest you get an SSL certificate. They can be purchased online for as little as $8.00.
Learn how to use Google's Keyword Planner and know who you are up against. If you want to rank for Chocolate Chip Cookies it is going to be an almost insurmountable battle against mega-sites like AllRecipes and Food Network. If instead you try to rank for Bakery Chocolate Chip Cookies you have a much better chance.
When you know what your keywords are make sure it is in your post name as well. Ie. my keyword for Bakery Chocolate Chip Cookies could be part of my post title Super Chewy Bakery Chocolate Chip Cookies.
Use your keyword as many times as you naturally can in your post. Instead of referring to the recipe in the post as "These cookies" or "this recipe" I use "These Super Chewy Bakery…." The more often your keyword appears in your post the more Google's indexing bot will believe your site is a valuable resource to show the person who is looking for Bakery Chocolate Chip Cookies. When you include the keywords, make sure you keep it in the same order. Don't write "These Chocolate Chip cookies taste like they came from the bakery" and think Google will read that with the same weight as using your chosen keywords of "Bakery Chocolate Chip Cookies."  I aim for 5 times per post, btw.
Save your images with those same titles. I know it can be convenient to label them "Cookie Bite" or "Cookie Stack" in editing, but for your final edits and uploads you are better off saving them as "Bakery Chocolate Chip Cookies 1" etc.
Make sure the same blurb you use for your Pinterest pins is the same blurb you use in your photo alt tags. It is easy enough to copy/paste. When you upload, click on the field for alt tags in the media manager in wordpress and paste the description there. This gives Google a way to read the photos. The one thing you want to avoid is not putting anything in your alt fields. It will hurt you in Google AND Pinterest (when someone pins the photo the description it will auto detect will be only your file name).
Use dashes (-) in your links instead of underscores or pluses. Dashes are easier for bots to read and therefore to index.
Keep an eye on your design. Google looks at how people before have reacted to your site. If you rank for Bakery Chocolate Chip Cookies and start getting great traffic from it, but the people get to your page and you have 20 ads, some that go over the whole page or some that make people watch a video before clicking through to your page your bounce rate is going to soar. People are immediately going to hit "back" and look for an alternate. Google sees this and knows if your page is driving people away. Dinner, then Dessert normally serves 7-8 ads on the page, but I don't do any that pop up, any that auto play audio or any that make you wait 10 seconds to view content. While I am all about monetizing, you have to weigh what ads are just too far.
Don't duplicate content. Google really does not care for posts that are copied from other sources. So assume you do a guest post for another blog and then you make the same post on your own blog. Google is going to think much less of that content since it is duplicated.
Bonus tip, get Yoast! My SEO has drastically improved since implementing Yoast. I use the premium version, but even if you don't want to use the premium version, the free version will still help guide you in the right direction. Just don't fall into the trap of, "Oh I have the plugin, I don't need to do anything else for SEO."
Hope it helps, and as usual if you have any questions at all please don't hesitate to ask!