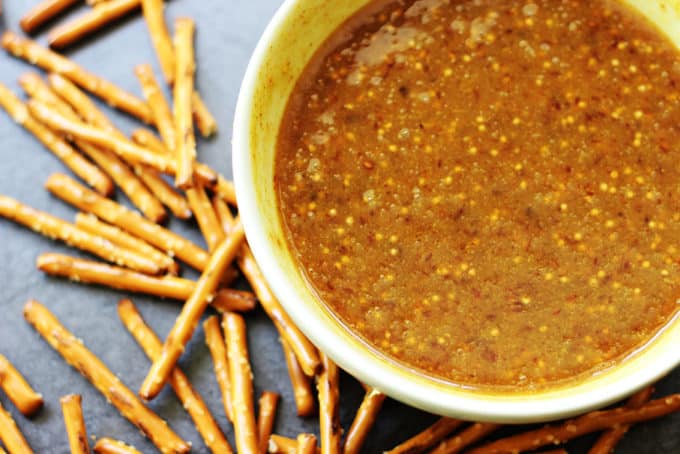 Spicy from the brown mustard, sweet from honey and raspberry preserves and just a hint of apple cider vinegar make this Raspberry Honey Mustard dip ADDICTING! Growing up my parents had very close friends who would send them pears from Harry & David every year. We were big fans of their fruit of the month club and of this dip! It has so many flavors that all work together so perfectly and happens to be one of their all-time best sellers (and a cinch to re-create)!
You would never think kids would fight over pears in your life, but these pears were the most amazing pieces of fruit ever. A box of 12 would usually last 2 days in the house and tears would be shed by whoever lost the argument for the last one.
In addition to those magical pears we actually also used to buy the most delicious Raspberry Honey Mustard Pretzel Dip. It was the tiniest bit spicy from the spicy brown mustard by sweet from the honey and the raspberries. See the great thing about that dip was anytime we had it we instantly had family time as everyone was reaching for the jar with a handful of pretzels. The bad thing was it is EXPENSIVE! On their website, 4 small jars are $32+tax and shipping! Save yourself abut 85% of the cost and make this dip instead!
That is where this delicious dip comes in. The last time I had one of the jars and I was down to the last little bit (you know, when you have such a thin layer left you can see through it to the bottom of the jar?) I decided to save it for re-creation purposes! I would give you the play by play on how to recreate it, but it is as easy as "Mix everything together," haha. Here is my best action shot before I took a whisk to the bowl!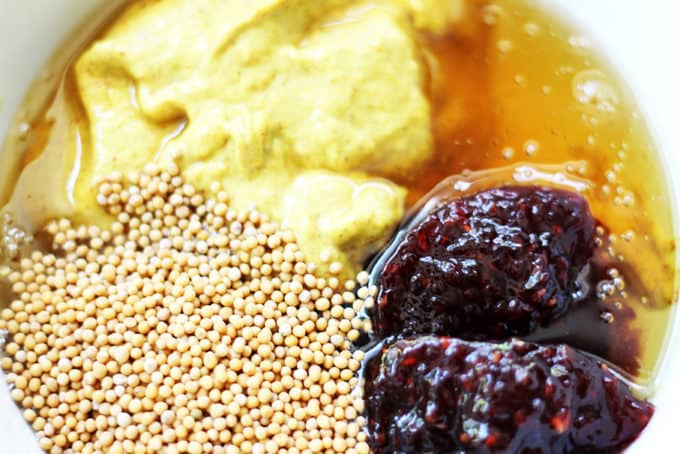 Ingredients
1/2

cup

honey

2 1/2

tablespoons

red raspberry jam

1/2

cup

spicy brown mustard

1

tablespoons

mustard seeds

1

teaspoon

apple cider vinegar
Instructions
Combine all the ingredients in a small mixing bowl.

Cover and refrigerate for

an hour

. The longer the recipe sits, the more the flavors meld and the seeds get a chance to soften.
Nutrition
Calories:
39
kcal
|
Carbohydrates:
9
g
|
Sodium:
71
mg
|
Potassium:
18
mg
|
Sugar:
8
g
|
Vitamin A:
5
IU
|
Vitamin C:
0.3
mg
|
Calcium:
6
mg
|
Iron:
0.2
mg
Who wouldn't love to open a jar and see the delicious dip staring back at you?