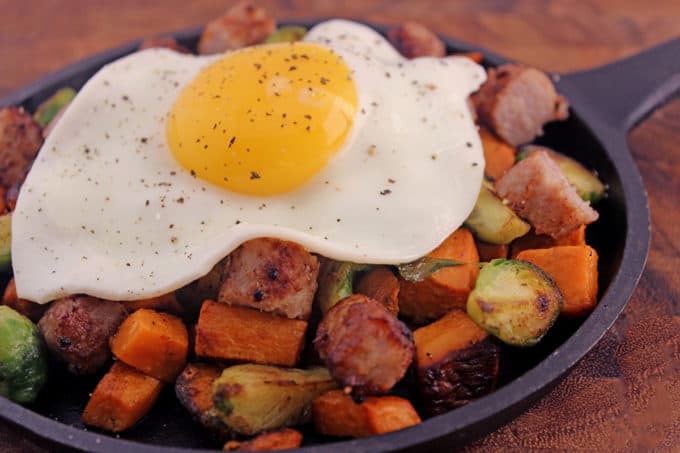 Enjoy your Thanksgiving leftovers without the pumpkin OR turkey with this fabulous, easy breakfast skillet.
I won't even pretend you are reading this and you're looking for Thanksgiving dinner ideas. If you are anything like me you've probably had your fill of Thanksgiving recipes. I had 3 more that I made and couldn't bring myself to share because I felt like I was done with pumpkin for the season. Instead what I have is one of my favorite breakfasts for you and it happens to be perfect for the morning after Thanksgiving!
There is only a few things to remember when you're making this the morning after Thanksgiving:
Don't stress the ingredients. Don't have sweet potatoes? Use roasted carrots or regular potatoes. Use roasted onion wedges or even bell peppers?
Cook the sausage until browned  then put onto a plate, no paper towels. If you drain on paper towels you lose any crisp exterior you achieved in the pan. Same goes with bacon!
I know the idea of cooking with sausage fat seems unhealthy, but really it is no different than butter and it tastes…well…awesome. So save yourself the extra ingredient and use a bit of the sausage fat to crisp up your leftover veggies and cook your eggs.
You don't need to make the eggs sunny side up. Cook them any way you like, I tend to be a short order cook in our house and make them over easy for myself, scrambled for the little ones and poached for my husband.
I sometimes use chicken sausage (I linked to share info here, please don't feel it necessary to buy 60$ worth of sausage online!) for this dish and it is naturally significantly lower in fat than pork sausage. If you do this, add a tablespoon or two of the fat of your choice to the pan. Crisp up the sausage in it then remove it and continue the recipe as written.
If you have one, please use a cast iron skillet here! Get that sucker nice and hot before you crisp up your veggies.
Also just wanted to wish you all a HAPPY THANKSGIVING!! I will see you all bright and early Monday morning! I hope you all enjoy whatever time off you have and that you all eat way too much for Thanksgiving dinner.
psst just so you know, one of the things I am thankful for this year is all of you. 😀 <3


Ingredients
1

cup

roasted sweet potatoes

, in 1" cubes

1

cup

roasted Brussels Sprouts

8

eggs

8

ounces

pork breakfast sausage
Instructions
Cook the sausage links in your cast iron skillet.

Drain all but one tablespoon of your fat.

Heat the fat on high until it is sizzling and add the leftover roasted vegetables.

Add some kosher salt and cracked black pepper to taste.

Remove vegetables and keep covered.

Cook your eggs in the skillet over easy (there should be enough fat on the skillet to keep it nonstick)

Serves four with two egg, two sausage links and ½ cup of vegetables for each plate.
Nutrition
Calories:
336
kcal
|
Carbohydrates:
9
g
|
Protein:
20
g
|
Fat:
23
g
|
Saturated Fat:
7
g
|
Cholesterol:
368
mg
|
Sodium:
509
mg
|
Potassium:
459
mg
|
Fiber:
1
g
|
Sugar:
2
g
|
Vitamin A:
5400
IU
|
Vitamin C:
19.9
mg
|
Calcium:
74
mg
|
Iron:
2.7
mg