Trader Joe's Classic Lemon Bars have a crispy buttery crust with a sweet and sour lemon filling.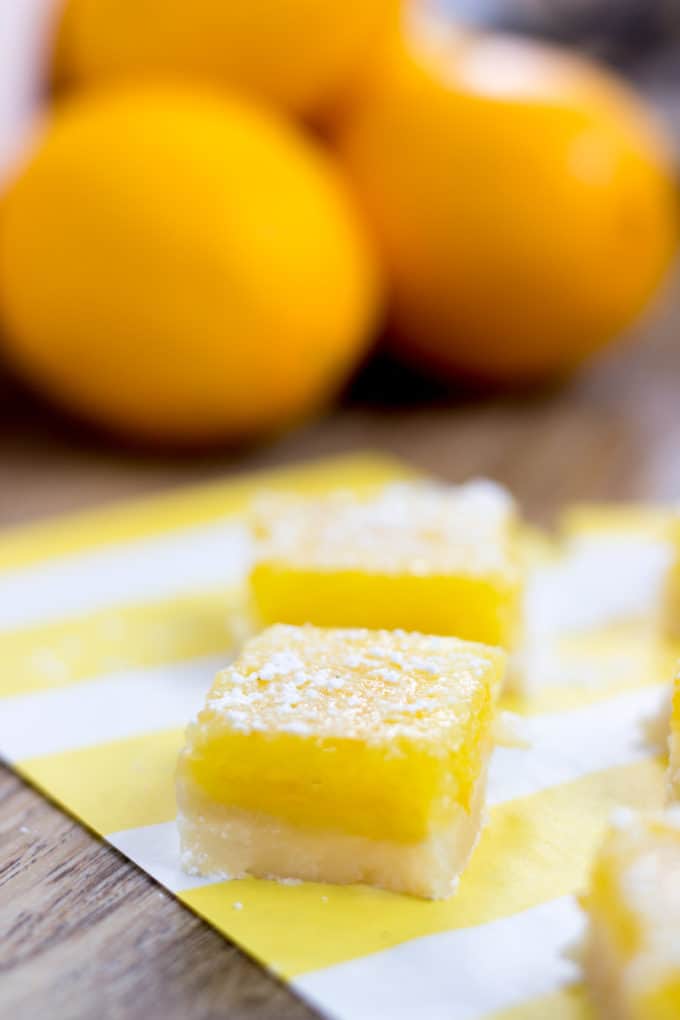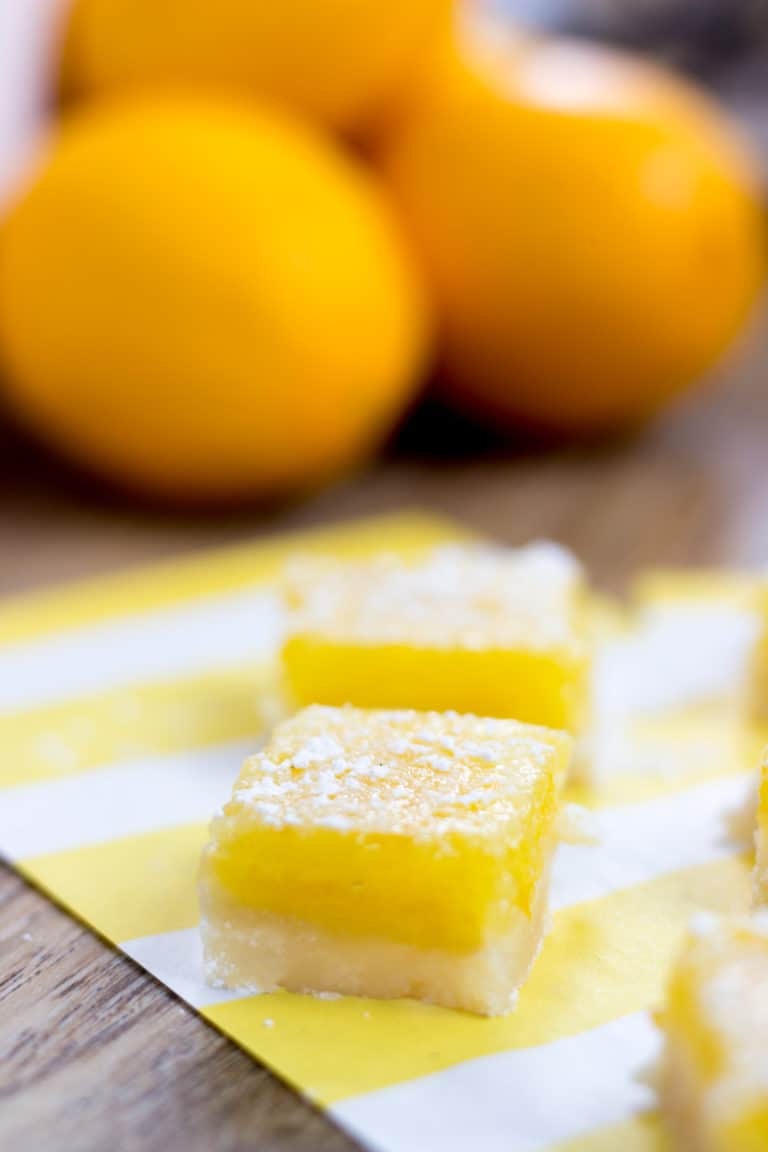 Trader Joe's Classic Lemon Bars have been a favorite of mine for years because they're a quick bite sized treat. Plus any time you can portion a lemon bar into a small enough bite that eating 3 or 4 isn't the end of your diet, you've got a real winner of a product. These Trader Joe's Classic Lemon Bars are frozen in the store but 12 of them (this recipe makes 64!) is almost 4 dollars.
Trader Joe's Classic Lemon Bars have all the delicious tangy flavors you love about shortbread cookies with a tart, creamy lemon filling topped with powdered sugar. You bake them in a normal 8 inch baking pan (just be sure to use one like this one with the straight edges instead of a curved glass baking pan for uniformity) but then cut them into adorable little 1 inch bites.
When freezing theseTrader Joe's Classic Lemon Bars I find that the more powdered sugar you add to the top the better they are to freeze. The sugar makes a sort of barrier on top that prevents the top layer from drying out in the freezer. Also if you add enough you can stack these after you freeze them and they won't stick together.
I'm sure if you've had theseTrader Joe's Classic Lemon Bars you know these bites are great thawed but even better frozen! Keep them in a small tupperware container and grab one small bite from your freezer any time you need a small sweet little treat.
Looking for something other than lemon?
Limes are almost a no brainer, these bars could be made with lime and they would be totally amazing.
Add some coconut to the lime, toasted coconut would be even better as a topping, the bars would have a great tropical flavor.
Add a ¼ cup of strawberry puree to the lemon filling as you are pouring it on top and swirl it for a beautiful design.
Add sliced strawberries lightly on top of the lemon filling.
Clementine juice would make a great twist to the original lemon flavor, or even meyer lemons for a hint of orange flavor.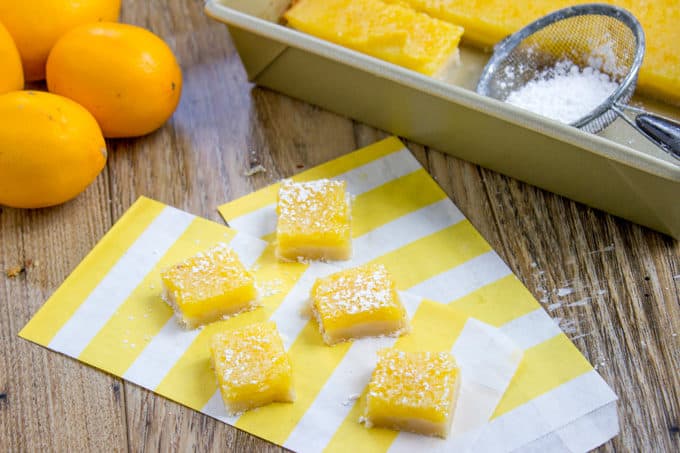 Ingredients
1

cup

flour

1

stick butter

, softened

1/4

cup

powdered sugar

2

large eggs

1

cup

sugar

2

tablespoons

flour

1/2

teaspoon

baking powder

3

tablespoons

lemon juice

1

teaspoon

grated lemon peel

Additional powdered sugar
Instructions
Preheat the oven to 350 degrees.

Add the flour, butter and powdered sugar together in a food processor.

Pulse until combined in a ball.

Pat down into an 8 inch square baking pan.

To a medium sized bowl add the eggs, sugar, flour, baking powder, lemon juice and lemon peel.

Whisk until frothy with either a whisk or a hand held mixer, about

2 minutes

.

Add to the crust and bake for

22 minutes

.

Let cool completely, cut into 1 inch squares and dust with more powdered sugar.
Nutrition
Calories:
24
kcal
|
Carbohydrates:
5
g
|
Cholesterol:
5
mg
|
Sodium:
2
mg
|
Potassium:
7
mg
|
Sugar:
3
g
|
Vitamin A:
5
IU
|
Vitamin C:
0.3
mg
|
Calcium:
2
mg
|
Iron:
0.1
mg