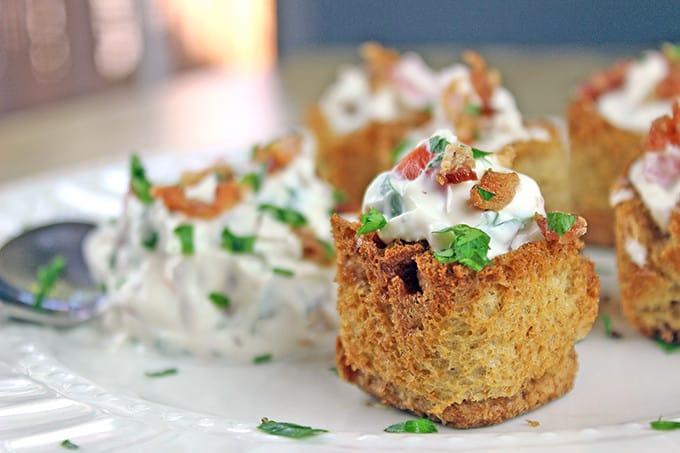 These little BLT bites are full of your favorite Bacon, Lettuce & Tomato Sandwich flavors in a small crispy bread cup. Made with cream cheese, sour cream, tomatoes, bacon and parsley, they are a fantastic holiday or football party food!
No worrying about people who may be double dipping, these little bread cups are easy to make and delicious to eat. I have been making BLT dip for years! I first found a recipe for it while wedding planning, and at the time the dip was spooned into scooped out mini tomatoes. I made them that way a couple of times but the process of scraping out the tomatoes with my mini melon baller (that I use for every mini scooping need I have and it is $4) and filling them, without being messy and leaving a white haze of spread on the tomato, was nearly impossible! So I started experimenting with the recipe.
There are so many different variations of the BLT dip all over the internet. Many call for mayonnaise, but I find the mouth feel of mayonnaise is a bit off-putting, especially in larger quantities like a spoonful of this dip. The tomatoes are diced small, the bacon is crispy and the parsley acts as a stand in for the lettuce, delivering a great fresh punch of flavor. The bread cups are made from a mini brownie tin that is really inexpensive ($8 and I use it for so many different things!) once crispy and cooled filling them is a breeze.
These will keep for the length of a football game or holiday party provided to spray the bread with a bit of canola oil prior to baking, and really, I would be shocked if they even lasted that long!
Let the cream cheese and sour cream come to room temperature (this will make mixing them significantly easier and prevent lumps of cream cheese) Add the sour cream and cream cheese to a bow, whisk well. Add the tomatoes, bacon and parsley.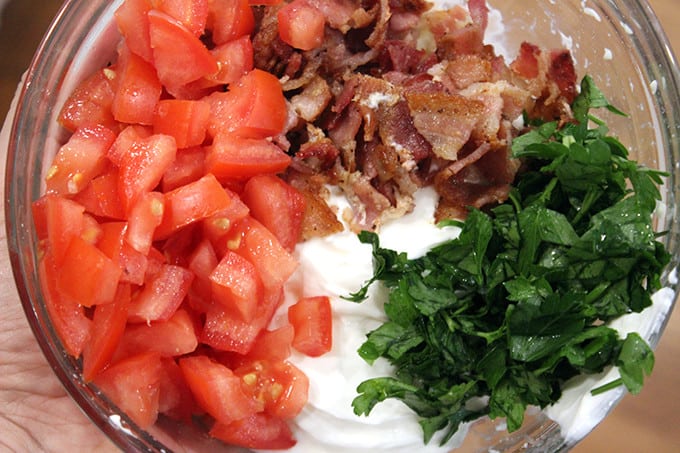 Mix again.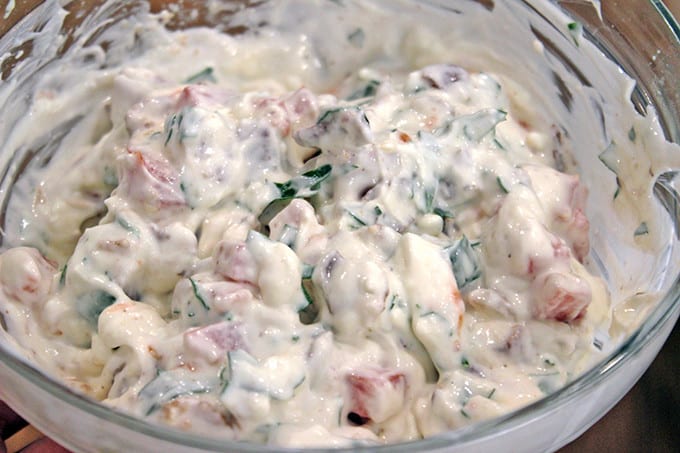 Use canola oil spray to spray the brownie mold. Cut a small square for the bottom of the cup and put it in the mold, spray quickly with canola oil. Cut a long rectangle of bread and make the wall of the cup in the pan. Spray the inside of the bread cup with some canola oil spray. Press down slightly to make the bread pieces come together. Bake at 375 degrees for 7-10 minutes or until browned and crispy. Do not remove until they have cooled, they will fall apart. Spoon one tablespoon of the mix into the bread cup and serve. Save additional dip for a veggie tray, crackers or with crusty italian bread.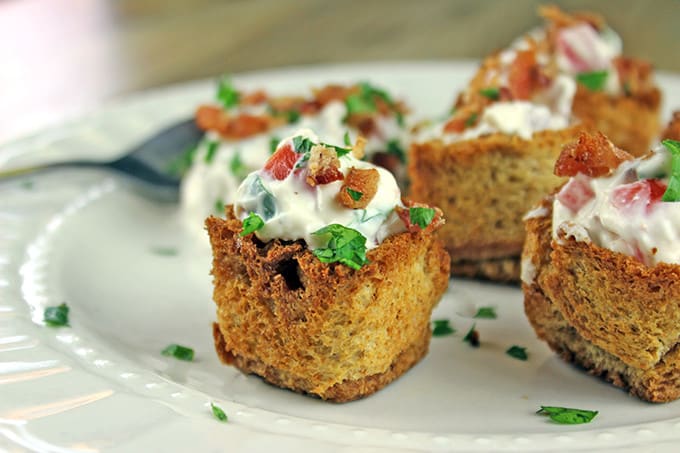 Ingredients
8

ounces

cream cheese

8

ounces

sour cream

2

large tomatoes

, deseeded and diced

1/2

cup

parsley

, chopped, plus more for garnish

1

pound

bacon

, cooked crisp and crumbled

18

slices

bread

, crusts removed
Instructions
Let the cream cheese and sour cream come to room temperature (this will make mixing them significantly easier and prevent lumps of cream cheese)

Add the sour cream and cream cheese to a bow, whisk well.

Add the tomatoes, bacon and parsley.

Mix again.

Use canola oil spray to spray the brownie mold

Cut a small square for the bottom of the cup and put it in the mold, spray quickly with canola oil.

Cut a long rectangle of bread and make the wall of the cup in the pan.

Spray the inside of the bread cup with some canola oil spray.

Press down slightly to make the bread pieces come together.

Bake at 375 degrees for

7-10 minutes

or until browned and crispy.

Do not remove until they have cooled, they will fall apart.

Spoon one tablespoon of the mix into the bread cup and serve.

Save additional dip for a veggie tray, crackers or with crusty italian bread
Nutrition
Calories:
125
kcal
|
Carbohydrates:
7
g
|
Protein:
3
g
|
Fat:
8
g
|
Saturated Fat:
3
g
|
Cholesterol:
18
mg
|
Sodium:
182
mg
|
Potassium:
88
mg
|
Sugar:
1
g
|
Vitamin A:
255
IU
|
Vitamin C:
2.1
mg
|
Calcium:
35
mg
|
Iron:
0.6
mg