Cosi's top secret flatbread recipe that is thin, crispy and chewy with a deliciously buttery crisp crackled crust. 
Cosi's long held secret is their deliciously crisp and crackly flatbread. This recipe may be a bit of a labor of love, but the result is delicious and perfect for making flatbread sandwiches and of course for salads!I'm popping in quickly today to share the second half of yesterday's delicious lunch that was posted. This Sunday a project that I've been a part of and working on for the last six months is launching so the last few days are a bit of a crazy time here.
I don't do a lot of in process shots but I wanted to give you some pictures to guide you along the way as there are a lot of variations when it comes to making bread.
When you've added your flour and you're adding in your olive oil, the dough with be very sticky.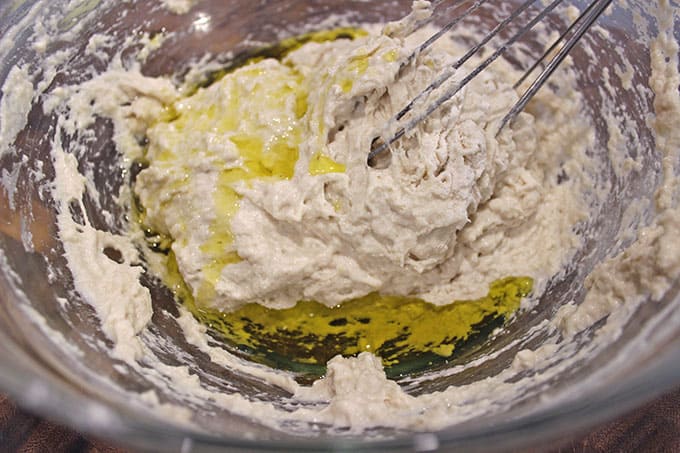 When you're letting the dough age and you poke it with your fingers, you want to feel like you are more or less tearing the top of the dough each time you poke it. If it doesn't feel like there is a paper thin layer you're breaking through on top, it hasn't dried out for long enough.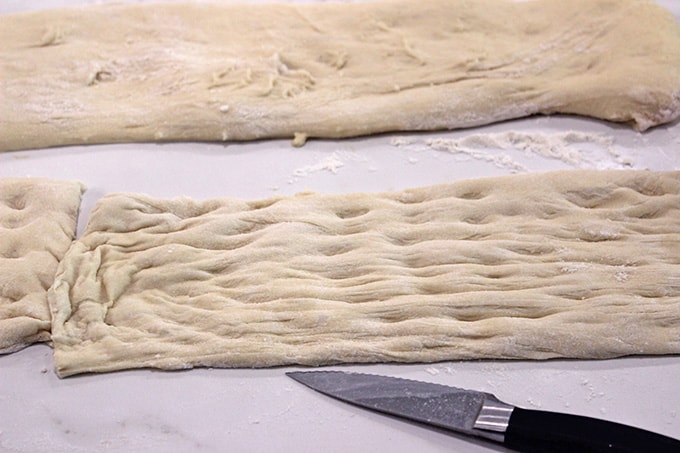 Here is a better picture after it has baked of the tearing in the layer when you poke it. You can see the thin top layer. This is before the final brushing with butter.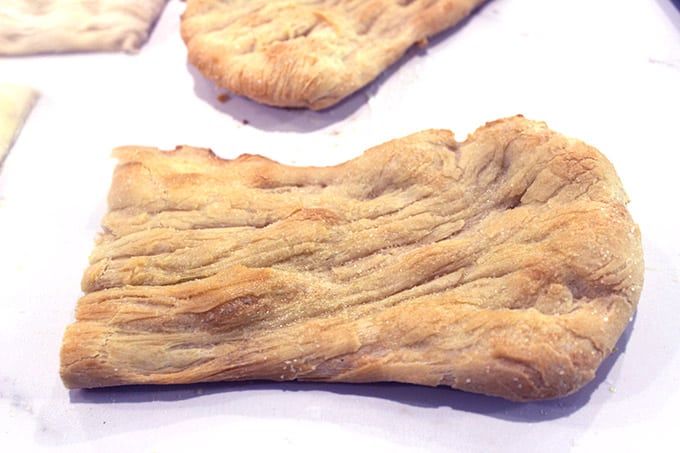 Enjoy! You worked pretty darn hard to make this flatbread!
Pop back in Monday, I have an awesome post about a Superbowl dessert! With a printable game!


Ingredients
1 ¼ -

ounce

packet active dry yeast

1

pinch

sugar

3 1/2

cups

bread flour

, plus more for dusting

2

teaspoons

Kosher salt

2

tablespoons

extra-virgin olive oil

more oil for brushing the pan

2

tablespoons

butter

, melted
Instructions
Add the yeast, sugar and 1 ½ cups of warm water (110 degrees) in a bowl.

Let it sit for

5 minutes

then add in the 3 ½ cups of flour and 1 ½ teaspoons of kosher salt.

Mix well, then add in the olive oil and mix until combined and smooth.

Cover the bowl with plastic wrap and a kitchen towel on top.

Let sit in a warm place for an

hour and a half

.

Put the ball of dough in your stand mixer with a dough hook.

Turn onto medium speed and let it go for

5 minutes

.

Add more flour if it is too sticky to handle.

Add the dough back to the bowl, cover again and let rise for

1 ½ hours

.

Take dough out of the bowl and put onto a floured surface.

Brush olive oil on the bottom of a baking sheet and leave upside down (greased side up).

Knead the dough until smooth and elastic, dusting with more flour if needed.

Cut the dough in half.

Roll out both halves into 12-by-3-inch rectangles, about ½ inch thick.

Put the dough rectangles onto the baking sheet.

Let rest for

2 ½ hours

. You want the top of the dough to get dry and crusty.

Preheat the oven to 475 degrees

Put the greased baking sheet in the oven for

15 minutes

.

Poke the tops of the dough with your fingers making indentations and pull slightly to create the top crackled effect.

Brush the tops of the dough with melted butter and sprinkle with remaining ½ teaspoon of kosher salt.

Bake on the bottom rack for

7 minutes

, then move to the middle rack and bake for an additional five minutes.

Remove from oven and brush on more melted butter.
Nutrition
Calories:
168
kcal
|
Carbohydrates:
26
g
|
Protein:
4
g
|
Fat:
4
g
|
Saturated Fat:
1
g
|
Cholesterol:
5
mg
|
Sodium:
405
mg
|
Potassium:
36
mg
|
Vitamin A:
60
IU
|
Calcium:
5
mg
|
Iron:
0.3
mg