Easter Bread is a classic recipe for the sweet festive braided wreath of yeast bread baked with colorful Easter eggs nestled in the dough!
From warm Cinnamon Rolls to Cinnamon Swirl Bread, there is nothing quite like biting into a fluffy, soft homemade yeast Bread fresh from the oven. This special plaited bread wreath has the same soft warmth you love with colorful eggs tucked inside for a fun Easter morning treat!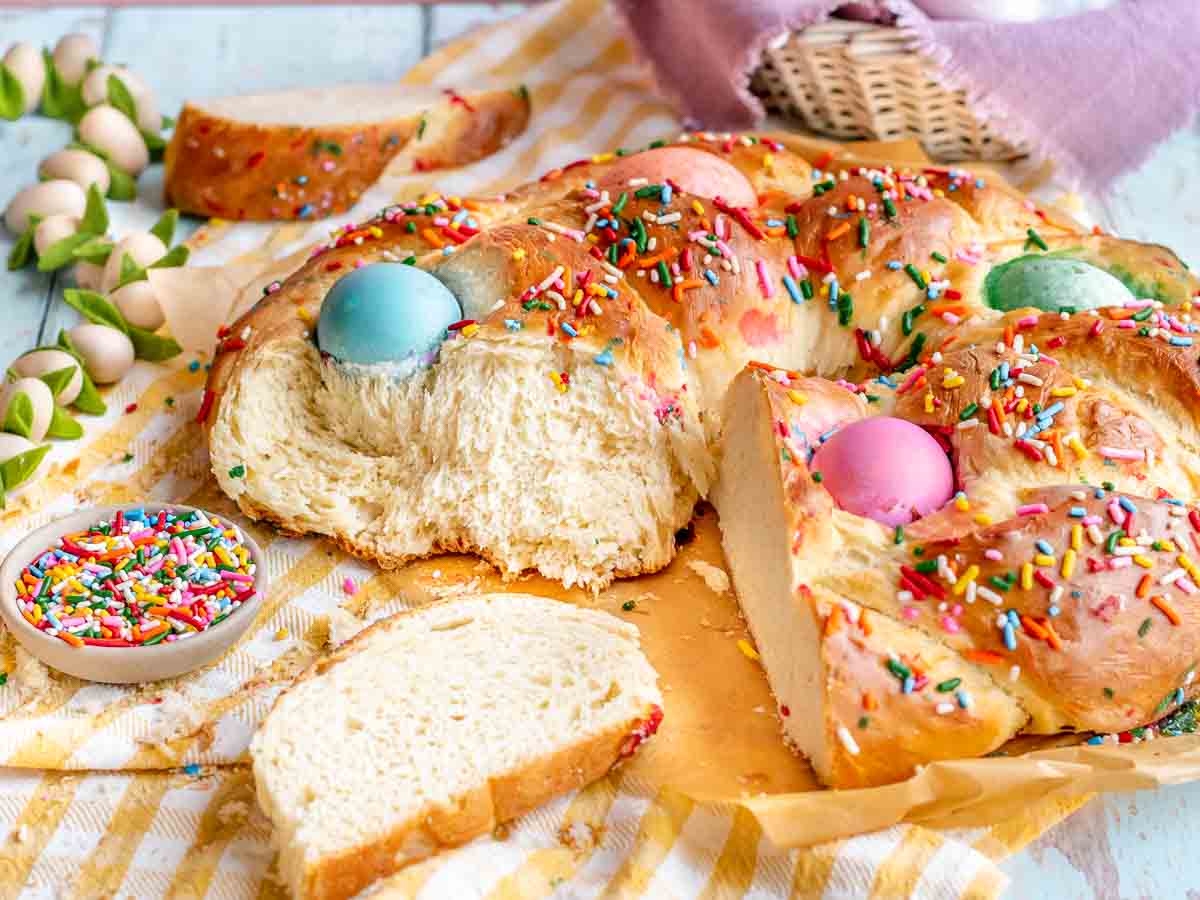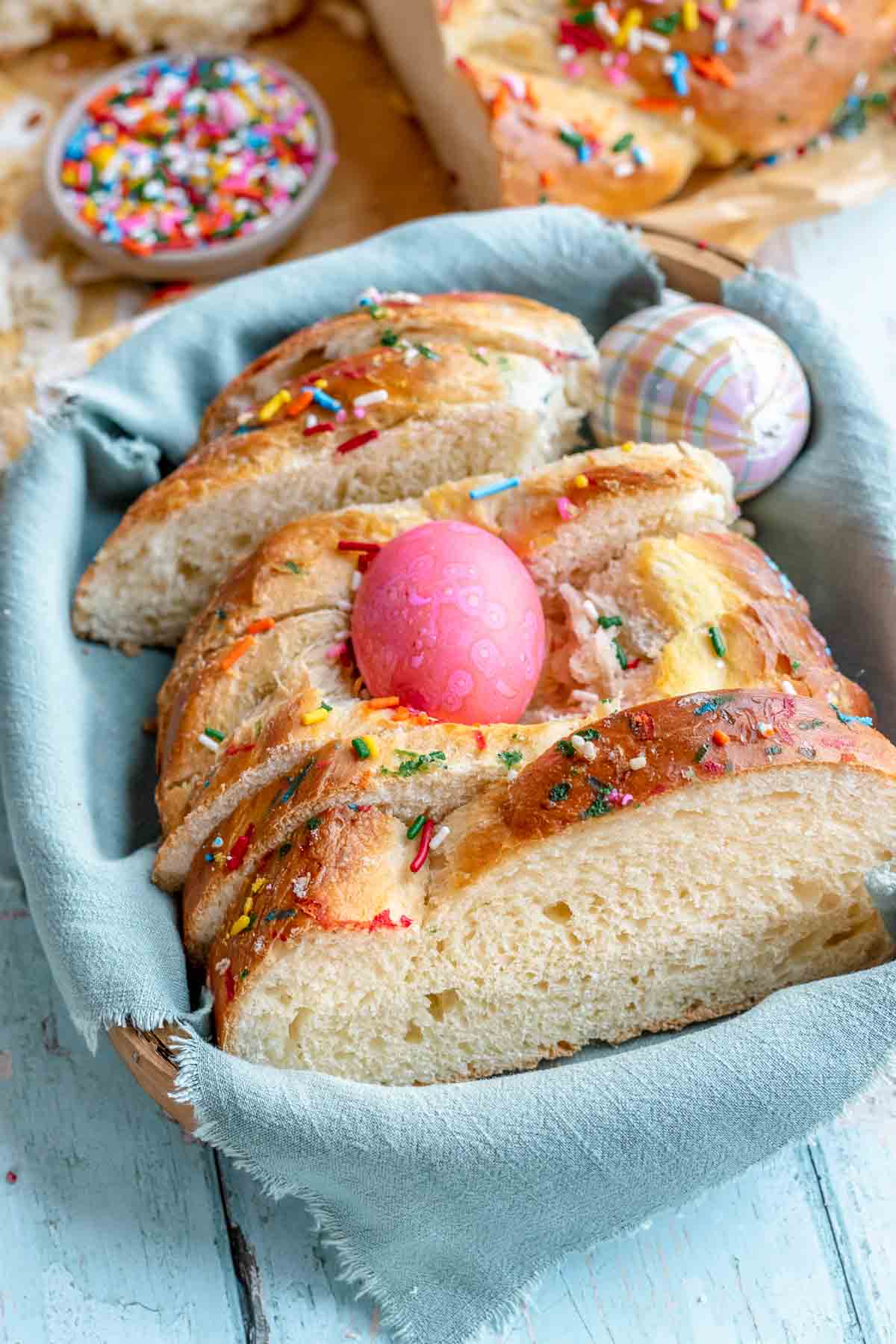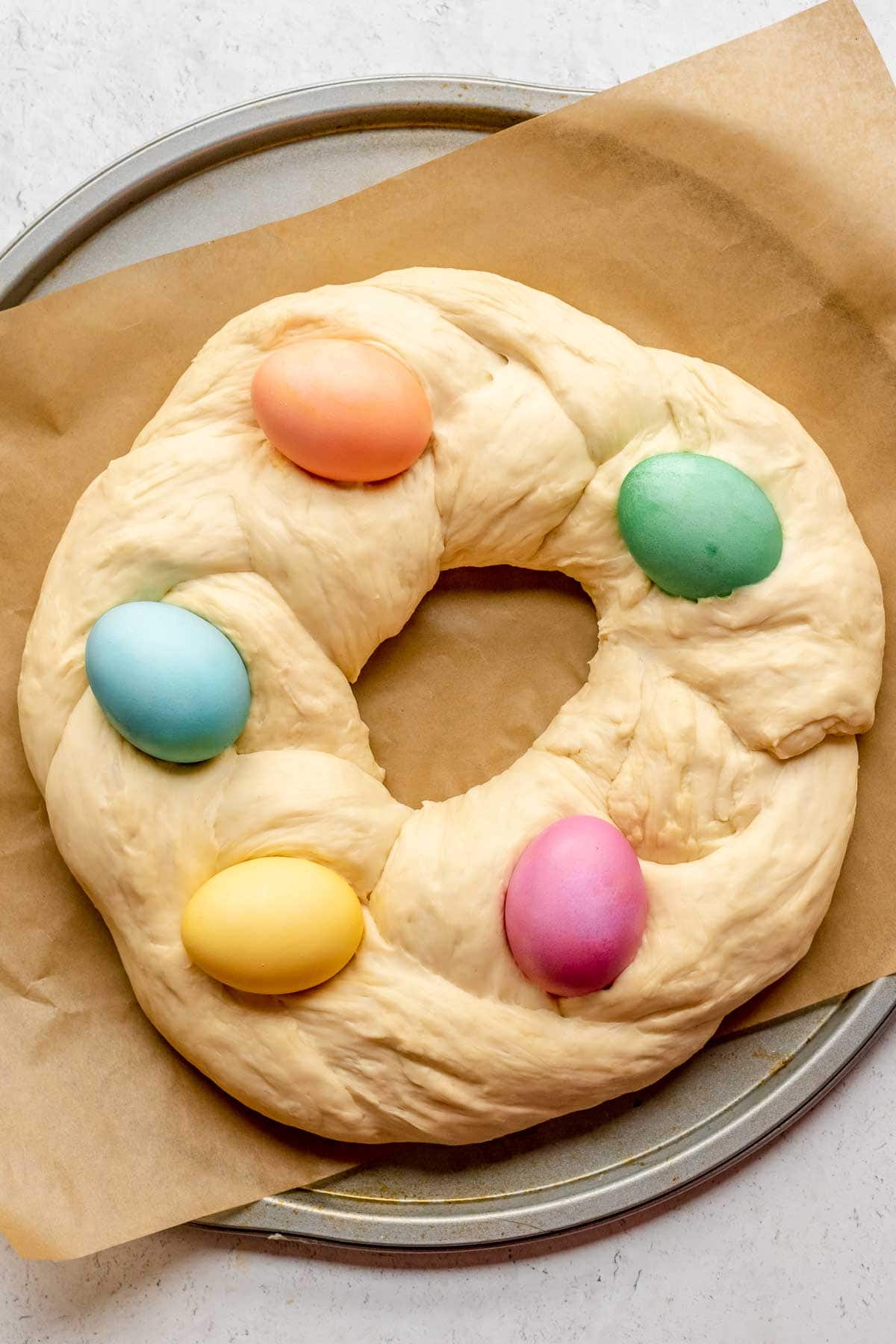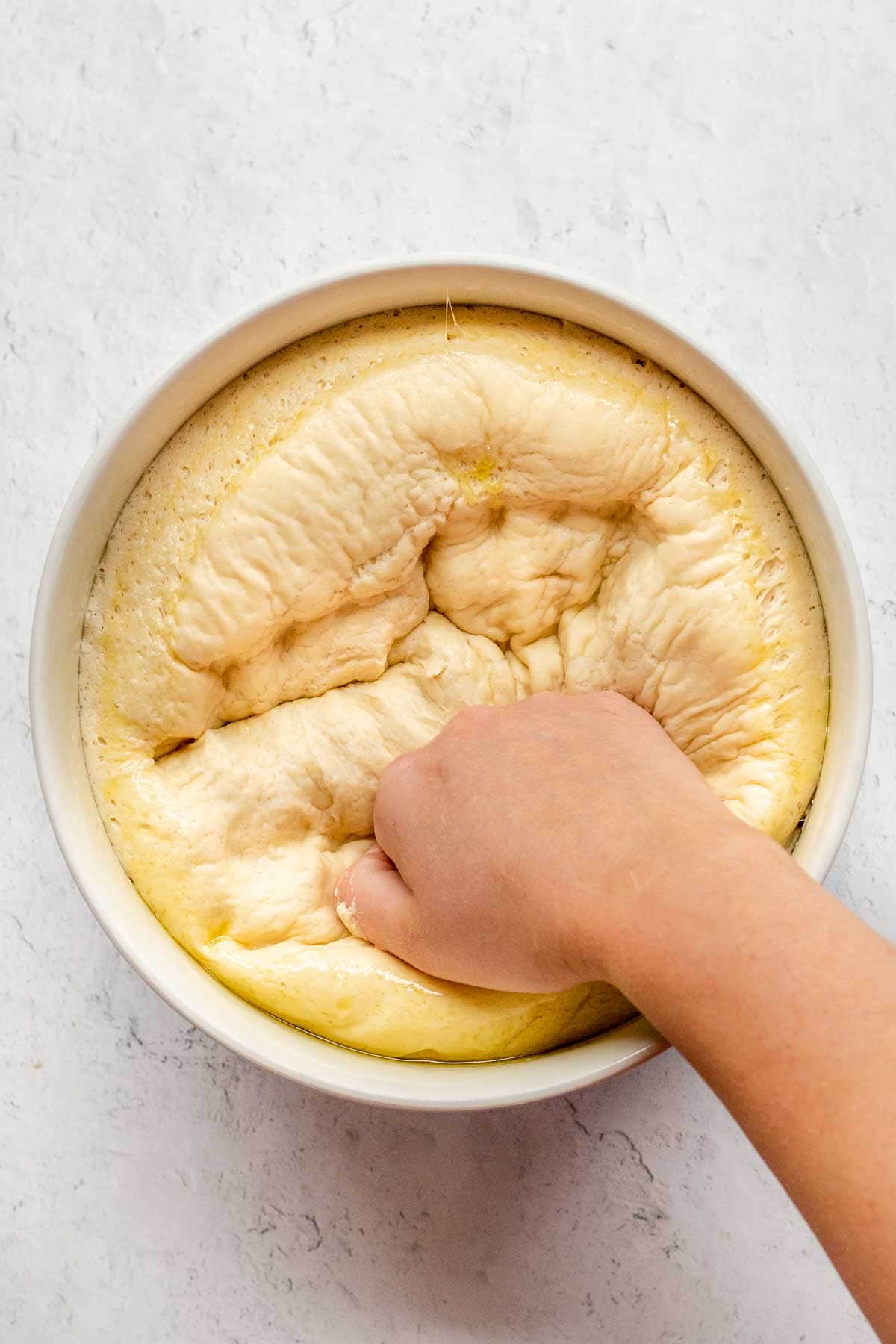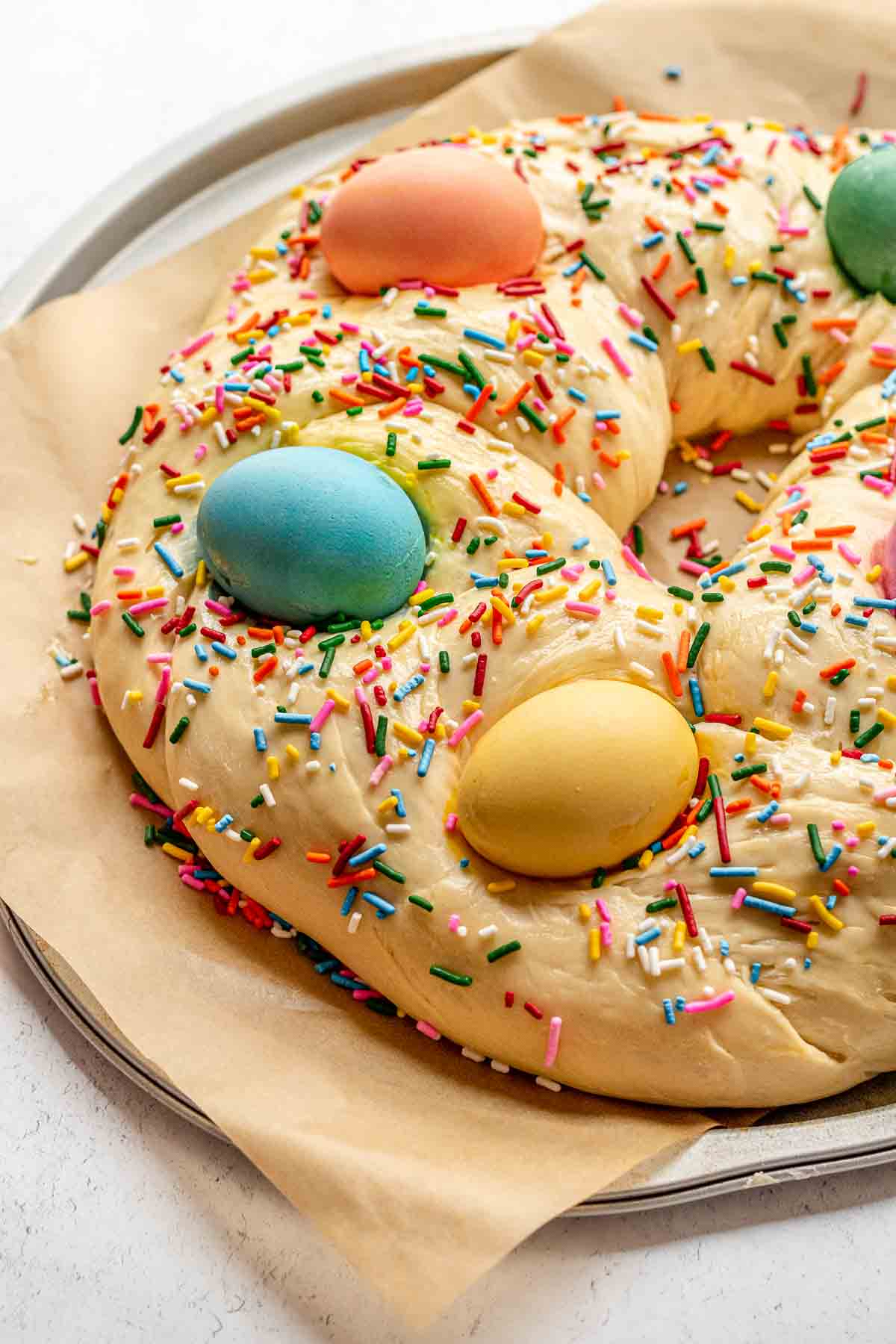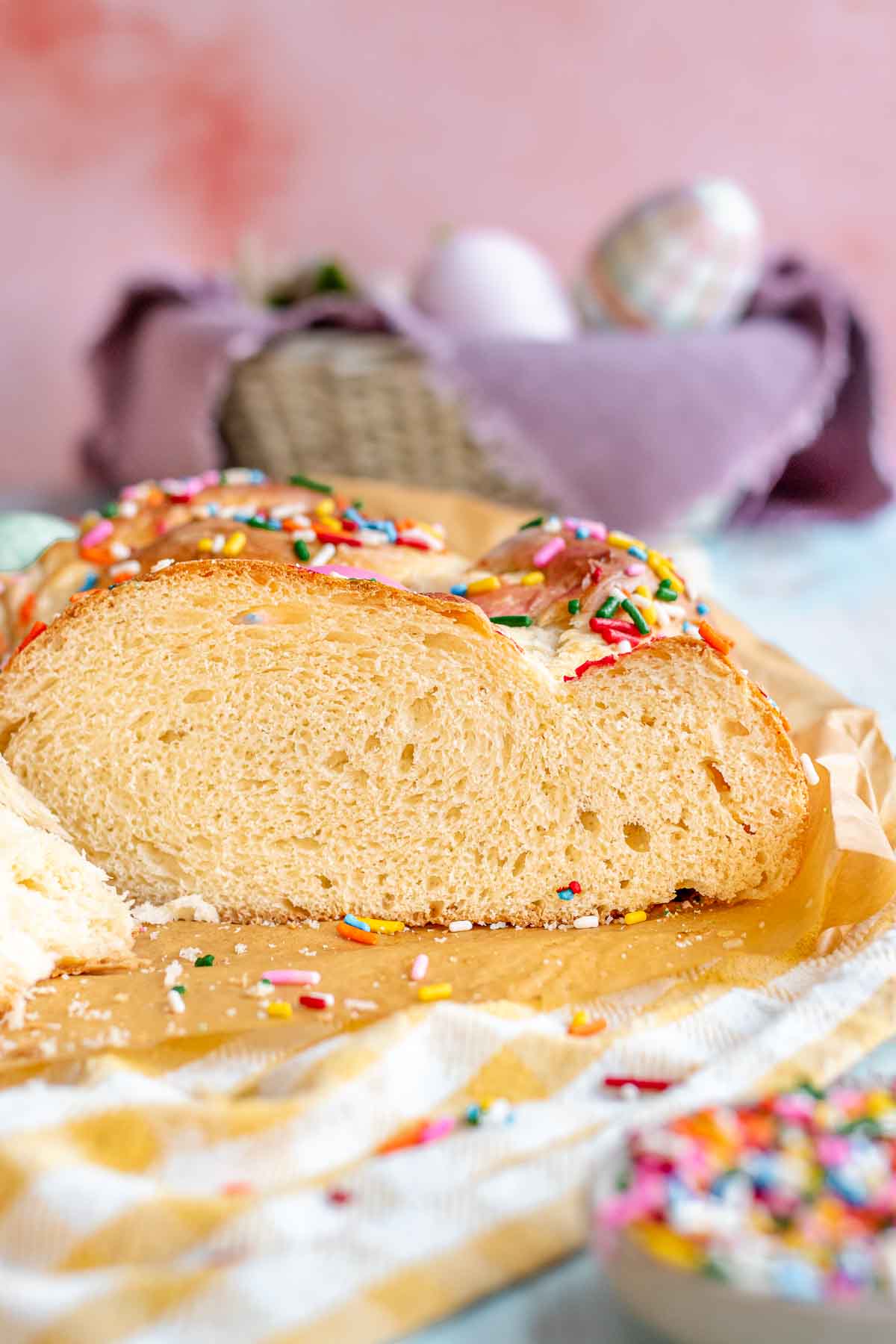 About our Easter Bread Recipe
Easter Bread is a festive delicious bread that has roots in many different cultures, from Eastern Europe to Italy. This sweet bread recipe is traditionally made with ingredients like sugar, eggs, and butter for a rich, soft dough similar to brioche or Challah bread. The sweet, buttery egg bread dough is then braided around brightly colored eggs before it's baked. It's a fun, tasty, decorative loaf of bread perfect for any spring time celebration!
While it is most commonly associated with the Easter holiday, anyone can make this delicious bread any time of year. It starts out like any typical yeast dough, just slight adjustments to the quantities of ingredients you are used to using to make bread. The standout part of this bread recipe is of course the bright, fun decoration of Easter eggs. However, they are optional so if you don't have any on hand, you can still make this braided loaf.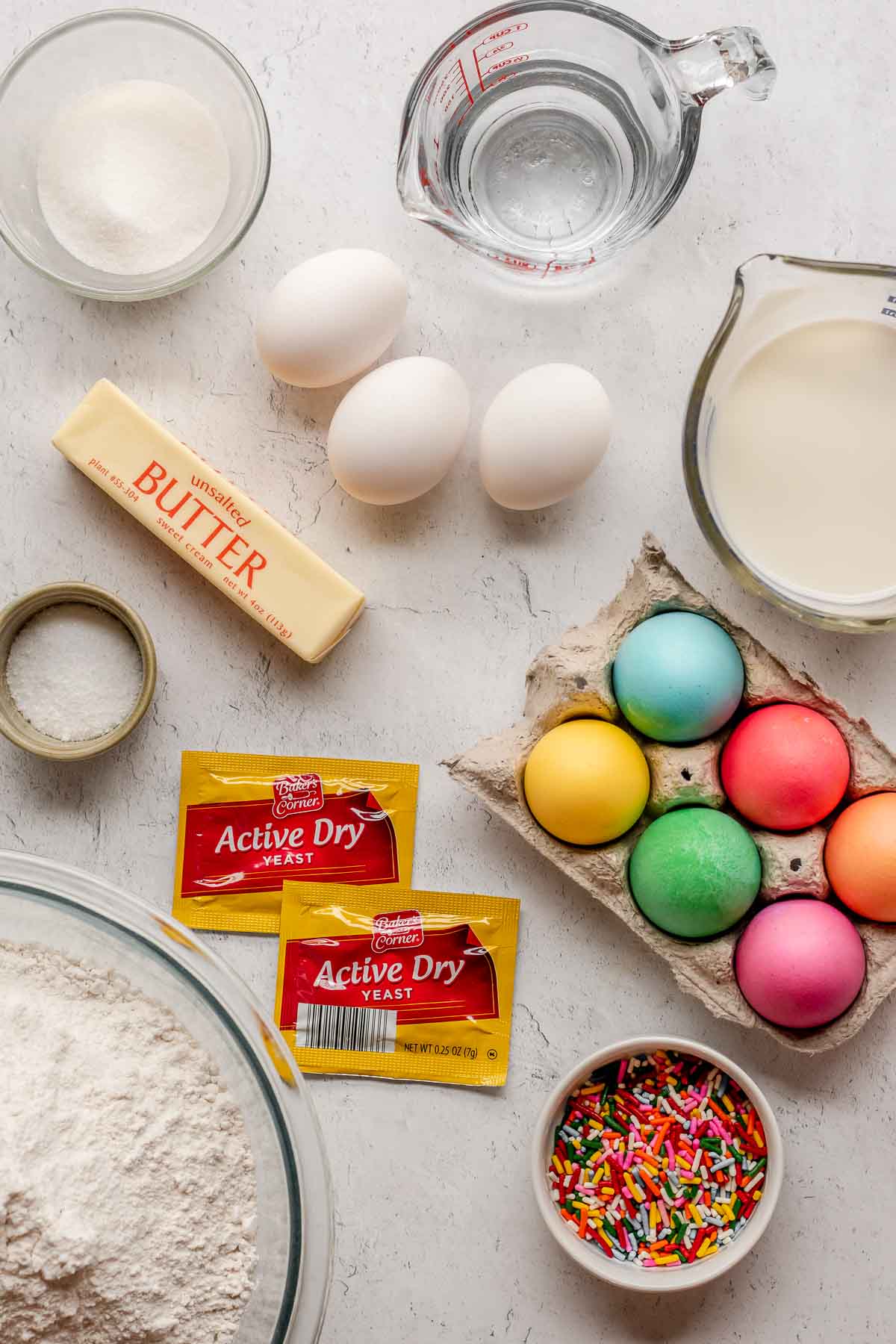 Easter Bread Ingredients
Yeast: Active dry yeast is preferred for this sticky dough because it benefits greatly from multiple proofs. Instant dry yeast saves you time, but with this type of bread it's worth the extra 90 minutes.
Warm Water & Milk: Warm water re-hydrates the dry yeast and allows it to absorb the warm milk and sugar. Warm whole milk gives the bread dough moisture and the sugars in the milk help the yeast grow.
Eggs: Multiple eggs are used in this bread recipe so it is extra rich and soft. Eggs in the dough also help the bread hold its shape as it rises.
Butter: Melted butter has already released its moisture so when it bakes in the bread dough, it doesn't release extra water like cold butter would. This makes bread incredibly soft and dense, versus how cold butter makes pastries crisp and flaky.
Sugar: This bread is meant to be only slightly sweet, so just a little white sugar is added for a hint of sweetness to go with the buttery, eggy richness.
Flour: You want to use all purpose flour or bread flour, and you want it to be unbleached flour. Unbleached all-purpose flour is denser and tougher with more gluten, and all those factors contribute to a good ride and airy bread.
Easter Eggs: Probably the most signature part of this special bread is the brightly colored eggs. Use eggs that have been dyed with food coloring that is safe for consumption.
Kitchen Tools & Equipment
Stand Mixer with Attachments: A good quality stand mixer is such a great investment for your kitchen, especially if you love to bake! You want one with interchangeable attachments like a dough hook and beater. The dough hook is especially handy in yeast bread recipes because it means no more tired hands and arms from kneading!
How to Make Easter Bread
Time needed: 3 hours and 10 minutes.
Make the Dough

Dissolve yeast in water in a stand mixer. Stir in milk, eggs, butter, sugar, and salt. Using the beater attachment, slowly add flour. Once combined, switch to dough hook and knead for 5-6 min until smooth and elastic.

Proof the Dough

Place dough in a greased mixing bowl, cover with a kitchen towel, and rise for 90 minutes. Punch the dough down to release air.

Shape the Wreath

Divide dough into 3 pieces, roll into ropes and place a baking sheet with parchment paper. Braid dough ropes into loaf then bring ends together to form a wreath, pinching together to seal.

Add the Eggs

Press the eggs into the braided dough. Keep them in the top center of the loaf so they don't roll off as the bread rises. Cover with kitchen towel and let rise another 40 minutes.

Bake the Bread

Preheat the oven and whisk egg yolk with water. Brush egg mixture over the dough and top with rainbow sprinkles. Bake for 30-35 minutes.
Nutritional Facts
Nutrition Facts
Easter Bread
Amount Per Serving
Calories 302
Calories from Fat 63
% Daily Value*
Fat 7g11%
Cholesterol 115mg38%
Sodium 480mg21%
Potassium 129mg4%
Carbohydrates 49g16%
Protein 10g20%
Vitamin A 273IU5%
Vitamin C 0.001mg0%
Calcium 52mg5%
Iron 3mg17%
* Percent Daily Values are based on a 2000 calorie diet.
Baking Easter Bread Tips & Tricks
Don't Kill the Yeast

To avoid killing yeast, it's important to use warm water and milk that's not too hot, around 110 to 115 degrees. You also need to re-hydrate the yeast by mixing it with water or milk before adding it to the rest of the ingredients to ensure it's active.

Make the Dough in Advance

Easter Bread dough can be made ahead of time and frozen for later use. Simply follow the recipe as directed up until shaping, but don't tuck the eggs in yet and don't proof a second time. Instead wrap the dough wreath in plastic wrap, then foil, and store in a freezer bag. Freeze flat overnight then you can store for up to 3 months. When you are ready to bake, thaw the bread overnight then tuck the eggs in and let rise for the second time at room temperature and bake as usual.
How to Store Easter Bread
Store: Easter Bread is best served warm and fresh from the oven. If you have leftovers, it is best to store the bread in an airtight container or plastic bag at room temperature for up to 5 days.
Reheat: To reheat the bread, wrap it in foil and heat in a 350 degree oven for 10-15 minutes, or until warmed through.
Freeze: If you want to freeze the bread, remove the eggs before wrapping it tightly in plastic wrap and then in foil. The bread can be frozen for up to 3 months. To reheat the frozen bread, let it thaw in the refrigerator overnight and then bake as directed above.
Ideas to Serve Easter Bread
Leftovers: Easter bread is lightly sweet and tender, with a soft, fluffy texture that makes it perfect for toasting or serving with a variety of spreads and toppings. Leftovers are great for making a French Toast Bake or Monte Cristo Casserole.
Mini Wreaths: Instead of one large wreath, you can make 6 smaller wreath bread loaves. Simply divide the dough first into 6 even pieces, then into the 3 pieces that will be the ropes to braid the bread into wreaths. You'll need 6 hard-boil eggs instead of 5, and you place the egg in the middle wreath instead of tucking it into the braids. Reduce baking time to 15-20 minutes.
FAQ for Easter Bread
What is Easter Bread?
Easter Bread is a traditional treat that is enjoyed in many cultures during the Easter holiday season, but particularly in Italian and Greek orthodox communities. It is an eggy, sweet bread that starts with a typical yeast dough of milk, eggs, sugar, salt, and flour. The dough is then plaited and often shaped into a braided crown, representing a crown of thorns. What sets it apart is the brightly colored eggs tucked inside the dough braids and baked along with the bread.
What is the difference between Easter Bread and Challah Bread?
Easter Bread is typically sweeter than Challah Bread and contains cooked eggs, which are nestled inside the braids. Challah Bread, on the other hand, is not typically as sweet and, of course, not adorned with colorful eggs. Additionally, Challah Bread is often made for the Jewish Sabbath, while Easter Bread is made for the Christian Easter holiday.
Do I need to hard boil the decorative eggs first?
It really depends on how cooked you like your eggs to be. The dough blocks heat from circulating fully around the eggs so it changes the cooking time they need. Baking raw eggs in the dough will get you soft boil eggs, so if you want firmer yolks you should boil them first.
What does Easter Bread symbolize?
For adherents to orthodox Christianity, the overall meaning of the bread represents the resurrection of Jesus Christ. Specifically the three strands of the braid symbolize Holy Trinity, the wreath shape reflects crown of thorns, and the eggs are universal symbol of birth and new life.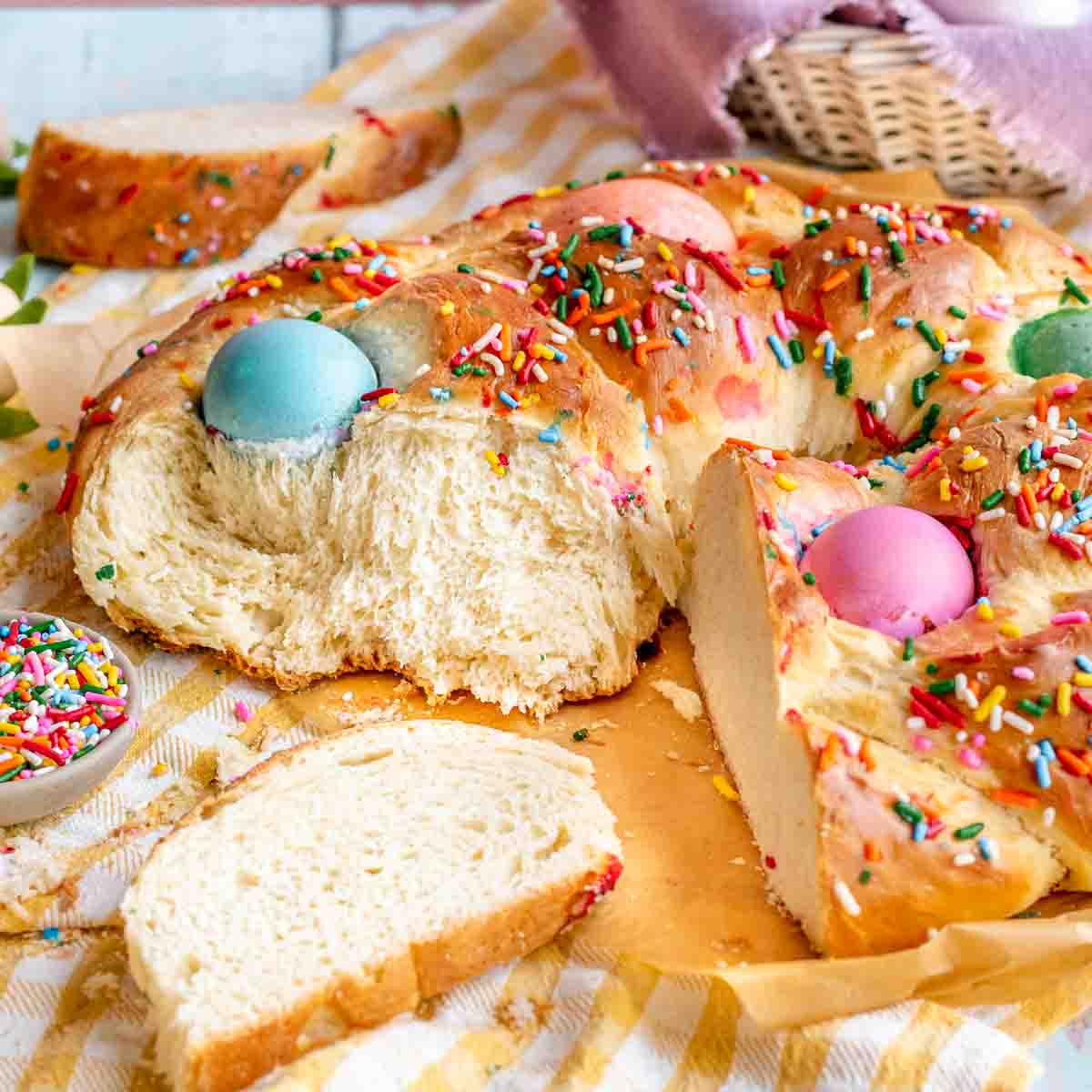 Recipe Card


Ingredients
2

packets

active dry yeast

, (¼ ounce each)

1/2

cup

warm water

, 110 to 115 degrees

1 1/2

cups

warm whole milk

, 110 to 115 degrees

3

large

large eggs

1/4

cup

unsalted butter

, melted

1/4

cup

sugar

1

tablespoon

kosher salt

7

cups

flour

1

large

egg yolk

2

tablespoons

water

5

hard boiled easter eggs

, dyed colorful colors

1/4

cup

rainbow sprinkles
Instructions
To your stand mixer add the yeast and water.

Add in the milk, eggs, butter, sugar and salt.

Add the beater attachment and on the lowest speed setting start adding the flour ½ cup at a time.

Once the flour is mixed in, add the dough hook to the stand mixer.

On medium speed knead the dough with the dough hook for

5-6 minutes

until smooth and elastic.

To a greased large mixing bowl add the dough, turn to coat both sides of dough with grease.

Cover with a clean kitchen towel and let rise for 90 minutes.

Cut the dough into 3 even pieces.

Line a baking sheet with parchment paper.

Roll each piece into a 16" long rope.

Braid the loaf with the three pieces on the baking sheet directly.

Bring the ends of the braid together to make a circle and pinch them together.

Press the eggs gently into the braids, nestling them into the braids.

Cover with clean kitchen towel in a warm place and let rise for 40 minutes.

Preheat oven to 375 degrees.

In a small bowl beat egg yolk and water together.

Brush gently onto dough and sprinkle with rainbow sprinkles.

Bake for

30-35 minutes

until golden brown.
Nutrition
Calories:
302
kcal
|
Carbohydrates:
49
g
|
Protein:
10
g
|
Fat:
7
g
|
Saturated Fat:
3
g
|
Polyunsaturated Fat:
1
g
|
Monounsaturated Fat:
2
g
|
Trans Fat:
0.1
g
|
Cholesterol:
115
mg
|
Sodium:
480
mg
|
Potassium:
129
mg
|
Fiber:
2
g
|
Sugar:
7
g
|
Vitamin A:
273
IU
|
Vitamin C:
0.001
mg
|
Calcium:
52
mg
|
Iron:
3
mg
Easter Bread Variations
Citrus & Anise: A classic way to make Easter Bread is with zesty lemon or orange with spicy. sweet anise flavor. Add lemon zest or orange zest, 1 tablespoon of the citrus juice, and 1 teaspoon anise flavoring to the dough.
Almond Easter Bread: Almond flavoring is delicious with sweet bread! Add ½ teaspoon of almond extract to the dough when you add the eggs. Top the bread with sliced almonds for a little crunch instead of, or in addition to, the sprinkles.