Korean Beef Sloppy Joes made with sweet and spicy flavors with a punch of garlic that's a fun change from the classic sloppy joes.
One of the most popular recipes on the site is super easy Korean Ground Beef and these sloppy joes are a delicious sloppy Korean take on the ever popular Ultimate Sloppy Joes.
 Korean Beef Sloppy Joes
Happy Monday everyone! August is so confusing to me because as a kid we all used to have August as a non-school summer month. All the kids in our neighborhood are either starting this week or next week and some of my client's kids have already started school!
These sloppy joe recipes we've been posting every Monday are our ode to the school week. A quick and easy dinner recipe you can change up with easy pantry ingredients that your kids will love.
That's the idea anyway. We find ourselves looking forward to these Sloppy Joe's even more than the kids are! These Korean Beef Sloppy Joes are no exception, they're the sloppy answer to the kid friendly ground beef bowl that is ALL over Pinterest.
Like This
Like this recipe? Then Like us on Facebook!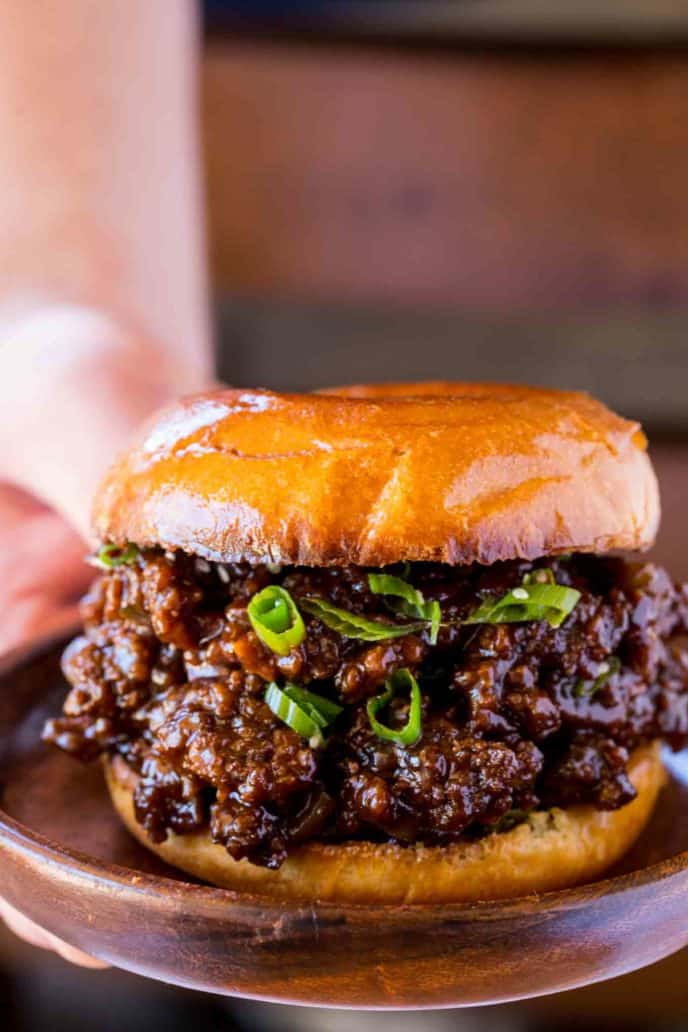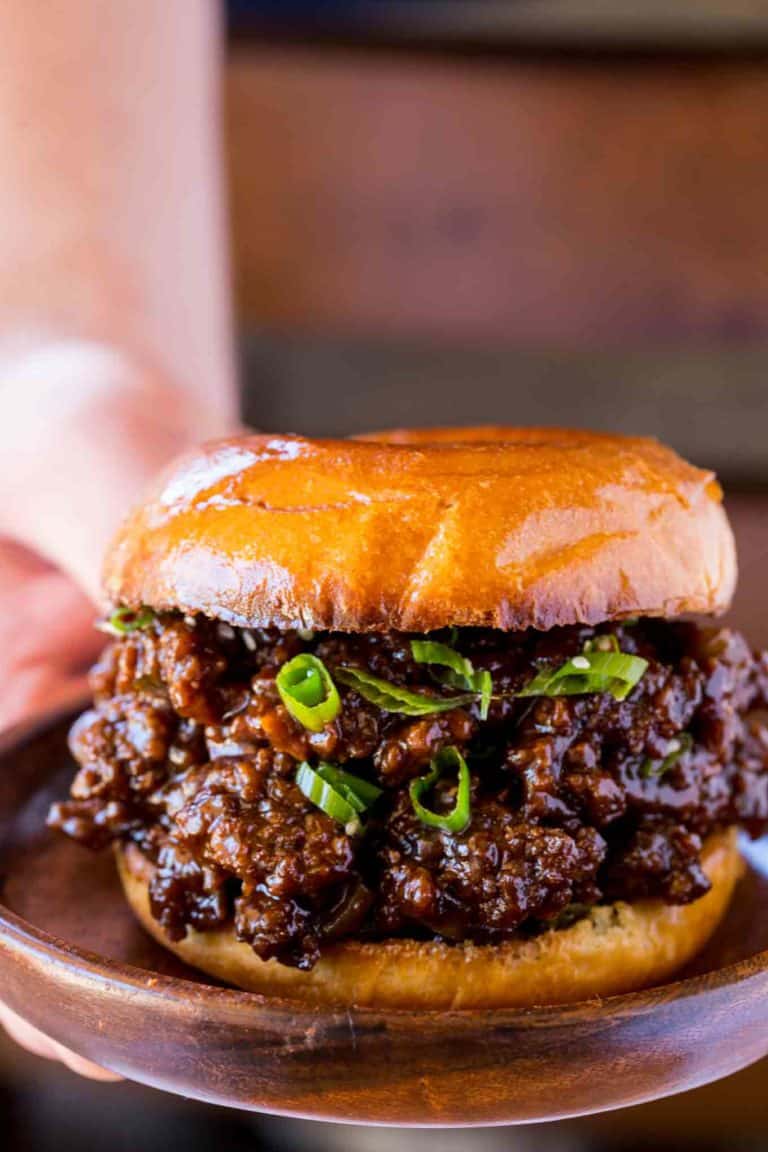 Can I serve this mixture instead of the regular Korean Ground Beef? Yes, this mixture is a saucier version of that recipe but you can absolutely serve it over rice. In fact you may even prefer this version.
Sometimes when we make the regular version and we reheat leftovers they can get a bit dry. If you serve this version over rice even when you reheat it you'll still have plenty of moisture in the mixture.
The original sloppy joes had vegetables as part of the recipe. This mixture doesn't contain any hidden vegetables but it very easily can. My favorite of the list below? Carrots and zucchini. They don't detract from the flavors at all.
HIDDEN SLOPPY JOES VEGETABLES:
green bell pepper, chopped finely (red is sweeter but this mixture is already pretty sweet)
onions (yellow or green), chopped finely
zucchini, chopped finely
carrots, shredded or chopped finely and steamed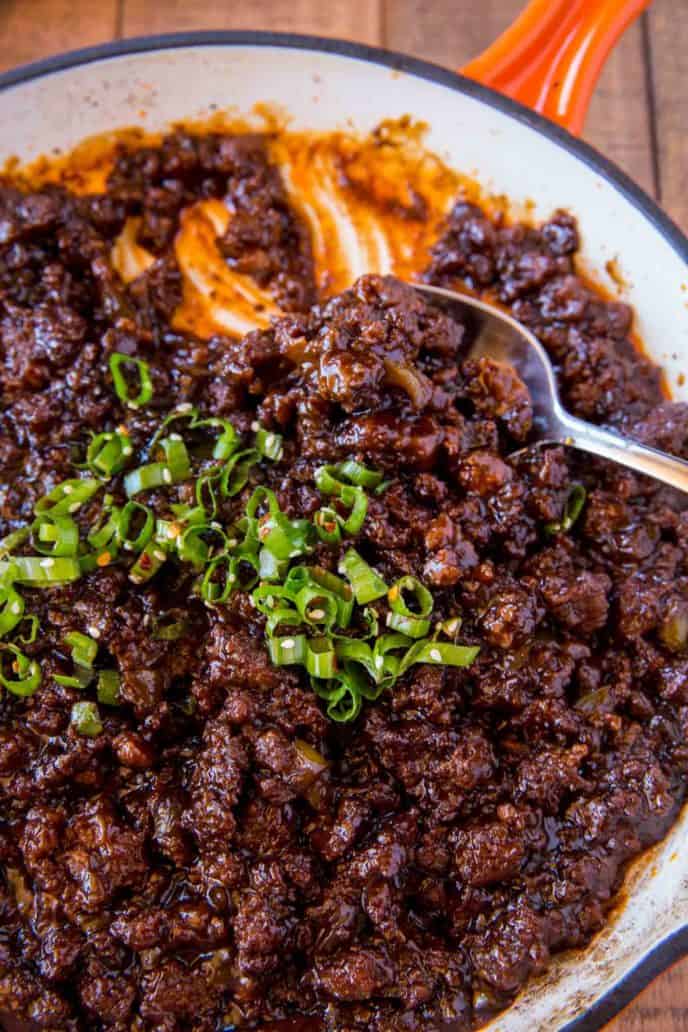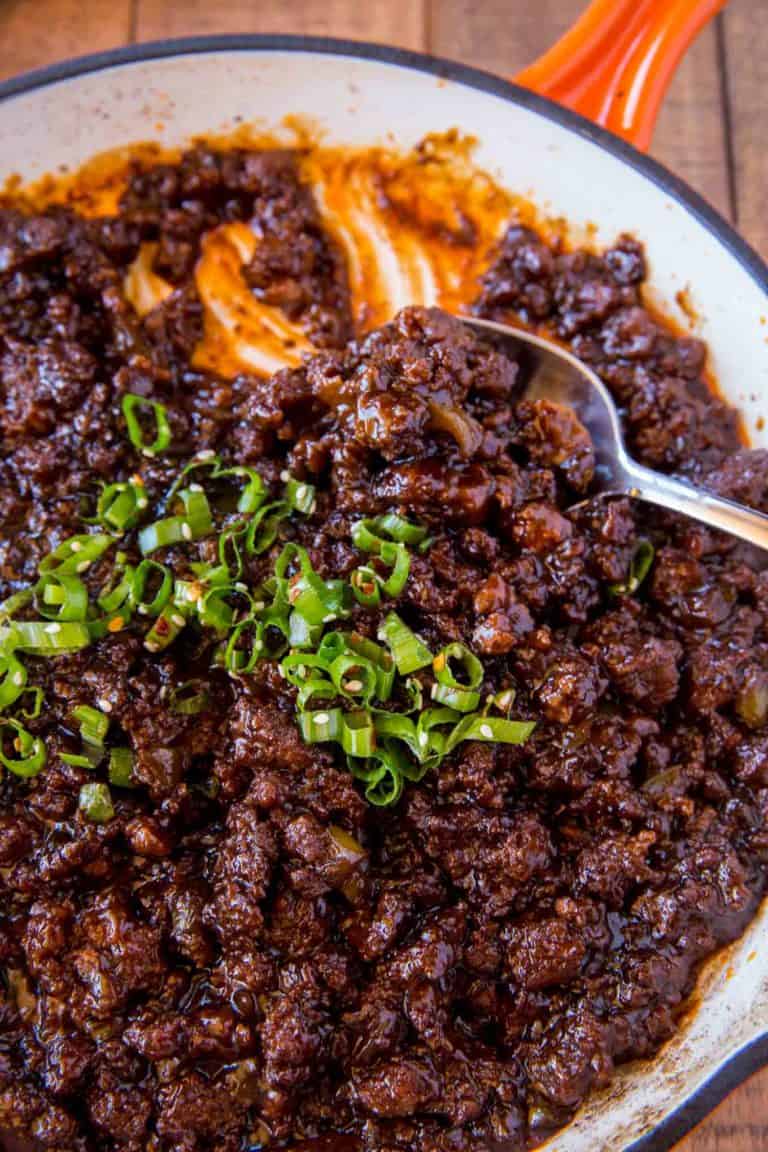 Create a free account to Save Recipes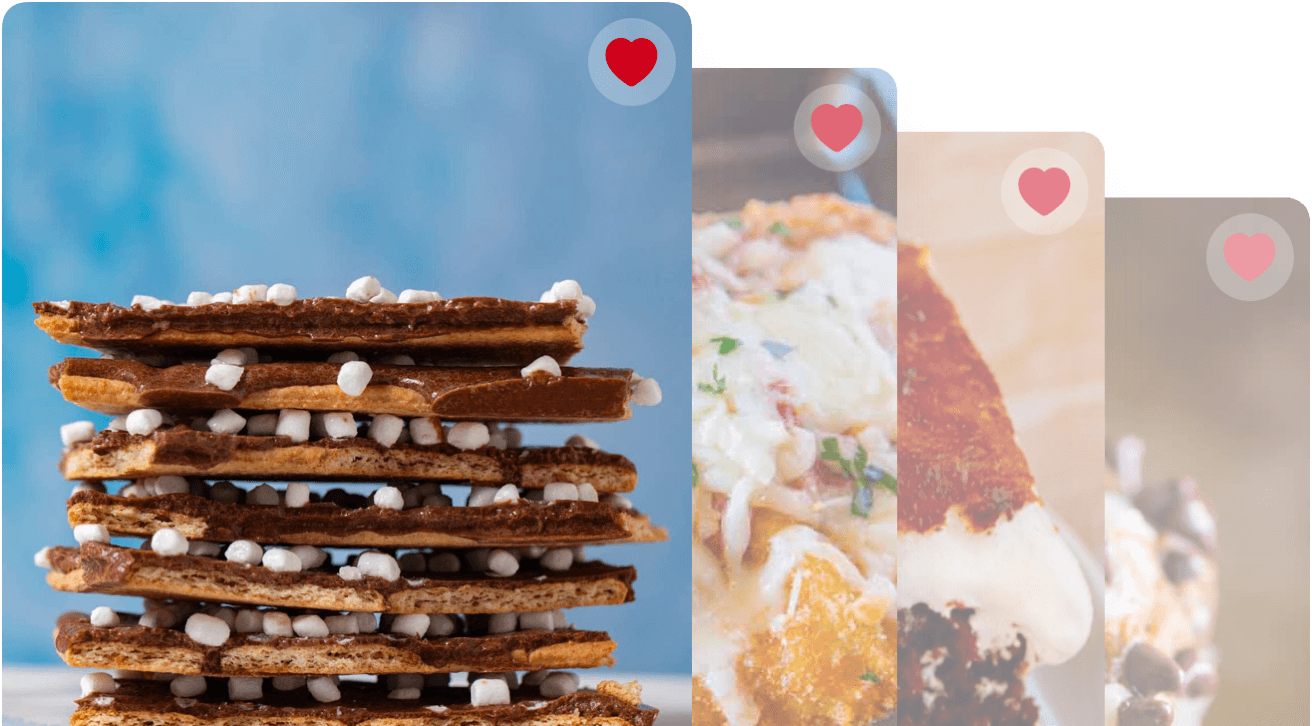 WHAT GOES GOOD WITH Korean Beef SLOPPY JOES FOR A SIDE DISH?
We love serving these sloppy joes with steamed broccoli and carrots. If you roast the broccoli and the carrots at a higher temperature and slice them thinly you may even be able to get nice crisp edges on them which could make them taste like fries.
TIPS FOR MAKING THESE Korean Beef SLOPPY JOES:
Make sure your ingredients are ready ahead of time in a large measuring cup, don't let the pan scorch.
.If you want the sandwich to be saucier or have a kick of spice serve it with spicy mayo (a mixture of Sriracha and mayonnaise).
Stop cooking when its just slightly too wet still, it will thicken as it sits for a couple minutes.
If you want to meal prep just leave the sauce extra saucy before shutting off the heat. You may need a bit of water when reheating.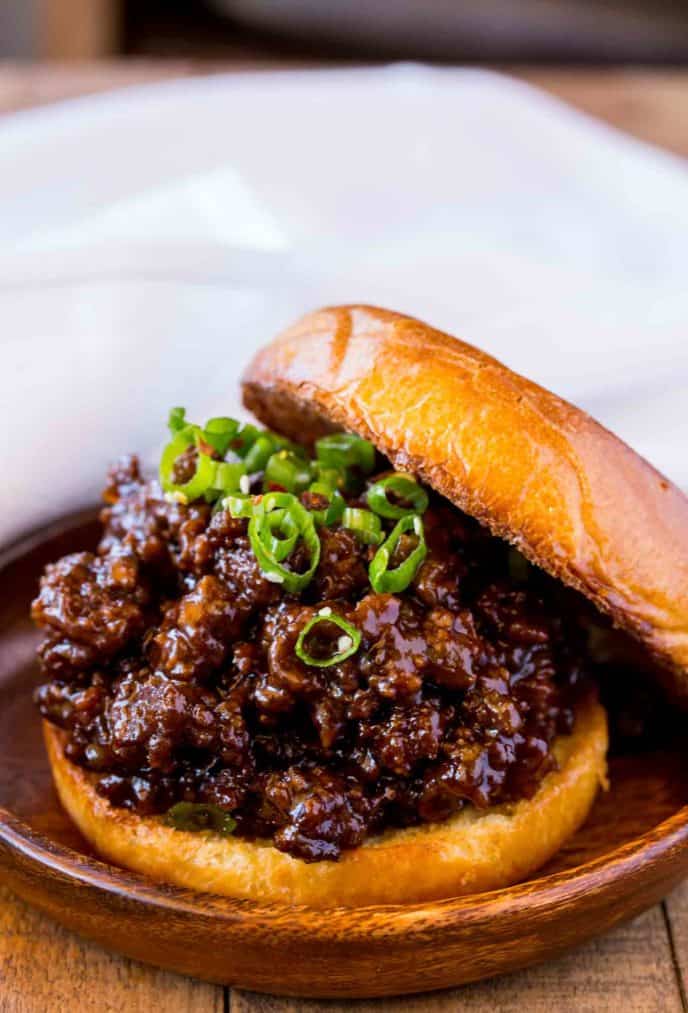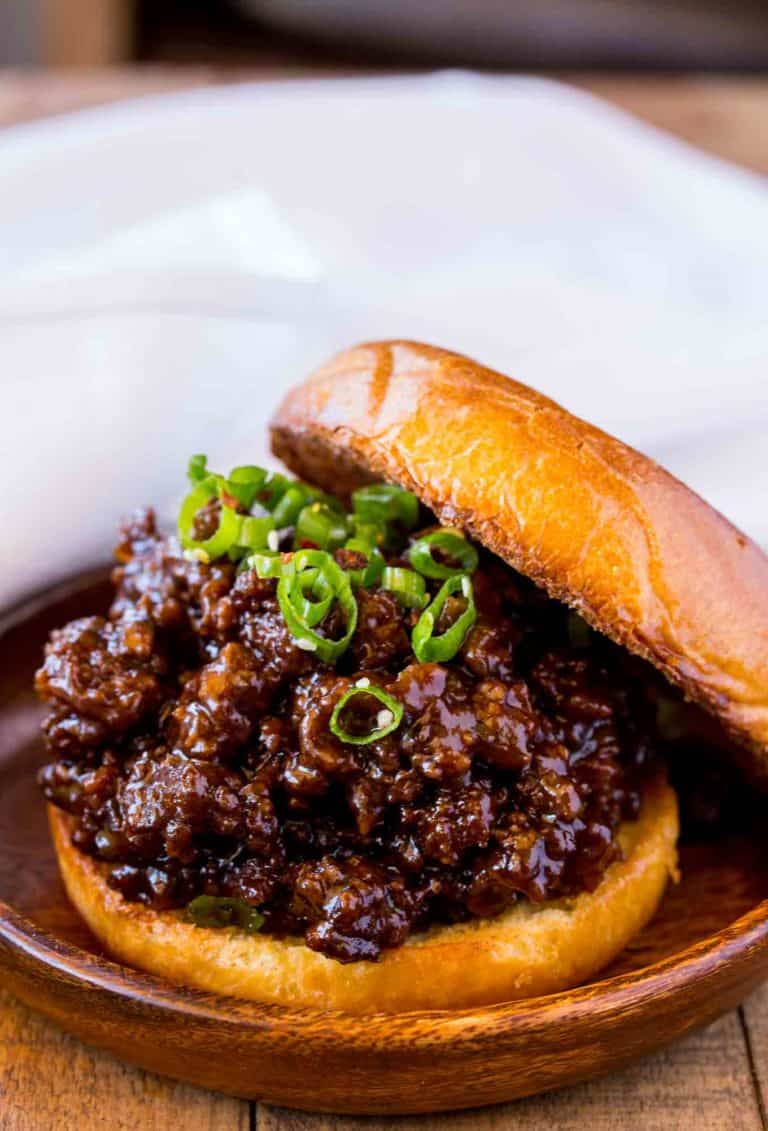 Are you going to join us and enjoy this recipe on Wednesday? Remember if you make this dish this Wednesday, we'll be having the same dinner.
I'd love to know how it turns out for you so if you do make the recipe pretty please come back and leave a comment letting me know how you enjoyed them.
We put a ton of effort into recipe testing almost 40 Sloppy Joes for this weekly series!


Instructions
In a large skillet add in the beef, lower the heat to medium and cook well, breaking it apart but leaving some chunks about the size of a raspberry or small grape (don't crush the heck out of it, the larger crumbles will help give the sandwich stability).

Cook until well browned (

5-6 minutes

), then add in the garlic, sesame oil, ketchup, hoisin, water, soy sauce, rice wine vinegar and sriracha and stir together well until the sauce starts to evaporate and the mixture becomes "sloppy" (about

5-6 minutes

).

Toast the buns then spoon over the mixture and top with green onions.
Nutrition
Calories:
688
kcal
|
Carbohydrates:
46
g
|
Protein:
35
g
|
Fat:
38
g
|
Saturated Fat:
13
g
|
Cholesterol:
121
mg
|
Sodium:
1437
mg
|
Potassium:
689
mg
|
Fiber:
2
g
|
Sugar:
18
g
|
Vitamin A:
215
IU
|
Vitamin C:
4
mg
|
Calcium:
129
mg
|
Iron:
5.5
mg