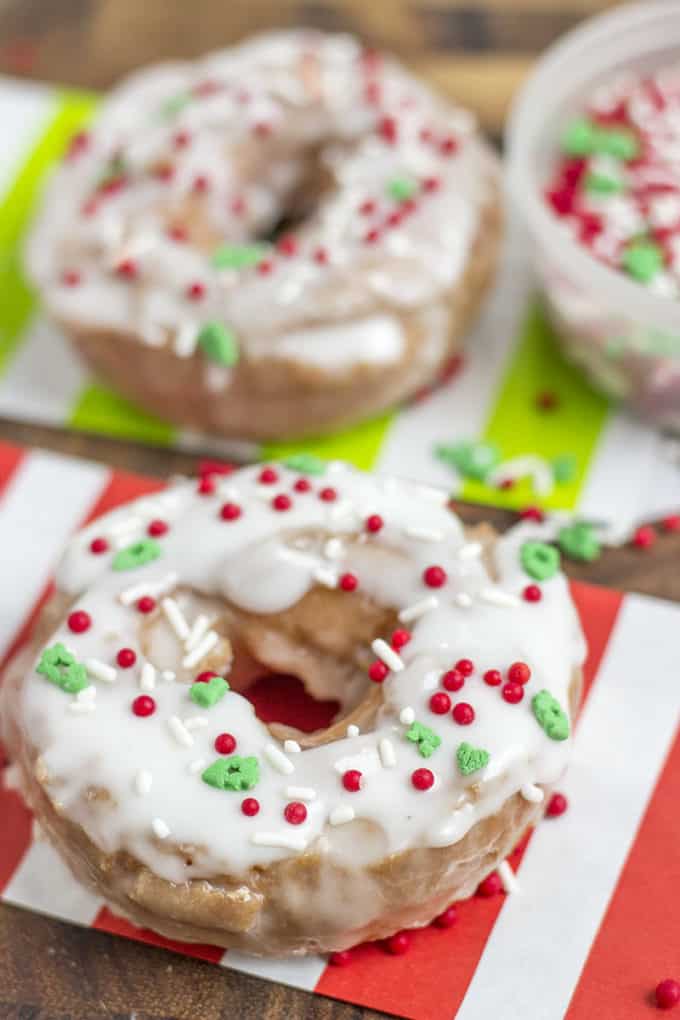 Classic Sour Cream Doughnuts fried to perfection with a classic powdered sugar glaze just like at Krispy Kreme! No yeast makes these doughnuts easy to make and with festive sprinkles a fantastic Holiday brunch/party treat!
'Tis the season to …eat doughnuts… falalalala la la la la! Every year around the holidays I start to get clients asking for more sweets, things to bring to the office, treats for friends and family. Doughnuts are always high on the list and always one of the items I veto. Yes, veto. You would be suprised how often I would veto client requests. Recently I had one ask me to make a creme brulee for a dinner party they were hosting later in the day only to have to explain the delicious sugary crust would cease to exist well before the party got started. That is how I feel about doughnuts too. They are great when you make them, even for maybe a few hours after. But after that? Hockey pucks. That's why I love cake doughnuts, the shelf life on them is longer.
These sour cream doughnuts are easy to make, and will disappear quickly from your kitchen counter. Because they are cake doughnuts, like my Cinnamon Roll Baked Doughnuts and Pumpkin Pecan Baked Doughnuts they don't require any yeast and are much more forgiving when it comes to recipe prep.
When it comes to tools for this you can use cookie cutters or doughnut cutters, but I just grabbed what was readily available, a biscuit cutter and a cap to a 2L bottle of club soda (for the doughnut hole).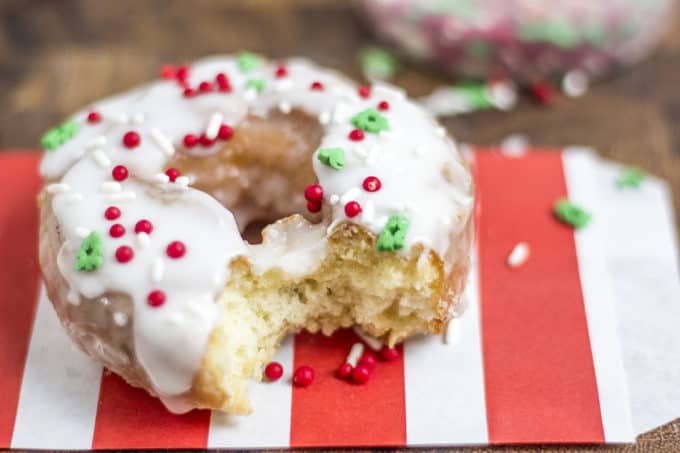 Ingredients
2¼

cups

cake flour

, more for rolling and cutting

1½

teaspoons

baking powder

1

teaspoon

salt

1/4

teaspoons

ground nutmeg

1/2

cup

sugar

2

tablespoons

shortening

2

large egg yolks

2/3

cups

sour cream

canola oil for frying

3 1/2

cups

powdered sugar

1½

teaspoon

maple syrup*

¼

teaspoon

salt

1/3

cup

hot water

, (plus more if needed)

1

cup

powdered sugar
Instructions
Sift the flour, baking powder, salt and nutmeg together.

In your mixer fitted with a paddle (I use a silicone paddle so there isn't anything the paddle misses), mix the sugar and shortening for

1 minute

(It will look grainy)

Add in the yolks and mix for another

minute

.

The color of the mixture will be distinctly lighter in color.

Add in your dry ingredients alternating with the sour cream ½ of each at a time on low speed.

If you are using a silicone flat paddle like me you won't have to scrape the bowl, otherwise scrape the sides down after each addition.

Move the mixture to another clean bowl and cover with saran wrap for an hour.

Roll out the dough to ½ inch thickness on a lightly floured surface.

Using a

doughnut cutter

or cutters in your favorite sizes cut into doughnut shapes.

Carefully take your scraps and continue to re-roll as needed.

I often fry the scraps in random shapes instead of reshaping too many times. I call those the chef's portion. 😉

Carefully add the dough to the hot oil.

Fry until the dough floats to the top, then an additional

fifteen seconds

.

Flip and fry for another

minute

.

Remove to cooling rack to glaze.

For the glaze: Mix the powdered sugar, maple syrup, ¼ teaspoon salt, and hot water until completely mixed.

Dip the doughnuts in the glaze and let harden for

10-15 minutes

.

Add the last cup of powdered sugar and whisk again.

Dip the donuts a second time for the thicker glaze on top.

Top with your favorite sprinkles.

Try to save some for others.
Notes
Recipe adapted from Top Pot Hand Forged Doughnuts.
The original recipe calls for corn syrup which I don't use and vanilla, so I substitute maple syrup and omit the vanilla. For a more traditional flavor you can use the original 1 ½ teaspoons of corn syrup and at a ½ teaspoon of vanilla extract.
Nutrition
Calories:
348
kcal
|
Carbohydrates:
71
g
|
Protein:
3
g
|
Fat:
5
g
|
Saturated Fat:
2
g
|
Cholesterol:
39
mg
|
Sodium:
255
mg
|
Potassium:
95
mg
|
Sugar:
53
g
|
Vitamin A:
125
IU
|
Vitamin C:
0.1
mg
|
Calcium:
44
mg
|
Iron:
0.4
mg