Middle Eastern Meatballs (Kofta Kebabs) made in 15 minutes with authentic middle eastern spices, just like the ground beef kebab you love at restaurants.
Middle Eastern Meatballs (Kofta Kebabs)
Middle Eastern food is in my comfort zone because I grew up eating it. Anytime I need to feel more at home (we live a long ways away from home right now), I reach for my old family favorites. Growing up, my mom would make ground beef kebabs almost every week, so I have a soft spot in my heart for these kofta kebab meatballs.
When my mom would make Kofta Kebabs she never made them into meatball shape, instead forming them into log shapes. For the purposes of keeping this recipe from going viral in a weird way because of the shape and color of the food I formed them into meatballs (we also make them into meatballs now) and by doing that it actually makes the process a lot easier for you too!
How do I know they'd go viral in a bad way you ask? Well the first time I made them for my kids they giggled and made inappropriate jokes about them. Point taken, we adjusted the way we make them at home.
One of the easiest ways to make a meatball is with a cookie scoop. I use this one and scoop them directly onto the sheet pans or cast iron skillets. Don't worry about the bottom being flat, these kebabs are going to be larger than a classic meatball and the bottoms being flat only help you in cutting them in half with your fork. No escaping meatballs from your plate!
What kind of meat is kofta?
Traditionally lamb is used in kofta, sometimes even a lamb and beef mixture. This recipe uses ground beef instead of a lamb mixture because most people tend to use ground beef and the flavor of lamb for people who aren't used to it can be slightly gamey.
How do you make kofta kebabs?
The way kofta kebabs are traditionally make is by either forming the meat around metal skewers over an open grill or by creating a cigar or log shaped meat mixture which can be cooked on the grill, on the stovetop or in the oven.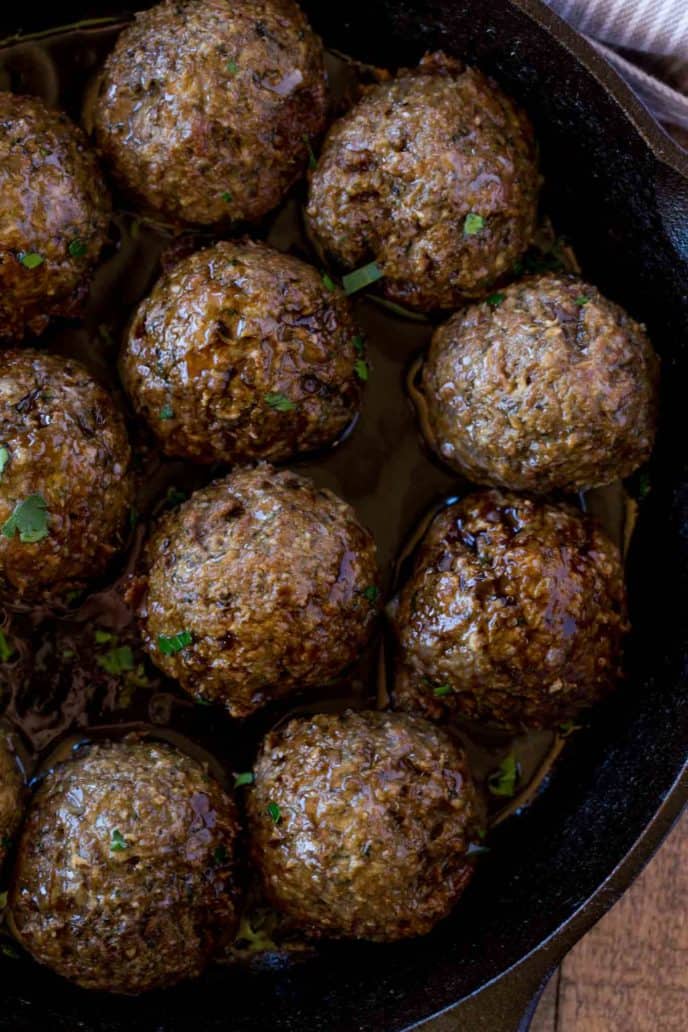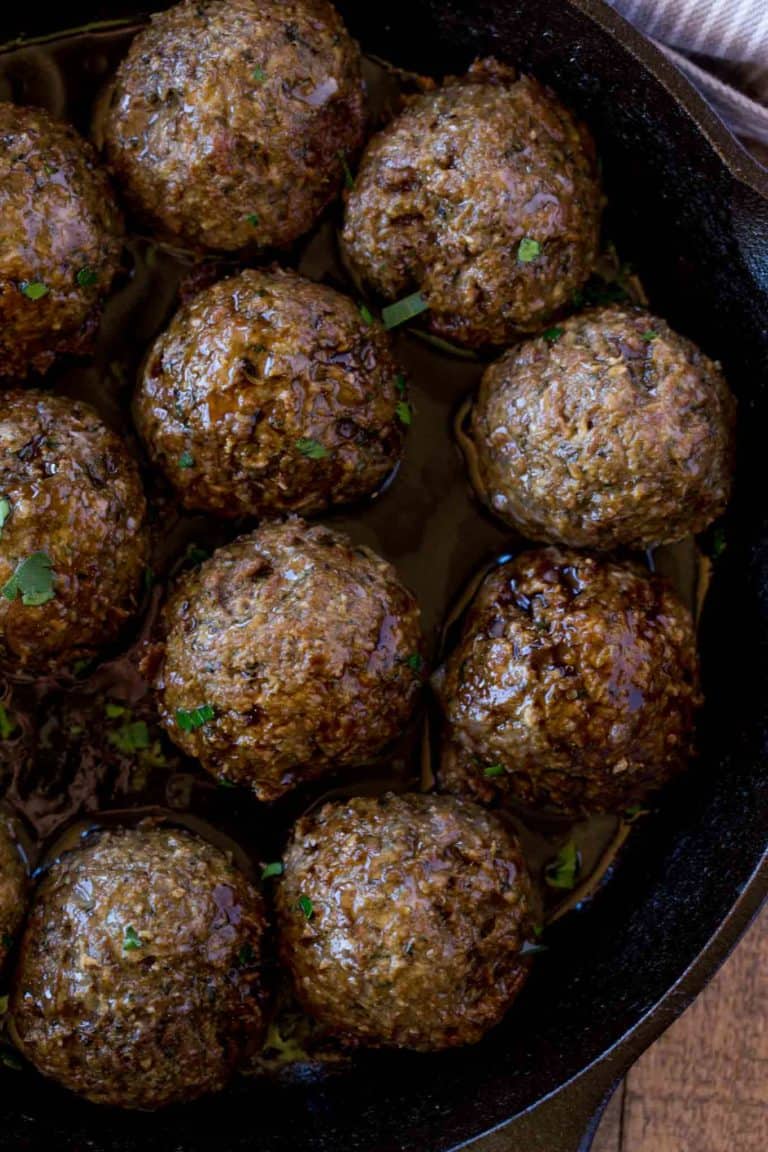 What do you serve with Kofta?
Traditionally a rice pilaf, roasted bell peppers, hummus or greek salad are served along side kofte kebabs. Often people stuff them into pita bread pockets with hummus, tomatoes and lettuce.
What are in Turkish Kofta Kebabs?
This recipe varies from a traditional Turkish kofta kebab as the Turkish variety usually includes breadcrumbs, egg or milk soaked bread.
Important Kofta Kebab Recipe Notes:
Do not skip the mint or the seasonings, they're meant to work together to make a very unique flavor you're familiar with if you've ordered this in restaurants.
If you don't have fresh mint you can use dried mint. Make sure you are using dried spearmint instead of peppermint as the menthol content in peppermint is 8 times higher than that of spearmint and you don't want the recipe to taste like a candy cane.
You can shape the mixture into classic kofta kebab shapes as well, or you can even shape it into a hamburger patty to make a middle eastern burger.
The recipe can be cooked on the grill if desired or even in grill pans if you shape it into thinner or flatter shapes.
Make sure you don't cook the kebabs until they're well done, refer to the picture below for keeping them moist by allowing them to stay somewhat pink in the center.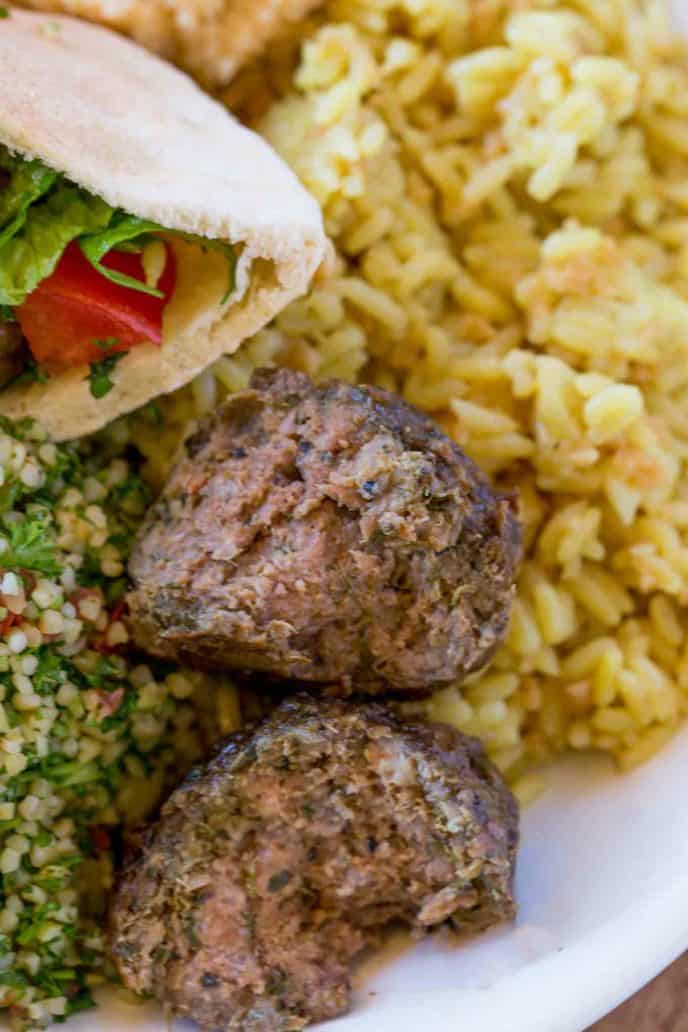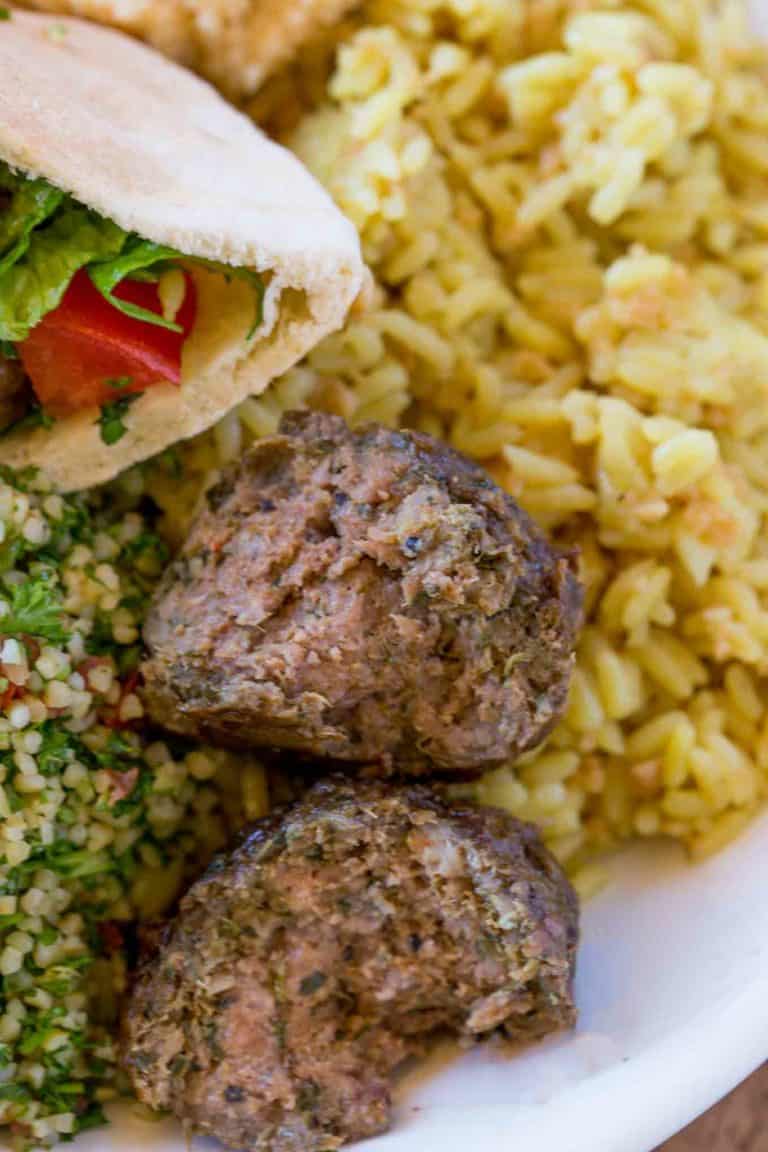 Can you meal prep the kebabs ahead of time?
If making same day: Combine the ingredients and press a piece of saran wrap over the top of the bowl to keep it fresh, then just scoop and bake.
If prepping for the future: Prepare the recipe and scoop it onto a cookie sheet lined with parchment paper. Freeze until firm then add to a freezer safe container. To cook: Add the meatballs to a skillet or cookie sheet with at least 1/2 inch lip and bake at 425 for 18-20 minutes.
If making for lunch: For easier eating, use a 1 1/2 tablespoon cookie scoop to make mini kofte kebabs. This makes eating at lunch easier and makes the meatballs bite sized. Cook the meatballs on a cookie sheet for 12-15 minutes.
Tools Used in the making of this Middle Eastern Meatballs:
Cast Iron Skillet: This is my most used pan in my kitchen, heavy, keeps heat well and gives the BEST sear ever.
Recipe
Save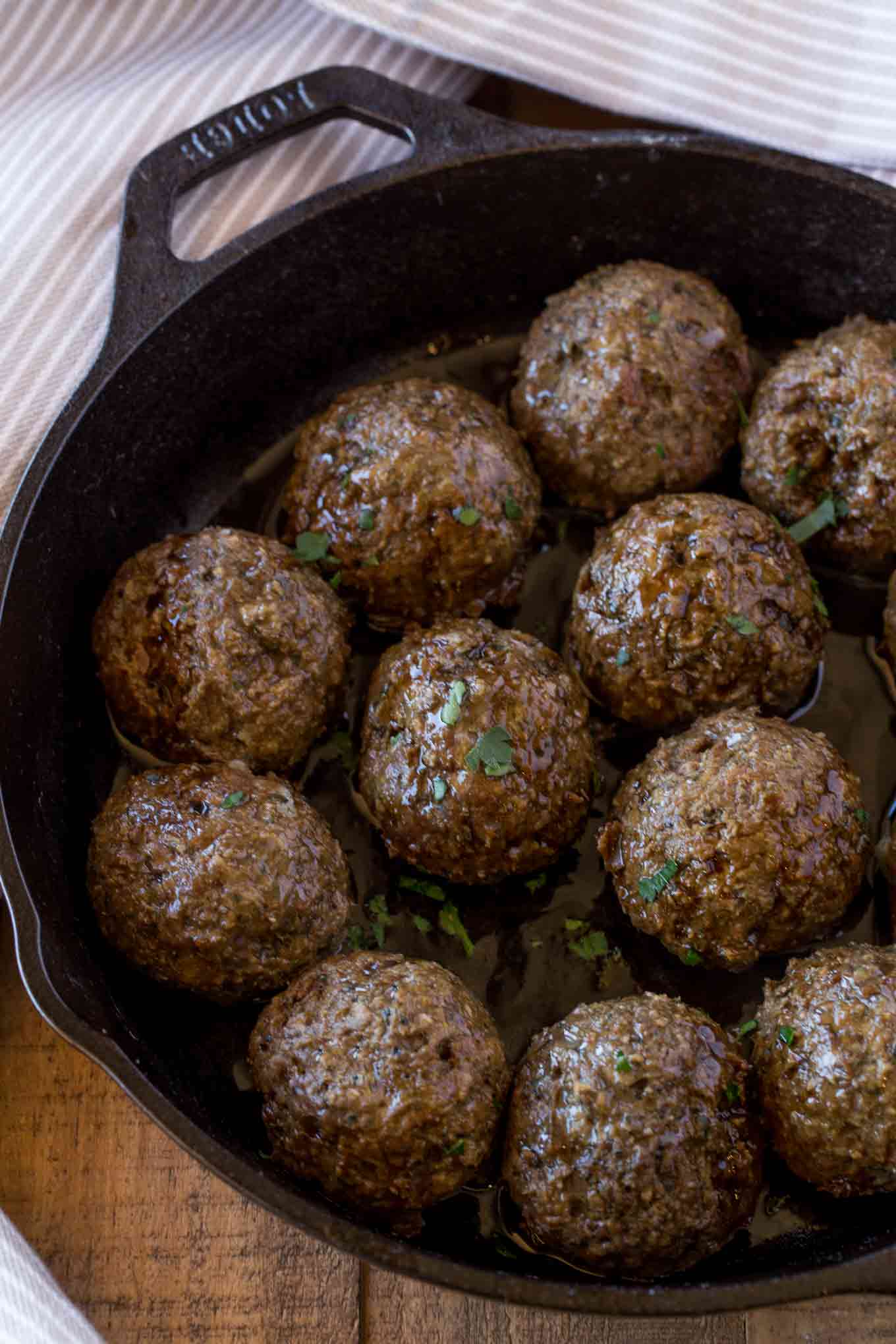 Middle Eastern Meatballs (Kofta Kebabs)
Yield:

18

Servings

Prep Time:

15

minutes

Cook Time:

15

minutes

Total Time:

30

minutes

Course: Main Course
Cuisine: Middle Eastern
Author: Sabrina Snyder
Middle Eastern Meatballs (Kofta Kebabs) made in just one bowl and ready to bake in 15 minutes with authentic middle eastern spices, it tastes like the ground beef kebab you love but with minimal effort.
Ingredients
2

tablespoons

fresh parsley

chopped

1

tablespoon

fresh mint

minced

6

cloves

garlic

minced

1 1/2

teaspoons

kosher salt

1/2

teaspoon

ground black pepper

2

tablespoons

ground coriander

2

teaspoons

ground cumin

1 1/2

teaspoons

ground cinnamon

1

teaspoon

ground allspice

1/2

teaspoon

cayenne pepper

1/4

teaspoon

ground ginger

2

pounds

ground beef

1/3

cup

grated onion
Instructions
Note: click on times in the instructions to start a kitchen timer while cooking.
Preheat the oven to 425 degrees.

Add all the ingredients except the beef into a bowl and stir well.

Add in the beef and stir until just combined.

Form into 1/4 cup meatballs (I use an ice cream scoop) onto your cast iron skillet or sheet pan.

Cook for 15-18 minutes or until cooked through.
Nutrition Information
Yield: 18 Servings, Amount per serving: 94 calories, Calories: 94g, Carbohydrates: 1g, Protein: 10g, Fat: 5g, Saturated Fat: 2g, Cholesterol: 33mg, Sodium: 229mg, Potassium: 186mg, Fiber: 1g, Sugar: 1g, Vitamin A: 90g, Vitamin C: 2.5g, Calcium: 17g, Iron: 1.4g
All images and text © for Dinner, then Dessert.
Keywords:
kofta, meatballs, mediterranean food, Middle Eastern food, middle eastern meatballs
Save