Slow Cooker Honey Orange Garlic Chicken recipe is tender, juicy chicken with a sweet and savory sauce made with orange juice, garlic, honey and soy sauce.
This recipe is similar to one of the most popular Dinner Recipes on our site, Slow Cooker Honey Garlic Chicken. This version adds some extra sweet, citrus flavor with the orange juice, and prepares an entire chicken instead of just chicken thighs.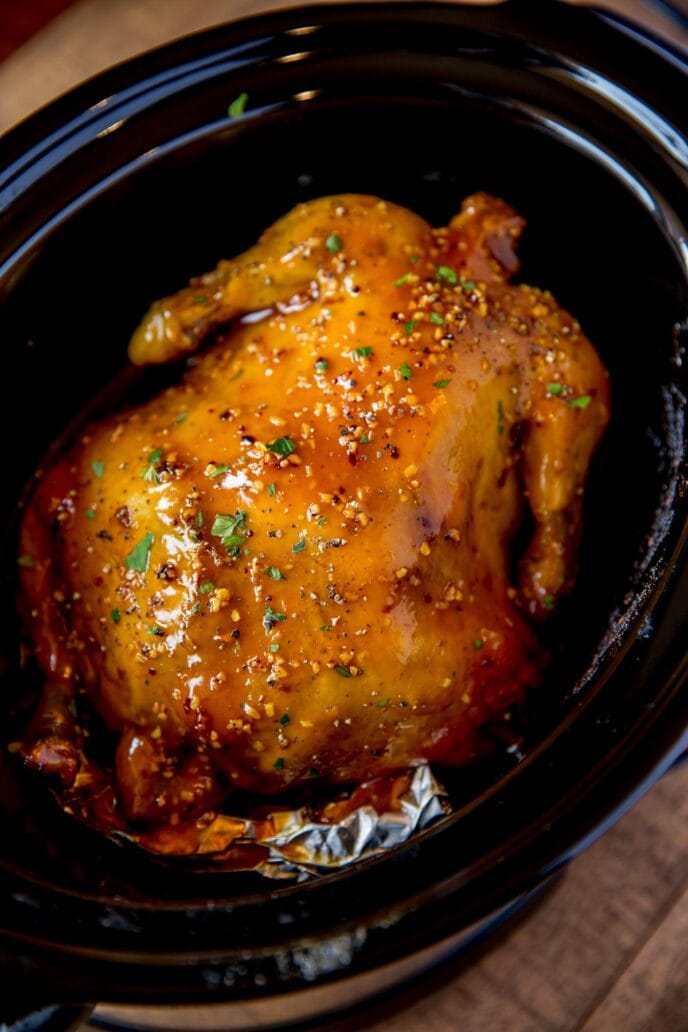 SLOW COOKER HONEY ORANGE GARLIC CHICKEN
Orange and Honey Garlic Chicken is the perfect make-ahead dinner. Just prep your ingredients in the crock pot in the morning, then let them cook as you go about your day. You'll come home to an amazing kid-friendly dinner ready to serve!
It's the perfect dinner for the next time you want something you can set and forget. Cook up some Sautéed Green Beans and white rice for an easy side, and enjoy the perfect slow cooker chicken dinner!
This is sure to become your go-to slow cooker recipe for the most flavorful and juicy chicken. This skin-on, bone-in whole chicken is easily cooked in a crock pot with sauce. The orange, honey, and garlic flavors all come together perfectly and soak into the chicken.
To make sure the chicken comes out as tender as possible put it breast side down in the crockpot. It may look strange, but it helps to keep the breast meat moist. Since the breast is easier to dry out it's important to keep it down in the crockpot, where it won't dry out and will remain succulent, and helps insure it doesn't overcook.
To get all the delicious flavor out of this recipe it's important to give the chicken time to marinate before putting it in the slow cooker. For the best results, add all your ingredients to a large freezer-bag and let it marinate for the full night in the fridge. If you forgot to set up your ingredients last night, make sure to at least let the chicken marinate for an hour before cooking it in the slow cooker.
MORE EASY SLOW COOKER CHICKEN DINNERS
MAKE-AHEAD SLOW COOKER HONEY ORANGE GARLIC CHICKEN
Crock Pot Honey Garlic chicken is also a great recipe to prep further in advance. Just put all the ingredients in a freezer bag like you usually would. Instead of leaving the chicken to marinate in the fridge, store it in the freezer until the next time you're ready for a slow cooker dinner.
Let the Chicken defrost for a full 24 hours before prepping it in the crockpot. Once it's thawed you can cook it in the crockpot as usual, and enjoy!
Slow Cooker Honey Orange Garlic Chicken recipe is tender, juicy chicken with a sweet and savory sauce made with orange juice, garlic, honey and soy sauce.
HOW TO THICKEN THE ORANGE AND HONEY GARLIC CHICKEN SAUCE
Once you've cooked the whole chicken in your slow cooker, remove the remaining liquid from the crock pot and put it in a pan.
Mix together 1 tablespoon water and 2 teaspoons cornstarch to make a slurry.
Add the slurry to your sauce pan.
Bring to a boil and continue to stir until the sauce has thickened.
Serve over Slow Cooker Honey Garlic and Orange Chicken.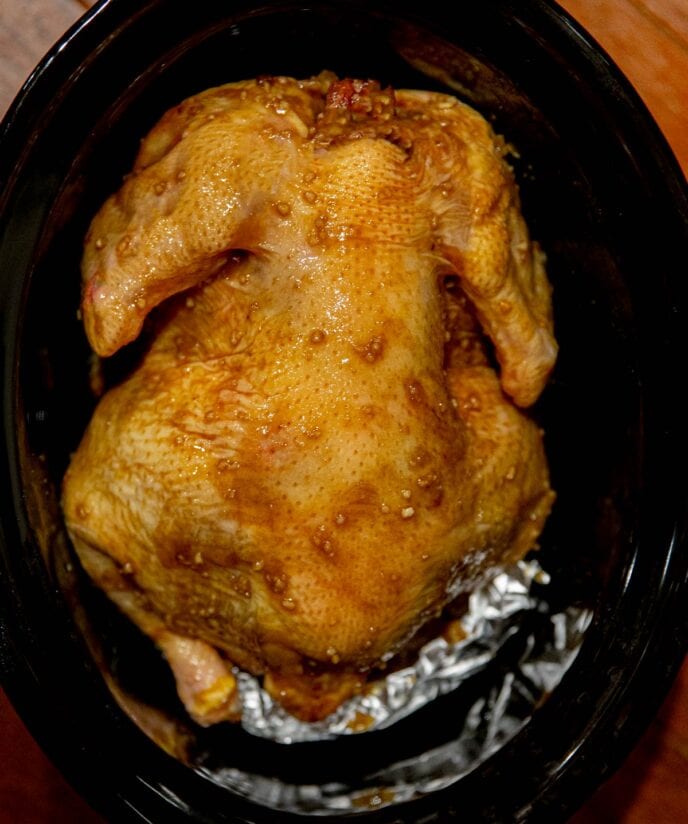 Create a free account to

Save Recipes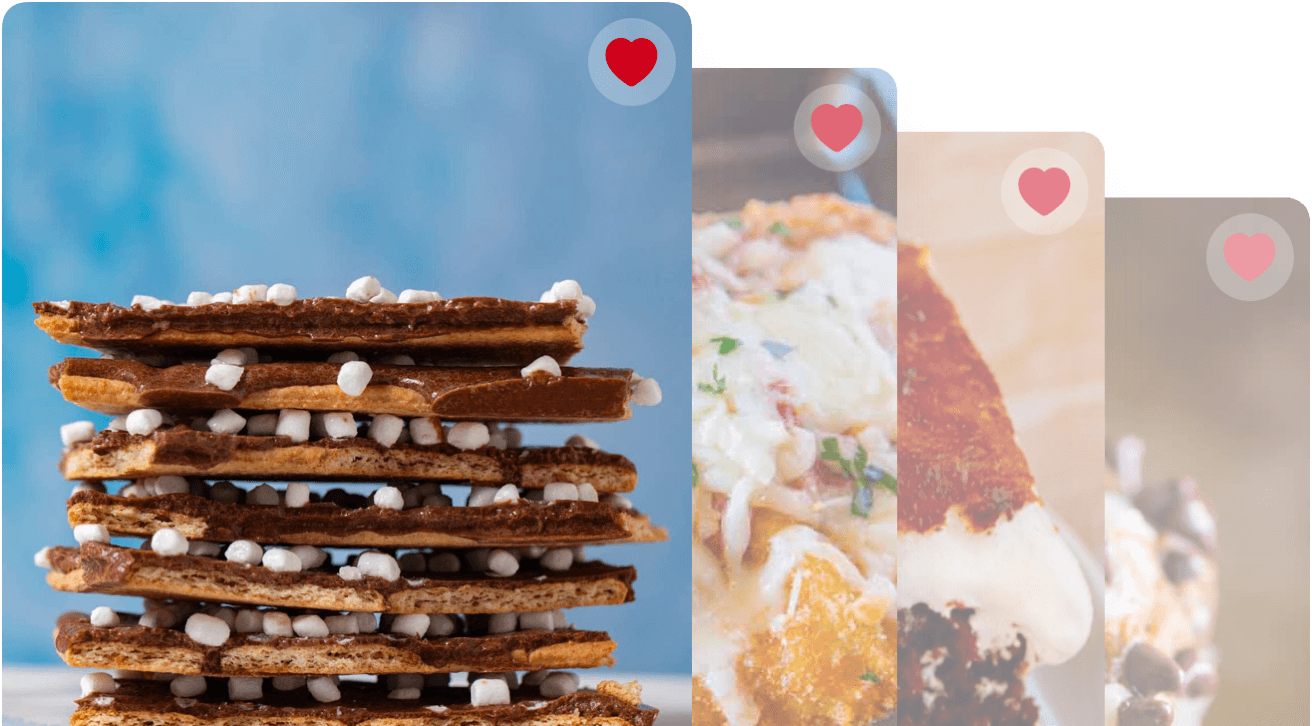 VARIATIONS ON SLOW COOKER HONEY ORANGE GARLIC CHICKEN
Chicken Thighs: You can prepare the same recipe using chicken thighs. Still allow the chicken to marinate in the sauce for extra flavor. Cook 6 bone-in, skin-on chicken thighs in a crock pot on low for 6-7 hours, or high for 3-4.
Skinless Chicken Breasts: Chicken breast cooks faster than chicken thighs or a whole chicken would. First allow the chicken breast to marinate as usual. Then pour all the ingredients into your crockpot. Decrease the cooking time to 3-4 hours on low for 6 boneless, skinless chicken breasts.
Add-ins: There are lots of flavor variations you can try in your Slow Cooker Chicken recipe. Try whisking in some ketchup, hoisin, or teriyaki sauce into your honey garlic sauce. You can even add some spice with red pepper flakes.
WHAT TO SERVE WITH SLOW COOKER HONEY ORANGE GARLIC CHICKEN
HOW TO STORE SLOW COOKER HONEY ORANGE GARLIC CHICKEN
Serve: Don't leave Slow Cooker Honey Garlic Chicken at room temperature for more than 2 hours. If you want to keep it out longer, keep your chicken in the crock pot on low so it stays warm.
Store: Let the chicken cool before storing it. To make storing easier cut the chicken into smaller pieces and keep it in a ziplock bag or other airtight container. It will keep well in the fridge for up to 3 days.
Freeze: To freeze the chicken, store it in an airtight container and keep it for up to 6 months. Let it defrost overnight in the fridge before reheating it.


Ingredients
1

whole chicken 4-5 pounds

, fully defrosted

6

cloves

garlic

, minced

1/4

cup

honey

1/4

cup

orange juice

1/4

cup

low sodium soy sauce

2

teaspoons

cornstarch

1

tablespoon

water
Instructions
Add all the ingredients to a large ziplock bag or in a large bowl and marinate overnight (or a minimum of 1 hour).

Using Heavy Duty Foil, cut two 18 inch pieces.

Roll each piece the long way, loosely, so the tube of foil was as long as possible, then curve it like an oven heating coil, like a flattened S.

Place the chicken on top of the foil, breast side down, and add any remaining marinade over the chicken.

Remove chicken from the slow cooker gently.

Add leftover liquid to a saucepan.

Mix cornstarch and water until well combined then pour into saucepan and bring to a boil until glaze is thickened, stirring well.

Pour glaze over chicken to serve.
Nutrition
Calories:
333
kcal
|
Carbohydrates:
15
g
|
Protein:
24
g
|
Fat:
19
g
|
Saturated Fat:
5
g
|
Cholesterol:
95
mg
|
Sodium:
444
mg
|
Potassium:
299
mg
|
Fiber:
1
g
|
Sugar:
13
g
|
Vitamin A:
198
IU
|
Vitamin C:
8
mg
|
Calcium:
21
mg
|
Iron:
1
mg