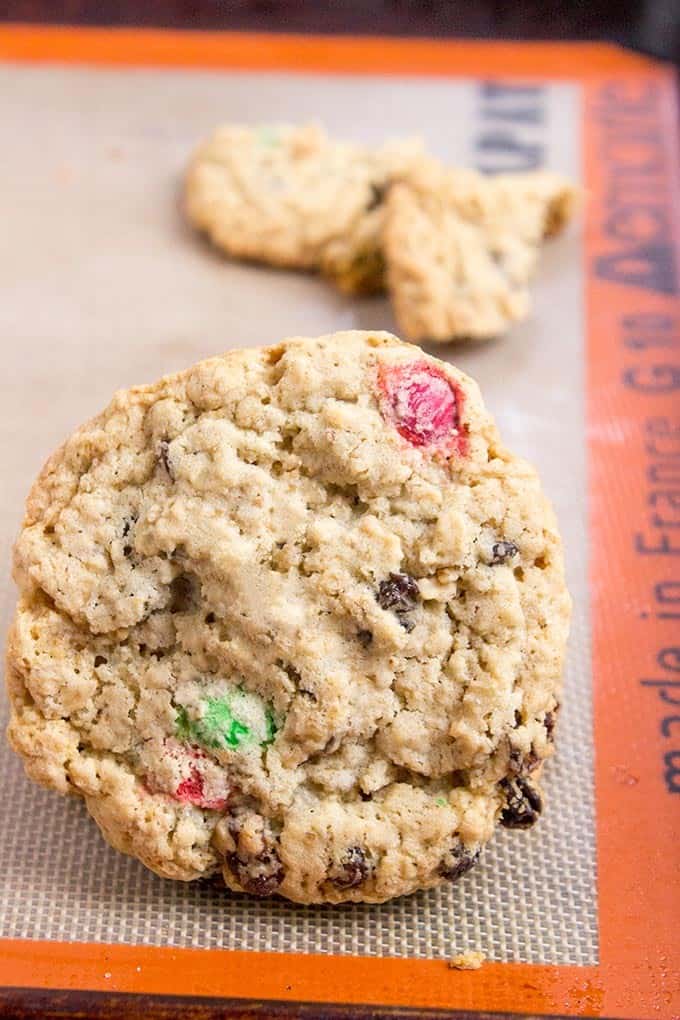 These Super Chewy Oatmeal Raisin M&M Cookies are full of oats, raisins, M&Ms, brown sugar (this makes them super moist and chewy) and they stay fresh covered for a week…if they last that long!I can't believe it is almost Christmas!! We've got our tree up, the house is totally decorated and these cookies have been prepped for their debut.
These Super Chewy Oatmeal Raisin M&M Cookies are actually part of our Christmas Eve tradition so I only use red and green M&Ms to stay in the holiday spirit. We call them "Reindeer Cookies" and pair them with the Jacques Torres Chocolate Chip Cookies for Santa. Our plates consist of one chocolate chip and 8 reindeer cookies (you know, since Santa has 8 reindeer?). While these cookies look substantial, for the plate I make the ones for the reindeer significantly smaller (1 tablespoon of cookie dough instead of 4) so Santa and his helper can finish them off in short order!
To prevent myself from being in the kitchen cooking on Christmas Eve, I actually made both batches of cookies a couple of weeks ago and froze the dough in balls. So now I just pop them into the oven and they are fresh and ready to go!
The Super Chewy Oatmeal Raisin M&M Cookies (I have to keep referring to them as super chewy, they are magical) are full of awesome mix-ins but my favorite addition is the dark brown sugar which makes them super rich, moist and chewy. When I was recipe testing them a couple of years ago I ended up making 4 or 5 batches which left me with a ton of cookies. They kept fresh (and by fresh I mean chewy, most and not at all crumbly) for OVER a week! This recipe was such a hit I actually made it my base for my basic oatmeal raisin cookies and my oatmeal peanut butter cookies too.


Ingredients
2

cups

flour

1

teaspoon

baking soda

1

teaspoon

baking powder

1

teaspoon

kosher salt

2

sticks unsalted butter

, softened

1

cup

dark brown sugar

, firmly packed

1

cup

sugar

2

large eggs

1

tablespoon

vanilla

3

cups

rolled oats

1 1/2

cups

raisins

20

red M&Ms

20

green M&Ms
Instructions
Preheat oven to 350 degrees.

In a medium bowl whisk together the flour, baking soda, baking powder and kosher salt.

In your stand mixer cream the butter and sugar for

1-2 minutes

on high until light and fluffy.

Add in the dark brown sugar, eggs and vanilla and mix until fully combined.

Add in the dry ingredients a third of it at a time until just incorporated.

Add in the oats, raisins and M&Ms and mix in on low for just a few seconds until combined.

Refrigerate your dough for

30 minutes

AT LEAST (the longer the better).

Depending on the size of the cookies you want, your baking time will vary.

For small cookies, using a 1 tablespoon measure, bake for

9-11 minutes

(I get 72 cookies).

You don't need the cookies to brown too much, so the moment the bottoms get brown, pull them out.
Nutrition
Calories:
124
kcal
|
Carbohydrates:
27
g
|
Protein:
2
g
|
Fat:
1
g
|
Cholesterol:
9
mg
|
Sodium:
103
mg
|
Potassium:
104
mg
|
Fiber:
1
g
|
Sugar:
12
g
|
Vitamin A:
15
IU
|
Vitamin C:
0.3
mg
|
Calcium:
19
mg
|
Iron:
0.9
mg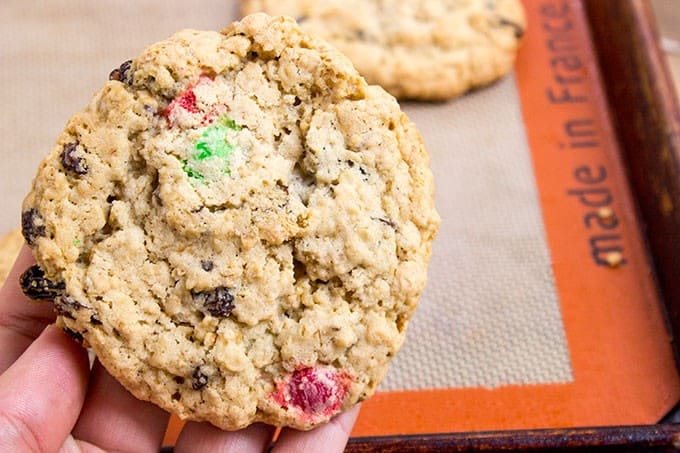 Psst, a little behind the scenes? These cookies are one of 3 that will be part of my holiday gifts I give clients this year. Also making the cut are again, the famous Jacques Torres Chocolate Chip Cookies and my Award Winning Gingerbread Cookies.
Since I can't deliver all of you cookies, I wanted to tell you about an awesome person I love who you can actually order sweets from! She makes some of the most amazingly creative flavors of toffee I couldn't even dream up! You have to check out her etsy store if you love toffee: www.sweettoothtoffee.etsy.com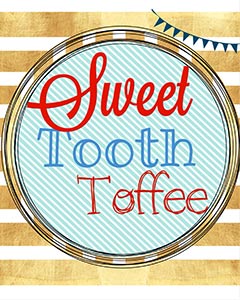 Sweet Tooth Toffee came about just as the name suggests, a crazy late night sweet tooth craving. From there, I thought of all the different sweets I love but can't put in my purse running errands like cheesecake, pumpkin pie, blueberry cobbler and voilà! Delicious flavored hand crafted toffee.