Pepperoni Pizza baked on a whole wheat tortilla with melty mozzarella and pepperoni, this pizza is satisfying!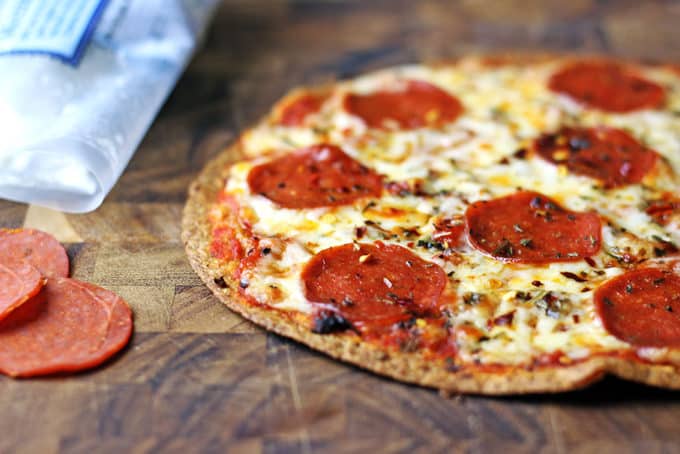 I put recipes up here for you all on a daily basis, most of which are pretty decadent or just "chef-worthy" in general. Truth is I've actually been watching what I eat since I had my youngest less than a year ago.
I've had days where I make a recipe I absolutely love, take 4 bites of it and each a plate of steamed vegetables because I only have so many "points" left after a stressful afternoon of binge eating pretzel sticks while making sure both kids are alive and well (I don't know why but our youngest is completely enamored with chewing on plugged in power cords).
So when I posted this Weight Watchers Pepperoni Pizza on Instagram, I was just sharing my lunch and it became a hit on my Facebook page. I tend not to share recipes that are dependant on a specific brand (this is not a sponsored post, btw), but in this case I think it is available over most of the country, so hopefully it won't frustrate too many of you.
The recipe is easy and quick enough. Preheat the oven to 425 degrees, take one La Tortilla Factory Wheat Tortilla, top it with 3 tablespoons of your favorite pasta sauce (I use Trader Joe's marinara) and 2 ounces of Trader Joe's Lite Shredded Mozzarella.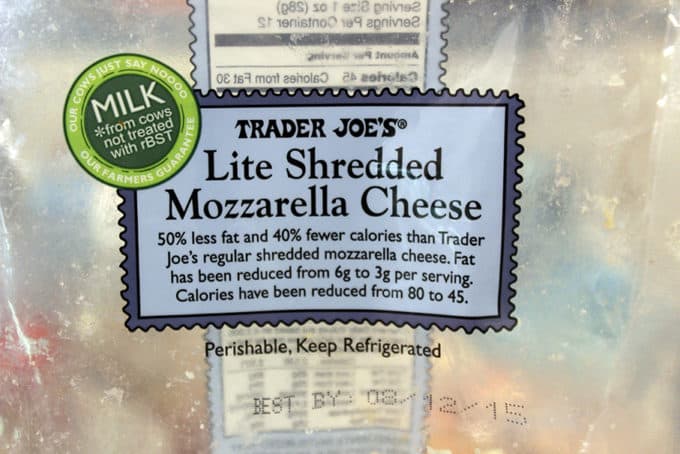 If I can stop the directions for a second to discuss the cheese. This mozzarella is worth writing poetry about. It browns amazingly, when you pull out a slice of lasagna the mozzarella strings go on forever and it tastes as good if not better than any other normal Mozzarella I've bought. I kid you not, right now in my fridge I have three of them. We ALWAYS have them, even if no one is "dieting," it is our go to. This cheese is the secret sauce that makes this Weight Watchers Pepperoni Pizza so amazing. Don't substitute for another brand of light mozzarella and then get disappointed it isn't amazing. Go out and get this if it is within a reasonable driving distance for you! And the nutritional stats on it are a DREAM to a person watching their calories!!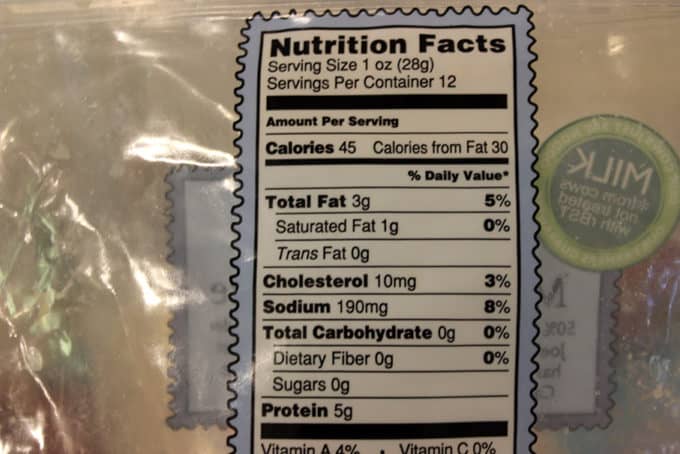 But I digress, where were we…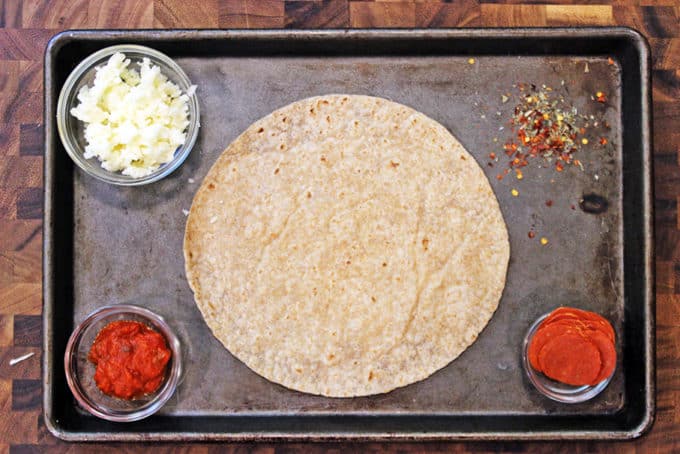 Oh yes, tortilla, pasta sauce, mozzarella and now I use 8 slices of turkey pepperoni (I've looked at the labels and every turkey pepperoni I've seen is the same points for 8 slices) and top with some dried oregano and crushed red peppers (optional).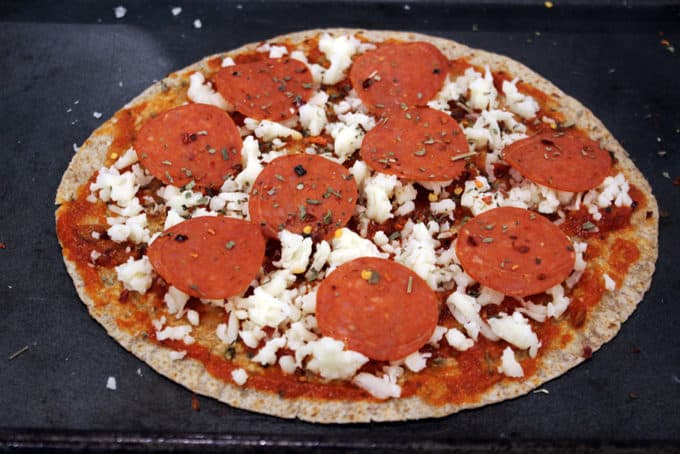 Now here is where I recently changed the recipe. I found that the texture of the tortilla was not great when baked, so I tried a quick (I mean less than a half second) spray of canola oil on top. The difference was night and day! The flavor is wonderful with it! So once you are all topped and ready to go, give the pizza a quick spray and we can get baking!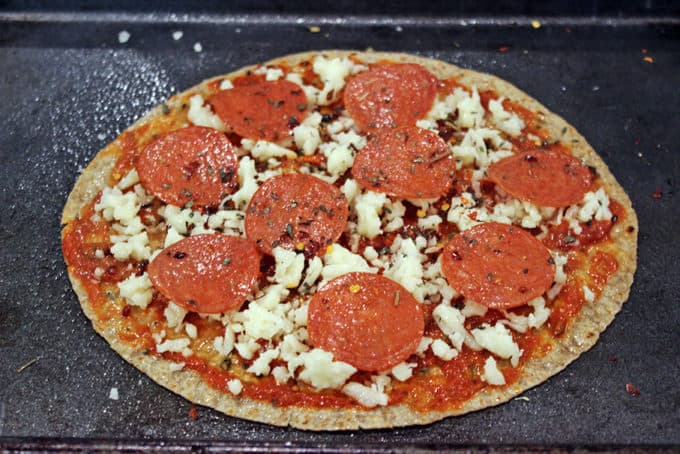 Bake the pizza on a sheet pan for 5-7 minutes. Watch your oven, by 7 minutes you should be all bubbly and browned.  Let the pizza rest for 2-3 minutes when it comes out because that cheese is going to be like lava.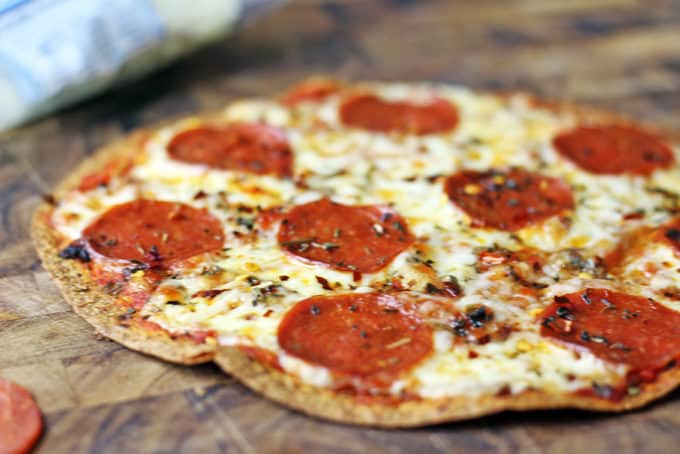 I usually slice it into four wedges and eat it before my toddler discovers I made pizza. But if you want to feel like you are eating a delivery pizza, slice it into smaller triangles for bite sized slices.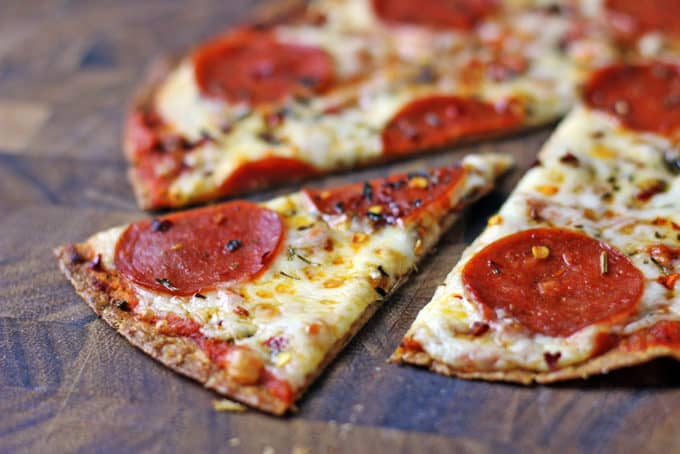 Ingredients
1

La Tortilla Factory Low Carb Whole Wheat Tortilla

2

ounces

Trader Joe's Lite Mozzarella

3

tablespoons

marinara sauce

1/4

teaspoon

dried oregano

1

pinch of crushed red pepper

8

slices

turkey pepperoni

1

spray

canola oil spray
Instructions
Preheat oven to 425 degrees.

Assemble your pizza by spreading the marinara on top of the tortilla.

Add the mozzarella cheese, then pepperoni.

Top with oregano and crushed red pepper.

Spray very quickly with canola oil spray (a half second spray)

Bake for

5-7 minutes

, until bubbly and browned.

Let sit for

2-3 minutes

before eating.
Nutrition
Calories:
46
kcal
|
Carbohydrates:
3
g
|
Protein:
5
g
|
Fat:
1
g
|
Cholesterol:
17
mg
|
Sodium:
497
mg
|
Potassium:
212
mg
|
Sugar:
1
g
|
Vitamin A:
195
IU
|
Vitamin C:
3.1
mg
|
Iron:
1
mg

 Save an extra point and use sliced veggies instead of pepperoni! Or make my second favorite pizza Pear, Walnut & Gorgonzola from Eating Well. It is what I make when I want to feel good about what I am eating when I am really craving a Fig & Pig Pizza from Tin Roof Bistro (Google it!)