Weight Loss Cabbage Soup is an easy vegetable soup that's great for healthy eating, but still flavorful and filling. Made in only 20 minutes!
This incredibly simple Soup Recipe is even healthier and easier than Classic Cabbage Soup and is also delicious and enjoyable, just like Vegetable Soup and Classic Chicken Noodle Soup. There's a reason that soups are said to warm your soul.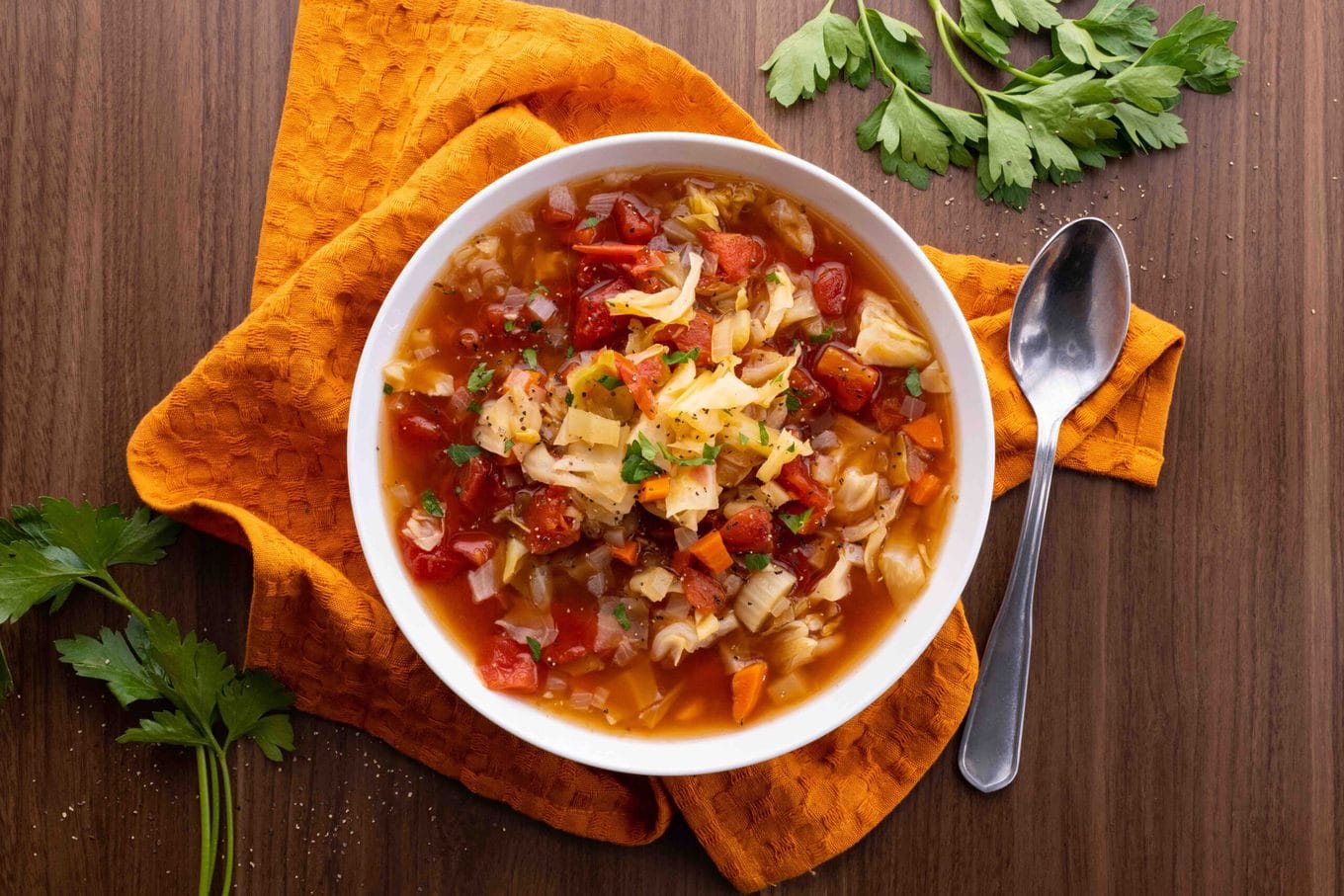 Weight Loss Cabbage Soup is also known as Diet Soup, Wonder Soup, or GM Diet Wonder Soup. This Cabbage Soup is the central part of an eating plan that has been around for years enjoying unlimited Cabbage Soup throughout. (Note: we are not advocating to be nutrition professionals OR advocating that you follow a specific diet. We just wanted to offer the recipe and give you its background).
There are other cabbage soup diet recipes used for quick weight loss, but Wonder Soup makes a great starting point for healthy eating because it's low in calories, nutrient-dense, fat-free, and sugar-free.
Hearing all that, you might be starting to picture an awfully bland soup, but luckily the flavorful ingredients like cabbage, garlic, tomatoes, basil, and oregano give this broth-based Cabbage Soup an excellent taste while remaining low-calorie. This is a delicious soup that you can enjoy for an easy healthy meal once in a while. If you just have Cabbage Soup as a regular dinner, you can make some Soft Rolls to go along with it for a comforting meal.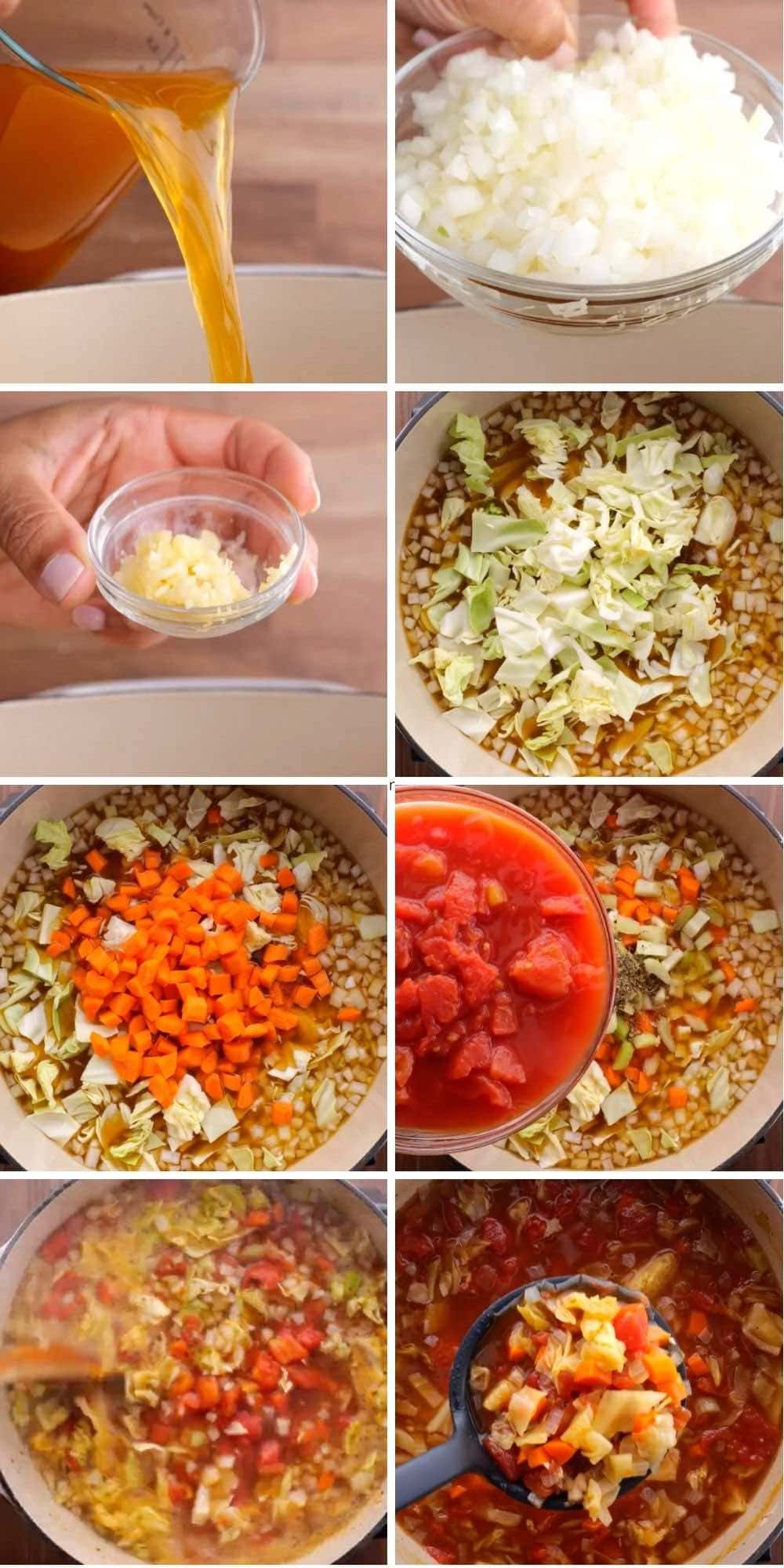 How to Make Weight Loss Cabbage Soup
One of the best things about soups is how easy they are to make and how amazing they are for a healthy diet. The process is literally just chop up all the veggies and add them to the seasoned soup base in your Dutch Oven.
Step One – Chop: Take your head of cabbage, cut in half. This will give you about 4 cups of shredded cabbage. Save the other half for another meal, unless you're meal prepping. Chop all the other vegetables into
Step Two – Cook: Add all of your ingredients to your soup pot and cook until the carrots are tender. Violà! Your healthy cabbage soup is ready to eat!
Frequently Asked Questions
How many calories are in Weight Loss Cabbage Soup?
If you're counting your caloric intake, your calories per day is very important. Thankfully, this is a low calorie meal with only about 60 calories per serving (one cup).
Can I add meat to Wonder Soup?
There are a lot of ways you can change up the recipe. To make it more filling, try adding in some meat like chicken, turkey, or beef. It may not be as low in calories, but it will still be healthy and delicious. If you're starting with raw meat, you'll want to sauté it for a few minutes ahead of time to get it browned. If you don't want to add meat, but still want to make the recipe more filling you could cook in some lentils and brown rice with your Cabbage Soup.
What kind of broth should I use for Cabbage Soup?
You can exchange the vegetable broth in the recipe for chicken broth or beef broth if you prefer. You can also use low-sodium broth if you're trying to reduce sodium.
Should I use Purple Cabbage or Green Cabbage? 
You can use either, or a mix of both! This recipe uses green cabbage. 
What else could I add to Weight Loss Cabbage Soup?
There are lots of vegetable and spice/herb add-ins you can put in the soup if you'd like to change up the taste. Try adding some bell peppers, green beans, green peppers, or seasonings like red pepper flakes, paprika, and Italian seasoning.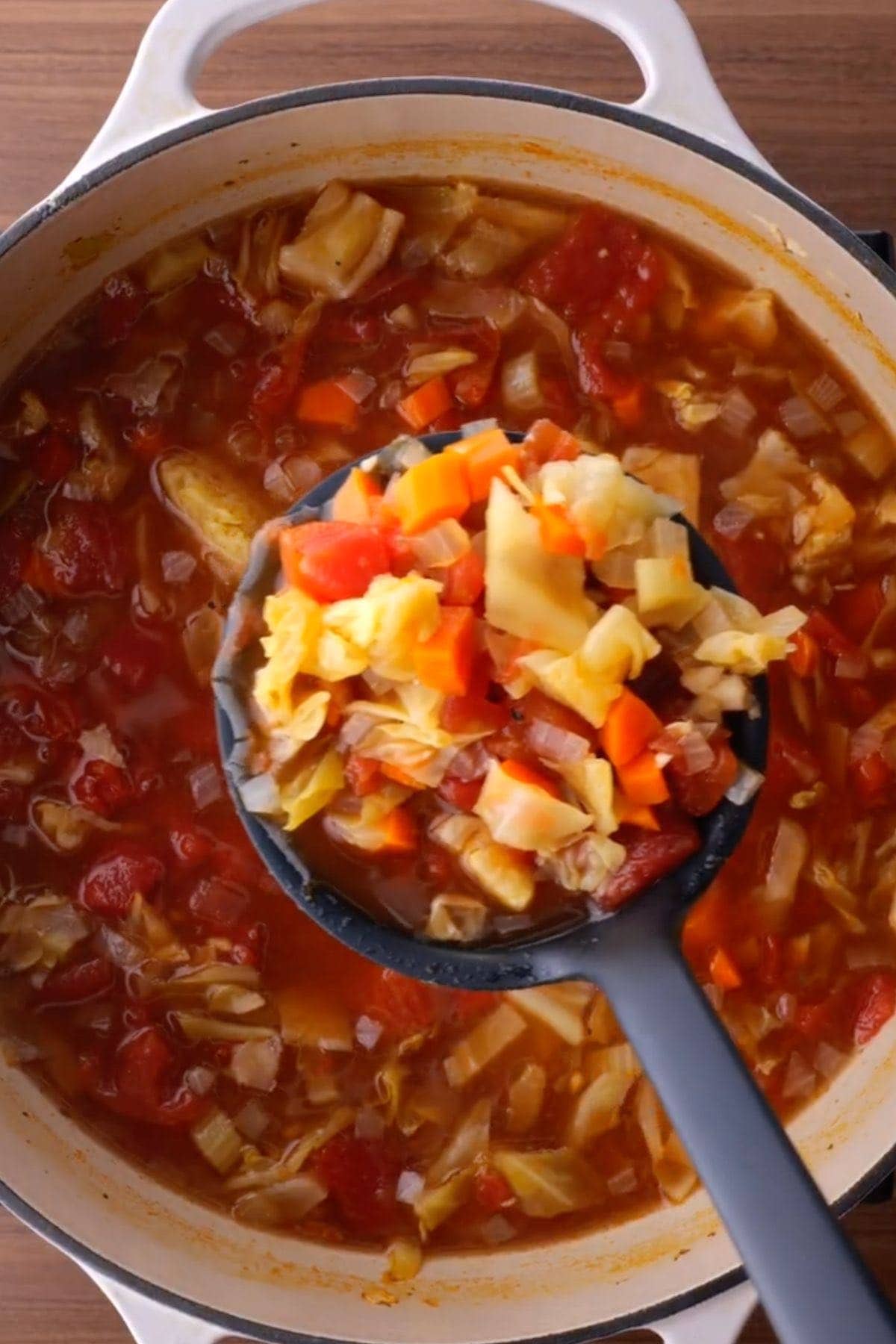 Create a free account to

Save Recipes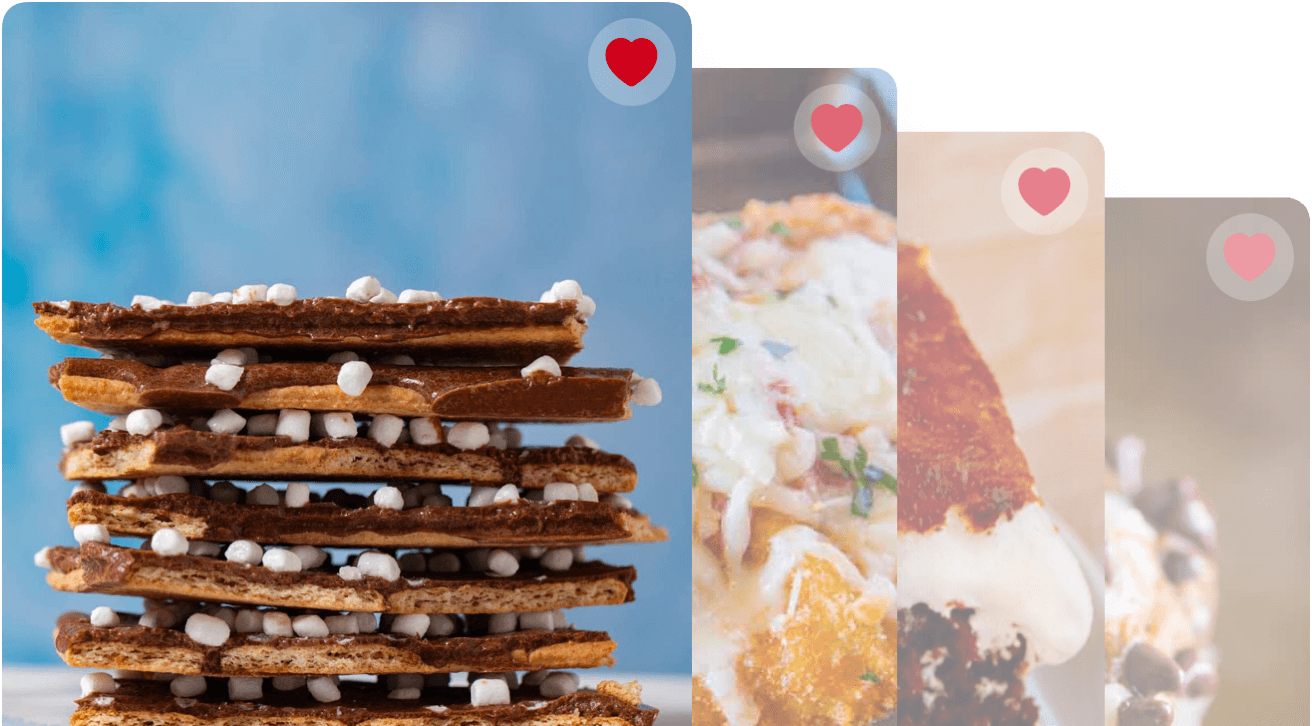 Key Ingredients in Weight Loss Cabbage Soup
The greatest thing about a homemade cabbage soup diet is the sheer amount of vegetables in this soup. The ingredients are simple, easy to prep, and delicious to eat. You can add so many things to your healthy cabbage soup. But let's look at what this recipe calls for.
Soup Base: We're using a vegetable broth as the base. You can easily find pre-made veggie broths in your local grocery store.
Vegetables: Choose fresh and ripe vegetables when buying them. Bonus points if you can source them from your local farmer's market!
Cabbage: Yes, cabbage is a vegetable, but it's the foundational veggie in our healthy cabbage soup. It's a wonder vegetable that's been cooked for thousands of years. It is an excellent source of vital nutrients and may be good for your blood pressure. There are two main types of cabbage: red or purple, and white or green. You can also use Savoy cabbage which is characterized by its crimped leaves, as compared to the smoother leaves of other cultivars. It truly makes this soup a Wonder Soup!
Alternative Cooking Methods for Weight Loss Cabbage Soup
No matter your soup pot used for cooking this healthy cabbage soup recipe will make it super easy to make. Just be sure to add plenty of water or broth of choice.
Slow Cooker: This is a great slow cooker meal. Add all the ingredients, cover with the lid, and let it cook for 4 hours. If it cooks too long it might get too soggy. This is especially useful if you add roast beef or chicken to your soup.
Dutch Oven: This is the method used in this recipe. It's a great stovetop stock pot.
Pressure Cooker: This one is quick and easy. Just add all the ingredients to the pot. Pressure cook on high for 3 minutes. Press the natural release valve and serve when ready!
Meal Prepping Weight Loss Cabbage Soup
If you're on a cabbage soup diet and meal prepping this soup for the whole week, it's a great idea to get the soup prepped in advance. The last thing you want is to have to chop up all the vegetables then wait for the soup to heat up when you're already hungry. Make all your batches of cabbage soup in one go and just reheat them when ready.
Prep Extra: Start by cutting up all your vegetables. This recipe will be enough for several servings, but you may want to double up if you're eating it for the whole week.
Store Extra: You can combine the full recipe right way, or divide the ingredients into serving-sized containers to store in the fridge. Then you can just add broth and heat up one serving at a time.
Cool First: If you make all the soup right away, then let it cool to room temperature and store it in an airtight container in the fridge. You can heat each serving in the microwave or on the stovetop for a few minutes.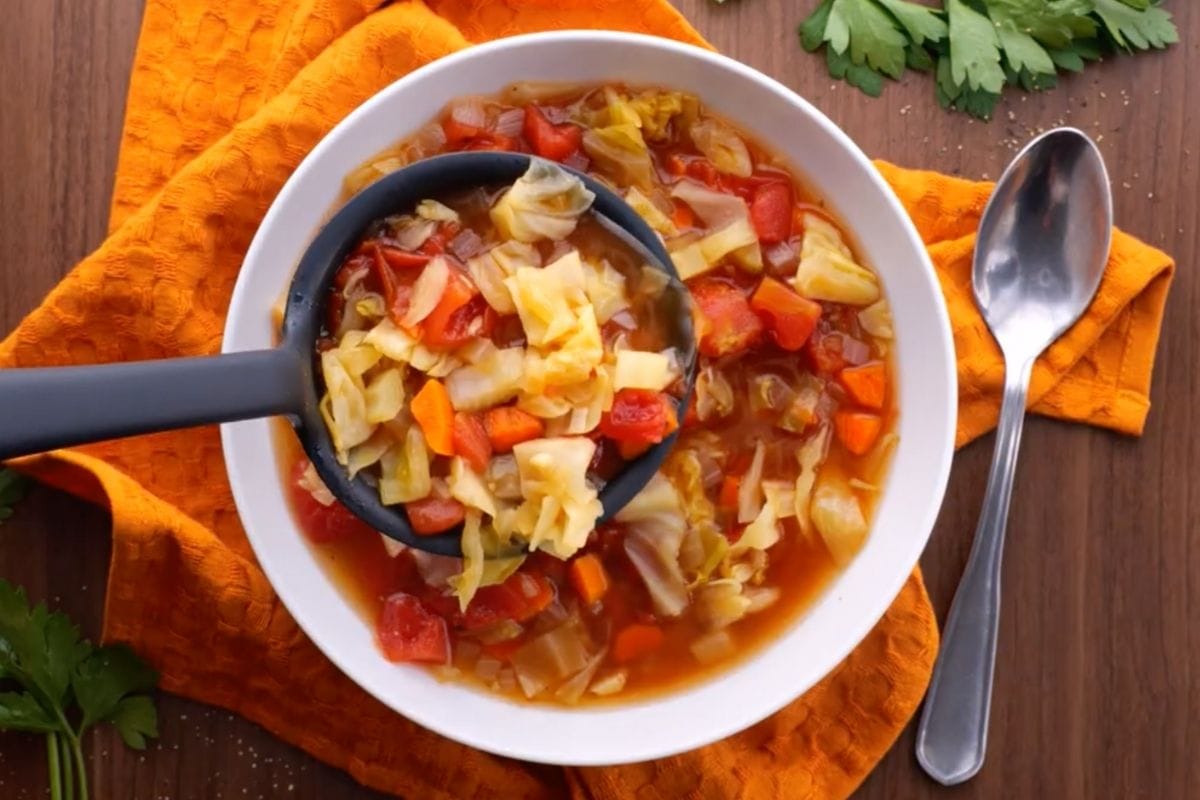 Variations on Weight Loss Cabbage Soup
There's a lot you can do with this healthy soup recipe. Adapt to your favorite style!
Vegan (Pure Veg): This recipe defaults to being a pure vegan recipe as it is made from 100% plants.
Vegetarian (Veg): You can make it a creamy soup by adding a cup of milk or half and half to your cooking pot.
Pescatarian (Non-veg): White fish would go really nicely with this recipe, like cod or halibut. Give the fish a good pan sear in olive oil before adding it to the soup.
Meatarian (Non-veg): You can add chicken, pork, or even lamb to the soup. Steak would be amazing too. If you really want to step it up, cook pork sausage or chorizo with the meat to add a ton of flavor!
How to Serve Weight Loss Cabbage Soup
Serve the soup in a bowl with a side of baked potato with butter. The flavor will go good with the garlic cloves in the soup.
Top the soup with freshly chopped green onion and a sprinkling of fresh parsley or cilantro (fresh coriander) for a vibrant pop of color.
To give it a little kick, cook with a tablespoon of red pepper flakes.
More Yummy Cabbage Recipes
How to Store Weight Loss Cabbage Soup
Serve: You can keep this Cabbage Soup recipe at room temperature for 2 hours before you'll want to store it. Keep a lid on it when not being served.
Store: To store Wonder Soup, let it cool to room temperature then put it in an airtight container. This recipe can keep well in the fridge for up to a week.
Freeze: You can also store Wonder Soup in the freezer. It will store well for up to 3 months.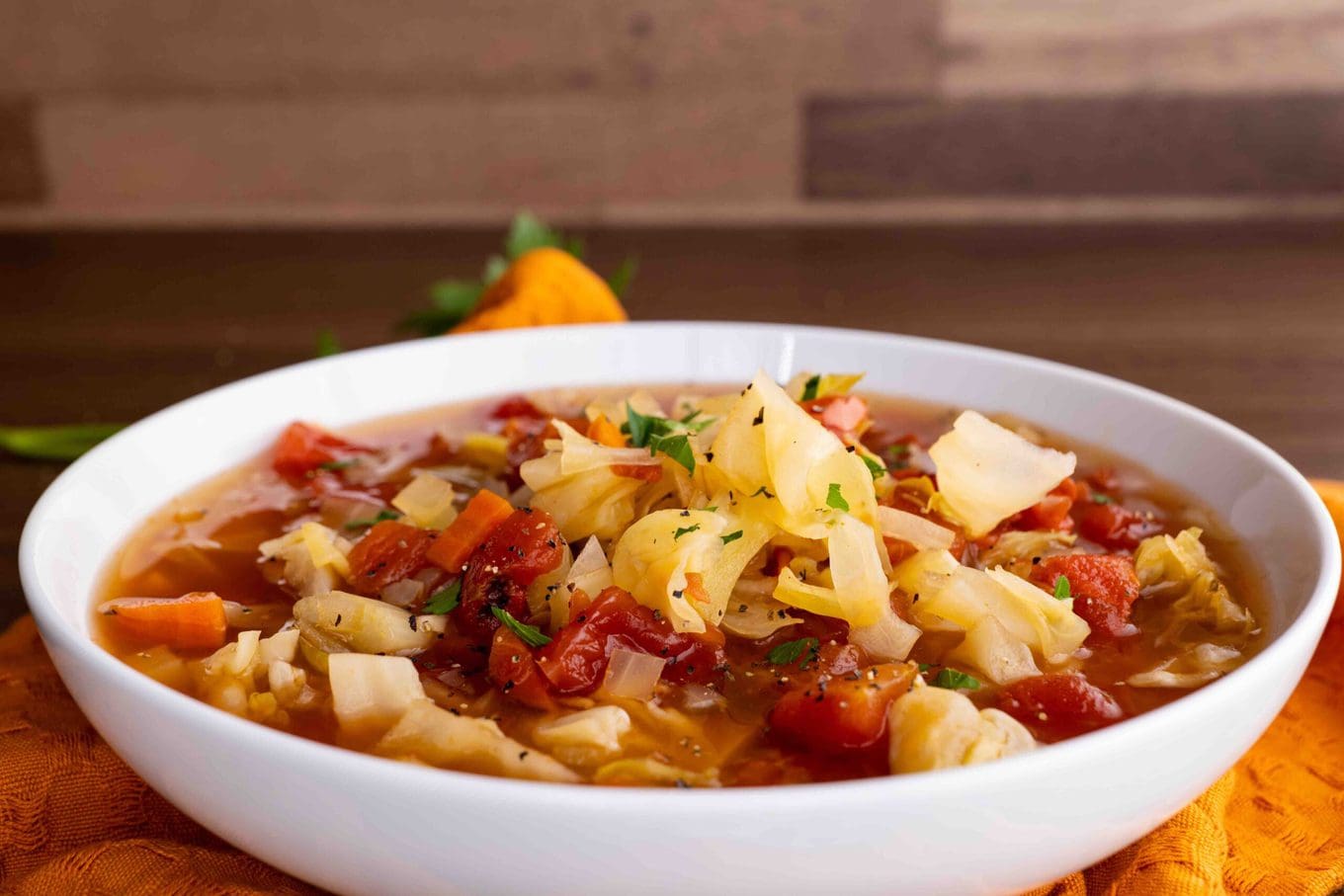 Ingredients
8

cups

vegetable broth

1

yellow onion

, chopped

3

cloves

garlic

, minced

4

cups

cabbage

, cut into 1 inch chunks

3

carrots

, sliced

3

stalks

celery

, sliced

1/2

teaspoon

Kosher salt

1/2

teaspoon

coarse ground black pepper

1/2

teaspoon

dried oregano

1/2

teaspoon

dried basil

28

ounces

diced tomatoes

, do not drain
Instructions
Add the vegetable broth, onion, garlic, cabbage, carrots, celery, salt, pepper, oregano, basil, and diced tomatoes then stir well.

Bring to a boil, then reduce heat to low and cook for

20 minutes

until cabbage and carrots are tender.
Nutrition
Calories:
57
kcal
|
Carbohydrates:
13
g
|
Protein:
2
g
|
Fat:
0.3
g
|
Saturated Fat:
0.1
g
|
Polyunsaturated Fat:
0.1
g
|
Monounsaturated Fat:
0.04
g
|
Sodium:
1130
mg
|
Potassium:
388
mg
|
Fiber:
3
g
|
Sugar:
7
g
|
Vitamin A:
4543
IU
|
Vitamin C:
25
mg
|
Calcium:
68
mg
|
Iron:
1
mg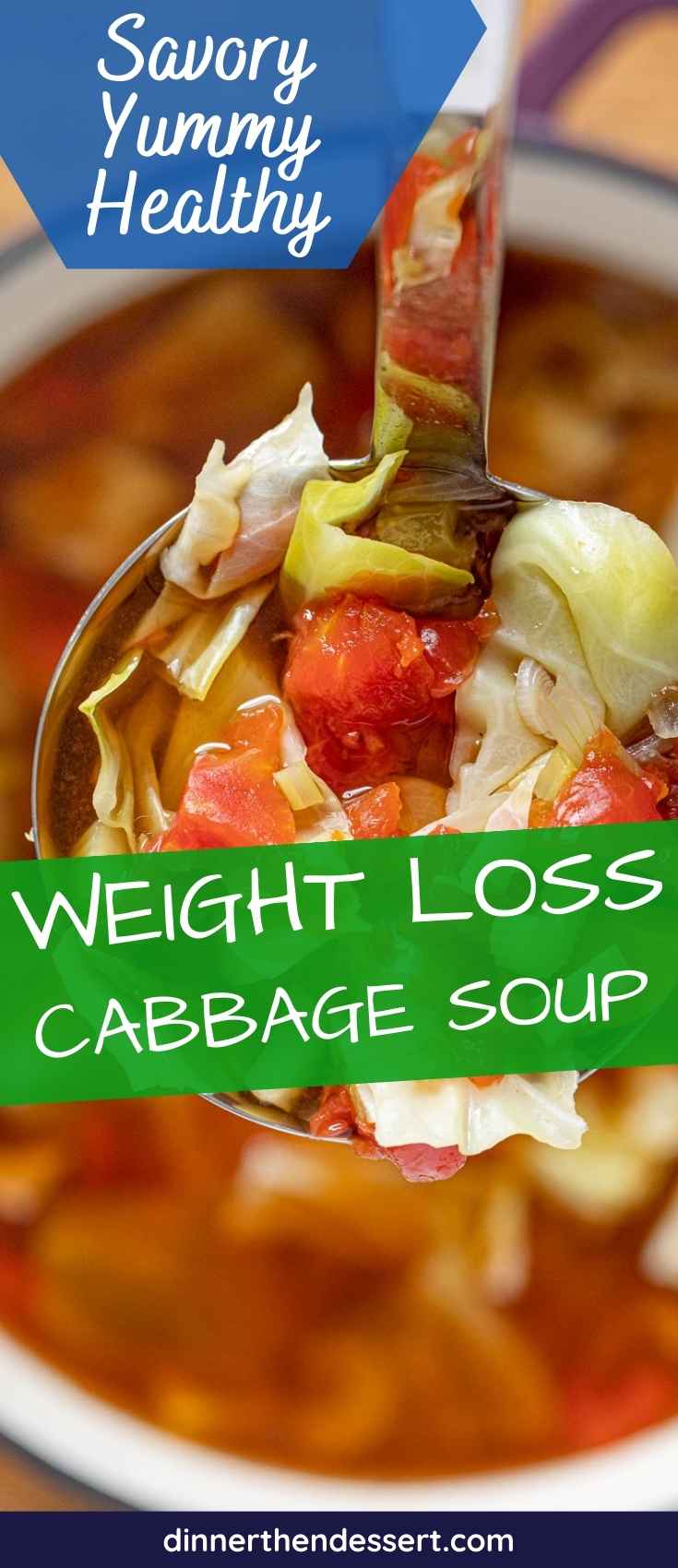 Photos used in a previous version of this post.