Chili's Chicken Crispers (Copycat)
This post may contain affiliate links. Read my disclosure policy here.
Chili's Chicken Crispers copycat with the delicious shatteringly crispy crust that Chili's crispers famously have, but made at home! So easy to make and also a great batter for fish too!
Chili's Chicken Crispers
Back to Chili's today for one of my kids' favorite chicken tenders of all time. The original Chicken Crispers with that sort of fish and chips texture that's super different from most chicken tender recipes.
Most chicken tenders have a crispier, more  texture, but these are more of a cross between a tempura texture and a fish and chips texture, smoother, lighter batter and the edges, with the super crispy just batter that fried up is so light in texture you'll find yourself sneaking pieces of it while cooking.
Does Chili's use MSG?
Yes, the original recipe does call for MSG, but the copycat recipe swaps out the Accent Seasoning for chicken broth, per Todd Wilbur. In this swap it works well to emulate the same flavors.

What to serve with Chili's Chicken Crispers?
Classic chicken tenders are best served with KFC Potato Wedges, KFC Coleslaw, Crispy Sweet Potato Fries or even your favorite potato salads.
Let's discuss the dipping sauces! There's two that are our absolute favorites at Chili's and they're both so EASY to make.
MY OTHER RECIPES
Chili's Honey Chipotle Sauce Recipe
2/3 cup honey
1/4 cup water
1/4 cup ketchup
1 tablespoon white vinegar
2 teaspoons ground chipotle powder
1/2 teaspoon salt
Add the ingredients to a small saucepan and bring to a boil.
Cook, whisking, for two minutes before turning off the heat.
Cool the sauce before serving as a dip or toss the chicken crisper in the warm sauce if serving fully dipped.
Chili's Honey Mustard Sauce Recipe
1/4 cup dijon mustard
1/4 cup mayonnaise
1/4 cup honey
Mix all the ingredients together.
Chill in the refrigerator for at least a couple of hours before serving.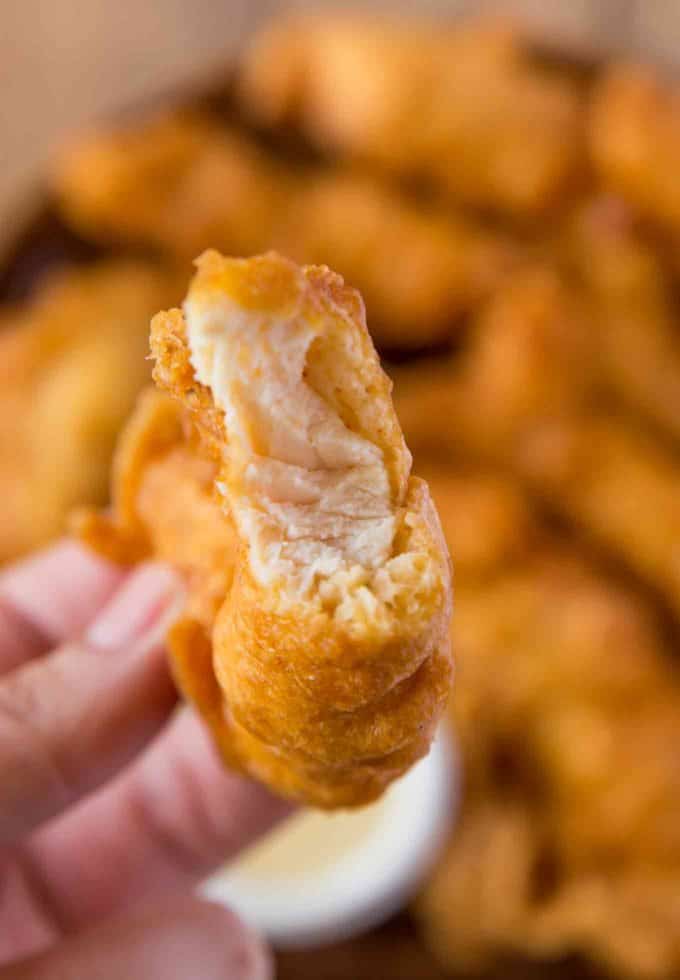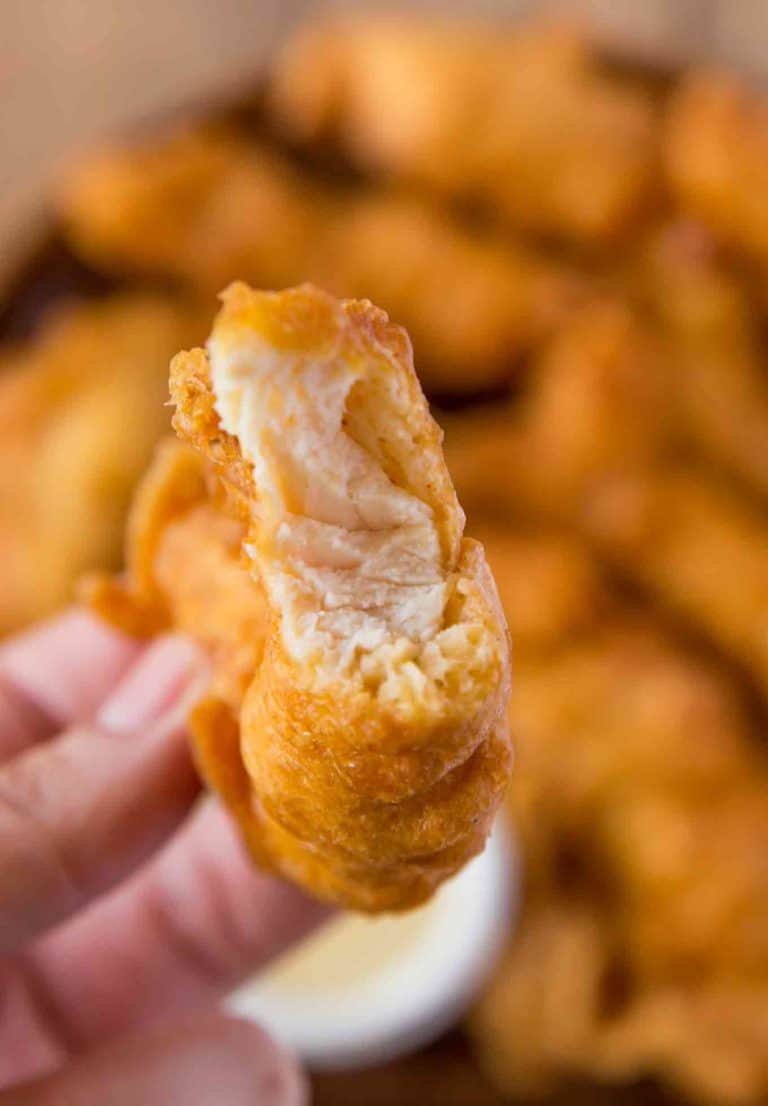 Tools Used In This Recipe:
Deep Fryer: Easy for keeping temperature on point and kind of fun to use!
Chicken Base: I almost never buy boxes of broth because I keep the beef, chicken and vegetable version of this Better Than Bouillon.
Pigtail Flipper: I LOVE this tool for frying. I am able to drop and pick up pieces without removing any breading at all thanks to this awesome tool.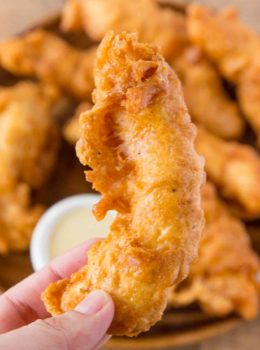 Chili's Chicken Crispers
Chili's Chicken Crispers with the delicious shatteringly crispy crust that Chili's crispers famously have, but made at home! So easy to make and also a great batter for fish and chips!
Ingredients:
1 egg, beaten
1/4 cup whole milk
3/4 cup chicken broth
1 1/2 teaspoons salt
1/2 teaspoon black pepper
1 cup self rising flour
1 cup flour
1 1/2 pounds chicken tenderloins
canola oil, for frying
Directions:
Heat oil in a dutch oven to 350 degrees.
In a large bowl whisk together the egg, milk, chicken broth, salt and pepper until well combined.
Add in the self rising flour.
In a second bowl add 1 cup of flour.
Dip each piece of chicken into the batter, then into the flour.
Add the chicken to the oil in small batches and fry for 8-10 minutes, or until golden brown and cooked through.
All images and text ©
Made this recipe?
Show me what you made on Instagram or Facebook and tag me at @DinnerthenDessert or hashtag it at #dinnerthendessert.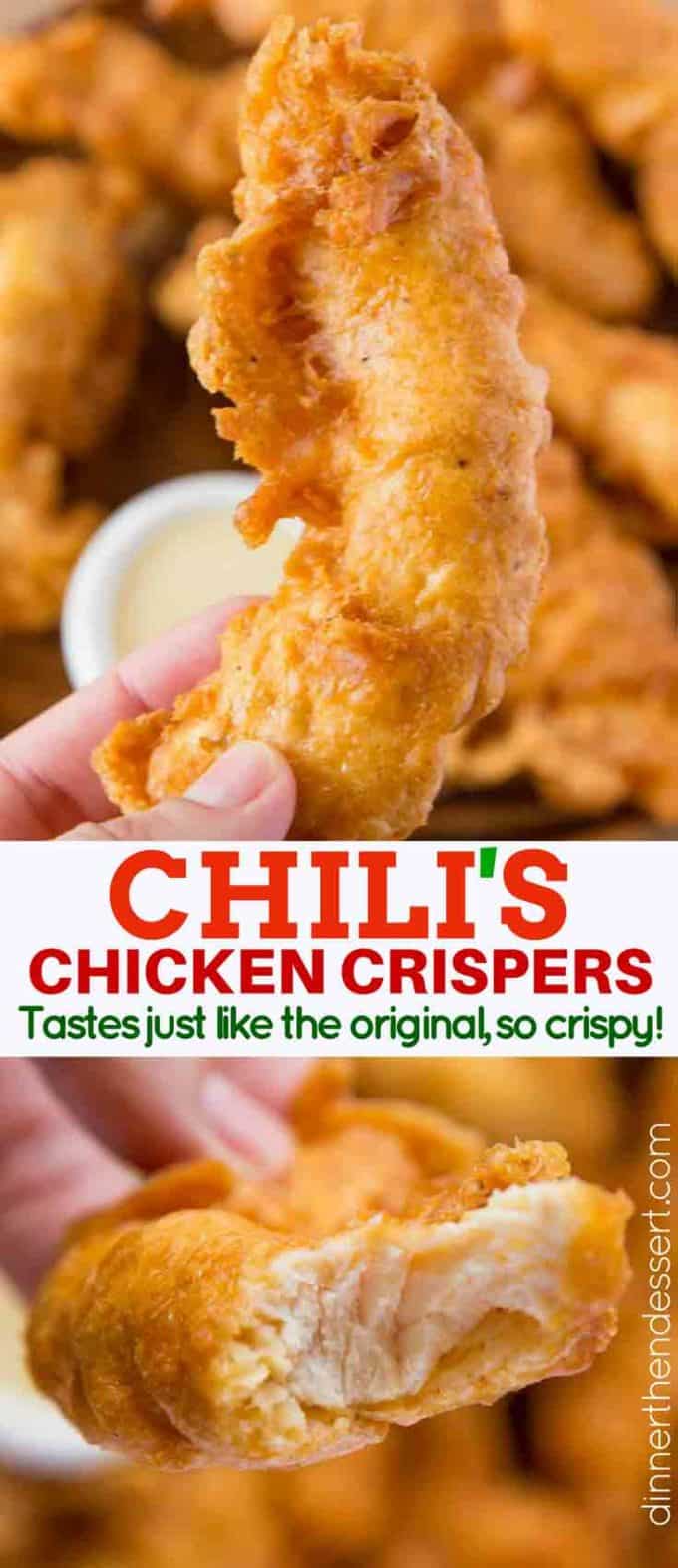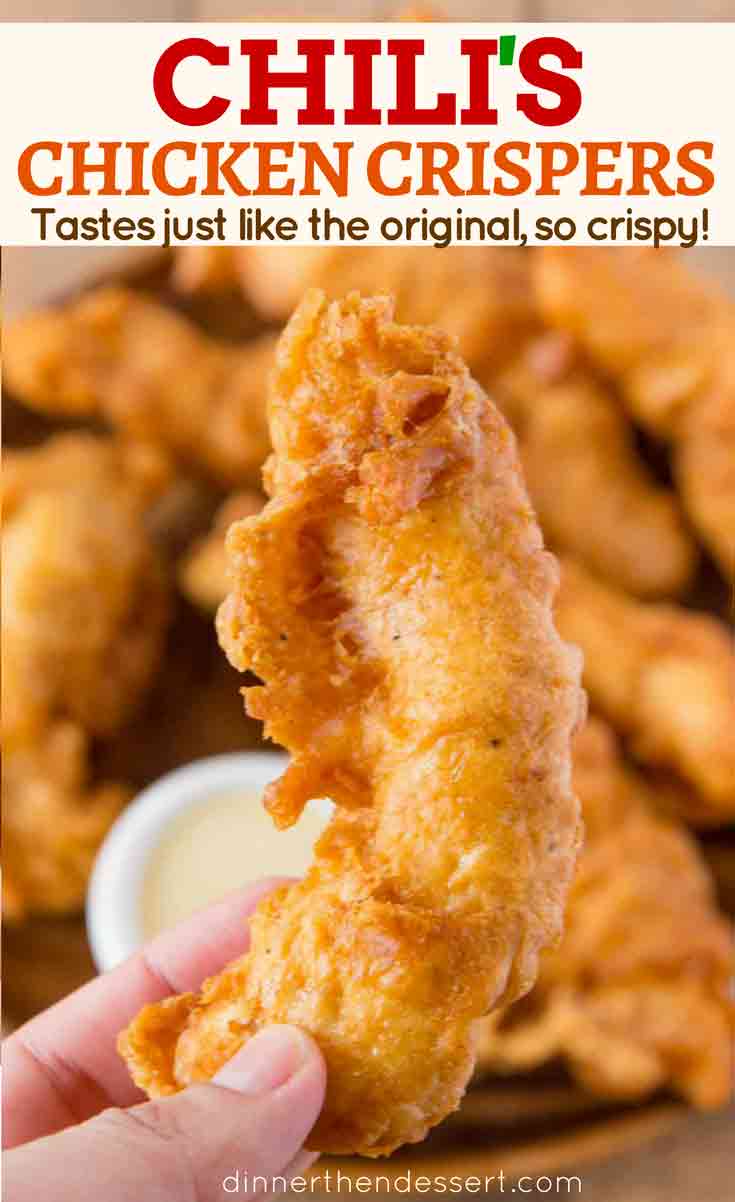 Dinner, then Dessert, Inc. owns the copyright on all images and text and does not allow for its original recipes and pictures to be reproduced anywhere other than at this site unless authorization is given. If you enjoyed the recipe and would like to publish it on your own site, please re-write it in your own words, and link back to my site and recipe page. Read my disclosure and copyright policy. This post may contain affiliate links.