Chocolate Caramel Cracker Bars are the perfect sweet treat made with crunchy crackers, a chocolate topping, and easy, gooey homemade caramel throughout.
Dessert Bar Recipes like this one are always great to make for a potluck, after school treat, or dessert for family night. Just like Five Layer Bars and Magic Monster Layer Bars, this treat is made with a few easy ingredients stacked together to make a treat that's unique and irresistible.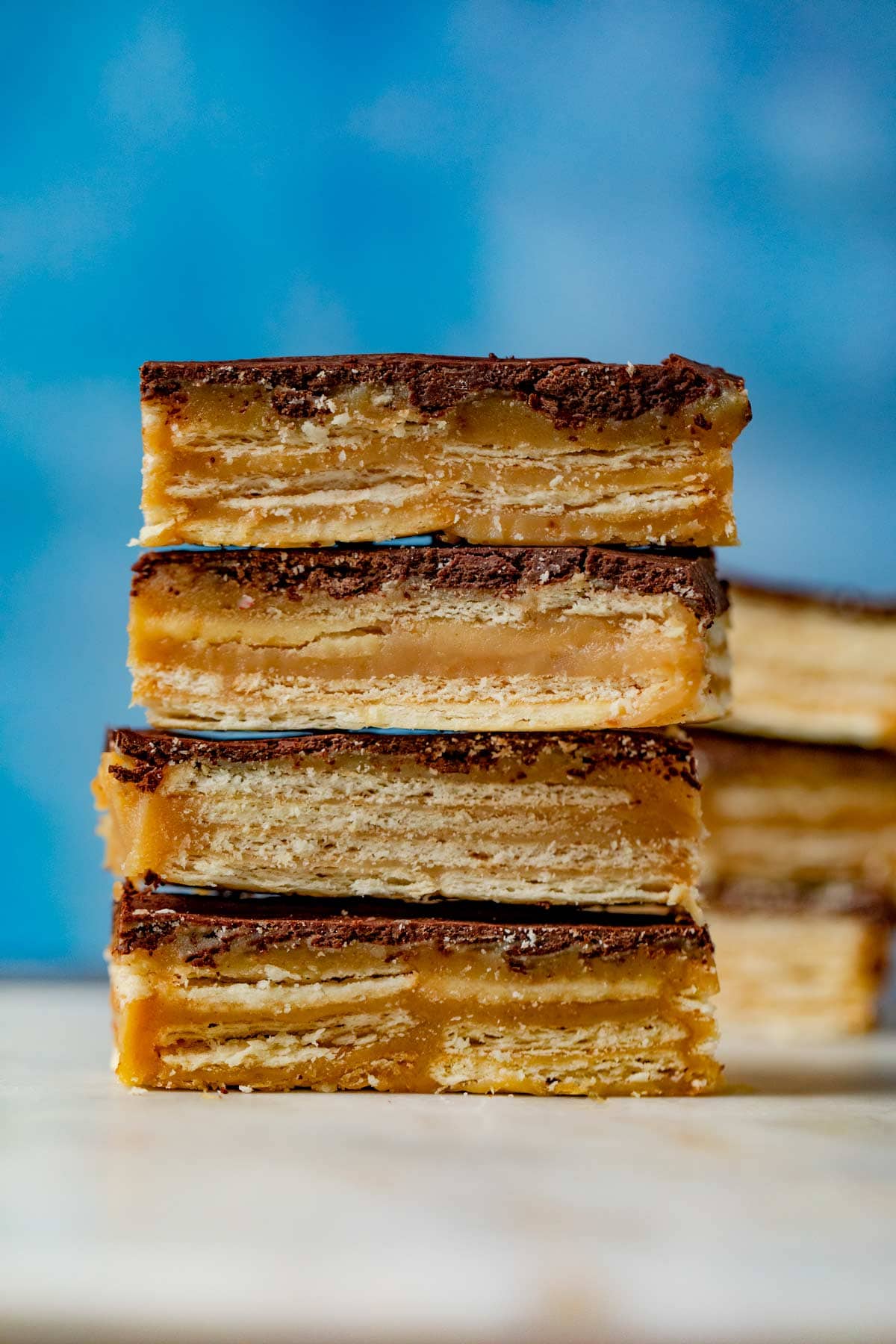 CHOCOLATE CARAMEL CRACKER BARS
This no-bake dessert is the perfect hassle-free dish to satisfy your sweet tooth. The chocolate and caramel are wonderfully decadent and gooey, while the crackers add some crunch, salty taste, and needed structure to the bar.
Just like in Saltine Toffee using crackers as the base of this dessert makes it easy and delicious. You don't have to worry about making any crust for the layers, just get some store-bought crackers and layer them throughout. We used club crackers in this recipe because they add a nice buttery flavor along with the saltness.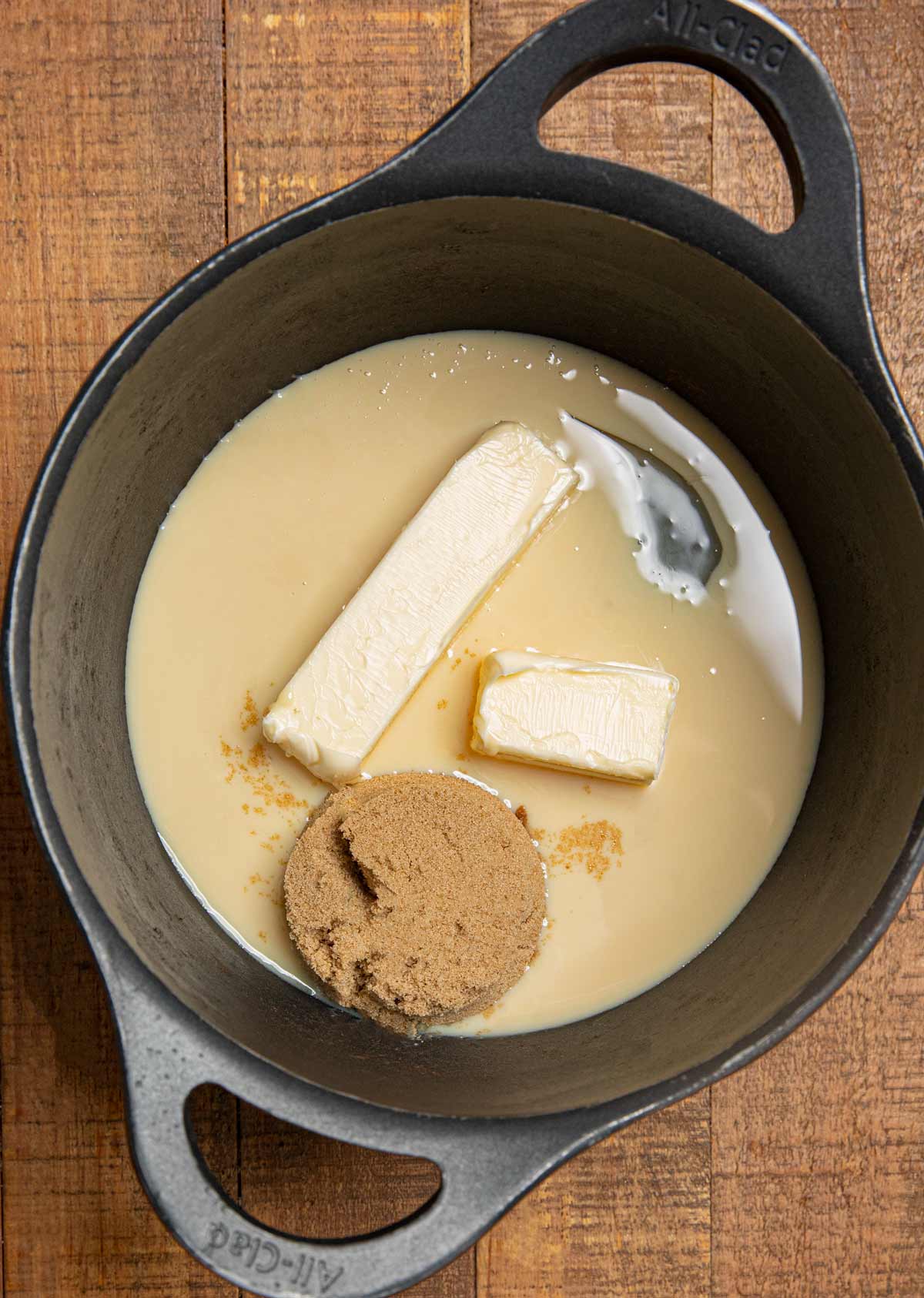 If you've never made Homemade Caramel, you may be worried about that part of the recipe, but there's no need to stress. The only ingredients you need are sweetened condensed milk, brown sugar, and corn syrup. Bring them together in a saucepan and wait for it to reach the right consistency. That's all it takes to make Chocolate Cracker Bars that are oozing with rich, homemade caramel. The other two elements—crackers and chocolate chips— are ready-made from the store so all you have to do is put them together.
MORE EASY BAR RECIPES
HOW TO MAKE CHOCOLATE CARAMEL CRACKER BARS
Prep: Start by lining a square pan with parchment paper, so the bars can be easily taken out. You'll also want to get the first layer of club crackers lined up so they're ready to pour the caramel over. Get the crackers as close together as possible. Break some, if necessary, to make them fit around the edges of the pan.
Homemade Caramel: Add sweetened condensed milk, brown sugar, and corn syrup to a saucepan over medium heat. Stir the ingredients together as you bring them to a boil. Once it's started to boil, reduce the heat to medium-low and continue cooking for 8 minutes. Stir every minute so the sugar doesn't burn at the bottom of the pan.
Layering: Pour ⅓ cup of caramel over the top of the crackers. Layer crackers over the top. The caramel is very hot so be careful not to burn yourself while you add the crackers. Pour the caramel over the crackers, then add another cracker layer, and finally pour the rest of the caramel over the top.
Chocolate: Sprinkle chocolate chips evenly over the top while the caramel is still hot. Put a dishtowel over the pan to trap in the heat. Leave it like this for 3 minutes to melt the chocolate chips. Use a spatula to spread the melted chocolate layer over the bars.
Set: Refrigerate the bars for at least an hour before cutting them into squares.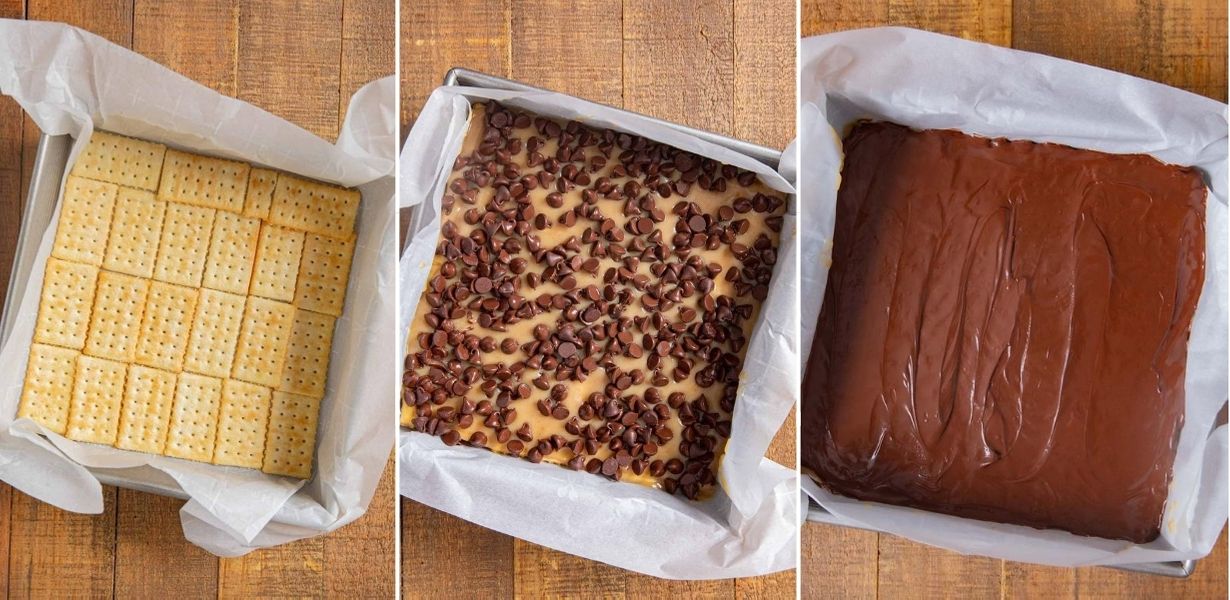 Create a free account to

Save Recipes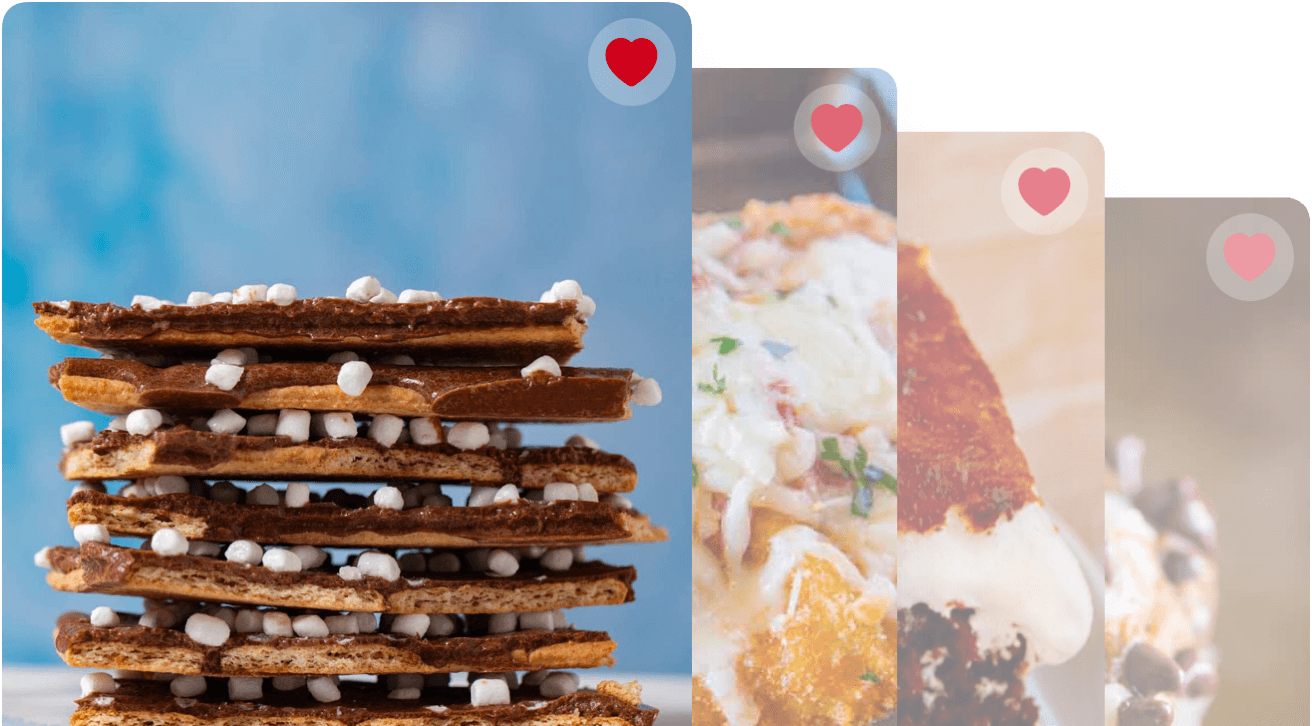 VARIATIONS ON CHOCOLATE CARAMEL CRACKER BARS
Chocolate Chips: Instead of using semi-sweet chocolate chips you can use dark chocolate or milk chocolate. Another option is swirling in some white chocolate or peanut butter chips into the regular chocolate to make a marbled top.
Crackers: Instead of using club crackers, you can layer similar crackers like saltines or make the recipe sweeter with graham crackers.
Mix-ins and toppings: If you want to add some extra crunch to the Caramel Bars try sprinkling some nuts to the top or mixing them in with the caramel layers. Chopped almonds, pecans, or peanuts would all make good additions. For more toppings try adding M&M's, toffee chips, or pieces of pretzel before the chocolate has hardened.
MORE CHOCOLATE AND CARAMEL DESSERTS
HOW TO STORE CHOCOLATE CARAMEL CRACKER BARS

Serve: Make sure to keep your Chocolate Caramel Cracker Bars in an airtight container so that moisture doesn't get in and make the crackers stale. You can keep them at room temperature for 3-5 days, but only if you're house is cool enough that the chocolate and caramel won't melt.
Store: To make sure the bars stay nice and cool, store them in the fridge. Sealed in an airtight container they'll stay good for up to 2 weeks.
Freeze: You can also store them in the freezer for up to 2 months.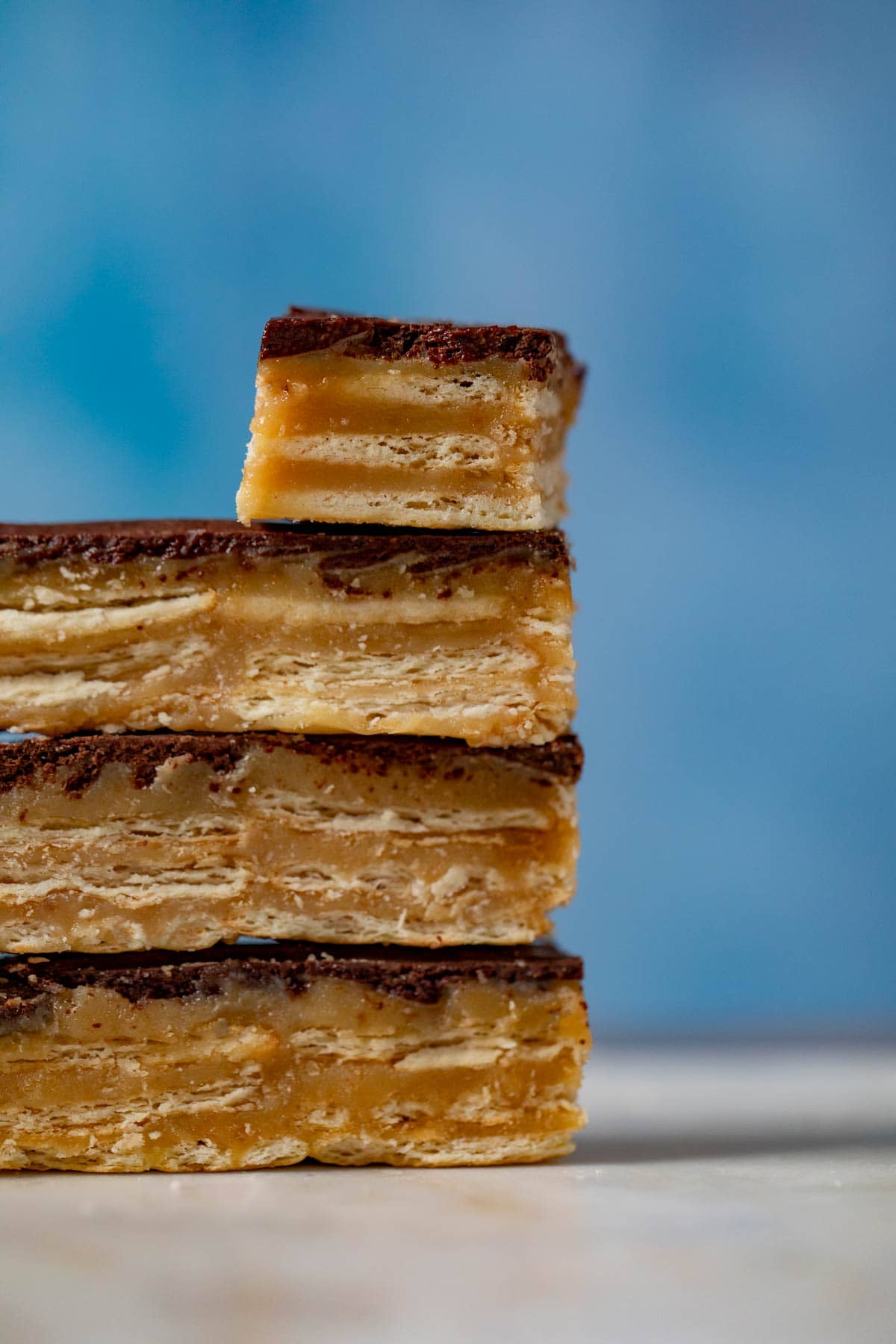 Ingredients
54

Club crackers

12

tablespoons

unsalted butter

14

ounces

sweetened condensed milk

1/2

cup

brown sugar

, packed

3

tablespoons

corn syrup

1

cup

semisweet chocolate chips
Instructions
Line an 8x8 pan with parchment paper.

Line a single layer of club crackers.

Add butter, sweetened condensed milk, brown sugar, and corn syrup to a medium saucepan.

Stir well and bring to a boil on medium heat.

Reduce heat to medium-low then cook for 8 minutes, stirring every minute.

Add ⅓ of the caramel mixture to the crackers gently (don't worry if you miss a spot).

Add a second layer of crackers (be VERY careful the caramel is very hot).

Add another ⅓ of the caramel mixture then another layer of crackers and the rest of the caramel mixture.

Top with your chocolate chips and cover with a dishtowel (this keeps the heat in) for

3 minutes

.

Spread the chocolate in an even layer over the bars.

Refrigerate for 1 hour until cooled and hardened before cutting into slices.
Nutrition
Calories:
300
kcal
|
Carbohydrates:
37
g
|
Protein:
4
g
|
Fat:
16
g
|
Saturated Fat:
9
g
|
Cholesterol:
32
mg
|
Sodium:
142
mg
|
Potassium:
184
mg
|
Fiber:
1
g
|
Sugar:
28
g
|
Vitamin A:
334
IU
|
Vitamin C:
1
mg
|
Calcium:
88
mg
|
Iron:
1
mg