Cranberry Coconut Yummies are easy, gluten-free desserts ready in 30 minutes! Bite-size treats made with coconut, condensed milk, and fresh cranberries.
If you love Coconut Macaroons but are looking for a low-carb Cookie Recipe filled with holiday flavor, you are going to love this treat! These sweet coconut cranberry bites are perfect for cookie exchanges, holiday gifts, or late-night snacks.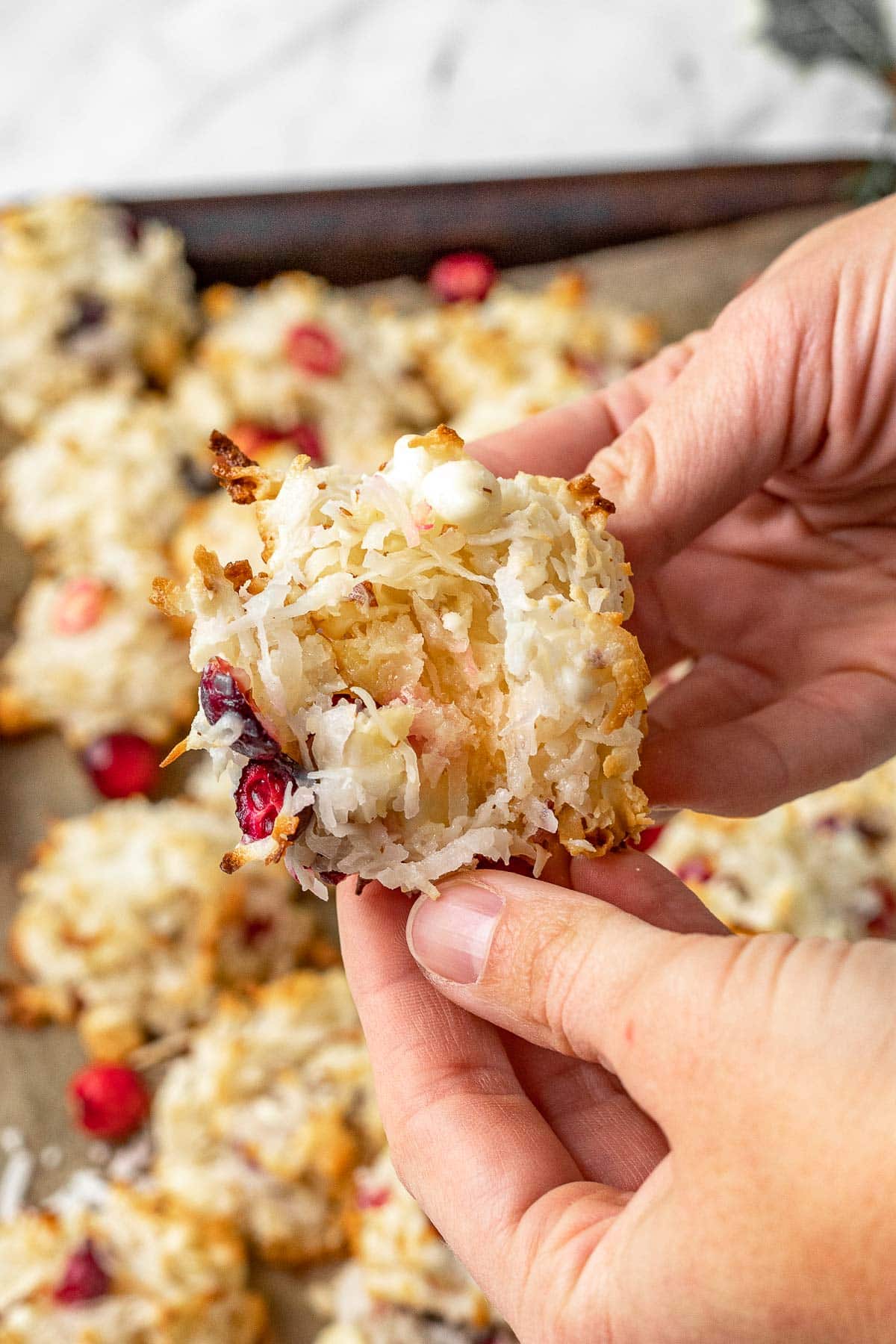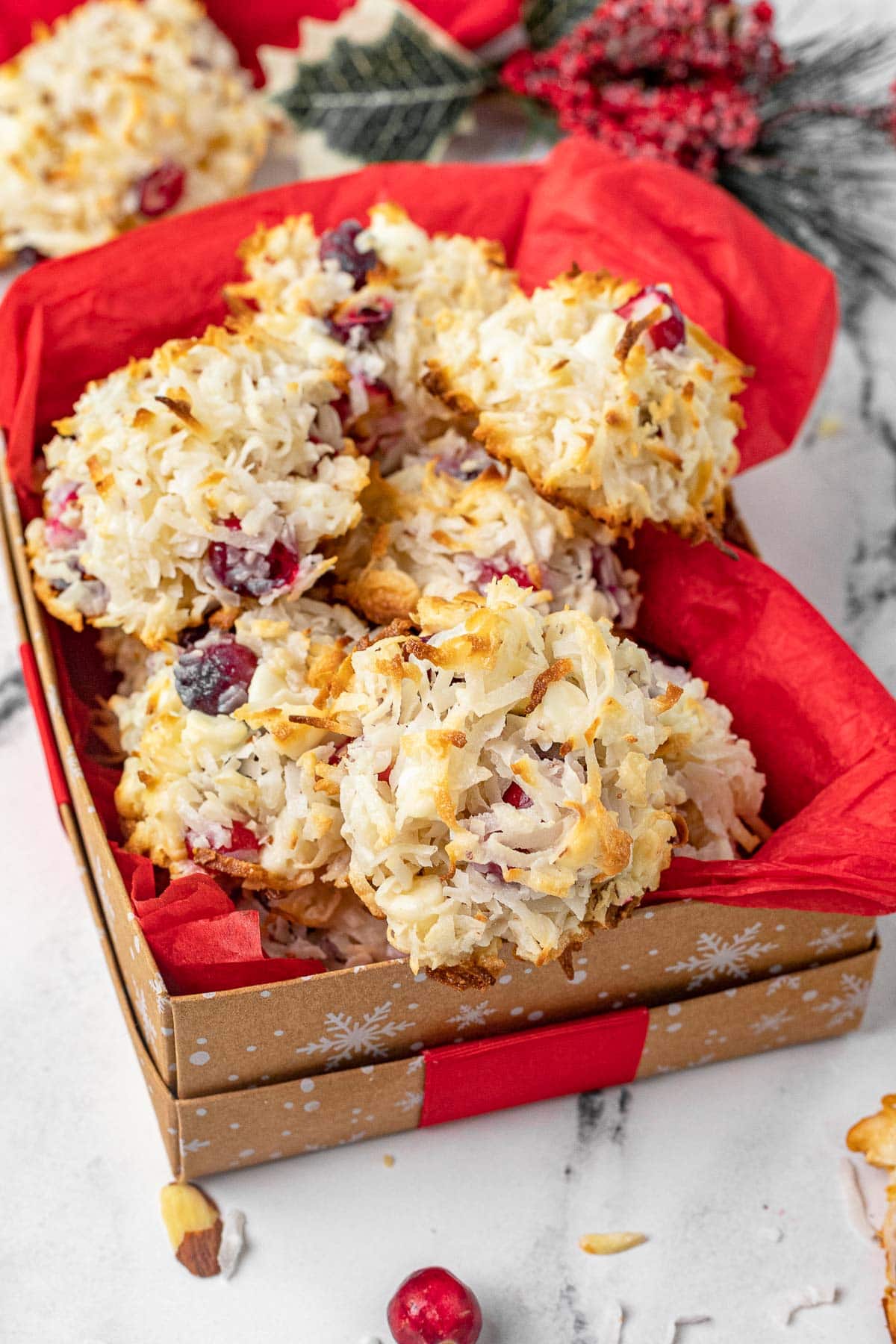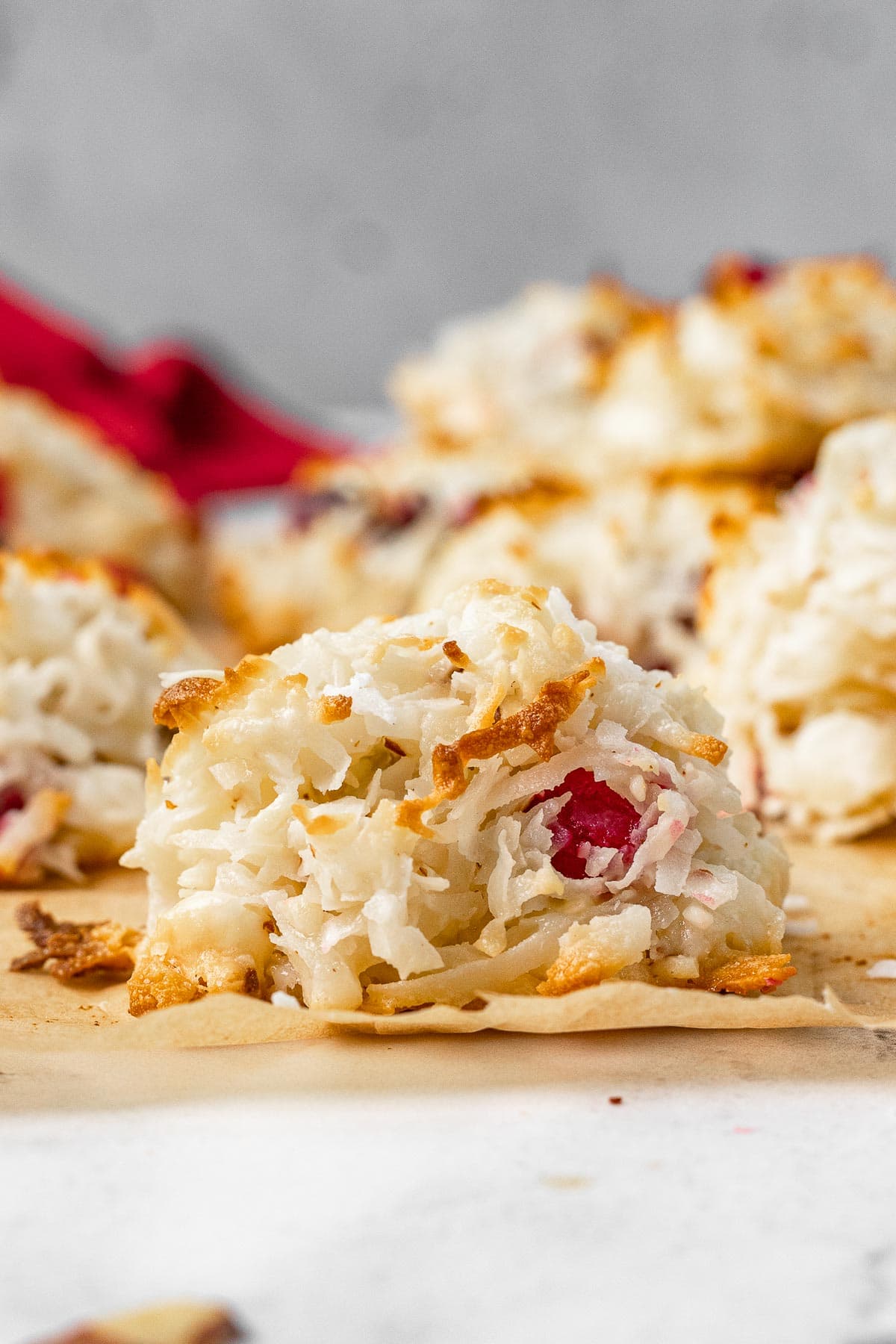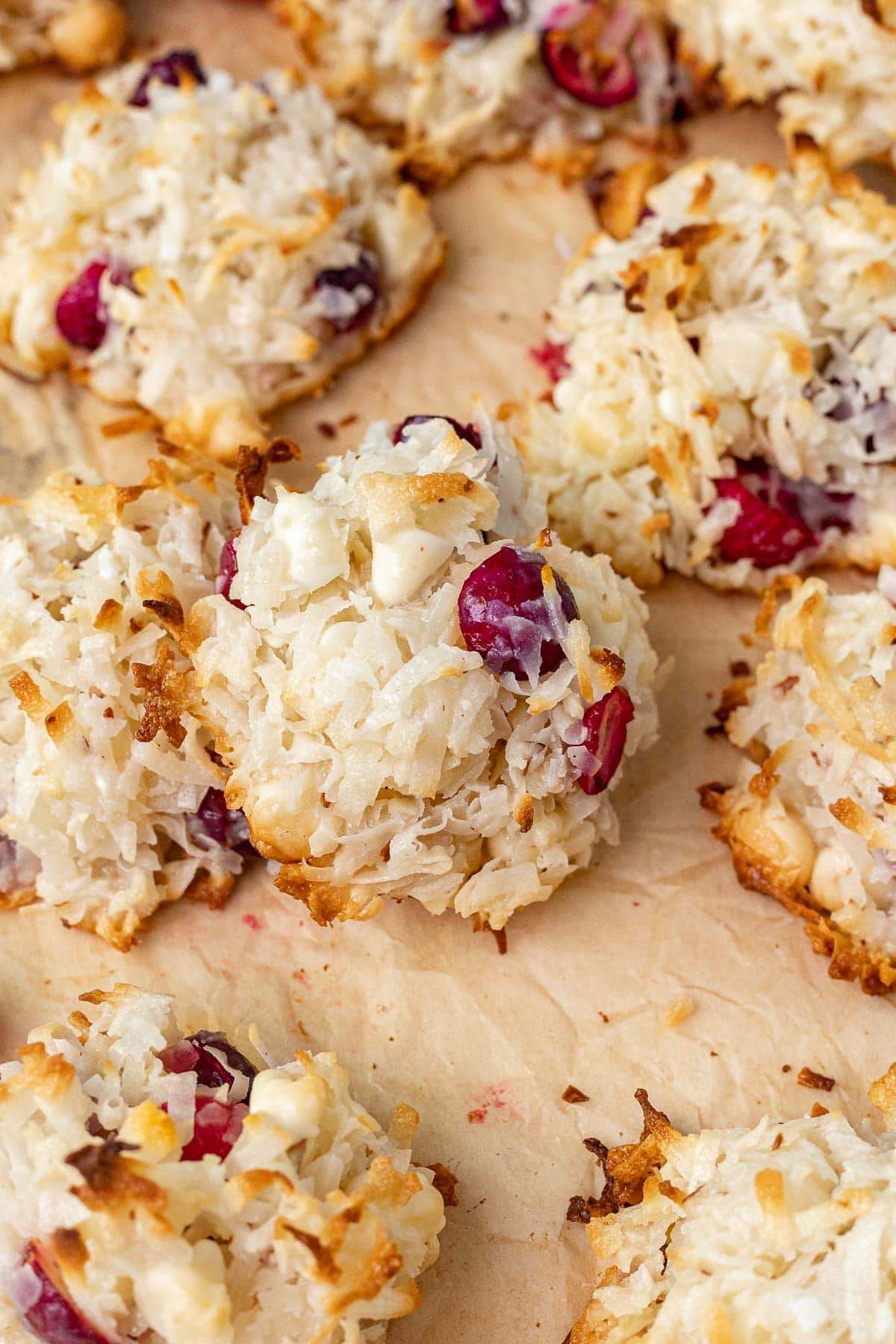 Table of Contents
About Our Coconut Cranberry Yummies Recipe
During the fall and winter months, it's hard not to stock up on bags of fresh cranberries for baking all year long. They last so long at room temperature and then you can toss them in the freezer, no real prep involved. When you are ready to use them, you just thaw and throw in your favorite baked goods for a sweet, tart burst of flavor.
Fresh cranberries are for more than just sauce, they go with so many other flavors like the sweetened coconut in these Coconut Cranberry Yummies. This light holiday snack is the perfect chewy, sticky, sweet bite with juicy tart berries. Just like coconut macaroons, they are so easy to make and addicting!
"Can Coconut Cranberry Yummies be made ahead?"
As long as you keep these Coconut Cranberry Yummies in an air tight container, they will stay fresh for a couple of days. Feel free to make them ahead of time so they're ready to serve on the day you need them.
Coconut Cranberry Yummies Ingredients
1 14-oz can sweetened condensed milk: Sweetened condensed milk provides the sticky, chewy texture, while sweetening the cookies at the same time.
1 14-oz package sweetened shredded coconut: Of course you need plenty of coconut. Use sweetened shredded coconut for the right texture and flavor in these cookies.
1 cup white chocolate chips: White chocolate chips will be mixed into the cookies for a sweet bite and a bit of a change in texture. White chocolate also pairs so well with cranberries!
¼ cup ground almonds: Using ground almonds instead of flour in Coconut Cranberry Yummies makes them gluten free so they are great for cookie exchanges or parties, they can be enjoyed by almost everyone.
1 teaspoon almond extract: Add another element of flavor with almond extract in your Yummies. It is a uniquely sweet and fragrant addition and pairs perfectly with the coconut, almond, and cranberries.
1 cup chopped fresh cranberries: Fresh cranberries will give you that juicy, tart kick of flavor, and will also add a beautiful pop of color to your Yummies. Roughly chop them into large pieces so they will still pack plenty of punch in each bite.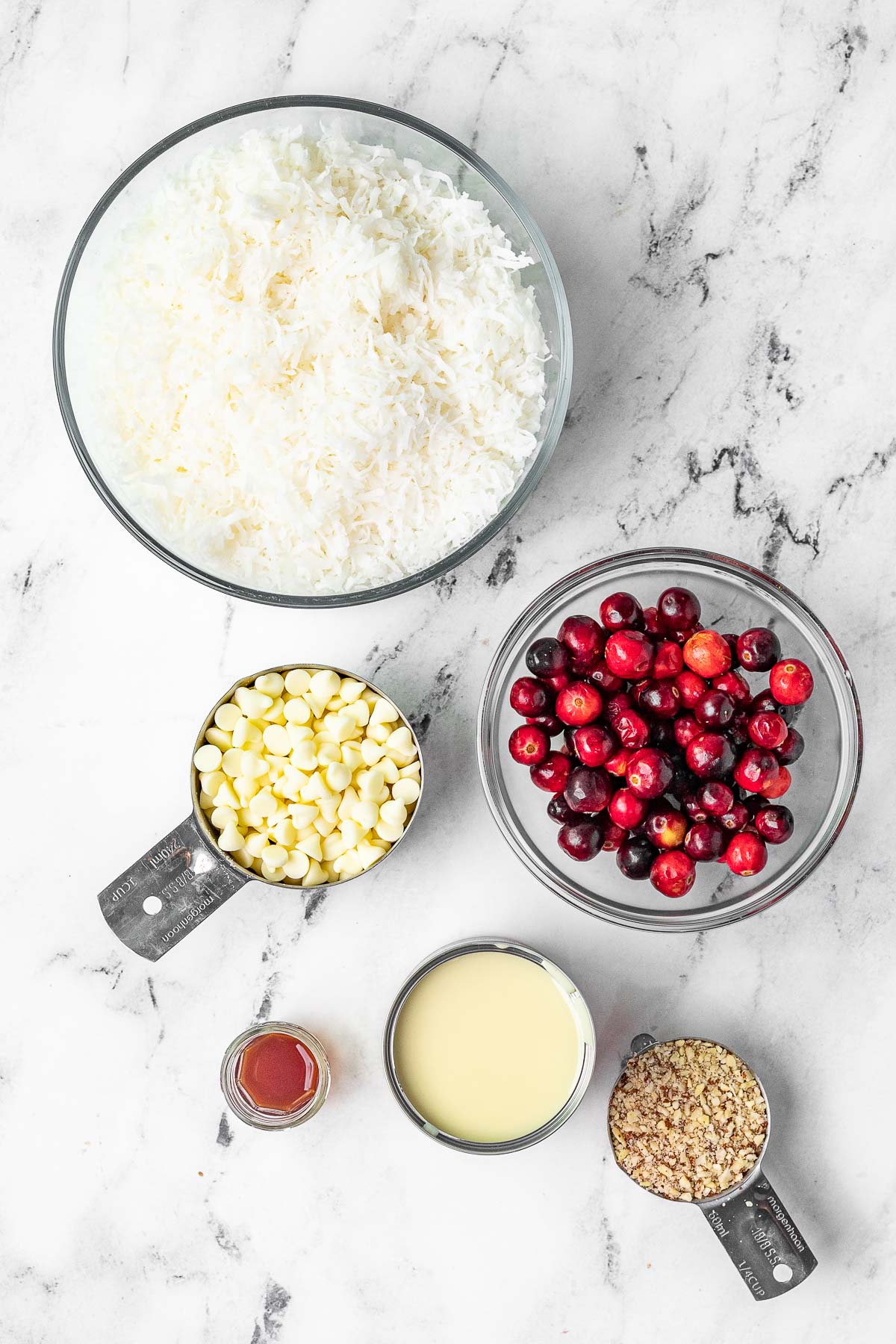 Kitchen Tools & Equipment
Baking Sheets: Take out a couple of baking sheets for your to bake your cookies on. The recipe serves 5 dozen so you'll want to bake more than one tray at a time, or at least prep one tray while the other bakes.
Parchment Paper: You'll want to line your baking sheets with parchment paper so the Yummies won't stick to the pan.
Large Mixing Bowl: Grab a bowl large enough, with lots of room to mix and stir your ingredients without making a mess.
Tablespoon or Small Cookie Scoop: Use a scoop, or just any tablespoon from your drawer to get consistently-sized, small Cranberry Yummies.
Cooling Racks: Your Yummies will cool quickly and evenly on wire cooling racks. Just let them rest on the baking sheets for a few minutes after taking them out of the oven so they don't fall apart.
How to Make Coconut Cranberry Yummies
Time needed: 27 minutes.
Prep Time

Preheat oven to 325 degrees. Line baking sheets with parchment paper. Add first 5 ingredients to a mixing bowl.

Make the Dough

Combine the first five ingredients; mix well.

Cranberries

Add the cranberries to the mixing bowl.

Combine

Mix the cranberries until just combined with the dough.

Shape the Yummies

Drop by tablespoonfuls 3 inches apart onto baking sheets; gently shape into mounds.

Bake

Bake for 10-12 minutes, until edges are lightly browned.

Cool

Cool for 3 minutes before removing from pans to wire racks to cool completely.
How to Make Sweetened Condensed Milk
To make Coconut Cranberry Yummies completely homemade, there is a quick recipe below for sweetened condensed milk. You can also the condensed milk for vegan or Keto diets, or use your favorite substitute in this cookie recipe. Instead of using sweetened coconut, try toasting unsweetened instead for a more savory, less sweet bite.
Homemade Sweetened Condensed Milk
Ingredients: 2 cups whole milk, ¾ cup granulated sugar, 4 tablespoons salted butter, 1 teaspoon vanilla extract.
Heat: Whisk milk and sugar in a medium saucepan over medium-low heat.
Reduce: Bring to a low simmer and continue to whisk often until the milk has decreased by half (about 30 minutes).
Cool: Remove from heat and whisk in butter and vanilla. Cool completely before using. Store in the fridge for up to 1 week.
Nutritional Information
Baking Tips & Tricks
Get your Coconut Cranberry Yummies just right, with these helpful tips.
Achieving Even Baking

Make sure your Yummies are evenly baked by spacing them out on the baking sheet with at least 3-inches in between each cookie. This will allow the hot air to evenly brown the cookies and bake them through to the center.

Create the Right Shape

It is up to you if you want to use a tablespoon from your kitchen drawer, or use a small cookie scoop for your yummies. Each will provide a different shape. The cookie scoop will give you more evenly rounded, smooth Yummies. The tablespoon will give you more variety in shape, and each cookie will look unique.
How to Store Coconut Cranberry Yummies
Serve: Keep your Coconut Cranberry Yummies in an airtight container at room temperature for 3 to 4 days.
Store: These cookies will last for about 3 weeks in the refrigerator stored in a sealed container.
Freeze: To freeze these, place parchment paper between layers of cookies to keep them from sticking. Freeze for up to 3 months. Thaw at room temperature until soft to serve.
Ideas to Serve Coconut Cranberry Yummies
This Coconut Cranberry Yummies recipe makes about 5 dozen little treats so there's plenty for you and your Christmas cookie platters, with plenty to spare as holiday gifts. Wrap them up in festive tissue paper and a gift box or place them in cellophane tied with a bow so everyone can see how pretty they are!
The Yummies would also be great for a cookie swap. If you have't been to one, it is a party where everyone shows up with a big batch of cookies for sharing. The cookies are all set out on their platters, and guests are given bags or boxes to gather a bit of all the cookies at the party. You box them up and take them home to share with your family and friends for the holidays.
FAQs for Coconut Cranberry Yummies
Why are my Coconut Cranberry Yummies falling apart when I move them to the cooling rack?
If your Yummies are breaking apart when you move them to the cooling rack, that is likely because they need to rest a couple minutes more on the baking pan first. These moist, chewy cookies are pretty gooey when they're hot so rest that pan for several minutes somewhere cool and they'll be ready for the wire rack so they can cool all the way through. 
How are macaroons different from macarons?
Macaroon recipes include shredded coconut and are baked in clumps that will vary a little in shape due to the shredded coconut pieces. Macarons (with 1 letter o) are the sandwich cookies with smooth, shiny tops. They will be served with different colors, flavors, and fillings.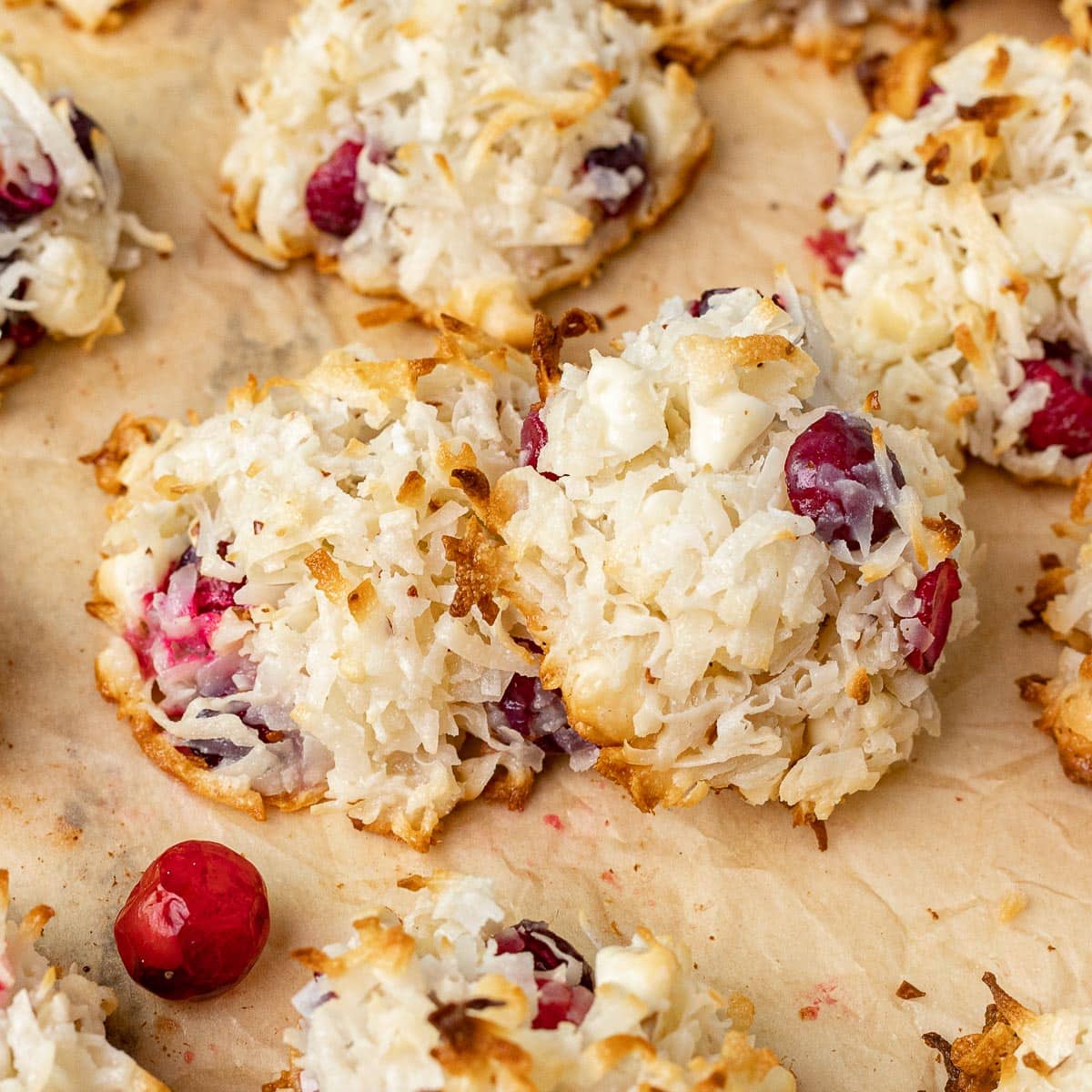 Recipe Card


Ingredients
1

can

sweetened condensed milk

, 14 ounces

1

package

sweetened shredded coconut

, 14 ounces

1

cup

white chocolate chips

1/4

cup

ground almonds

1

teaspoon

almond extract

1

cup

fresh cranberries

, chopped
Instructions
Preheat oven to 325 degrees. Line baking sheets with parchment paper.

In a large bowl, combine the first five ingredients; mix well. Stir in cranberries.

Drop by tablespoonfuls 3 inches apart onto baking sheets; gently shape into mounds.

Bake for

10-12 minutes

, until edges are lightly browned.

Cool for

3 minutes

before removing from pans to wire racks to cool completely.
Nutrition
Calories:
58
kcal
|
Carbohydrates:
7
g
|
Protein:
1
g
|
Fat:
3
g
|
Saturated Fat:
2
g
|
Polyunsaturated Fat:
0.1
g
|
Monounsaturated Fat:
0.5
g
|
Cholesterol:
3
mg
|
Sodium:
20
mg
|
Potassium:
46
mg
|
Fiber:
0.3
g
|
Sugar:
7
g
|
Vitamin A:
20
IU
|
Vitamin C:
0.4
mg
|
Calcium:
26
mg
|
Iron:
0.1
mg
Coconut Cranberry Yummies Variations
Fruit: Instead of cranberries, use your favorite fresh berries like blueberries, raspberries, or chopped cherries. You can also use diced dried fruit like apricots, mangoes, or pineapple for a more tropical treat.
Nuts

: Use ground pecans or walnuts instead of ground almonds. Mix in chopped nuts like walnuts or cashews to the batter for crunchy bites.

Chocolate

: Dip the bottom of each Coconut Cranberry Yummies in melted white chocolate or dark chocolate chips and place on parchment paper until chocolate hardens.

More Chocolate

: Dark chocolate or milk chocolate chips mixed into the batter would taste delicious and give bursts of chocolate flavor in every bite.

Extract

: To give more flavor add a half teaspoon of vanilla extract or butterscotch extract along with the almond extract. A little orange zest or orange extract would also pair well with the cranberries!

Keto

: Use the homemade Sweetened Condensed Milk recipe included in this post and swap your favorite granulated sugar substitute like stevia or monk fruit.

Vegan: You can make your own Sweetened Condensed Milk and use dairy-free milk instead of whole milk. Swap butter for a vegan alternative and you'll have vegan Coconut Cranberry Yummies.
Related Recipes