Honey Garlic Meatballs are easy, tender, and coated in a sweet, savory, sticky sauce made with honey, garlic, ketchup, and soy sauce.
These homemade meatballs have quickly become a party favorite. They're perfect to put out on a platter and serve with your other favorite Appetizers like Bacon Wrapped Smokies and Buffalo Wings.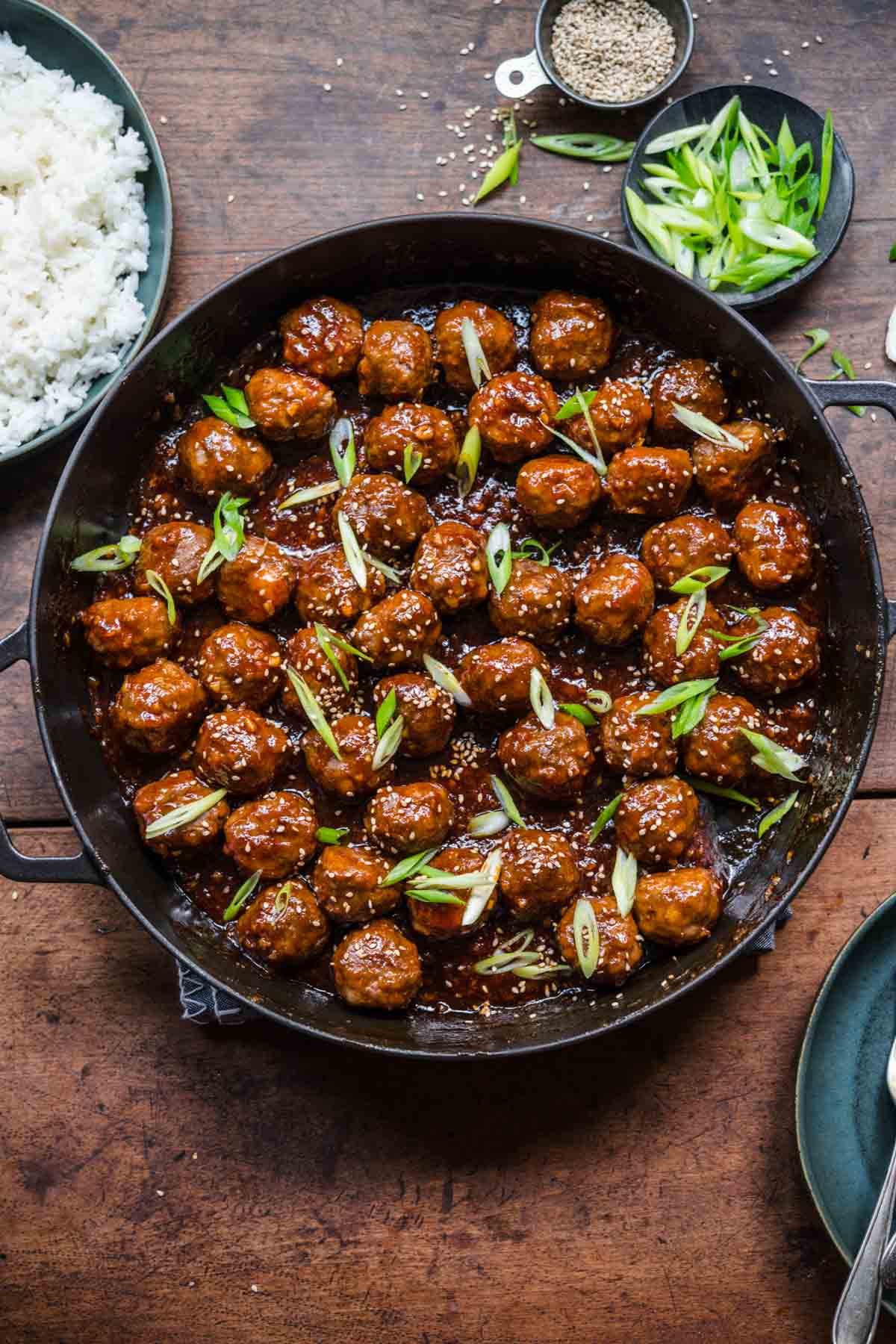 HONEY GARLIC MEATBALLS
This Honey Garlic Meatball recipe is quick, easy, and so tasty! Simple meatball ingredients are combined in a matter of minutes. Then you just put them in the oven to bake to tender, crispy perfection. Lastly, they're coated in a sweet honey glaze that adds so much amazing flavor and contrast to the savory garlic meatball recipe. It's the ultimate combination of a sweet, sticky glaze with the classic ground beef meatballs.
This meatball recipe is the perfect party finger food to put out during a holiday gathering or the next time you're hosting game day. The sweet honey glaze is sure to be a favorite with all your guests. Plus, you can put out sauces like BBQ or hot sauce for fun dipping options.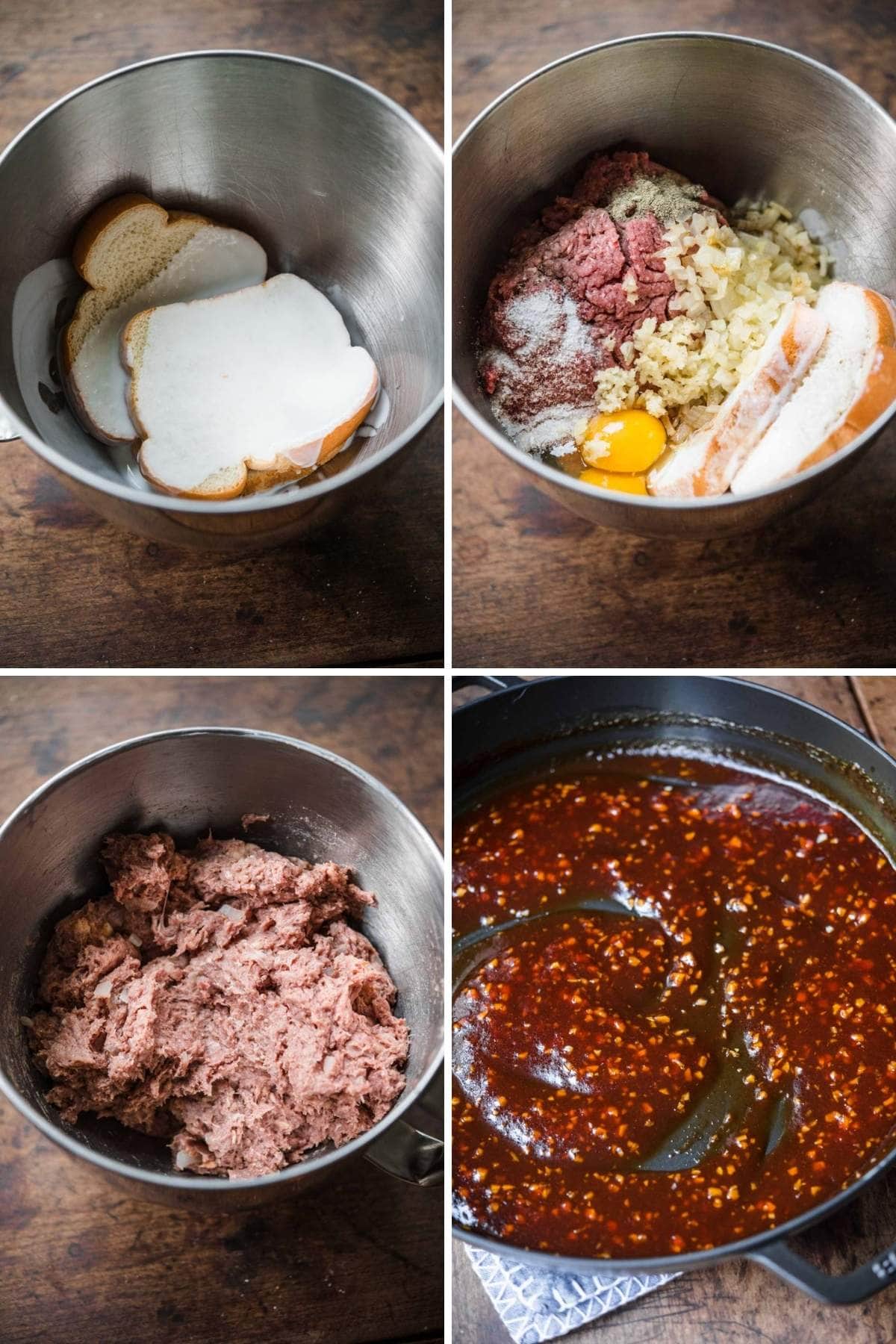 Rather than serving them as party food, you can also make Honey Garlic Meatballs the main dish for a filling family dinner. Meatballs quickly turn into a full meal with rice. Simply scoop the meatballs and honey garlic sauce over White or Brown Rice. The rice will soak up the flavor of the sweet honey glaze and makes a great base for the tasty meat. Finish off the bowl with sesame seeds and green onions for garnish.
MORE MEATBALL RECIPES
COOKING TIPS
Bread: Add the bread to the mixing bowl of your stand mixer, and then pour milk over the top for it to absorb. The milk-soaked bread makes for more tender meatballs than dried bread crumbs would.
Onion: Next, add butter to a pan and turn on the heat to melt. Add in the minced onion and cook on medium-low until they're translucent and browned. Remove from the heat and let the onions cool.
Meatball mixture: Add the ground beef, onion, eggs, minced garlic, salt, black pepper, and Worcestershire sauce over the top of the bread. Turn the stand mixer to low, and let it break apart the bread to combine it with the other ingredients. Using a stand mixer to mix the beef with bread helps to keep the mixture cool and tender.
Form: Use a cookie scoop or ice cream scoop to form the meat into 1-inch balls. Place each meatball in a single layer on your baking sheet with a little bit of space between them.
Cooking time: Bake for 20-22 minutes until the ground meat is cooked through.
Honey garlic sauce: During the cooking time, add the vegetable oil and garlic to a large skillet. Cook them together for 1 minute. Next, whisk in the ketchup, honey, and soy sauce. Bring the honey garlic sauce to a boil then reduce the heat to simmer for 3-4 more minutes. Add the cooked meatballs to the sauce and stir to combine. Cook for 5-6 minutes until the meatballs are glazed.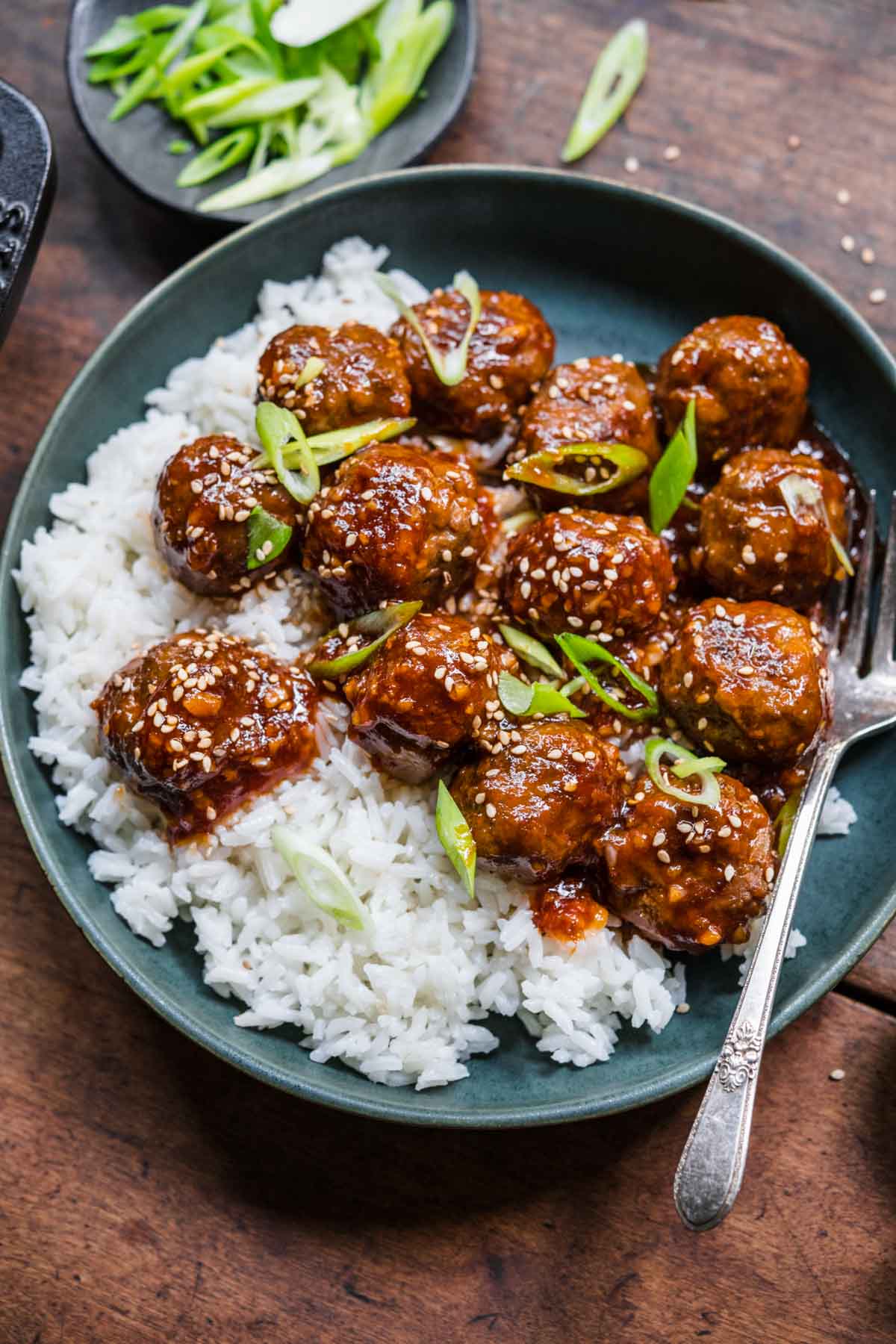 VARIATIONS
Brown sugar: If you'd like a darker more caramelized sweet flavor, you can use brown sugar instead of honey. Use ¾ cup brown sugar to replace the ½ cup honey in the recipe.
Seasonings: For some extra flavor, try adding different spices like onion powder, paprika, cayenne pepper powder, cumin, or chili flakes.
Ground chicken: Instead of a classic ground beef meatball recipe, you can make a slightly lighter dish by using ground chicken. Combine the ground chicken with the same ingredients as listed in the recipe and bake as usual before adding the sauce.
SLOW COOKER HONEY GARLIC MEATBALLS
To make these meatballs in the slow cooker, start by prepping the bread and onions. Then combine the meat mixture and form the meatballs according to the recipe in this post.
Add the meatballs to a baking sheet and broil for 8-10 minutes.
Next, whisk together the sauce ingredients, and pour the sauce into the slow cooker.
Add the meatballs, and stir until they're coated in the sauce.
Turn the crockpot to low for 3-4 hours to cook through.
MORE APPETIZER RECIPES
HOW TO STORE
Serve: Don't leave this meatball recipe at room temperature for more than 2 hours.
Store: You can keep baked meatballs in the fridge for 3-4 days. Let the leftover meatballs cool, then transfer meatballs to an airtight container to seal them.
Freeze: Frozen meatballs will stay good in the freezer for up to 3 months. Let them thaw in the fridge before reheating them in the oven.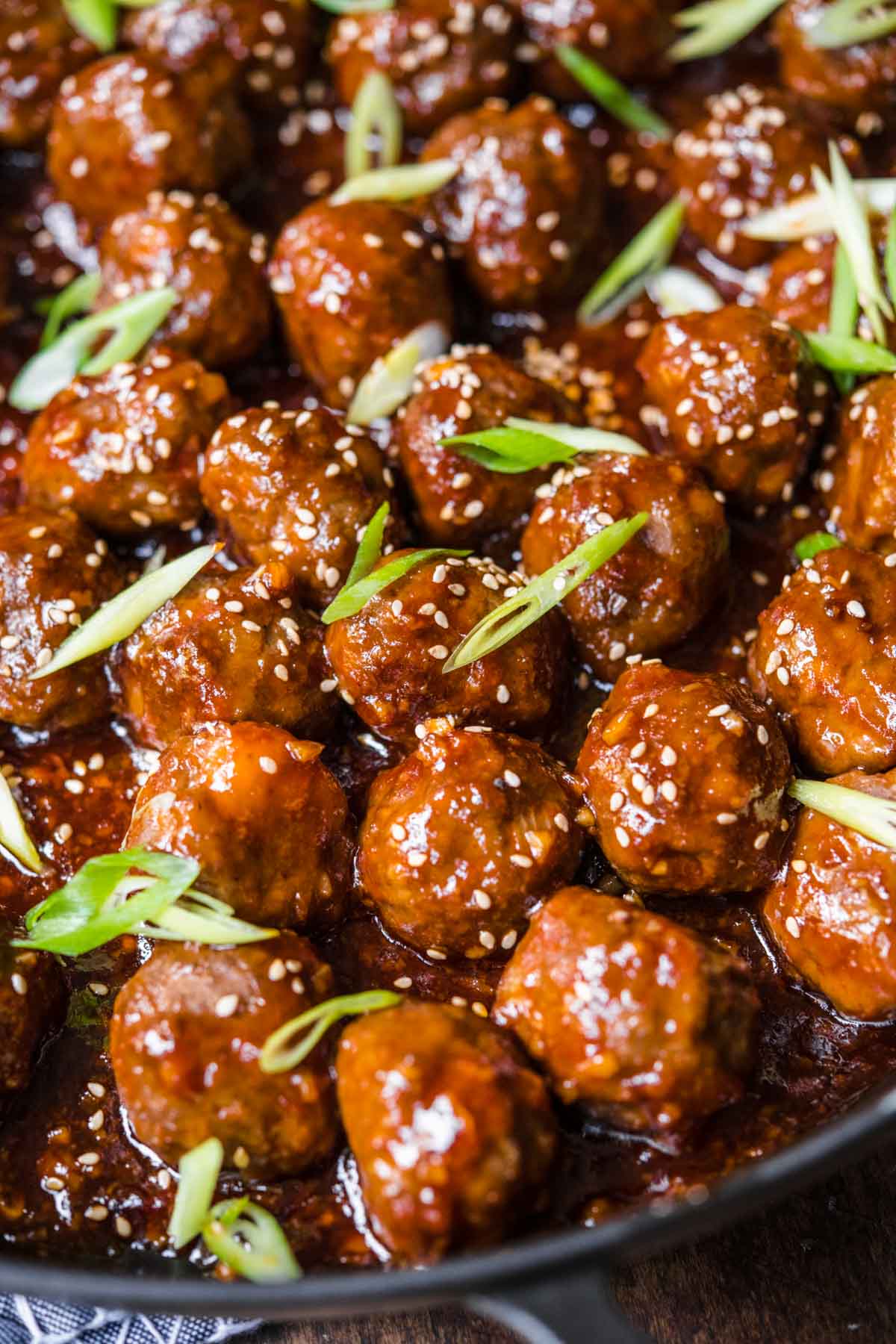 Recipe
Save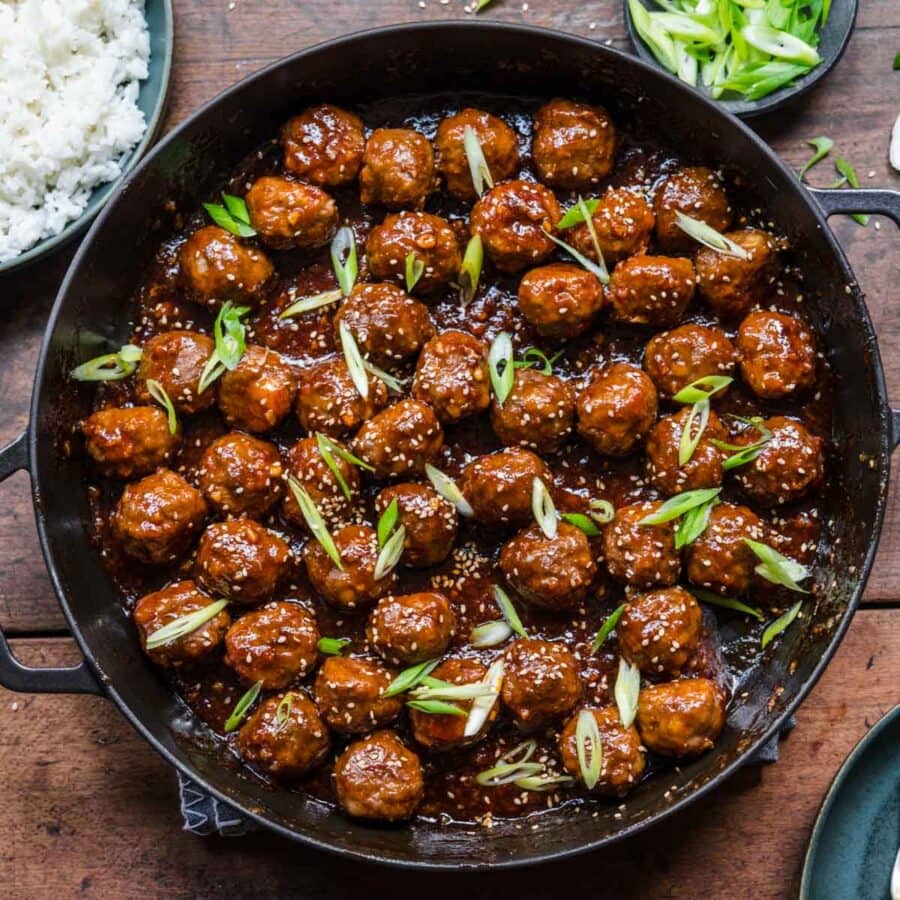 Honey Garlic Meatballs
Yield:

12

Servings

Prep Time:

10

minutes

Cook Time:

30

minutes

Total Time:

40

minutes

Course: Appetizer
Cuisine: American
Author: Sabrina Snyder
Honey Garlic Meatballs are easy, tender, and coated in a sweet, savory, sticky sauce made with honey, garlic, ketchup, and soy sauce.
Ingredients
Meatball Recipe:
1/3

cup

whole milk

3

slices

bread

3

tablespoons

unsalted butter

, divided

1/2

yellow onion

, minced

2

pounds

ground beef

, (80/20)

2

large

eggs

3

cloves

garlic

, minced

1

teaspoon

kosher salt

1/2

teaspoon

cracked black pepper

1

teaspoon

Worcestershire Sauce
Honey Garlic Sauce:
Instructions
Note: click on times in the instructions to start a kitchen timer while cooking.
Preheat oven to 400 degrees and spray a 9x13 baking pan with vegetable oil spray.

In the bowl of your stand mixer add the milk to the slices of bread.

Melt the butter in a pan and add the minced yellow onions.

Cook them on medium-low until translucent but not browned.

Remove from heat and let cool.

In your bowl with the milk-soaked bread add the rest of the meatball ingredients including the cooked onions.

Mix it on low until the bread is broken apart and the meat is combined with the ingredients (using the stand mixer and not your hands helps keep the mixture cold and tender).

Using a meatballer/ice cream scoop or your hands, scoop them into balls about the size of a ping pong ball and place on the baking sheet.

Cook, uncovered, for 20-22 minutes.

While meatballs are cooking add vegetable oil and garlic to a large skillet on medium heat.

Cook for 1 minute, stirring often.

Whisk in sesame oil, ketchup, honey, and soy sauce.

Bring to a boil then reduce heat to medium-low and simmer for 3-4 minutes.

Add cooked meatballs to skillet, stir to combine.

Cook for 5-6 minutes until well glazed.
Nutrition Information
Yield: 12 Servings, Amount per serving: 307 calories, Calories: 307g, Carbohydrates: 22g, Protein: 17g, Fat: 17g, Saturated Fat: 8g, Trans Fat: 1g, Cholesterol: 91mg, Sodium: 674mg, Potassium: 351mg, Fiber: 1g, Sugar: 16g, Vitamin A: 222g, Vitamin C: 2g, Calcium: 47g, Iron: 2g
All images and text © for Dinner, then Dessert.
Keyword:
Honey Garlic Meatballs
Save