Peanut Butter Chocolate Molten Lava Cakes and they're only 6 ingredients! Includes 5 non peanut butter flavor ideas.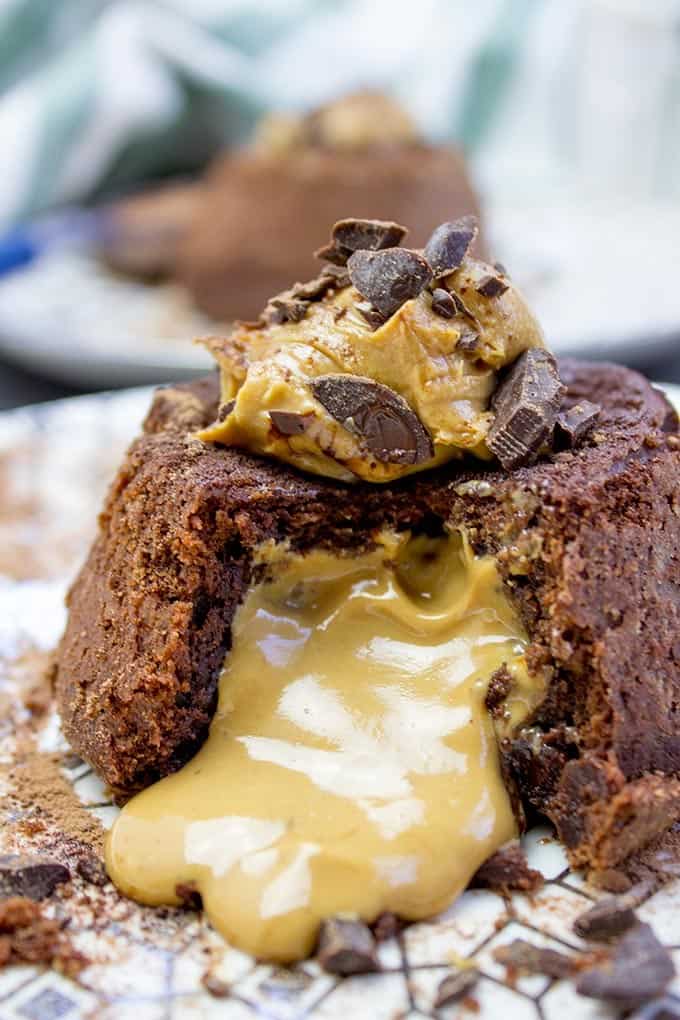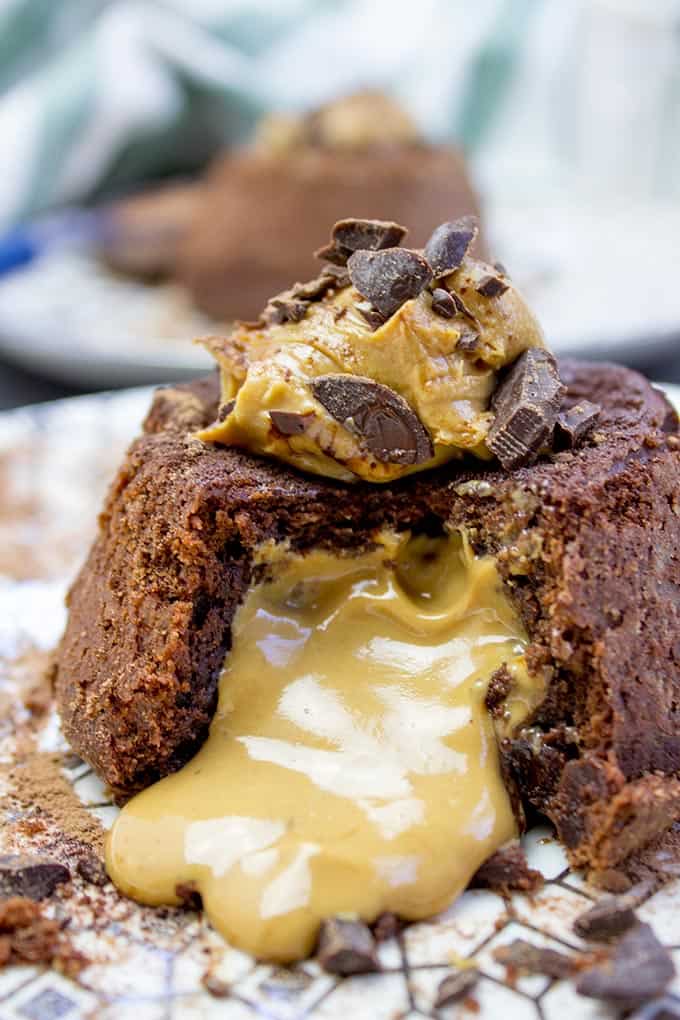 Another day, another chocolate-y dessert as we round the final stretch into Valentine's Day! Today's recipe for Peanut Butter Chocolate Molten Lava Cakes is actually one of my absolute favorite desserts to make…actually it is second to tomorrow's chocolate cake made famous by David Lebovitz!
The recipe for these Peanut Butter Chocolate Molten Lava Cakes is so easy it is almost not even a whole new recipe. You simply use the recipe for the Molten Chocolate Cake from Monday (oh man that was a pretty cake!)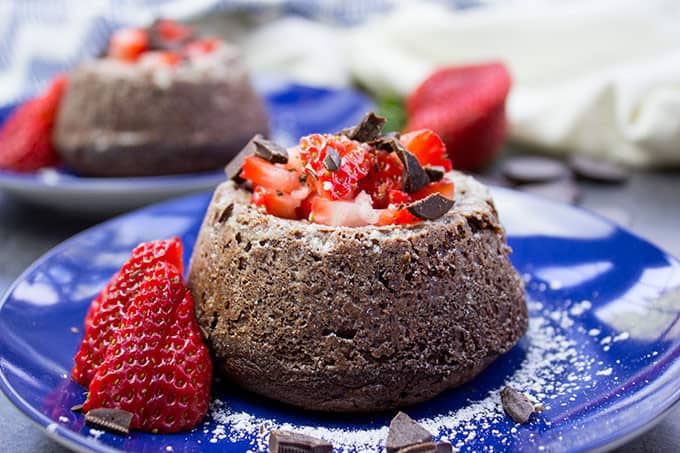 and add one simple ingredient to it!
There is really just one trick to this cake that makes the center so perfectly molten. Put the peanut butter in the freezer! In the oven it will melt but not bake into the cake! Another note about the peanut butter, it works best with non homemade/freshly ground peanut butter. Something from a jar, preferably smooth or it will look weird all melted.
You can also skip the powdered sugar if you would like but your filling will be a bit more solid, the sugar aids in melting and also tempers the strong flavors a bit.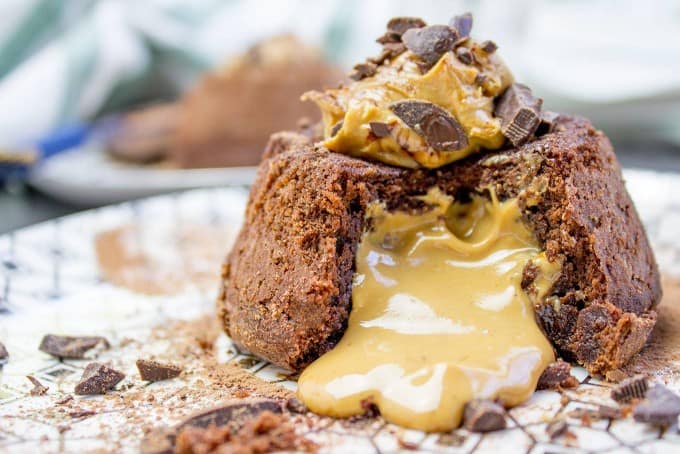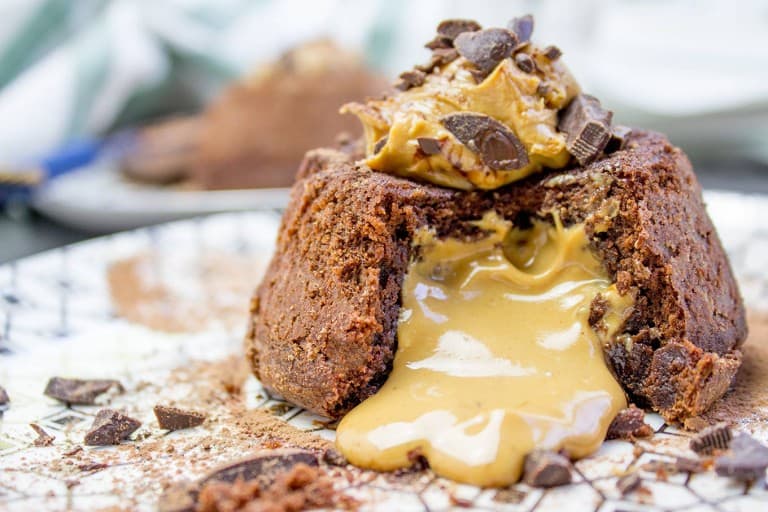 I know peanut butter can be a controversial ingredient for a large group of people. So in the interest of giving you the most options since you may have an allergy to peanuts or just want a different flavor, I do have some peanut butter alternatives for you too!
Use cookie butter (Trader Joe's version of this is AMAZING, much less in the store – I linked you for the info on the product)
Use jam or jelly. Since this is hard to roll into a ball, I would suggest doing it in an ice-cube tray, then break the cube in half (or get this sphere ice cube tray I am obsessed with and make other candies in!)
Nutella (Yes I know what you're thinking it is already chocolate…but you and I both know Nutella is not JUST chocolate.
White Chocolate Ganache
Use some red candy melts (or any other color but buy these in store, the price on Amazon is much higher) for a fun colorful center that isn't flavored.
Frozen berry coulis! Put fresh berries in a food processor (hands down my favorite kitchen electric, I have had this machine for over 7 years and have used it at home and for clients. I couldn't recommend it more) with a bit of sugar – to taste – and make it into a fresh sauce. Freeze in the ice-cube tray I mentioned above and pop it into the cake. 


Instructions
Mix ¾ cup peanut butter with ¾ cup powdered sugar.

Roll the sweetened peanut butter into 6 balls and put in the freezer for an hour or longer. (The longer the better but hey any length of time is better than nothing).

Preheat the oven to 400 degrees

Butter your ramekins, I used a large muffin tin.

Melt the butter and chocolate in a microwave safe bowl in 30 second increments until smooth.

Let the chocolate cool for a couple of minutes, then add in the powdered sugar, whole eggs and yolks and mix.

Sift in the flour and mix until just combined.

Add half the batter evenly to the muffin tins and gently put the peanut butter balls into the middle of each one. Spoon on the remaining batter into each well evenly.

Bake for

12-14 minutes

or until the sides are set and the middle is still slightly jiggly.

Let them rest for a

minute

then add a cookie sheet on top of the muffin tin then flip over.

Using a spatula slide it under the cake carefully and transfer to your plate.

Dust with cocoa powder, top with dollop of whipped cream and chopped chocolate wafers.
Nutrition
Calories:
747
kcal
|
Carbohydrates:
67
g
|
Protein:
14
g
|
Fat:
49
g
|
Saturated Fat:
22
g
|
Cholesterol:
162
mg
|
Sodium:
311
mg
|
Potassium:
458
mg
|
Fiber:
5
g
|
Sugar:
51
g
|
Vitamin A:
655
IU
|
Calcium:
58
mg
|
Iron:
3.8
mg