With only 5 Ingredients and 1 bowl this Easy Chocolate Molten Lava Cakes recipe will be in your oven in less than 10 minutes and on your table in less than 30!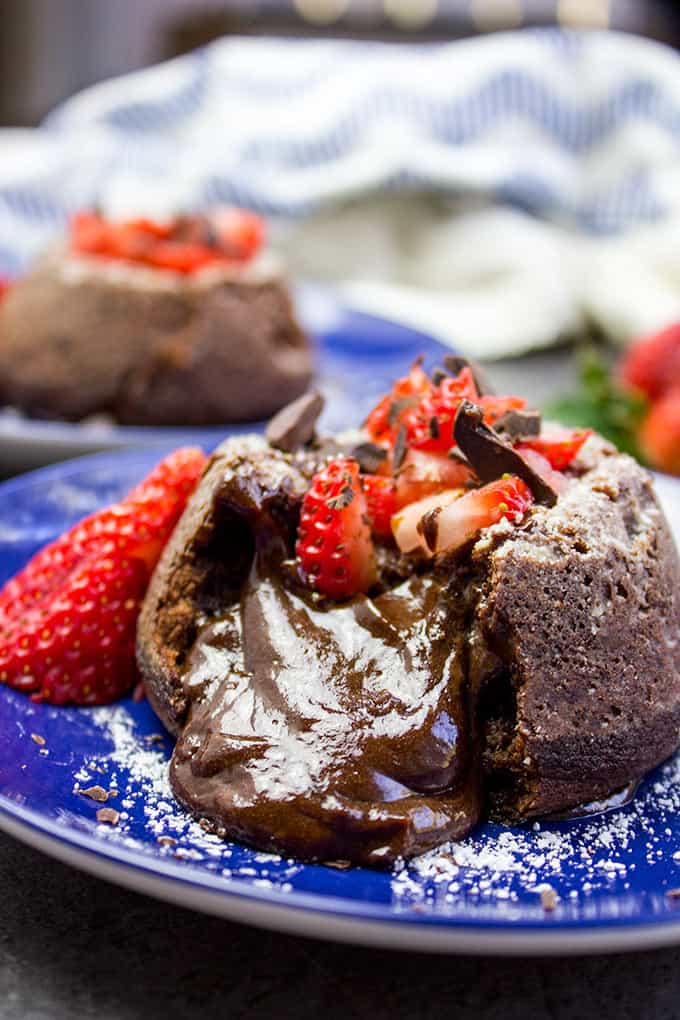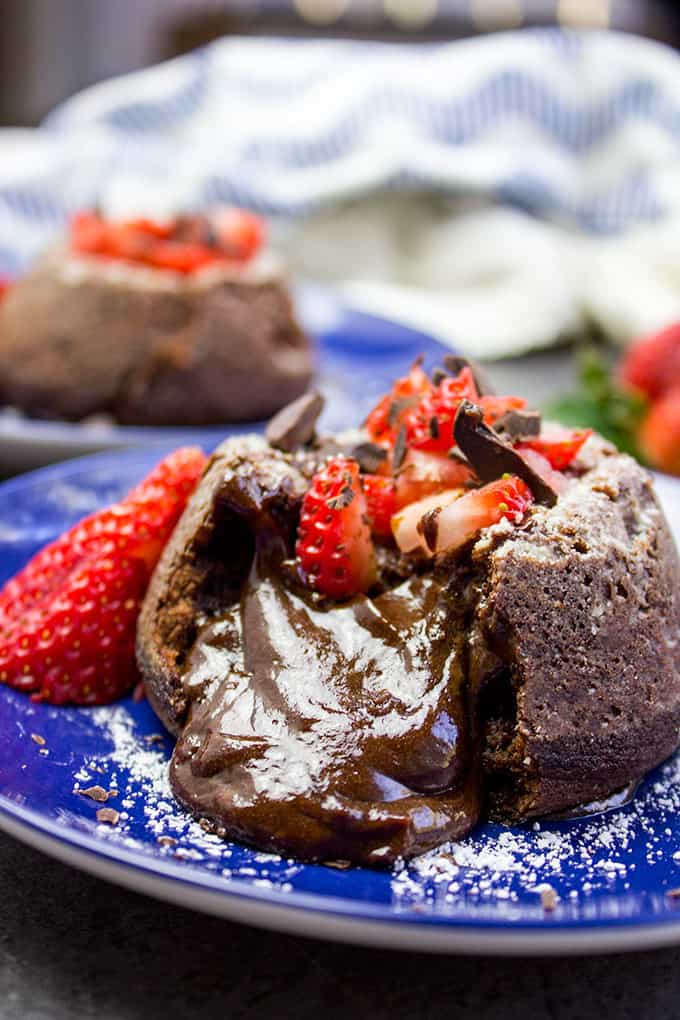 Valentine's Day is just a week away and now that the big game is over I am all about the romantic mushy stuff with these Chocolate Molten Lava Cakes! The best part of this recipe aside from molten chocolate (I mean c'mon butter and chocolate melted together is like 1% shy of heaven!) is that even your significant other who you are convinced could burn water can make this recipe! Yes, this dish that you would order in a restaurant and think it must be magic is made using nothing more than 5 ingredients, 1 bowl, a microwave and a whisk.
I use bittersweet chocolate in these Chocolate Molten Lava Cakes but you are free to use any sort of chocolate you would like. It is just a matter of taste and for me the bold flavor of bittersweet chocolate makes me feel like I am getting the most chocolate-y flavor out there. I know this recipe is EASY and I promise you will love it, I am just going to give you some super basic tips. You can refer to them if needed or if you are one of the significant others and this whole baking thing may not be where you feel the most comfortable!
Make sure you're using a microwave safe bowl.
Microwave the chocolate and butter together, the melted butter will help melt the chocolate evenly. Look at that pool of butter below!
After 2 cycles of 30 seconds, let the chocolate sit for 30-45 seconds before stirring. I would be shocked if you needed more microwaving.
The better chocolate you can use the better these cakes will taste! I use Guittard Bittersweet Wafers.
You can mix everything as much as you want UNTIL you add the flour. Once you add the flour only mix until just combined.
Make sure you butter your ramekins well. I also sometimes flour/cocoa powder them to ensure no sticking. Alternately you can use a baking spray in a can, it sprays an oil/flour combo in one and it super easy.
If you coat the pan with something white (the baking spray or flour) you may get a hint of white coloring on your finished cakes. Don't stress it! You are going to sift powdered sugar or cocoa powder on them anyway.
Don't let these cakes cool! The warmer they are the better the molten center will be!
The steps in these Chocolate Molten Lava Cakes are so easy it is really just one bowl and a microwave before they go into the oven.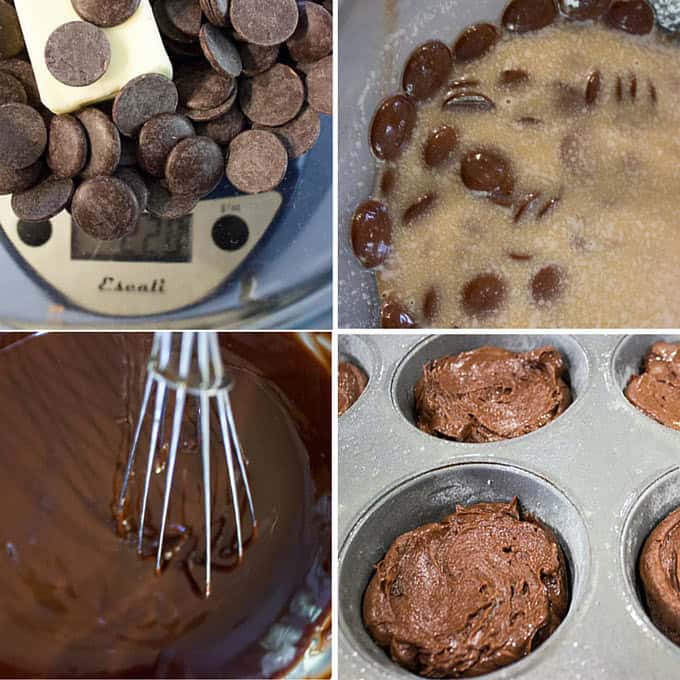 Once the cakes come out of the oven, you can use a cookie sheet to help flip them onto your plate and serve them up with some chopped chocolate and berries. Serve them quickly the warmer the cakes the more liquid the center.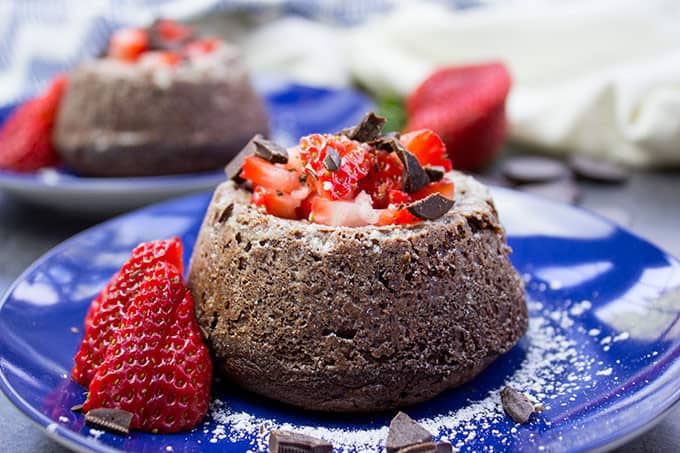 Recipe
Save

Recipe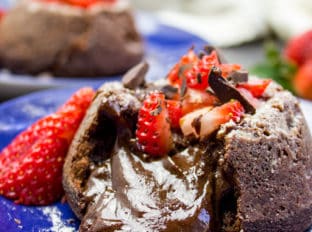 Chocolate Molten Lava Cakes (5 Ingredients, 1 Bowl!)
Yield:

5

Course: Dessert
Cuisine: American
With only 5 Ingredients and 1 bowl this Easy Chocolate Molten Lava Cake recipe will be in your oven in less than 10 minutes and on your table in less than 30!
Ingredients
½

cup

butter

8

ounces

bittersweet chocolate

1

cup

powdered sugar

2

whole eggs

2

egg yolks

6

tablespoons

flour
Instructions
Note: click on times in the instructions to start a kitchen timer while cooking.
Preheat the oven to 400 degrees

Melt the butter and chocolate in a microwave safe bowl in 30 second increments until smooth.

Let the chocolate cool for a couple of minutes, then add in the powdered sugar, whole eggs and yolks and mix.

Sift in the flour and mix until just combined.

Add the batter evenly to the muffin tins.

Bake for 12-14 minutes or until the sides are set and the middle is still slightly jiggly.

Let them rest for a minute then add a cookie sheet on top of the muffin tin then flip over.

Using a spatula slide it under the cake carefully and transfer to your plate.

Dust with more powdered sugar if you would like, and garnish with chopped chocolate and berries.
Recipe Notes
This post contains affiliate links.
Nutrition Information
Yield: 5 , Amount per serving: calories
All images and text © for Dinner, then Dessert, Inc.
MY OTHER RECIPES
Save

Recipe