Chocolate Lava Cakes with a molten chocolate center made in just 30 minutes with 5 ingredients, 1 bowl and a whisk. The most impressive easiest dessert you'll EVER make.
Chocolate Cake is a no brainer for the best cake on earth but this one kicks it up a notch with a warm gooey center. We also love Flourless Chocolate Cake (which has just 4 ingredients!) and Vanilla Pound Cake that you can make a quick shortcake with too!
 MOLTEN CHOCOLATE CAKE
You could of course make a two layer chocolate cake but the magic in lava cakes (aside from that amazing melted chocolate middle) is that these cakes are individually baked for the perfect servings for a crowd or for portioning out ahead or for even just making for a romantic meal for two.
The cake itself is incredibly easy to make, it doesn't require a stand mixer, just a whisk, five ingredients and 1 bowl. If you're looking to make a meal for a loved one and you're not an experienced cook in the kitchen you can absolutely make this lava cake the show stopping dessert part of your meal.
I use bittersweet chocolate in these Chocolate Lava Cakes but you are free to use any sort of chocolate you would like. It is just a matter of taste, the bold flavor of bittersweet chocolate makes feels like the most chocolate-y flavor out there.
Toppings for Molten Lava Cake:
Fresh Strawberry Slices
Fresh Berries (Raspberries, Blueberries, Blackberries)
Berries tossed with Grand Marnier or Frangelico
Vanilla Ice Cream (Ice Cream of any variety would work, vanilla is a classic)
Custard

Create a free account to Save Recipes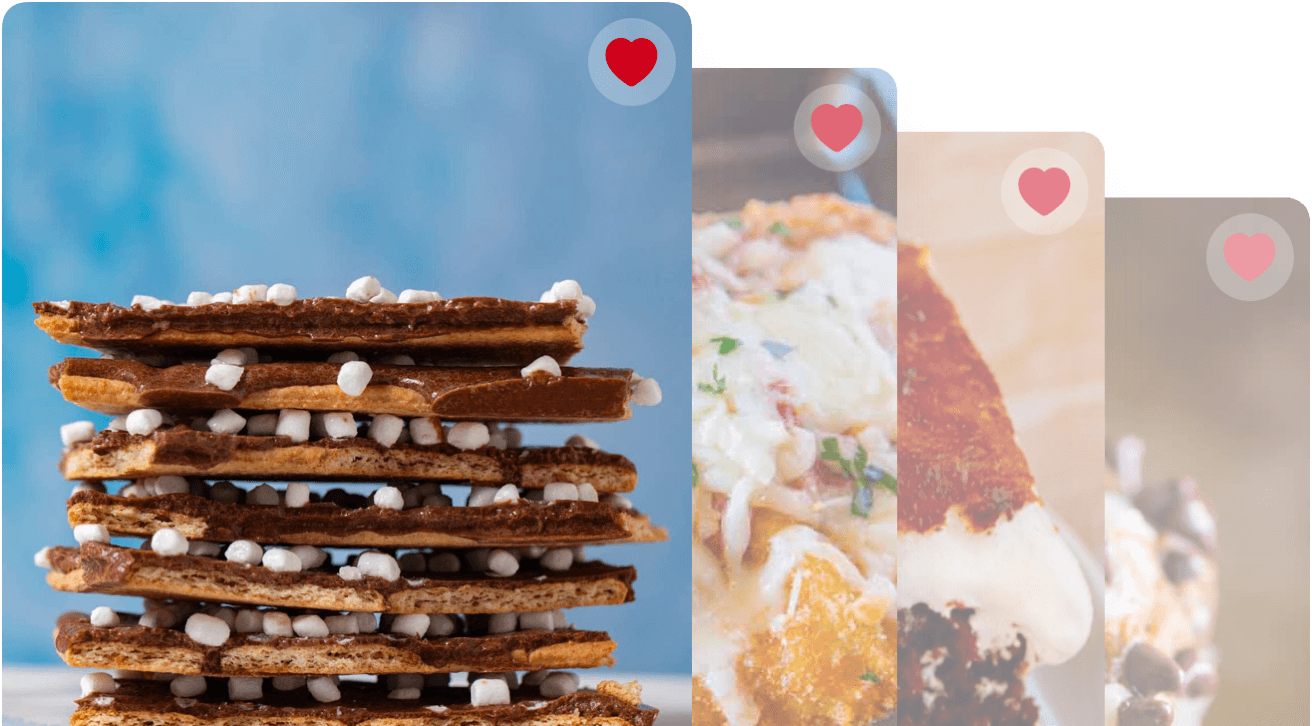 What to bake your lava cakes in:
You can bake you lava cakes in one of three types of cooking vessels, custard cups, muffin tins or extra large muffin tins. I used large muffin pan.
There is no wrong or right way to make your choice here, I picked the large muffin pan because I had the most confidence in my muffin pan releasing the cakes perfectly and I liked that the bottoms of them were smaller so I had less chance of them sticking at the bottom and tearing.
If you butter and flour/cocoa powder your ramekins well you can absolutely bake these in ramekins just as easily.
Tips for Chocolate Lava Cake:
Make sure you're using a microwave safe bowl.
Microwave the chocolate and butter together, the melted butter will help melt the chocolate evenly.
After 2 cycles of 30 seconds, let the chocolate sit for 30-45 seconds before stirring.
Make sure to follow the egg instructions, the use of the extra egg yolks ensures the rich taste of the chocolate lava cake.
The better chocolate you can use the better these cakes will taste! I use Guittard Bittersweet Wafers.
You can mix everything as much as you want UNTIL you add the flour. Once you add the flour only mix until just combined.
Make sure you butter your ramekins well. I also sometimes flour/cocoa powder them to ensure no sticking. Alternately you can use a baking spray in a can, it sprays an oil/flour combo in one and it super easy.
If you coat the pan with something white (the baking spray or flour) you may get a hint of white coloring on your finished cakes. Don't stress it! You can sift powdered sugar or cocoa powder on them.
Don't let these cakes cool! The warmer they are the more molten the centers will be!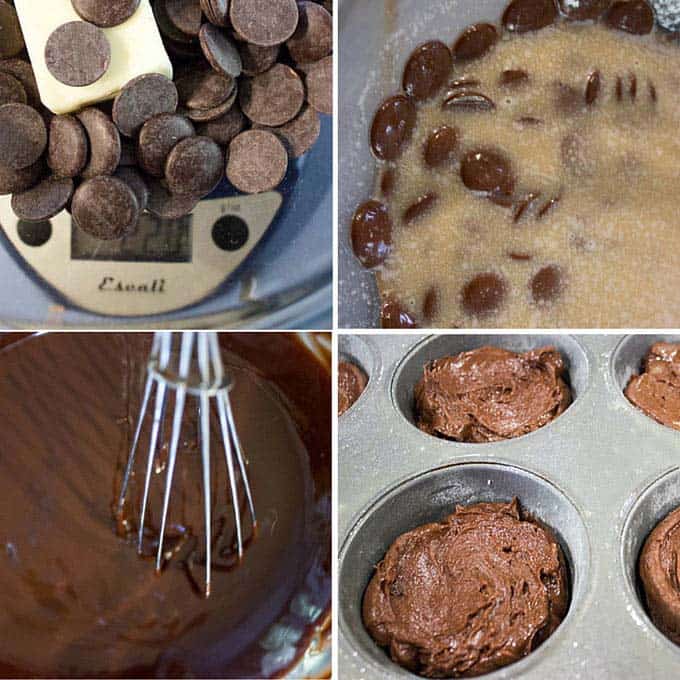 The steps in these Chocolate Molten Lava Cakes are so easy it is really just one bowl and a microwave before they go into the oven. Once the cakes come out of the oven, you can use a cookie sheet to help flip them onto your plate and serve them up with some chopped chocolate and berries.
Serve them quickly the warmer the cakes the more molten the center will be. This is a molten chocolate cake after all.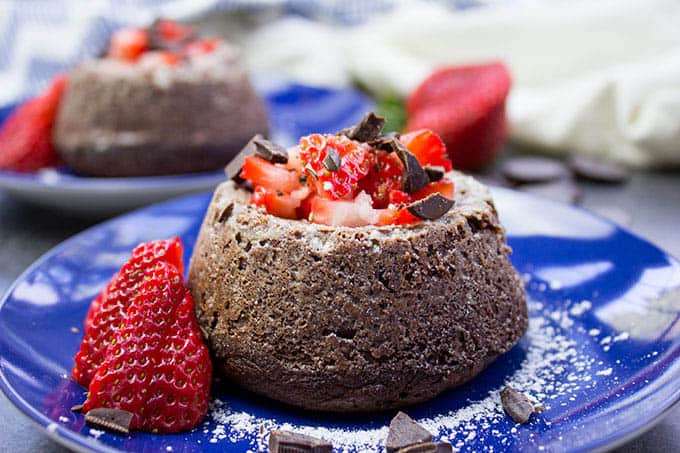 What to serve with Chocolate Lava Cakes:
The perfect Valentine's Day Meal would start with an appetizer of Shrimp Cocktail or Calamari followed with a dinner of Ribeye Steak or Pot Roast with a side of Mashed Potatoes or Mac and Cheese with these Chocolate Lava Cakes for dessert.
Trust me, you'll be highly appreciated by the time you serve this chocolate cake for dessert. Extra points if you top it with ice cream.
If you like lava cakes and want another fun flavor option I also have these Peanut Butter Lava Cakes on the blog too.


Ingredients
½

cup

unsalted butter

8

ounces

bittersweet chocolate

1

cup

powdered sugar

2

large

whole eggs

2

large

egg yolks

6

tablespoons

flour
Instructions
Preheat the oven to 400 degrees.

Melt the butter and chocolate in a microwave safe bowl in

30 second

increments until smooth.

Let the chocolate cool for a

2 minutes

, then add in the powdered sugar, whole eggs and yolks and mix.

Sift in the flour and mix until just combined.

Add the batter evenly to the muffin tins.

Bake for

12-14 minutes

or until the sides are set and the middle is still slightly jiggly.

Let them rest for

1 minute

then add a cookie sheet on top of the muffin tin then flip over.

Using a spatula slide it under the cake carefully and transfer to your plate.

Dust with more powdered sugar if you would like, and garnish with chopped chocolate and berries.
Notes
This post contains affiliate links.
Nutrition
Calories:
605
kcal
|
Carbohydrates:
55
g
|
Protein:
7
g
|
Fat:
39
g
|
Saturated Fat:
23
g
|
Cholesterol:
209
mg
|
Sodium:
43
mg
|
Potassium:
305
mg
|
Fiber:
3
g
|
Sugar:
40
g
|
Vitamin A:
810
IU
|
Calcium:
55
mg
|
Iron:
3.9
mg