Easy Zucchini Cake recipe for a flavorful and moist, warmly spiced sheet cake with fluffy cream cheese frosting. Make it tonight in an hour!
If you love Zucchini Bread but you wish it was sweeter to serve for Dessert, you are going to love this Cake Recipe! It's just as easy to make as quick bread, bakes in half the time and a perfect cake for late summer and fall gatherings.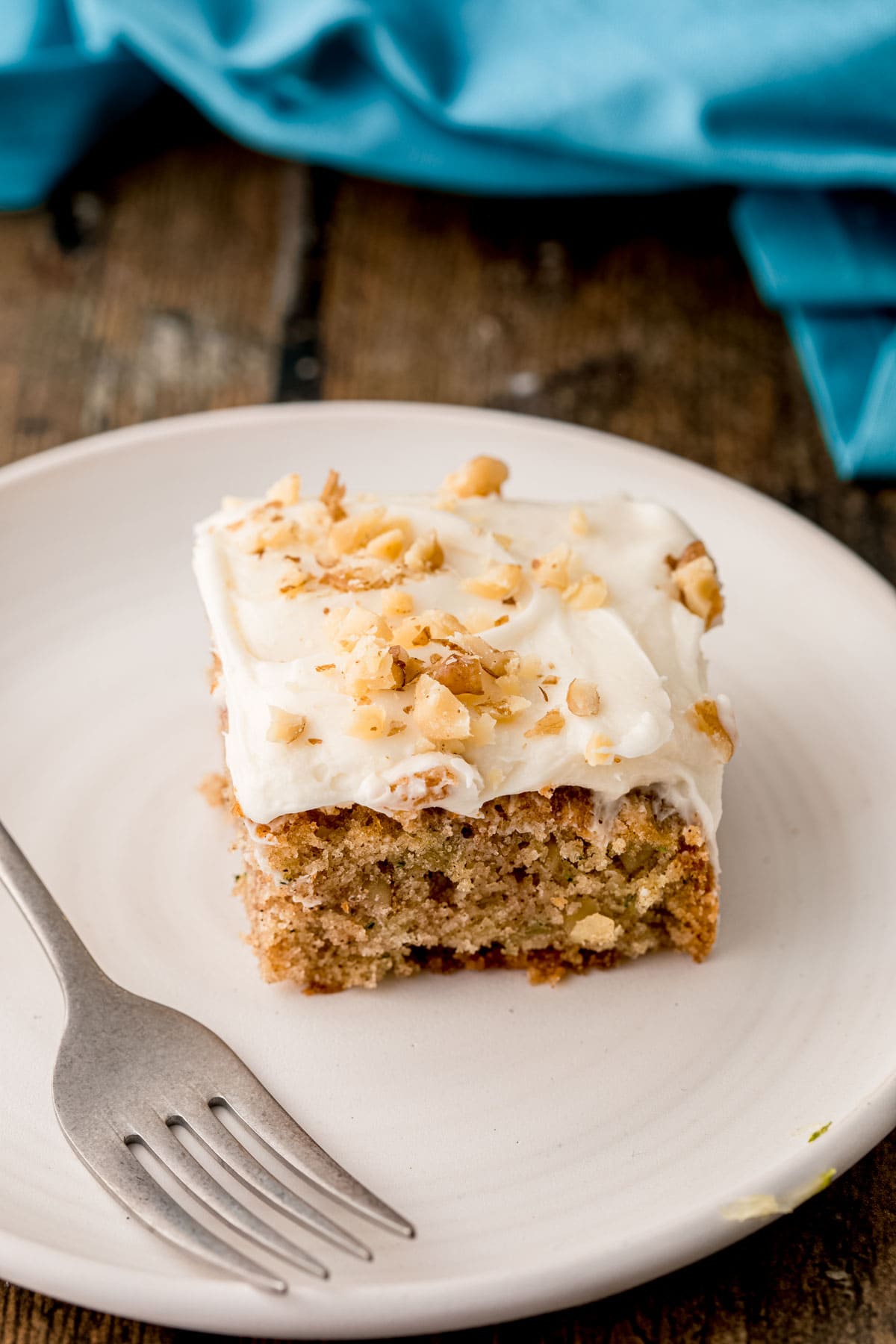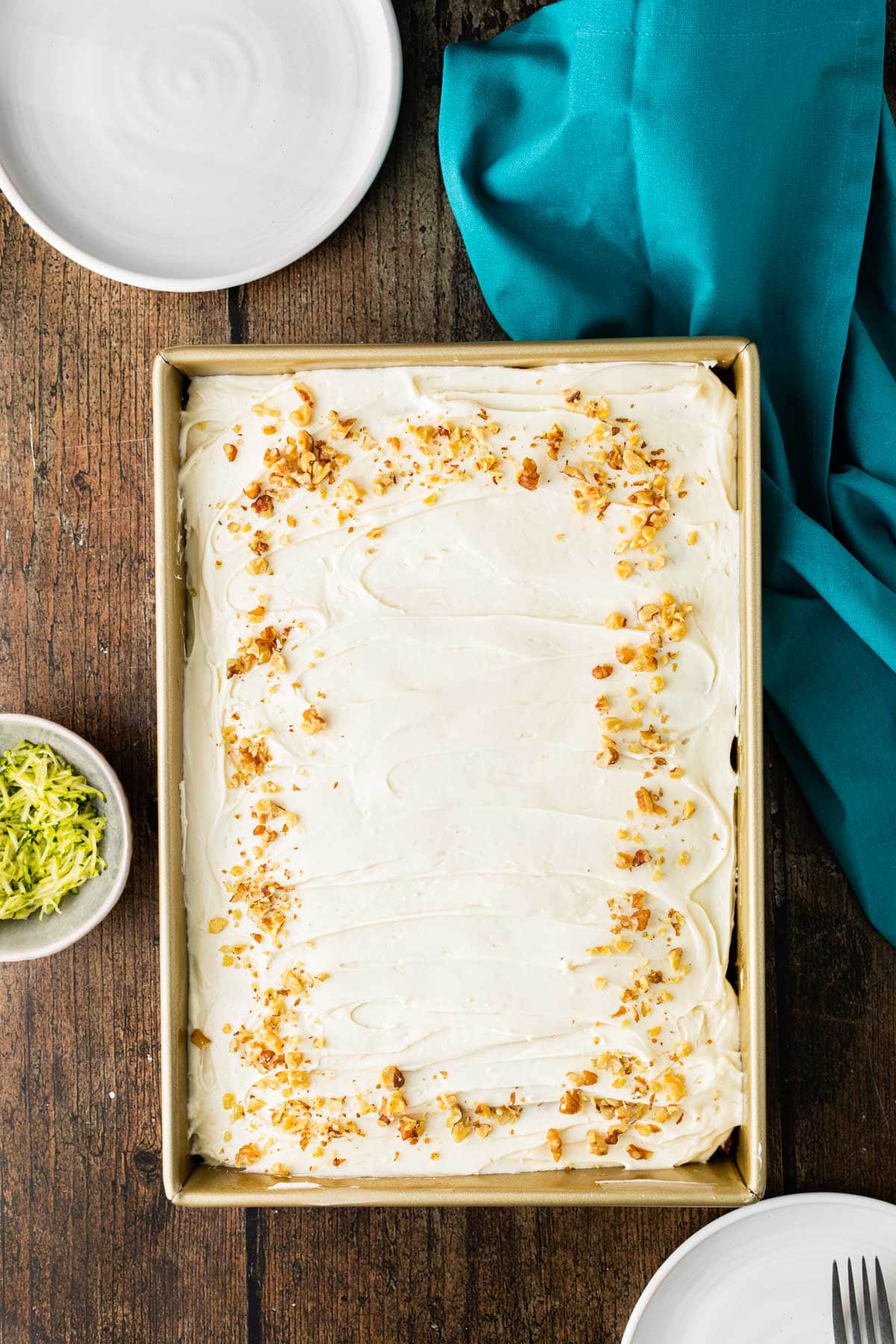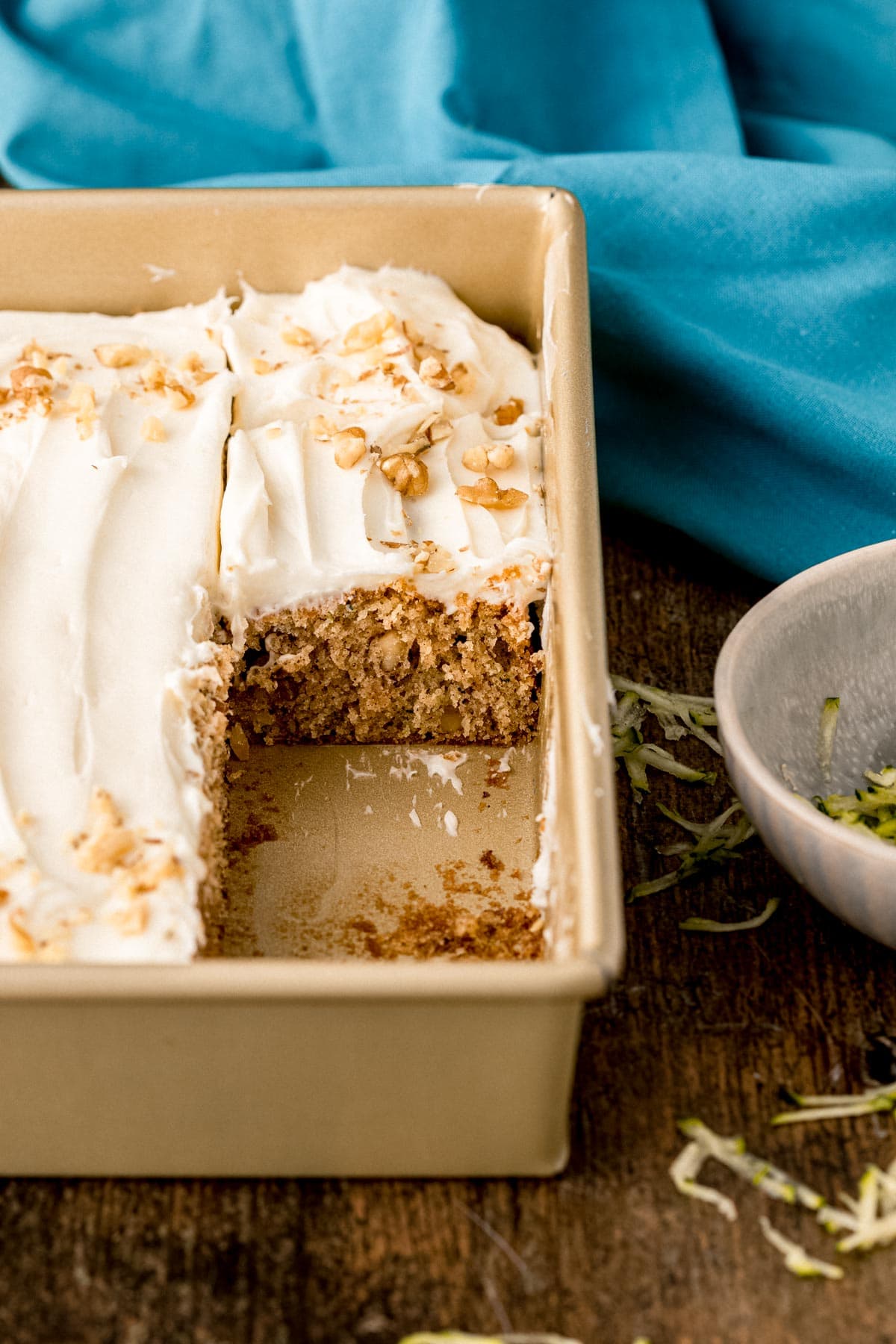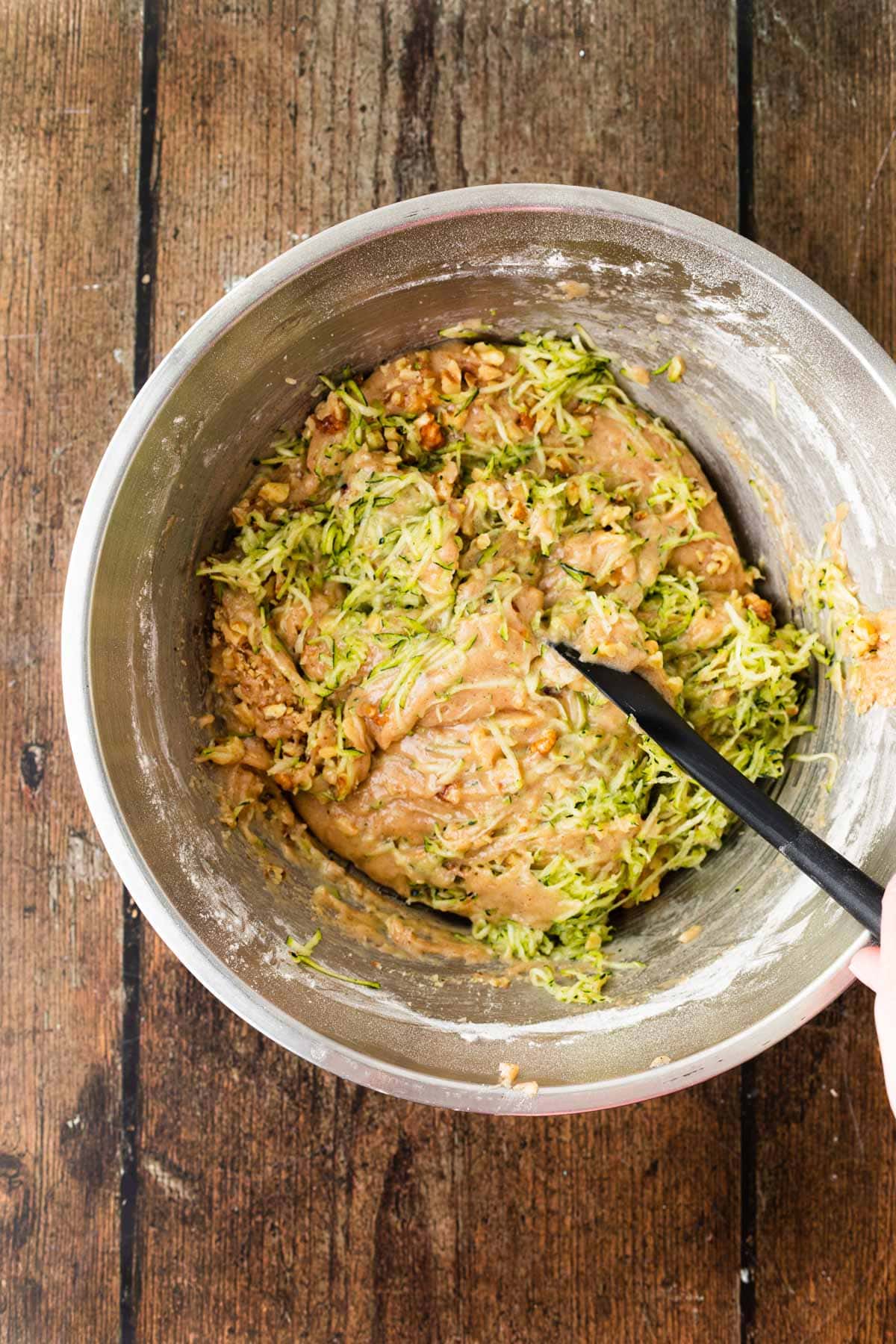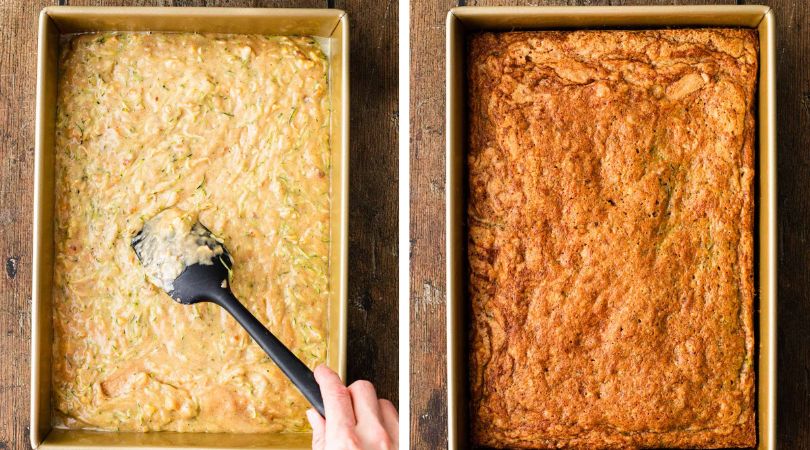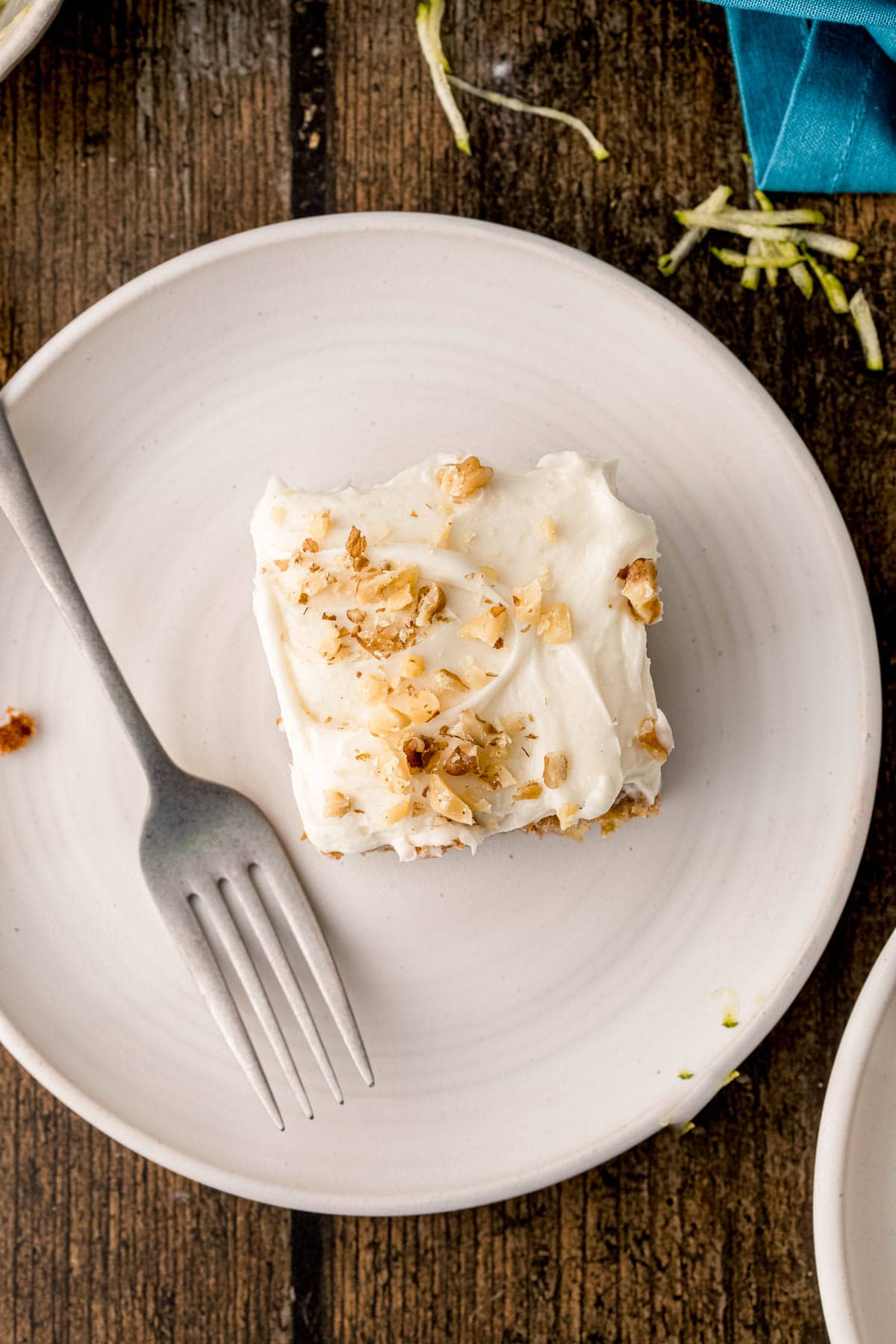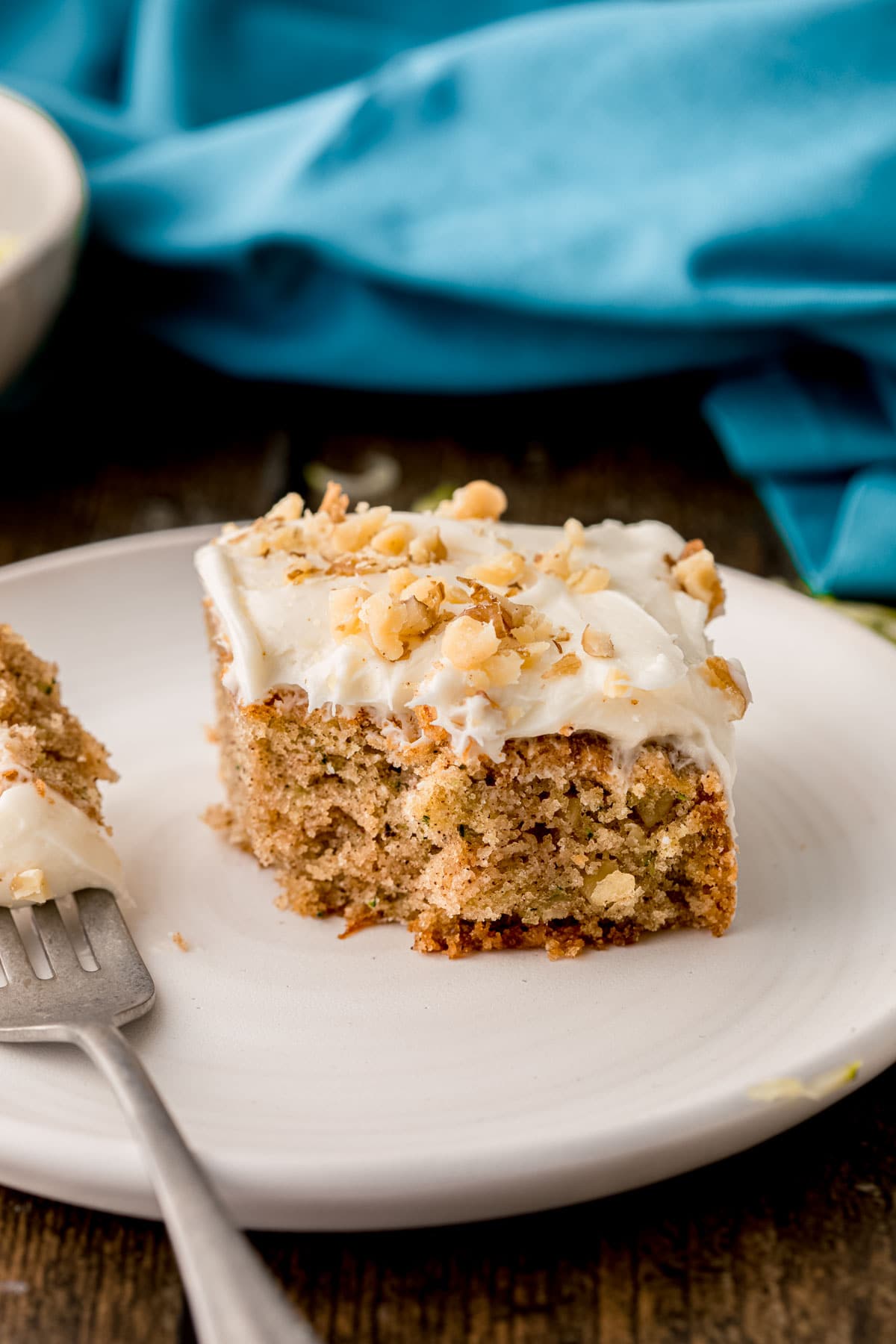 About our Zucchini Cake Recipe
If you've never tried Zucchini Cake, this amazingly tender and flavorful cake is about to blow your mind. It's a delicious frosted spice cake packed with warm spices, walnuts and of course lots of fresh zucchini! Just like a Carrot Cake, the zucchini doesn't add any veggie flavor but instead makes the cake incredibly moist with just a hint of earthiness. And to top it all off, it's covered in a light, creamy, tangy sweet cream cheese frosting that will have you wanting zucchini cake every night!
Zucchini Cake Ingredients
Zucchini: When you prep the zucchini, make sure you grate it into pretty small pieces. As long as it's shredded, the zucchini only adds a mild flavor and texture to the cake.
Walnuts: Add chopped walnuts at the same time you add zucchini. The walnuts are nice and crunch, which contrasts beautifully with the ultra-moist cake.
Cake Batter: The cake batter for this zucchini cake is a pretty standard cake recipe made with eggs, sugar, and flour. However it does use vegetable oil instead of butter so it stays extra moist and tender.
Spices: Adding warm spices makes this old-fashioned Zucchini Cake recipe taste nice and homey. Just mix in a little nutmeg, allspice, and cinnamon for flavor.
Cream Cheese Frosting: Our classic sweet and fluffy Cream Cheese Frosting gets some sour cream added for a little extra tang and to make it even creamier.
Kitchen Tools & Equipment
Baking Dish: This cake recipe is baked in a 9×13-inch baking dish making it a half sheet cake size perfect for potlucks and casual parties. You can bake it in smaller pans, but we don't recommend layering it because it has a very tender crumb that won't hold up well when stacked.
Grater: A standard cheese grater, with the large holes, is a handy tool for shredding the zucchini. Make clean up easy and grate the zucchini over a bowl so it catches all the juices and little shreds. Be sure to drain the excess water though!
How to Make Zucchini Cake
Time needed: 1 hour.
Prep Work

Preheat the oven and spray a 9×13-inch baking dish with nonstick cooking spray. Shred your zucchini and drain any excess moisture. Pat dry with paper towels.

Make the Zucchini Cake Batter

Add the sugar, vegetable oil, and eggs to a large mixing bowl or stand mixer. Then use the paddle attachment to mix until the sugar is well combined into the liquid ingredients. Sift the all-purpose flour, ground cinnamon, kosher salt, baking powder, baking soda, nutmeg, and allspice into the mixing bowl. Then turn the electric mixer to low speed to combine the dry ingredients into the batter.

Add the Zucchini and Walnuts

Gently fold the shredded zucchini and walnuts into the cake batter. Be careful not to overmix here, you want it just evenly combined. If your zucchini looks really wet, drain any extra water again and pat dry before adding.

Bake the Cake

Spread the batter into the prepared baking dish. Bake on the middle rack in the preheated oven for 35-40 minutes, until a toothpick comes out clean or just with a few moist crumbs on it. After the baking time, let the cake cool before adding the cream cheese frosting.

Make the Cream Cheese Frosting

Add softened cream cheese, butter, sour cream, and vanilla extract to your stand mixer. Beat until it is light and fluffy. Add the powdered sugar one cup at a time until it's smooth and incorporated into the frosting. Cover the finished cake with cream cheese frosting and enjoy!
Nutritional Facts
Nutrition Facts
Zucchini Cake
Amount Per Serving
Calories 552
Calories from Fat 252
% Daily Value*
Fat 28g43%
Cholesterol 70mg23%
Sodium 272mg12%
Potassium 149mg4%
Carbohydrates 72g24%
Protein 6g12%
Vitamin A 389IU8%
Vitamin C 3mg4%
Calcium 45mg5%
Iron 2mg11%
* Percent Daily Values are based on a 2000 calorie diet.
Baking Zucchini Cake Tips & Tricks
Salt the Zucchini

Zucchini has a surprising amount of natural moisture so you can also salt them first to prevent a soggy cake. This also cuts any bitterness. Add the zucchini shreds to a medium bowl and toss with 2 teaspoons of salt. Let sit for 10-15 minutes then rinse really well and pat the shreds dry with paper towels before adding to the cake.

Checking for Doneness

This is an ultra moist cake, so it can be hard to tell if it's done visually. To test for doneness, insert a toothpick into the center of the cake. It should come out clean with no wet batter, although there may be some moist crumbs too.
How to Store Zucchini Cake
Store: Since there is cream cheese in the frosting, it's best to store this cake in the refrigerator. Wrap the top of the pan if it doesn't have a lid, or transfer the leftovers to an airtight container. It will stay fresh for about 4-5 days.
Freeze: You could also freeze this delicious Zucchini Cake for up to 2 months. It's best to freeze without the frosting so you can wrap it tightly with plastic. Put the frozen cake in the fridge overnight to thaw before frosting and serving.
Alternative Zucchini Cake Cooking Techniques
Zucchini Cupcakes: This recipe will make about 30 cupcakes. Line your muffin tin with paper liners and fill the cups 2/3 full. Bake for 20-22 minutes, until an inserted toothpick comes out clean with moist crumbs. Add your frosting to a piping bag and pipe swirls of frosting on the cupcakes once they have completely cooled. Sprinkle with crushed walnut pieces.
FAQ for Zucchini Cake
Why does zucchini taste good in dessert?
Added shredded zucchini to this simple cake recipe makes it taste amazing. The grated zucchini makes the cake moist and adds a little extra texture and nutrients. Zucchini is also an excellent vegetable to add to baked goods because it just has a mild, slightly sweet flavor. Just like with carrot cake, the vegetables don't interfere much with the overall flavor of the amazing cake.
How to freeze grated zucchini?
If you have more fresh zucchini than you'll be able to finish, you can shred the zucchini now and freeze it to use for future baking projects. Start by using a box grater or food processor to grate the zucchini. Then divide the shredded zucchini into ziplock bags. Measuring out a cup or 2 into each bag is easier for grabbing and baking, just make sure to label. You can freeze the shredded zucchini for up to 3 months. Place the zucchini in the fridge overnight to thaw and drain the water before using.
Recipe Card


Ingredients
Zucchini Cake:
2

cups

sugar

1

cup

vegetable oil

4

large

eggs

2 1/2

cups

flour

2

teaspoons

cinnamon

1

teaspoon

salt

1/2

teaspoon

baking powder

1/2

teaspoon

baking soda

1/2

teaspoon

nutmeg

1/4

teaspoon

allspice

2

cups

zucchini

, shredded

1

cup

walnuts

, finely chopped
Cream Cheese Frosting:
8

ounces

cream cheese softened

1/4

cup

unsalted butter softened

2

tablespoons

sour cream

1

teaspoon

vanilla extract

4

cups

powdered sugar
Instructions
Zucchini Cake:
Preheat oven to 350 degrees and spray a 9×13 baking pan with baking spray.

In a large bowl or stand mixer add the sugar, vegetable oil and eggs until well combined.

Into the large bowl sift together the flour, cinnamon, salt, baking powder, baking soda, nutmeg and allspice.

Whisk until just combined.

Add in the zucchini and walnuts and stir until combined.

Spread batter in the baking pan and bake for

35-40 minutes

until a toothpick comes out clean.
Cream Cheese Frosting:
Add the cream cheese, butter, sour cream and vanilla to a stand mixer and beat until light and fluffy.

Add in the powdered sugar one cup at a time until smooth and incorporated.

Spread over cooled cake.
Nutrition
Calories:
552
kcal
|
Carbohydrates:
72
g
|
Protein:
6
g
|
Fat:
28
g
|
Saturated Fat:
8
g
|
Polyunsaturated Fat:
12
g
|
Monounsaturated Fat:
6
g
|
Trans Fat:
1
g
|
Cholesterol:
70
mg
|
Sodium:
272
mg
|
Potassium:
149
mg
|
Fiber:
1
g
|
Sugar:
56
g
|
Vitamin A:
389
IU
|
Vitamin C:
3
mg
|
Calcium:
45
mg
|
Iron:
2
mg
Zucchini Cake Variations
Brown Sugar Icing: Instead of the cream cheese frosting we used in this recipe, you could top the Zucchini Cake in brown sugar icing. To make the brown sugar icing, melt ½ cup unsalted butter in a large saucepan over high heat. Then add 1 cup packed brown sugar. Mix the brown sugar into the melted butter and cook at a simmer for 2 minutes, stirring constantly. Add ¼ cup milk and ½ teaspoon vanilla. As soon as the mixture returns to a boil, remove it from heat. Then gradually add 2 cups of powdered sugar to the brown sugar mixture. Continue to stir the brown sugar icing until it's thick and spreadable. Then spread the brown sugar icing over the Zucchini Cake.
Chocolate Chips: For some chocolate flavor, you can mix mini chocolate chips into the Zucchini Cake batter. I prefer using mini chocolate chips, but you can use regular size if you like larger chocolate chunks. Feel free to use semi-sweet, milk chocolate, or dark chocolate chips, depending on your preference.
Flavor Additions: To alter the taste of the cake, you could add a little almond extract for a more warm and comforting flavor. Or, go the opposite way and mix fresh lemon juice into the batter for a citrusy flavor.