Chicken Cordon Bleu Lasagna (perfect for holiday Ham!)
Chicken Cordon Bleu Lasagna made with Ham, Chicken, Swiss and Mozzarella cheeses is the perfect comforting meal to make with your leftover holiday hams!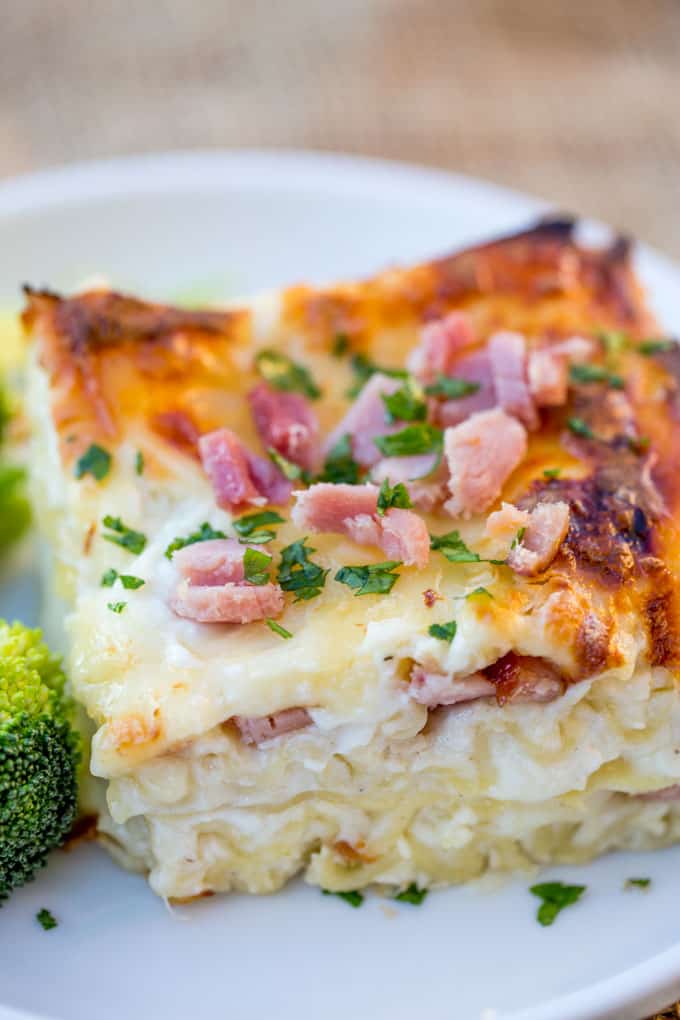 Chicken Cordon Bleu Lasagna takes your normal lasagna you'd crave to the next level. A white béchamel sauce replaces the classic red sauce, leftover ham and chicken take the place of your classic ground meat and Swiss cheese adds an extra level of cheesy flavor to the mix.
As you all have become accustomed to since my love for pork and bacon on this blog is front and center, this Chicken Cordon Bleu Lasagna post is generously sponsored by Smithfield.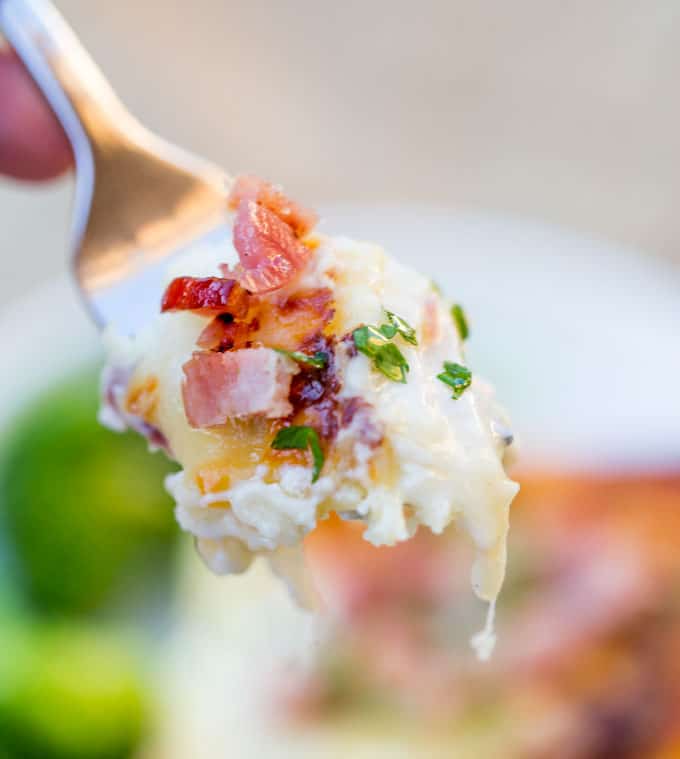 If you're like me and you love having holiday hams for your parties, dinners or hey just because ham is completely delicious, then you know that more often then not there is ham left over at the end of the meal.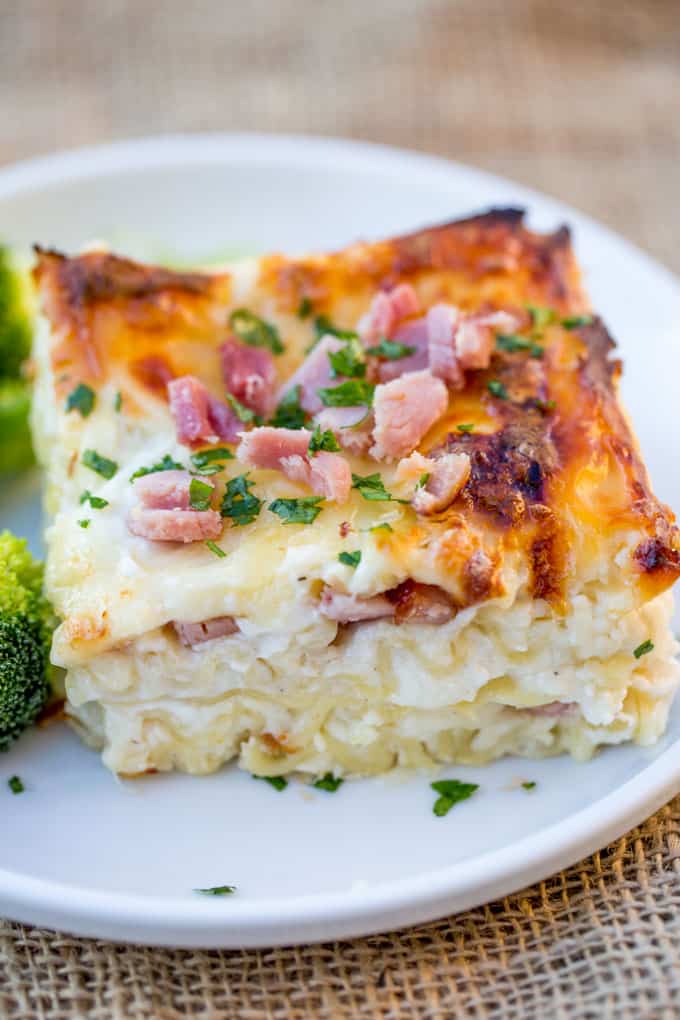 Making recipes with Smithfield Signature Spiral Ham is actually one of my favorite parts of the holidays. Of course you can chop it up and include it in your breakfasts, add slices to sandwiches or top it on salads.
It's incredibly convenient since it is already cooked through you only have to warm it and glaze it before serving to your family and friends – heat at 275 degrees for 10-12 minutes a pound and glaze when done warming!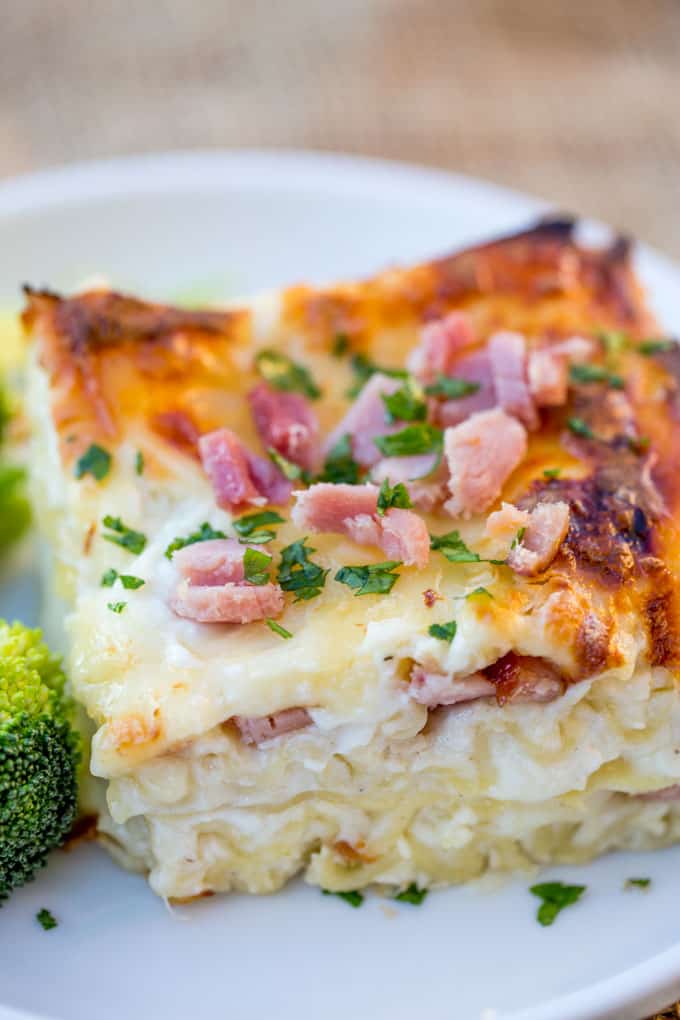 My favorite way to use left over ham is to chop it up and brown it in a skillet so it's almost like bacon crumbles and then use it on pastas or top roasted potatoes and brussels sprouts with it, like a left over version of a previous recipe I made with all those flavors!
Let's also not forget how amazing left over Smithfield Signature Spiral Ham can be in soups!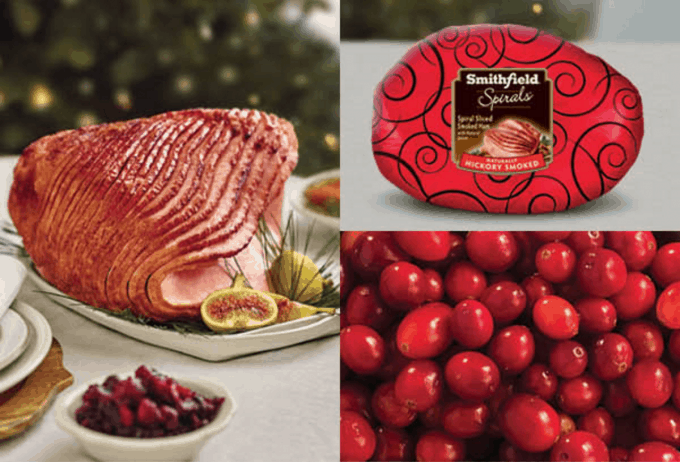 Have you tried my two slow cooker ham soups which have both featured Smithfield Ham? They're incredibly easy and have been a HUGE hit with readers since they were published. Check them out for yourself too!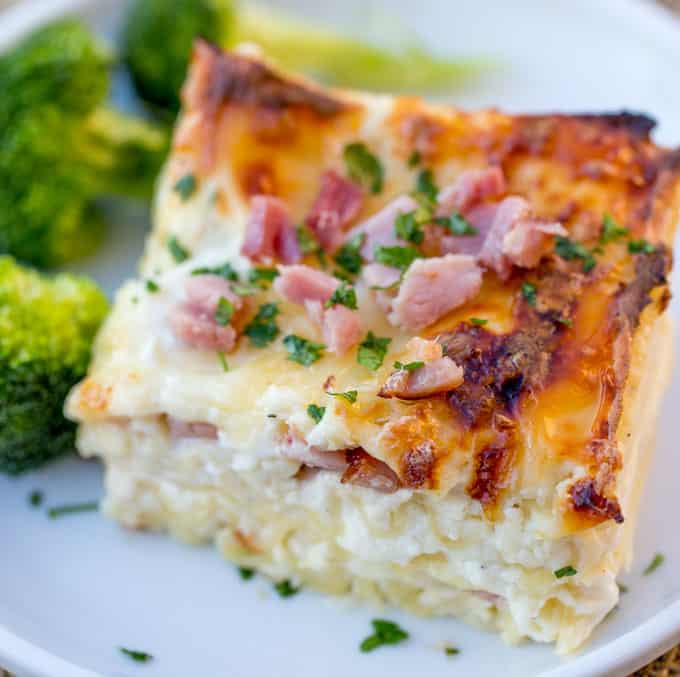 The best part of this Chicken Cordon Bleu Lasagna, aside from all the amazing ham and Swiss flavors is how delicious the leftovers are. Once the pan is cooled you can cut the leftovers into individual slices.
Put those slices in the toaster oven, give it a quick spray with some canola oil spray and get a nice crispy golden crust on all the sides. It tastes like the best crispy pasta/almost quiche and you'll love the Chicken Cordon Bleu Lasagna with a small salad or even as a side to your favorite breakfast.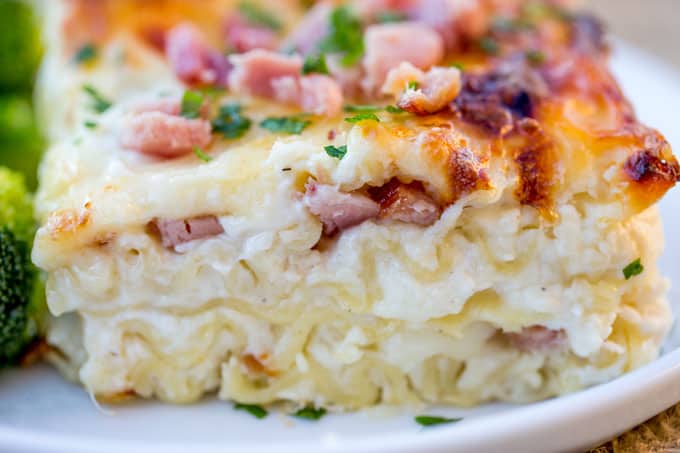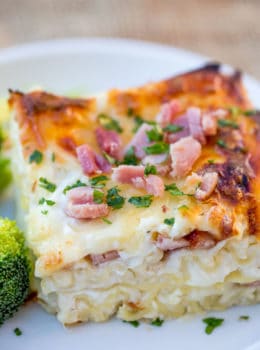 Chicken Cordon Bleu Lasagna
Chicken Cordon Bleu Lasagna made with Ham, Chicken, Swiss and Mozzarella cheeses is the perfect comforting meal to make with your leftover holiday hams!
Prep Time 30 minutes
Cook Time 1 hour
Total Time 1 hour 30 minutes
Ingredients
1 stick unsalted butter
4 cloves of garlic minced
1/2 cup flour
4 cups milk
1/2 teaspoon Kosher salt
1/2 teaspoon fresh cracked black pepper
16 ounces cream cheese, at room temperature
12 lasagna pasta sheets, cooked two minutes shy of directions
2 chicken breasts, cooked and chopped into 1/2 chunks
2 cups Smithfield Ham, cut into 1/2 inch cubes
2 cups Swiss cheese, cut into 1/2 inch cubes
2 cups mozzarella cheese, cut into 1/2 inch cubes
Instructions
Pre-heat the oven to 375 degrees.

In a large pot add the butter and garlic.

When melted add in the flour and whisk.

Slowly pour in the milk, add the salt and pepper and whisk until fully combined and thickened (5-7 minutes).

Add in the cream cheese and whisk until fully combined.

To make your lasagna add a scoop of the milk mixture to coat the bottom of your pan.

Layer three sheets of pasta across the pan.

Add a third of the chicken and ham.

Cover with a quarter of each cheese.

Add a third of the sauce.

Repeat until you have three full layers.

Cover with your remaining three sheets of pasta.

Cover with your remaining cheese, wrap with foil and bake for 45 minutes.

Remove foil and bake an additional fifteen minutes to brown.

Let sit 15 minutes before serving.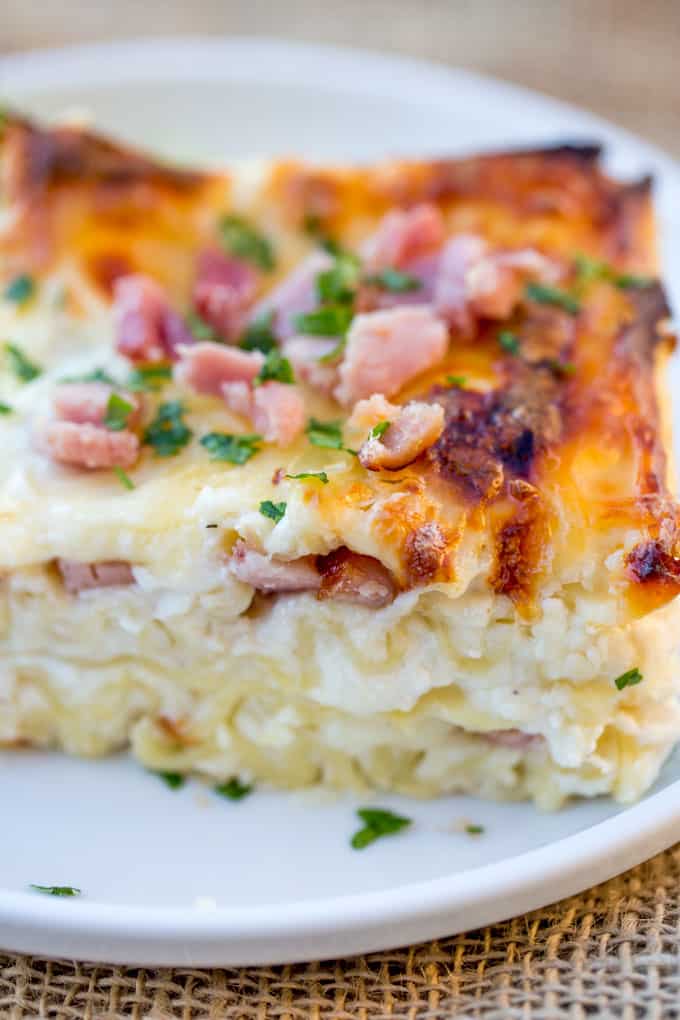 Loving all the ham and bacon recipes this holiday season? Head on over to Smithfield for more ideas to make your own Bacon Bar with recipes, tips and tools to help you bring your Smithfield Bacon Bar to life. You can print labels onto thick card stock and cut to shape then use twine or clothespins to attach the labels to your jars or dishes.
Thank you to Smithfield for sponsoring this post and all the other delicious bacon and ham posts they've sponsored this year. You've made this blog and our meals infinitely more delicious!
Dinner, then Dessert, Inc. owns the copyright on all images and text and does not allow for its original recipes and pictures to be reproduced anywhere other than at this site unless authorization is given. If you enjoyed the recipe and would like to publish it on your own site, please re-write it in your own words, and link back to my site and recipe page. Read my disclosure and copyright policy. This post may contain affiliate links.