7UP Pound Cake is classic vanilla cake with a lemon-lime twist. Lemon juice and 7UP add zesty flavor to a buttery cake and sweet glaze.
This recipe takes the classic texture and subtle flavor from a traditional Buttery Pound Cake and adds zesty, fresh citrus flavor with lemon-lime soda. It's an easy Cake Recipe made even more delicious with a few new ingredients!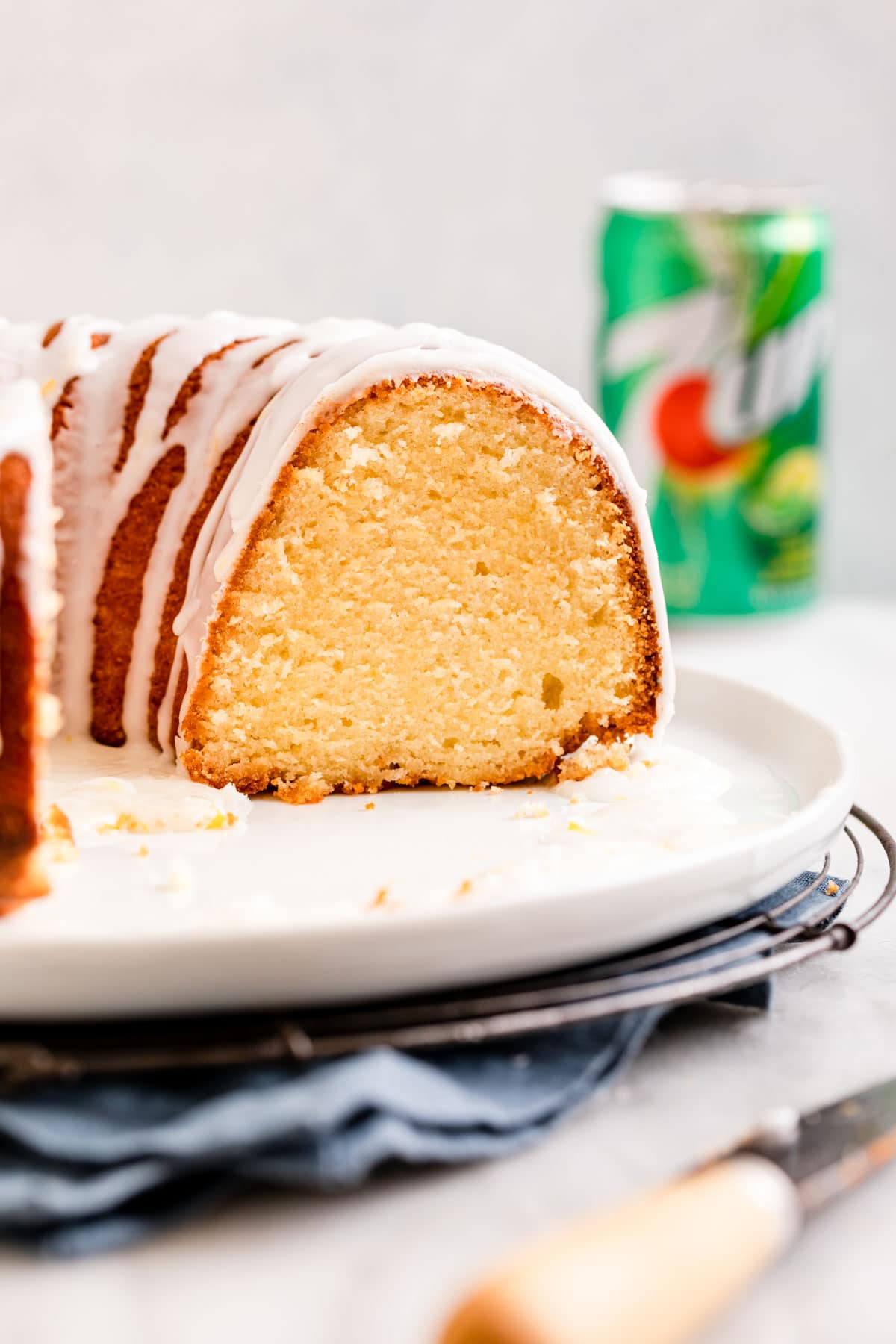 If you haven't tried 7Up Cake before, the idea of adding soda (or pop) to a cake recipe might just sound crazy. It's actually a great way to add some extra moisture and flavor to baked goods. Delicious Coca Cola Chocolate Sheet Cake proves how a can of soda takes a classic cake to a new level, and this version shows how to use the citrusy flavor in 7Up Soda.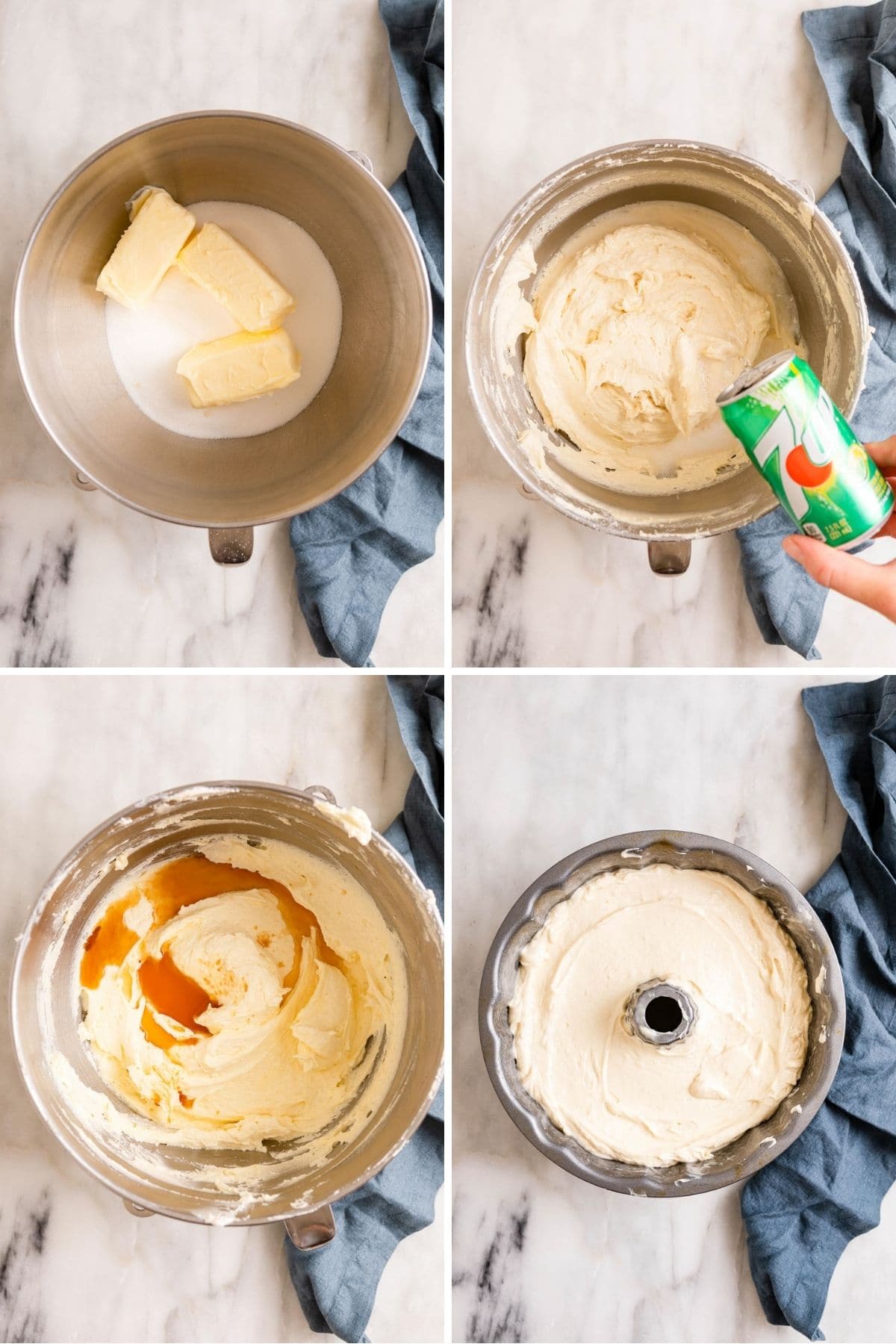 7Up Lemon Pound Cake is an unbelievably easy dessert recipe with an amazing fresh taste. All you have to do is mix 7Up soda and fresh lemon juice into bundt cake batter. It makes the perfect zingy flavor throughout the classic buttery cake. Along with adding the lemon lime soda to the 7Up pound cake batter, it's also mixed into the cake glaze for an easy, citrus topping that goes perfect with the rest of the cake.
Once you've baked the cake and added the amazing glaze, let it set for a few minutes before you slice and serve it. You can serve the incredible Lemon-Lime Bundt Cake with ice cream for the perfect sweet and tangy treat. Creamy, Homemade Vanilla Ice Cream would taste especially great.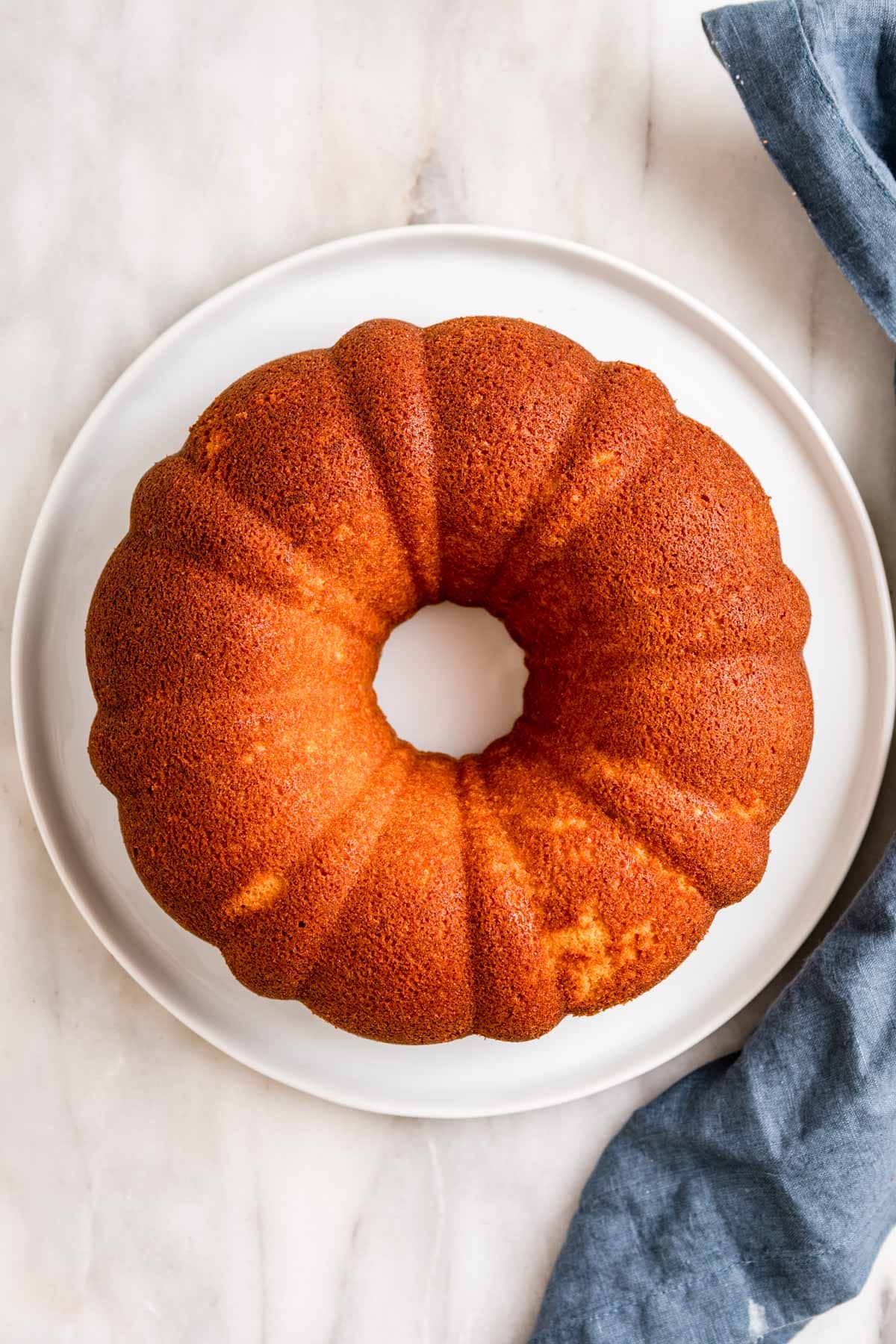 Making 7up Pound Cake ahead of time and freezing it can be a real time-saver. When you have an event that you need a tasty dessert for skip the baking and take this cake out of the freezer, glaze and serve. If you want to freeze this cake for a future event, don't add the glaze before storing it. When you are ready to serve, thaw in the fridge overnight, then let it come to room temperature before glazing and serving.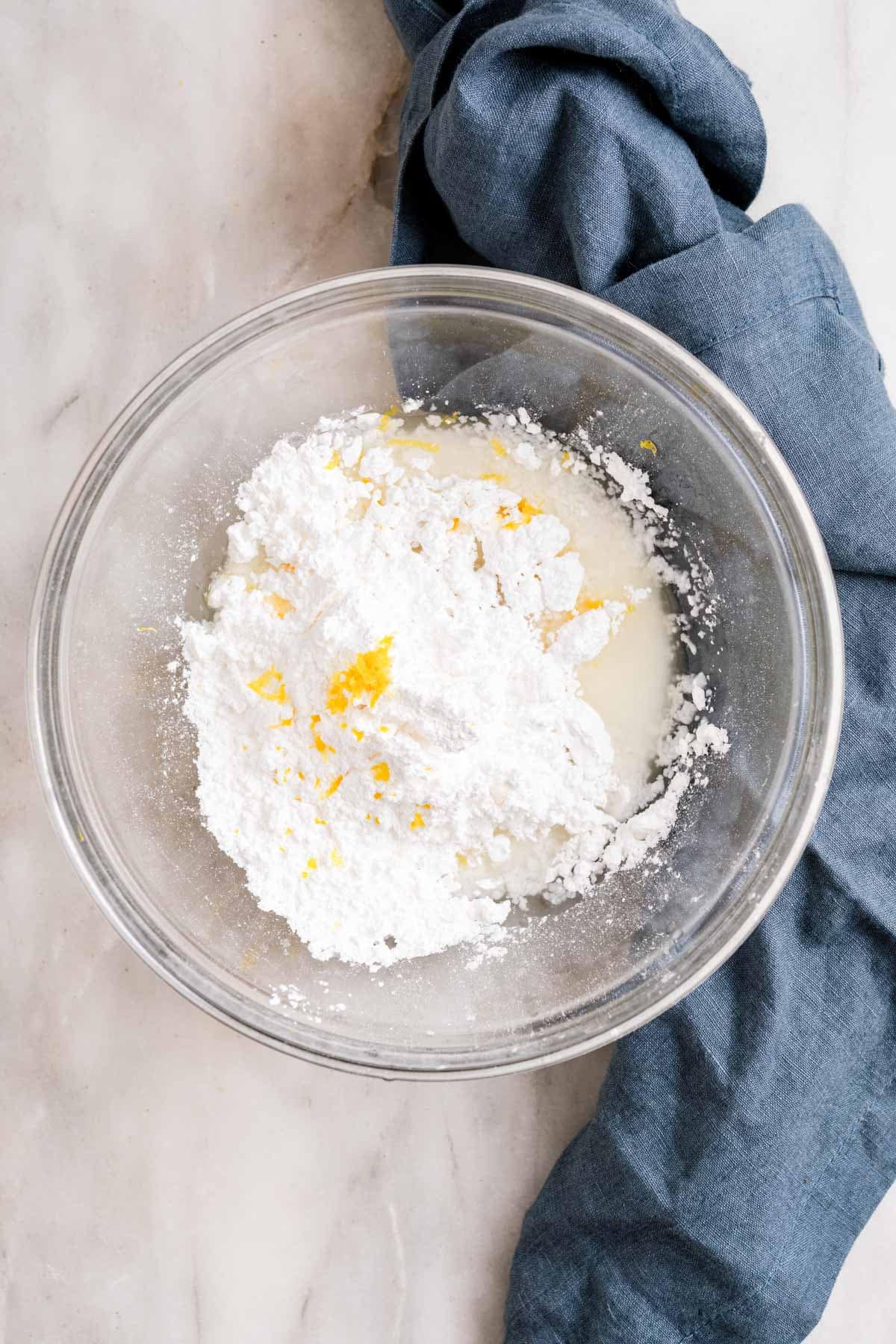 More Pound Cake Recipes
Frequently Asked Questions
Why use 7UP in a pound cake recipe?
The soda not only adds a bright lemon-lime flavor to your pound cake, but the carbonation also acts as a leavening agent. The soda serves as your liquid to bring the cake batter together, making the cake rise and giving it a tender, light texture.
Why is my Pound Cake dry?
If your cake is turning out dry, make sure you are correctly measuring the dry ingredients. To measure flour, fluff the flour with your measuring cup or a spoon before carefully scooping it out with the cup measure, then level it with a straight knife. You will also want to double check your oven temperature with a thermometer to make sure it is not running hot, which can also cause your baked goods to dry out.
Key Ingredients in 7UP Pound Cake
Pound cake batter: The base cake recipe is made with fairly standard ingredients. White sugar, unsalted butter, eggs, vanilla, and flour make a traditional, comforting flavor. The citrus flavor builds off of those base flavors.
7-Up soda: The 7-Up Lemon-Lime Soda has a few important uses in this recipe. Firstly it adds to the flavor. It also acts as a liquid ingredient that makes the cake moist. Plus, the caffeine free soda acts as a leavening agent. Much like baking powder or baking soda, the chemicals in soda help the cake batter bake to the perfect light and fluffy texture.
Lemon juice: Along with the soda, the recipe also calls for fresh lemon juice in the batter and glaze. It adds extra refreshing, fruit flavor throughout the 7Up Pound Cake.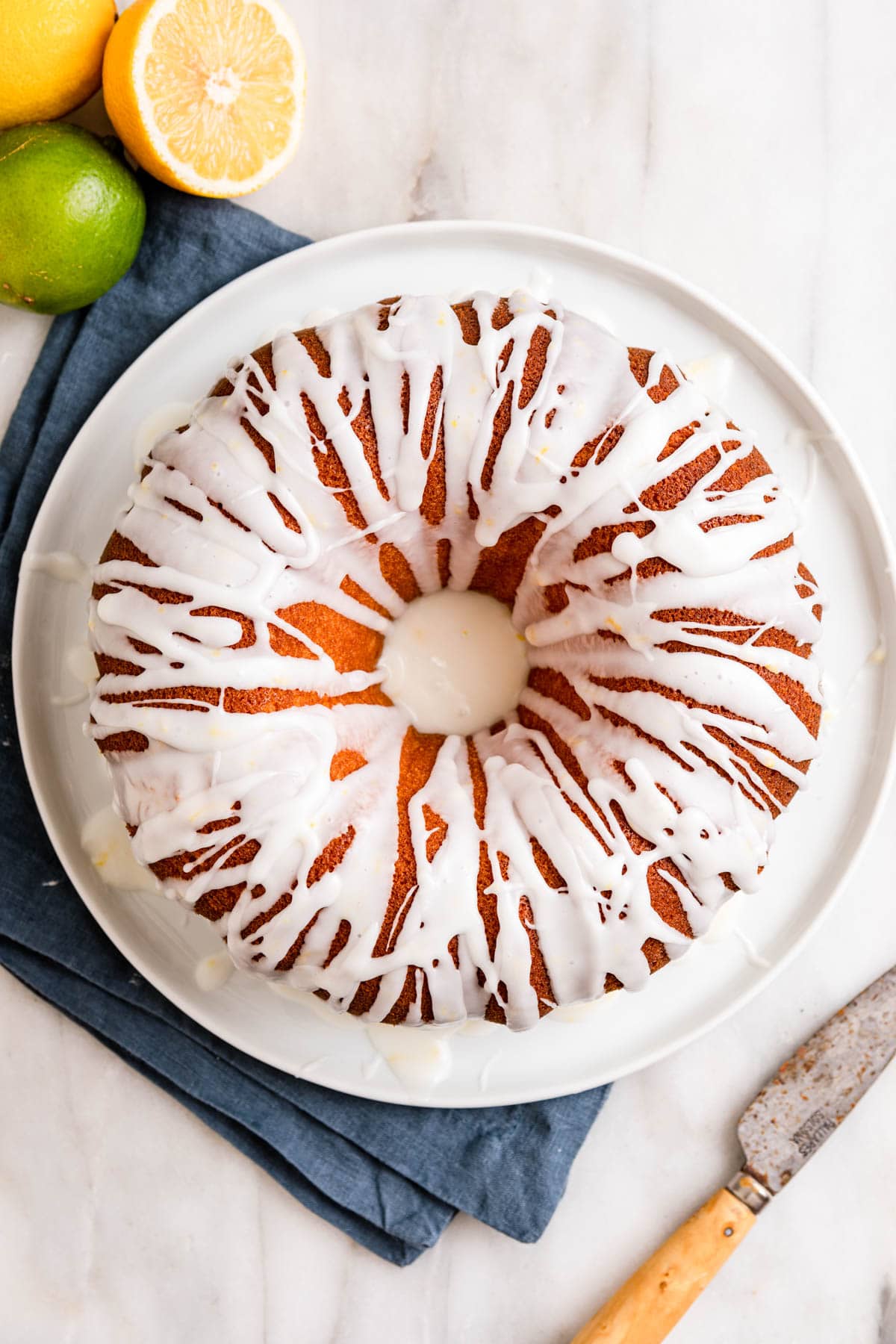 Baking Tips for 7UP Pound Cake
Prep time: Start by preheating the oven temperature to 350 degrees. Spray a 10 inch bundt pan or tube pan generously with baking spray. You can also use non-stick cooking spray and dust with flour.
Cake Batter: Add softened butter and granulated sugar to your stand mixer. Beat the butter-sugar mixture at medium speed until it's light and fluffy. Add the eggs to the mixing bowl one at a time, making sure to mix each one in before adding the next. Then add the lemon juice and vanilla extract. Add 1 cup of the all-purpose flour to the batter at a time with ¼ cup 7Up soda in between each scoop of cake flour. Mix slowly as you add until the amazing cake batter is all combined.
Baking time: Pour the batter into the prepared bundt pan and spread it evenly to prep the cake for baking. Place the 7Up Pound Cake in the oven for 70-75 minutes. While the cake bakes it should become golden brown on the top. To check the cake for doneness stick a toothpick into the baked cake. If it comes out clean you can take the cake from oven, if it still has batter, add a few minutes additional baking time to finish the 7Up Pound Cake.
Cool: Let this incredible lemon-lime bundt cake cool for 15 minutes on a wire rack before flipping it over a cake plate to remove it from the pan.
7-Up Cake glaze: To make the cake glaze whisk the powdered sugar, lemon juice, soda, and lemon zest in a medium mixing bowl. Let the cake completely cool to room temperature before glazing.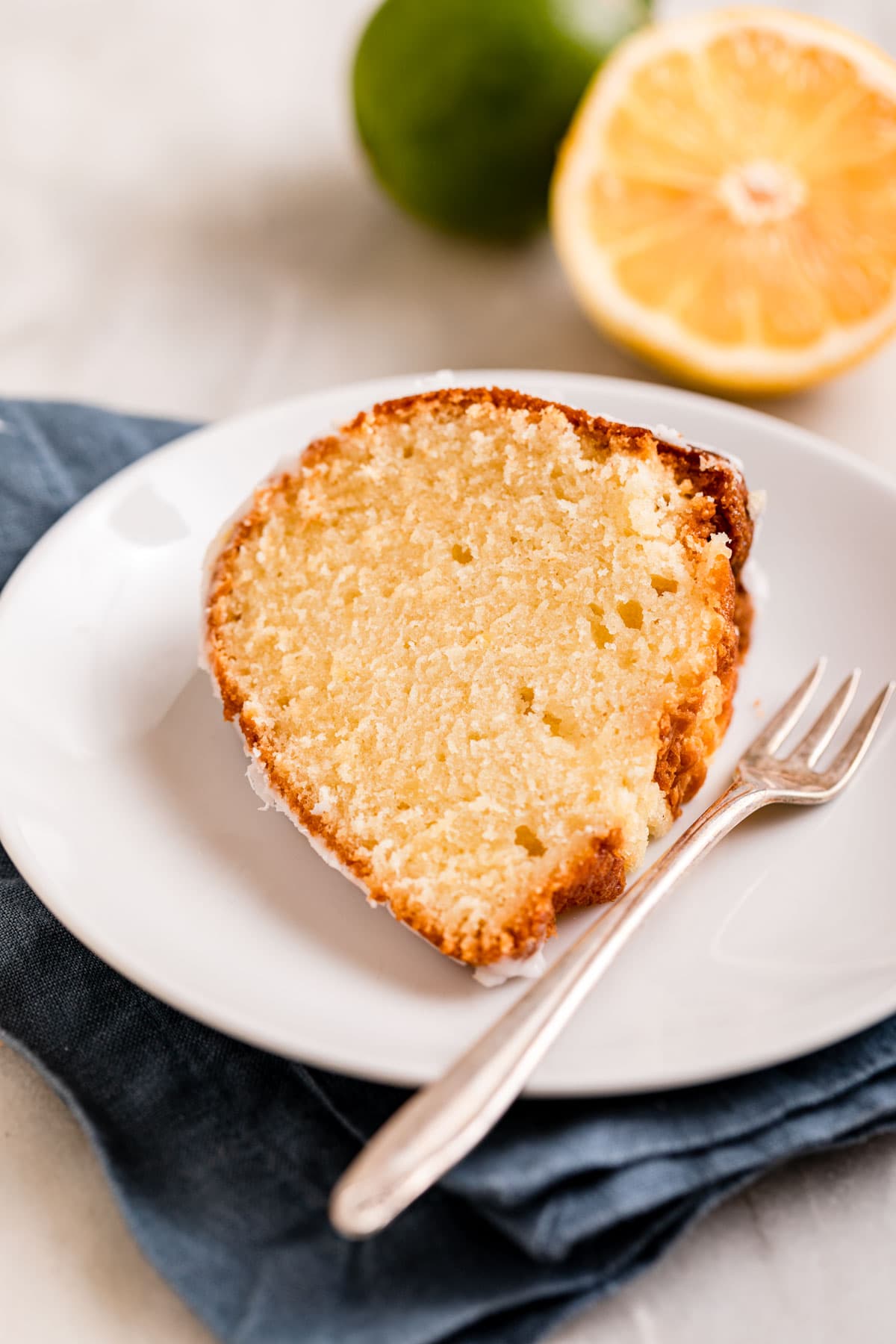 Create a free account to

Save Recipes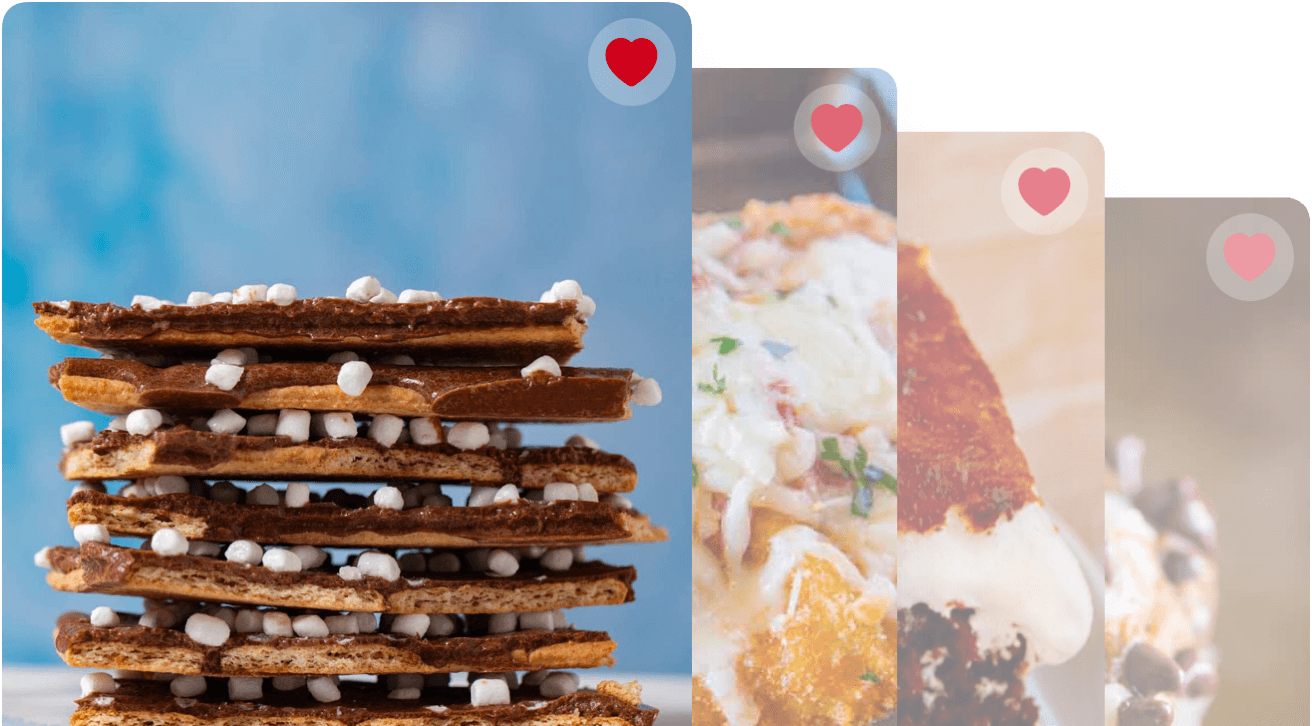 Variations on 7UP Pound Cake
Toppings: To add some beautiful color to the top of the 7Up Pound Cake, grate fresh lemon or lime zest over the top of the lemony glaze. For more decorative toppings you could try sanding sugar, a dusting of powdered sugar, some sliced almonds, or candied lemon peels.
Sugar: If you don't want to use white sugar in your baking, the best replacements that will give you the most similar flavor are coconut sugar, agave, or honey.
Mini Pound Cakes: Instead of making the pound cake in one big bundt pan, you can use mini bundt or mini loaf pans. You'll need to decrease the baking time, since the batter will cook faster in the mini bundt pans. Serve adorable mini cakes instead of having to slice up a big one for a party.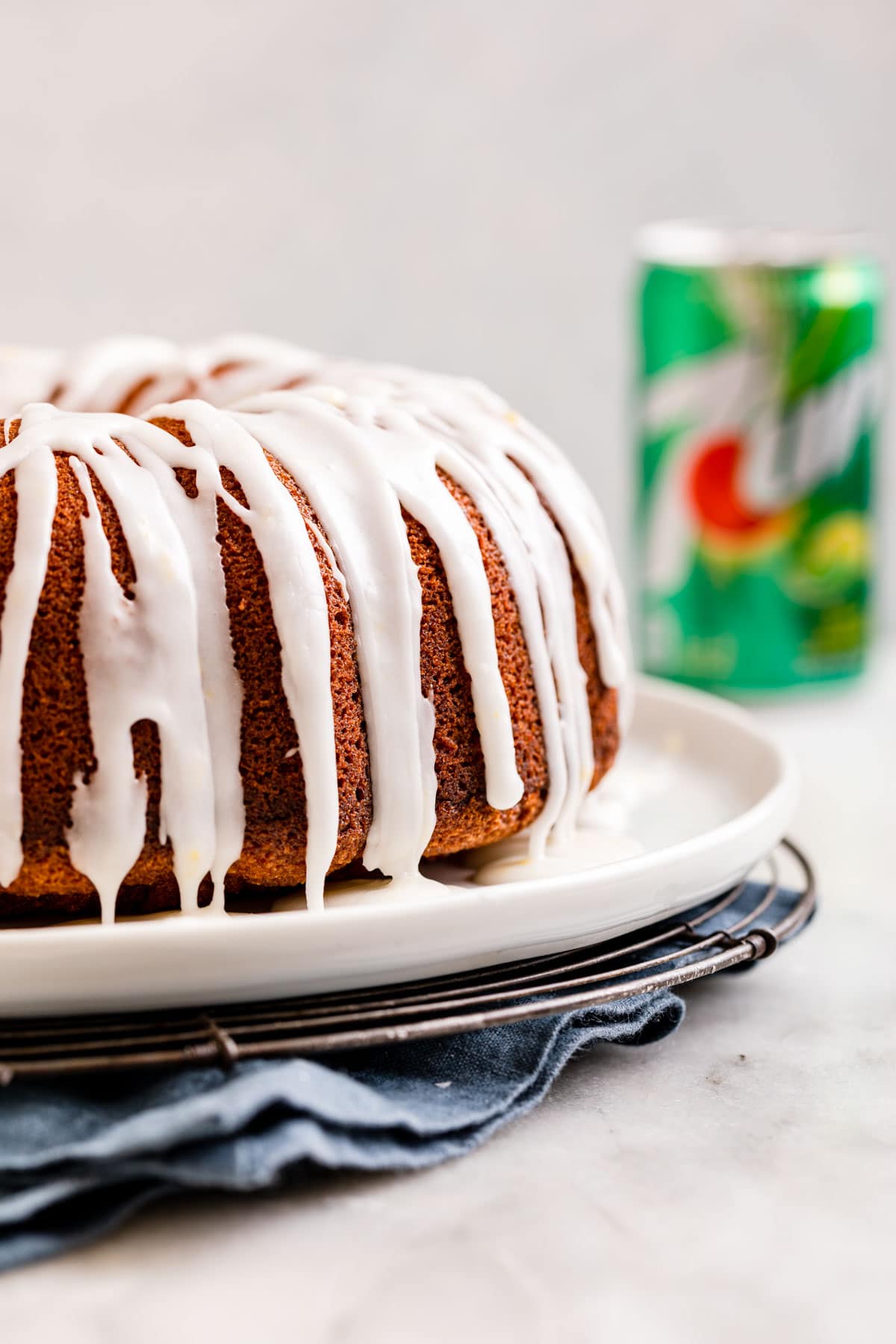 More Sweet, Tart Lemon Desserts
How to Store 7UP Pound Cake
Serve: After baking the 7Up Pound Cake it can stay good at room temperature for up to 2 days. Just make sure to cover the cake with foil or plastic wrap to keep it tender and fresh.
Store: Kept sealed in the fridge, leftover pound cake can stay good for 3-4 days. Line your container with a paper towel to absorb moisture and keep your cake fresh.
Freeze: You can also seal and freeze pound cake for up to 6 months in an airtight container. It's best stored without frosting and then adding a fresh glaze when you are ready to enjoy.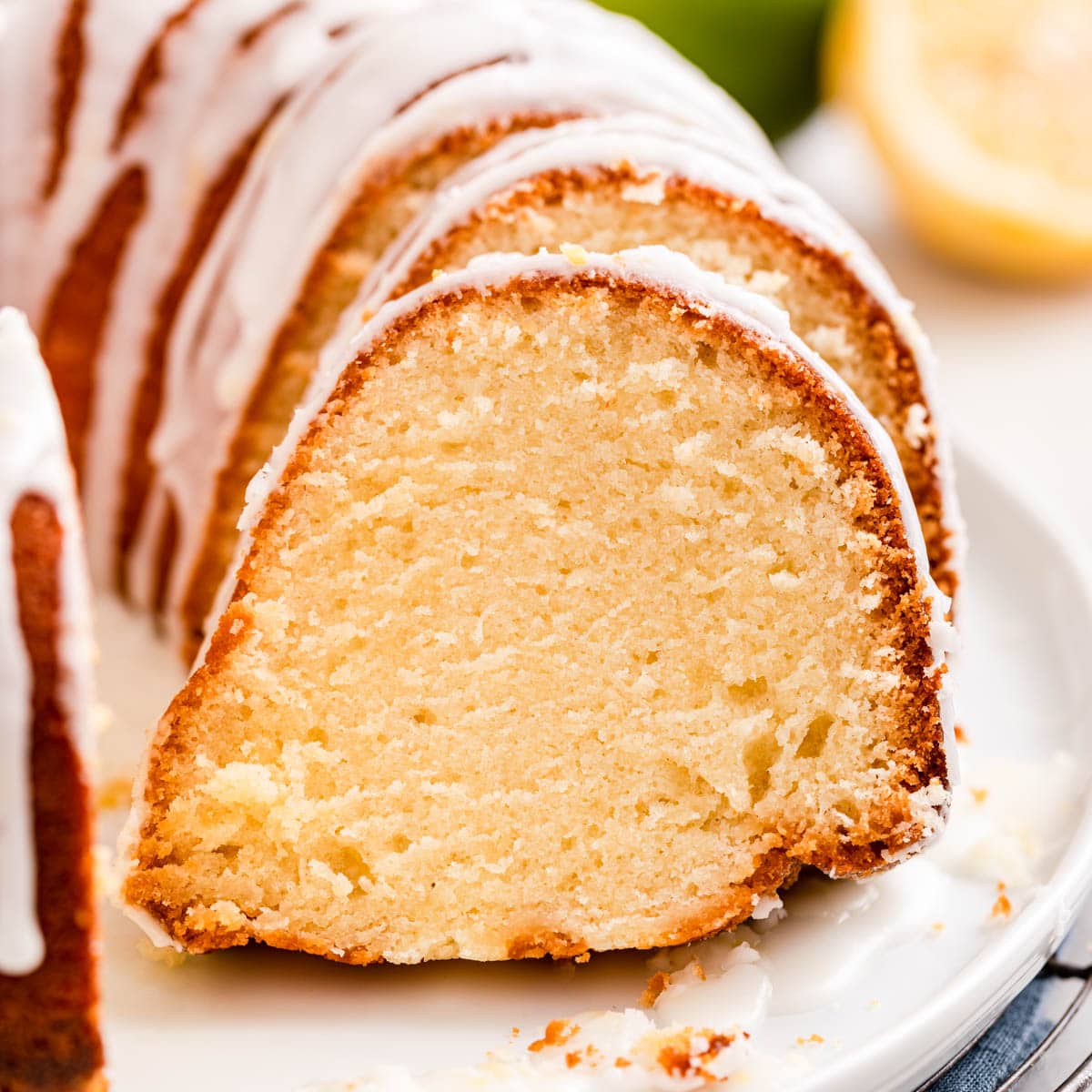 Ingredients
Pound Cake:
1 1/2

cups

unsalted butter

, softened

3

cups

sugar

5

large

eggs

2

tablespoons

lemon juice

1

teaspoon

vanilla extract

3

cups

flour

3/4

cup

7UP soda
7-Up Glaze:
1 1/2

cups

powdered sugar

1

tablespoon

lemon juice

2

tablespoons

7UP soda

1/2

teaspoon

grated lemon zest
Instructions
Pound Cake:
Preheat oven to 350 degrees.

Spray a 10 inch bundt cake pan or plain tube pan with baking spray.

To your stand mixer add the butter and sugar on medium speed until light and fluffy.

Add the eggs one at a time until well mixed.

Add in the lemon juice and vanilla extract.

Add in 1 cup of flour at a time alternating with ¼ cup soda until all the cake ingredients are just combined.

Pour into cake pan and spread evenly.

Cool for

15 minutes

before removing from pan and cooling completely.
7-Up Glaze:
To make glaze whisk together the powdered sugar, lemon juice, soda and lemon zest.

Pour the glaze over the cake.
Nutrition
Calories:
608
kcal
|
Carbohydrates:
91
g
|
Protein:
6
g
|
Fat:
25
g
|
Saturated Fat:
15
g
|
Polyunsaturated Fat:
1
g
|
Monounsaturated Fat:
7
g
|
Trans Fat:
1
g
|
Cholesterol:
139
mg
|
Sodium:
36
mg
|
Potassium:
75
mg
|
Fiber:
1
g
|
Sugar:
67
g
|
Vitamin A:
822
IU
|
Vitamin C:
2
mg
|
Calcium:
25
mg
|
Iron:
2
mg