Easy Almond Pound Cake recipe for a moist, flavorful cake with sweet almond extract and crunchy almond slices. The perfect weeknight dessert!
Just like our recipes for Classic Vanilla Pound Cake and Brown Sugar Pecan Pound Cake, this rich loaf cake is an easy Dessert. that goes wonderfully with a scoop of ice cream.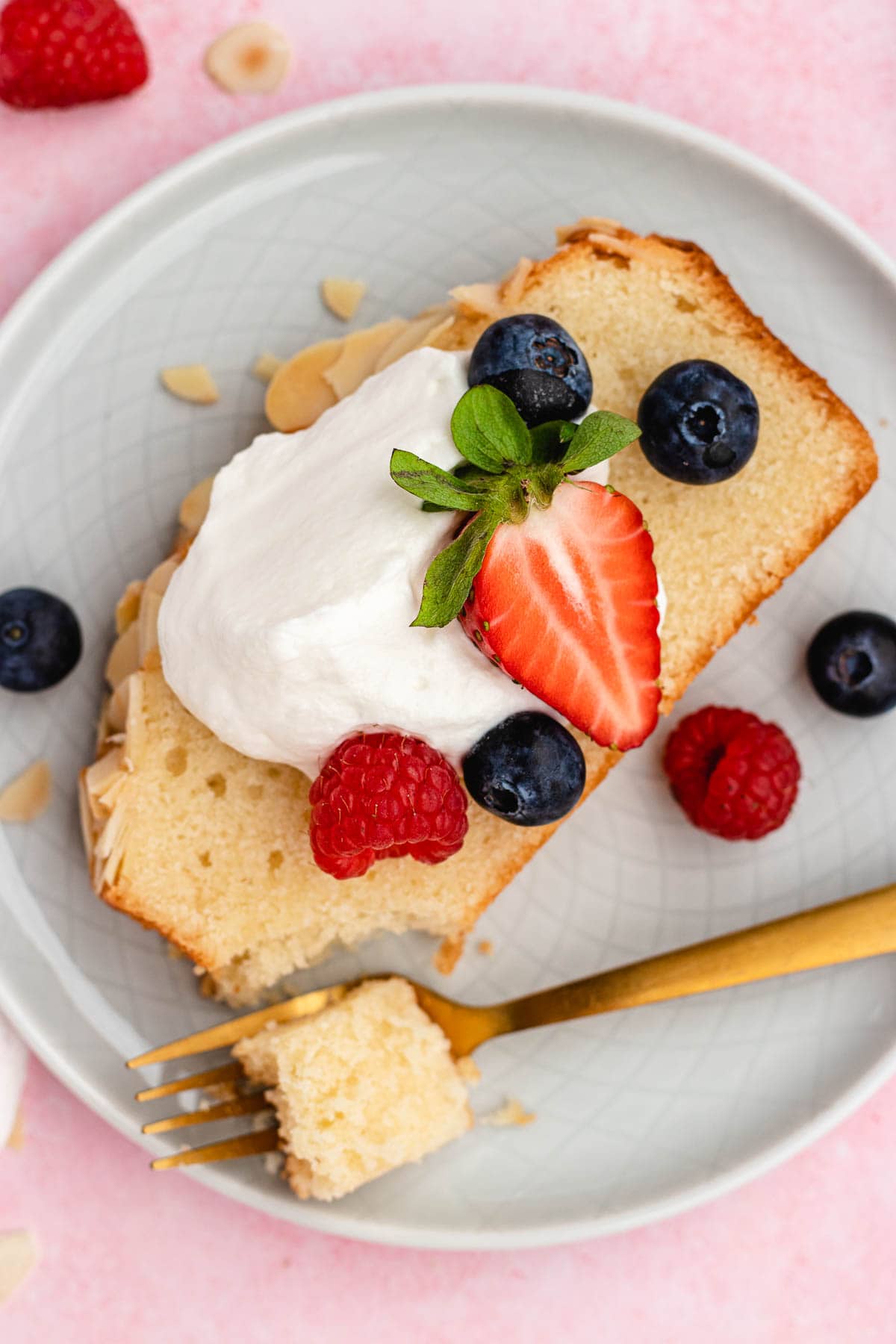 This old fashioned pound cake is perfect for a special occasion, or just a weeknight treat for your family. Pound Cake is denser, richer, and moister than your typical Cake Recipe thanks to plenty of butter, sugar, eggs, and milk. This recipe is just as buttery and indulgent as your favorite pound cake but scented with almond extract and topped with crunchy almonds for amazing sweet, nutty flavor in every bite.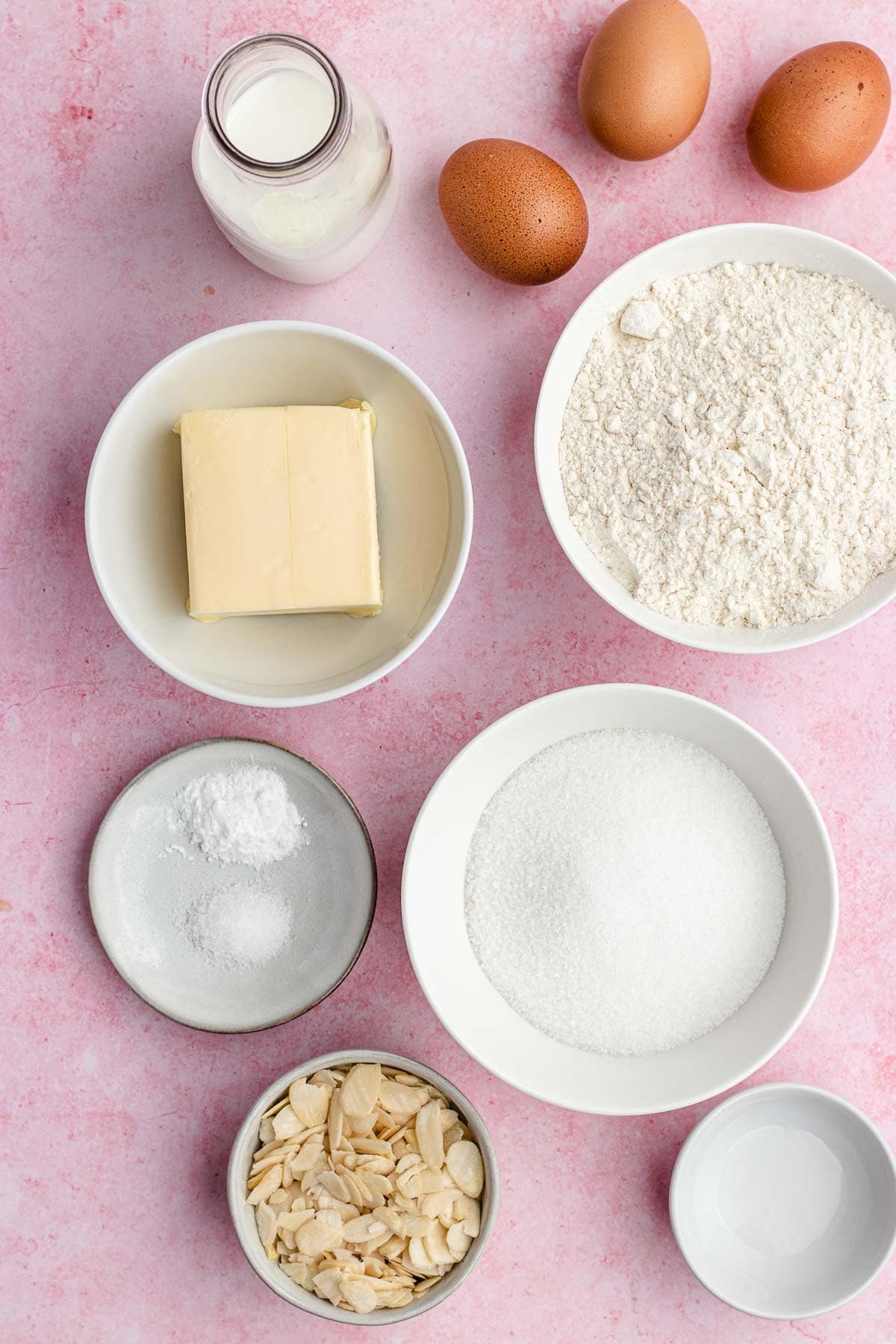 Since it's not overly sweet, you can serve Almond Pound Cake for dessert or breakfast. You could even bake a pound cake for a weeknight dessert, then heat up a slice in the morning and top with Strawberry Jam as a delicious treat for breakfast. If you're serving this pound cake for dessert, try making it sweeter by dusting it with powdered sugar, serve it with Whipped Cream and fresh berries, or top a warm slice with cool Vanilla Ice Cream.
What is a Pound Cake?
Pound cake is a rich and dense type of cake that originated in Europe. It gets its name from the traditional recipe that calls for equal parts (by weight) of four main ingredients: butter, sugar, eggs, and flour, hence the term "pound." The result is a buttery, moist, and velvety cake with a fine crumb texture that goes amazing with all kinds of flavors, especially sweet, nutty almond!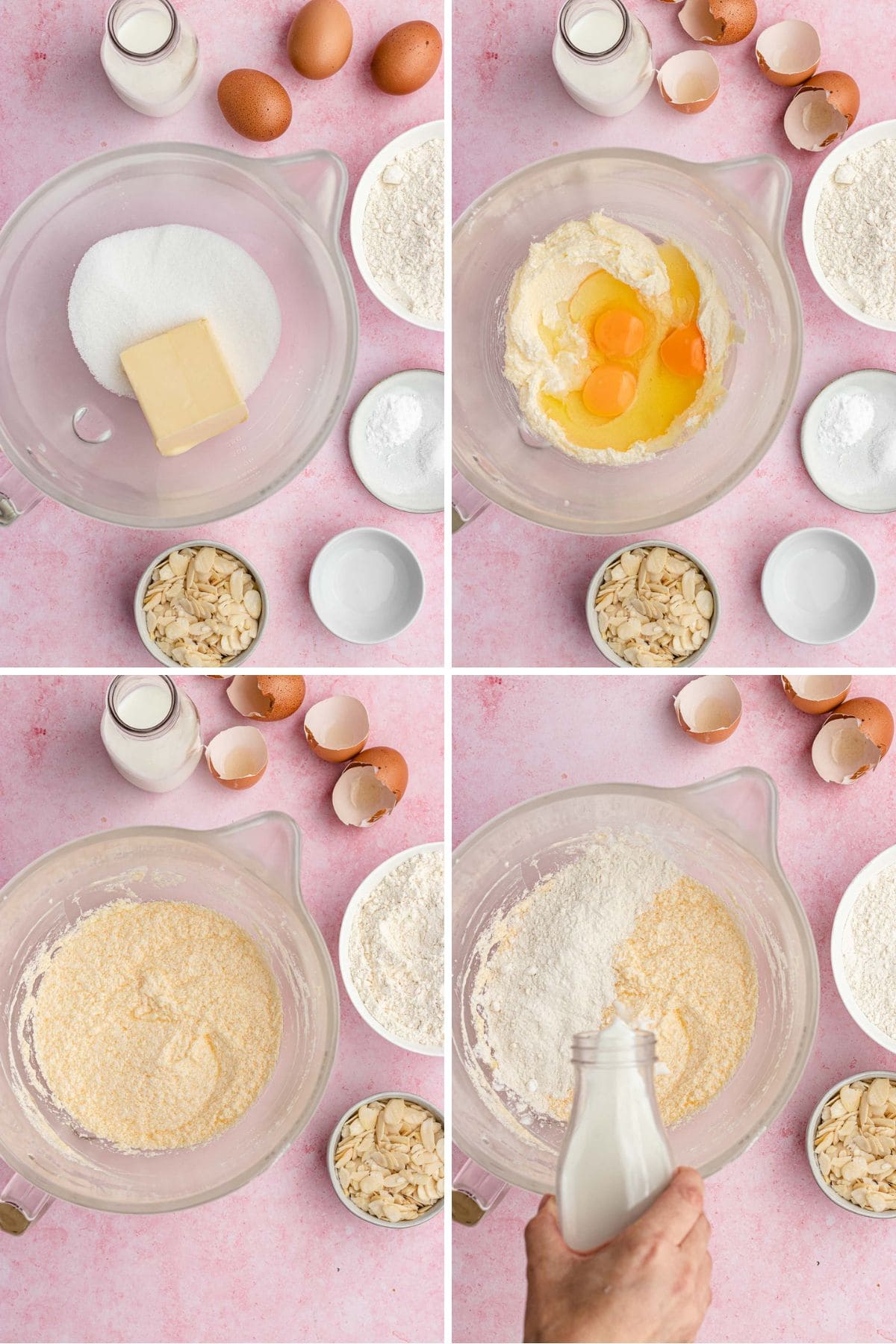 What is the difference between Pound Cake and Butter Cake?
The main difference between pound cake and butter cake lies in their proportions of ingredients and resulting texture. Pound cake typically uses equal weights of butter, sugar, eggs, and flour, resulting in a dense and rich buttery cake. On the other hand, butter cake contains a higher proportion of butter to sugar and flour, resulting in a lighter and more tender texture. Butter cake often has a slightly sweeter and more delicate flavor compared to the dense richness of pound cake.
How to Make Almond Pound Cake
Prep: Start by preheating your oven to 325 degrees, then use a non-stick spray to prep your loaf pan. You can also use a bundt pan if you want to make the Pound Cake into a circular bundt shape, just double the ingredients if you are baking in a bundt pan.
Batter: Add your butter and sugar to the stand mixer. Keep the mixer on medium speed and let it go until the mixture is light and fluffy. This should only take about 2 minutes. Add the egg, milk, and almond extract and continue mixing on medium speed until the pound cake batter is smooth. Be careful not to overmix or the cake will not rise as well.
Topping: You get a nice crunch from the sliced almonds, if you want a heartier crunch you can use slivered almonds or even chop some almonds yourself.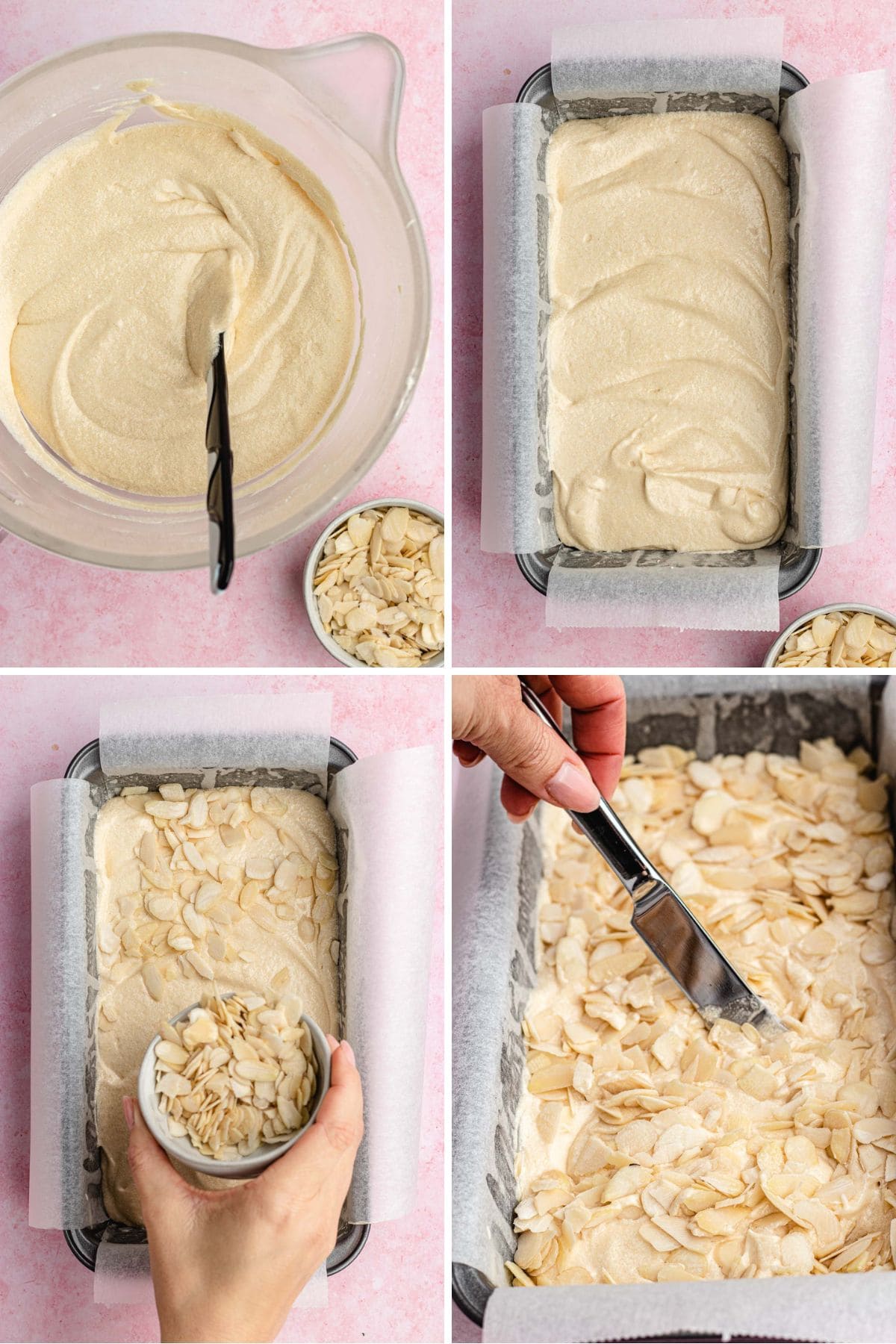 Amazing Pound Cake Recipes
FAQs for Almond Pound Cake
How do you keep pound cake moist?
To keep pound cake moist, there are a few key techniques you can use besides of course, not overbaking the cake. Storing the cake properly in an airtight container or wrapped tightly in plastic wrap will help retain moisture. You can also brush the cake with a simple syrup or glaze while it's still warm to add extra moisture and flavor.
Can you overmix pound cake?
Yes, it is possible to overmix pound cake batter. Overmixing can lead to the development of excess gluten, resulting in a dense and tough texture. It is best to mix the ingredients until just combined to avoid overmixing and achieve a tender and moist pound cake.
Why does pound cake crack on top?
There are a few possible reasons why a pound cake may crack on top. One reason could be that the cake batter is too dry, causing it to shrink and crack as it bakes. Another possibility is that the oven temperature is too high, causing the cake to rise too quickly and crack on the surface. Finally, overmixing the batter or excessive leavening agents can create too much air in the cake, leading to cracks as it bakes.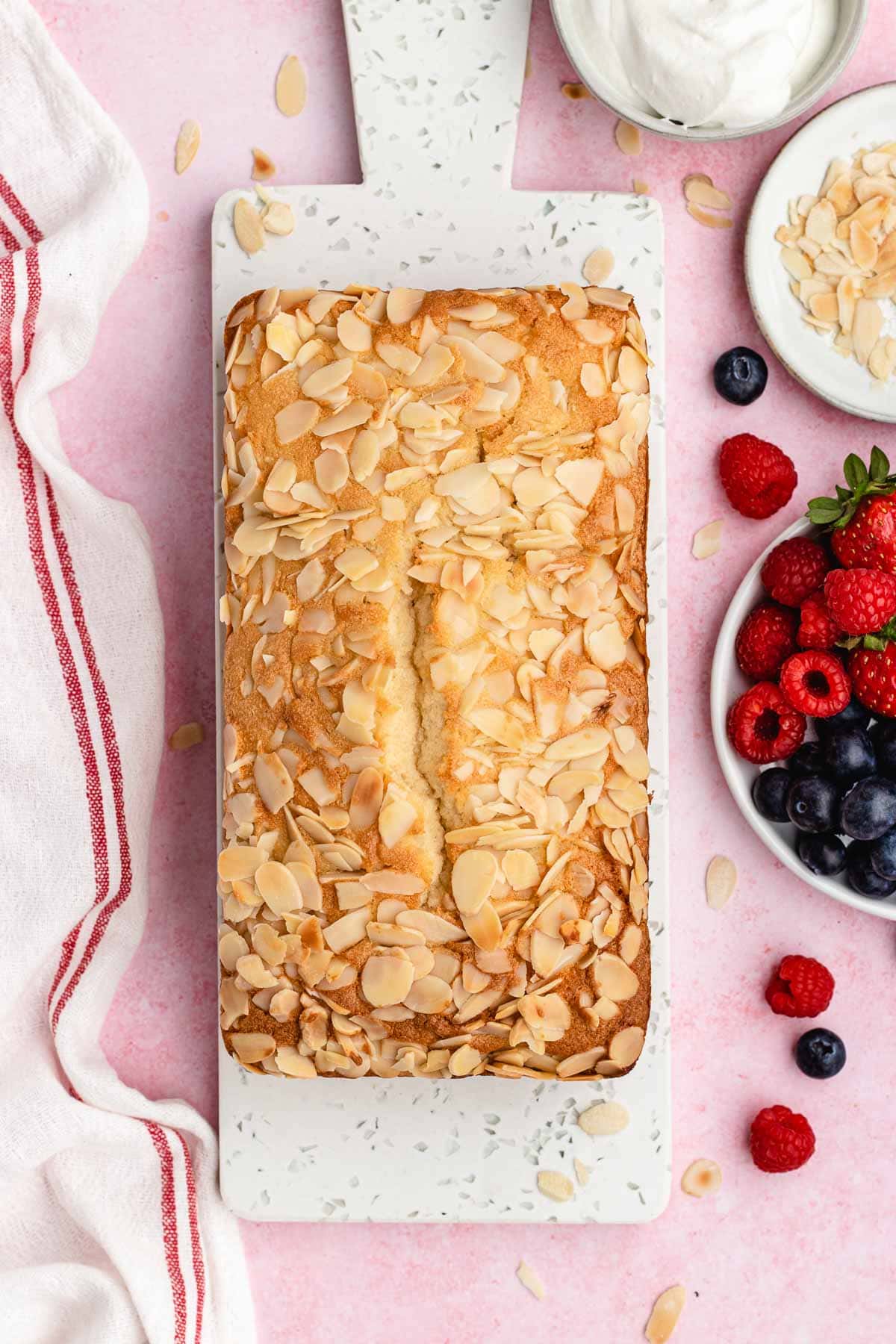 Create a free account to

Save Recipes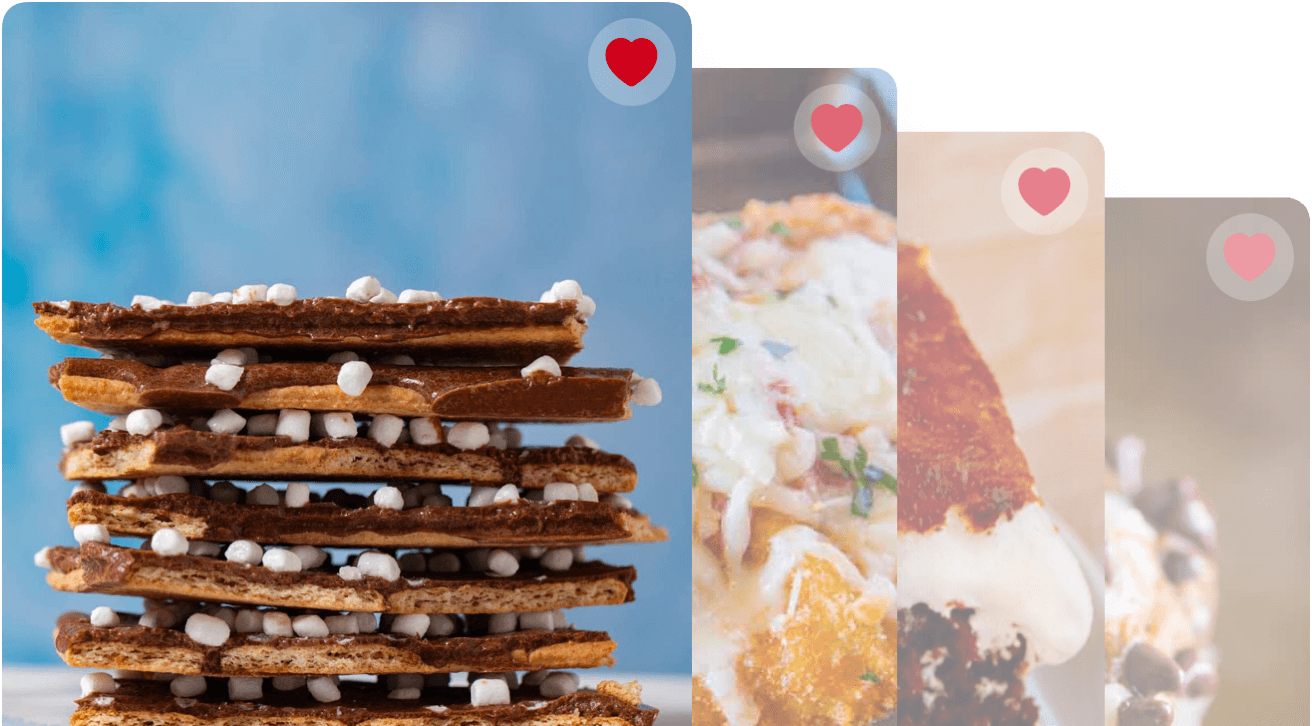 Key Ingredients
Butter: It wouldn't be a delicious butter pound cake without plenty of butter! You want to your butter to be softened to room temperature but not melted or the cake will be too moist and dense.
Sugar: Regular white sugar works great in this cake but if you want some caramel flavor, try brown sugar too! Sugar not only adds sweetness but adds some moisture too.
Eggs: A pound cake is meant to have lots of eggs, equal to the amount of flour, butter, and sugar. This cake doesn't have a pound of eggs, but 3 eggs is definitely going to make it rich and moist.
Almond Extract: It might not seem like a lot of almond extract, but the concentrated almond flavoring actually packs a big punch. If you want a more flavorful pound cake, you can add up to 1 extra teaspoon.
Baking Powder: This is an otherwise dense cake thanks to all the butter, eggs, and milk, so baking powder is needed to make the cake rise and gives it a slightly lighter crumb.
Milk: Full fat, whole milk adds moisture to the cake and helps create a tender crumb. You can use low fat or skim milk, but the cake won't be as rich.
Almonds: Sliced almonds not only add a decorative touch to the cake but also provide a pleasant crunch. The almond slices that poke out of the top will toast too, for an extra layer of flavor.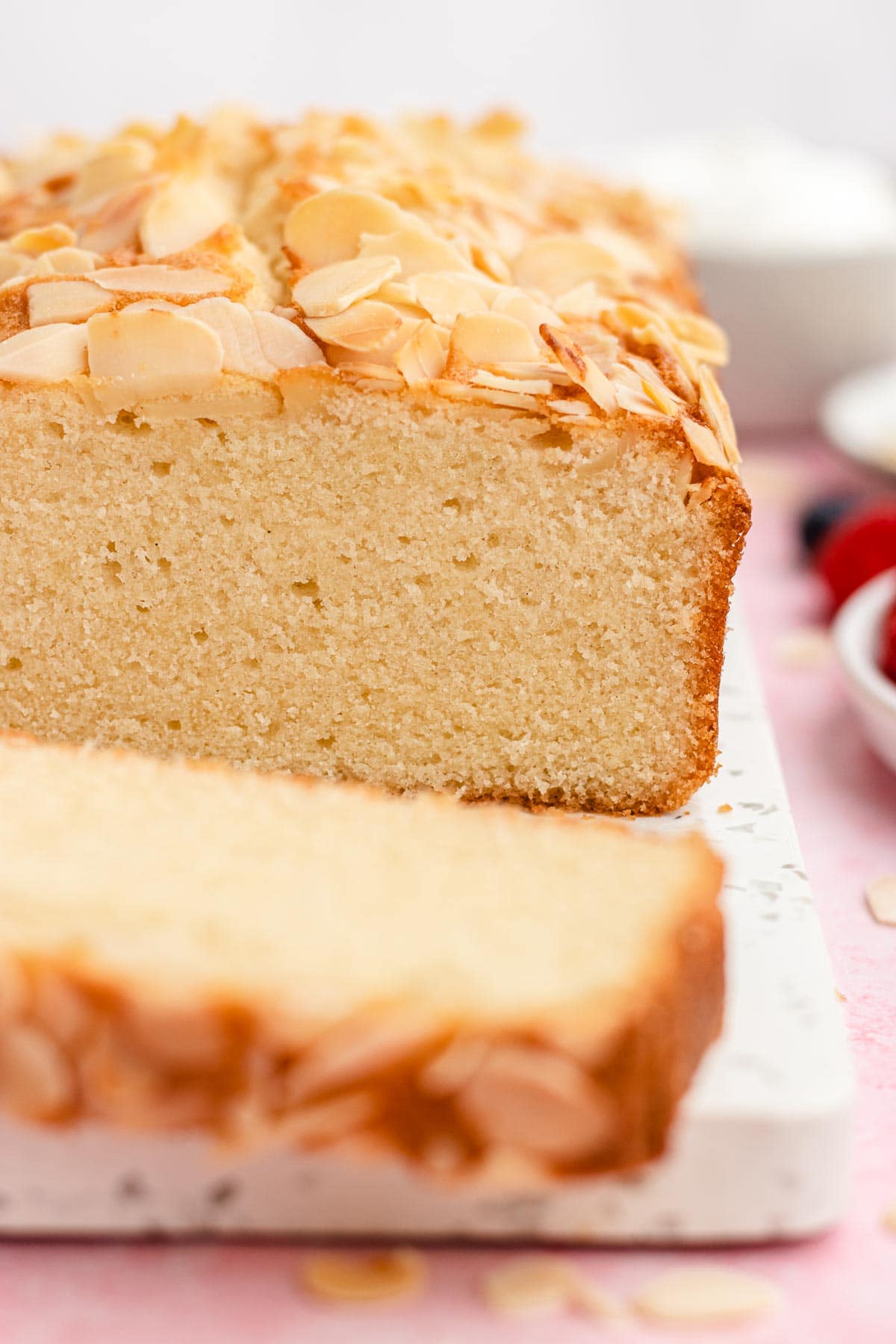 Can Almond Pound Cake be made ahead of time?
Yes, Almond Pound Cake can be made ahead of time. In fact, it often tastes even better the next day as the butter and almond flavor really soaks into the crumb, for a more flavorful moist cake. To keep the cake fresh, store it in an airtight container at room temperature for up to 3 days or in the refrigerator for up to a week.
Variations
Milk: Instead of the whole milk, try adding some sour cream, Greek yogurt or even buttermilk. The acid in ingredients like sour cream and buttermilk makes the crumb more tender and moist, while giving it a signature tangy flavor.
Vanilla: Try adding a teaspoon of vanilla extract along with the almond extract for a Vanilla Almond Pound Cake recipe. You
Lemon: For some other flavor additions try adding in some lemon. You can use lemon zest, lemon extract, or lemon juice to make a lemon-almond recipe.
Spices: You could also mix in some cinnamon, nutmeg, and cloves for some nice warm spices.
Cherry: Cherries and almonds have a similar taste and go perfectly together. Make a Cherry Almond Pound Cake by stirring in a ½ cup chopped fresh cherries or maraschino cherries.
Glaze: Make a Glazed Almond Pound Cake by mixing whole milk with powdered sugar and a little almond extract. Sprinkle more sliced almonds over the glaze before it sets for a crunchy almond topping.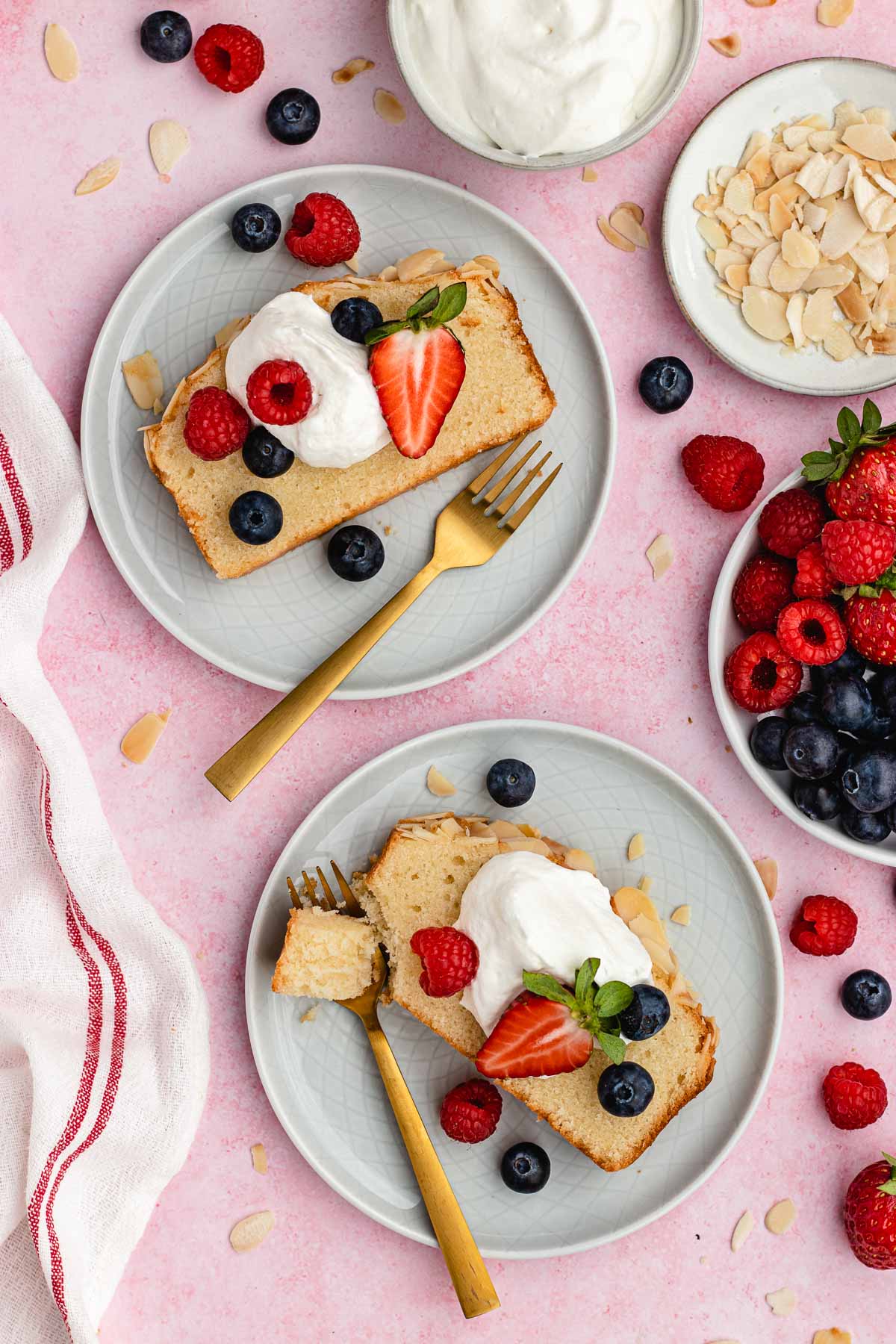 More Delicious Almond Desserts
How to Store
Serve: After baking, you can leave your Pound Cake at room temperature for about 3 days. Let the cake cool, then wrap with plastic wrap or aluminum foil.
Store: You can also keep leftover Almond Pound Cake in the fridge. Store wrapped up in plastic wrap or in an airtight container for up to about a week.
Freeze: Let the cake cool completely before wrapping tightly in plastic wrap twice then store in a freezer bag or in foil. Freeze the cake for up to 6 months and thaw overnight in the fridge before unwrapping and bringing to room temperature to serve.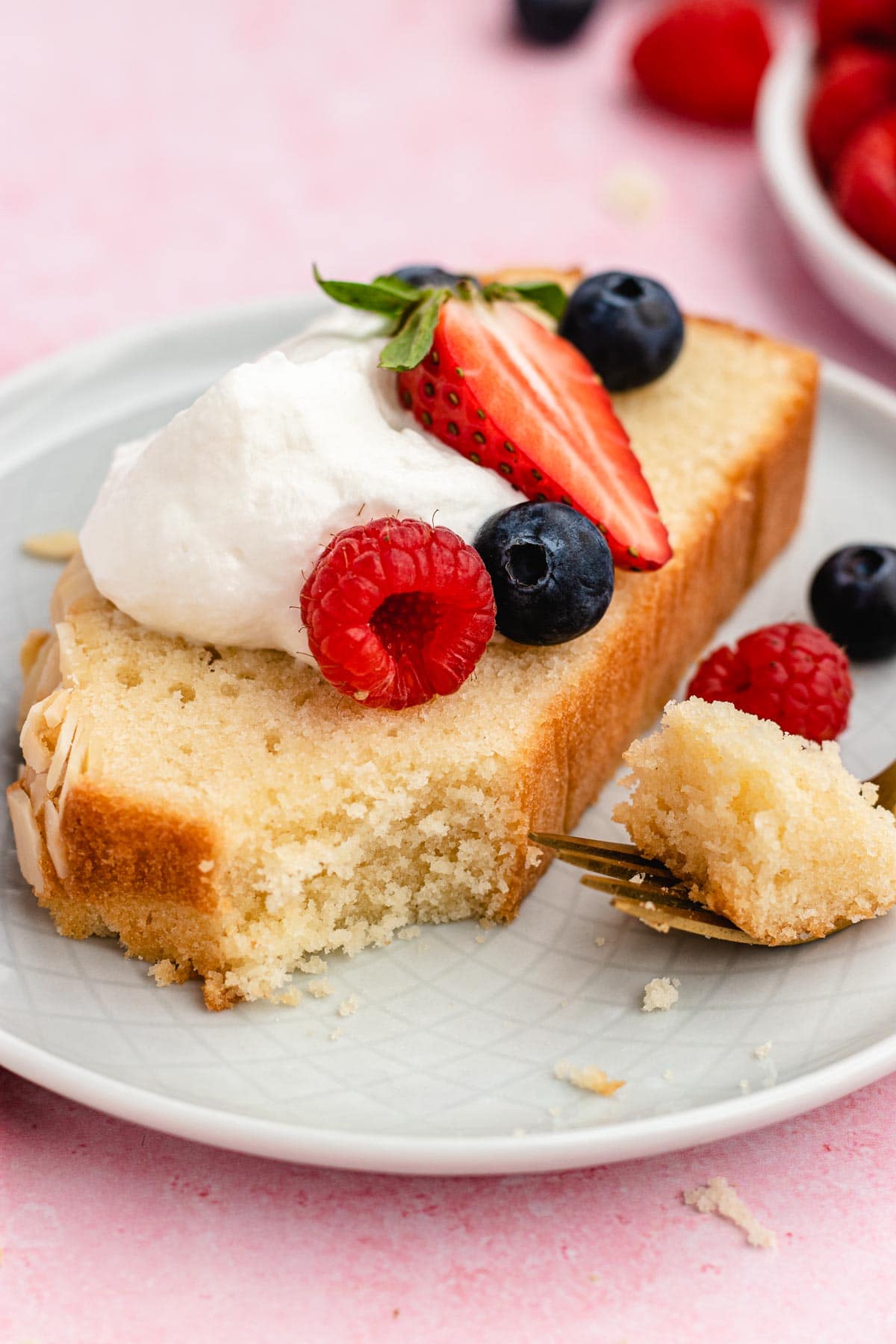 Ingredients
2/3

cup

unsalted butter

, softened

1

cup

sugar

3

large

eggs

1

teaspoon

almond extract

1 1/2

cups

flour

3/4

teaspoon

baking powder

1/2

teaspoon

salt

2/3

cup

whole milk

1/2

cup

sliced almonds
Instructions
Preheat oven to 325 degrees and spray a 9×5 loaf pan with baking spray.

To your stand mixer add the butter and sugar on medium speed until light and fluffy, about

2 minutes

.

Add in the eggs and almond extract until smooth.

Sift together the flour, baking powder, and salt.

Add the flour mixture and the milk, alternating ½ of each at a time to the stand mixer on the lowest speed setting until just combined.

Pour into loaf pan and spread evenly, then top with the sliced almonds.

With a butter knife, swirl in the almonds just a bit so they mix in a little with the batter.

Bake for

45-50 minutes

or until a toothpick comes out clean.
Nutrition
Calories:
380
kcal
|
Carbohydrates:
27
g
|
Protein:
5
g
|
Fat:
29
g
|
Saturated Fat:
15
g
|
Cholesterol:
108
mg
|
Sodium:
120
mg
|
Potassium:
91
mg
|
Fiber:
1
g
|
Sugar:
17
g
|
Vitamin A:
783
IU
|
Calcium:
61
mg
|
Iron:
1
mg