Cherry Almond Biscotti are an easy recipe for crispy classic Italian cookies filled with almond extract, chopped almonds, and dried cherries.
A crunchy, slightly sweet Classic Biscotti is the Cookie you eat for Breakfast! This cherry and almond version has the perfect amount of sweetness to still dunk in coffee or be added to a Dessert table!
Cherry Almond Biscotti is a fantastic recipe for traditional Italian cookies. Biscotti is often served with a cup of hot coffee to dip it in. Because the cookie has a dry texture, it does a great job soaking up the drink and tastes terrific. However, the combination of cherries and almonds mixed into the traditional Biscotti makes them so delicious you'll enjoy them with or without coffee.
Adding tart and sweet cherries to the Biscotti makes them taste amazing and adds bright red color to the cookies. The pop of color makes Almond Cherry Biscotti ideal for the holidays. You can enjoy them with a mug of Hot Chocolate for a festive treat along with other favorite sugary holiday cookies. They also go great in holiday gift baskets to balance out sweeter treats like Peppermint Bark and Chocolate Fudge.
What is Biscotti?
Biscotti is a traditional Italian twice-baked cookie that is known for its crunchy, dry texture and long shelf life. The word "biscotti" comes from the Latin word "biscoctus," which means "twice-cooked." Biscotti are typically made with a combination of flour, sugar, eggs, and nuts or dried fruits, and are flavored with ingredients such as vanilla, anise, or citrus zest. Because they are baked twice, biscotti are ideal for dunking into coffee, tea, or wine. They are a popular treat around the world and are often enjoyed as a dessert or a snack.
How to Make Cherry Almond Biscotti
Prep: Preheat your oven temperature to 375 degrees. Then get out two rimmed baking sheets, and line each sheet with parchment paper.
Dough: Add the oil, white sugar, eggs, and almond extract to a large mixing bowl. Whisk the wet ingredients together until smooth. Add the flour and baking powder. Mix in the dry ingredients, being careful not to overmix the dough. Stir in the almonds and cherries to finish.
Form: Prep your hands with flour, then divide the dough into two even pieces. Roll the dough into logs, and place each one on a prepared baking sheet. Roll until each log is about ½ inch thick and 4 inches wide.
First Bake: Bake the Biscotti in the preheated oven while still in the log shape for 20-22 minutes, or until lightly golden brown. Let the half-baked Biscotti cool for a few minutes.
Second Bake: Use a pizza cutter or serrated knife to slice the loaves into ½ to 1 inch slices. Turn them so that they're cut-side up on the sheet and bake for 8-10 minutes to finish.
Serve: Carefully transfer Biscotti to wire racks to cool completely and harden before serving.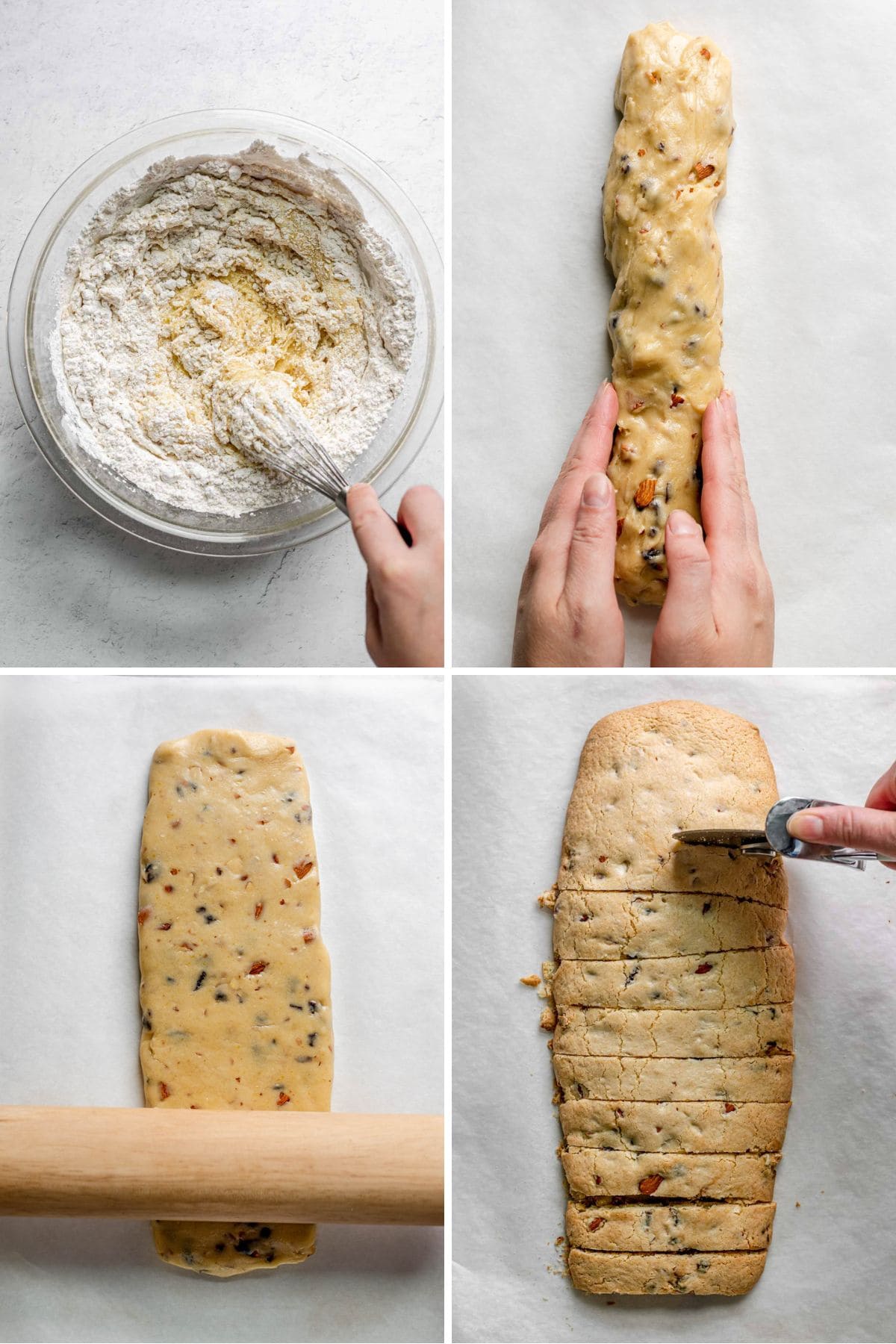 FAQs for Cherry Almond Biscotti
How to prevent biscotti from burning on the bottom?
The bottom of your Biscotti Cookies will likely burn if you put them directly on the baking sheet without parchment paper. The paper acts as a barrier between the hot pan and is very important, especially in this recipe with a second bake.
How do you slice biscotti?
To slice biscotti, allow them to cool enough to handle after the first bake because slicing them while hot could cause the dough to crumble. Use a sharp serrated knife to slice the dough loaf diagonally into 1/2-inch to 1-inch thick pieces, then bake a second time cut side down.
Why does cherry flavor taste like almond?
Cherry flavor and almond flavor share a similar chemical compound called benzaldehyde, which is responsible for their nutty, slightly sweet taste and aroma. In real cherries, the almond taste less pronounced, which is why cherry and almond extract are often paired together in recipes to enhance that natural flavor.
What is the secret to making good biscotti?
The secret to making biscotti is to handle the dough gently, use the right proportion of dry and wet ingredients, and bake the biscotti twice at a low temperature to achieve a crunchy texture. It's also important to allow the biscotti to cool before slicing and baking them for the second time.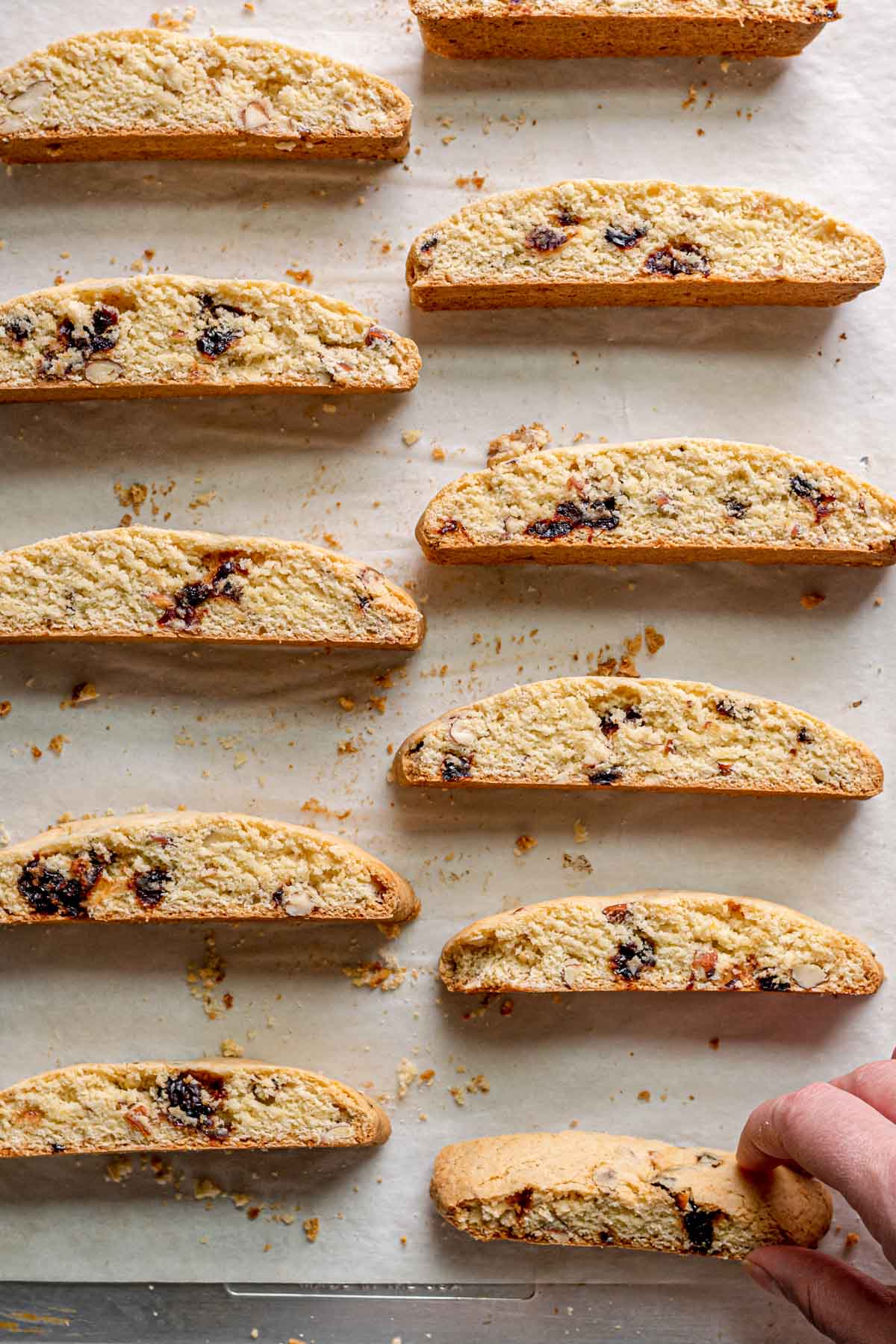 Create a free account to

Save Recipes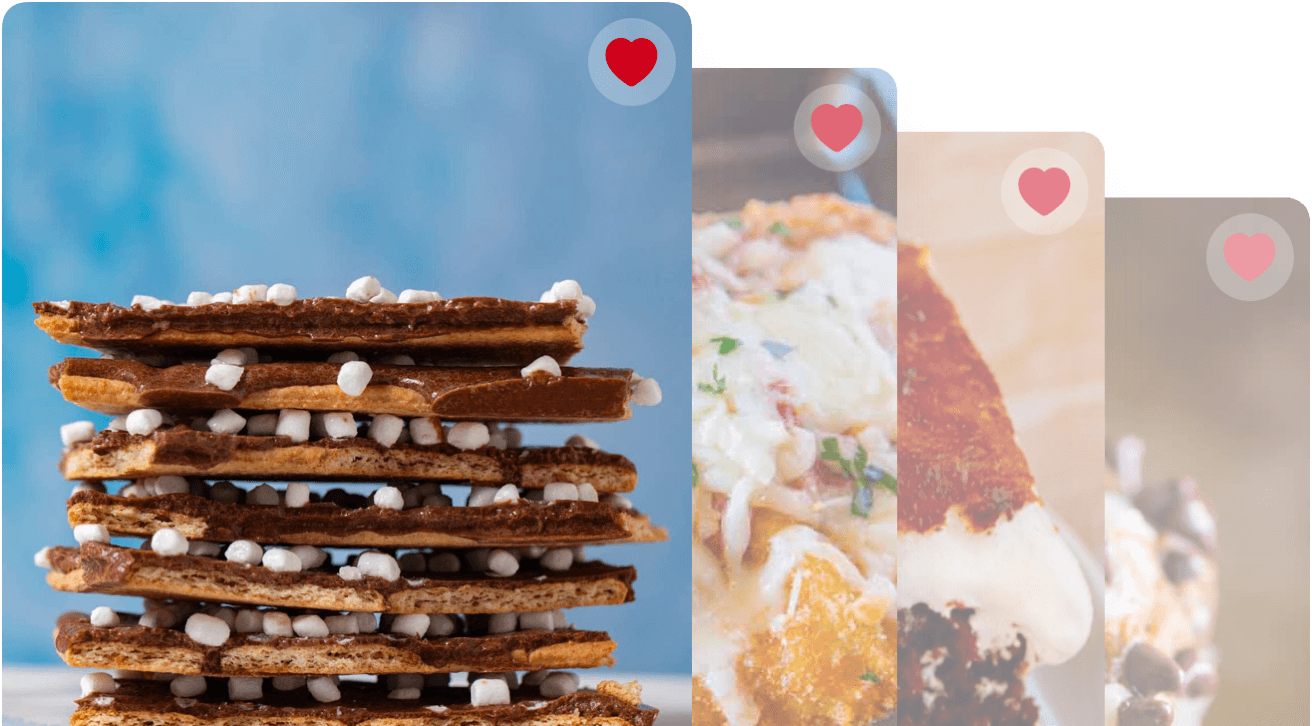 Key Ingredients
Dough: The base ingredients for biscotti are super simple. All you need is vegetable oil, white sugar, eggs, flour, and baking powder. Once combined, the dough is slightly sticky, so it helps to flour your hands before shaping it.
Oil: Originally, Biscotti was made without oil. But, the oil makes them taste a little better while still keeping them crisp. You'll find oil or butter in most modern recipes for Biscotti.
Almond extract: Use almond extract instead of vanilla to add to bring out the almond flavor naturally found in cherries as well as add it's own flavor.
Almonds: Chopped almond pieces add some crunch to these cookies and baking them brings out their sweet, slightly creamy and nutty flavor. You want pieces large enough for taste and texture but small enough the cookies will slice easily.
Dried Cherries: These cookies use tart dried cherries that have natural sweetness, without being overly sweet like jarred cherries in syrup. Similar to the almonds, you want pieces big enough to taste without making the cookie hard to cut.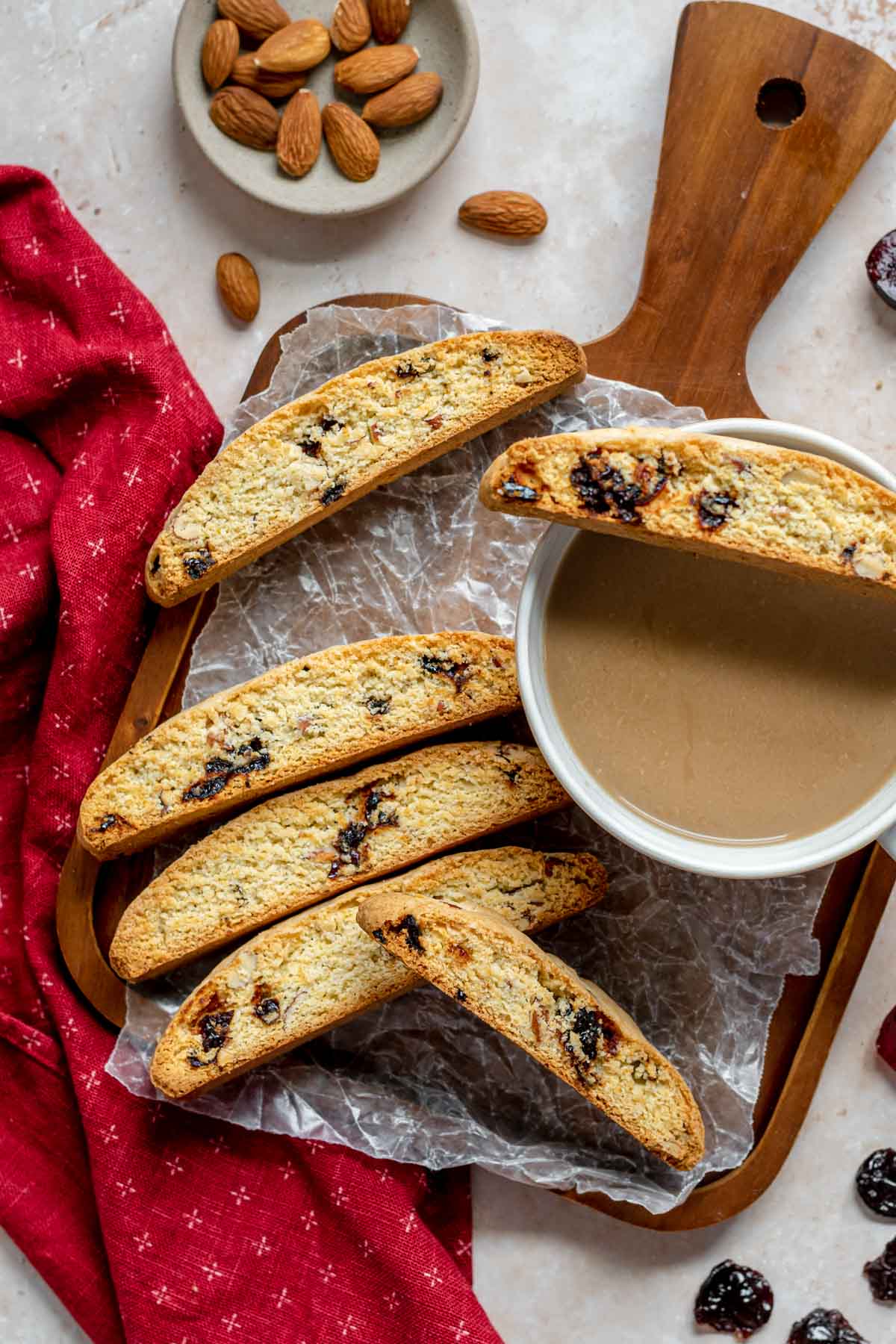 Can this Biscotti be made ahead of time?
Yes, Biscotti Cookies can be made in advance three different ways!
Baked: The baked cookies can be stored at room temperature for up to 1 month but will stay freshest in the fridge after about the first week. You can also freeze baked cookies for up to 3 months, then let them thaw at room temp before enjoying.
Half-Baked: After the first bake, cool the cookie log and then slice as usual. Freeze slices cut side up on a baking tray until solid, then transfer to a storage container. Bake them from frozen or thaw first and then do the second bake.
Unbaked: Raw biscotti dough can also be frozen for up to 3 months. Simply form the dough into a log, wrap in plastic wrap, freeze until solid on a tray (so it holds it's shape), then store in the back of you freezer.
Variations
Maraschino Cherry: For a sweeter cherry biscotti, use a ½ cup maraschino cherries, just be sure to pat them dry and chop them into smaller pieces. Make an easy icing with some maraschino cherry juice and powdered sugar to drizzle over top.
Chocolate Chips: Make these Biscotti cookies sweeter with a dark chocolate cherry almond flavor, by adding mini dark chocolate chips. You can also use semisweet, milk chocolate, or white chocolate but you do want them mini, or chopped into bits, so they distribute evenly.
Cranberry Pistachio: Easily transform these into Cranberry Pistachio Biscotti by swapping the tart dried cherries with dried cranberries and the chopped almonds with chopped pistachios.
Toppings: Adding different toppings onto the biscotti dough before baking can add a little flavor and decoration. A sprinkle of sugar crystals, coarse sea salt, cinnamon, or brown sugar would all look amazing and taste great with the cherry almond flavor.
Chocolate Dipped: After they are baked and cooled completely the second time, dip the biscotti slices halfway into melted white chocolate or dark chocolate, similar to Chocolate Dipped Pretzels. Sprinkle them with chopped almond pieces before they set, or for the holidays, try festive candy cane pieces or sprinkles.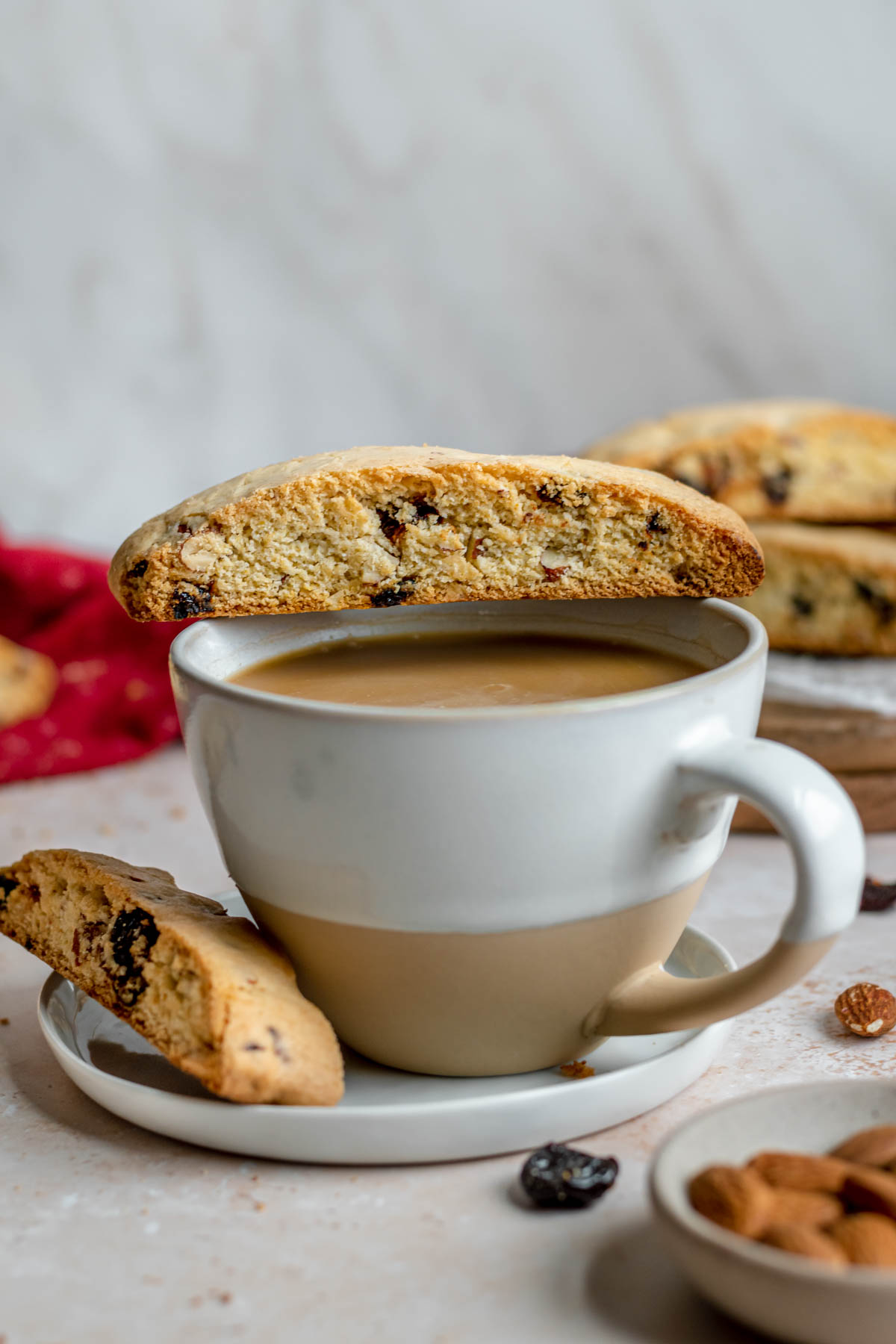 More Tasty Cherry Treats!
How to Store
Serve: Let the Almond Cherry Biscotti cool entirely on a wire rack so they harden before serving to prevent them from crumbling.
Store: To keep the Cherry Almond Biscotti fresh, transfer pieces to an airtight container and store them to room temperature for up to 1 month.
Freeze: You can also freeze the Biscotti cookies. For best results, place the cookies on a parchment-lined cookie sheet, then freeze them flat for about an hour. Once they've hardened, transfer them to air-tight containers to keep frozen for up to 3 months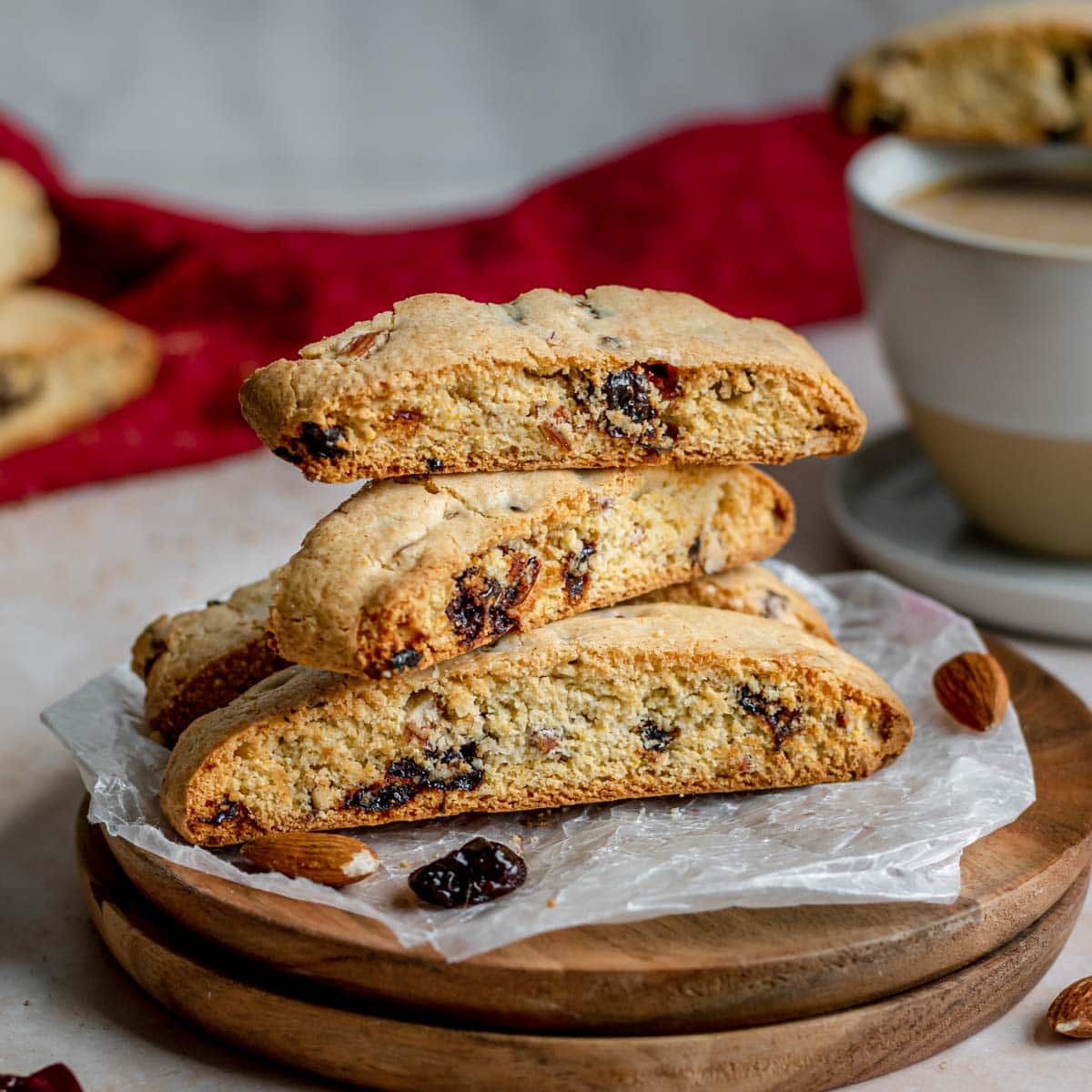 Ingredients
1/2

cup

vegetable oil

1

cup

sugar

3

large

eggs

2

teaspoons

almond extract

3 1/4

cups

flour

1

tablespoon

baking powder

1/2

cup

almonds

, chopped

1/2

cup

dried tart cherries

, chopped
Instructions
Preheat oven to 375 degrees and line two baking sheets with parchment paper.

In a large mixing bowl whisk together oil, sugar, eggs and almond extract.

Add in the flour and baking powder whisking until just combined.

Stir in the almonds and cherries.

Divide the dough into two pieces and roll into logs almost as long as your baking sheets.

Place the dough on the baking sheets and roll to about ½ inch thick, about 4 inches across.

Bake for 20-22 minutes or until golden brown.

Using a pizza cutter, roll the slicer across the log in 1/2″ slices.

Turn the cookies to showing the cut side up and bake it an additional 8-10 minutes until the tops are slightly golden brown.
Nutrition
Calories:
169
kcal
|
Carbohydrates:
24
g
|
Protein:
3
g
|
Fat:
7
g
|
Saturated Fat:
1
g
|
Polyunsaturated Fat:
3
g
|
Monounsaturated Fat:
2
g
|
Trans Fat:
0.03
g
|
Cholesterol:
23
mg
|
Sodium:
63
mg
|
Potassium:
49
mg
|
Fiber:
1
g
|
Sugar:
10
g
|
Vitamin A:
123
IU
|
Calcium:
46
mg
|
Iron:
1
mg