Chocolate Chip Biscotti Cookies are a classic coffee shop treat recipe for crunchy buttery Italian cookies filled with mini chocolate chips.
This twist on Classic Italian Biscotti lets you have Chocolate Chips Cookies for Breakfast without the guilt! They are crunchy, chocolaty, and perfect for dunking in a hot cup of coffee!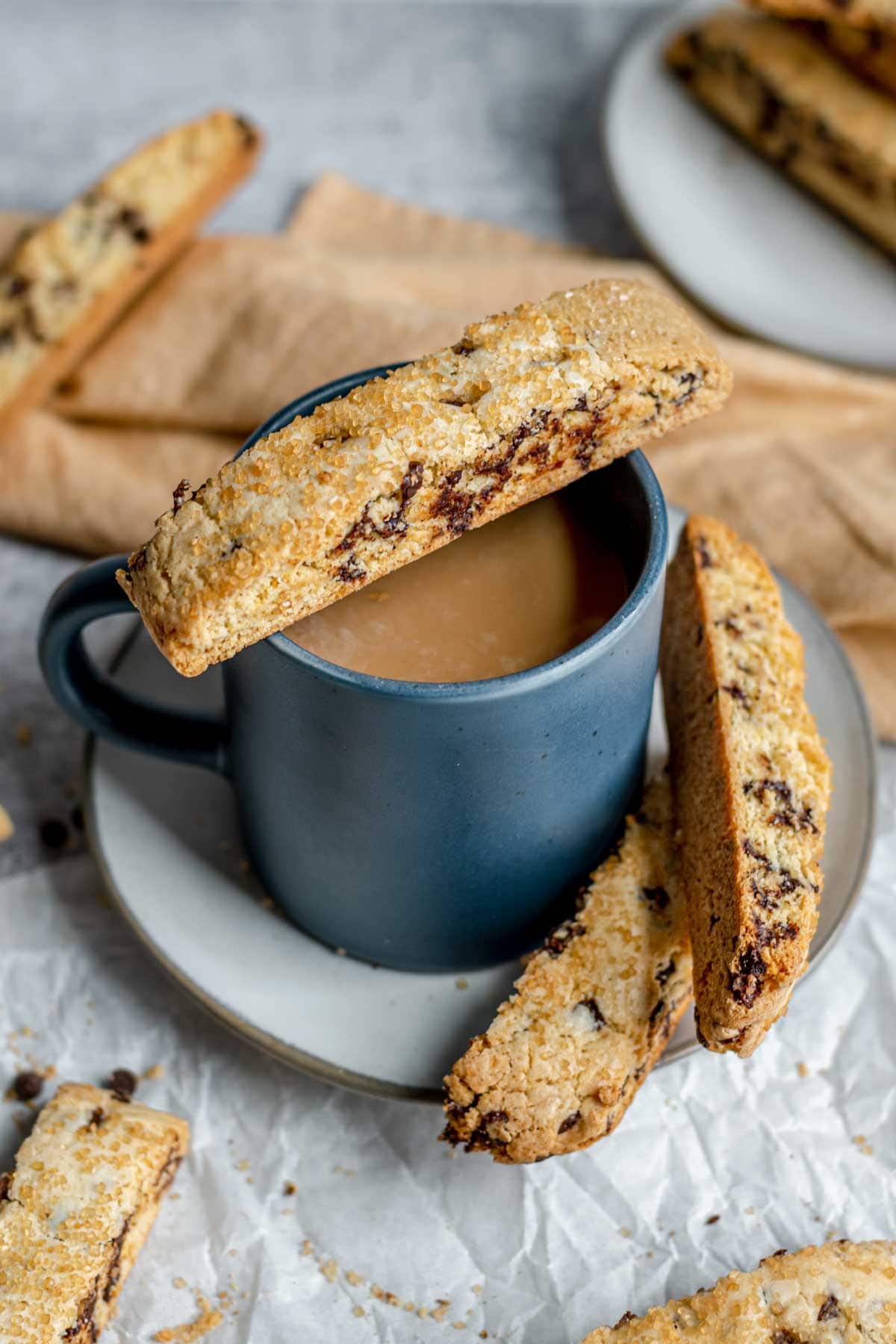 Crunchy, long Biscotti are a traditional Italian biscuit-like cookie that you can find in coffee shops and bakeries around the world. There's no need to head to a cafe or pay bakery prices when you want these fancy cookies though! You can easily make these delicious Italian treats at home plus you get to pick the flavors like dessert-for breakfast Chocolate Chip Biscotti!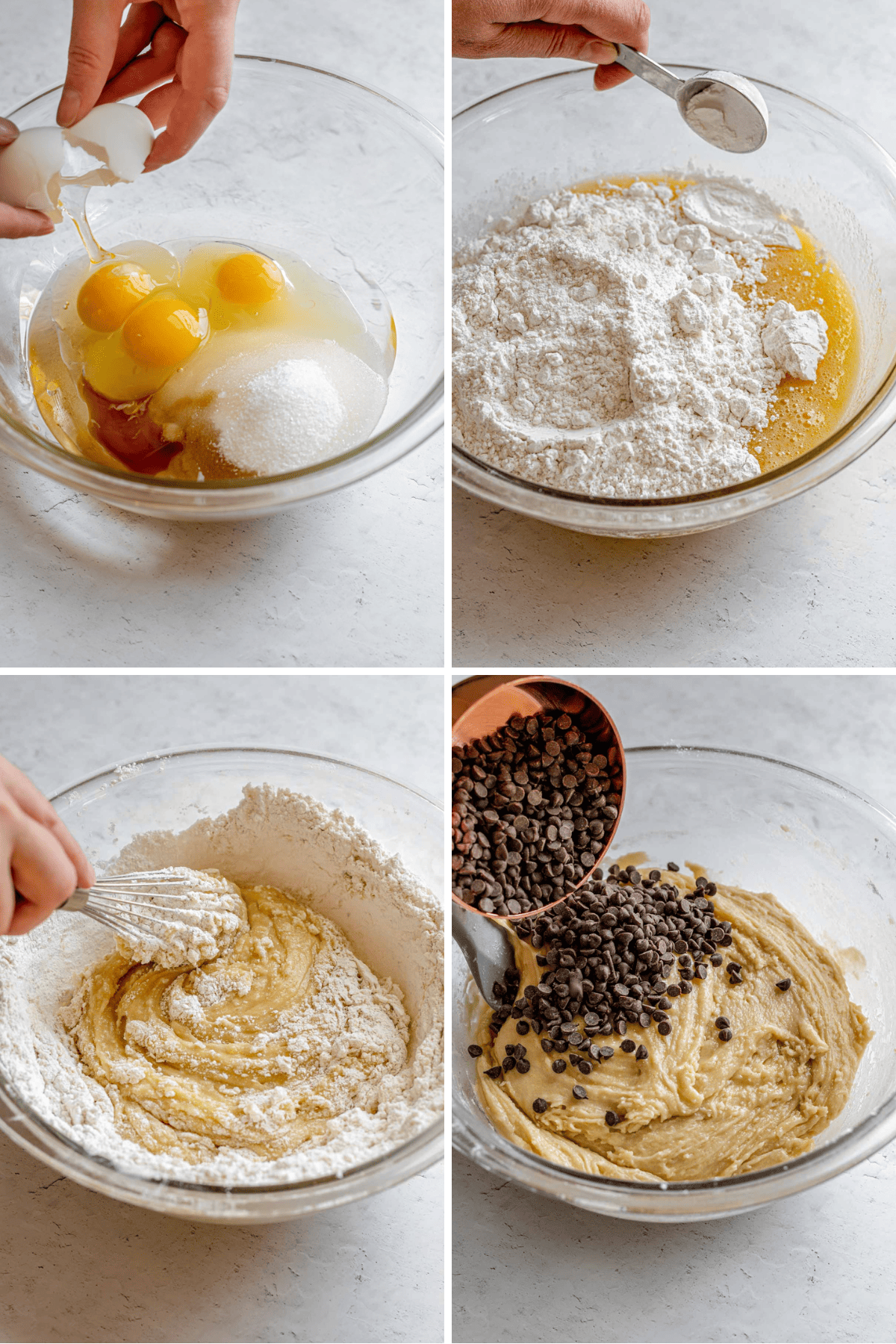 This Chocolate Chip Biscotti recipe is an easy way to satisfy your morning sweet tooth and have a tasty breakfast all week long. If you've got the stuff on hand to make Pancakes or Chocolate Chip Muffins, you have everything you need to make Biscotti and they come together just as quickly. The only "special" ingredient is mini chocolate chips, but those can easily be swapped out for regular size or even chopped up chocolate.
Sweet, chocolaty BIscotti are the perfect treat to enjoy with your morning coffee. The dry, yet buttery cookie soaks up the hot drink, making it perfectly soft while the chocolate chips melt into the coffee adding a delicious mocha flavor. They don't just have to be for breakfast though! You can serve them with Whipped Cream and Hot Cocoa all winter long for a fancy dessert full of warm bakery flavor!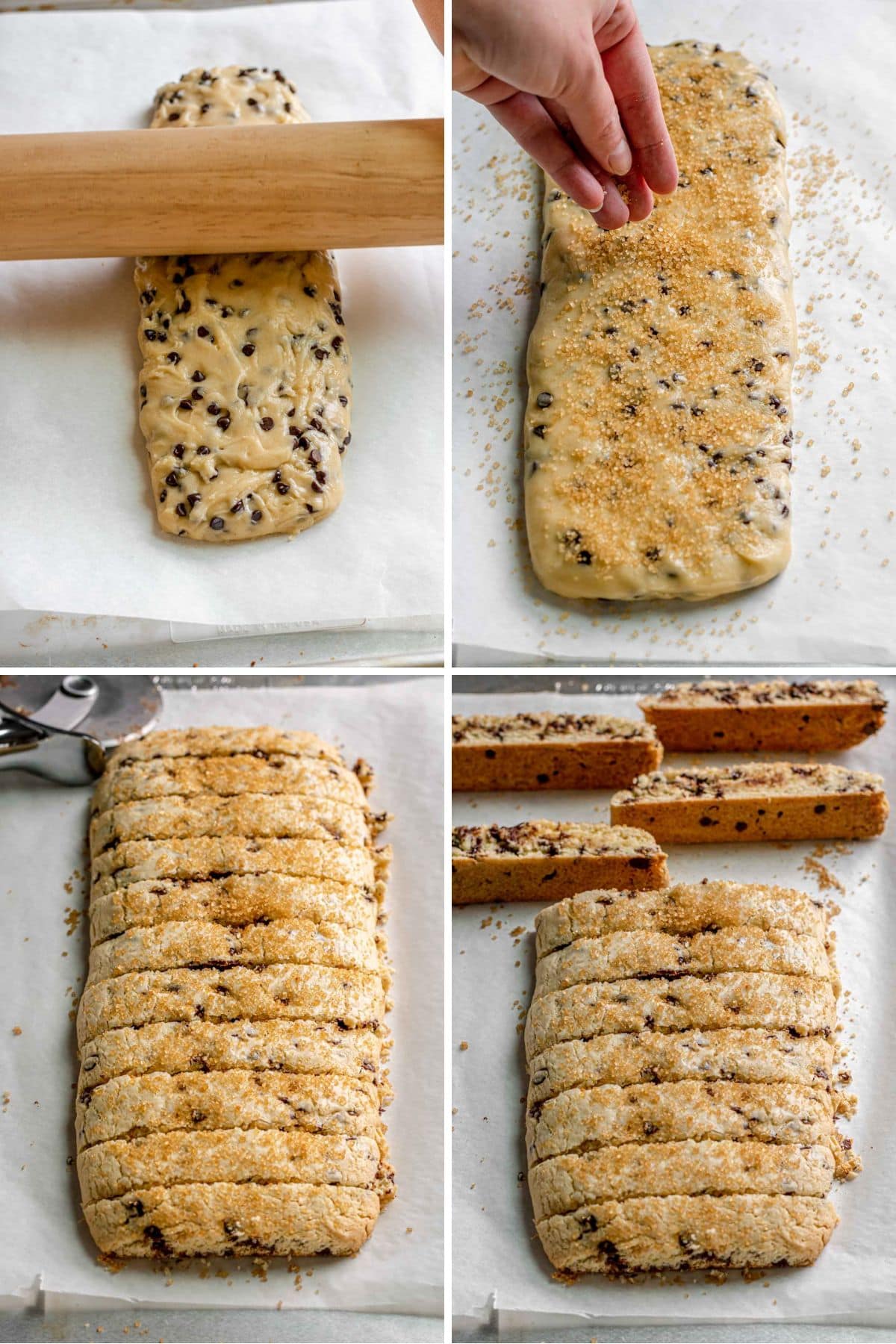 What is Biscotti?
Biscotti are long Italian cookies that have a super crunchy, dry texture. The name comes from Latin and means "twice-cooked" because these cookies are first baked as a whole flat dough loaf, then sliced and baked a second time. They were originally made for dunking in espresso, both to soften the cookie and slightly sweeten and flavor the strong coffee drinks.
How to Make Chocolate Chip Biscotti
Prep: Preheat the oven. Line two baking sheets with parchment paper or baking mats.
Dough: Combine the oil, sugar, eggs, and vanilla in a large mixing bowl until smooth. Whisk the flour and baking powder into the egg mixture until just combined into a sticky dough. Gently fold in the mini chocolate chips without mixing too much.
Shape: Divide the mixture into two dough pieces, and roll them out into long, wide logs. Place each piece of dough onto a prepared baking sheet and continue rolling until they're about ½ inch thick and 4 inches wide. Sprinkle the sanding sugar evenly over the top of each dough log.
First Bake: Place the baking trays in the preheated oven to bake for 20-22 minutes. Remove them from the oven and cut them across down the length of the log into ½ inch slices. A pizza cutter works best for this but a serrated knife can be used too.
Second Bake: Carefully flip the cookie slices so that they're cut-side up. Return to the oven and bake for 8-10 more minutes or until they are lightly golden brown on top. Cool on the tray before transferring to a wire rack to finish cooling. Enjoy warm or let them cool and harden first.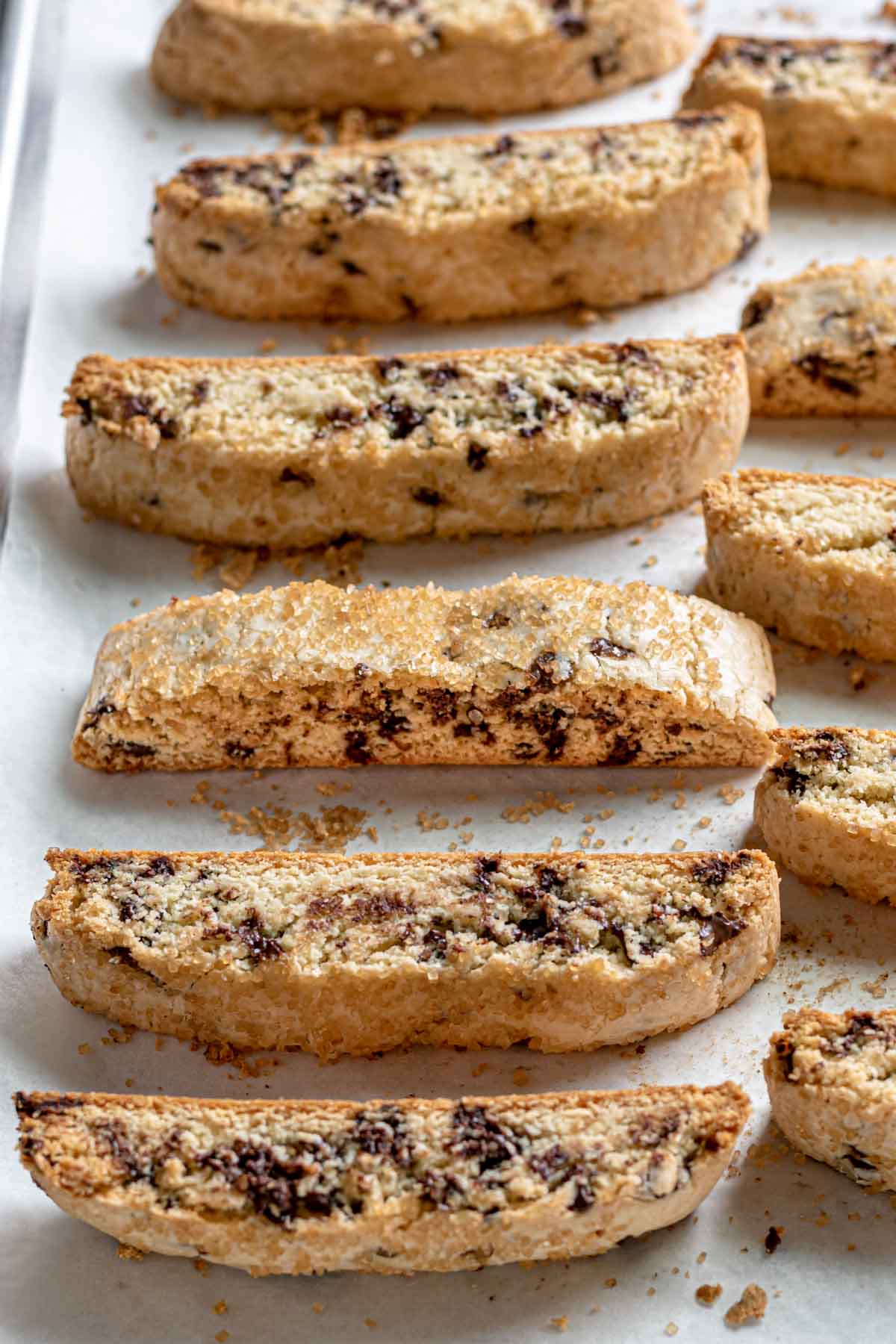 More Chocolate Chip Baked Goods
FAQs for Chocolate Chip Biscotti
Why is my biscotti not crispy?
The flour to fat ratio might be off, causing your cookies to be too moist to fully harden. Your dough should be sticky but not wet, so add more flour as needed. Also, you need to let the cookies fully cool before storing them or the heat will cause steam in the container and soften the cookies.
Should biscotti be hard or soft?
Biscotti cookies are meant to be hard, crunchy, not soft and chewy like other cookies. The perfect biscotti have a slightly dry, crumbly texture but they shouldn't fall apart when you bite into them. 
What do you eat biscotti with?
Traditionally Biscotti cookies are meant to be eaten with espresso or strong coffee as a way to lightly sweeten the bitter drink. However you can also eat them with melted chocolate, other hot drinks like cocoa and tea, milk or even Vanilla Ice Cream.
Why does biscotti need two baking times?
These special Italian cookies need two baking times so they get that signature shape and texture. Baking in a long log allows the cookie dough to cook without burning then the second bake dries out the surface for that delicious crunch!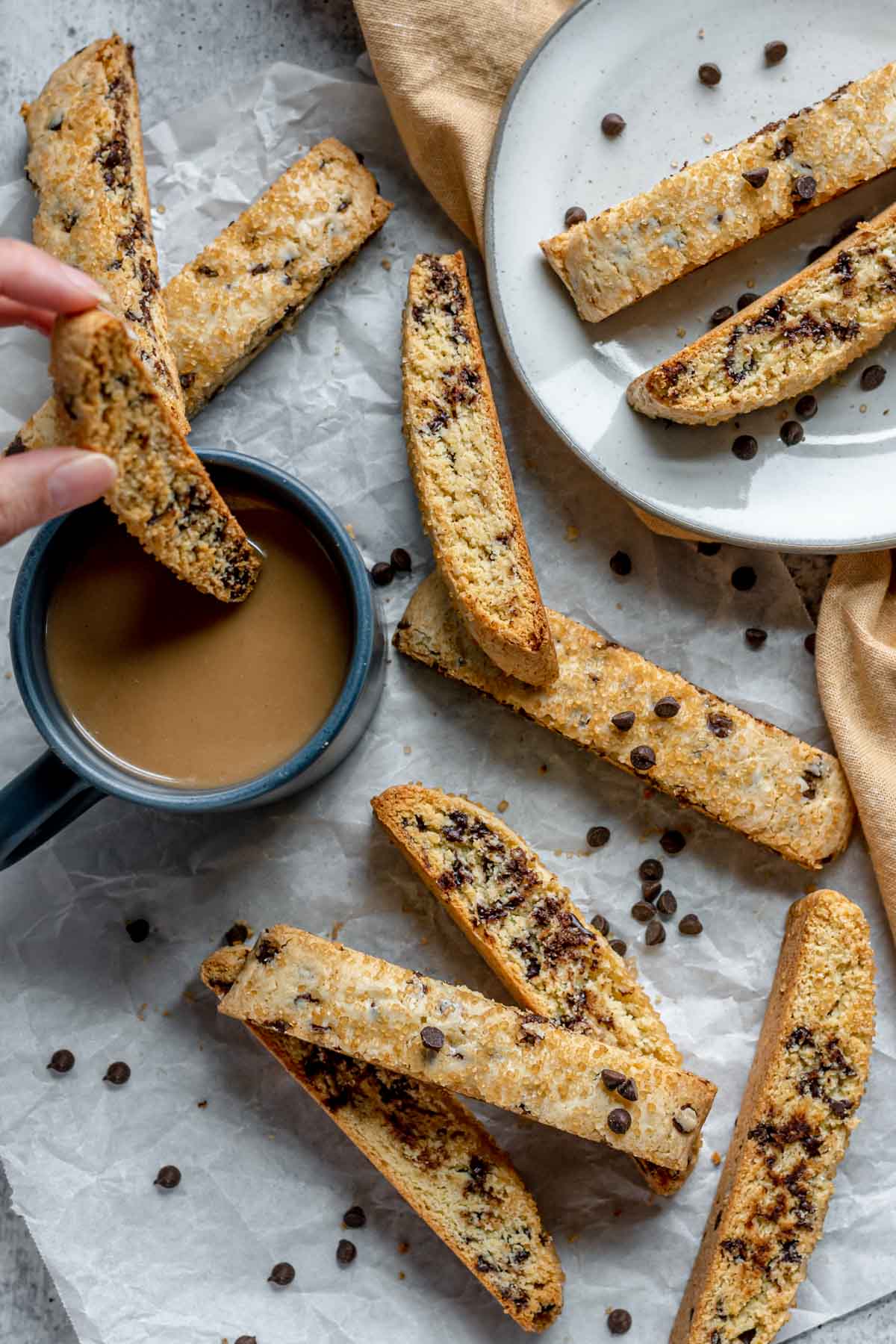 Create a free account to

Save Recipes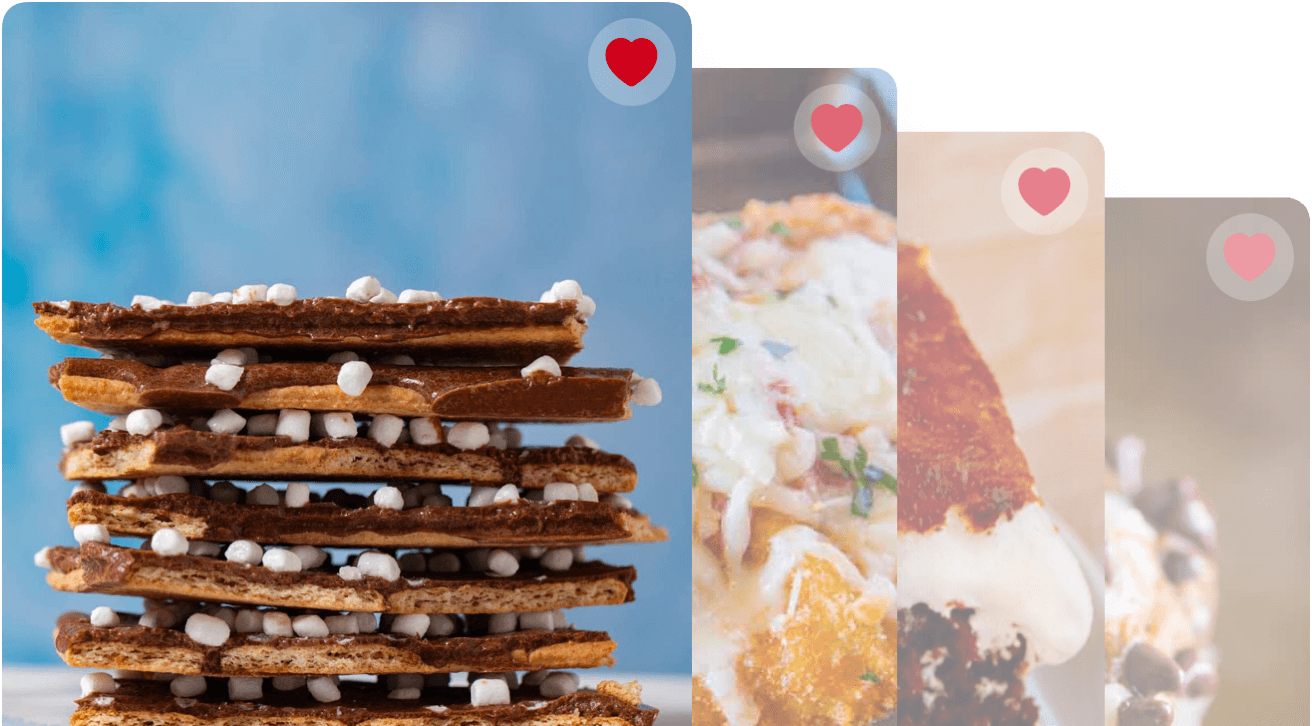 Key Ingredients
Pantry ingredients: Chocolate Chip Biscotti uses a lot of the same staple ingredients as regular chocolate chip cookies. However, there is a lot less oil and sugar with a lot more flour, and an extra egg. The difference in ratios makes a more crumbly, hard, biscuit-like cookie.
Sanding Sugar: Before baking, top the dough off with large-grain sugar. It adds a little extra sweetness, a tasty caramelized crunch, and a beautiful sparkle to the outside of these fancy biscotti cookies.
Chocolate Chips: Mini chocolate chips work best for biscotti cookie recipes because their small shape allows them to be distributed better throughout the buttery cookie. The semi-sweet chocolate is great too because it has the rich chocolate flavor that isn't too bitter for mixing with coffee and isn't too sweet that it overpowers the delicate cookie taste.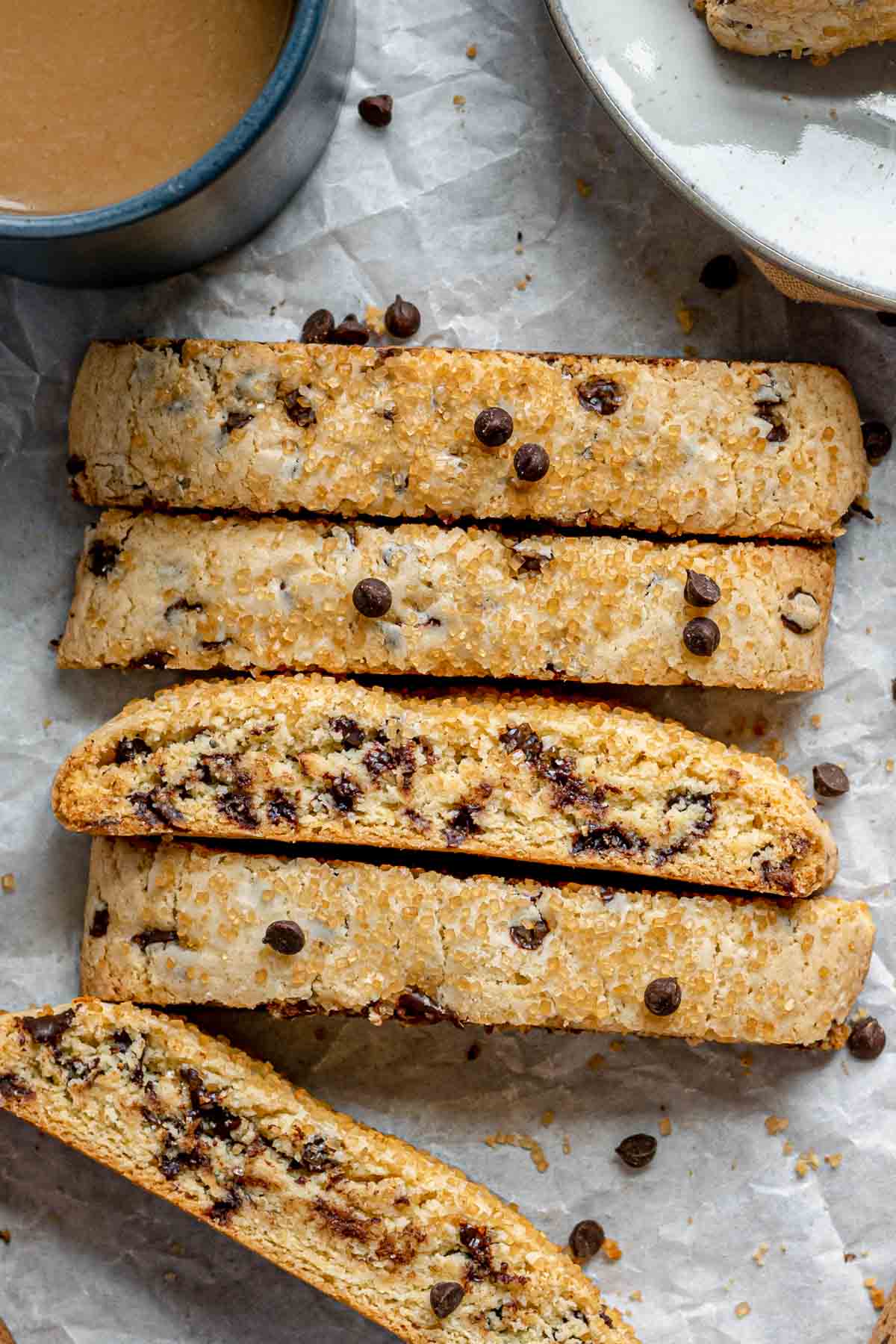 Can Chocolate Chip Biscotti be made ahead of time?
Absolutely you can make these delicious Chocolate Chip Biscotti Cookies ahead of time in a couple of ways!
Baked: After baking, the cookies can be stored at room temperature or in the fridge for up to 1 month. Baked cookies can also be frozen for up to 3 months.
Half-Baked: Bake the dough log and slice, but don't bake the second time. Instead, freeze the slices cut side up on a baking tray until solid, then store in a freezer-safe container. When you are ready to enjoy, finish baking from frozen or thaw first then bake.
Unbaked: You can freeze the raw cookie dough for up to 3 months. Shape dough into a log, wrap in plastic wrap, freeze until solid on a tray (so it holds its shape), then place in a large freezer bag and store in the back of you freezer.
Variations
Almond Chocolate Chip Biscotti: To make a Chocolate Chip Almond Biscotti, replace the vanilla extract with almond extract and swap ¼ cup of the chocolate chips with finely chopped almonds. You can also just dip biscotti in chocolate (like below) and then top with chopped almonds.
Double Chocolate Biscotti: Along with the chocolate mixed into the dough, you can also dip the baked biscotti into melted chocolate. Melt extra chocolate chips in a microwave-safe bowl. Let the Chocolate Chip Biscotti Cookies cool, then dip them into the melted chocolate, cut-side down. Place them onto parchment paper to let the chocolate coating harden.
Orange Dark Chocolate: For a Double Chocolate Biscotti perfect for the holidays, swap ¼ cup flour with ¼ cup unsweetened cocoa powder. Use a teaspoon of orange juice and orange zest instead of 1 teaspoon vanilla. Use dark chocolate chips for even more deep dark chocolate flavor.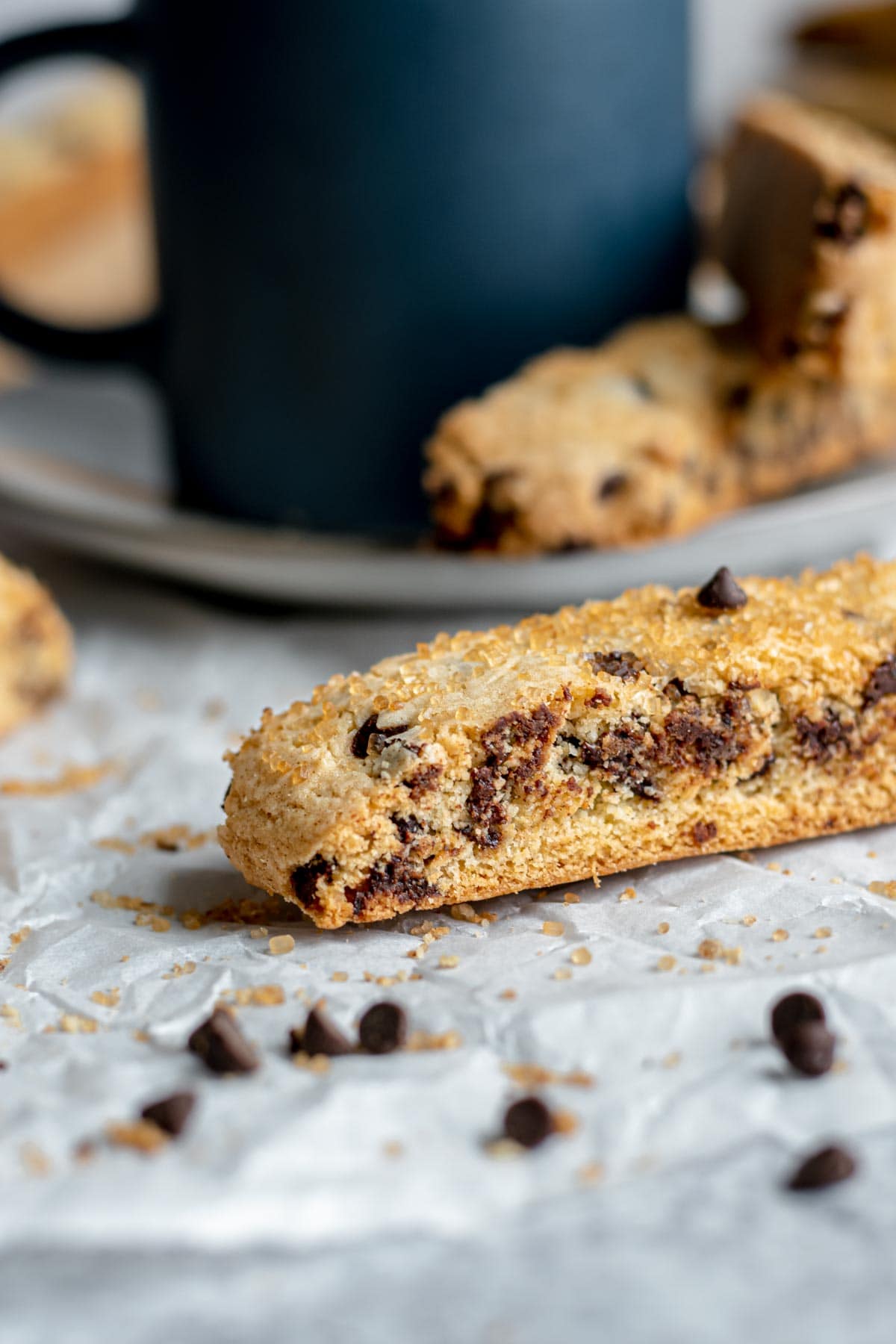 How to Store
Serve: Let the Chocolate Chip Biscotti Cookies cool to room temperature before you serve them. Once they are cool enough to move, let them finish cooling on a wire rack.
Store: Once they've cooled, you can store the cookies in an airtight container at room temperature for up to 1 month. They will stay fresh in the fridge for about the same time.
Freeze: To freeze the biscotti cookies, lay them out on a parchment-lined baking sheet, and put them in the freezer for about an hour. Once they've hardened, transfer the Italian cookies to a freezer bag or another sealed container to keep them frozen for up to 3 months.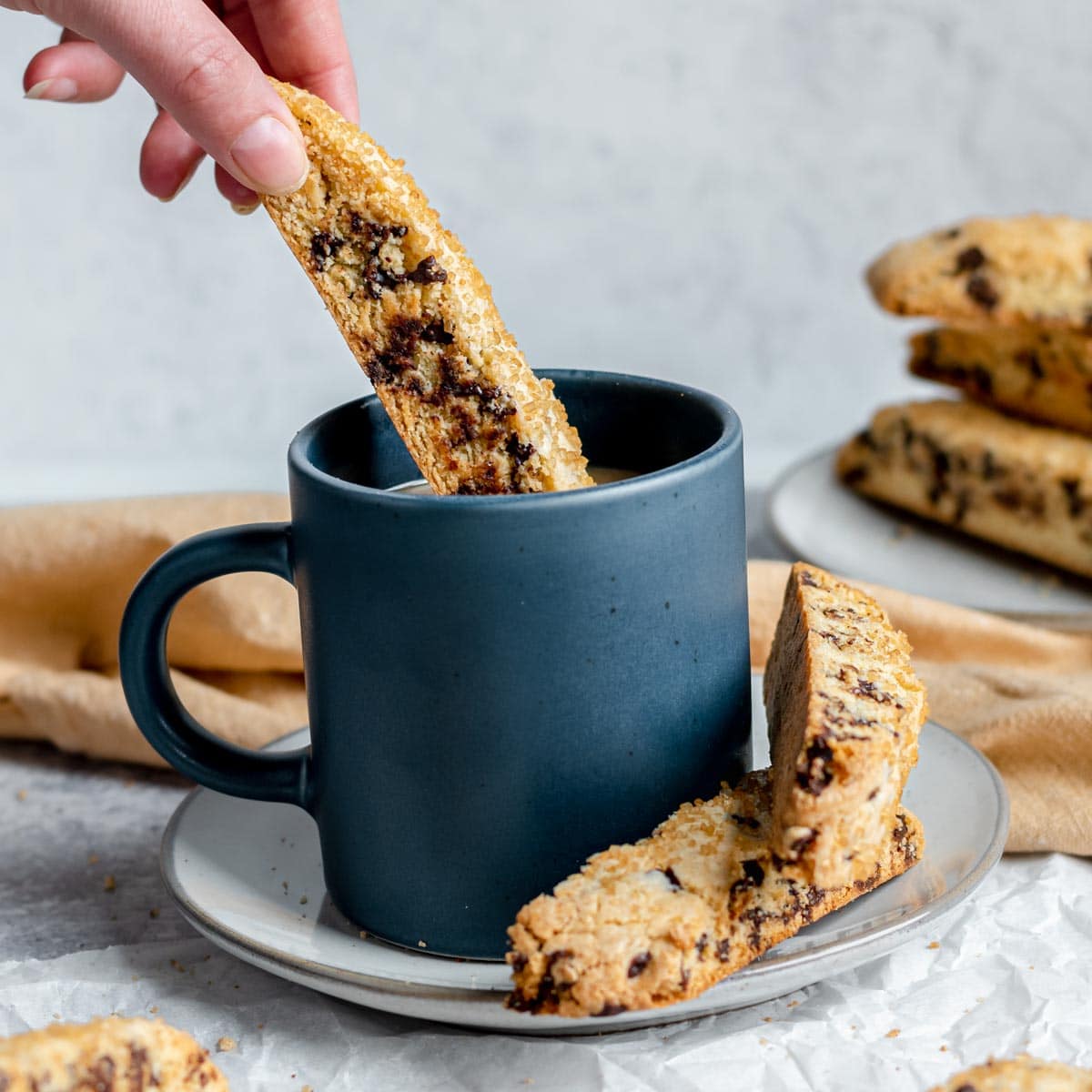 Ingredients
1/2

cup

vegetable oil

1

cup

white sugar

3

large

eggs

2

teaspoons

vanilla extract

3 1/4

cups

flour

1

tablespoon

baking powder

3/4

cup

mini semi-sweet chocolate chips

3

tablespoons

coarse sanding sugar
Instructions
Preheat oven to 375 degrees and line two baking sheets with parchment paper

In a large mixing bowl, whisk together oil, sugar, eggs, and vanilla extract.

Add in the flour and baking powder whisking until just combined.

Stir in the mini chocolate chips.

Divide the dough into two pieces and roll into logs almost as long as the baking sheets.

Place the dough on the baking sheets and roll to about ½ inch thick, about 4 inches across.

Sprinkle with coarse sanding sugar.

Bake for

20-22 minutes

or until golden brown.

Using a pizza cutter, roll the slicer across the log in 1/2″ slices.

Turn the biscotti to show the cut side up and bake it an additional

8-10 minutes

until the tops are slightly golden brown.
Notes
Note: If you need the log to be shorter to make it still 4 inches wide and ½ tall, then shorten the log.
Nutrition
Calories:
193
kcal
|
Carbohydrates:
27
g
|
Protein:
3
g
|
Fat:
8
g
|
Saturated Fat:
3
g
|
Polyunsaturated Fat:
3
g
|
Monounsaturated Fat:
2
g
|
Trans Fat:
1
g
|
Cholesterol:
24
mg
|
Sodium:
11
mg
|
Potassium:
120
mg
|
Fiber:
1
g
|
Sugar:
13
g
|
Vitamin A:
37
IU
|
Calcium:
32
mg
|
Iron:
1
mg