Easy Classic Scones recipe for slightly sweet buttery soft scones with crispy crust. Plus mix-in variations for the perfect scones in your favorite flavors!
Just like Cinnamon Rolls and Coffee Cake, these flaky, buttery Scones are classic coffee shop Baked Goods that you can easily recreate at home.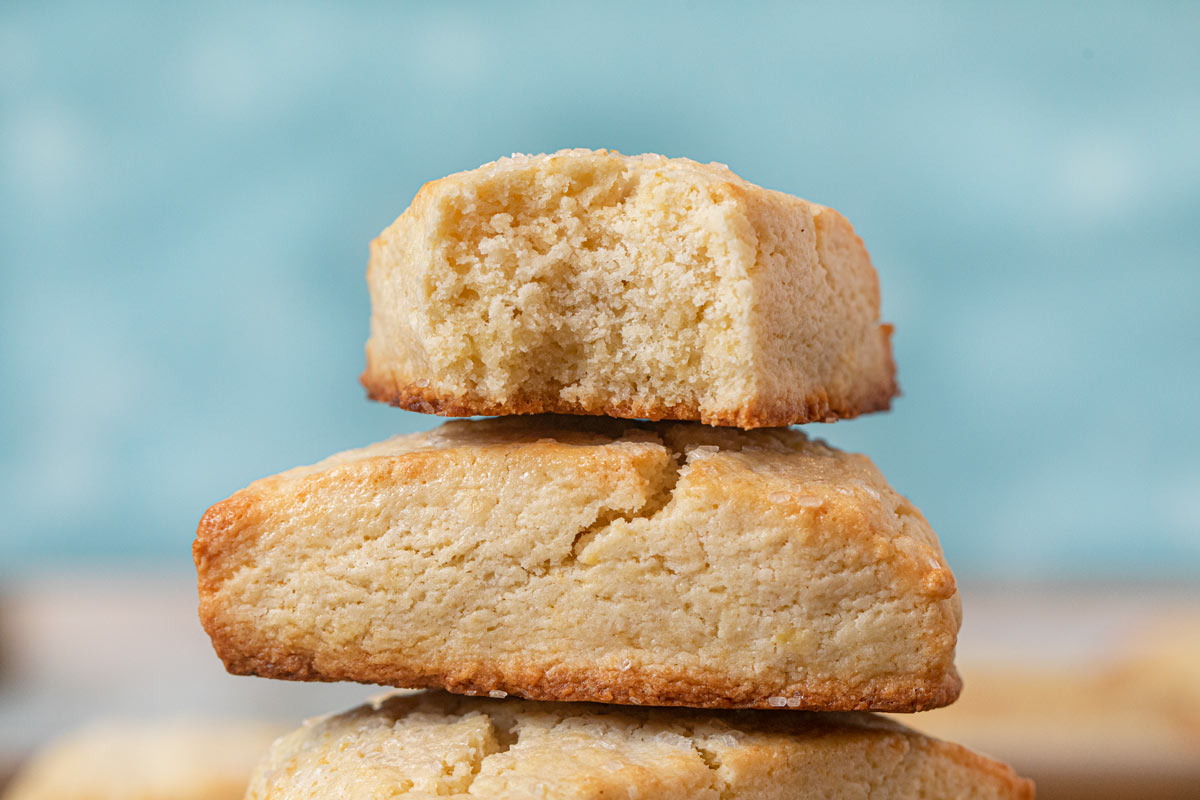 CLASSIC SCONES
These buttery, slightly sweet biscuits are a classic pastry you'll find in bakeries, coffee shops, and English tea parties everywhere. While they sound fancy, Classic Scones are actually very easy to make with simple ingredients you already have in your pantry. Enjoy this master recipe for Scones in all its flaky, buttery goodness or add couple extra ingredients (ideas in the variations section) to make any flavor scone you like!
The key to making perfect Scones is really cold butter that gets added to the dry ingredients first, similar to a pie crust. Once you get pea sized crumbs of butter flour mixture, you add the wet ingredients until just combined and sticky dough will form. Shape the dough into wedges and then refrigerate so that butter gets cold again which keeps you from getting flat scones. The final step before baking is brushing the top of the dough with heavy whipping cream and sprinkling coarse sugar for a slightly sweet, crispy crust.
Traditional English Scones are served with clotted cream (a tangy, whipped sweet cream) and little bit of jam. We've got a super quick hack to make fresh "clotted cream" below our mix-in variations. Instead of clotted cream, a big dab of unsalted butter and spoonful of Strawberry Jam will taste delicious! For a sweeter topping, drizzle scones with melted white chocolate or a Dark Chocolate Ganache.
TOPPING IDEAS FOR SCONES
Tips for Making Perfect Scones
You want cold ingredients and the coldest butter so that it melts slowly as the Scones bake. When you make your dough, you should see some chunks of cold butter. This prevents the dough from spreading and flat Scones, plus every bite is extra buttery.
Freeze the butter before cutting into small pieces and grate frozen butter to keep from handling it too much. Grated butter is easier to incorporate into the dough without completely mixing it in.
Typically you form Scone dough into wedges or fat triangle shapes, but feel free to form into other shapes too! Just keep the shapes even in size and about 1-2 inches thick, and don't handle the dough too much while shaping.
If your dough gets too warm by handling too much or waiting to bake, pop it back into the refrigerator before baking, for 20-30 minutes, to get cold butter pieces and firm dough.
Use a very sharp knife, greased large pizza cutter, or bread scraper/chopper to make a clean cut once through. A pro tip is to use dental floss to make a clean, even cut easily.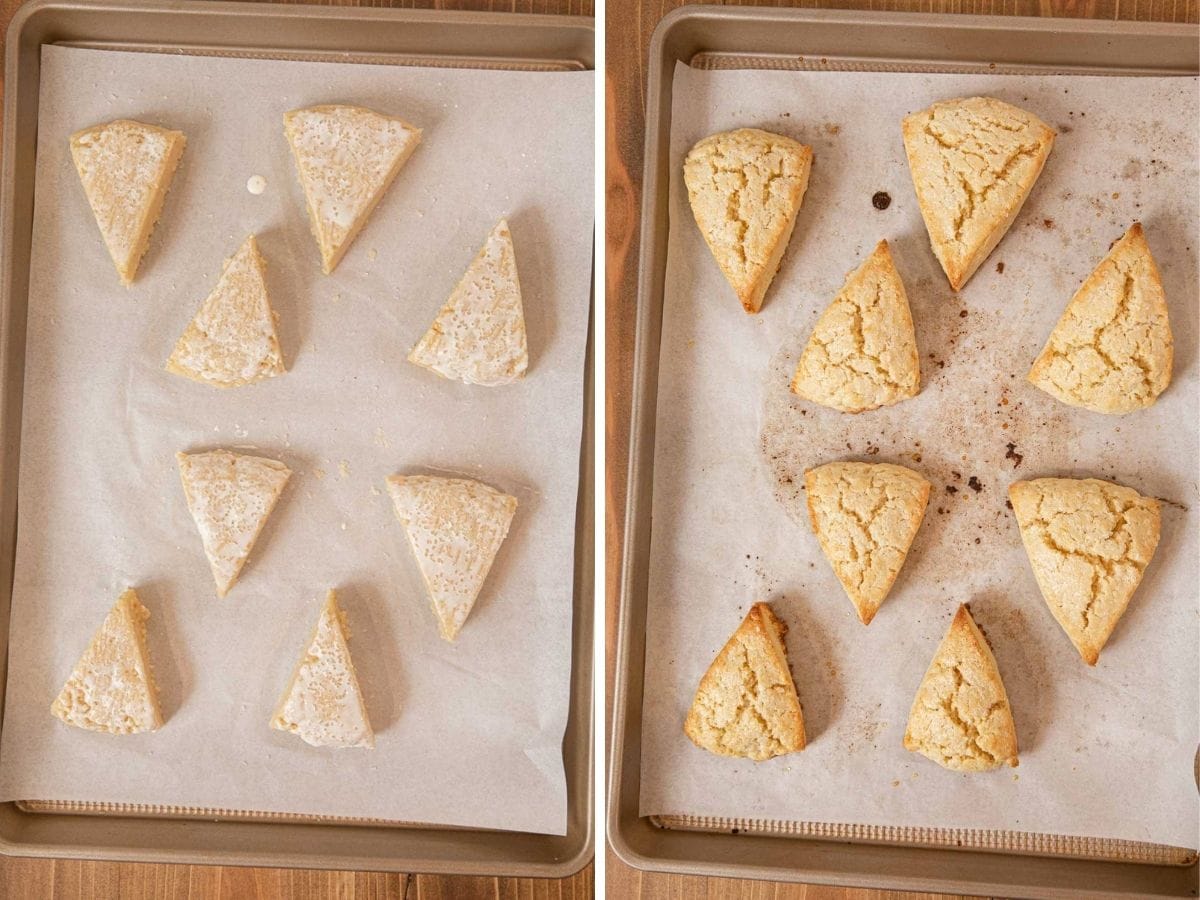 Create a free account to

Save Recipes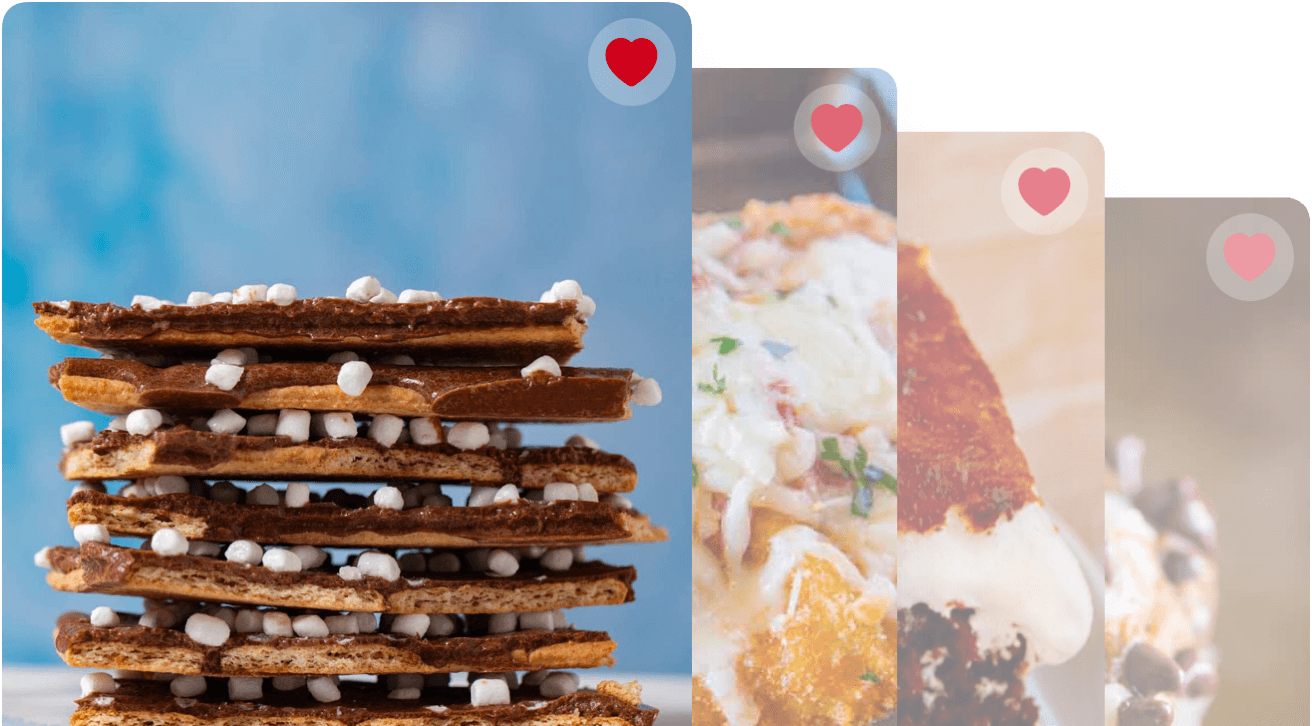 EASY MIX-IN VARIATIONS FOR SCONES
Cranberry Orange Scones – Add 2 teaspoons orange zest when you add the sour cream and eggs. Mix in 1 cup frozen or fresh cranberries to the dough by hand. Add 2 tablespoons orange juice to 1 cup powdered sugar to make a glaze.
Lemon Blueberry Scones – Repeat as above but replace orange zest with lemon zest, and use fresh or frozen blueberries instead of cranberries. For the lemon glaze, use only 1 tablespoon lemon juice and 1 tablespoon heavy cream.
Double Chocolate Chocolate Chip Scone – Replace ¼ cup all purpose flour with ¼ cup unsweetened cocoa powder and prepare as usual. Fold in ½ cup dark chocolate chips by hand as you knead dough.
White Chocolate Cherry Scones: Fold in a ½ cup white chocolate chips and a ½ cup chopped frozen or fresh cherries. Bake and drizzle with melted white chocolate.
Savory Cheddar Herb and Chive: Leave out vanilla extract and reduce to 2 tablespoons sugar. Add 2 teaspoons dried herbs to dry ingredients. Knead in 1 cup shredded cheddar cheese and 2-3 tablespoons chopped chives to the dough.
Other Add Ins: Fold in ½ to 1 cup add ins like chopped pecans or hazelnuts, peanut butter chips, chopped dried fruit, diced fresh fruit, toffee pieces, or raisins. Use brown sugar instead of white sugar for more caramel flavor Scones.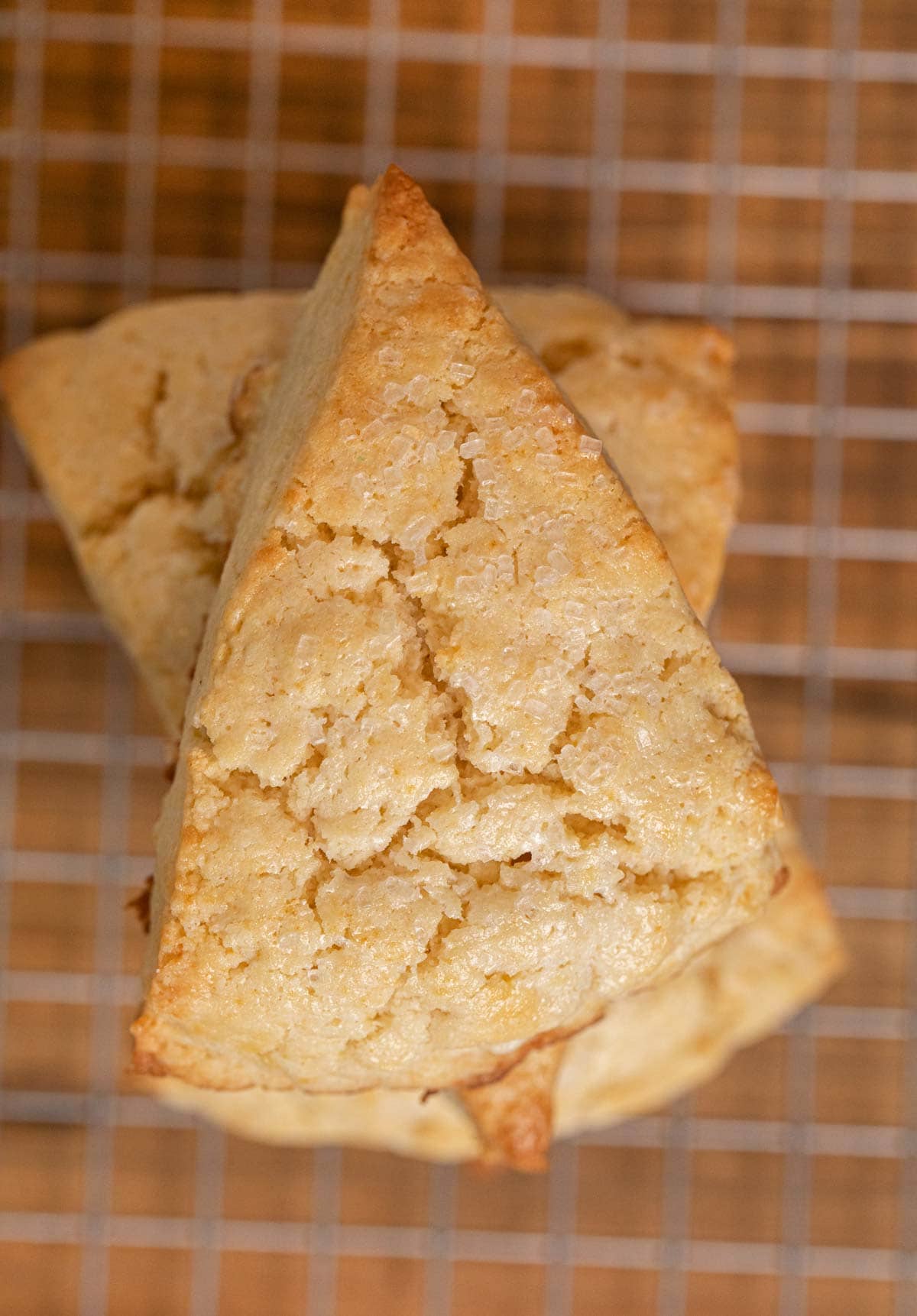 Easy Clotted Cream for Scones
In a stand mixer with whisk attachment, add 1 cup heavy whipping cream and whip until stiff peaks form.
Remove attachment and hand whisk in ⅓ cup sour cream (or softened cream cheese) and 1 tablespoon powdered sugar until combined.
Keep refrigerated for up to 1 week in an airtight container.
MORE SWEET & TASTY BREAKFAST RECIPES
HOW TO STORE SCONES
Serve: These Scones can be kept covered at room temperature for up to 1 week in a cool, dry place. Line your container with a paper towel to absorb any moisture.
Store: Once Scones are cooled to room temperature, place in an airtight container lined with paper towels. Refrigerate baked Scones for up to 2 weeks and bring to room temperature or warm to serve.
Freeze: Cool completely and wrap individual Scones in plastic wrap and place in a sealed freezer safe bag. Freeze for up to 6 months. Unwrap and thaw at room temperature before serving.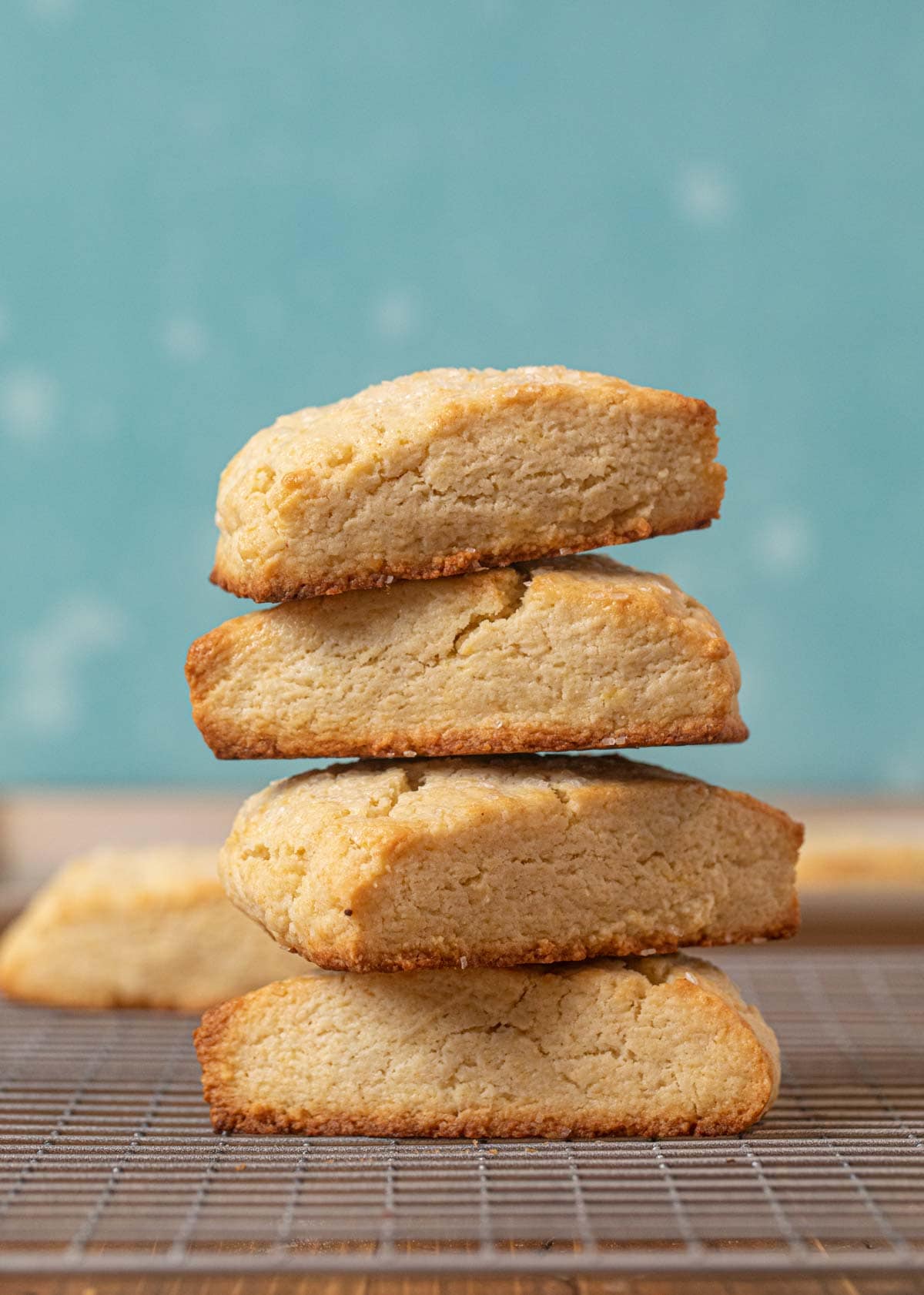 Ingredients
2

cups

flour

1/3

cup

sugar

1

teaspoon

baking powder

1/4

teaspoon

baking soda

1/2

teaspoon

salt

1/2

cup

unsalted butter

, frozen and diced

1/2

cup

sour cream

1

large egg

1/4

cup

heavy cream

2

tablespoons

coarse sanding sugar
Instructions
Preheat oven to 400 degrees and line a baking sheet with parchment paper.

Add flour, ⅓ cup sugar, baking powder, baking soda and salt to a large food processor.

Pulse a couple of times to "sift".

Add butter and pulse until it resembles small crumbs.

Add sour cream and egg and pulse until large clumps form.

Remove to a flour covered surface and knead into a ball.

Pat into an 8 inch circle with your hands.

Cut into 8 wedges.

Place onto baking sheet.

Cover lightly with plastic wrap and refrigerate for

20 minutes

.

Brush tops with heavy cream and sprinkle coarse sanding sugar over the dough.

Cool for

5 minutes

before removing from baking sheet.
Nutrition
Calories:
321
kcal
|
Carbohydrates:
36
g
|
Protein:
4
g
|
Fat:
18
g
|
Saturated Fat:
11
g
|
Cholesterol:
69
mg
|
Sodium:
204
mg
|
Potassium:
117
mg
|
Fiber:
1
g
|
Sugar:
12
g
|
Vitamin A:
583
IU
|
Vitamin C:
1
mg
|
Calcium:
53
mg
|
Iron:
2
mg