Blueberry Scones are perfect for breakfast, brunch, or as a sweet treat. They're flaky and buttery made with cinnamon and fresh blueberries!
Blueberry Scones are a delicious Breakfast Baked Good perfect to enjoy with a cup of coffee on a lazy weekend morning. Try our Blueberry Crumb Muffins and Sour Cream Coffee Cake for more indulgent breakfast treats!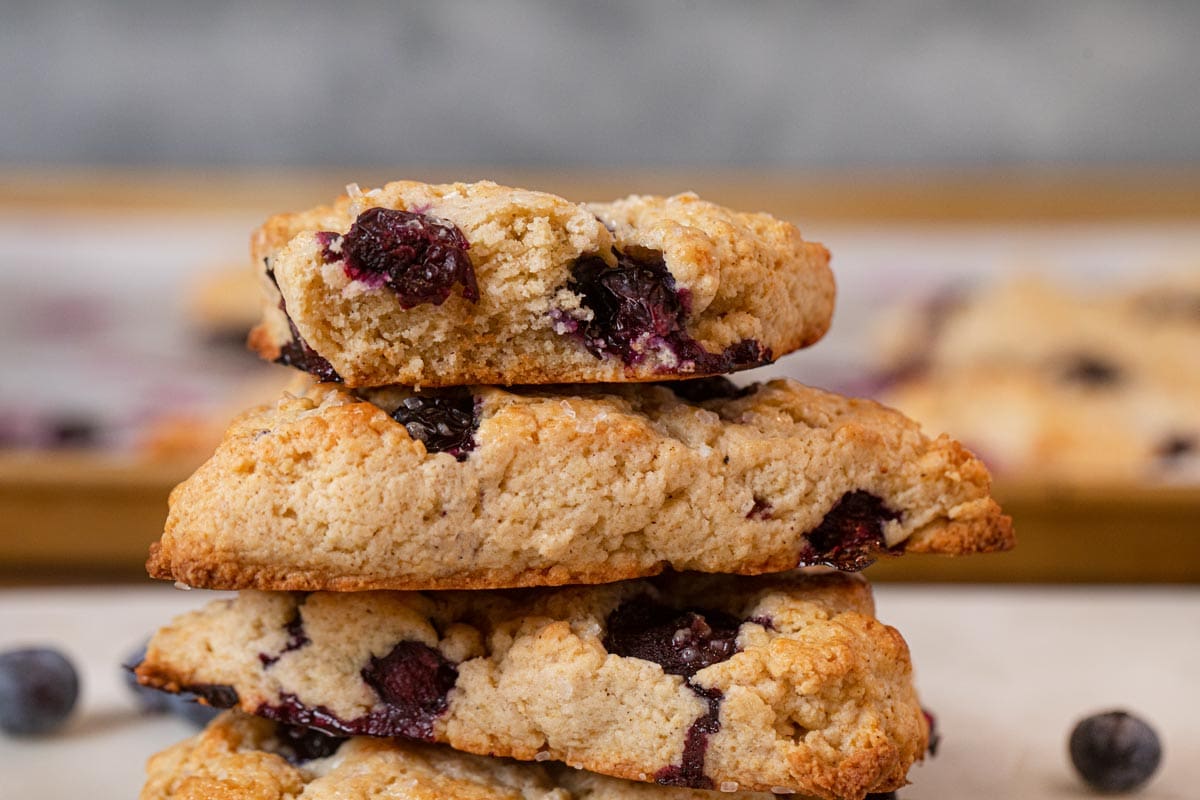 BLUEBERRY SCONES
Now, scones are one of those recipes that can get a bad rap. Too often when people think of scones they think of dry, crumbly, unappetizing pastries. If that's been your experience with scones, then you've either not been having them fresh, or you've had the wrong scone recipes served to you. In that case, this Blueberry Scones recipe is going to be a game-changer!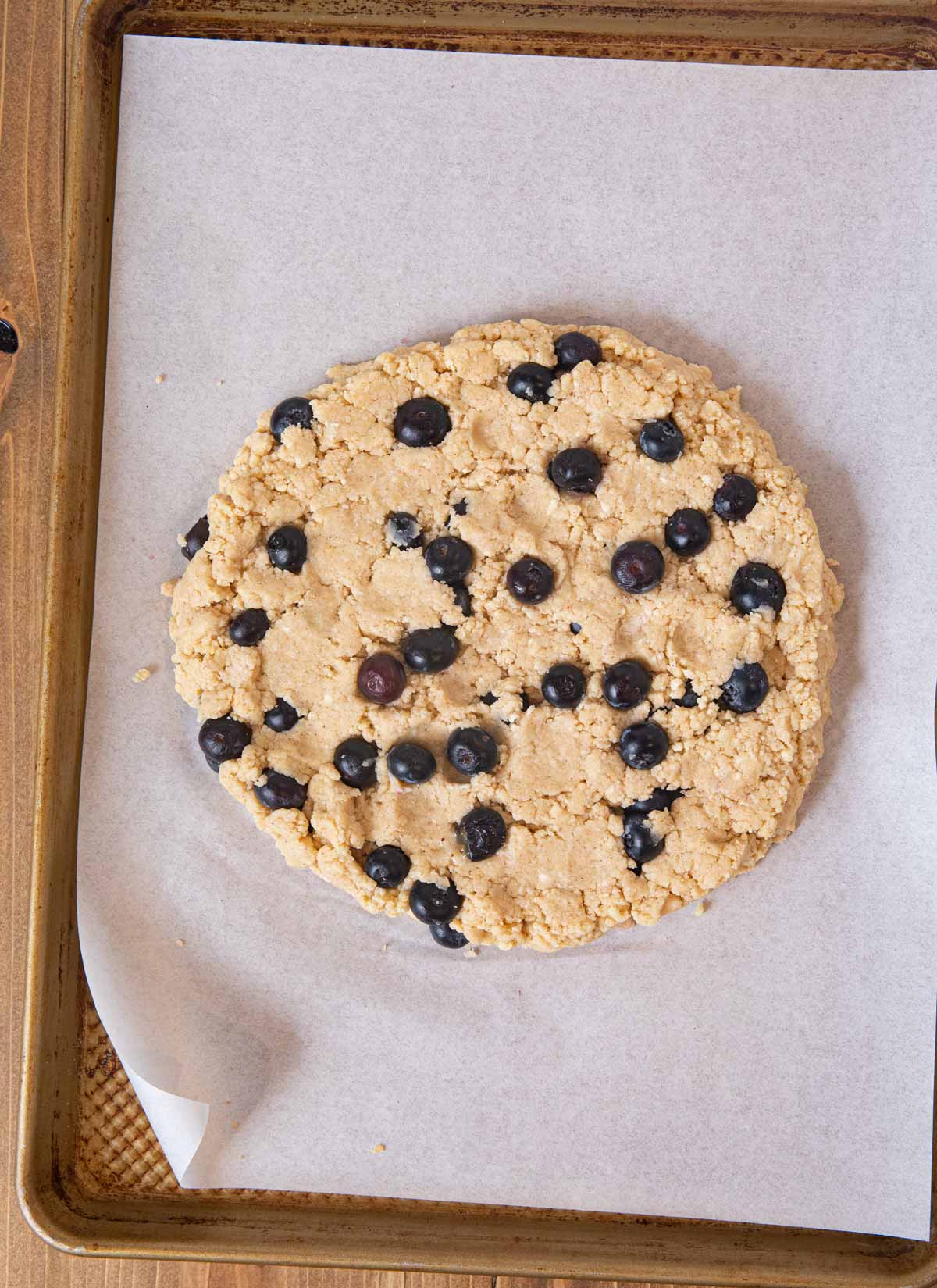 Far from dry, these scones come out buttery and flaky with juicy blueberries throughout and coarse sugar topping. Of course, scones are always going to be drier than muffins or some other breakfast pastries. However, the light, buttery texture won't be too heavy to enjoy. The perfect scone has a similar texture to a Biscuit.
These scones are also surprisingly easy to make. They're done in under an hour with a good amount of that being rest time! You can make these delicious scones using fresh or frozen blueberries. Either way, they turn out great!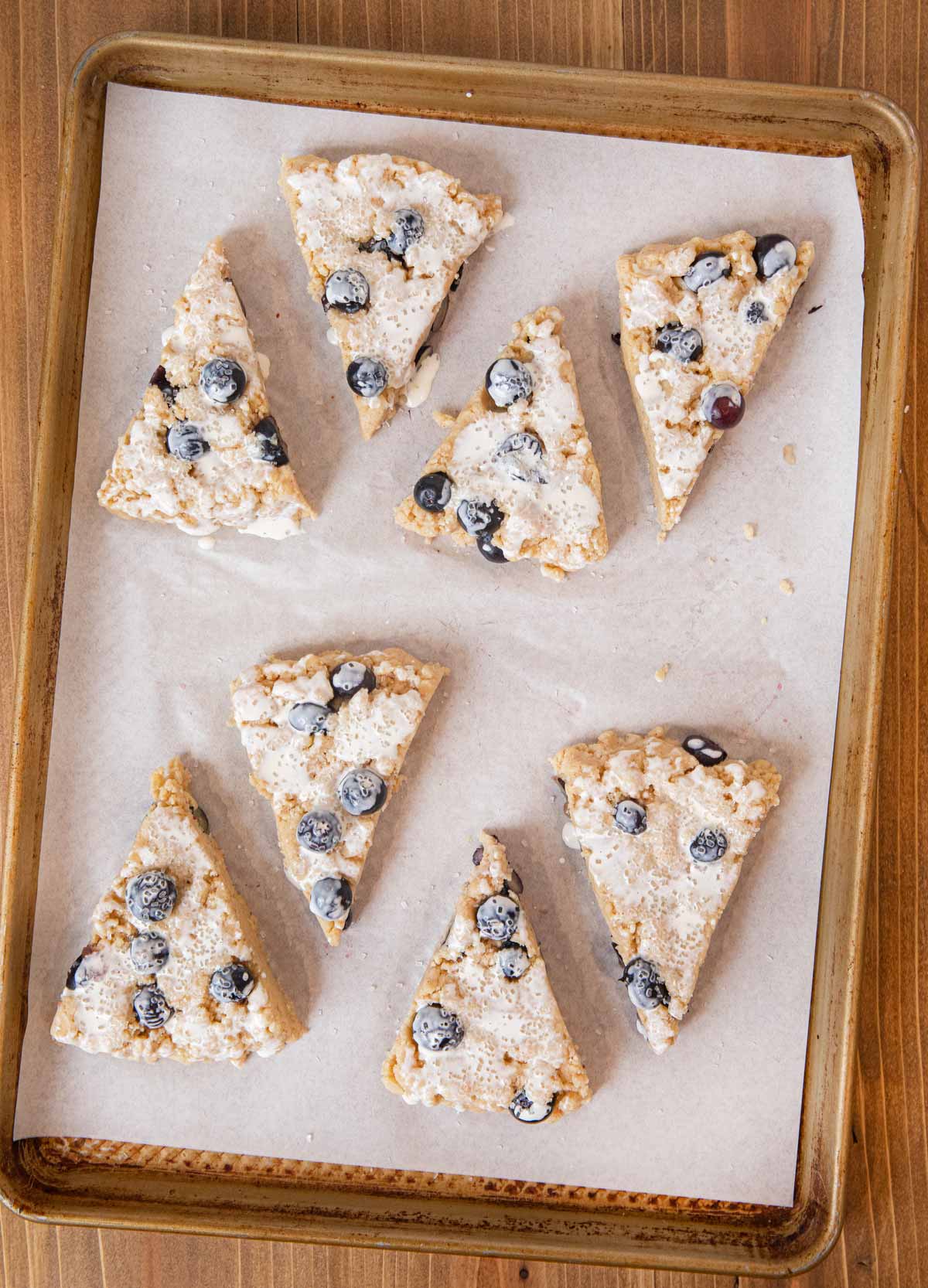 Fresh Blueberry Scones are perfect to serve for a family breakfast or Sunday brunch! You can enjoy them as they are with a cup of coffee or add some toppings. Scones taste great with warm butter spread over them, Jam, or Stabilized Cream.
MORE BREAKFAST PASTRIES
TIPS FOR MAKING THE BEST BLUEBERRY SCONES
Prep time: Start the recipe by preheating the oven and lining your baking sheet with parchment paper.
Dry ingredients: Add the flour, ⅓ cup sugar, baking powder, baking soda, cinnamon, and salt to your food processor. Pulse the food processor to sift the dry ingredients together. Once they're combined add the butter and pulse again until small, coarse crumbs form. If you don't have a food processor, you can use a pastry cutter to do this in a mixing bowl.
HINT: The biggest secret to making light and delicious scones is using cold butter. The cold butter gets coated with flour, then when that butter and flour melt in the baking process the steam creates the flaky texture we all love!
Wet ingredients: Add the sour cream and an egg to your flour mixture, and pulse until they mix. The scone dough will form into large clumps.
Form: Sprinkle flour over a clean countertop or another flat surface like a baking dish. Move the scone dough to the floured surface. Use your hands to gently form the dough into a ball and add the blueberries as you go. Once the blueberries are nicely mixed in, gently flatten the dough into an 8-inch circle. Use a sharp knife to cut the circle into 8 even triangles. Move the scones to the parchment-lined baking sheet. Cover the prepared baking sheet in plastic wrap to store in the fridge for 20 minutes. This step is key because it will chill the butter after it's warmed up from being handled.
Bake: Take the scones from the fridge and brush the tops of them with heavy cream. Sprinkle coarse sugar over the top. Bake for 16-18 minutes until they're a light golden brown around the edges. Let scones cool for 5 minutes before serving.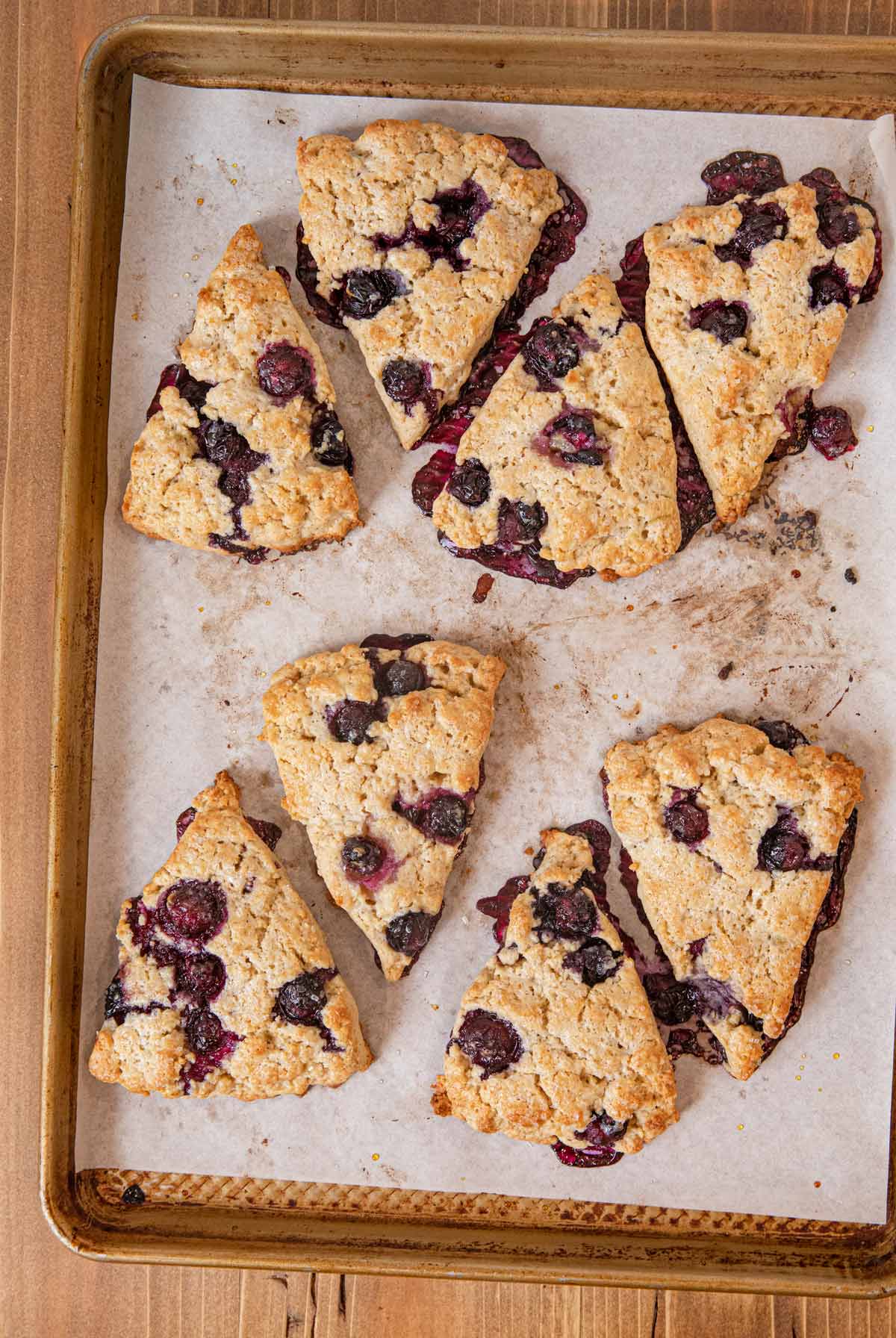 Create a free account to

Save Recipes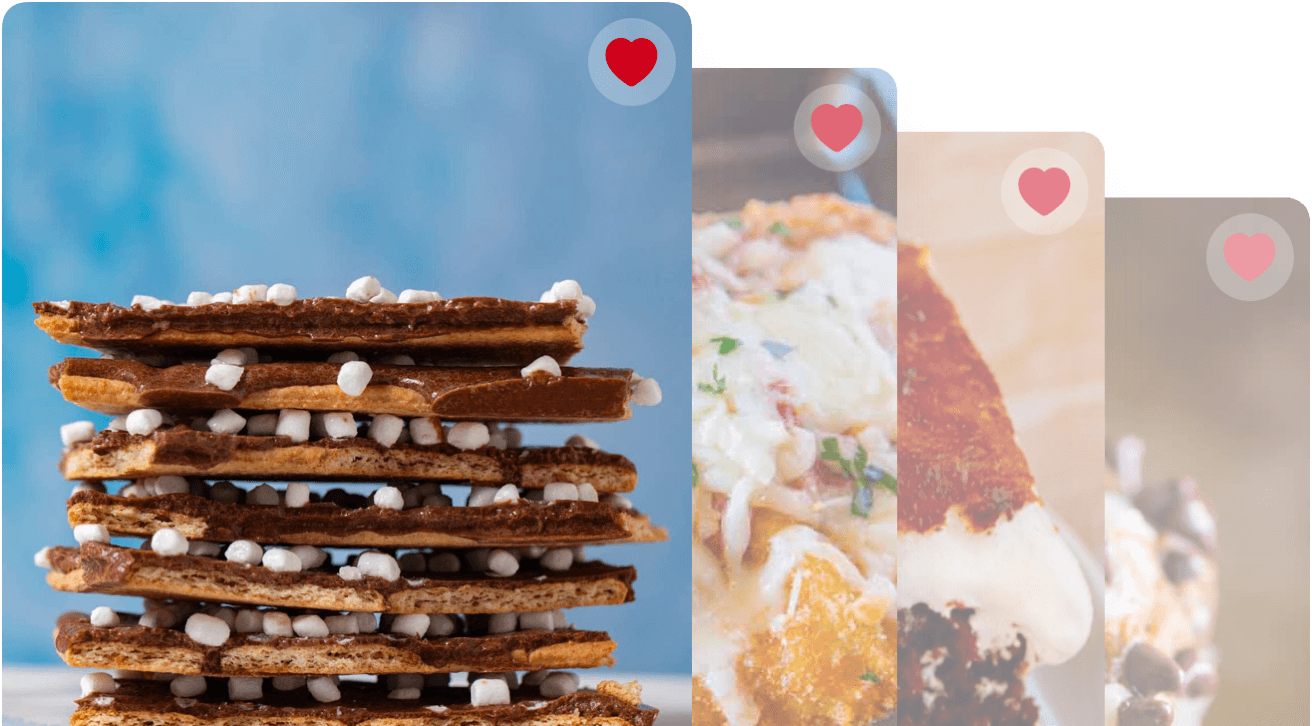 VARIATIONS ON BLUEBERRY SCONES
Lemon Blueberry Scones: To make a Lemon and Blueberry Scone recipe you can make an easy lemon icing. Combine 1 cup powdered sugar, 3 tablespoons lemon juice, and lemon zest to taste to make the glaze. Drizzle it over the Blueberry Scones after they're done baking.
Gluten-free scones: If you want gluten-free scones, you'll just need to replace the all-purpose flour in the recipe. Instead of white flour, you can use almond flour, oat flour, or coconut flour.
Berries: Easily change up the recipe using different kinds of berries like raspberries, strawberries, cherries, or cranberries. You can either use one of the berries to replace the blueberries or use a variety of berries along with blueberries for mixed berry scones.
Mix-ins: For some delicious add-ins try coconut flakes, chopped nuts, raisins, or cinnamon chips.
MORE BREAKFAST RECIPES WITH BERRIES
HOW TO STORE BLUEBERRY SCONES
Serve: You can keep freshly baked scones at room temperature for up to 2 days. Once the Blueberry Scones have cooled to room temperature store any leftovers in an airtight container in a dry, cool place to keep them fresh.
Store: Kept in a ziplock bag or another airtight container scones can also be kept in the fridge for up to 1 week.
Freeze: If you want to make Blueberry Scones ahead of time and freeze them, they'll stay good for up to 3 months. Let them thaw in the fridge, and then eat them cold or reheat them for a few minutes in the oven.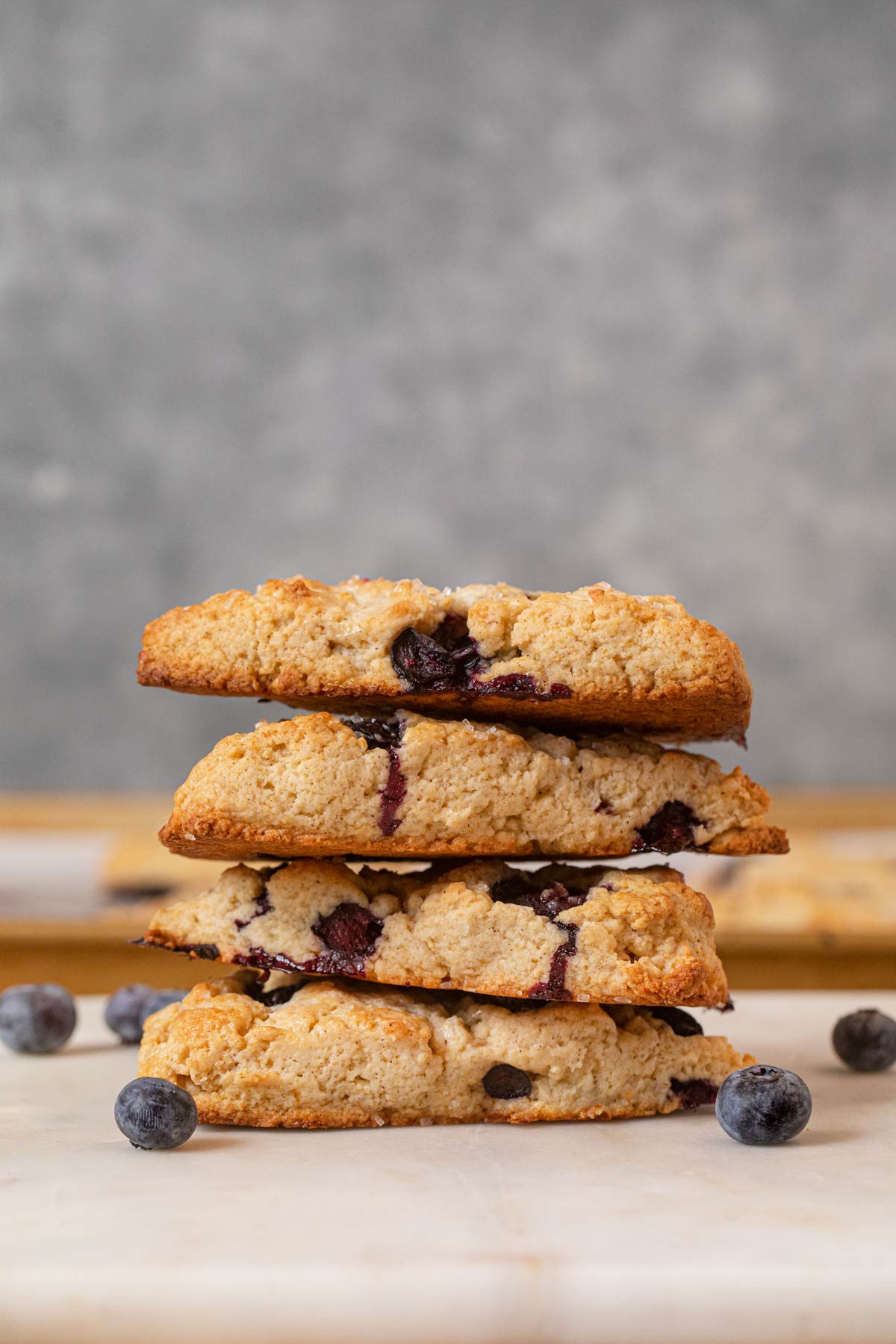 Ingredients
2

cups

flour

1/3

cup

sugar

1

teaspoon

baking powder

1/4

teaspoon

baking soda

1/2

teaspoon

ground cinnamon

1/2

teaspoon

salt

1/2

cup

unsalted butter

, frozen and diced

1/2

cup

sour cream

1

large

egg

1

cup

blueberries

1/4

cup

heavy cream

2

tablespoons

coarse sanding sugar
Instructions
Preheat oven to 400 degrees and line a baking sheet with parchment paper.

Add flour, ⅓ cup sugar, baking powder, baking soda, cinnamon and salt to a large food processor.

Pulse a couple of times to "sift".

Add butter and pulse until it resembles small crumbs.

Add sour cream and egg and pulse until large clumps form.

Remove to a flour-covered surface and gently add in blueberries and form into a ball.

Pat gently into an 8-inch circle with your hands.

Cut into 8 wedges.

Place onto a baking sheet.

Cover lightly with plastic wrap and refrigerate for

20 minutes

.

Brush tops with heavy cream and sprinkle coarse sanding sugar over the dough.

Cool for

5 minutes

before removing from baking sheet.
Nutrition
Calories:
333
kcal
|
Carbohydrates:
39
g
|
Protein:
5
g
|
Fat:
18
g
|
Saturated Fat:
11
g
|
Cholesterol:
71
mg
|
Sodium:
206
mg
|
Potassium:
133
mg
|
Fiber:
1
g
|
Sugar:
14
g
|
Vitamin A:
597
IU
|
Vitamin C:
2
mg
|
Calcium:
54
mg
|
Iron:
2
mg