Cherry Turnovers are easy pastries made with cherry pie filling, flaky puff pastry and sprinkled with coarse sugar. Handheld fruit pies made at home!
The only thing that could make fruit filled desserts like like Apple Pie and Peach Pie better is to take them on the go! Check out more of our Dessert Recipes that you can eat at home or take with you.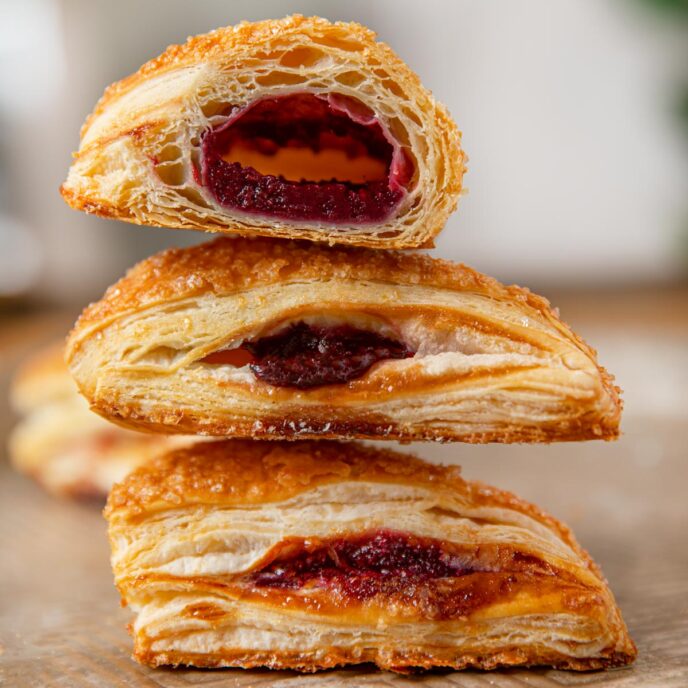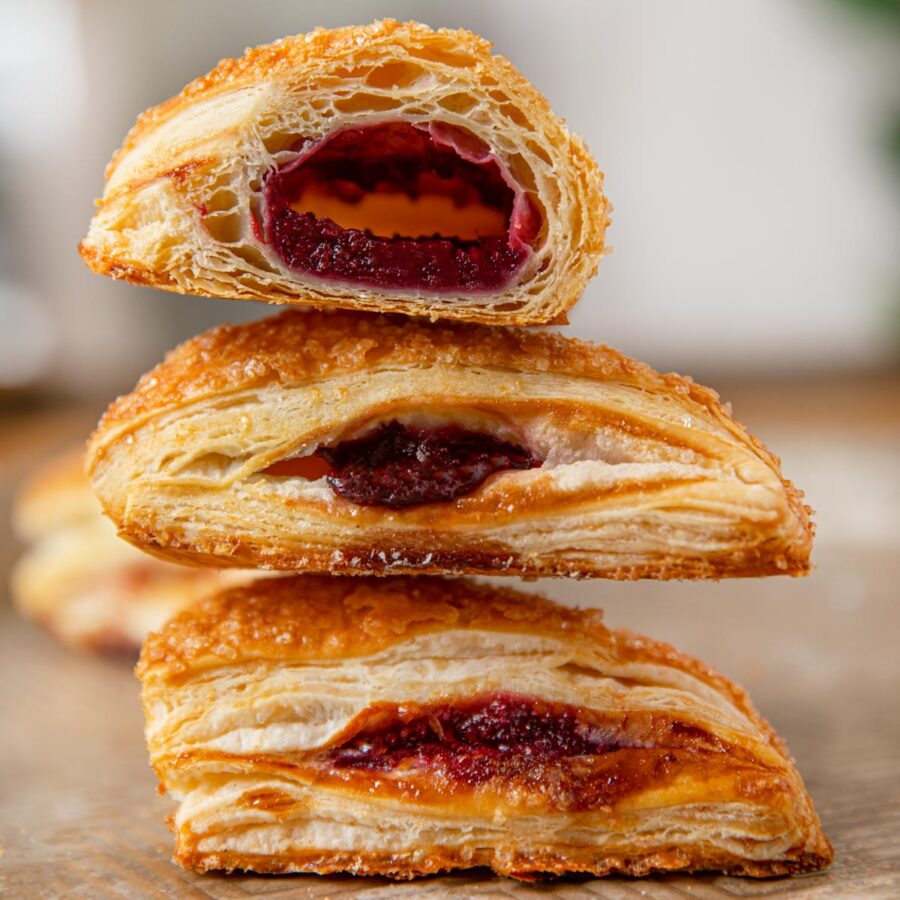 CHERRY TURNOVERS
Pies are one of those desserts that we love to make but to be honest they can be a bit of work. Plus they don't always travel well. Who among us hasn't taken a slice of pie for later, only to discover our filling oozing everywhere?
These Cherry Turnovers are the answer to the pie dilemmas you've been searching for! They are a cherry pie that you can pop into lunchboxes or send home as leftovers after a party without worry. They are so easy, you can let your little kitchen helpers do most of the work.
These little golden brown pastries make after-school (and after homework) snacks, especially if you make miniature versions. Just enough sweet treat to make a good reward for a job well done, without completely ruining dinner.
Cherry pies are a classic favorite, served in diners across the country. This handheld version can be found in bakeries, coffee shops, or even fast food places. I don't recommend the drive-thru ones for a lot of reasons, but number one is they can't compare to this yummy homemade version.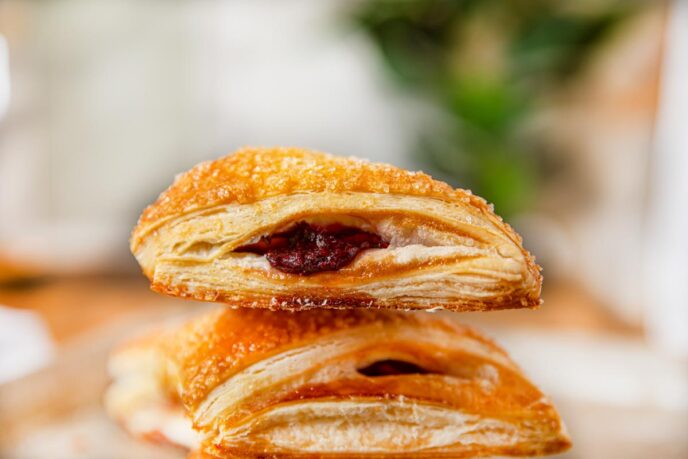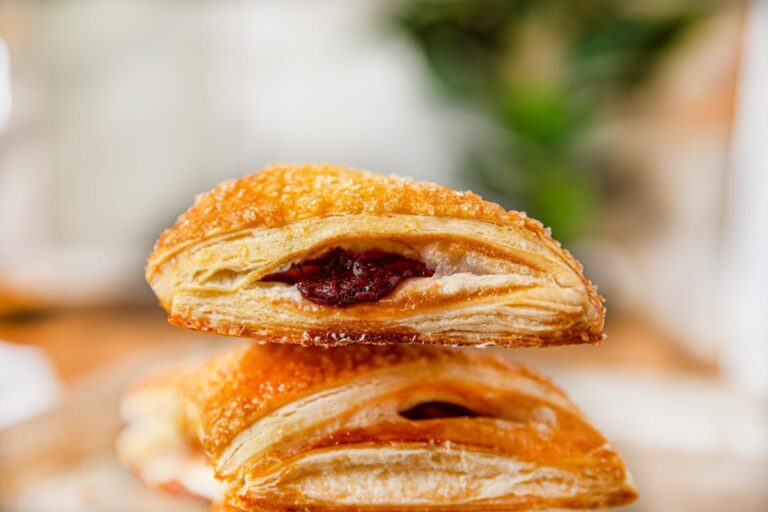 Just like the popular diner cherry dessert, you can serve your Cherry Turnovers warm with some Vanilla Ice Cream and a cup of coffee. They are also good room temperature or chilled… actually they are delicious anyway you want to enjoy them!
While we made these turnovers with cherry filling, use your favorite pie filling or any of our other variations that we have below to make them how you like! Get inspired by checking out our other Pie Recipes.
Instead of using frozen puff pastry, you can make pie crust from scratch. In a large bowl, combine 2 2/3 cup flour and 1 teaspoon salt; cut in ¾ cup shortening until crumbly. Gradually add 6 tablespoons cold water, tossing with a fork until dough forms a ball. Wrap in plastic; refrigerate for 30 minutes. Divide into 8 portions and roll into squares.
MORE FRUIT PIE RECIPES
HOW TO MAKE CHERRY TURNOVERS
Cut Pastry: Thaw puff pastry and cut into 8 even squares. A hack for getting evenly cut pastry dough is to use a pizza cutter and straight edge, like a ruler. This will allow you to cut perfect pastry squares in one smooth motion.
Prepare Filling: Meanwhile, in a large saucepan, combine cherries and sugar and mash slightly. Stir in cornstarch until blended. Bring to a boil over medium heat; cook and stir for 2 minutes or until thickened. Remove from the heat; stir in cinnamon.
Fill Turnovers: Place about 3 tablespoons cherry mixture on one side of each square; fold pastry over filling.
Glaze: Brush with egg wash. Sprinkle with coarse sanding sugar.
Bake Turnovers: Place on a greased baking sheet. Bake at 375 degrees for 30-35 minutes or until golden brown. Serve warm.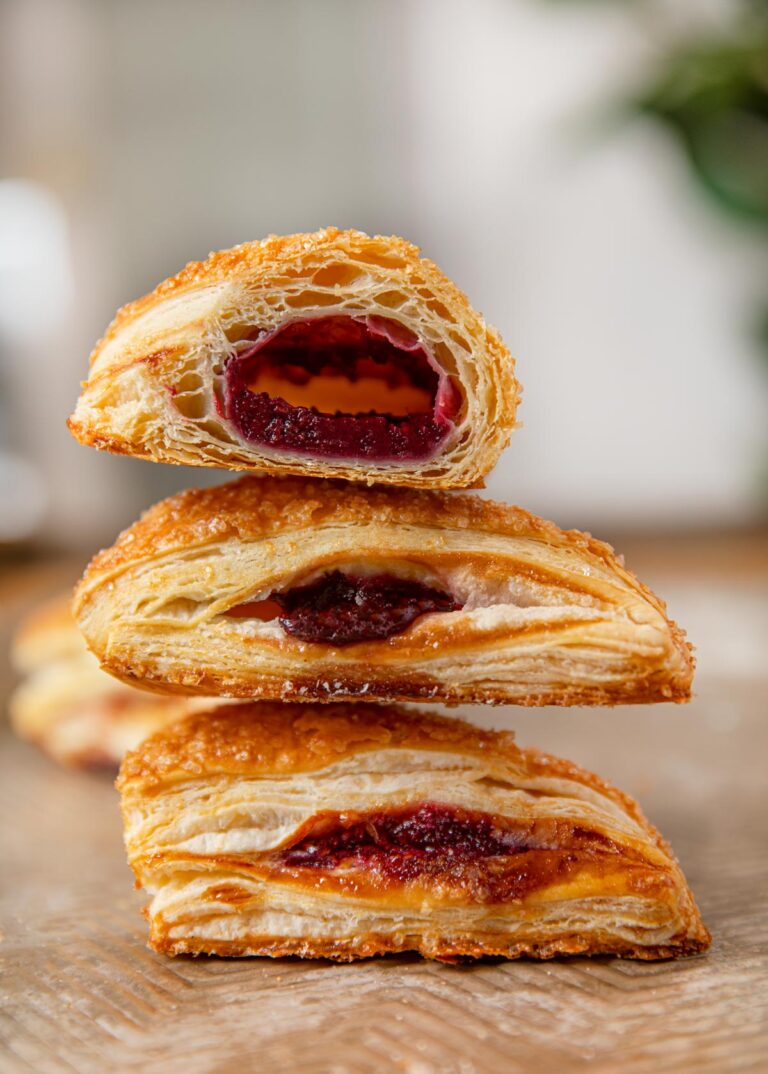 Create a free account to

Save Recipes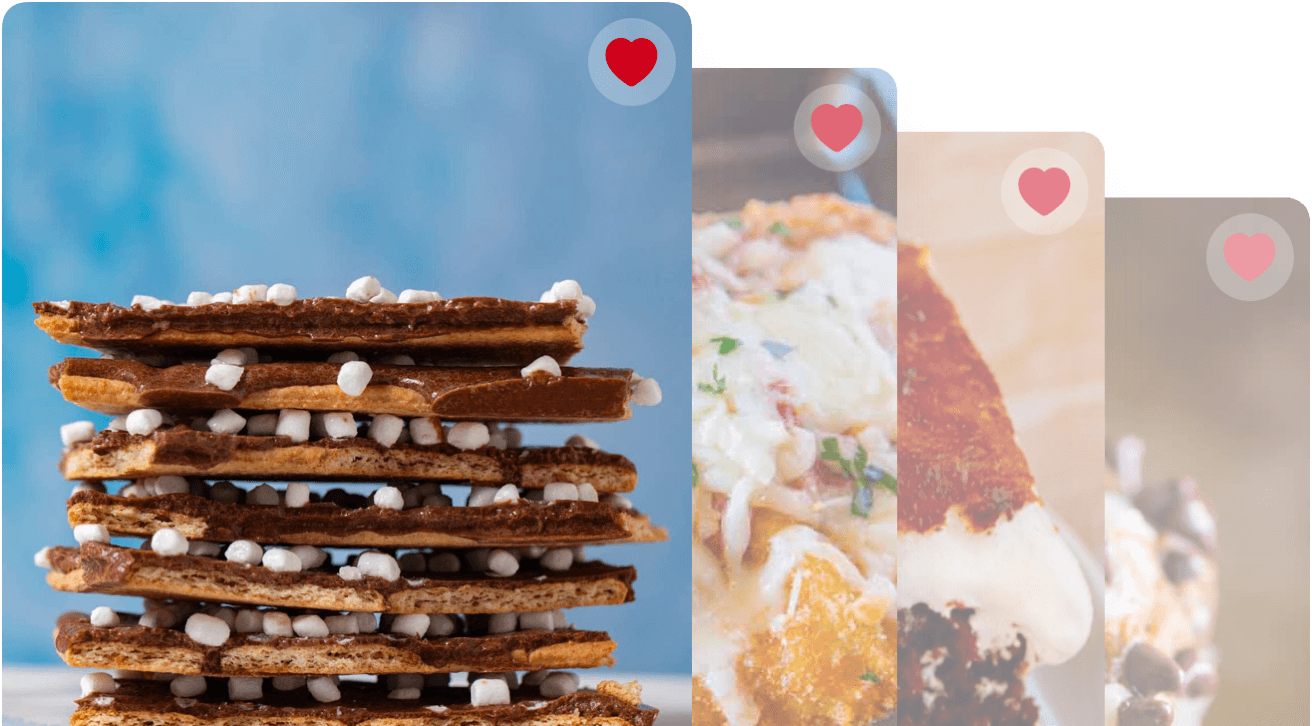 VARIATIONS ON CHERRY TURNOVERS
Pie Filling: Use pre-made pie filling in a quick pinch. Just remember to check the ingredients to keep it with less ingredients and more natural goodness.
Cream Cheese: Add a little dollop of softened cream cheese to each turnover before you add the cherry filling for a creamy, delicious flavor combinations.
Toppings: We used a simple coarse sugar for our turnovers but you can use a drizzle of a brown sugar glaze, top with slivered almonds before baking, or dust with powdered sugar.
Chocolate: One of my favorite flavor combinations is chocolate and cherry. Top your turnovers with a chocolate ganache or mix in chocolate pieces with your filling (or both).
Fruit: Use your favorite fruit filling like blueberry, peach, apple, or strawberry instead of cherries for this turnover recipe. You can also use a blend of mixed berries and fruits.
A TURNOVER BY ANY OTHER NAME…
Turnovers are simple pastries consisting of a filled dough that is folded over and crimped at the edges. The filling can be sweet or savory. Most cultures and cuisines have their own version. Here are few that you may recognize, even if you didn't know they were turnovers! Which one would you want to see a recipe for?
United Kingdom: In the UK, a traditional Pasty is likely to be filled with savory versus sweet ingredients.
Latin America: Empanadas are a staple in most Latin American countries and also the Philippines.
Italy: Italians have many versions of turnovers including Calzone and Panzerotti (a smaller calzone).
Central Europe: Strudel originates in Austria but it is quite popular in other countries like Germany and the Czech Republic.
DELICIOUS FRUIT DESSERTS:
HOW TO STORE CHERRY TURNOVERS
Serve: Your turnovers will be good at room temperature for up to 3 days in a sealed container, as long as you don't add dairy variations.
Store: Keep you cherry turnovers fresh longer by storing in the refrigerator in an airtight container for up to 1 week.
Freeze: You can freeze this cherry dessert for up 3 months. Chill completely before freezing and thaw overnight to serve.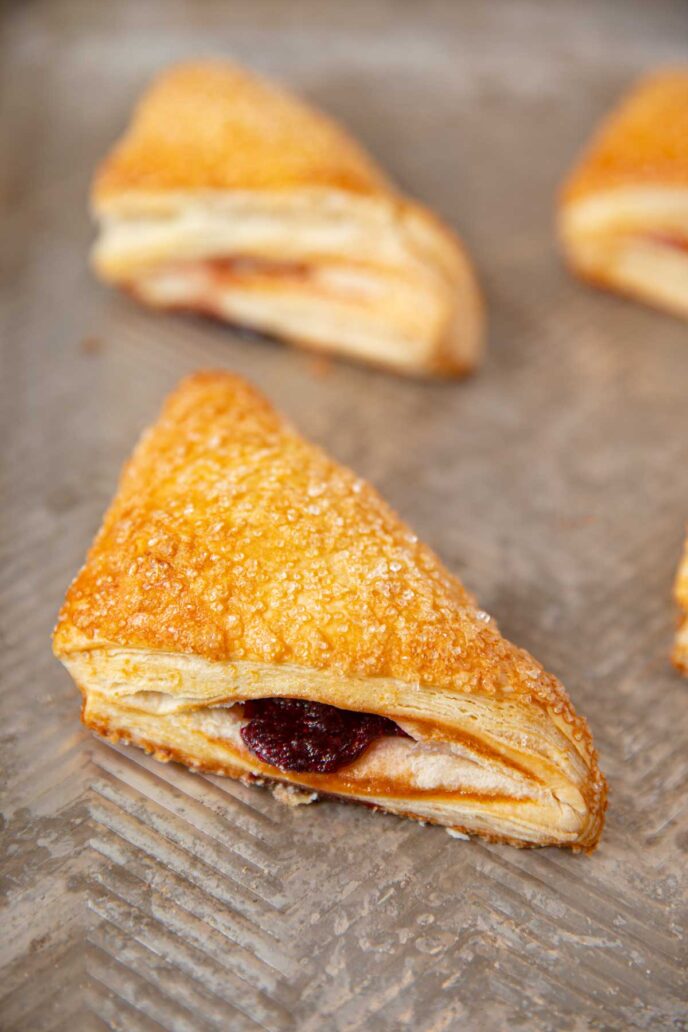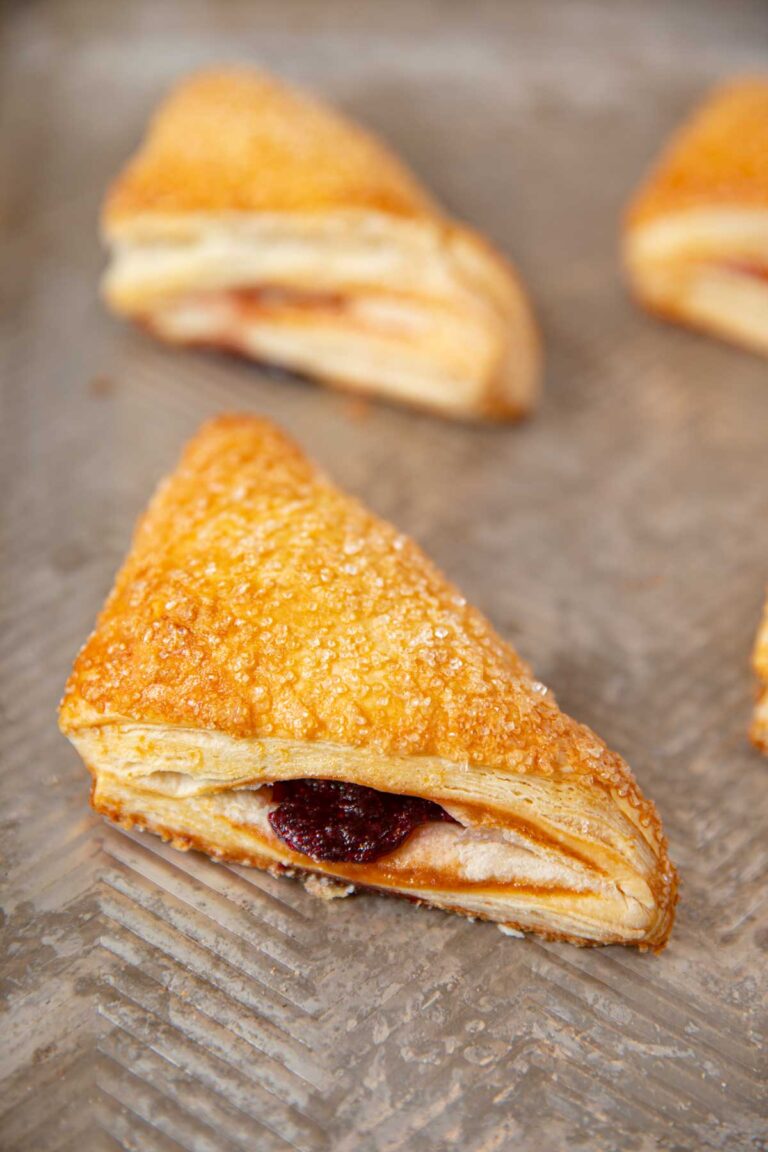 Ingredients
1

sheet

puff pastry

, thawed

2

cups

cherries

, pitted

1/2

cup

sugar

2

tablespoons

cornstarch

1/4

teaspoon

ground cinnamon
Instructions
Preheat oven to 375 degrees.

Combine the cherries and sugar in a saucepan and mash slightly, then stir in cornstarch.

Cook the cherries over medium heat for

2 minutes

or until thickened.

Remove the cherries from the heat and stir in the cinnamon.

Roll out the pastry dough and cut into 8 even squares.

Evenly distribute the cherry mixture in the center of each of the 8 pastry squares, then fold one corner of each square of dough over to the opposite corner.

Place the turnovers on a greased baking sheet.

Beat the egg yolk with water in a small cup.

Brush onto the top of the puff pastry and sprinkle with coarse sanding sugar.

Bake for

30-35 minutes

or until golden brown.
Nutrition
Calories:
292
kcal
|
Carbohydrates:
45
g
|
Protein:
3
g
|
Fat:
12
g
|
Saturated Fat:
3
g
|
Sodium:
77
mg
|
Potassium:
95
mg
|
Fiber:
1
g
|
Sugar:
23
g
|
Vitamin A:
22
IU
|
Vitamin C:
2
mg
|
Calcium:
8
mg
|
Iron:
1
mg