Dark Chocolate Orange Biscotti is the perfect easy crispy biscotti recipe made with real orange flavor and dipped in melted dark chocolate.
This chocolate-dipped, orange flavored twist on Classic Biscotti is the perfect treat for dunking in coffee at Breakfast, a sweet afternoon Snack, or Christmas Cookie for your holiday gift baskets.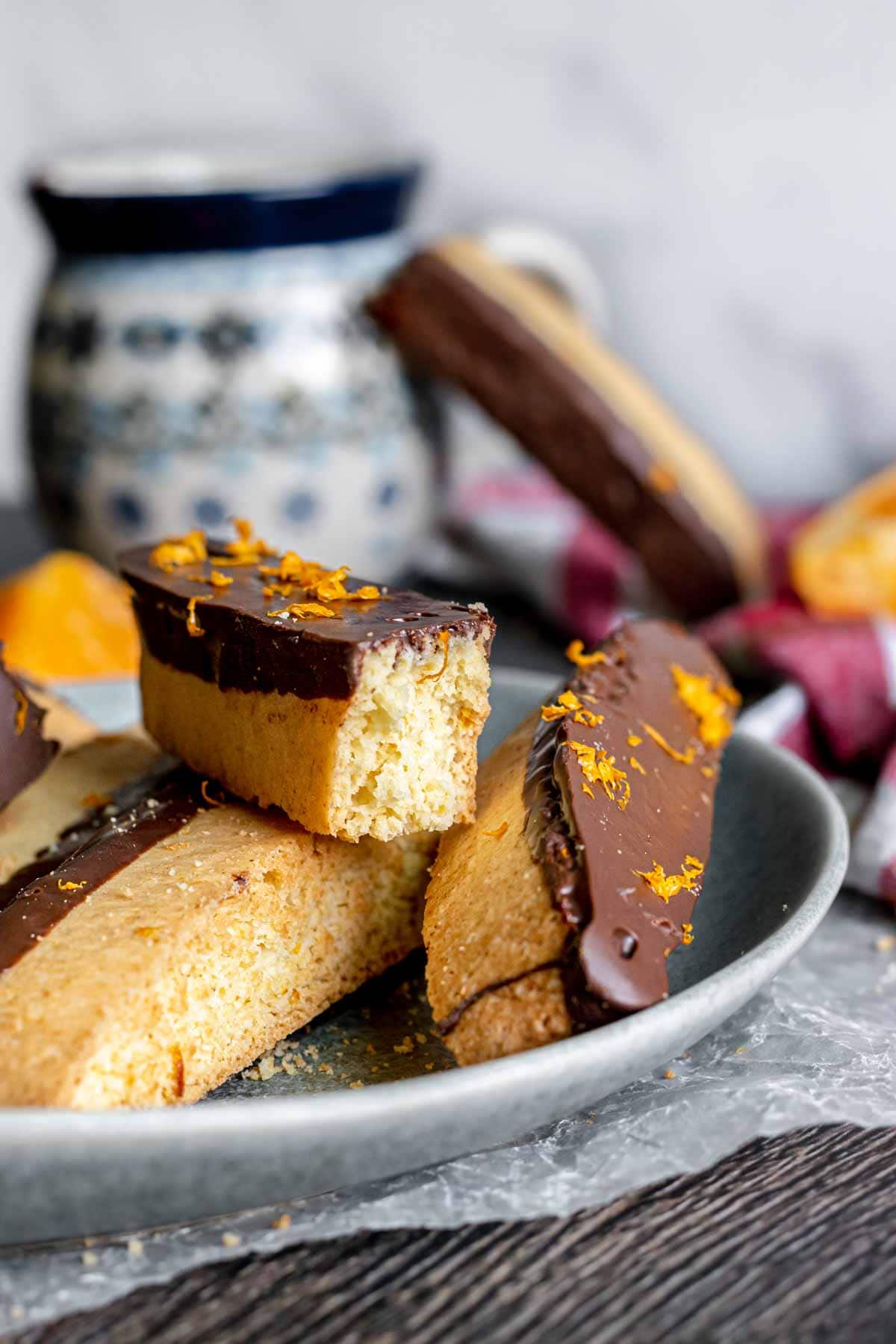 Biscotti is the classic Italian cookie recipe that was made for dipping! Instead of the chewy texture you'll find in most cookies, they have a crumbly, dry consistency that is perfect for soaking up dark coffee or Hot Chocolate. And best of all, because they aren't overly sweet, you won't feel guilty for having cookies for breakfast.
That's right! Even though Biscotti is technically a cookie, they have less sugar and less fat, so you don't have to feel at all guilty for enjoying them with your morning cup of coffee. Of course, this Chocolate Dipped Orange Biscotti recipe has a bit more sweetness than original versions. It's still far less sugary than a cookie though, just sweet enough to double as a dessert without being too indulgent for a sweet breakfast on the go.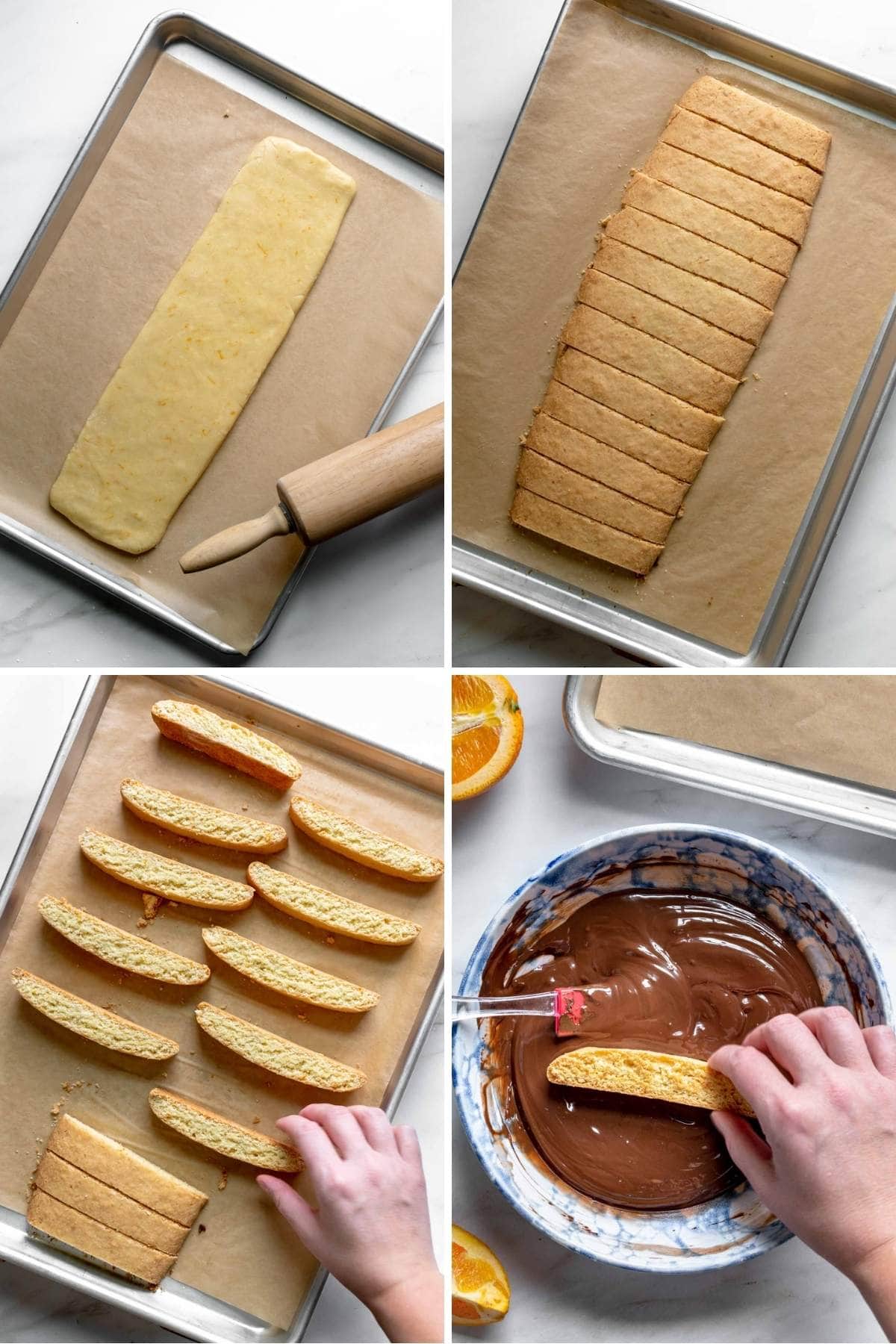 Biscotti are great for gifting during the holidays too! These chocolate-dipped crisp cookies are packed with delicious, irresistible holiday flavor combination of dark chocolate and orange. Plus they last a long time so you don't have to worry about them going stale before they get to your friends and family! Put together an orange chocolate themed basket with Chocolate Orange Truffles, Dark Chocolate Orange Fudge, and Orange Dark Chocolate Shortbread.
What is Biscotti?
Biscotti is an Italian cookie whose name comes from the Latin word "biscoctus," that translates to "twice-cooked", which is how you prepare them. They are made by baking in large flat dough logs until they are browned. Then they are sliced into long individual cookies that are flipped on their sides and baked a second time to make them crunchy and dry. As they cool, these long cookies get extra crisp and are perfect for soaking up strong coffee and espresso. While classic biscotti is not very sweet and only lightly flavored, it's popular to sweeten them up by coating them partially in chocolate, and adding fruity flavors to them.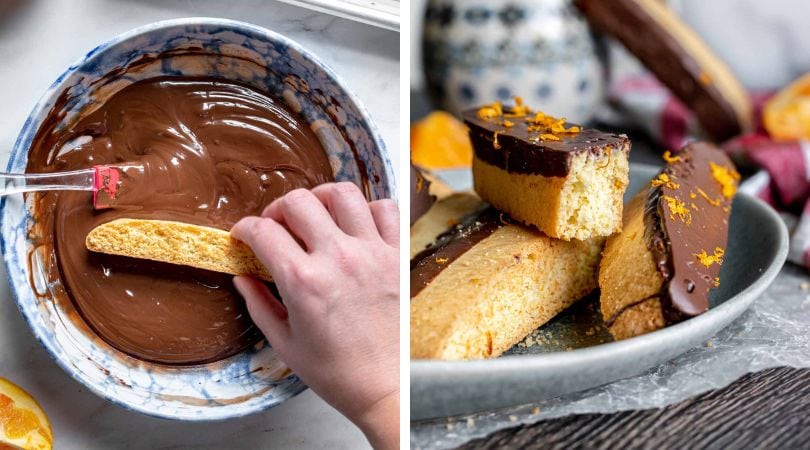 How to Make Dark Chocolate Orange Biscotti
Prep: Preheat the oven. Line your baking sheets with parchment paper or silpat mats. Do not skip the parchment paper, even if your pans are non-stick because you need a barrier between the hot pan and the dough to keep your cookies from burning during two bakes. Foil will get hot and is not a good substitute.
Dough: Add the oil, granulated sugar, eggs, and orange zest to a large mixing bowl. Whisk the wet ingredients until well combined. Add the all-purpose flour and baking powder to the bowl, then stir until the flour mixture is just combined.
Form: Use floured hands to divide the biscotti dough into two pieces. Roll each dough piece into logs that are almost as long as the baking sheet. Then place each one on a prepared baking sheet. Continue to roll the dough until it's about ½ inch thick and 4 inches wide. You may have to shorten the log to get it to the right thickness.
First Bake: Bake the dough logs in the preheated oven for 20-22 minutes or until light golden brown. Take the trays out of the oven and let the half baked dough cool a few minutes. Using a pizza cutter or sharp serrated knife, carefully cut each log into even 1/2-inch-thick-slices across the width (the shorter distance).
Second Bake: Flip slices so that the cookies are facing cut side up, and return to to the oven for 8-10 minutes. Take them out when the top is slightly golden brown. Allow to cool a few minutes then transfer to a wire rack to cool completely before dipping.
Melt Chocolate: Once the cookies are cooled completely, prepare the chocolate. In a medium microwave safe bowl, melt the chocolate chips in 30-second increments in the microwave, stirring each time until smooth.
Dip: Lay out a new sheet of parchment paper next to your bowl of melted chocolate. Holding a cookie with a cut side down, so is is flat, dip straight down into the melted chocolate about ¼ inch deep. Pull straight up and let any excess chocolate drip off. Place the cookie chocolate side down on parchment paper for 20 minutes to set. Make sure the chocolate has hardened completely before serving or storing.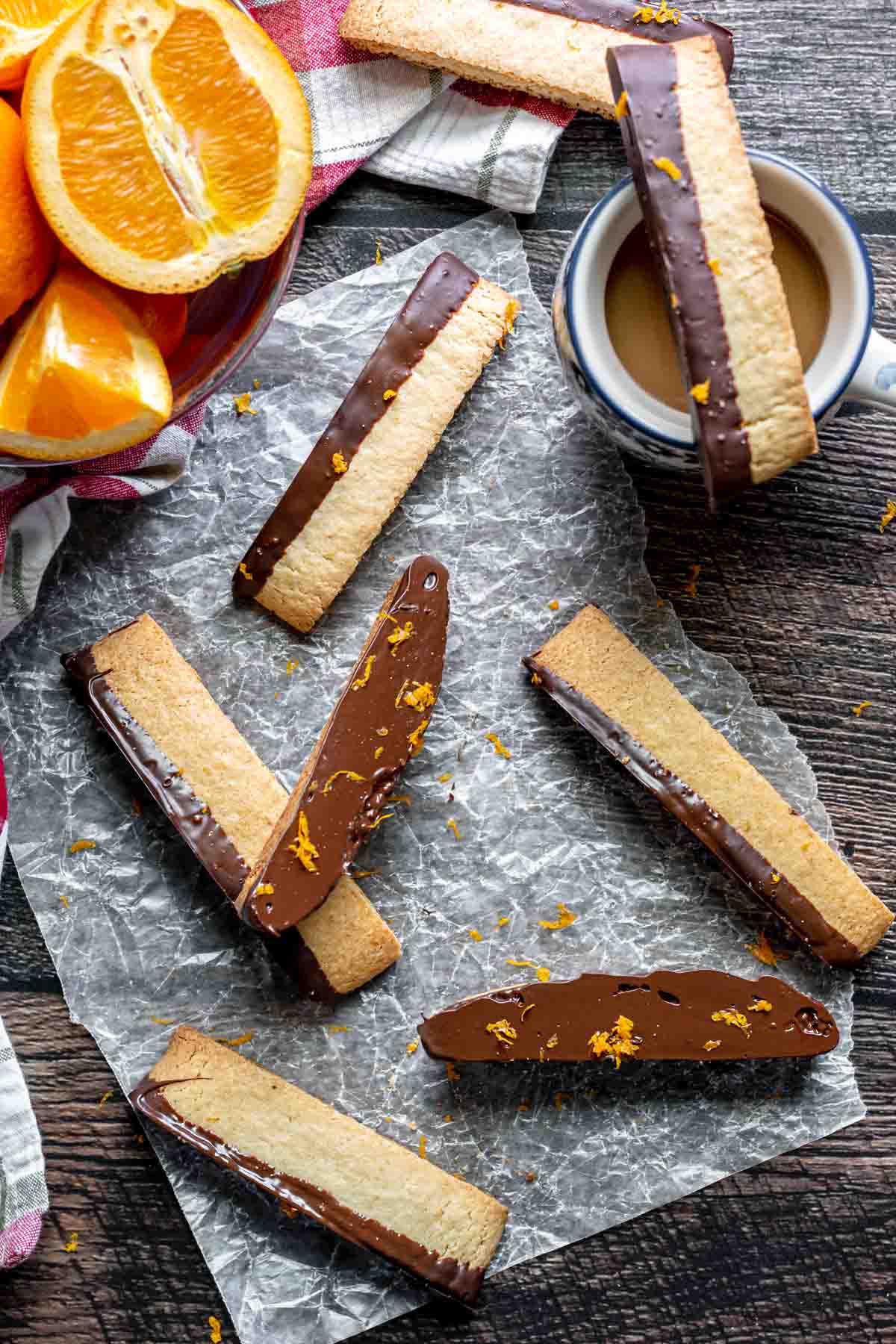 More Classic Coffee Shop Treats
FAQs for Dark Chocolate Orange Biscotti
Should Biscotti have oil?
Making biscotti with a bit of oil gives them more of a melt-in-your-mouth consistency without losing their crispness. We've used vegetable oil in this recipe, but you can also make a biscotti cookie recipe with unsalted butter or olive oil.
How to prevent biscotti from burning on the bottom?
To keep your Biscotti Cookies from burning, you don't want to bake them directly on the baking sheet, even if it's nonstick. Instead line your baking sheet with parchment paper to act as a barrier between the hot pan and the cookies.
How to make perfectly crunchy Biscotti?
The key to making perfectly crisp Orange Biscotti is to bake the crumbly dough twice. The first time, bake the dough while it's still formed into logs. Then take them out, and use a sharp knife to slice them diagonally before returning them to the oven. The two baking times give the cookies their crisp, crunchy texture.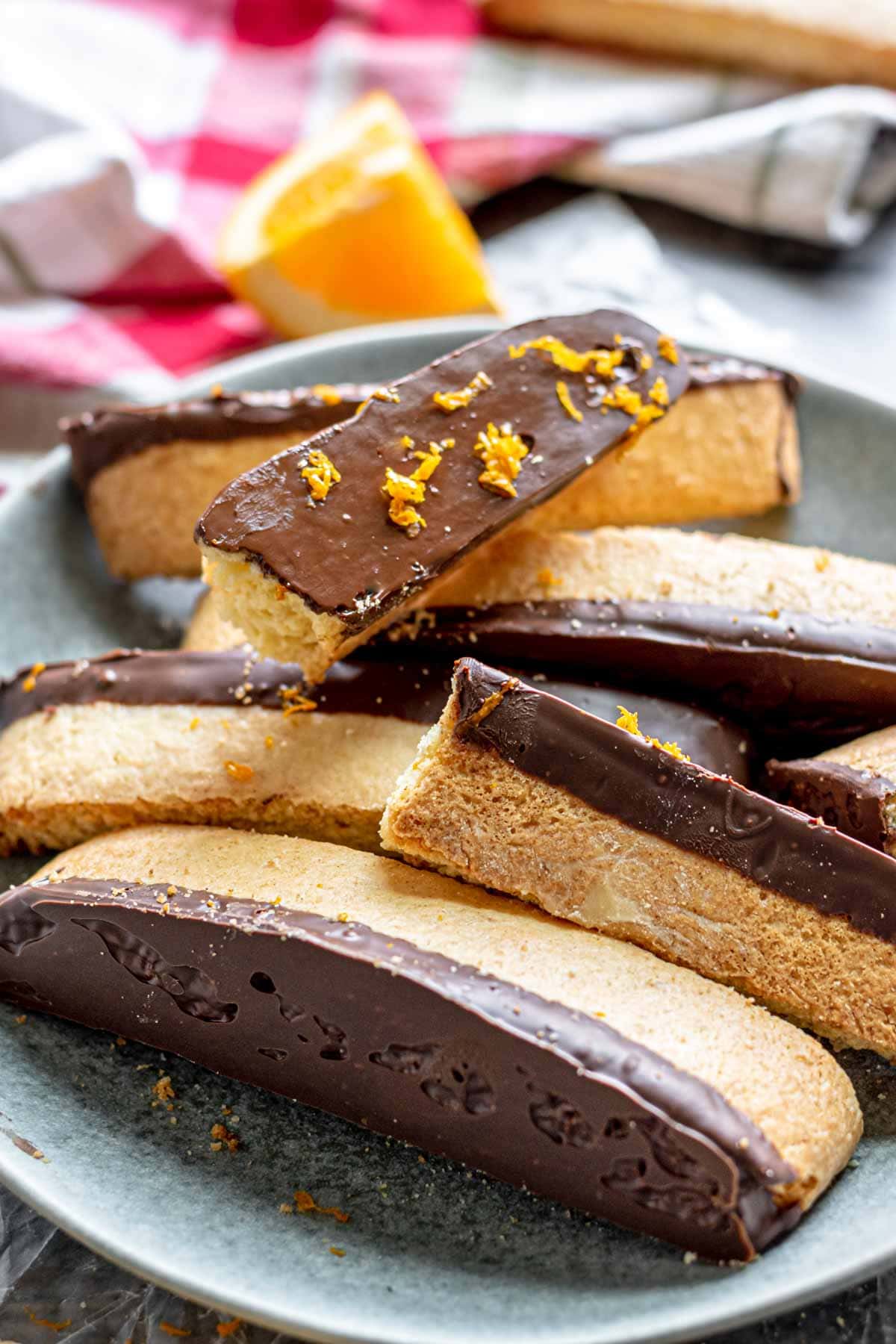 Create a free account to Save Recipes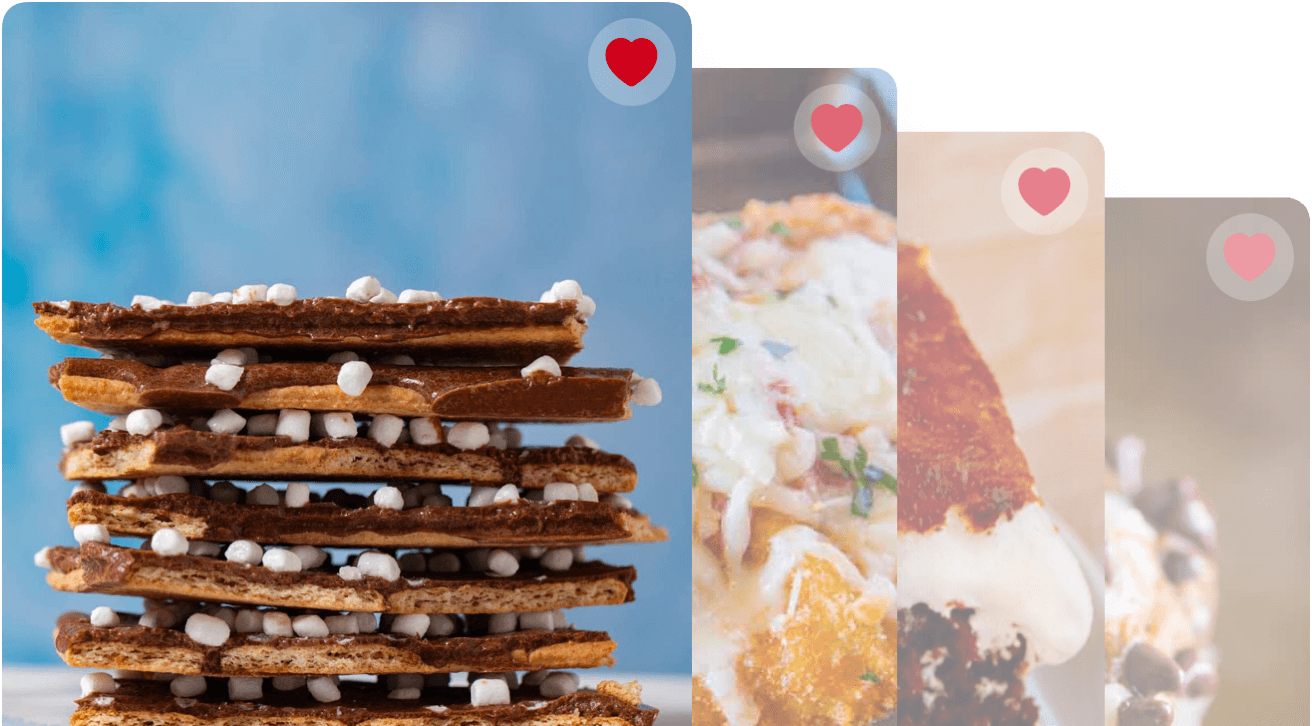 Key Ingredients
Dough: Biscotti start with simple basic dough recipe made with vegetable oil, white sugar, eggs, flour, and baking powder. Once combined, the dough is going to be slightly sticky, so keep a little more flour for your hands and your work surface to make shaping it easy.
Oil: While traditional biscotti were made without oil or butter, most modern recipes will include it. was made without oil. This recipe uses vegetable oil because it adds a little flavor but doesn't make them too moist.
Orange: For the delicious, bright citrus flavor, you use 1 tablespoon of fresh orange zest. Normally with orange baked goods you would also add orange juice but these cookies are meant to be crispy so you don't want to add any extra liquid.
Chocolate: For the chocolate coating, you can use dark chocolate chips or melting disks. The dark, slightly bitter chocolate taste is a classic pairing for fresh orange flavor and it adds just the right amount of sweetness to these cookies.
Variations
Mocha: To add some coffee flavor to the biscotti cookies, you can mix 2 tablespoons of espresso powder into the biscotti dough. The coffee flavor would also taste excellent with a teaspoon of vanilla or almond extract. Grind up chocolate covered espresso beans then sprinkle over the chocolate before it sets.
Gluten-free: If you're baking for anyone with gluten intolerance, you'll need to use a substitute for the all-purpose flour. Almond flour, coconut flour, or a gluten-free flour blend will work with these cookies without any adjustments.
Chocolate: Make these even more chocolatey by adding ½ cup mini chocolate chips to the dough. You want to use mini chocolate chips so they distribute better and don't overwhelm the thinner cookies.
Mix-ins: There are plenty of mix-ins that would go great with the dark chocolate and orange flavor like cranberries, pistachios, or chopped almonds. You can also swap the orange zest with lemon zest for a more tart citrus flavor.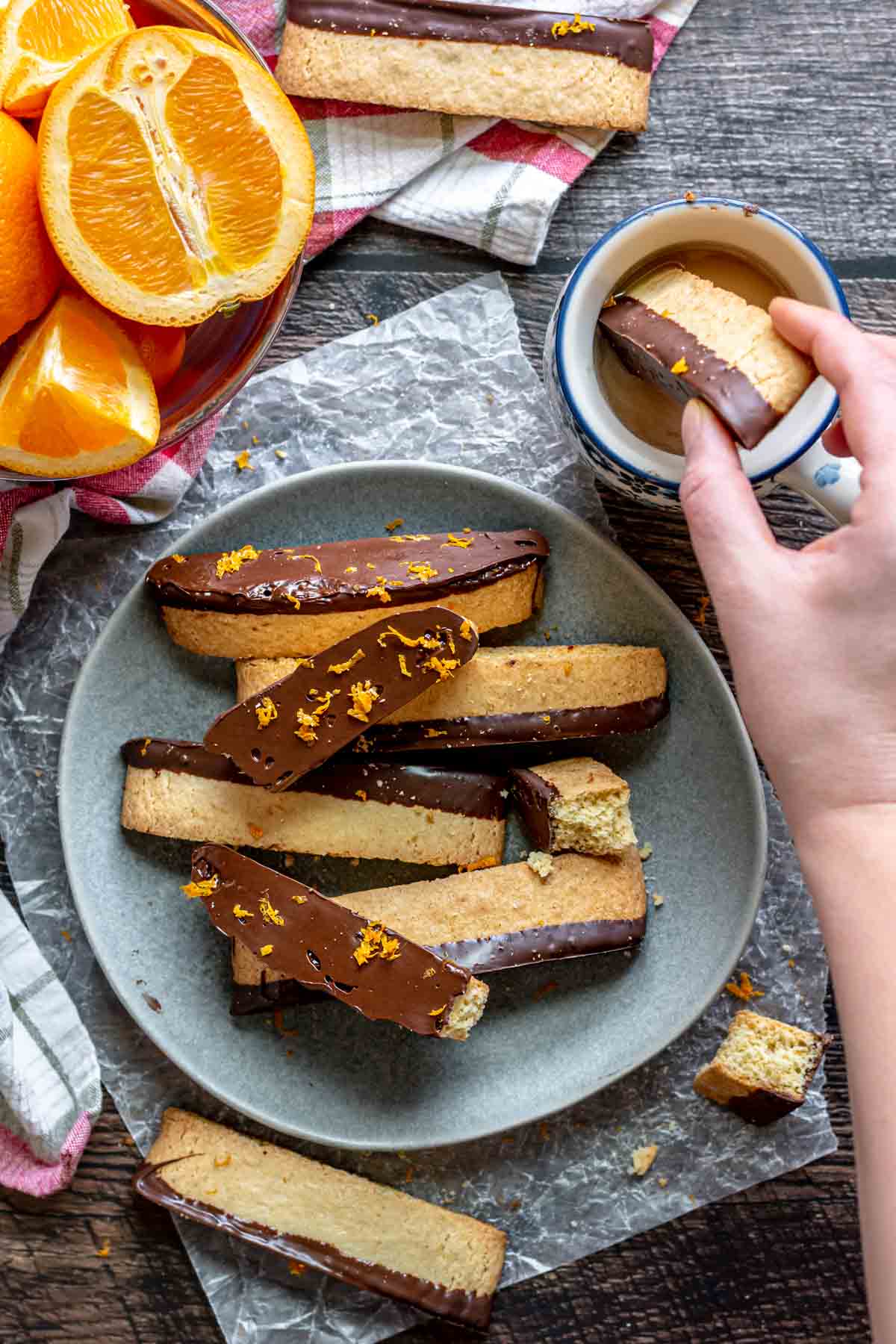 More Tasty Chocolate Orange Treats
How to Store
Serve: You want to make sure the cookies are cooled completely before dipping in the chocolate or it won't set properly. Also, allow chocolate to set and harden before storing and serving.
Store: You can keep the biscotti at room temperature for up to 1 month. Just transfer the cookies to an airtight container to keep them fresh.
Freeze: To freeze the biscotti, lay them in a single layer on a parchment-lined baking sheet. Place them in the freezer for about an hour. Once they've hardened, you can transfer the Italian biscuits to a freezer bag or another airtight container to keep frozen for up to 3 months.


Ingredients
1/2

cup

vegetable oil

1

cup

white sugar

3

large

eggs

1

tablespoon

orange zest

3 1/4

cups

flour

1

tablespoon

baking powder

10

ounces

dark chocolate chips
Instructions
Preheat oven to 375 degrees and line two baking sheets with parchment paper

In a large mixing bowl whisk together oil, sugar, eggs, and orange zest.

Add in the flour and baking powder, whisking until just combined.

Divide the dough into two pieces and roll into logs almost as long as the baking sheets.

Place the dough on the baking sheets and roll to about ½ inch thick, about 4 inches across.

Bake for

20-22 minutes

or until golden brown.

Using a pizza cutter, cut the log into 1/2" slices.

Turn the cookies to show the cut side up and bake it an additional

8-10 minutes

until the tops are slightly golden brown.

When cookies have cooled, melt the chocolate chips in a medium microwave-safe bowl.

Cook in

30-second

increments, stirring in between each until smooth.

Dip the cookies, cut side down about ¼ inch deep, and let chocolate drip off, scraping some of the chocolate off the bottom against the bowl if necessary (if the chocolate is too thick, this is an easy way to thin out the layer).

Place dipped side down on the parchment paper.

Let dry for

20 minutes

before storing.
Notes
Note: If you need the log to be shorter to make it still 4 inches wide and ½ tall, then shorten the log.
Nutrition
Calories:
207
kcal
|
Carbohydrates:
28
g
|
Protein:
4
g
|
Fat:
9
g
|
Saturated Fat:
4
g
|
Polyunsaturated Fat:
3
g
|
Monounsaturated Fat:
1
g
|
Trans Fat:
1
g
|
Cholesterol:
23
mg
|
Sodium:
22
mg
|
Potassium:
153
mg
|
Fiber:
1
g
|
Sugar:
12
g
|
Vitamin A:
36
IU
|
Vitamin C:
1
mg
|
Calcium:
64
mg
|
Iron:
1
mg