Dark Chocolate Orange Blondies are an easy, gooey flavorful brown sugar brownies recipe made with orange zest and dark chocolate chunks!
From classic Chocolate Brownies to these special holiday flavored blondies, Blondies and Brownies are a delicious and easy dessert that you can whip up in minutes.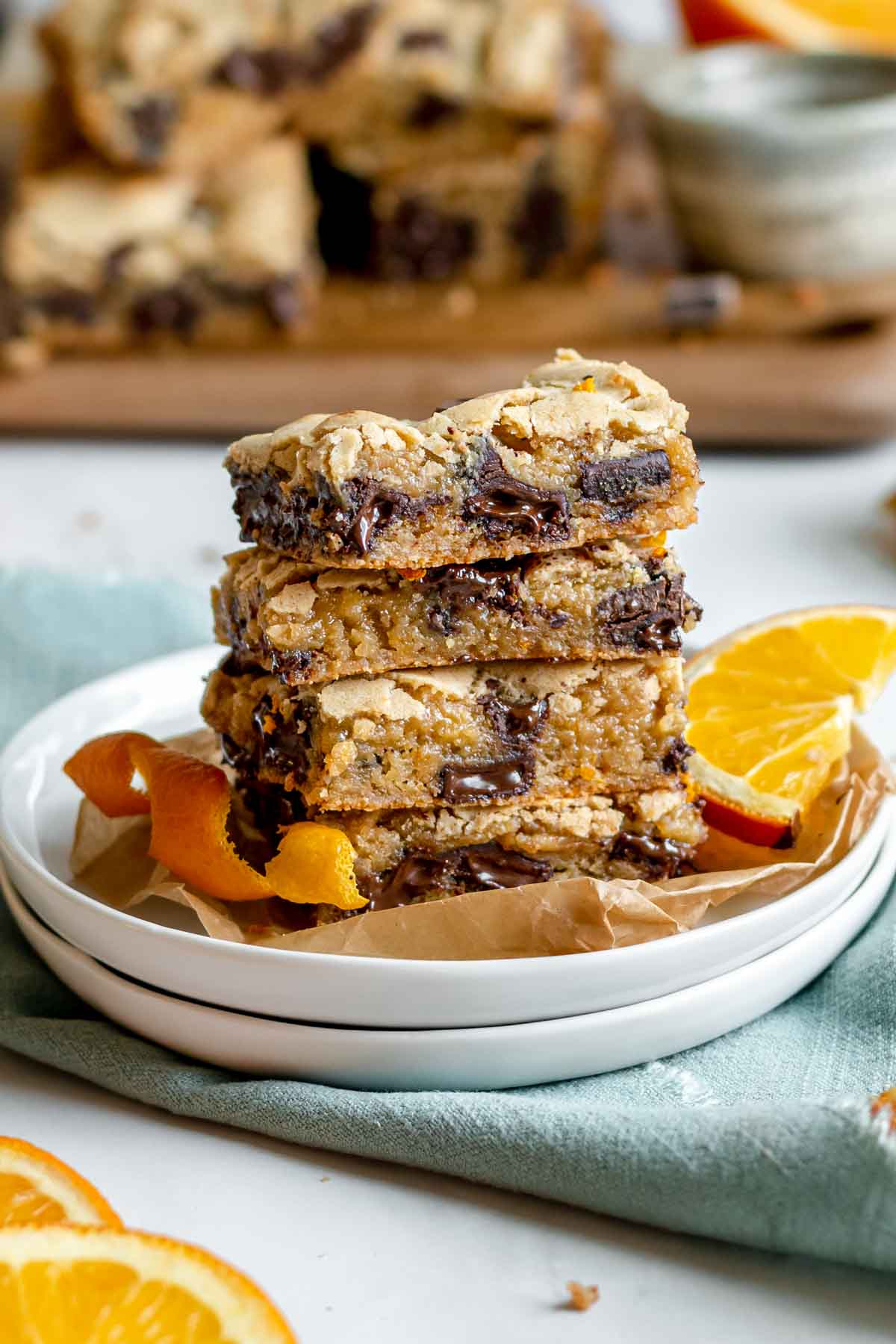 There is something about the dark chocolate and orange combination that just seem like fancy and decadent classic holiday baking flavors. These brown sugar brownies have just the right amount of sweet chocolate flavor so that the bright citrus of fresh orange zest stands out. Made with simple, common pantry ingredients, enjoy these blondies whenever you are craving a bit of holiday flavor all year round.
Dark Chocolate Orange Blondies are light, golden brownies filled with dark chocolate chunks and zesty orange flavor. Unlike regular brownies, there is no cocoa powder in these bars, similar to Chocolate Chip Cookies, plus orange zest and big pieces of dark chocolate mixed in. They have all the chewiness of a brownie with melt-in-your-mouth brown sugar goodness. If you really want a break from chocolate, you could easily swap the dark chocolate chunks with vanilla baking chips or almond bark pieces.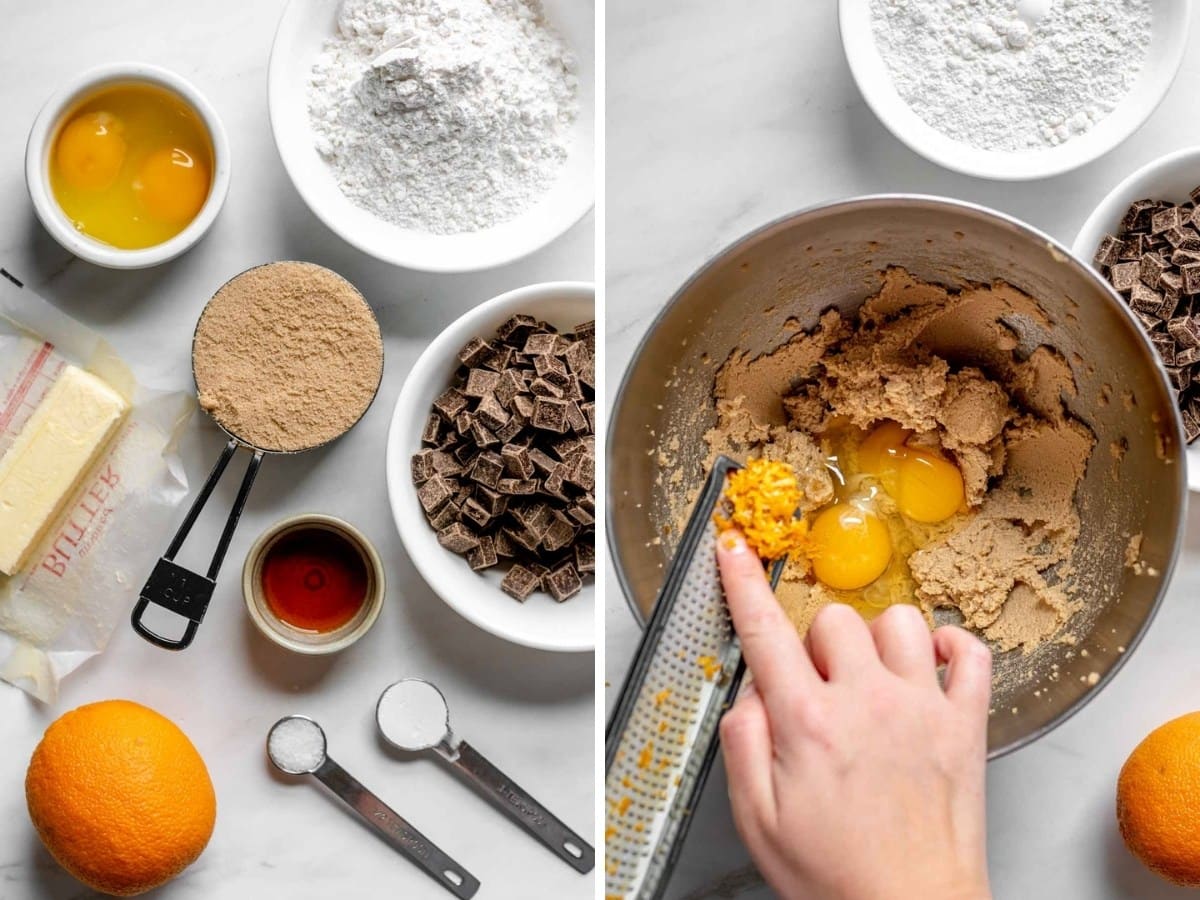 The orange flavoring in this Dark Chocolate Orange Blondies recipe comes from freshly grated orange zest. While you could substitute orange extract or orange juice, these are just so much better with fresh, real orange flavor! For even more bold orange taste, do a mixture of orange zest and juice, adding up to 1 tablespoon of fresh orange juice. You could also use less orange if you only want a hint of citrus.
These Dark Chocolate Orange Blondies would make a delicious sundae topped with Vanilla Ice Cream, a drizzle of Salted Caramel Sauce, and candied orange peel or chocolate-covered orange segments. Balance out the sweetness by sprinkling a bit of flaky sea salt (the large chunks of salt) over fresh baked Dark Chocolate Orange Blondies. Make an extra batch of these delicious seasonal Blondies as a gift for friends and loved ones during the holidays!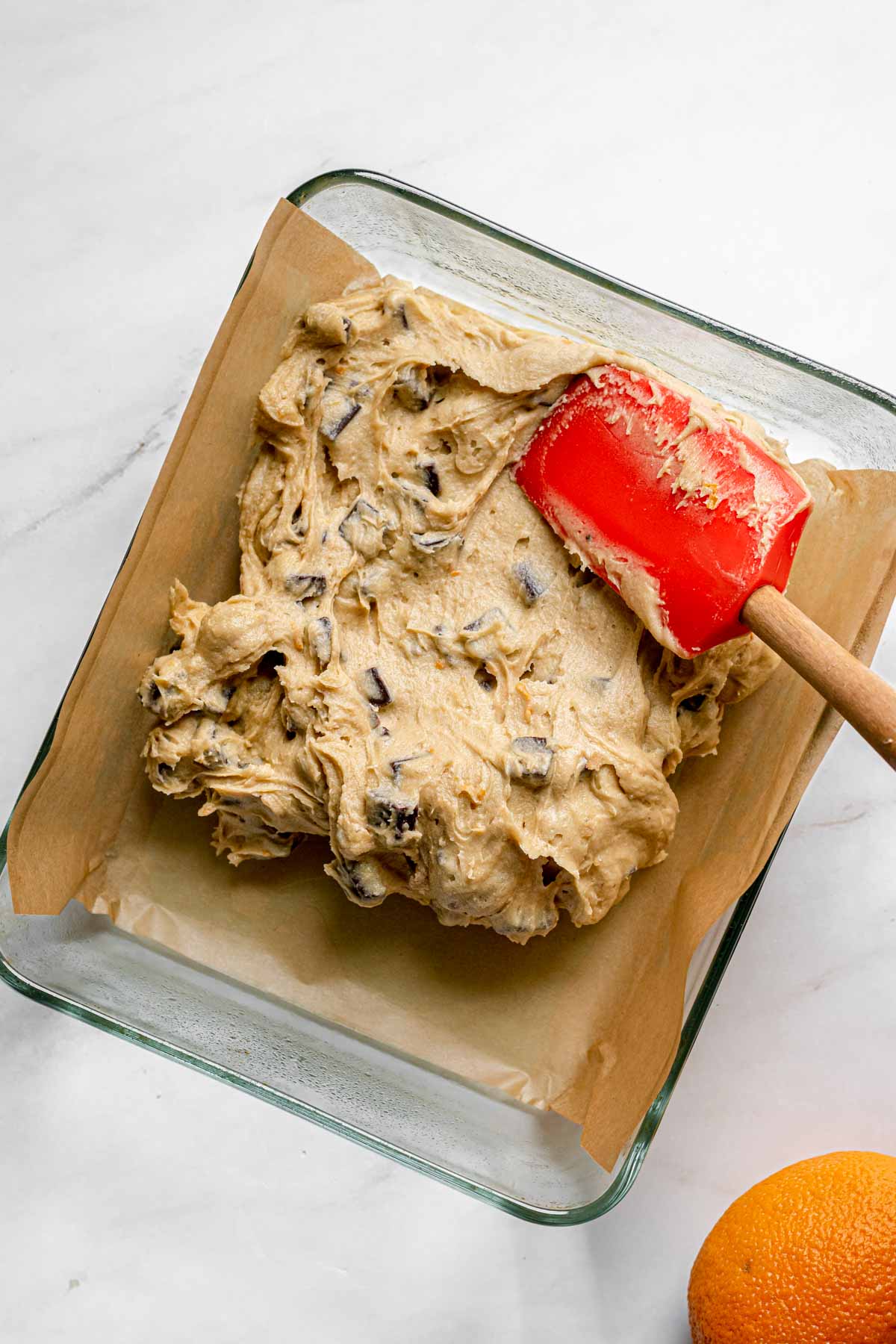 What is the difference between blondies and brownies?
The main difference between blondies and brownies comes down to chocolate. Brownies are made with melted chocolate or cocoa powder in the batter. Blondies don't have chocolate in the mixture and are also known as Brown Sugar Blondies. Also, brownies are often made with white sugar instead of brown and a bit less baking powder so they are denser.
How to Make Dark Chocolate Orange Blondies
Prep: Preheat the oven and grease the pan with baking spray. If you don't have baking spray you can use regular cooking spray and lightly dust the pan with flour.
Batter: Cream the butter and sugar until fluffy. Add the eggs, orange, and vanilla and mix until creamy. Finally mix in the dry ingredients until combined with no dry streaks. Fold in the chocolate chunks.
Bake: Pour the batter into the prepared pan and bake until golden brown and pulling away from the edges of the pan slightly. Let them cool in the pan on a wire rack before slicing and serving.
More Delicious Blondies Recipes
FAQs for Dark Chocolate Orange Blondies
Should blondies be gooey in the middle?
If you like gooey baked goods, these are the treats for you because blondies are meant to be fudgy in the middle and chewy around the edges. The molasses in the brown sugar and the two eggs make a super soft center and if you want them extra ooey-gooey, try them with an extra egg yolk added.
Are blondies and cookies the same thing?
Blondies are halfway between a cookie and a cake, technically they are called cookie bars, with the best of both in one bite. They have a similar flavor to the cookie part of a chocolate chip cookie but much softer, and they are cut in squares like a cake but much firmer so you can eat them with your hands.
Why are my blondies cakey or crumbly?
If your brownies are cakey and crumbly instead of soft and gooey, you probably baked them too long, you have too much flour, or they are not mixed properly. You don't want to stir them too much, just until the dry spots are gone. Measure your flour by spooning it into your measuring cup before leveling versus scooping it so it's not packed and you get the right amount. Finally, start checking the blondies around the 25 minute mark in case your oven runs hotter.
How do you know when blondies are done baking?
Like brownies, it can be hard to tell when blondies are done baking because they only slightly change color and they are meant to have a fudgy center that looks underbaked. Blondies are done when the edges look dry, golden brown, and start to pull away from the pan.

Create a free account to

Save Recipes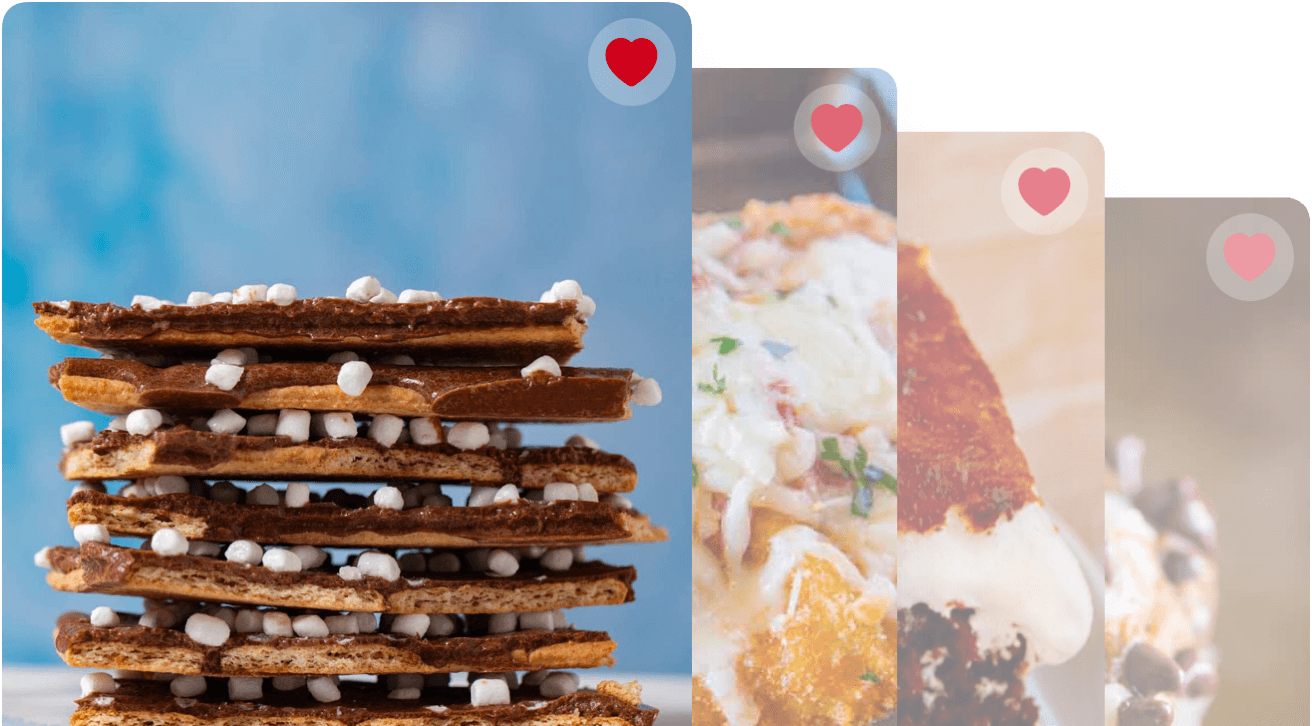 Key Ingredients
Brown Sugar: Brown sugar is white sugar before the natural molasses is removed and the amount of molasses is the difference between dark and light brown sugar. Molasses adds moisture and a slight caramel taste to these blondies.
Eggs: The eggs add moisture and they also hold all the ingredients together to give these bars structure. If you want to make them extra gooey and fudgy, you can add one extra egg yolk, but do not add the egg whites.
Orange Zest: The fresh orange zest adds a big punch of flavor without having to add too much. One large orange should yield 2 tablespoons of orange zest and you can freeze the leftover zest to add to recipes later!:
Dark Chocolate Chunks: Dark chocolate chunks are perfect for these thick fudgy bars. They melt easier than chocolate chips so there are molten pools of chocolaty goodness throughout every bite.
Baking Powder: The baking powder helps the blondies to rise so they are slightly less dense than brownies but still fudgy and gooey. It also adds to the melt-in-your-mouth texture that isn't quite as light as cake not as chewy as cookies.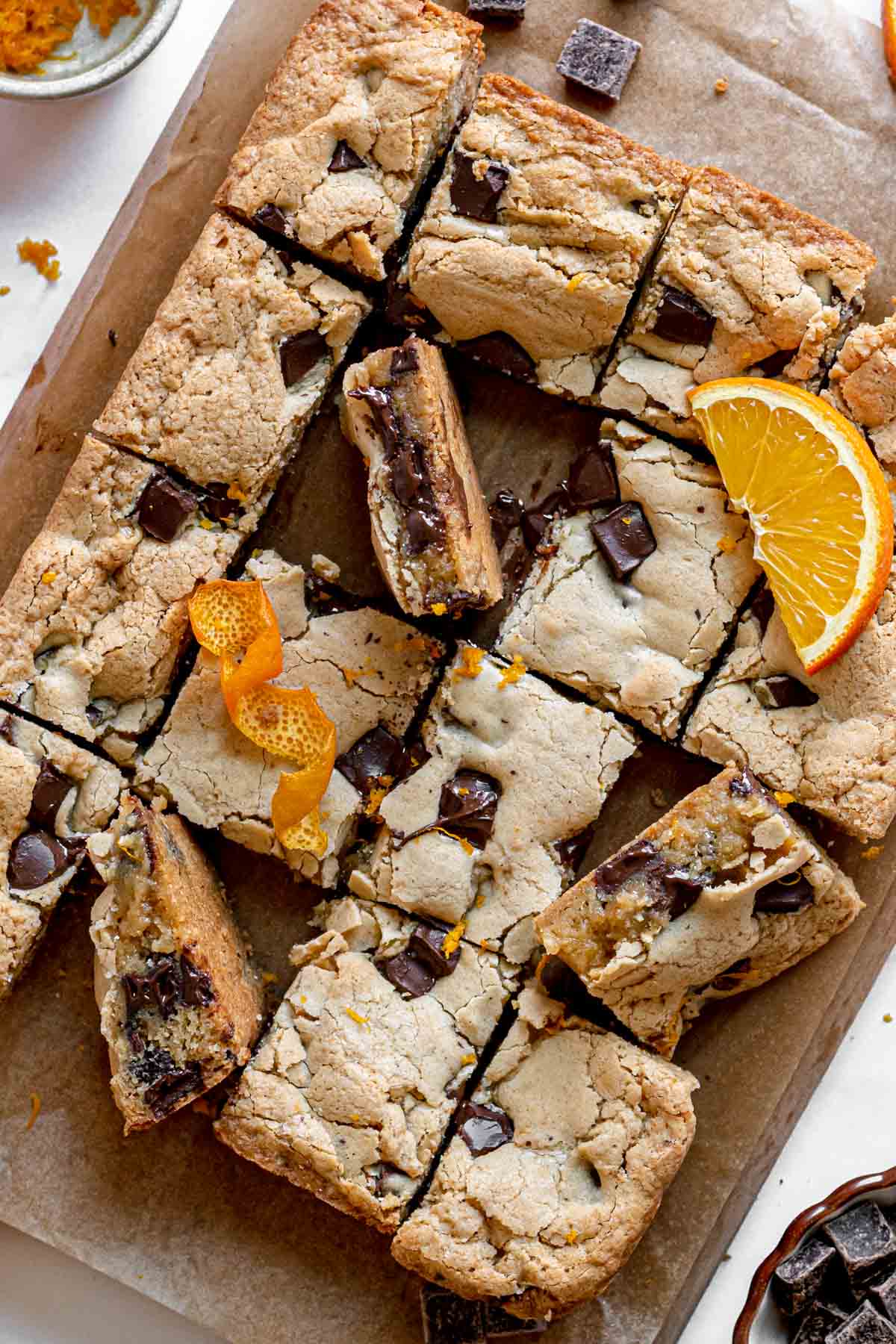 Variations 
Cranberry: Add ½ cup dried cranberries or fresh cranberries to make Dark Chocolate Cranberry Orange Blondies. Dried cranberries will be chewier and more tart, while fresh cranberries will be bursts of juicy, sweet flavor. You could also leave the chocolate pieces out and keep them sweet, tart, and fruity!
White Chocolate: White chocolate goes great with orange so make White Chocolate Orange Blondies instead. Swap the dark chocolate chunks with white chocolate chips, chopped-up cookies & cream candy bars, or vanilla almond bark. Top with a melted white chocolate drizzle.
Nuts: You can add up to ½ cup nuts like pecans or walnuts to your blondie batter before baking. Or get fancy by adding macadamia nuts, hazelnuts, or pistachios to these Dark Chocolate Orange Blondies.
Chocolate: If you want more chocolate flavor, you can replace ¼ cup all-purpose flour with ¼ cup unsweetened cocoa powder. If you don't have dark chocolate chunks, use dark chocolate chips, milk chocolate chips, or semi-sweet chocolate chips instead, and top with a melted chocolate drizzle.
Citrus: Use other citrus like lime zest or lemon zest to these blondies instead of the orange zest. If you use lime zest, that would taste even better with white chocolate chips! You can also add lemon juice or lime juice along with the zest.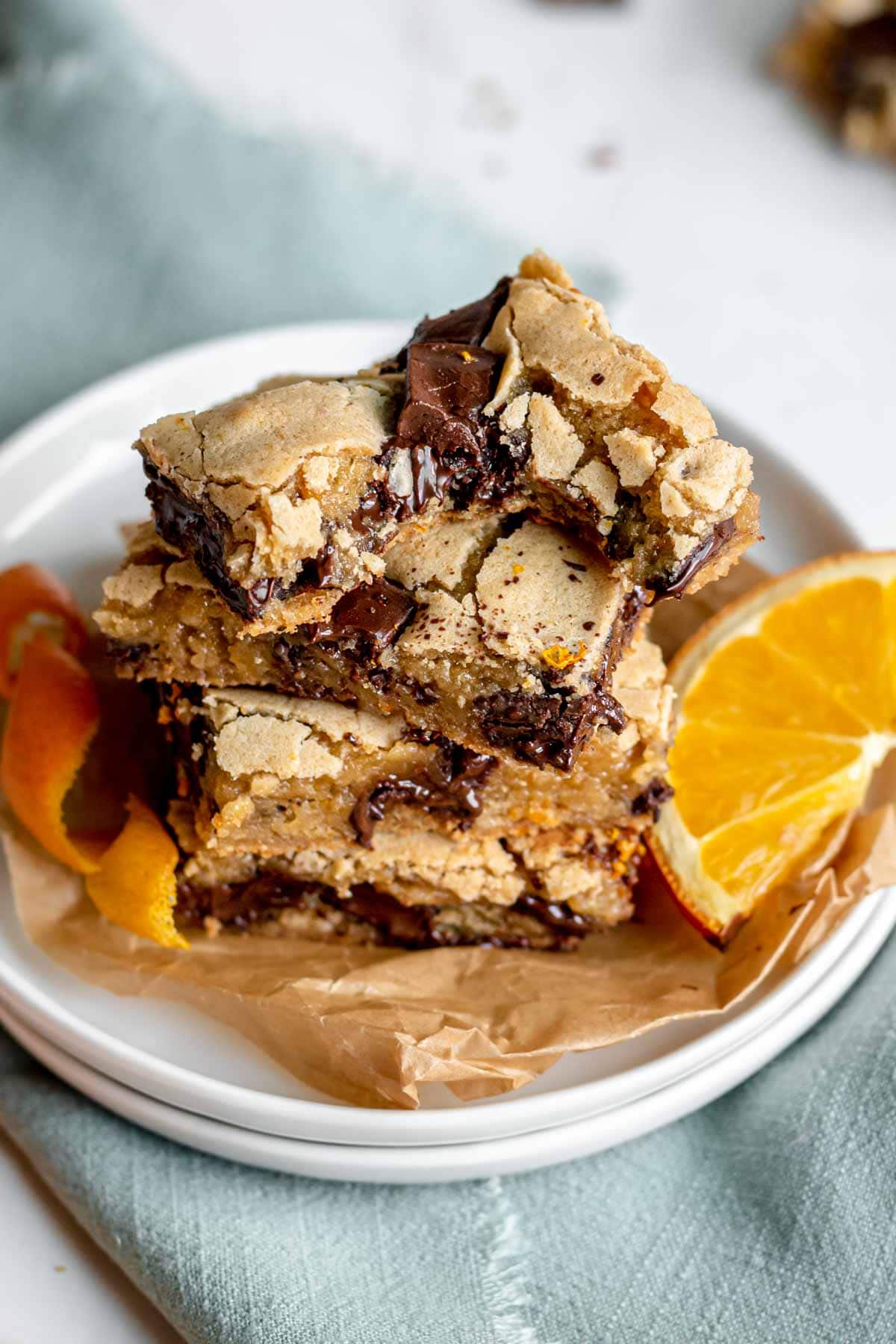 How to Store
Serve: You can keep Dark Chocolate Orange Blondies at room temperature for up to 1 week, covered with plastic wrap or in an sealed container.
Store: Once cooled completely, cover Dark Chocolate Orange Blondies with plastic wrap and store in the refrigerator for up to 2 weeks. For best taste, let your blondies come to room temperature before serving again.
Freeze: Cool Dark Chocolate Orange Blondies before freezing to prevent moisture build-up. Cut blondies and wrap them individually in plastic wrap and store in a sealed bag for up to 3 months. Thaw overnight in the refrigerator before bringing to room temperature to serve.


Ingredients
6

tablespoons

butter

, softened

1

cup

brown sugar

, packed

2

large eggs

1

tablespoon

orange zest

1

teaspoon

vanilla extract

1 1/4

cups

flour

1

teaspoon

baking powder

1/2

teaspoon

salt

1 1/2

cups

dark chocolate chunks
Instructions
Preheat oven to 350 degrees and spray an 8×10 baking dish with baking spray.

To your stand mixer, add the butter and brown sugar and cream on medium speed until fluffy, about

1 minute

.

Add in eggs, orange zest, and vanilla extract until creamy.

Add flour, baking powder, and salt until just combined.

Stir in dark chocolate chunks.

Pour into baking dish and spread evenly.

Cool completely before slicing.
Nutrition
Calories:
233
kcal
|
Carbohydrates:
29
g
|
Protein:
3
g
|
Fat:
12
g
|
Saturated Fat:
7
g
|
Polyunsaturated Fat:
1
g
|
Monounsaturated Fat:
3
g
|
Trans Fat:
1
g
|
Cholesterol:
32
mg
|
Sodium:
122
mg
|
Potassium:
181
mg
|
Fiber:
2
g
|
Sugar:
17
g
|
Vitamin A:
169
IU
|
Vitamin C:
1
mg
|
Calcium:
41
mg
|
Iron:
3
mg