Cheesecake Stuffed Chocolate Chip Cookies are the ultimate indulgent twist on classic buttery cookies with melty chocolate and creamy filling.
This dreamy Cookie Recipe is such a fun twist on a Classic Chocolate Chip Cookie. Along with the chocolate morsels and buttery cookies, you also get amazing, rich, sweet, and tangy cream cheese filling. It's the most incredible dessert mashup ever.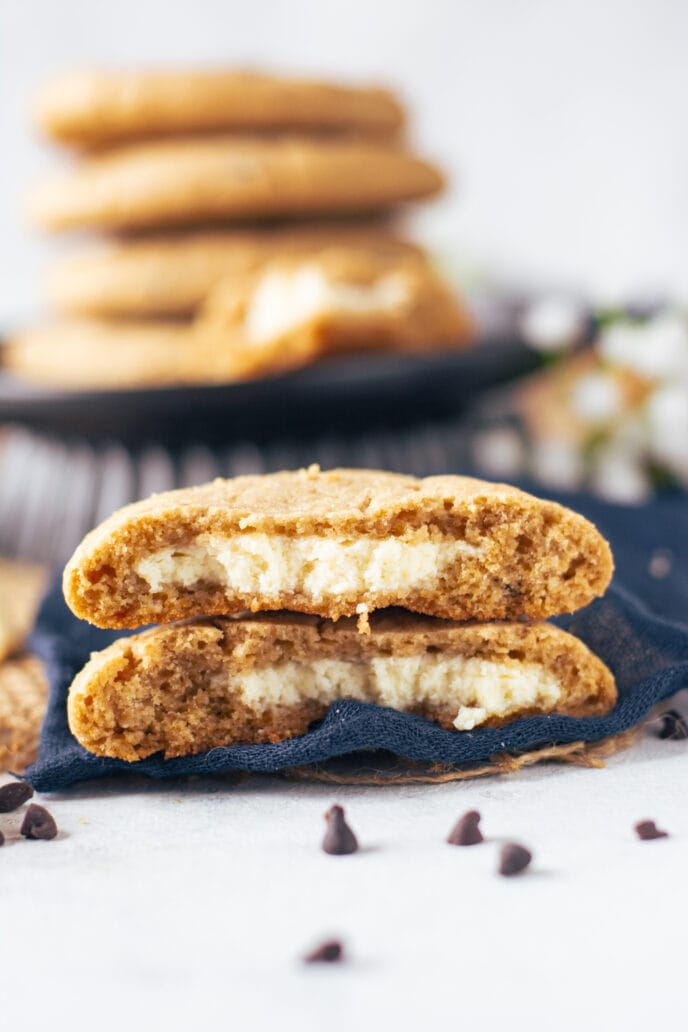 We've already made Cream Cheese Chocolate Chip Cookies, which make moist cookies with some of the tangy flavor you find in cheesecakes. However, this recipe takes the cheesecake-cookie hybrid to a whole new level by adding a sweet cream cheese middle. The cheesecake center is velvety soft, rich, sweet, and the perfect complement to the classic cookies.
This recipe makes fewer cookies than most since you only end up with 12 finished Cheesecake Stuffed Chocolate Chip Cookies. However, the rich cheesecake center also makes them a lot more filling. So, unless you're serving a huge group, you should still have plenty to go around. However, if you are serving a crowd you can always double up the recipe.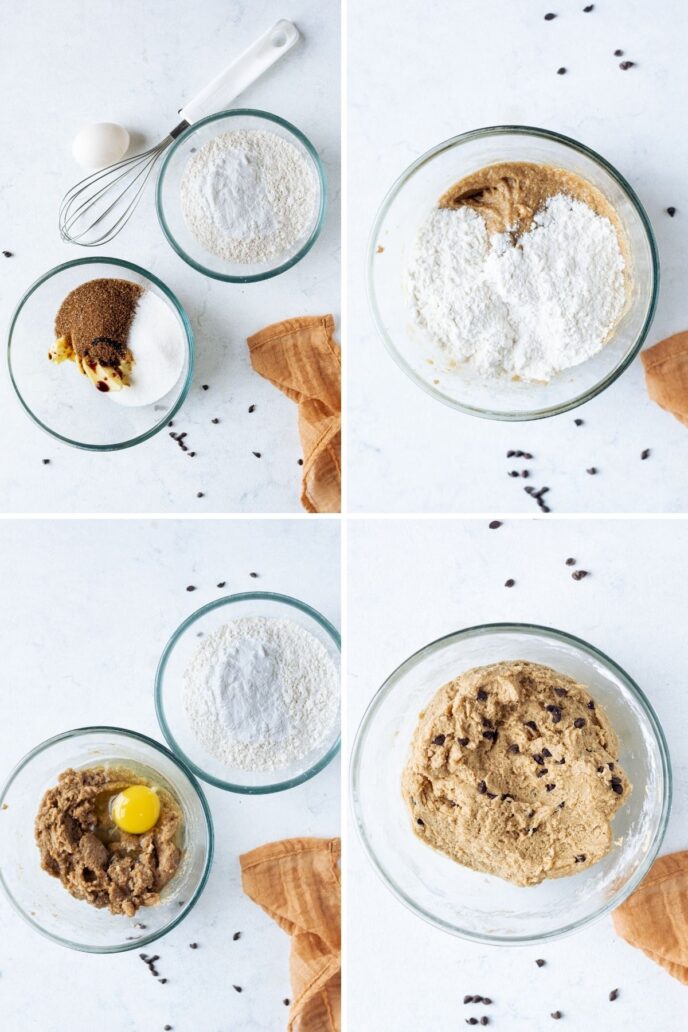 Making a double batch is also an excellent option if you want to freeze some cookies for later. Instead of baking both batches, you can form them all with the cheesecake middle. Then bake half and freeze the rest of the dough for later. To easily freeze the dough, let it harden in the freezer for a few hours on a baking sheet. Then you can transfer the dough balls to a freezer bag to continue storing for months.
MORE CHOCOLATE CHIP COOKIE RECIPES
KEY INGREDIENTS
Cream cheese: To get the perfect flavor and consistency, make sure you use full-fat cream cheese. Then all you have to do is whisk it with powdered sugar and vanilla extract to make an amazingly quick cheesecake batter for the filling.
Sweeteners: For the chocolate chip cookie dough, this recipe calls for a combination of white and brown sugar. White sugar makes for crispier cookies, while brown sugar makes soft, moist cookies. Using half of both gives you cookies that are the perfect chewy consistency.
Cornstarch: One of the key differences in this cookie dough and standard chocolate chip cookie recipes is that it calls for cornstarch. Don't skip the cornstarch! It helps the cookies stay firm and not spread while baking. Otherwise, the filling can ooze out of the Cheesecake Stuffed Chocolate Chip Cookies while they bake.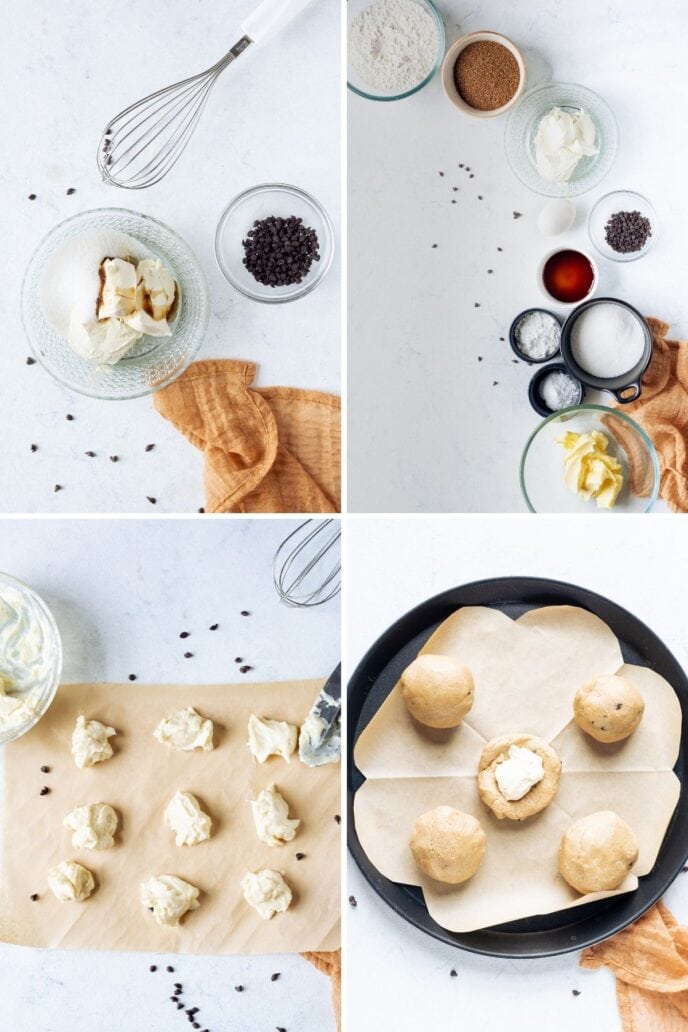 BAKING TIPS
Cheesecake stuffing: Start the recipe, by making the cream cheese mixture. Add softened cream cheese and powdered sugar to a large bowl and whisk until smooth. Then stir in the vanilla extract. Scoop the cream cheese mixture into tablespoon-sized balls. It should make 12 balls. Freeze them while you make the delicious cookie dough. Ideally, you want to freeze the cream cheese filling for 30 minutes.
Cookie dough: Add the butter, brown sugar, and granulated sugar to your stand mixer. Beat with the paddle attachment at medium-high speed until light and fluffy, about 2 minutes. Then add the egg and vanilla extract, and continue mixing until smooth. Sift together the all-purpose flour, cornstarch, baking soda, baking powder, and salt in a separate bowl. Set the stand mixer to its lowest speed. Add the dry ingredients in small batches until just combined. Fold in the chocolate chips.
Form: Scoop the cookie dough into 3 tablespoon sizes. Then flatten the cookie dough balls into circles. Make sure you're working quickly because you don't want the batter to get too warm, or it will spread more quickly. Add a ball of cheesecake filling to the center of each circle. Then wrap the dough to cover the filling and smooth out the seams. Refrigerate for 30 minutes.
Baking time: Place the batch of cookies on two baking sheets and pop them in the preheated oven. Bake for 13-15 minutes until lightly browned around the edges. Then let the Cheesecake Stuffed Chocolate Chip Cookies cool for 5 minutes on the baking sheet.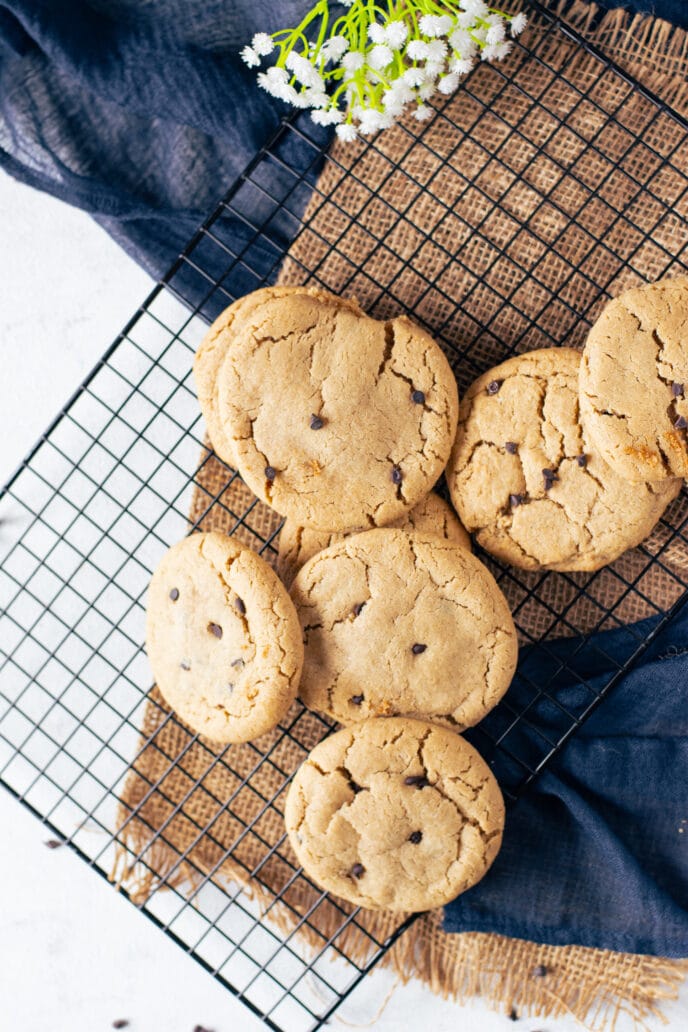 Create a free account to

Save Recipes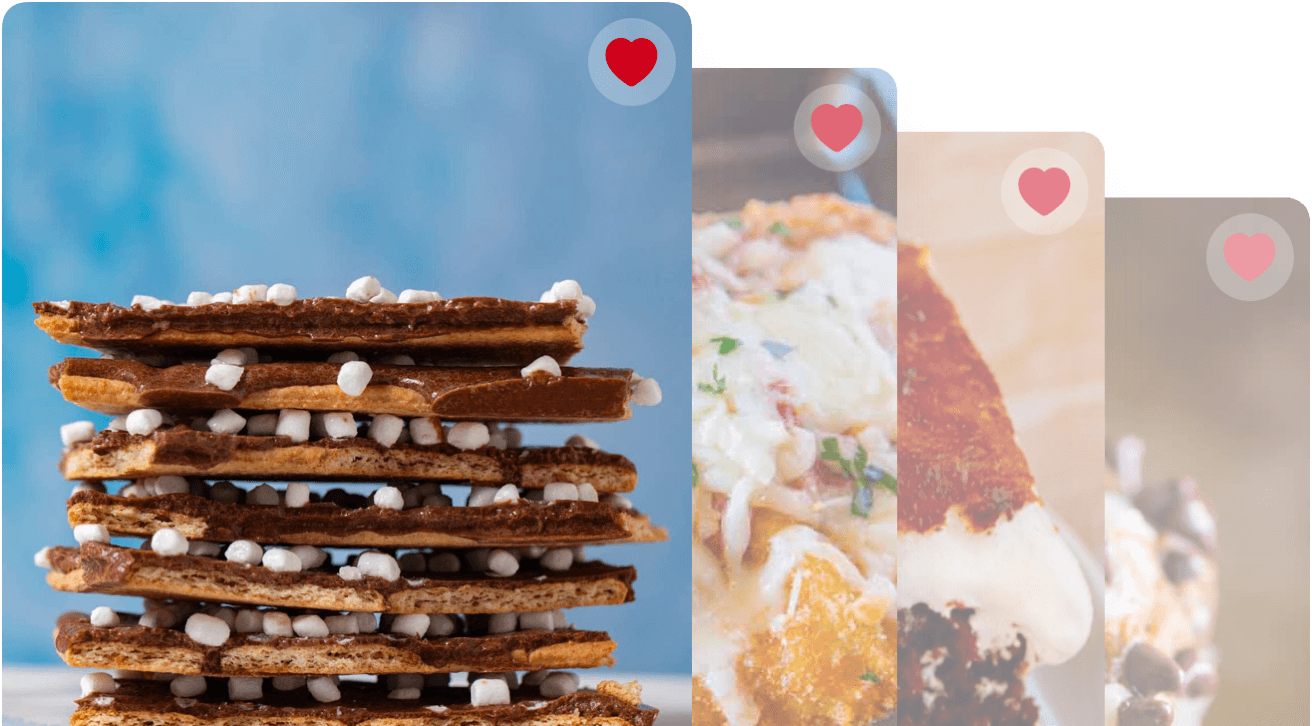 VARIATIONS
Chocolate Chip Cookie Bars: Instead of chocolate chip cookies, you can make this into a fantastic cookie bar recipe with a cheesecake layer in the middle. To make the chocolate chip cookie bars, line a 9-by-9-inch pan with parchment paper. Combine the cookie dough as usual, then divide it in half and add a cookie layer to the base of the pan. Spread the chilled cheesecake filling over top. Then crumble the remaining dough evenly on top, and bake the chocolate chip cookie bars for 30-35 minutes.
Chocolate cookies: Another option, is to make your Cheesecake Filled Cookies into chocolate cookies. You can follow the same basic recipe for our Triple Chocolate Cookies Recipe for the cookie dough. Then wrap the dough around the chilled cheesecake balls and bake the Cheesecake Filled Chocolate Cookies.
Mix-ins: Instead of semisweet chocolate chips, you can try dark chocolate, milk chocolate, or white chocolate chips in the Cheesecake Stuffed Chocolate Chip Cookies. You could also try other mix-ins instead of the chocolate chips or along with them. M&Ms, nuts, or raisins are all amazing options.
CHEESECAKE DESSERTS
HOW TO STORE
Serve: You can serve Cheesecake Stuffed Chocolate Chip Cookies warm or cold, but you don't want to leave them at room temperature for more than 2 hours.
Store: Cover your cookie plate in aluminum foil or transfer them to an airtight container for storage. They'll stay good in the fridge for up to 7 days.
Freeze: As long as they're carefully sealed, you can also freeze the cookies for up to 3 months.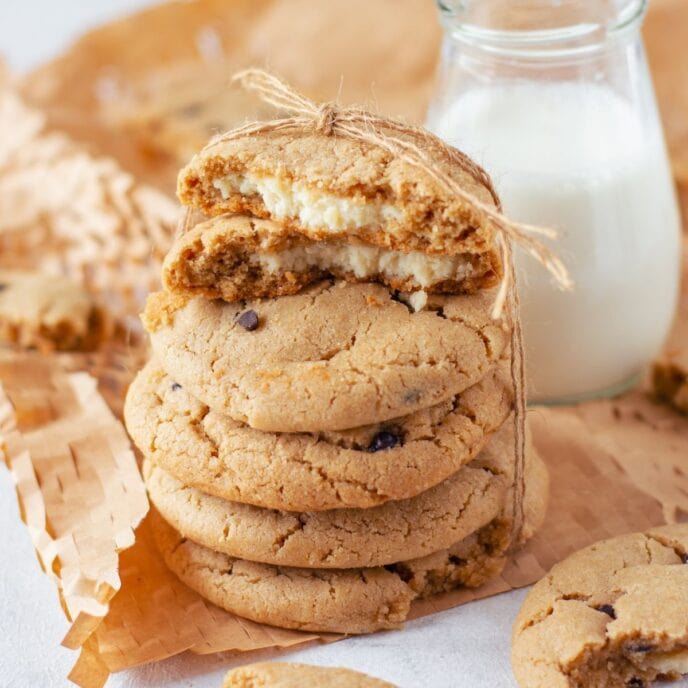 Ingredients
Cheesecake Stuffing:
4

ounces

cream cheese

, softened

1/2

cup

powdered sugar

1/2

teaspoon

vanilla extract
Instructions
Cheesecake stuffing:
Whisk together cream cheese and powdered sugar until smooth.

Stir in the vanilla extract.

Scoop 1 tablespoon sized balls of cream cheese batter onto a baking sheet with wax paper or parchment paper. (Should make 12 scoops of batter.)

Freeze while you make cookie batter (preferably at least

30 minutes

.)
Cookie Dough:
To your stand mixer add the butter, brown sugar, and sugar on medium speed and beat until light and fluffy, about

2 minutes

.

Add in the egg and vanilla extract until smooth, about

30 seconds

.

Sift together flour, cornstarch, baking soda, baking powder, and salt.

Add it to the stand mixer in small batches on the lowest speed setting until just combined.

Add in chocolate chips and stir until just mixed in.
To Finish:
Using 3 tablespoons of cookie dough make a flattened circle (work quickly so you don't warm the batter too much or the cookies will spread too much).

Add the partially frozen cheesecake ball to the center and wrap the dough around the filling and smooth out the seams.

Refrigerate cookie dough balls for

30 minutes

.

Preheat oven to 350 degrees and line two baking sheets with parchment paper.

Place on baking sheets 2 inches apart.

Bake for

13-15 minutes

until lightly browned around the edges.

Cool

5 minutes

before removing from baking sheet.

Delicious served warm or chilled (chilled will give you a more prominent cheesecake flavor).
Nutrition
Calories:
266
kcal
|
Carbohydrates:
35
g
|
Protein:
3
g
|
Fat:
13
g
|
Saturated Fat:
8
g
|
Polyunsaturated Fat:
1
g
|
Monounsaturated Fat:
3
g
|
Trans Fat:
1
g
|
Cholesterol:
41
mg
|
Sodium:
125
mg
|
Potassium:
121
mg
|
Fiber:
1
g
|
Sugar:
21
g
|
Vitamin A:
315
IU
|
Calcium:
41
mg
|
Iron:
1
mg