Giant Chocolate Chip Cookie is a fun, shareable dessert. The buttery, chewy cookie is made in a pizza pan that you can slice and serve.
This recipe is a fun twist on Classic Chocolate Chip Cookies. Instead of making individual Cookies, it's all baked into one pan. It's part pizza part cookie and perfect for a party!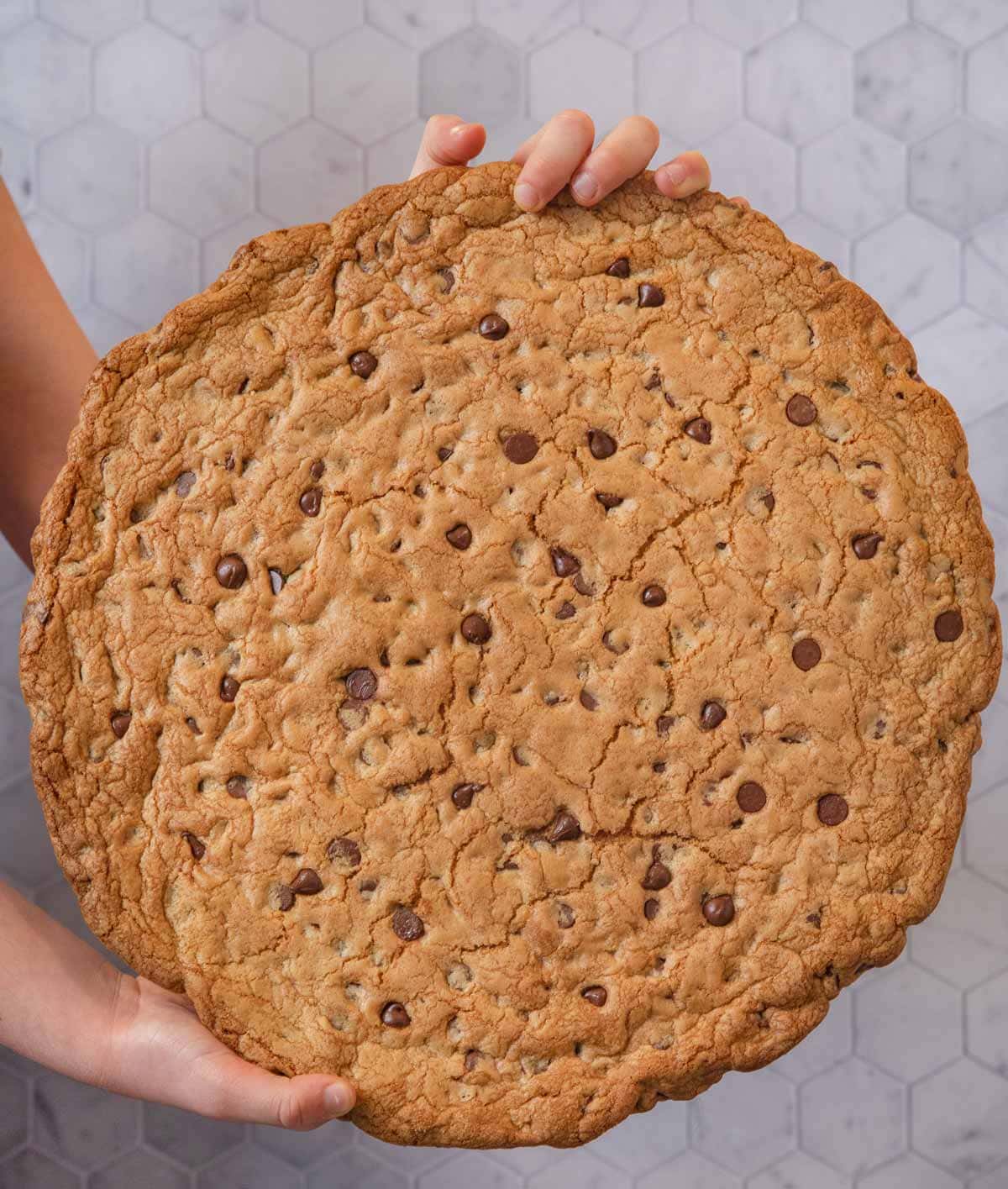 GIANT CHOCOLATE CHIP COOKIE
Giant Cookies are the perfect dessert to serve to friends and family at your next get-together. Unlike regular cookies, you don't have to form the recipe into cookie dough balls to layout on a cookie sheet and bake in multiple batches. Instead, it's all made into one mega cookie that's great to slice and serve to lots of people.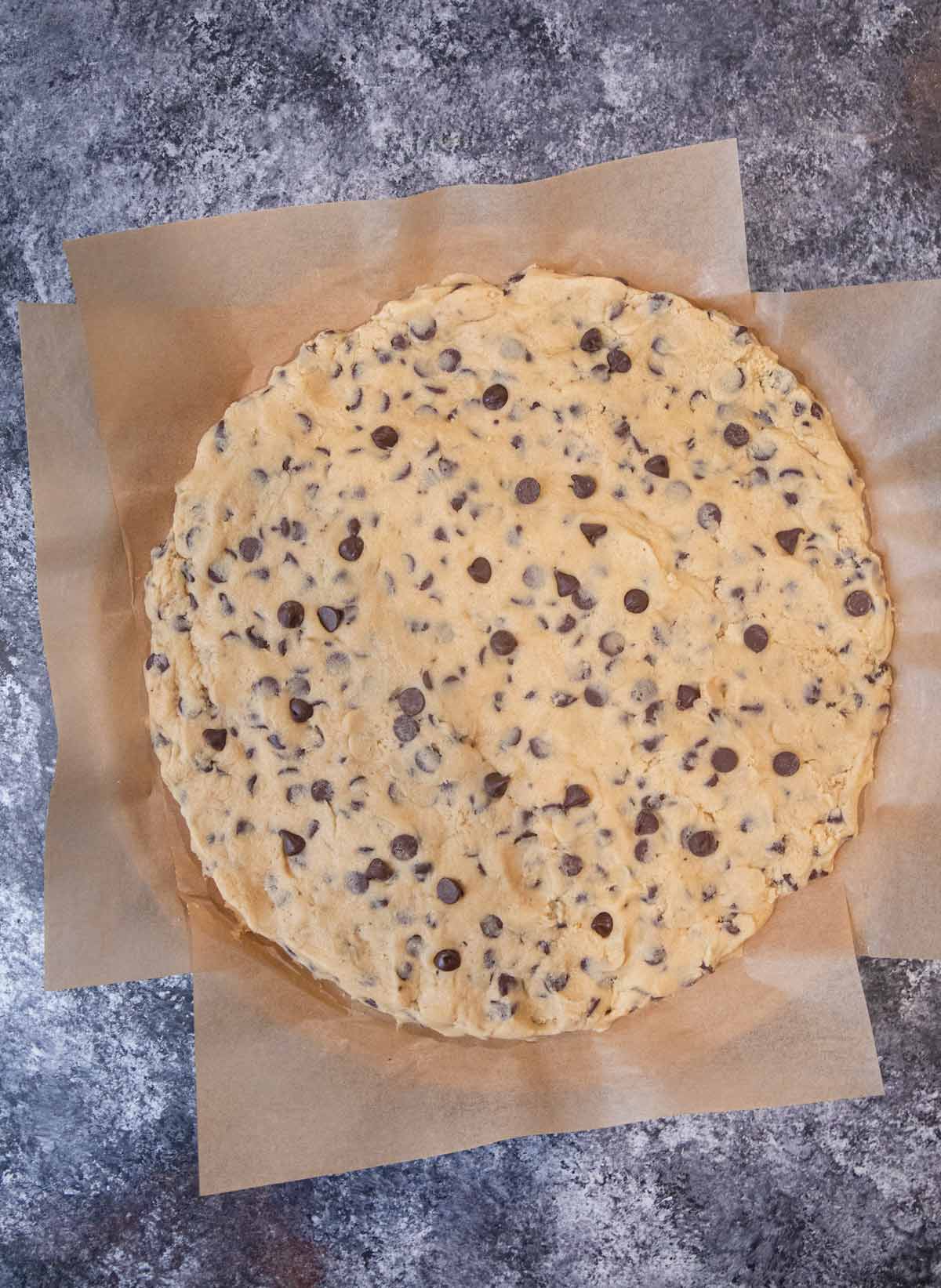 It's the Perfect Chocolate Chip Cookie with crisp edges, a soft cookie center, and melty chocolate chunks throughout. The 16-inch cookie is best served warm. Just give it a few minutes to set before you slice it. Then you can serve it with a scoop of Vanilla Ice Cream on top for some extra richness.
For more add-ons drizzle on some Hot Fudge Sauce, Caramel Sauce, sprinkles, Whipped Cream, or berries. You can get as creative as you want with delicious toppings.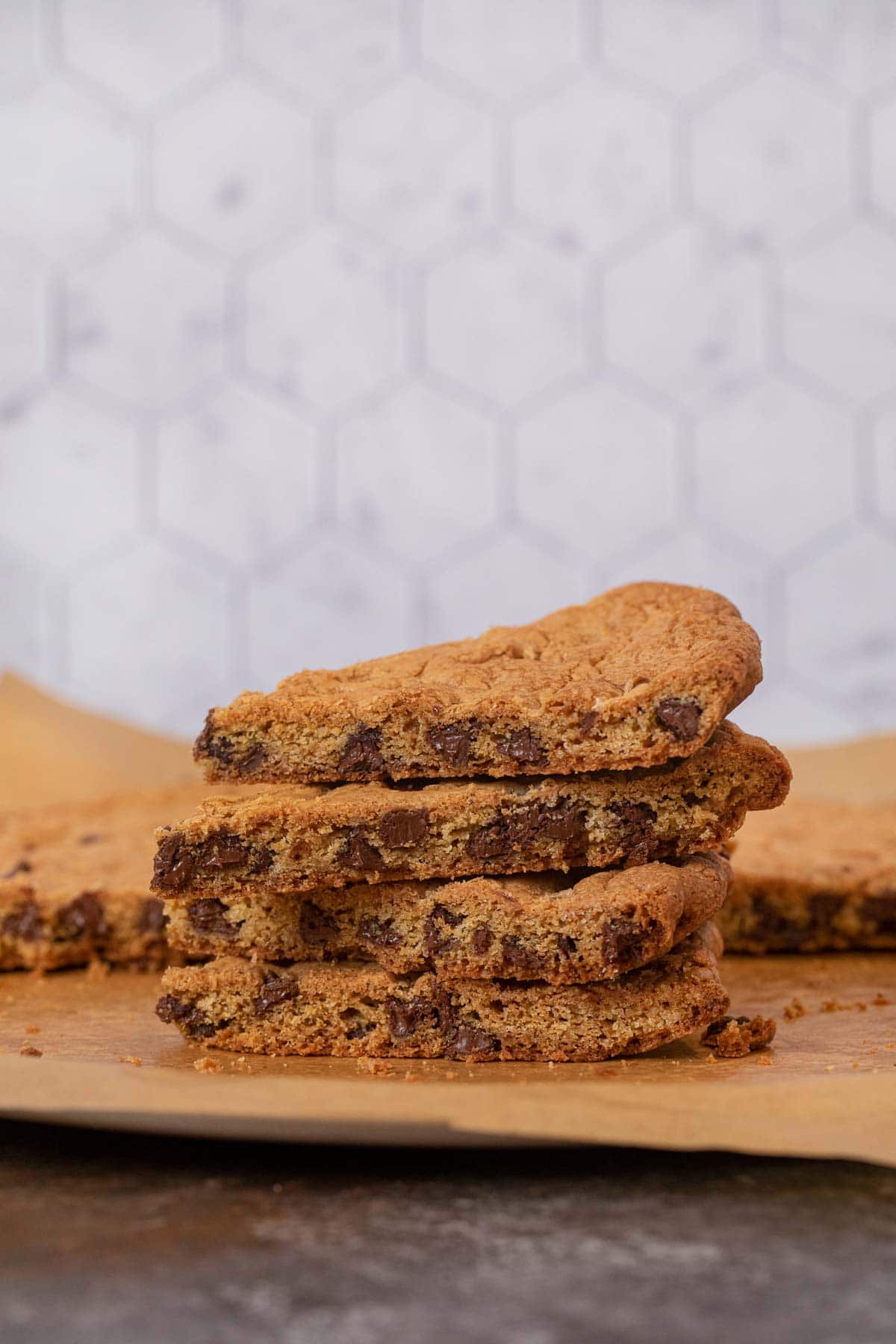 This Chewy Chocolate Chip Cookie is made with just a few basic steps. It's an easy recipe that's sure to be a favorite with kids and adults alike. Chocolate chip cookies are just one of those nostalgic recipes that have a special place in everyone's heart. This version gives you the same delicious taste and chewy texture, but with a fun twist on how it's presented. Everyone who tries it is sure to love this unique and indulgent spin on wonderful cookies.
MORE CHOCOLATE CHIP DESSERTS
TIPS FOR MAKING A GIANT CHOCOLATE CHIP COOKIE
Cookie dough: Add room temperature butter, granulated sugar, and brown sugar to your stand mixer. Cream butter & sugars at medium-high speed until well combined. Then mix in the eggs and vanilla extract. Mix until the egg yolks are broken and blended smoothly with the other ingredients. Next, add the all-purpose flour, baking soda, and salt. Mix the dry ingredients in at the lowest speed so that the flour mixture doesn't make a mess. Be careful not to overmix the dough. Stir in 2 cups chocolate chunks to finish the dough.
HINT: A trick to make this recipe look like it could have come from one of your favorite cookie bakeries is to set some of the chocolate chunks to the side. Then sprinkle them on top before baking. That way they'll be shiny whole pieces of chocolate on top as well as baked in.
Chill: Form the dough into a giant ball and put it in a bowl to store in the fridge. If you want to be careful that it doesn't stick to the bowl, sprinkle a little extra flour over the bowl. Cover it in plastic wrap and refrigerate for 20 minutes. The chilling step is crucial to making a chewier cookie. Refrigerating stops it from spreading out too quickly, ultimately making the cookies chewy and lighter.
Baking time: Preheat the oven temperature to 350 degrees, then line a 16″ pizza sheet with parchment paper. If you don't have parchment paper, you could grease the baking sheet lightly with your butter wrapper. Take the dough from the fridge and gently press it into the prepared baking sheets. Push it out from the middle into a flat surface. Bake it in the preheated oven for 18-20 minutes. It should be light golden brown with a gooey center and crispier edges when you take it out of the oven. You can add a little extra time for crispier cookies, or take it out earlier to keep the cookie chewier.
Cool cookie: Let the cookie sit in the pan for 5 minutes before slicing and serving.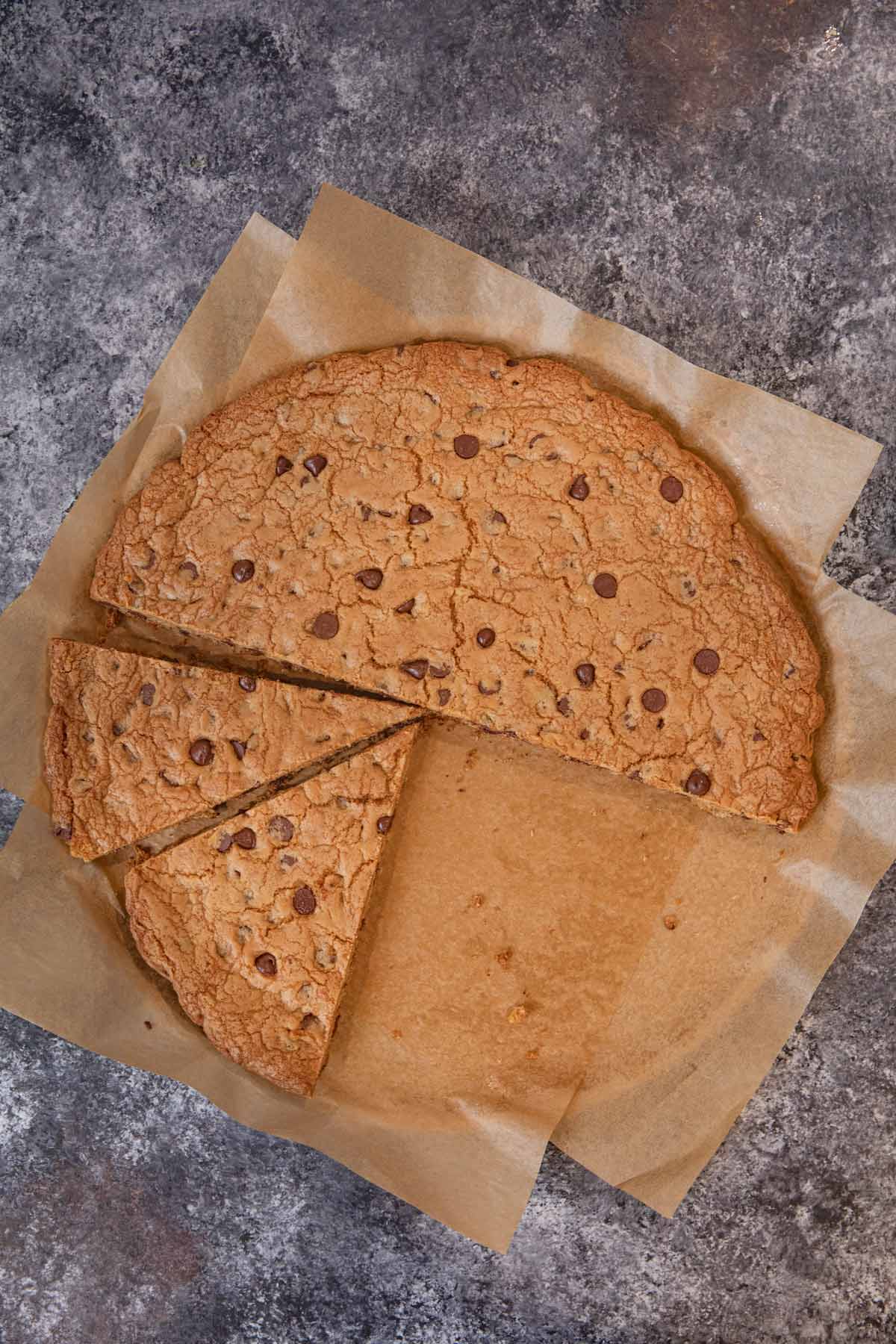 Create a free account to

Save Recipes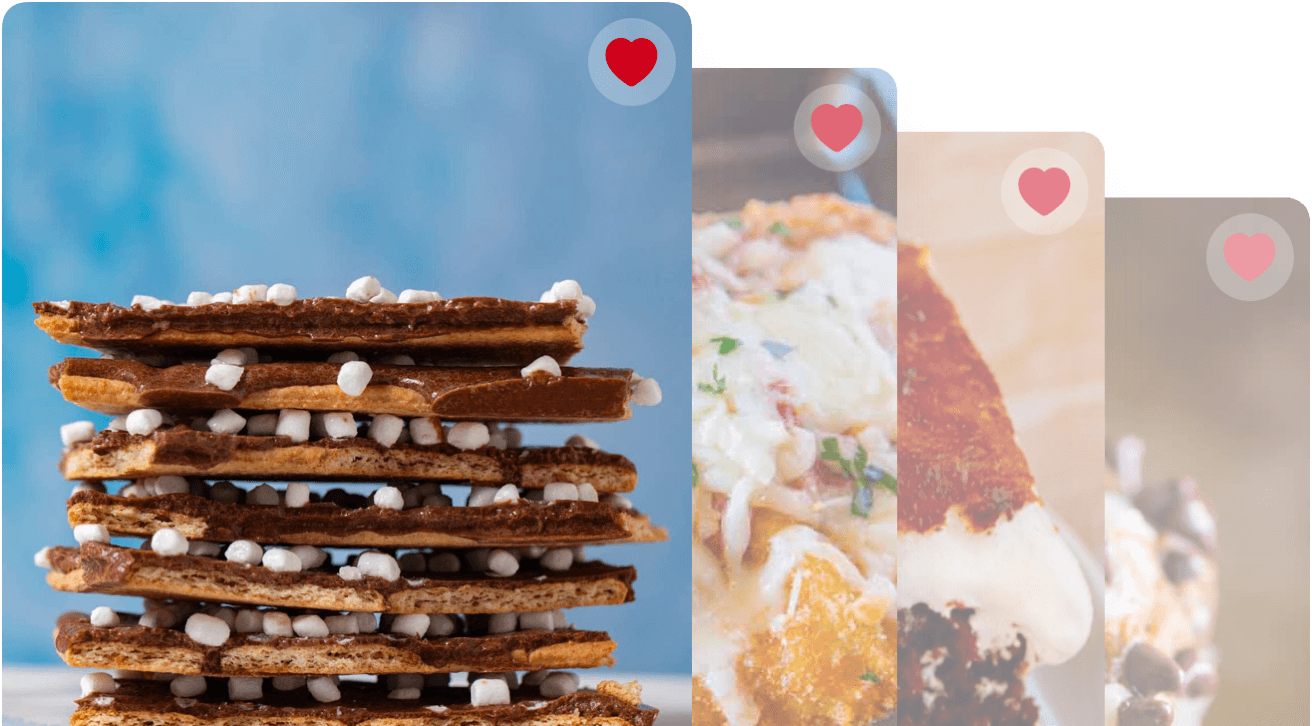 VARIATIONS ON GIANT CHOCOLATE CHIP COOKIE
Smaller Cookies: Instead of making one mega cookie, you can make 2-3 cookies in mini pizza pans. This is great if you don't have a big group to serve because you can eat one of the thicker cookies and freeze the others for later.
Chocolate Chips: You can change up the taste of the recipe by using different kinds of chocolate chips. Instead of semisweet, try milk chocolate, white chocolate, or dark chocolate chips. You could also use cinnamon or peanut butter chips.
Mix-ins: There are lots of delicious ingredients you can add to the massive cookies for taste and texture like chopped walnuts, pecans, or almonds. Apart from nuts, you could mix in toffee bits, m&ms, raisins, or dried cranberries.
More cookie recipes: Instead of using the original recipe, you can try the same idea with other cookie recipes. Try making Chocolate Cookies, Oatmeal Raisin Cookies, or Peanut Butter Cookies in a pie plate.
MORE COOKIE RECIPES
HOW TO STORE GIANT CHOCOLATE CHIP COOKIE
Serve: You can keep your Giant Chewy Chocolate Chip Cookie at room temperature for up to 3 weeks. Let it cool, then cover it in plastic wrap so that it stays fresh and chewy while sitting on the counter.
Store: If you want to get the cookie out of the way, slice it and put it in an airtight container to store in the refrigerator for 1 week.
Freeze: You can also let the pieces cool and then put them in a freezer bag with each piece separated by parchment paper. They'll stay good frozen for up to 6 months. To make the cookies warm, let them thaw in the fridge and then reheat it in the oven for 5-6 minutes at 300 degrees.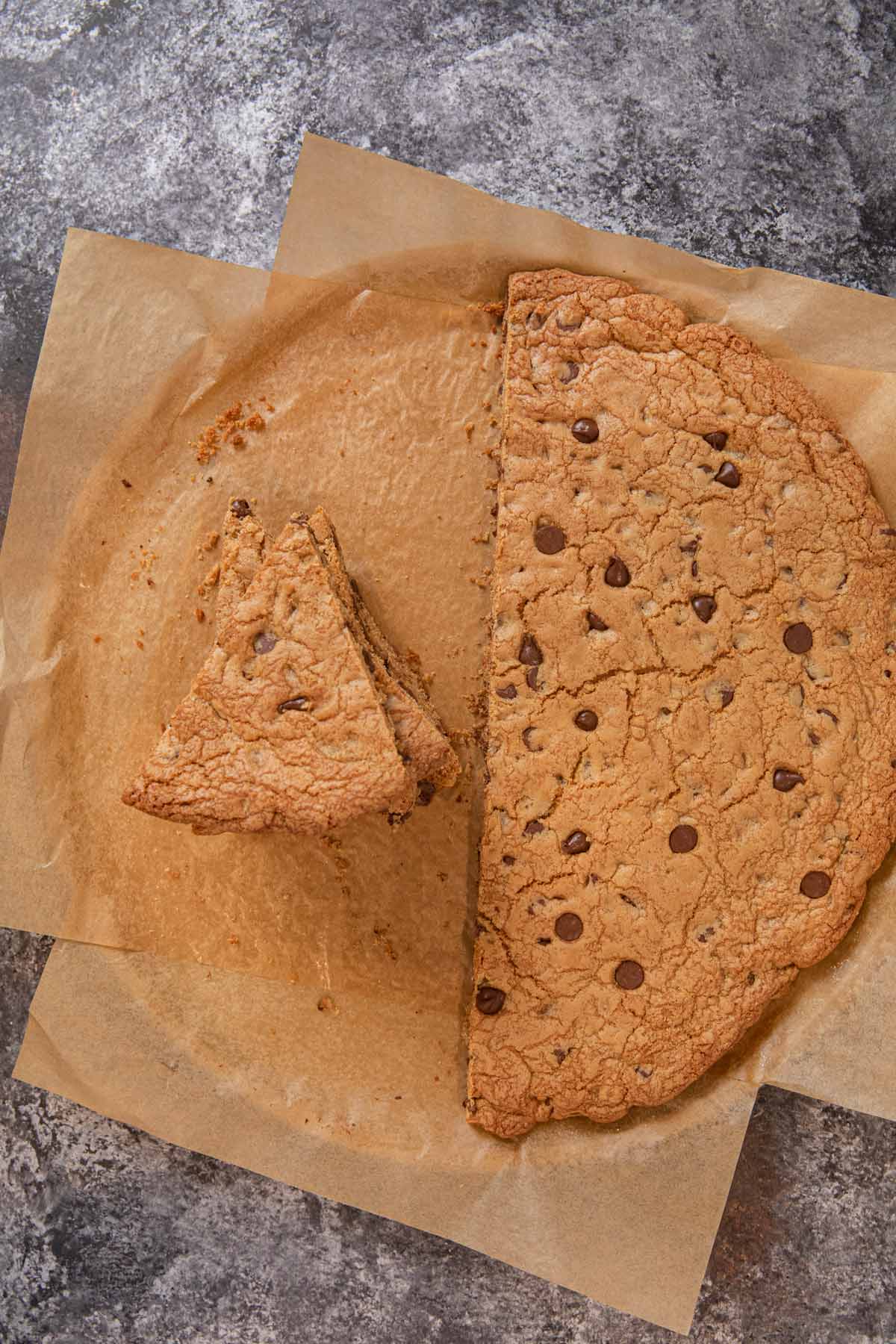 Instructions
To your stand mixer add the butter, sugar, and brown sugar until well combined.

Add the eggs and vanilla extract until well combined.

On the lowest speed setting add the flour, baking soda, and salt until just combined.

Stir in the chocolate chips until combined.

Put the dough into a medium bowl and wrap with plastic wrap.

Refrigerate for

20 minutes.

Pre-heat oven to 350 degrees and line 16" pizza pan with parchment paper.

Press cookie dough in gently and spread around the pan evenly.

Bake for

18-20 minutes

until browned.

Cool for

5 minutes

before slicing.
Nutrition
Calories:
389
kcal
|
Carbohydrates:
46
g
|
Protein:
4
g
|
Fat:
21
g
|
Saturated Fat:
12
g
|
Trans Fat:
1
g
|
Cholesterol:
55
mg
|
Sodium:
230
mg
|
Potassium:
175
mg
|
Fiber:
2
g
|
Sugar:
28
g
|
Vitamin A:
400
IU
|
Calcium:
33
mg
|
Iron:
3
mg