Candy Corn Blondies are the perfect sweet buttery brown sugar bars with candy corn and white chocolate chips mixed in. Perfect for Halloween!
This is such a fun twist on classic blondies. The adorable candy corn mix-ins add delicious, sweet pieces, and make them great to serve at your next Halloween party. If you're looking for more shareable Bar Recipes like this one, try Oreo Blondies, or Triple Peanut Blondies next.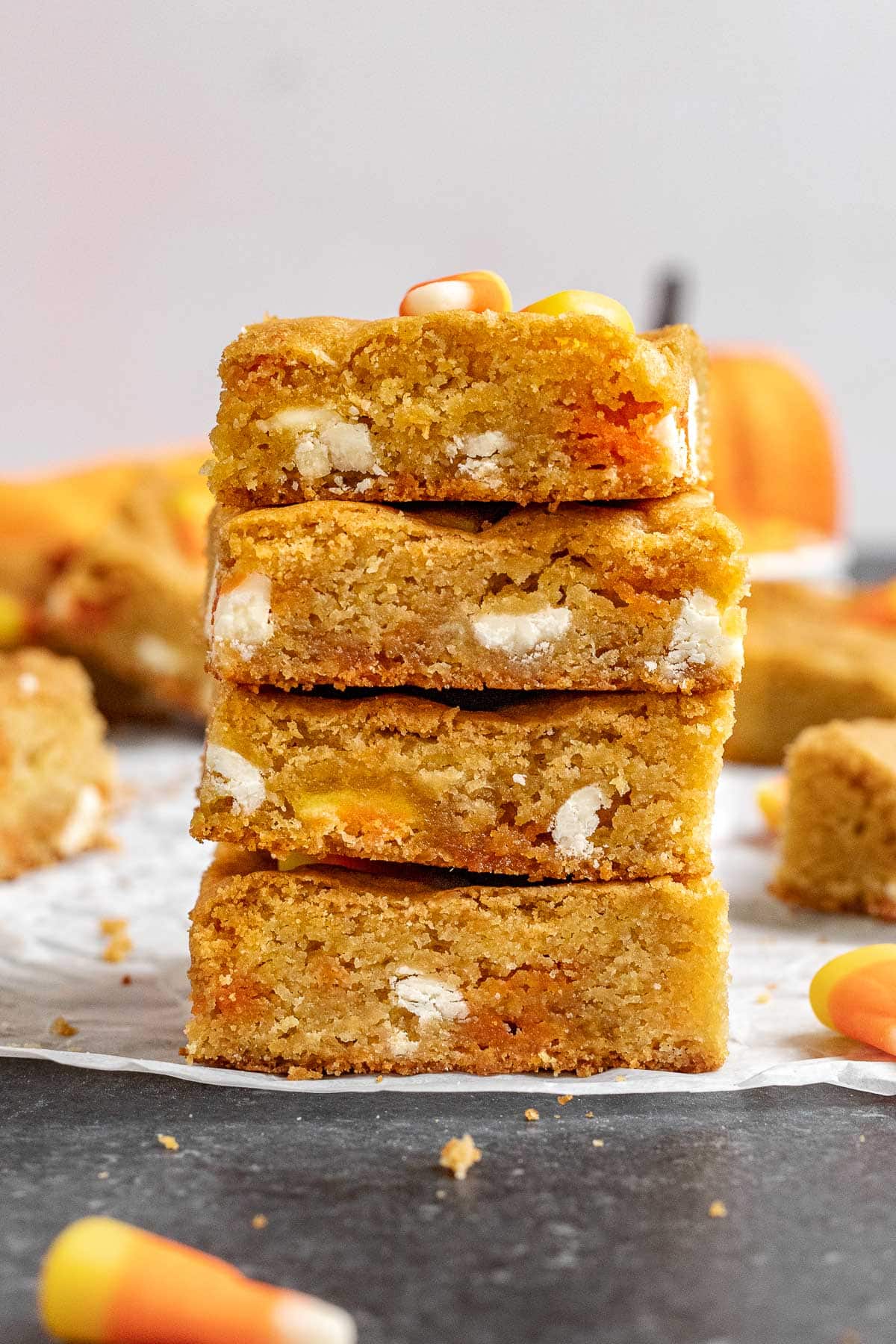 These Blondies are the perfect easy dessert, and you can have the batter prepared in just a few minutes. Then it only takes a little over 20 minutes of baking to finish. The brown sugar and vanilla bars have the perfect buttery and chewy texture that tastes amazing.
For the perfect dessert night, serve warm blondies with a scoop of Vanilla Ice Cream on top. It's quick, simple, and oh-so delicious. A drizzle of Salted Caramel Sauce or Chocolate Ganache will make them extra sweet and irresistible.
Adding bits of candy corn to this blondie recipe makes them the perfect treat for Fall. The bright candy corn colors look amazing against the golden brown blondies, and they add bursts of sweetness throughout the dessert. You can bring them to a bake sale, serve them at a Halloween party, or just enjoy them with your family for a fun, themed treat.
Now, not everyone is a fan of candy corn. But these melt in your mouth Candy Corn Blondies will win over even the biggest candy corn skeptic. The simple, buttery vanilla flavor of the blondies perfectly balances out the stronger taste of the candy corns, so that they're enjoyable without overwhelming the dessert. That way candy corn lovers and nay-sayers can both enjoy this amazing dessert.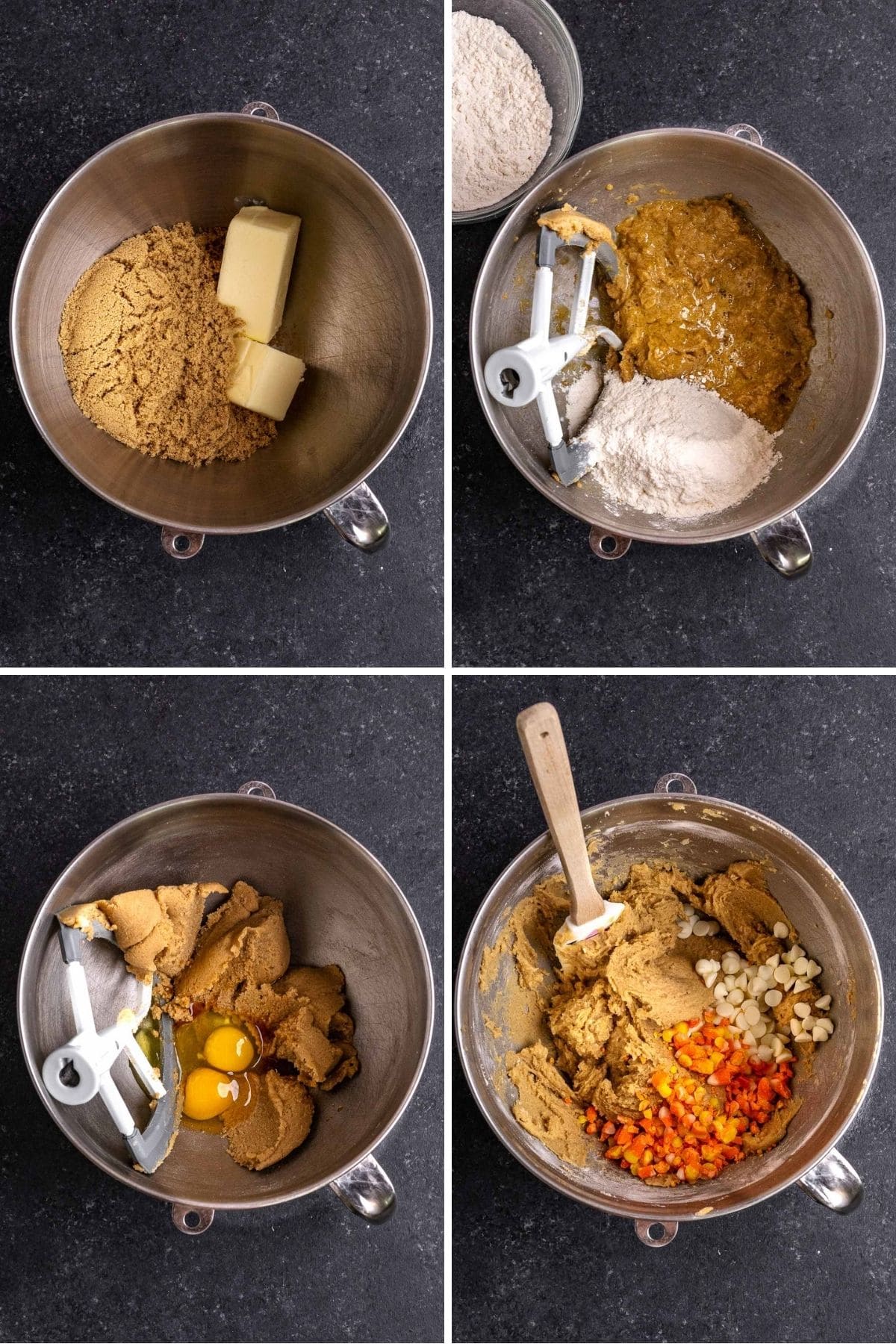 How to Make Candy Corn Blondies
Prep Time: To start the recipe, preheat your oven to 350 degrees. Then you can prep a square baking pan with nonstick cooking spray, or if you prefer you can line the dish with parchment paper.
Blondie Batter: Add softened butter and brown sugar to your stand mixer, and cream for about 2 minutes until light and fluffy. If you don't have a stand mixer, you can use a mixing bowl and a handheld mixer. Next, add the eggs and vanilla, and continue mixing until the wet ingredients are smooth. Sift the flour, baking powder, and salt into a separate bowl. Add the dry ingredients. Mix at the lowest speed, and continue mixing until the flour mixture is just combined into the batter. Keep in mind that you don't want to overmix the batter, or the blondies will end up tough.
Mix-ins: Add ½ cup white chocolate chips and ½ cup of candy corn to the batter, and fold them in. Spread the candy corn blondie batter over the prepared baking pan, using a rubber spatula to spread it out evenly. Sprinkle the remaining chocolate chips and candy corn on the top.
Baking Time: Pop the dish in the preheated oven and bake for 20-25 minutes until golden brown. Let the Candy Corn Blondies cool completely before slicing.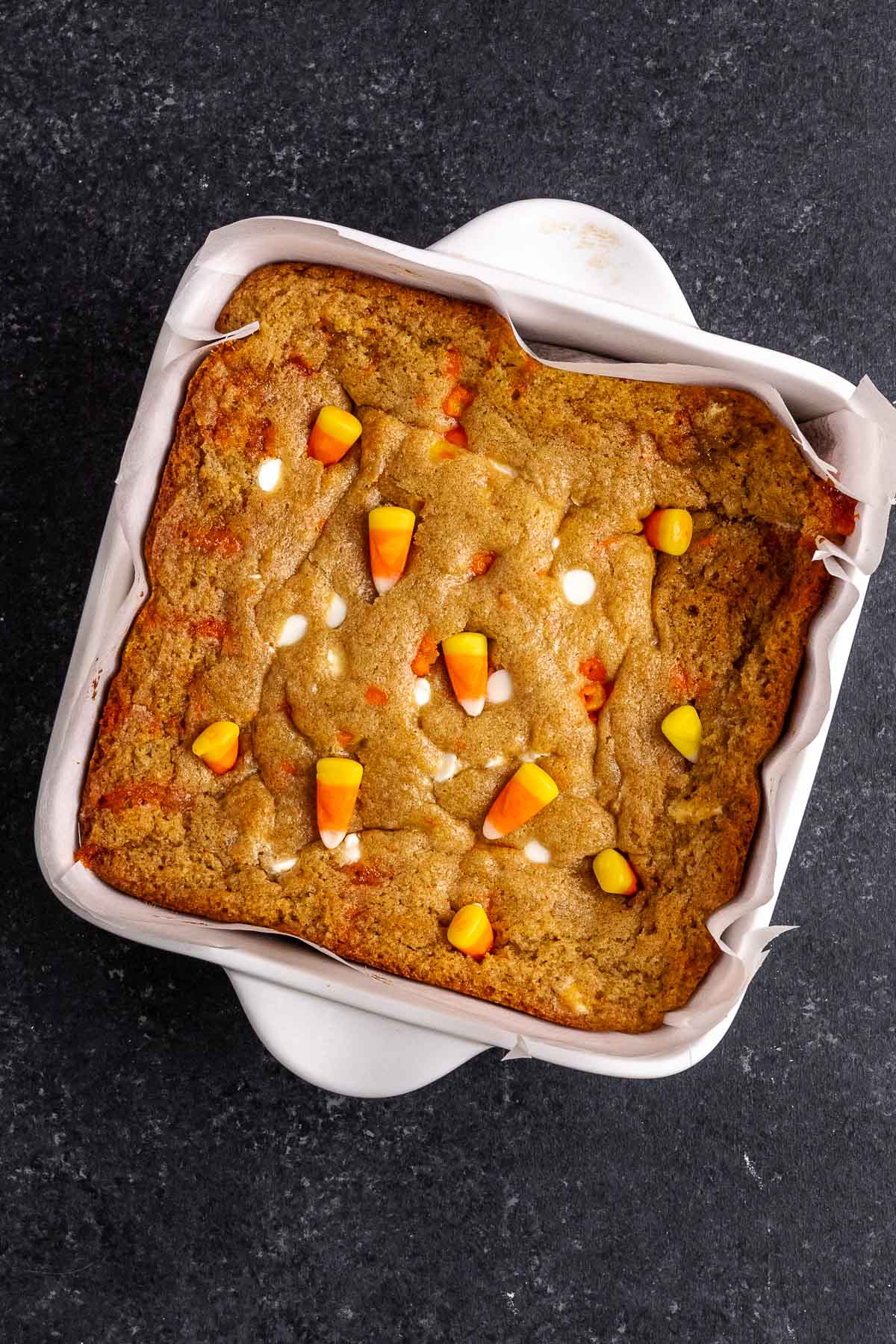 More Blondies Recipes
Frequently Asked Questions
What are blondies?
Blondies are the vanilla counterpart to brownies, but without the chocolate! Think of them as a cross between a brownie and a cookie. The brown sugar and butter base resembles a chocolate chip cookie base. Just like cookies, blondies are perfect for adding your favorite mix-ins. Because they bake in a pan and are sliced into bars similar to brownies, blondies have a nice chewy interior with crispy edges. 
How do I know when blondies are done?
When the edges are golden brown and the middle is dry and set, your blondies are ready. They may look slightly underdone in the middle, but they will continue to set as they cool.
How do I keep blondies from sticking to the pan?
Spray your baking dish with baking spray, which is oil that has flour in it to keep baked goods from sticking. If you don't have baking spray, grease and flour your dish. You can also add parchment paper to the bottom of your pan with the edges hanging over the sides to make pulling them out a breeze!
Why are my blondies too dry?
If your blondies are turning out too dry, you could be measuring your flour incorrectly and using too much. To correctly measure flour for baking, fluff the flour with a measuring cup so it is not compacted, before spooning flour into the measuring cup, then leveling it off with a flat knife. This way you are not using additional flour from it being compacted in the bag. Your oven could also be too hot. Use an oven safe thermometer to check that your oven set temperature is correct. If it is off, adjust the dial accordingly until the thermometer reads the correct temperature.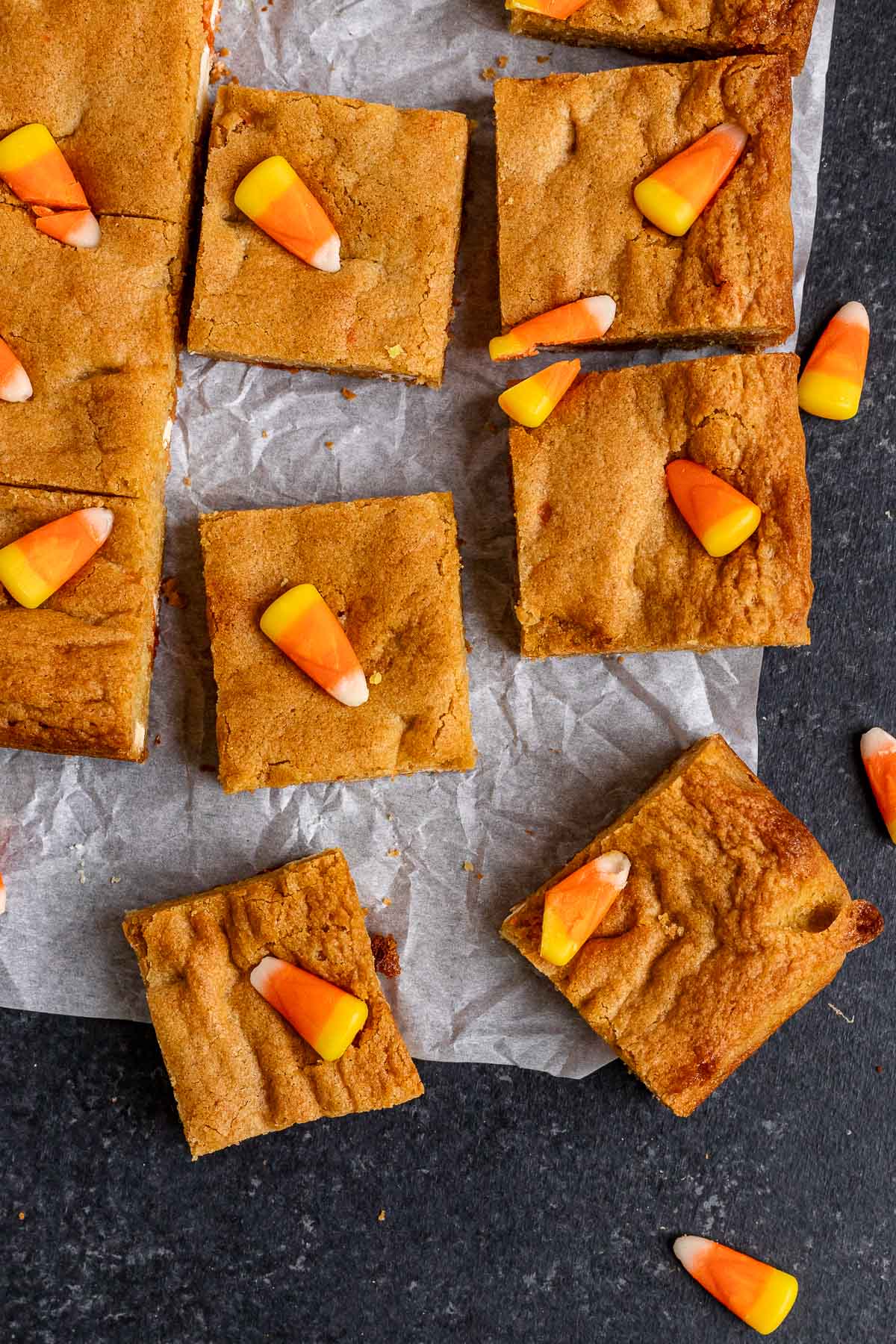 Create a free account to

Save Recipes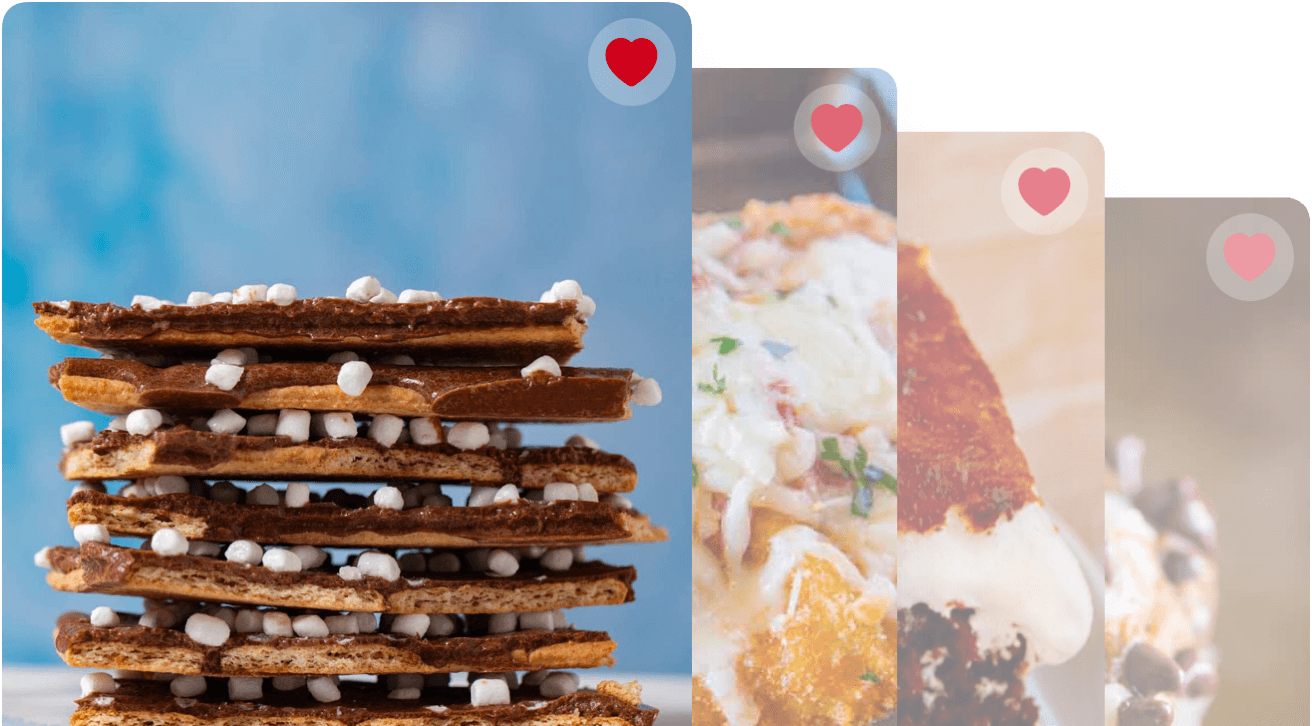 Key Ingredients in Candy Corn Blondies
Butter: For the oil in this recipe, you need ¾ cup softened butter. The butter is easy to cream with brown sugar for a rich, sweet soft base that the other simple pantry ingredients can build off of.
Vanilla: Vanilla extract is always an important part of blondie recipes since they're the vanilla counterpart to classic brownies. But, you only need 2 teaspoons to flavor the Candy Corn Blondies.
Mix-ins: Along with the candy corn pieces, this recipe also calls for white chocolate chips. The sweet white chocolate flavor pairs perfectly with the vanilla blondies and fun candies.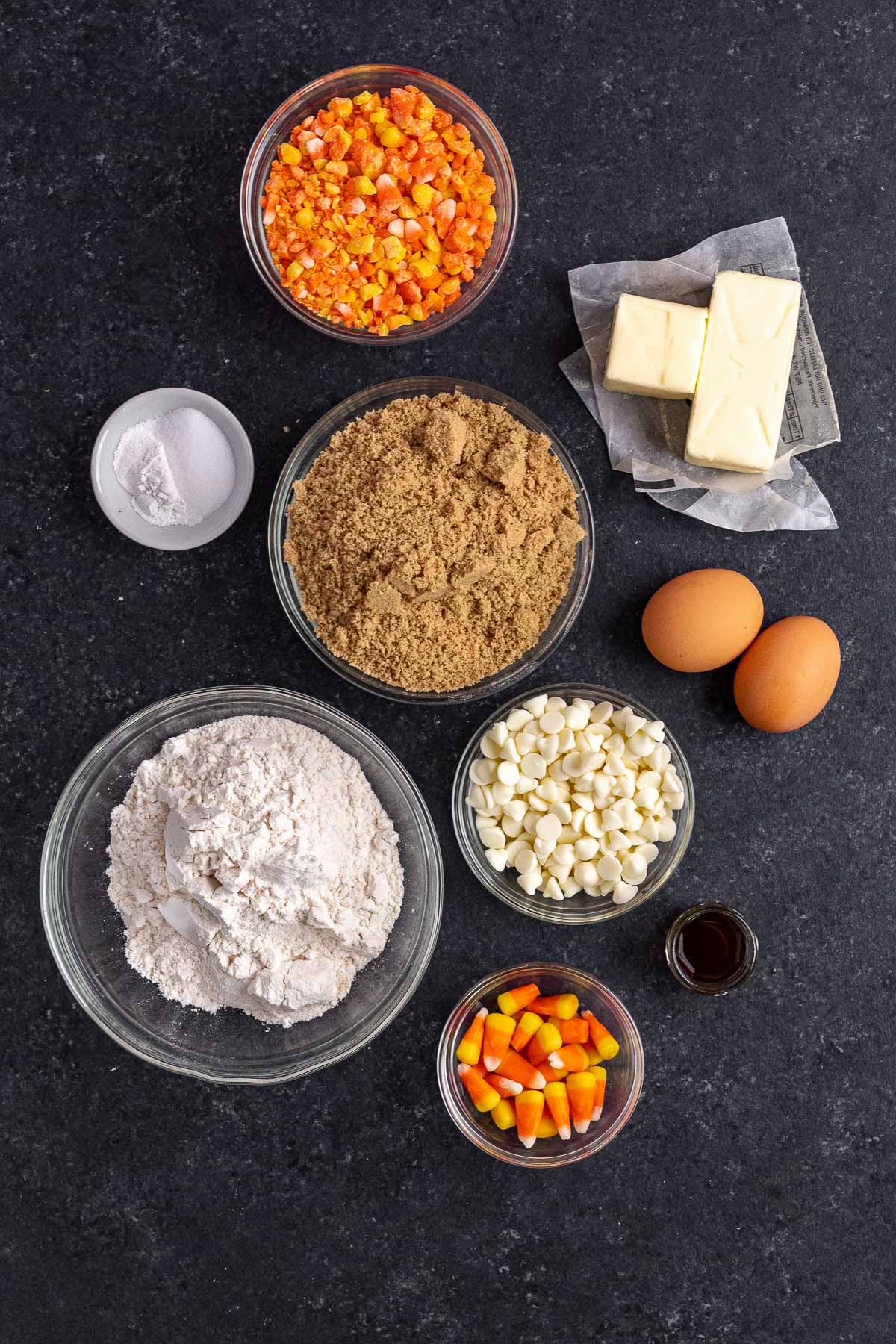 Variations on Candy Corn Blondies
Peanut Butter Candy Corn Blondies: If you want to add a little salty, peanut flavor to the blondie recipe, you can mix in peanut butter chips instead of white chocolate chips. Along with that, you can also add chopped peanuts for some crunch.
Chocolate Candy Corn Blondies: To add some chocolatey goodness to this recipe, stir semisweet chocolate chips into the blondie batter. You can also use chocolate candy corn pieces instead of regular candy corn.
Candy Mix-ins: In the spirit of Halloween, try adding any of your favorite trick or treat candy into the Candy Corn Blondies. M&Ms or Reese's pieces make colorful and tasty additions. Or, you can break your favorite candy bars into pieces to add.
Nuts: Walnuts and pecans go especially well with any fall treat, and would add a nice nutty crunch to these Candy Corn Blondies. Add a ½ cup of chopped walnuts, pecans, or even sliced almonds to the batter.
Brookies: Why choose between chocolate and vanilla when you can combine both! Make a batch of Brownie batter and layer it underneath the blondie batter in the same pan. You'll have a double layer of deliciousness with a fun color combo that is also festive for Halloween.
Mini Candy Corn Blondies: Use a mini muffin tin sprayed with baking spray and scoop 1-2 tablespoons batter into each cup. Top each mini blondie with 1 piece of candy corn before baking. These mini treats are perfect for pre-schoolers or pot luck parties where everyone will want to try lots of goodies!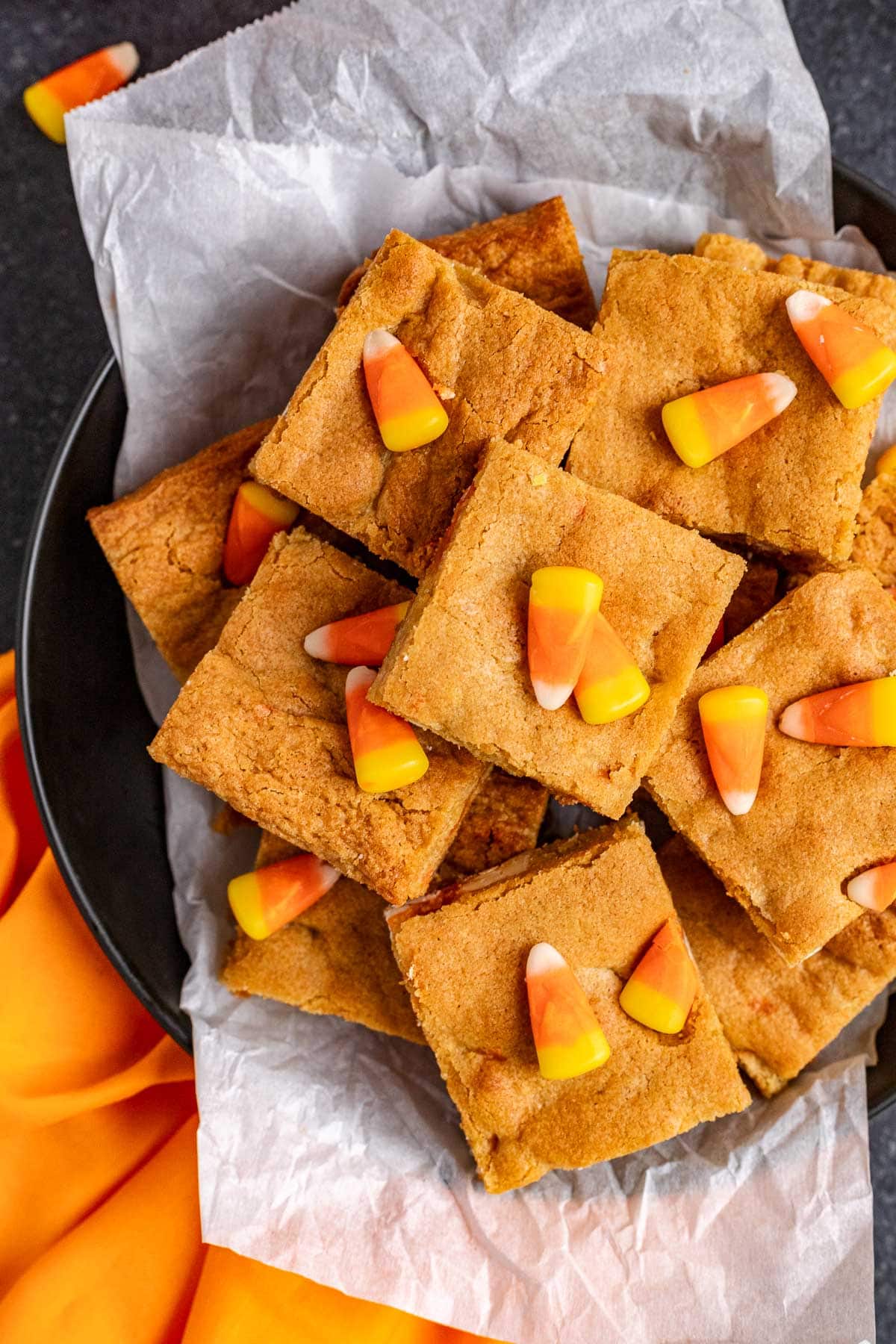 More Halloween Treats
How to Store Candy Corn Blondies
Serve: Let the Candy Corn Blondies cool down a bit before you slice them into squares. When you're done serving them, cover the dish in plastic wrap to keep them fresh. They'll stay good for about 2 days.
Store: Another option is to cover the blondies and keep them in the fridge. That way they'll stay good for up to 5 days.
Freeze: You could also freeze the bars. For the best results, you can store them in an airtight container or freezer bag with parchment paper between the layers. They can keep well for up to 3 months.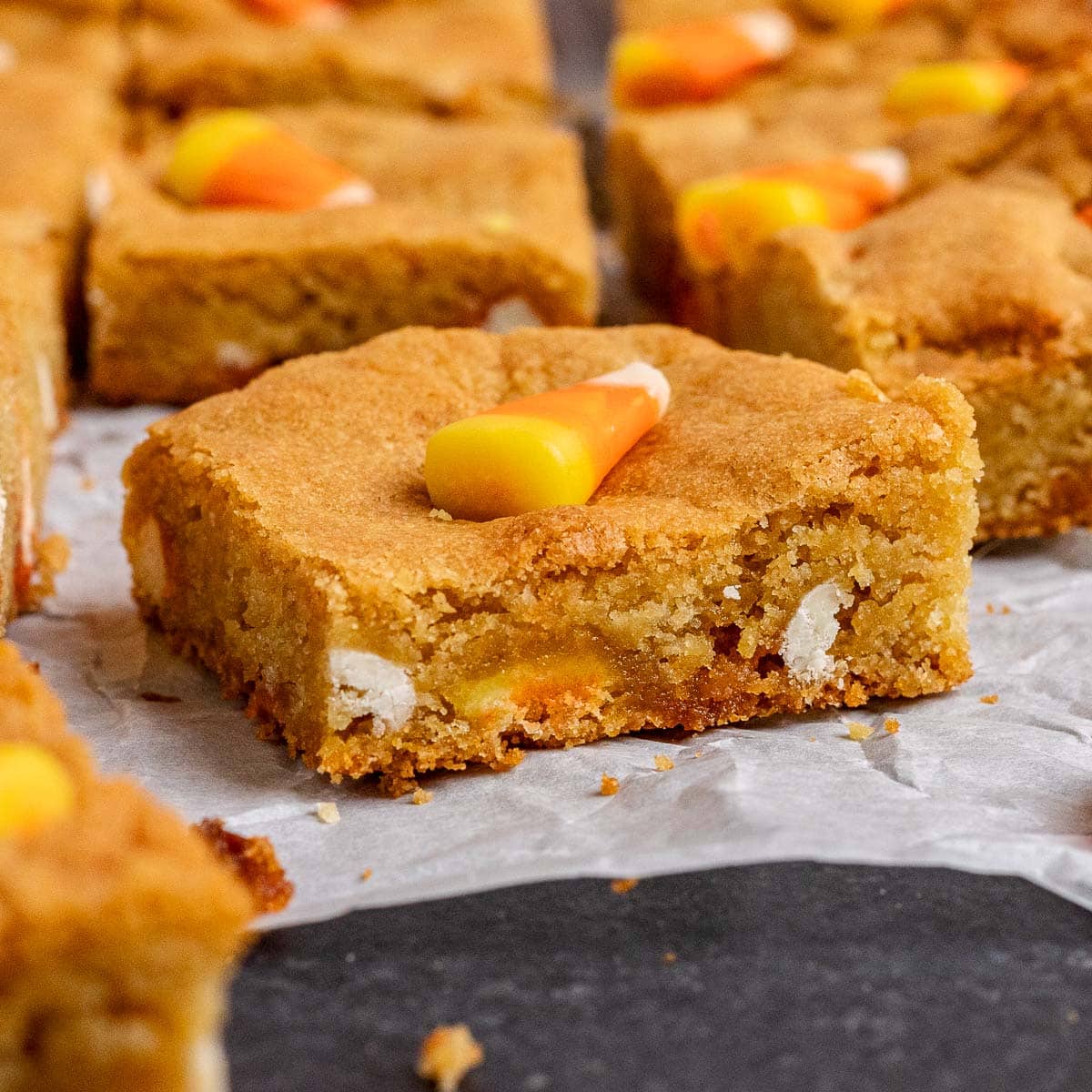 Ingredients
12

tablespoons

unsalted butter

, softened

1 1/2

cups

brown sugar

, packed

2

large

eggs

2

teaspoons

vanilla extract

1 1/2

cups

flour

1

teaspoon

baking powder

1

teaspoon

salt

3/4

cup

white chocolate chips

3/4

cup

candy corn

, roughly chopped

1/4

cup

candy corn
Instructions
Preheat the oven to 350 degrees and spray an 8×8 baking pan with baking spray.

To your stand mixer add the butter and brown sugar and cream on medium speed until light and fluffy, about

2 minutes

.

Add the eggs and vanilla until smooth.

In a large bowl sift together the flour, baking powder, and salt.

Add on the lowest speed setting to the stand mixer until just mixed in, do not overmix.

Fold in ½ white chocolate chips and ½ cup of the candy corn.

Spread dough evenly in the baking pan and sprinkle remaining white chocolate chips and candy corn.

When the blondies come out of the oven press the remaining candy corn gently in to the top along with a some white chocolate chips if desired.
Nutrition
Calories:
282
kcal
|
Carbohydrates:
42
g
|
Protein:
3
g
|
Fat:
12
g
|
Saturated Fat:
7
g
|
Polyunsaturated Fat:
1
g
|
Monounsaturated Fat:
3
g
|
Trans Fat:
1
g
|
Cholesterol:
48
mg
|
Sodium:
191
mg
|
Potassium:
101
mg
|
Fiber:
1
g
|
Sugar:
32
g
|
Vitamin A:
299
IU
|
Vitamin C:
1
mg
|
Calcium:
53
mg
|
Iron:
1
mg