Classic Biscotti Cookies are crisp, buttery Italian treats sprinkled with sanding sugar and perfect to enjoy with your morning coffee.
This is the perfect biscotti recipe that you can enjoy for Breakfast or a sweet afternoon treat. A batch of biscotti would make a fantastic addition to your next brunch spread along with classic recipes like New York Crumb Cake, Oven Scrambled Eggs, and Chocolate Chip Cinnamon Rolls.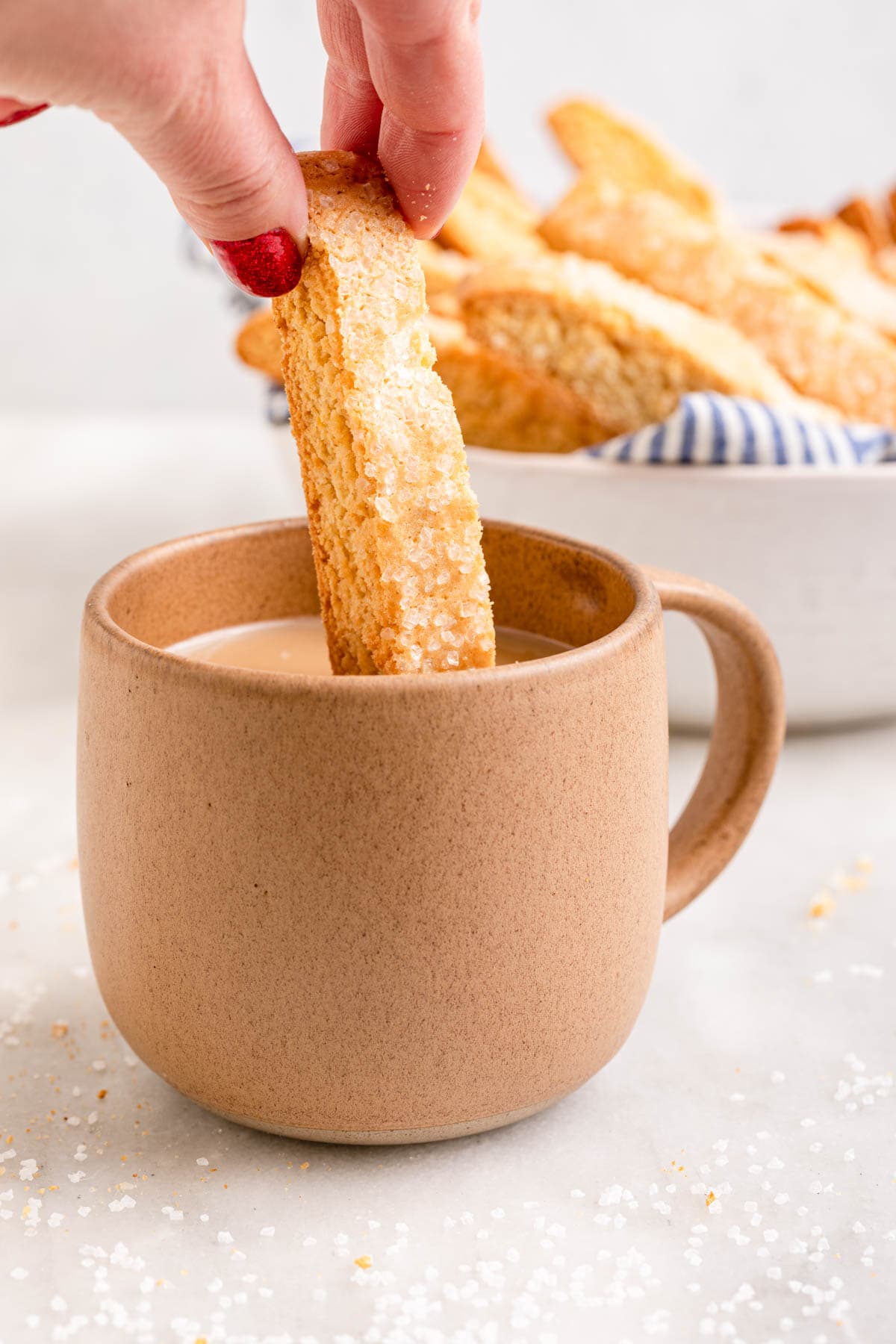 These crunchy Biscotti Cookies are exactly what your morning cup of coffee needs. The classic Italian treat is usually dipped in coffee because its dry texture is perfect for hot coffee.
However, kids and anyone else who doesn't drink coffee can still enjoy this perfect biscotti recipe. It tastes just as amazing with a glass of milk or Hot Chocolate. Plus, that way, you can enjoy it as a sweet treat without the coffee keeping you up.
Homemade Classic Biscotti Cookies also make perfect holiday gifts. If you bake the cookies for gifts, make sure you give them time to cool completely before you package them up. Line your gift box with plenty of decorative tissue paper before laying the finished Biscotti inside. It adds a bright, festive touch and stops the biscuits from breaking while they're in the box.
For your next brunch, set out a variety of Baked Goods next to a coffee bar for your guests to help themselves to a customized cup of coffee and treats. Sour Cream Coffee Cake, Blueberry Scones, and Strawberry Crumb Muffins would all make a delicious assortment along with this Classic Biscotti Recipe.
What is Biscotti?
Biscotti has been around for centuries. While is most known as Italian cookies served sometimes with sweet dessert wine for dunking, it actually originated in the Roman Empire as a practical, portable form of nourishment. The name Biscotti even traces to latin origins meaning twice cooked, due to the baking method. Because the biscuits are twice baked until they contain no moisture, they have a long shelf life and were useful for long journeys.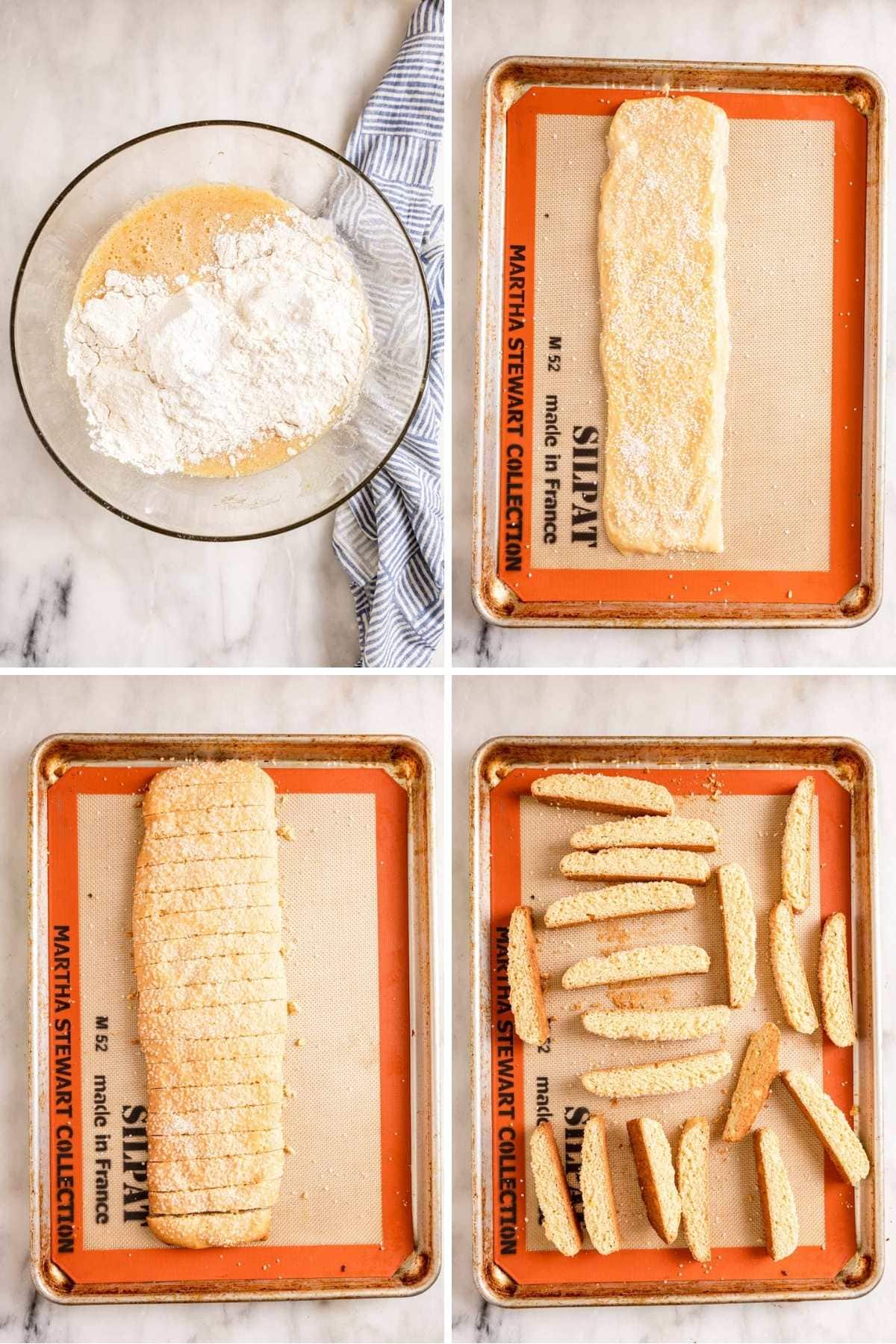 How to Make Classic Biscotti Cookies
Prep time: Preheat the oven temperature to 375 degrees. Then get out two baking trays and line each sheet with parchment paper. Set the parchment-lined sheets to the side.
Biscotti dough: Add the oil, sugar, eggs, and vanilla extract to a large mixing bowl. Then whisk the egg mixture until the egg yolks are well blended into the other ingredients. Then add the flour mixture to the bowl, and mix until the dry ingredients are just combined.
Shape: Divide the dough into 2 pieces and roll each one into a log shape, almost the same size as the baking sheet. Then place each biscotti log on a prepared baking sheet. Roll the biscotti log so that it's about ½ inch thick and 4 inches wide. Keep in mind that you may need to shorten the log to get it into the right thickness. Then sprinkle coarse sugar over the top.
Baking times: Put the baking trays in the 375-degree oven and bake for 20-22 minutes. Take them out when you have lightly browned Biscotti. Then use a pizza cutter or another sharp knife to cut the biscotti logs into 1/2-inch diagonal slices to turn the logs into biscotti shapes. Turn each of the biscotti cookies so that the cut side is up. Then bake them for an additional 8-10 minutes at the same oven temperature.
Serve: Take them out once they're golden brown and crisp. Let the Classic Biscotti Cookies cool for a few minutes before you transfer them to a wire rack to cool more.
Coffee Shop Treats
Frequently Asked Questions
Why do you bake biscotti twice?
The key to this Italian biscuit recipe is giving them two baking times. First, put the dough in the oven while it's still in a log shape. Then slice it into diagonal biscotti pieces and bake the slices again. This baking process gives the Italian Biscotti its classic crunchy texture. Let the twice-baked biscuit recipe cool before eating the wonderfully crunchy Biscotti. 
Can I make softer Biscotti?
If you'd like your Biscotti to be softer instead of crunchy, you can skip the second baking time. Increase the first baking time by a few minutes to make sure they are baked through, then let your Biscotti logs cool completely before slicing them. This will give you the perfect crunch on the outside while still keeping the centers more chewy.
Why use coarse sanding sugar on top of Biscotti?
Sanding sugar is a type of sugar with large crystals that don't melt with the heat from baking. It is perfect for adding decoration and extra crunch to the tops of baked goods. You can also add finely chopped nuts or dried fruit to the Biscotti along with the coarse sugar for more color and extra flavor.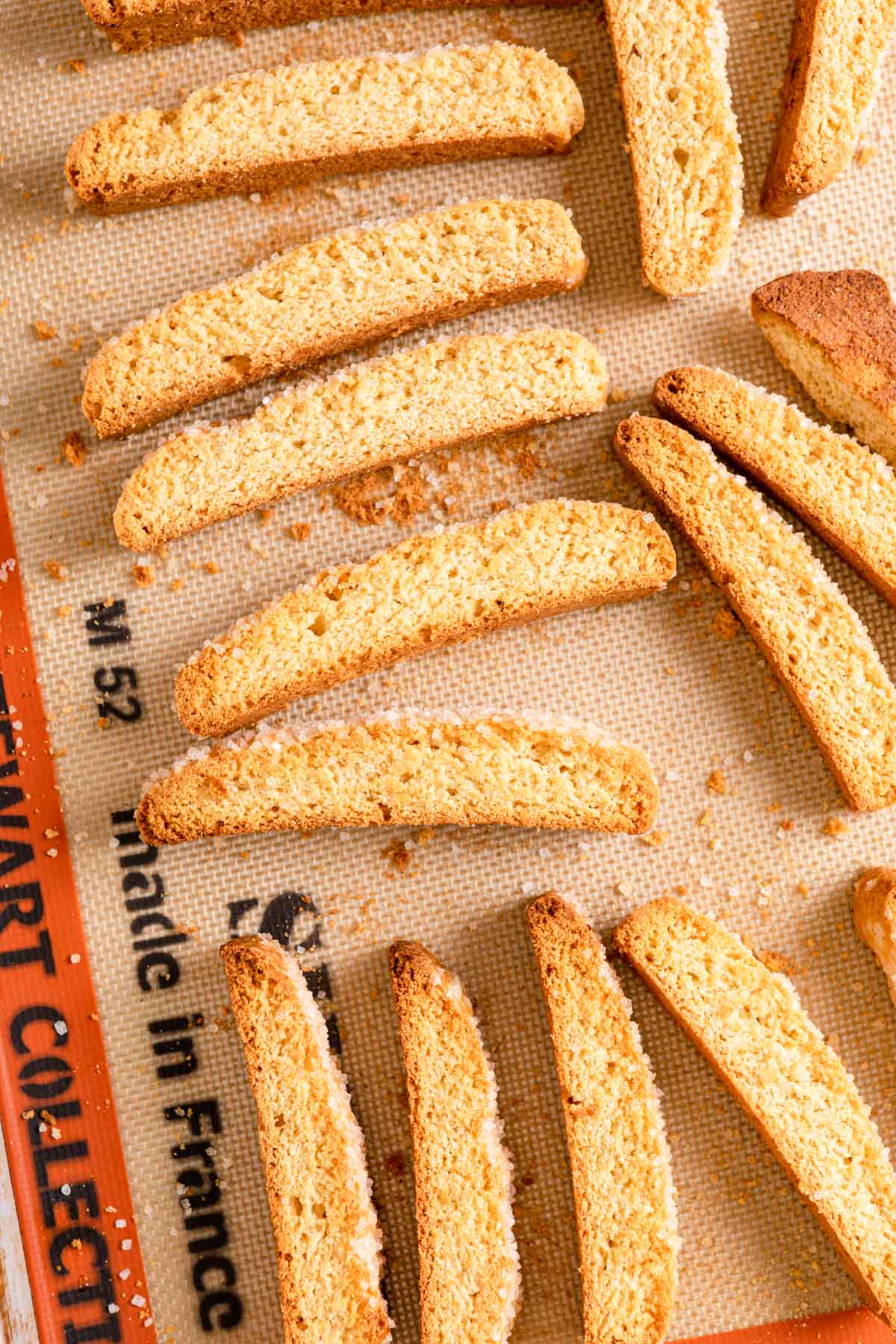 Create a free account to Save Recipes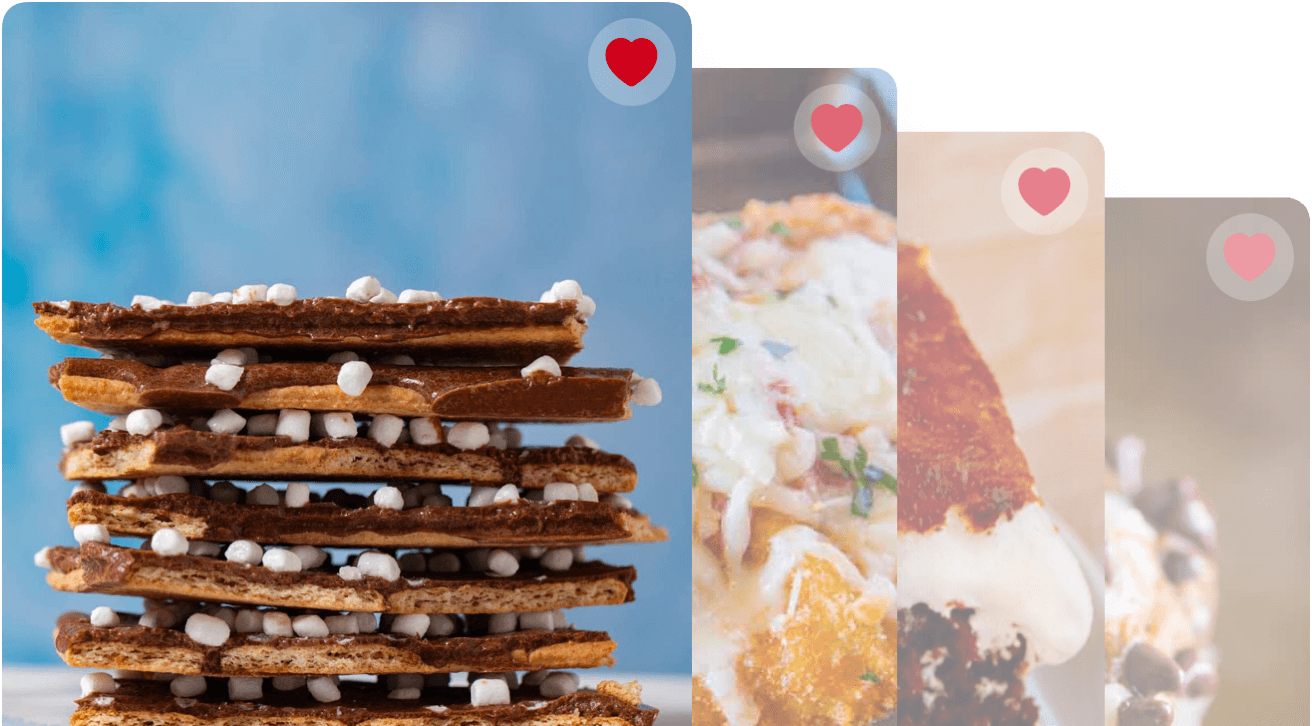 Key Ingredients in Classic Biscotti Cookies
Pantry ingredients: For the base of the biscotti dough, you only need a few simple ingredients. Granulated sugar, eggs, all-purpose flour, and baking powder come together easily in a sticky dough.
Vegetable oil: If you're following a strictly traditional biscotti recipe, they don't use any oil in the cookie ingredients. However, adding oil gives the Homemade Classic Biscotti Cookies a slightly more buttery consistency that I find a lot more enjoyable. They're still crisp, but just not as dry this way.
Vanilla: The vanilla extract adds warm and comforting flavor to the plain Italian biscuit.
Coarse sanding sugar: Adding coarse sugar to the top of the dough is an easy way to add a bit of sparkle and a little extra sweetness.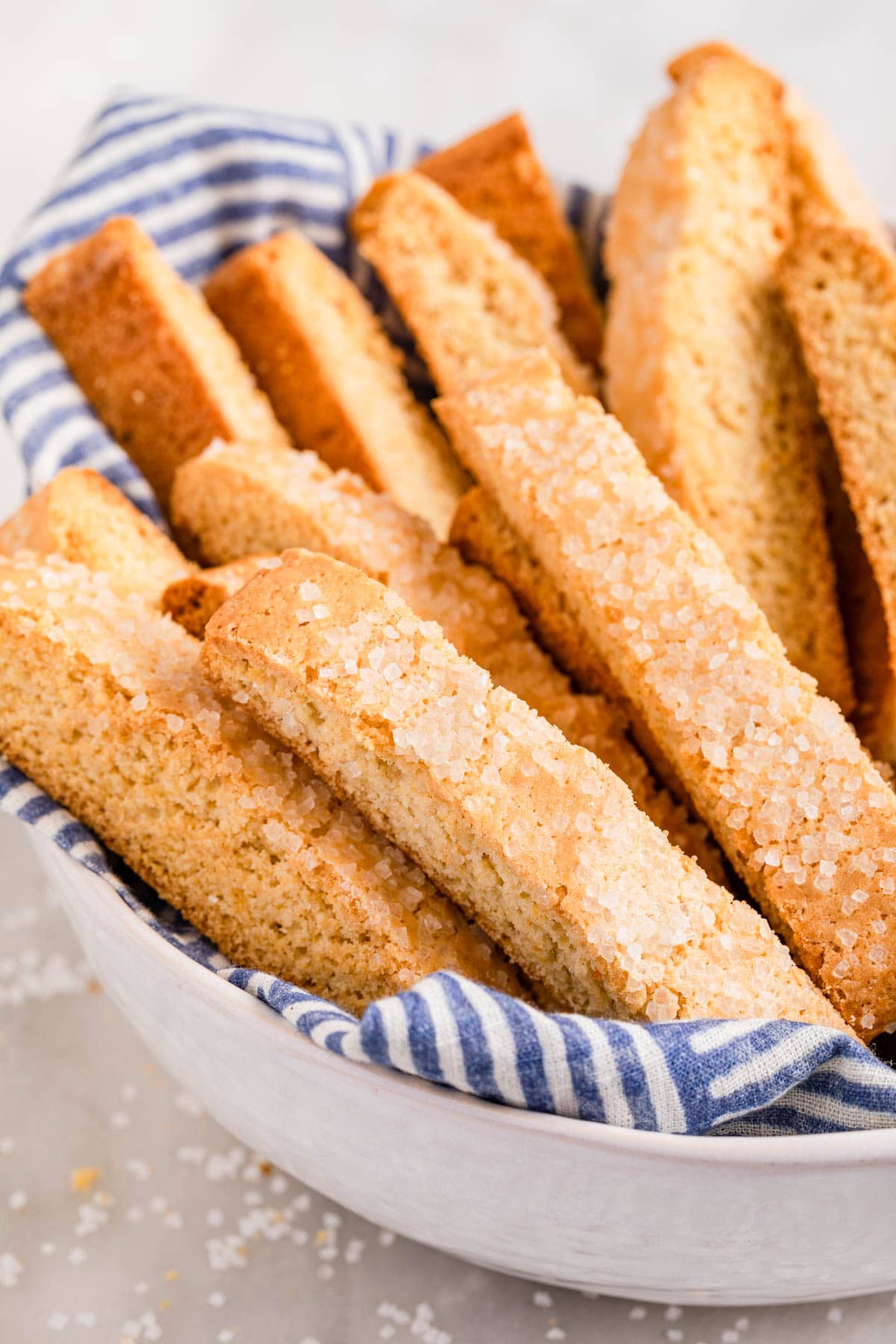 Variations on Classic Biscotti Cookies
Almond Biscotti Cookies: There are so many delicious biscotti variations that you can try out on this basic biscotti recipe. One easy one is making classic almond biscotti cookies. Add almond extract to the classic biscotti flavors. Then mix chopped almonds into the dough, and bake the Biscotti with almonds as usual.
Cranberry-Orange Biscotti: You can also make a cranberry orange biscotti recipe with dried cranberries and orange zest mixed in. Or, for another kind of citrus zest, add lemon zest with the cranberry biscotti.
Chocolate Biscotti: To make chocolate biscotti, you can make chocolate chip biscotti with mini chocolate chips mixed into the dough. Or, you can make a chocolate-dipped version. To make dipped chocolate biscotti, follow the instructions for Homemade Biscotti Cookies as usual. Once they've cooled, melt 12 ounces of semi-sweet or dark chocolate chips. Then dip the cooled Biscotti in the melted chocolate, and let the chocolate biscotti dry before serving.
Wheat flour: If you want to make your Classic Biscotti Cookies a little more healthy, you can use wheat flour instead of all-purpose flour.
Mocha Biscotti: For all you coffee lovers, try making espresso flavored Biscotti to dunk into your cup of java. Add 2 tablespoons espresso powder to the dry ingredients, and stir mini chocolate chips into the dough for a mocha inspired cookie flavor.
Mexican Hot Chocolate Biscotti: Get even more creative with flavor combinations by turning your Biscotti cookies into a Mexican inspired treat. Replace ¾ of the flour with unsweetened cocoa powder, and add 1 tablespoon cinnamon to the dry ingredients. Dunk them into Mexican hot chocolate or horchata.
More Delicious Cookie Recipes
How to Store Classic Biscotti Cookies
Serve: Make sure to let the Homemade Biscotti Cookies cool completely before you serve them.

Store: Classic Biscotti Cookies stay good at room temperature for up to 1 month. Just make sure that you seal them in an airtight container to keep them nice and crisp.

Freeze: To freeze the Biscotti Cookies, place them on a baking sheet with parchment paper. Then put the sheet in the freezer for about an hour. Once they're completely frozen, transfer the Biscotti to a freezer bag with parchment paper between layers. 


Instructions
Preheat oven to 375 degrees and line two baking sheets with parchment paper.

In a large mixing bowl whisk together oil, sugar, eggs, and vanilla extract.

Add in the flour and baking powder, whisking until just combined.

Divide the dough into two pieces and roll into logs almost as long as your baking sheets.

Place the dough on the baking sheets and roll to about ½ inch thick, about 4 inches across.

Sprinkle with coarse sanding sugar.

Bake for

20-22 minutes

or until golden brown.

Using a pizza cutter, slice the log into 1/2-inch slices.

Turn the cookies so the cut side is up and bake an additional

8-10 minutes

until the tops are slightly golden brown.
Notes
Note: If you need the log to be shorter to make it still 4 inches wide and ½ tall then shorten the log.
Nutrition
Calories:
147
kcal
|
Carbohydrates:
31
g
|
Protein:
3
g
|
Fat:
1
g
|
Saturated Fat:
1
g
|
Polyunsaturated Fat:
1
g
|
Monounsaturated Fat:
1
g
|
Trans Fat:
1
g
|
Cholesterol:
31
mg
|
Sodium:
13
mg
|
Potassium:
104
mg
|
Fiber:
1
g
|
Sugar:
13
g
|
Vitamin A:
45
IU
|
Calcium:
37
mg
|
Iron:
1
mg