Chocolate Chip Cinnamon Rolls have melty chocolate chips mixed in the dough, rolled into the filling, and it's all topped with chocolate icing!
This delicious Breakfast Recipe is the chocolate lover's answer to Classic Cinnamon Rolls. You get all the flavors of traditional cinnamon rolls, but with the addition of rich chocolate. They're perfect to make for the holidays or a birthday breakfast.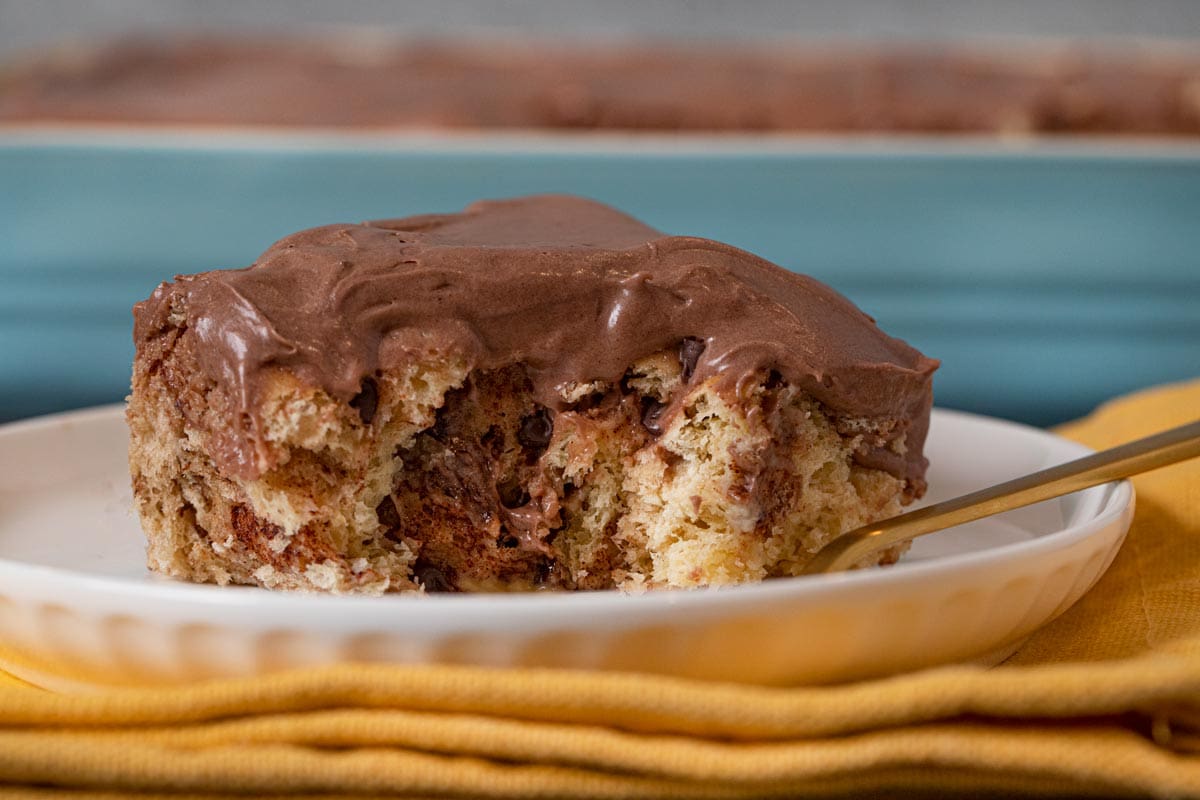 CHOCOLATE CHIP CINNAMON ROLLS
Chocolate Cinnamon Rolls make a beautiful breakfast. The delicious cinnamon rolls are filled with mini chocolate chips and topped with a cream cheese chocolate glaze. They're especially amazing served freshly baked because warm cinnamon rolls will have a gooey center with melty chocolate goodness throughout.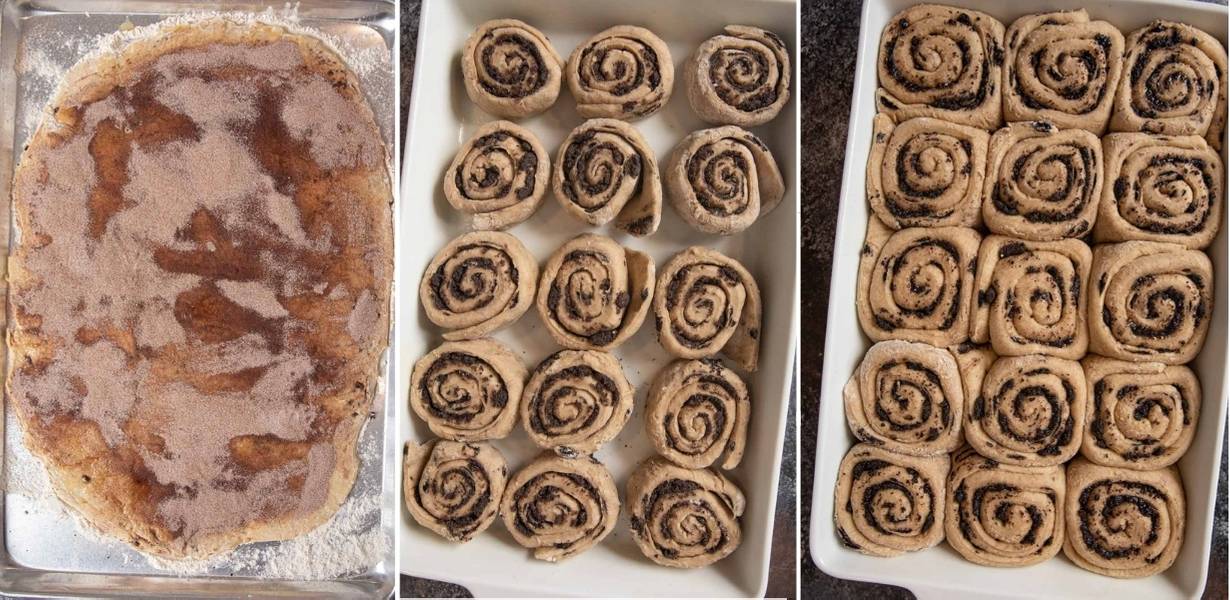 Chocolate Cinnamon Rolls are sure to become a favorite breakfast with the whole family. They're a new spin on classic cinnamon buns that makes them even richer. Serve the fun breakfast treat up on Christmas morning, for a birthday, or just as a surprise for a normal weekend.
While the rolls are in the oven, you can brew a pot of coffee or even make Hot Chocolate. The combination of warm cinnamon rolls and your favorite hot drink is sure to make the coziest morning ever!
MORE SWEET BREAKFAST RECIPES
TIPS FOR MAKING THE PERFECT CINNAMON ROLLS
When it comes to making your own breakfast pastries, there are a few easy tips to ensure the recipe goes perfectly every time. If you're new to baking, making your own dough can be stressful. But, as long as you follow a few guidelines, your rolls should turn out perfectly fluffy and light. Here are some quick tricks to avoid common pitfalls:
Be careful not to overheat the milk mixture. The recipe starts by heating up milk and butter on the stove. You only want to heat it to 110 degrees. That's just to the point of being warm to the touch.
When you add the flour mixture to the dough, cover the bowl with a clean towel. This will stop any flour from flying across your kitchen, which will save you the headache of cleaning and make sure you still have the right amount of flour in the mixture.
If the dough is sticking to the mixing bowl, you can add some flour to help it pull away from the edges. Just be careful not to add in too much extra flour or the cinnamon roll recipe will turn out dense.
Chill the dough before forming it into rolls. This will make it much easier to shape.
Use room temperature, not melted, butter for the cinnamon and chocolate filling.
Place the rolls in a warm place for 20 minutes before you bake them. If you have a second oven, you can use it for this step. Heat the oven to warm when you start the recipe. Then turn off the heat and open it for a few seconds before closing again. The remaining heat will help the dough to rise. Otherwise, just keep the rolls in a warm area of your house.
Bake until the rolls are just beginning to look golden brown.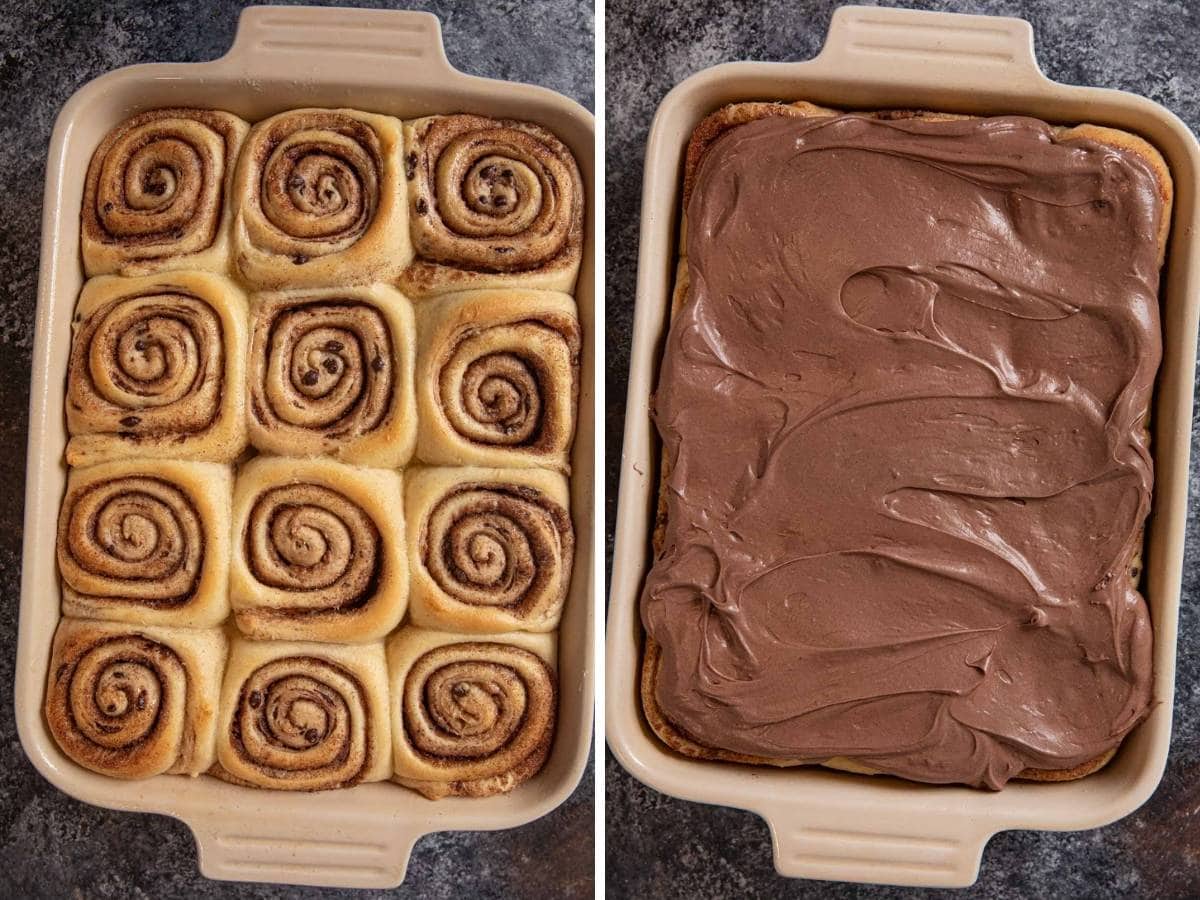 Create a free account to Save Recipes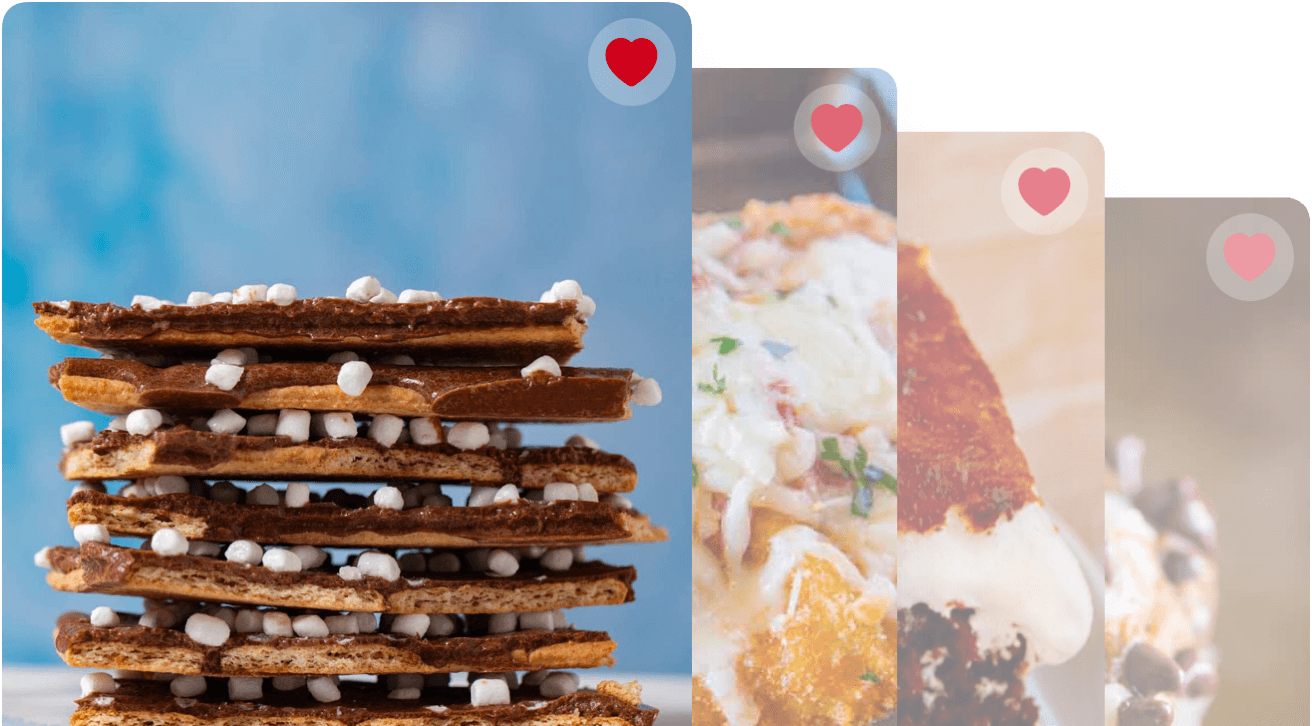 VARIATIONS ON CHOCOLATE CHIP CINNAMON ROLLS
Chocolate Banana Cinnamon Roll: There are so many flavors you can add to basic cinnamon rolls. For banana flavor in this recipe slice two bananas into small pieces. Then add the banana to the chocolate and cinnamon mixture.
Berries: Raspberry or strawberry are two other flavors that would taste amazing in these breakfast rolls. Just slice the berries and add them to the filling. You could pick just one of the berries, or combine the two for a mixed berry recipe.
Chocolate: You can also use different kinds of chocolate chips. Milk chocolate, dark chocolate, or white chocolate chips would all taste amazing.
Brown Sugar Filling: Instead of cinnamon, you can use brown sugar in the filling. This will make more sweet rolls without the contrast of the cinnamon spice.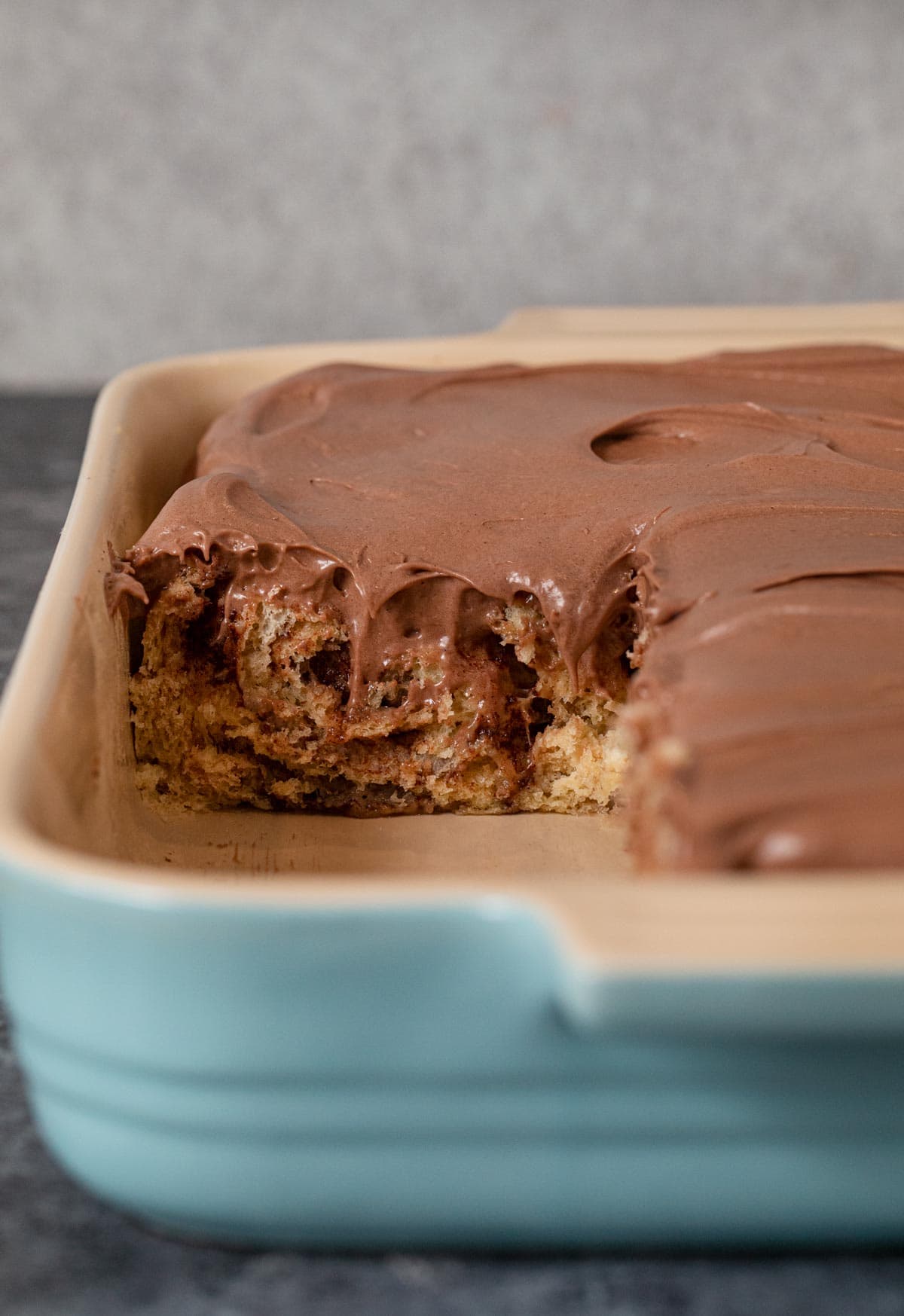 MORE CINNAMON ROLL RECIPES
HOW TO STORE CHOCOLATE CHIP CINNAMON ROLLS
Serve: Any leftover Chocolate Cinnamon Rolls will stay good at room temperature for 2-3 days. Cover them in plastic wrap or tin foil so that they stay soft.
Store: You can also seal the pastries in an airtight container to store in the fridge for up to 1 week. Reheat them in the microwave or enjoy them cold.
Freeze: Frozen Cinnamon Rolls can stay good for up to 5 weeks if they're sealed in an airtight container. Let them thaw in the fridge overnight and then reheat them for about 10 minutes in the oven before serving warm.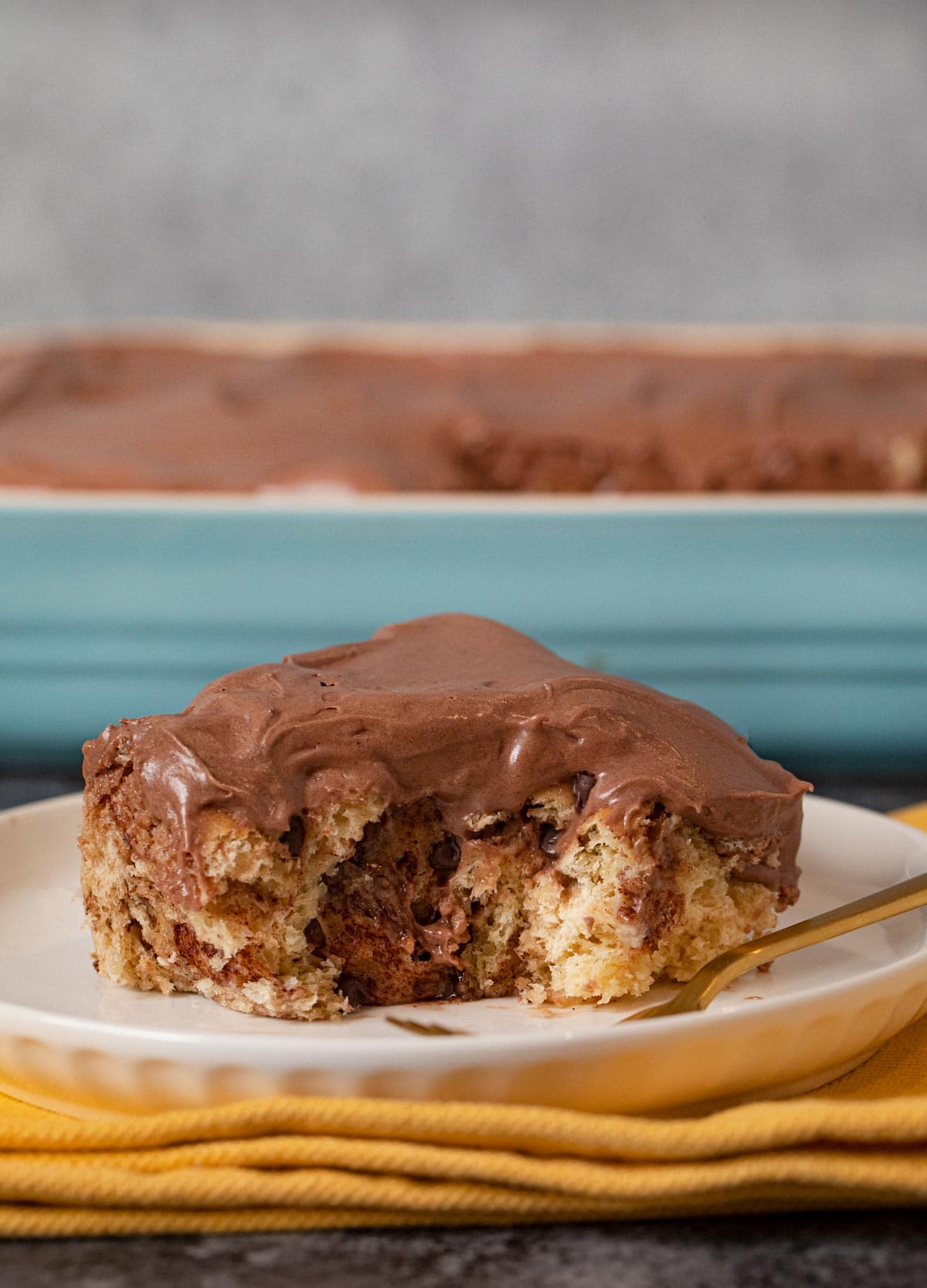 Ingredients
Cinnamon Roll Dough:
2

cups

whole milk

1/2

cup

butter

, room temperature

6 1/2

cups

all-purpose flour

, divided

1/2

cup

granulated sugar

1

teaspoon

salt

2

packets

instant rapid rise yeast

2

large

eggs

1

cup

semi-sweet mini chocolate chips
Cinnamon Roll Filling:
1

cup

sugar

3

tablespoons

ground cinnamon

1/2

cup

butter

, room temperature

1

cup

semi-sweet mini chocolate chips
Cream Cheese Icing:
12

ounces

cream cheese

, (1 ½ packages) softened

1/3

cup

butter

, room temperature

1

tablespoon

vanilla extract

5

cups

powdered sugar

1

tablespoon

cocoa powder

3

tablespoons

milk
Instructions
Cinnamon Roll Dough:
In a small saucepan heat the milk and butter to 110 degrees (warm to touch).

Into your stand mixer add the yeast and milk and whisk and let sit for

1 minute.

Add 6 cups of the flour, sugar, salt and eggs to the stand mixer.

PRO TIP: COVER YOUR MIXER WITH A CLEAN DISH TOWEL.

Attach the dough hook and turn the mixer on speed 3-4 (low to medium).

Let it go for

5-7 minutes

, you want the dough to become a ball that doesn't stick to the walls of the bowl.

Add in 1 cup mini chips and mix in for

30 seconds

on low speed.

If you find sticking add flour ¼ cup at a time until it pulls away (no more than another cup)

Take the dough out, grease the stand mixer bowl and put it back in.

Cover the dough with your dish towel you used to keep the flour in the stand mixer.

Let sit for

10 minutes

while you set the oven to preheat to 350 degrees and you make the filling.

In a medium sized bowl mix the sugar and cinnamon.

Using a large even surface, add ½ cup of flour and roll it out onto the surface to coat the rolling pin and the surface.

Roll out the dough into a large rectangle about a ½ inch thick (if your space is limited do this in two halves).

Spread the butter over the dough (I use my hands) and sprinkle the cinnamon sugar over the butter.

Sprinkle mini chocolate chips over the dough evenly.

Roll the dough tightly to form a long log and using a piece of thread slice off pieces.

The dough will make 18 large cinnamon rolls.

Place the rolls into buttered baking pans or jelly rolls.

Place the rolls into a warm place for

20 minutes

(I have a second oven, so I heat it to warm when I start the recipe, then turn it off and open the door for a couple of seconds then close the door. The residual warmth is perfect for these rolls).
Cream Cheese Frosting:
In your stand mixer beat cream cheese, sugar and vanilla extract until creamy.

Add the powdered sugar, cocoa powder and milk, beating until light and fluffy.
To Finish:
Bake the rolls for

18-20 minutes

or until golden brown.

Spread the cream cheese frosting over the rolls and serve warm or at room temperature.
Nutrition
Calories:
701
kcal
|
Carbohydrates:
103
g
|
Protein:
10
g
|
Fat:
29
g
|
Saturated Fat:
17
g
|
Trans Fat:
1
g
|
Cholesterol:
71
mg
|
Sodium:
363
mg
|
Potassium:
308
mg
|
Fiber:
4
g
|
Sugar:
62
g
|
Vitamin A:
620
IU
|
Vitamin C:
1
mg
|
Calcium:
106
mg
|
Iron:
4
mg