Almond Cake is the perfect sweet, buttery, tender dessert made with sour cream, homemade almond paste, almond extract, and sliced almonds.
You're sure to love the comforting, sweet, and buttery taste of this classic Cake Recipe. Try our Almond Bundt cake for a variation of the same simple almond flavor with a slightly different texture.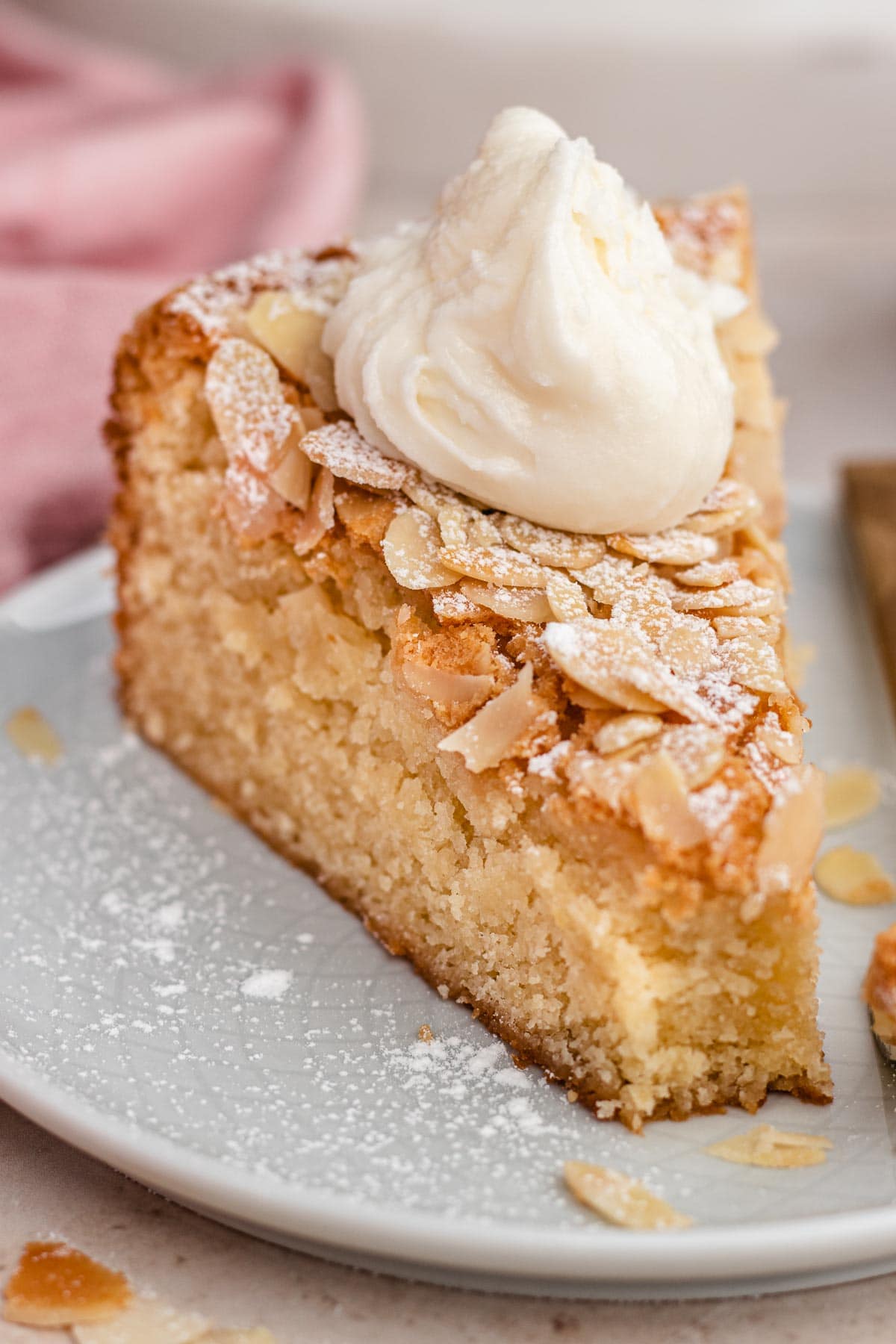 This delicious recipe is sometimes referred to as Anytime Almond Cake. It gets its name because while the cake recipe makes a delicious dessert, it can also be enjoyed as a sweet snack for breakfast, brunch, or tea time. The moist cake is sweet enough for a dessert, but it's not so sugary or rich that you can't have it in the morning with a cup of coffee.
If you want to dress up the sweet Almond Cake to make it into more of a dessert dish, you can add your choice of toppings. We used a simple dusting of powdered sugar and sliced almond topping, but you could also add fresh berries, Whipped Cream, or glaze to the tender crumb cake. Or, serve some Ice Cream on the side for a more decadent dessert combo.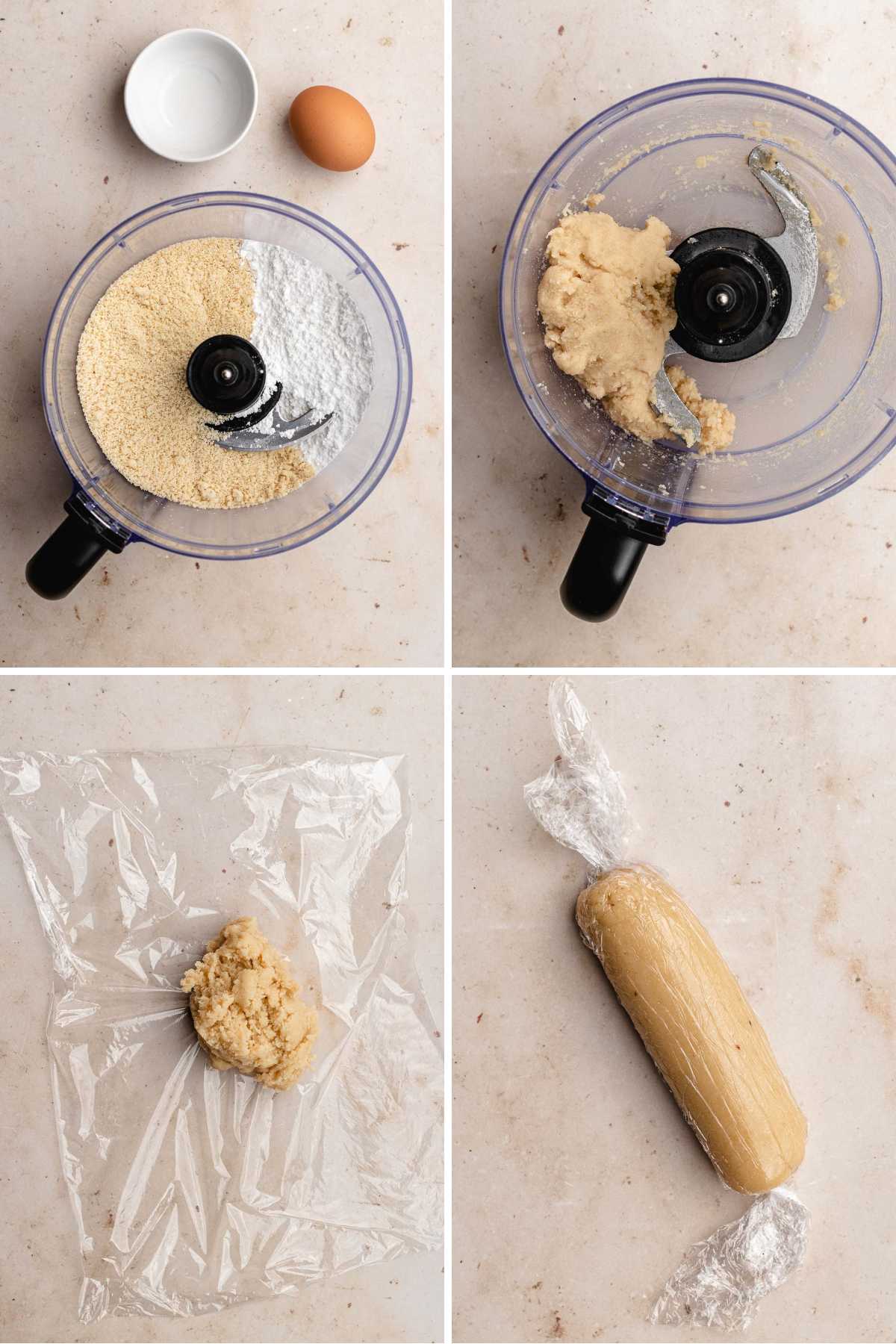 How to Make Almond Cake
Almond paste: To make your own almond paste, first add almond flour, powdered sugar, and salt to your food processor and pulse. Then add almond extract and egg whites. Pulse until it forms a ball. Add the almond paste mixture to plastic wrap and roll it into a log. Then refrigerate for 1 hour. Cut the almond paste log into slices and set it to the side.
Prep time: To start the Almond Cake recipe, preheat your oven to 325 and line a springform pan with parchment paper. Then spray the pan with nonstick cooking spray.
Cake batter: Add softened butter and granulated sugar to your stand mixer and mix at high speed with the paddle attachment. Beat for 3-4 minutes until the butter mixture is light and fluffy. Add one slice of almond paste at a time. Wait to add the next slice to the mixing bowl until the first is blended in smoothly. Then beat for 4-5 minutes. Add the egg yolks one at a time. Then add the almond extract and sour cream. Sift the flour, salt, and baking soda into a separate bowl. Then lower the mixing speed to add the dry ingredients in small increments until the flour mixture is just combined into the cake batter.
Baking time: Spread the batter evenly over the prepared cake pan. Then top the batter with sliced almonds. Put the pan in the preheated oven and bake for 50-55 minutes or until a toothpick comes out clean. Take the golden brown cake from the oven and dust it with powdered sugar before serving.
More Cake Recipes
FAQs
How to measure almond flour correctly?
To properly measure almond flour or any flour, first, scoop the ingredient into a measuring cup. Then use the flat edge of a butter knife to level out the top. It's essential to do this gently without compressing the flour. Because flour is so light, if you press it down, you can add way more to the cup. However, you want to keep it light and airy.
How do you separate eggs?
For this recipe, you'll use 1 egg white in the almond paste and 4 egg yolks in the cake batter. To easily separate the egg yolk and egg white, crack an egg at the center against a flat surface or the edge of your bowl. Then carefully pull the egg halves apart. Gently transfer the egg yolk from one eggshell half to the other without breaking the yolk. Do this over a bowl. As you transfer the yolk, the egg whites will fall off into the bowl.
How to make a light and fluffy cake?
There are a few keys to achieving the light and fluffy texture of this cake. The first step is whipping the butter and sugar together. This process of beating the butter mixture creates air bubbles for a less dense consistency. Another important tip is not to overmix the dry ingredients. If you spend too long stirring the cake batter together, you'll create too much gluten resulting in a gummy and overly chewy cake consistency.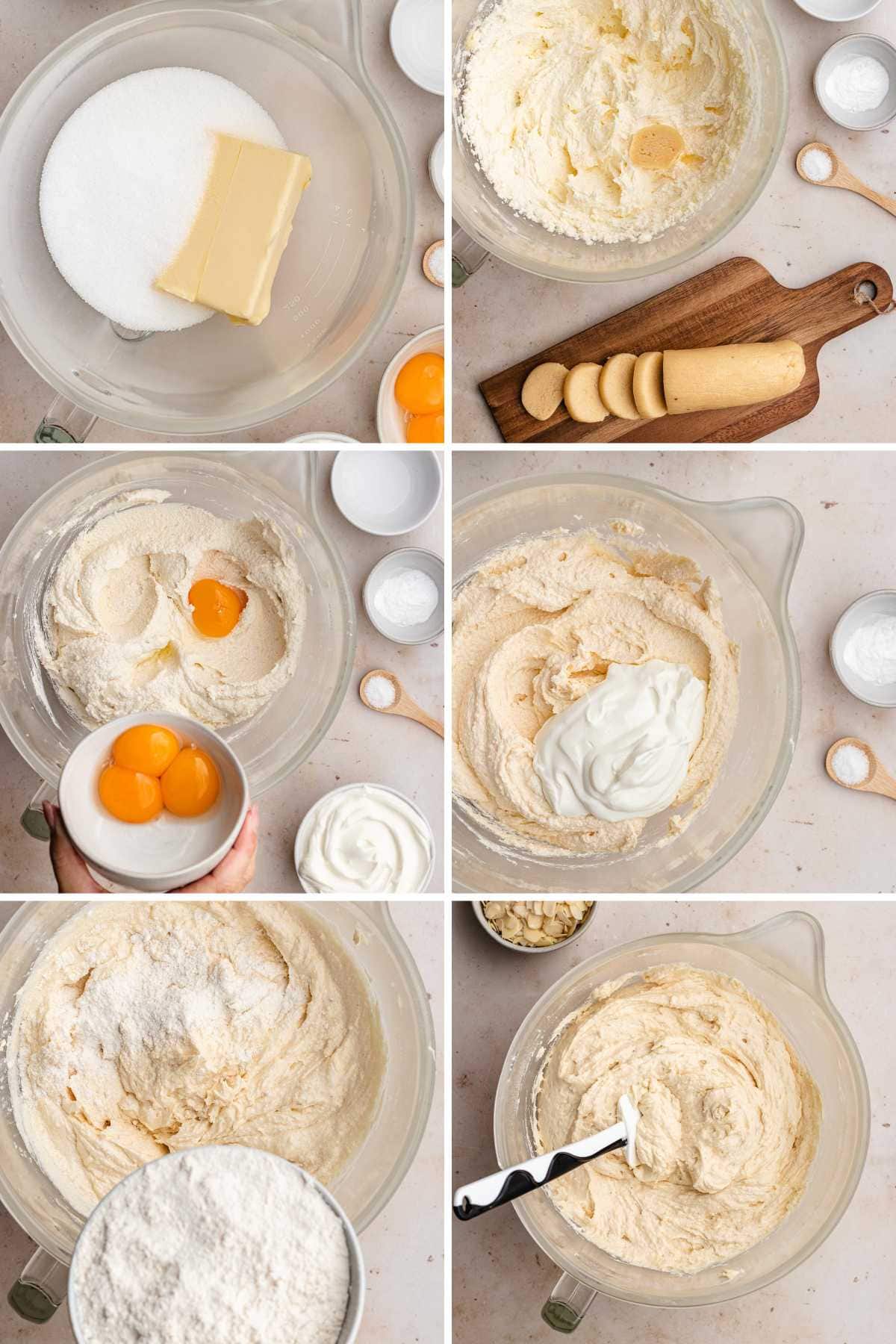 Create a free account to Save Recipes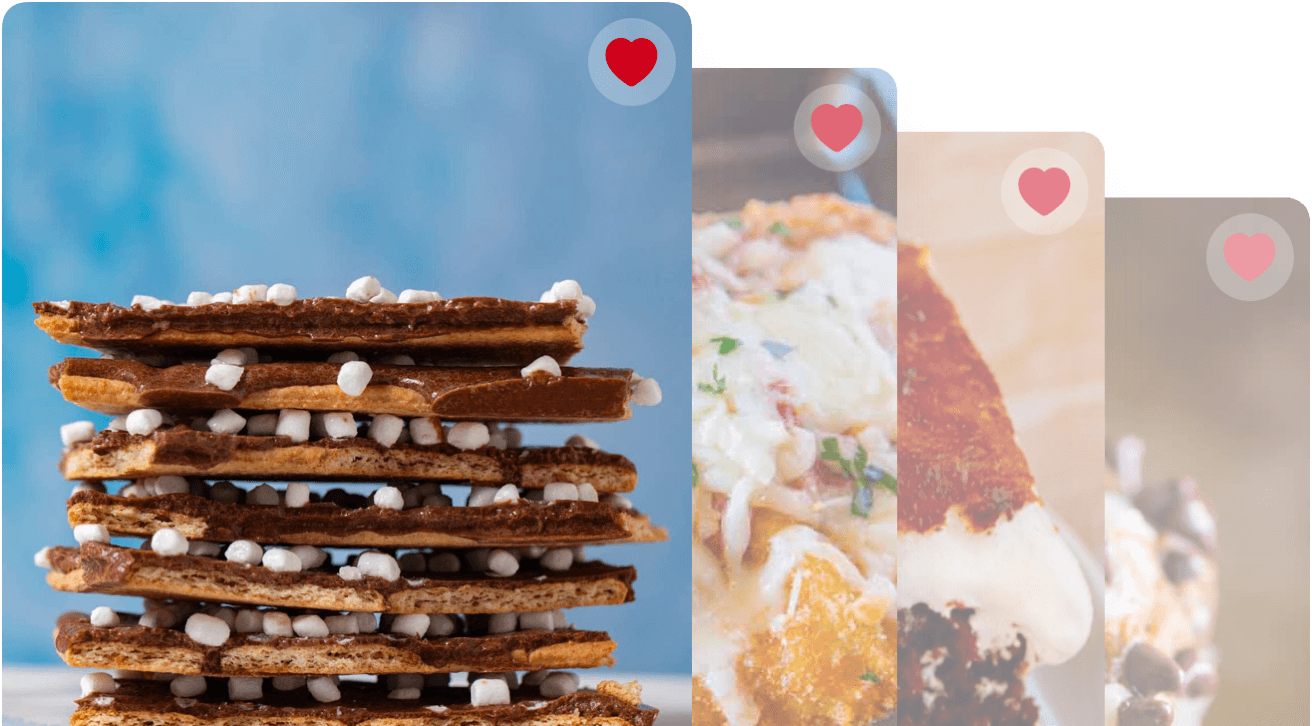 Key Ingredients
Almond paste: While you can buy this baking ingredient, it's easy to make yourself with almond flour, powdered sugar, salt, almond extract, and an egg white. Using almond paste in the cake batter adds a rich almond flavor and smooth, structured texture to the cake. Almond paste is also a less sugary alternative to marzipan, which is perfect for this simple almond cake.
Unsalted butter: Be sure to leave the butter out to soften. You need room-temperature butter to create the necessary light consistency with the granulated sugar in this recipe.
Almond extract: Along with the almond paste, you'll also add almond extract to this recipe. Just like a teaspoon of vanilla extract would, the almond extract adds more depth of flavor to baked goods. It's sweet, nutty, and comforting.
Egg yolks: For the cake batter, you want 4 egg yolks with no egg whites. The egg yolks soften the cake batter without thinning it out as much as egg whites would. Egg yolks also make the cake flavor richer and give the Almond Cake its slightly yellow, creamy color.
Sour cream: The acidity in sour cream softens the gluten in baked goods for a more tender result. It also adds a bit of delicious tanginess to contrast with sweet ingredients and ultimately enhances all the flavors.
Flour: We recommend using cake flour or baking flour instead of all-purpose flour in this recipe. Cake flour is ground more finely, so it's less heavy in the batter and creates more gluten, making it perfect for dessert recipes and baked goods like this one.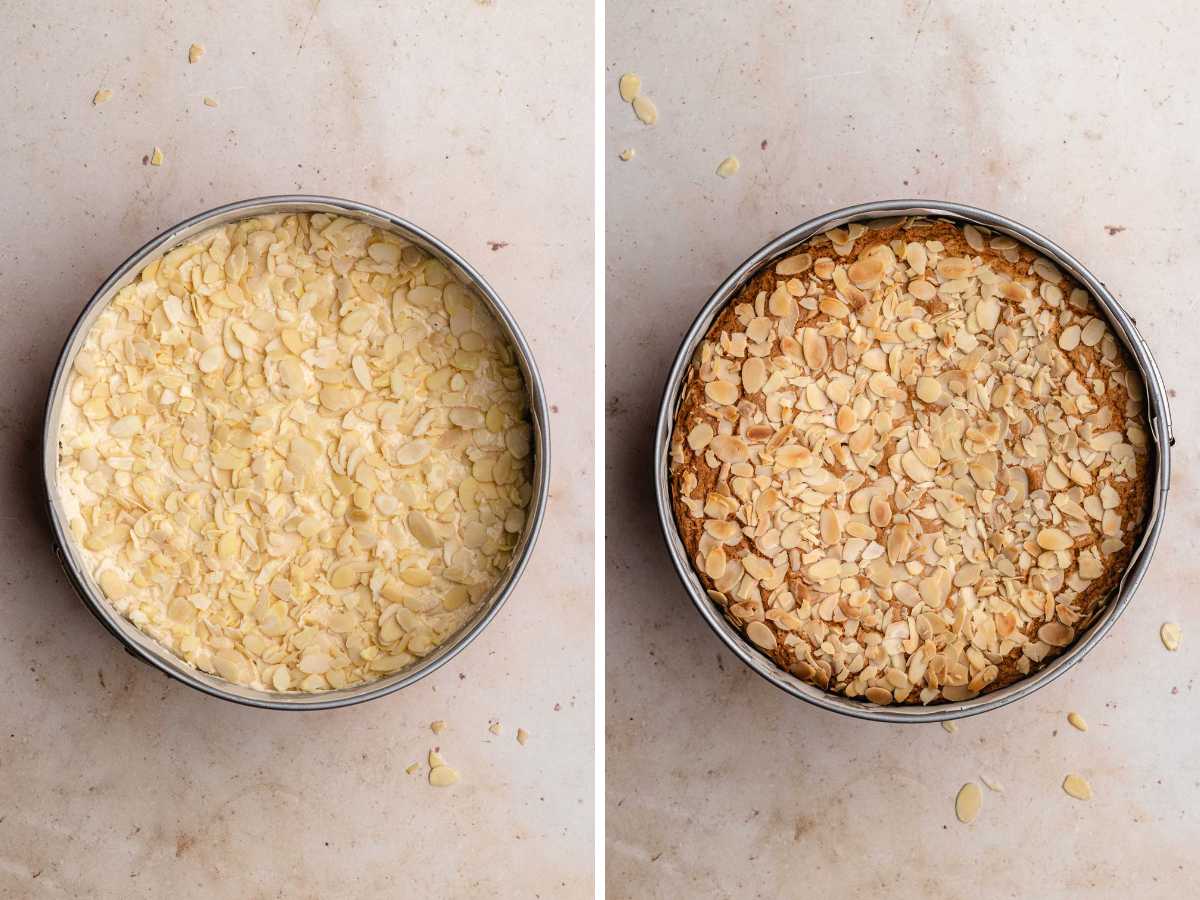 Variations
Berry almond cake: To add a burst of bright fruit flavor to your Almond Cake recipe, you could mix frozen blueberries, strawberries, raspberries, or a berry mix into the cake. Then decorate the cake with sliced strawberries or other fresh berries of your choice, and dust with powdered sugar before serving.
Lemon almond cake: Another easy way to flavor this cake is with lemon; add a bit of lemon zest to the batter, then top the baked cake off with homemade lemon icing. To make the icing add 2 cups of confectioners sugar and 3 tablespoons of lemon juice to a mixing bowl. Whisk until the mixture is thick but pourable. If it's too thick to pour, add extra lemon juice as necessary. Then pour the mixture over your Almond Cake and top with extra lemon zest or fresh, circular lemon slices.
Orange cake: You could follow the same instructions for making a lemon cake to make an Orange Almond cake. Just substitute the lemon zest and lemon juice for orange zest and orange juice. You'll love the fresh and sweet flavors that these citrus options add.
Frosted Almond Cake: If you want to make this cake with a layer of frosting, you can follow our Cream Cheese or Classic Buttercream Recipe. We recommend adding a fairly light layer of frosting to this cake, as a thick layer can make the recipe seem a little too heavy and rich.
Delicious Pound Cakes
How to Store
Serve: After baking, you don't want to leave your cake recipe uncovered for more than a few hours, or it can start to dry out.
Store: You can cover the cake in plastic wrap or aluminum foil to keep it at room temperature for 1-2 days. Or, transfer it to an airtight container to store in the fridge for 3-4 days.
Freeze: You can also carefully seal and freeze the cake for up to 3 months. To serve the cake, transfer the frozen cake to the fridge to thaw. Then leave it at room temperature a few hours before serving or heat it in the oven at 250 degrees.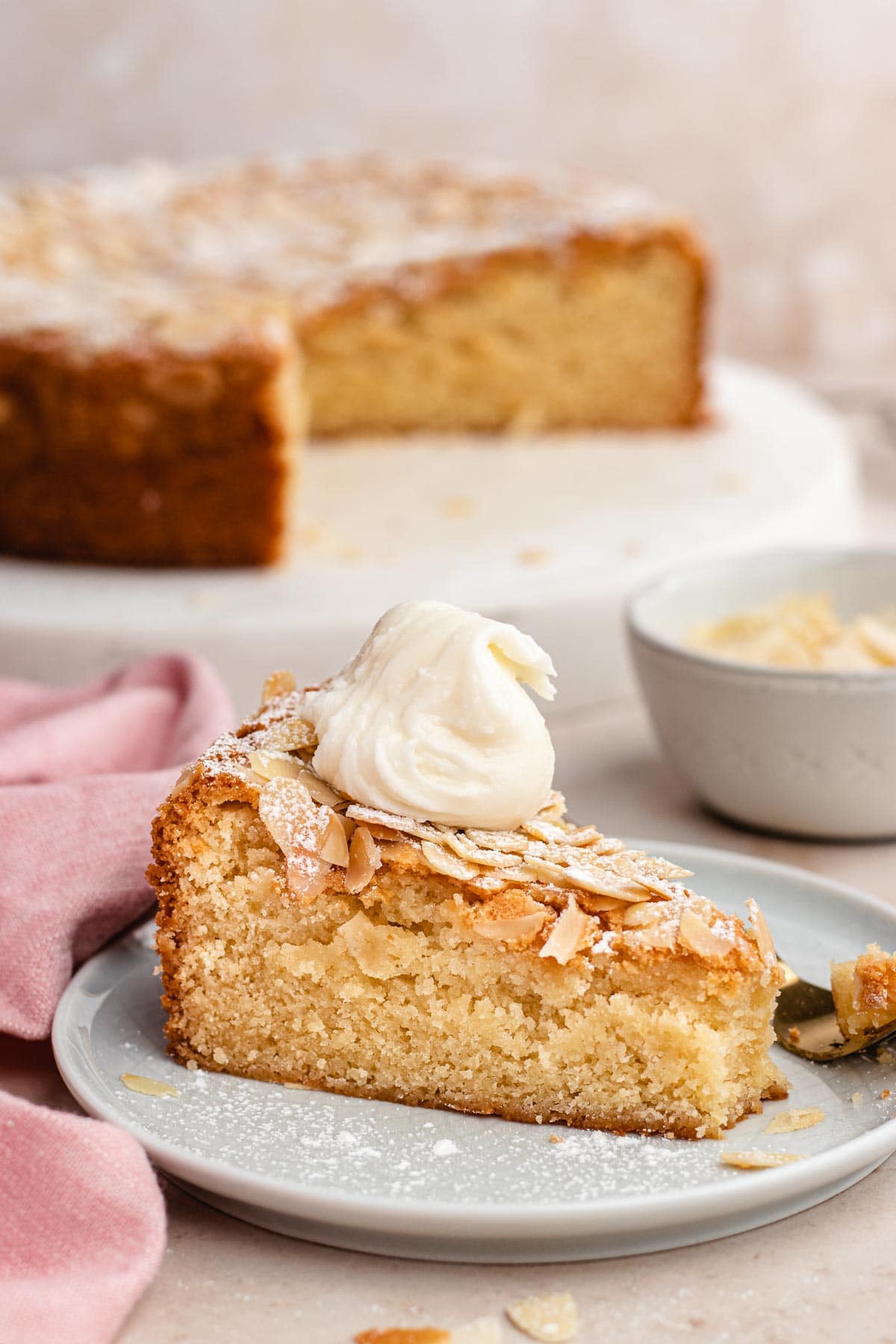 Ingredients
Almond Paste:
1

cup

almond flour

1/2

cup

powdered sugar

1

pinch

salt

1/2

teaspoon

almond extract

1

large egg white
Almond Cake:
1

cup

unsalted butter

, softened

1 1/2

cups

sugar

4

large egg yolks

1

teaspoon

almond extract

1

cup

sour cream

2

cups

flour

1/2

teaspoon

salt

1

teaspoon

baking soda

1/2

cup

sliced almonds

powdered sugar

, for garnish
Instructions
Almond Paste:
Add almond flour, powdered sugar and salt to a food processor and pulse.

Add in the almond extract and egg white and pulse until it comes together in a ball.

Add mixture to a piece of plastic wrap and roll tightly into a log.

Cut into slices and set aside for the cake.
Almond Cake:
Preheat oven to 325 degrees and line a 9″ springform pan with parchment paper and spray with baking spray.

To your stand mixer, with the paddle attachment, add the butter and sugar at high speed.

Beat for

3-4 minutes

until light and fluffy.

Add the almond paste to your batter one slice at a time, adding each slice when the mixture is smooth.

Beat for another

4-5 minutes

.

Add in the egg yolks one at a time.

Add in the almond extract and sour cream.

Sift together the flour, salt, and baking soda in a separate bowl.

Lower the speed to the lowest speed setting, then add the flour in small increments until it is just combined.

Spread the batter evenly in the springform pan, and top with the sliced almonds.

Bake for 50-55 minutes or until a toothpick comes out clean.

Let cool before serving, and dust with powdered sugar.
Nutrition
Calories:
466
kcal
|
Carbohydrates:
50
g
|
Protein:
7
g
|
Fat:
28
g
|
Saturated Fat:
13
g
|
Polyunsaturated Fat:
2
g
|
Monounsaturated Fat:
7
g
|
Trans Fat:
1
g
|
Cholesterol:
117
mg
|
Sodium:
207
mg
|
Potassium:
96
mg
|
Fiber:
2
g
|
Sugar:
31
g
|
Vitamin A:
679
IU
|
Vitamin C:
0.2
mg
|
Calcium:
67
mg
|
Iron:
2
mg