Crispy Baked Lemon Parmesan Chicken with fresh lemon, butter, garlic and Parmesan has all the flavors of your favorite scampi dish but in a healthier oven baked version.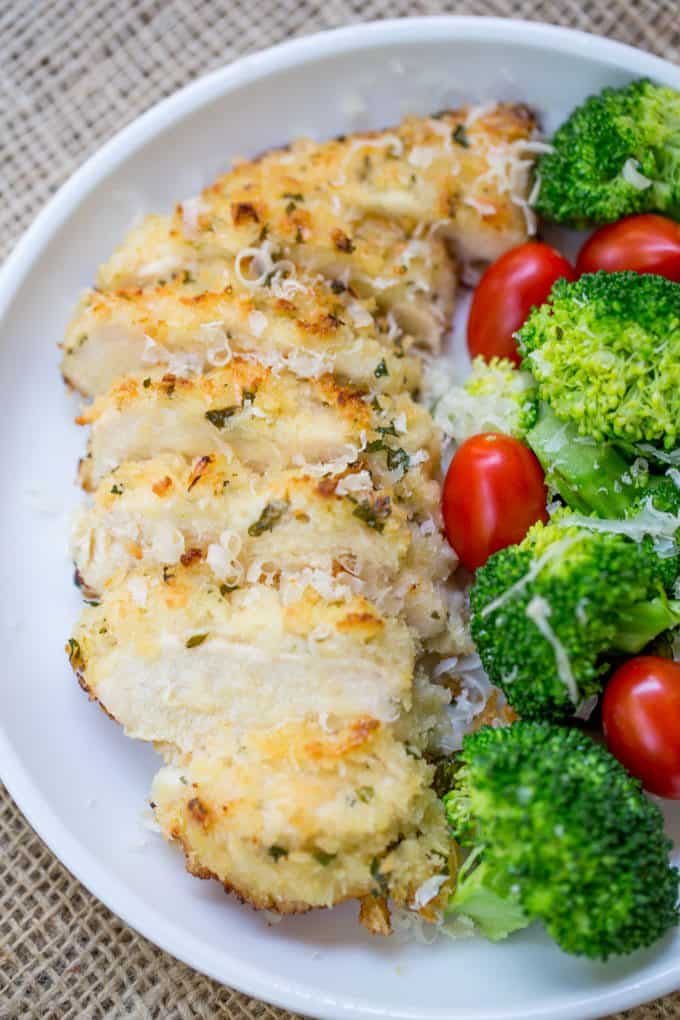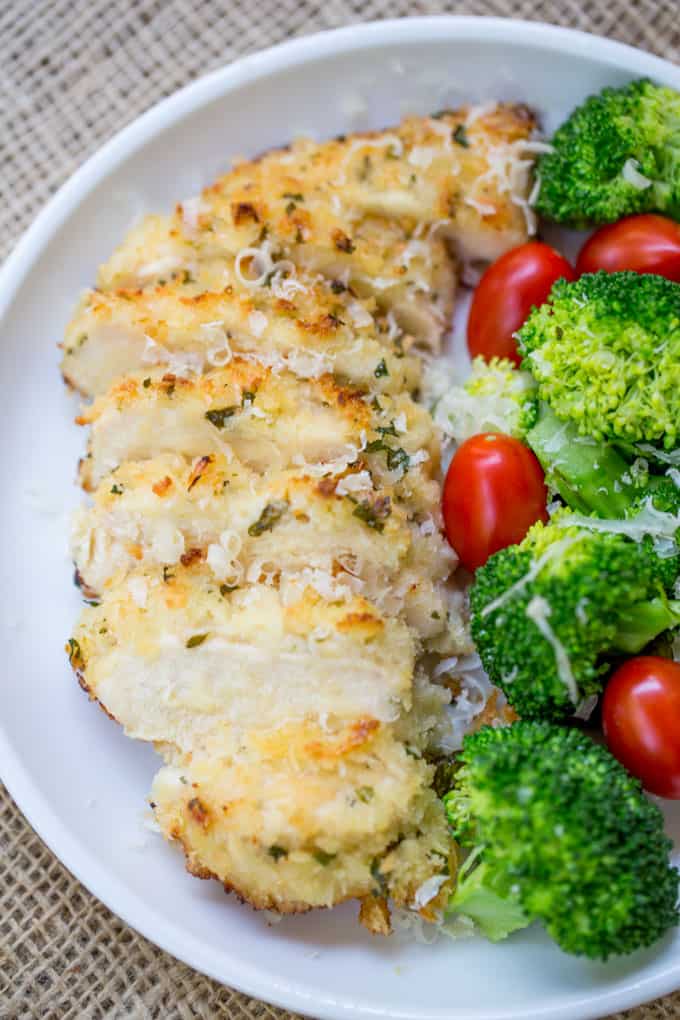 Crispy Baked Lemon Parmesan Chicken was the brainchild of watching an old favorite episode of Ina Garten's show after coming home from a lunch in San Francisco hosted by Foster Farms, who generously sponsored this post.
See how easy this recipe is in this video:
The discussion at the lunch centered around "New Comfort Food," which includes fresh and local ingredients, time-saving cooking methods, and healthier amounts of oils and fats along with fresh vegetables and fruits.
To me the concept really symbolized the way we can take recipes we've long loved and refresh them to fit the healthier style of cooking that is so important today.
Swapping out the shrimp for Foster Farms Simply Raised Chicken was an easy swap since I had chicken on the brain, but losing about half the butter, adding in freshly grated Parmesan cheese, fresh lemon juice and zest, fresh parsley and baking the dish made it really come alive with flavor.
Foster Farms is committed to providing it's customers with California raised, high-quality products as it has been doing since 1939.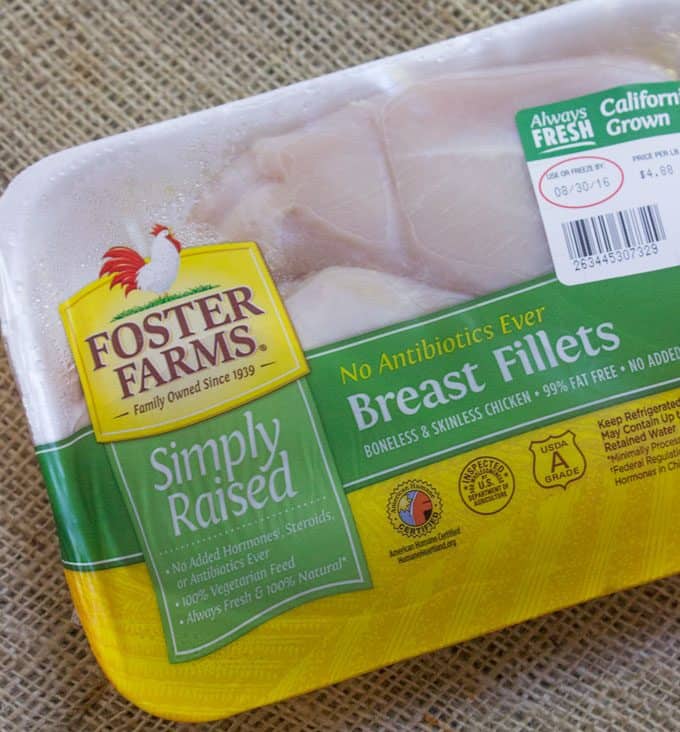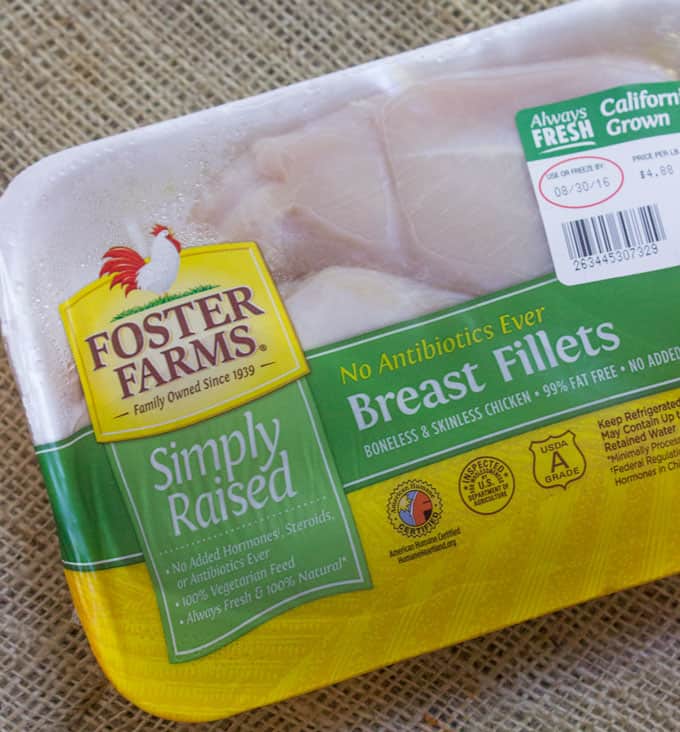 MY OTHER RECIPES
The lemon and garlic were punches of flavor and the chicken was so moist from the baking with the protective coating of panko and the melted butter that is drizzled on top. The chicken, the star of the dish, is raised with no antibiotics ever and a 100% vegetarian diet.
My husband and I have memories of making the original version of this dish when we were first dating. It's rich and delicious but you were always left feeling sort of heavy afterwards. This dish was the opposite, served with some roasted asparagus and a light salad made with a lemon vinaigrette, we felt satisfied and happy without feeling like we'd each eaten a stick of butter. Don't worry, we still love you Ina.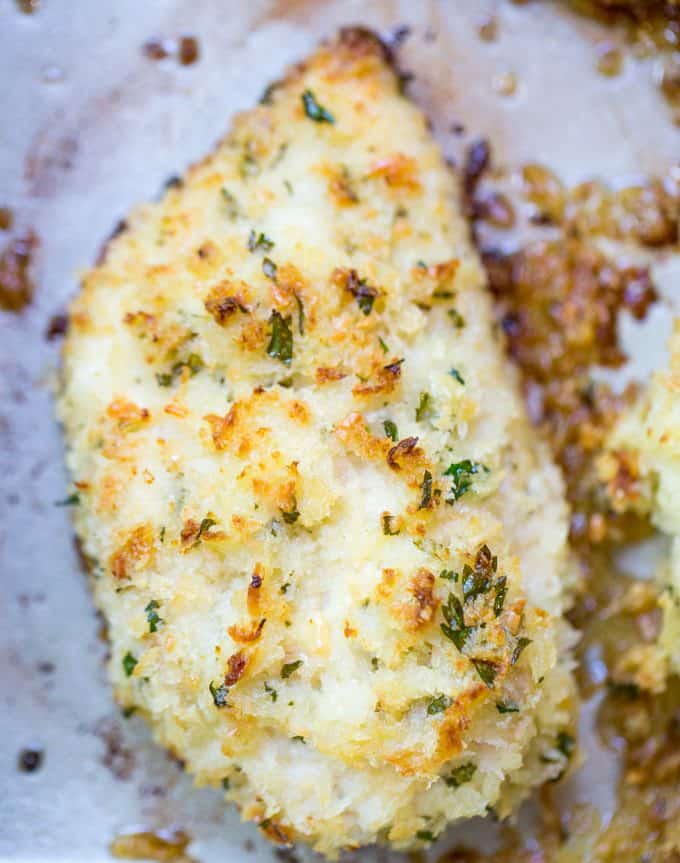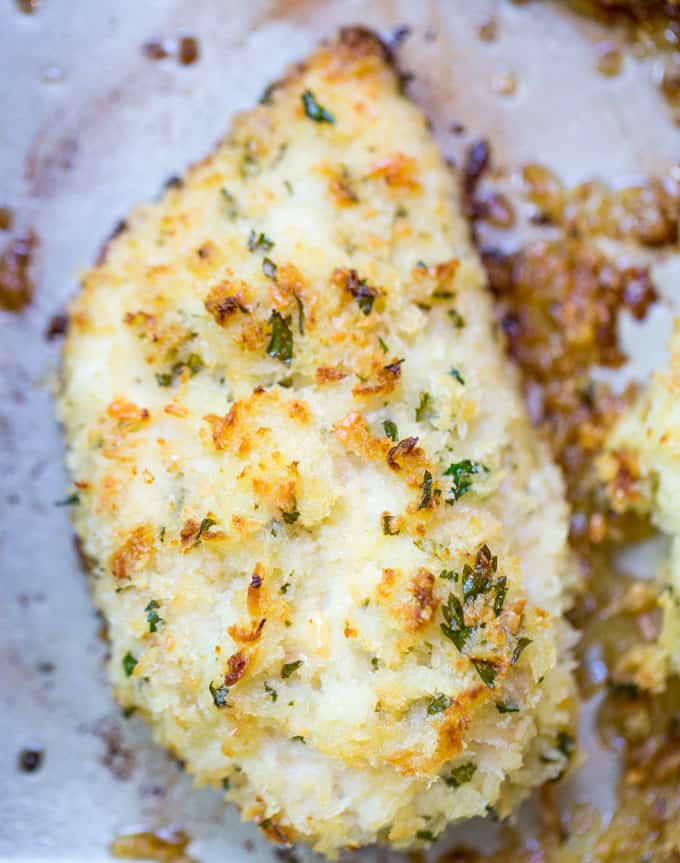 You'll love how easy this dish comes together. Just like a normal breaded chicken the flavor is kicked up with the addition of butter and lemon juice and ALL THAT GARLIC. Cooked at a higher temperature than you normally would for boneless, skinless chicken, it browns and gets crispy while still staying moist and juicy inside.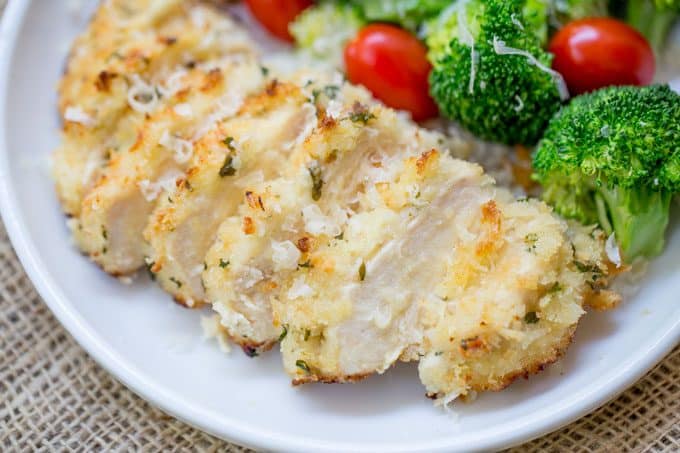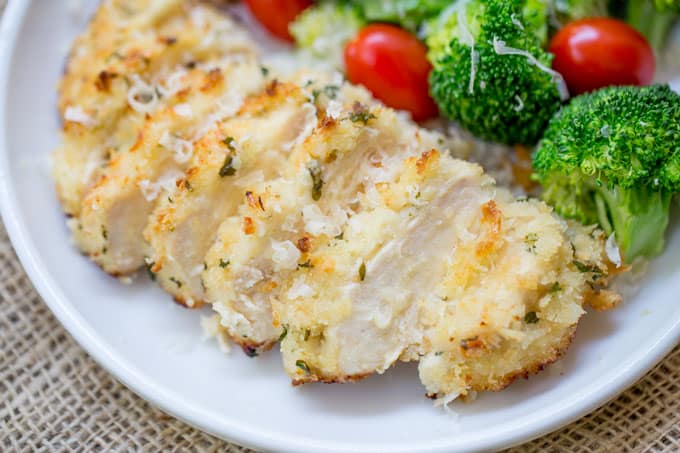 Recipe
Save

Recipe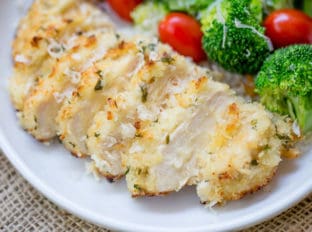 Crispy Baked Lemon Parmesan Chicken
Yield:

4

Servings

Prep Time:

15

minutes

Cook Time:

25

minutes

Total Time:

40

minutes

Course: Main
Cuisine: American
Crispy Baked Lemon Parmesan Chicken has all the flavors of your favorite scampi dish but in a healthier oven baked version.
Ingredients
4

boneless

, skinless Foster Farms Simply Raised chicken breasts

1 1/2

cups

panko bread crumbs

3/4

cup

shredded parmesan cheese

2

tablespoons

parsley

, finely chopped

1

teaspoon

Kosher salt

1/4

teaspoon

black pepper

1

teaspoon

lemon zest

4

garlic cloves

, minced

6

tablespoons

melted butter

1/4

cup

fresh lemon juice

2

eggs
Instructions
Note: click on times in the instructions to start a kitchen timer while cooking.
Preheat oven to 375 degrees.

Add the bread crumbs, parmesan cheese, parsley, salt, pepper and lemon zest to a bowl and mix.

If you use pre-shredded Parmesan pulse it in a small food processor until the pieces are around the same size at the panko.

In a second bowl add the garlic, 2 tablespoons of the melted butter, lemon juice and eggs and whisk them together.

Dip the chicken into the egg mixture then press into the panko mixture well on both sides.

Place carefully into a greased pan.

Carefully pour the remaining 4 tablespoons of butter evenly over the pieces of chicken.

Bake for 25-30 minutes or until cooked through and golden brown.
Recipe Notes
Heavily adapted from Ina Garten's famous Shrimp Scampi recipe. This post contains affiliate links.
Nutrition Information
Yield: 4 Servings, Amount per serving: calories
All images and text © for Dinner, then Dessert, Inc.
Save

Recipe
So about that event in San Francisco! We ate and ate and ate our way through a fabulous fresh meal full of Foster Farms Simply Raised Chicken.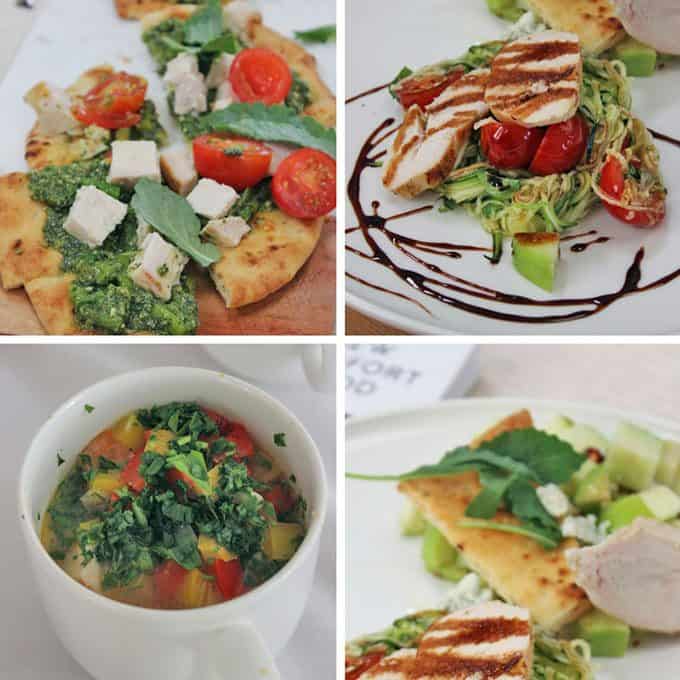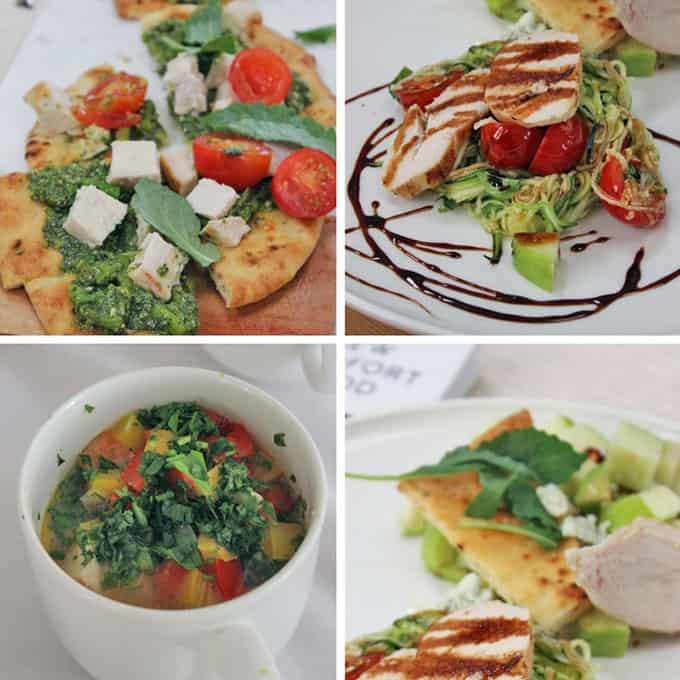 We were stuffed by the end of the lunch and even given to go chicken and quinoa lettuce wraps for the road (which was good since I was hardly able to finish lunch!).
Ira Brill, of Foster Farms, led a discussion along with a chef and a consumer psychologist regarding what comfort food means to people today and how a sizable shift has occurred in recent years towards people being much more aware of where the food they eat comes from and how it affects their health.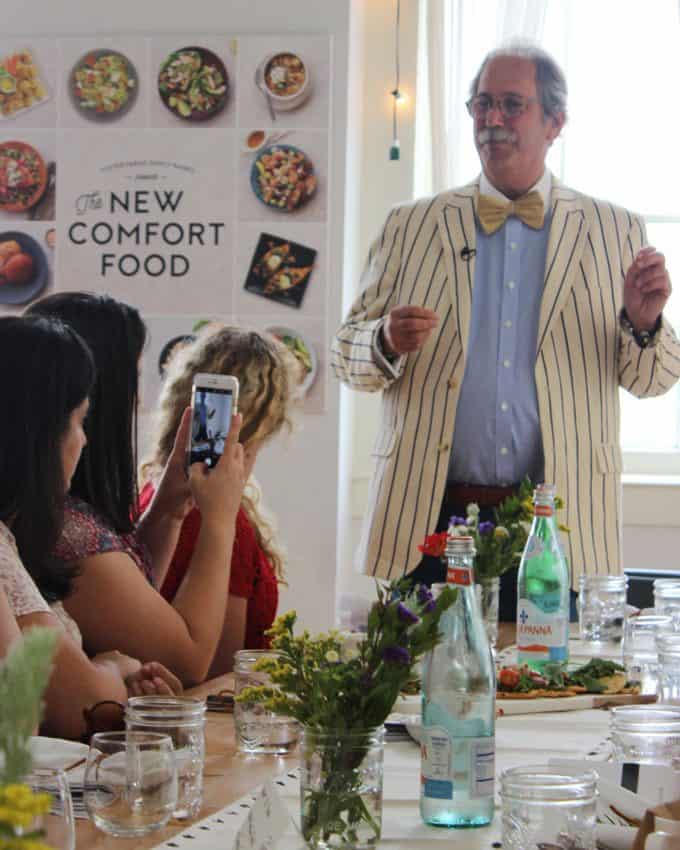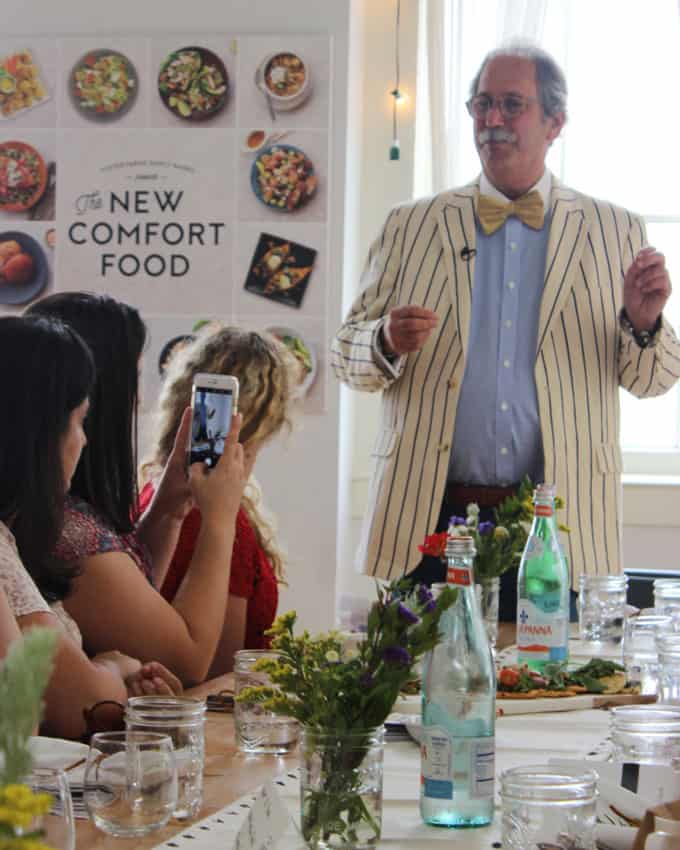 Today's idea of comfort food may be a fresh tomato and garlic chicken pasta instead of the classic chicken parmesan dish that used to be popular. The amount of knowledge people have today when it comes to food has been the driving force behind this shift.
The flavors may be similar, but the freshness, the quality of ingredients and the cooking methods have all gotten a facelift.
It was a great event, and I was honored to be invited. Thank you to Foster Farms for sponsoring this post, we enjoyed every last bite!