Chicken Francese is an easy gourmet chicken recipe pan fried in an egg wash with a delicious white wine and butter lemon sauce.
Easy French recipes like French Onion Soup or Slow Cooker Vegetable Beef Soup served with Crusty French Bread Rolls were some of our favorite French recipes on the blog until this recipe.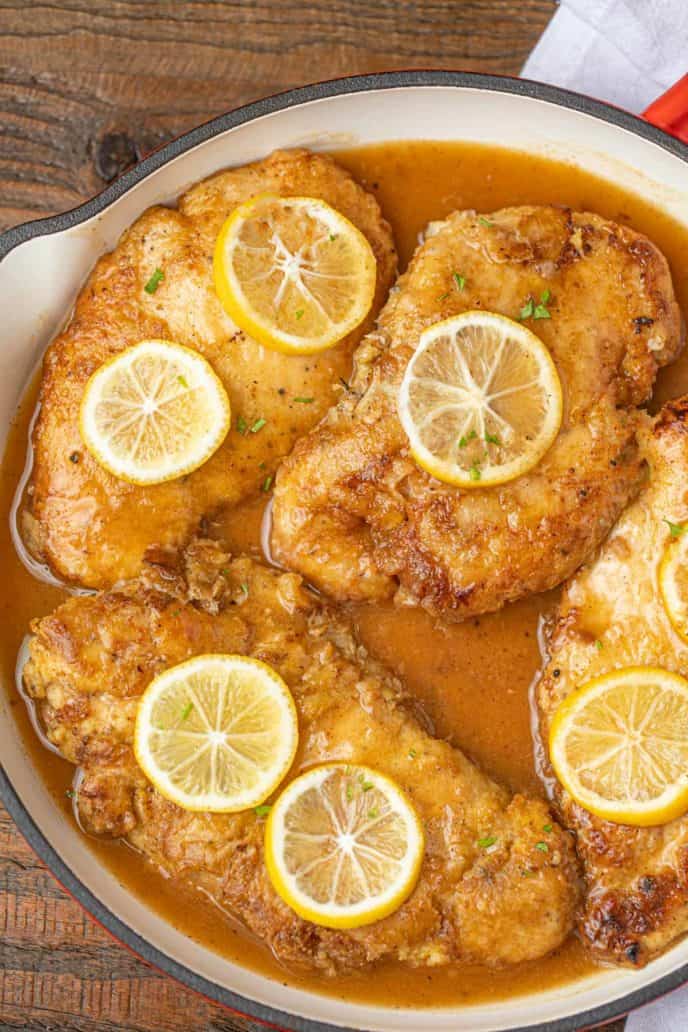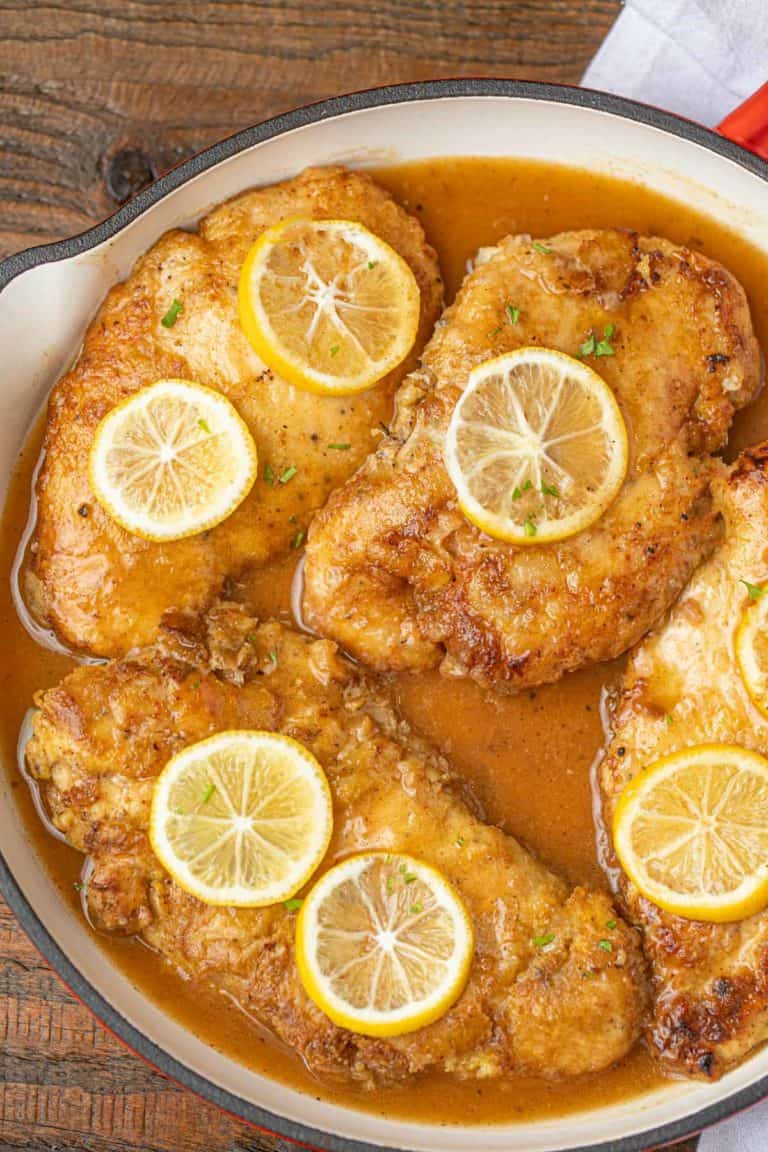 Chicken Francese isn't as well known a recipe as Chicken Madeira or Classic Beef Meatloaf but the flavors are as incredible as your favorite French restaurant. It was originally brought to America by Italian immigrants who used the more economical poultry meat instead of veal for their dinners.
Chicken Francese is made of chicken breasts or chicken cutlets rolled in a shallow bowl of flour and an egg mixture, pan fried, and served in a white wine sauce made from chicken broth and unsalted butter. This is a gourmet dinner without the gourmet wait time; it's delicious and only takes an hour.
This is a chicken dinner that is easy to make and has an elegant name. What is nice about this Chicken Francese recipe is that you can serve it on its own or dress it up or down a bit with additions like parmesan cheese, leaf parsley, lemon slices and season with salt (kosher). Chicken Francese is an excellent, low-stress weekday meal and can go with all sorts of sides, which is a good excuse to break out the leftovers.
Similar to other chicken recipes that we've done, such as Baked Orange Chicken, or our Oven Fried Chicken, Chicken Francese is easy and delicious, and the lemon butter sauce is excellent.
What is Chicken Francese?
Francese is pronounced fran-CHEY-zey, with a rolled r sound. It is taken from the French word for French: française (pronounced frahn-SEZ). It's actually the Italian way of saying French. Another common way of naming this dish is Chicken Française.
It means French style, or the French way, but what it refers to is chicken fried in a flour mixture and egg wash with citrus juice until golden brown. Chefs aren't entirely sure where the term originated, but cooking chicken "the French way" certainly makes for a tasty meal.
How to Make Chicken Francese
Chicken Francese is actually really easy to make at home. The process is simple and there's not many things that could mess it up. Here's how to make Chicken Francese:
Melt butter in the frying pan by bringing the heat to medium high heat.
Season the dried-off chicken pieces with salt and pepper, then coat them in the flour, then the egg.
Add each piece to the frying pan which should have melted butter being careful to nots plater the hot butter.
Once the chicken has been thoroughly seared on each side, remove them from the pan.
Add to the pan the remaining ingredients (including the corn starch to thicken the sauce).
After the sauce has been whisked together, add the cooked chicken back to the pan and continue cooking the chicken in the sauce until the sauce is reduced to perfection. Serve with a yummy side!
Chicken Francese vs. Chicken Piccata
No, you aren't having chicken déjà vu. Chicken Piccata and Chicken Francese are remarkably similar with some slight variations. Both recipes fry skinless breasts of chicken in flour and egg wash and are served in a dry white wine, chicken stock and lemon sauce made with fresh lemon juice. The biggest difference is that Chicken Piccata is served with capers on top, which gives the dish a whole different feel. Another great weekday meal, our Chicken Piccata recipe is just as easy as Chicken Francese.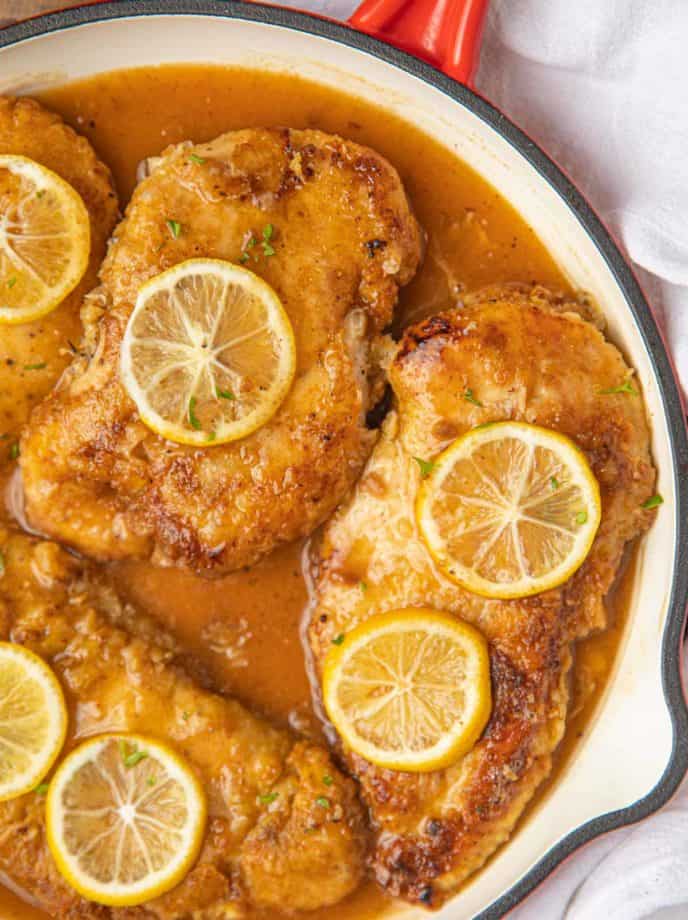 Create a free account to

Save Recipes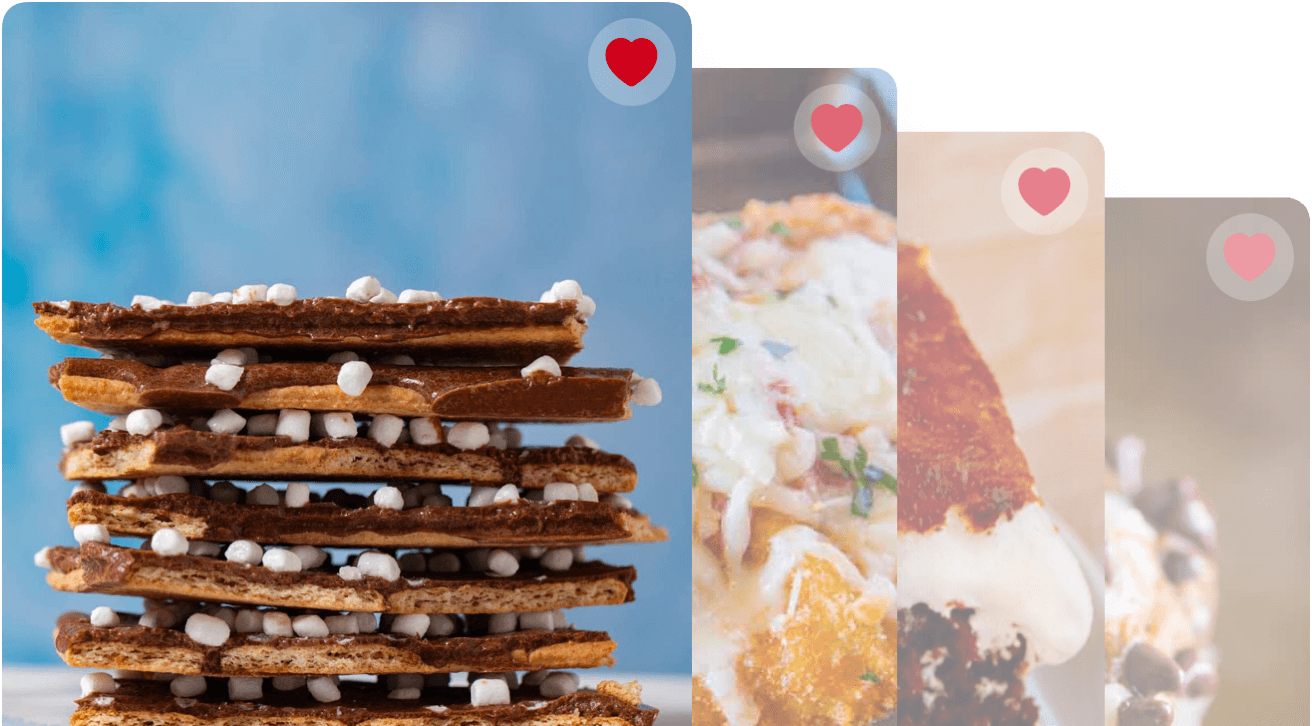 Frequently Asked Questions
Can I cook Chicken Francese in an air fryer? 
Yes. The chicken can be initially cooked in an air fryer, but will still need to be cooked in the sauce before served. Follow the instructions on the air fryer to cook the chicken properly. We recommend only using the frying pan for best results. 
Can I cook the chicken ahead of time? 
Yes. You can cook the chicken in the frying pan ahead of time and freeze it for later. The air fryer would be a good method to pre cook the chicken in this case. If frozen, the chicken will need to be reheated before being added to the sauce for additional cooking.
Do I have to use chicken, or can I use another meat? 
By its nature, Chicken Francese is made with chicken. But originally, this Italian-American dish was made with veal (calf meat). You can use thinned turkey or pork, even beef if you don't have chicken. But for best results, we definitely recommend using chicken. 
What Temperature Should the Chicken Cook to?
Chicken should have an internal temperature of 165 degrees F (73.9 degrees C) before you eat it, according to the USDA's website. With breaded chicken, it is always better to use a thermometer to check to make sure it is cooked all the way through, just to be on the safe side.
Key Ingredients for Chicken Francese
Chicken: Choose thick chicken breasts that can be halved to be thin for cooking. They won't dry out so thin cuts are best.
White Wine: Don't use a white wine that you wouldn't enjoy drinking yourself. If you prefer an alcohol free option, you can easily substitute equal amounts of chicken broth. If you do this, keep in mind that wine adds an essential tanginess that, in an alcohol free preparation, can be brought in with a teaspoon of white vinegar.
Lemon: Use fresh and juicy lemons when you can for the best zest. If lemons aren't available, limes work well as substitutes. Keep in mind that the white vinegar won't be necessary in the case of an alcohol free preparation.
Tips for Cooking
Dry the chicken breasts using paper towel before beginning to prep them in the batter.

Use fresh ground black pepper for a more robust flavor.

Using a meat mallet, place the dried pieces of chicken between plastic wrap or in a plastic freezer bag and flatten the chicken cutlets until they are about ¼ inch thick. This helps them cook quicker and more evenly.

If you're prepping ahead of time, you can use an extra shallow bowl to hold the prepared cutlets until you are ready for cooking.

Add in 2 or 3 tablespoons olive oil along with the frying butter to give it more authentic flavor.

After cooking the chicken in the pan, have a baking sheet ready nearby to hold the chicken while cooking the sauce.

Garnish with fresh parsley and serve with one of our incredibly delicious sides listed below.
More Chicken Dinner Recipes
What to Serve with Chicken Francese
These are some of the best side dishes you can serve alongside Chicken Francese. The savory tubers and other vegetables pair really well with this amazing chicken dish.
More Chicken Recipes
How to Store Chicken Francese
Serve: This recipe can be served and kept at room temperature for up to two hours before food bacteria would start forming making it unsafe to eat.
Store: If you get interrupted before you can pan fry your chicken, is it alright to store for later? In the fridge, you can keep uncooked, thawed chicken covered with plastic wrap for about a day before you are in danger of it going bad. Floured chicken can keep for about the same amount of time, but any longer and it gets risky. Once Chicken Francese is cooked, the leftovers can be stored in an airtight container for up to four days.
Freeze: If cooked, you can store this recipe in the freezer in an airtight container for up to three months. You can also prep the chicken for cooking later by dredging the chicken in the flour mixture and freezing before cooking.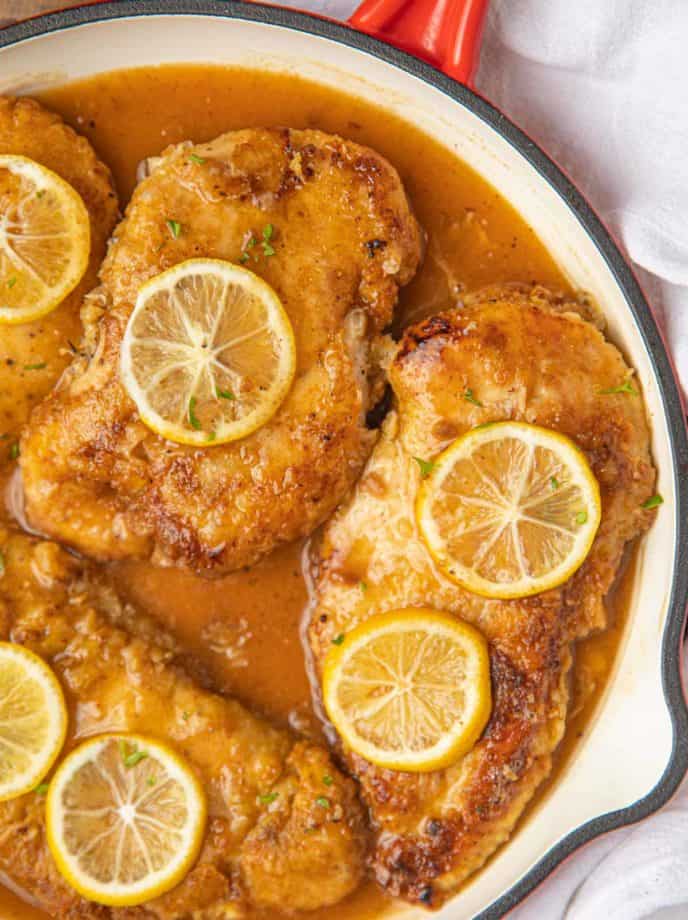 Ingredients
2

boneless, skinless chicken breasts

, cut in half

1/2

teaspoon

kosher salt

1/4

teaspoon

coarse ground black pepper

1/2

cup

flour

4

large

eggs

, beaten

1/2

cup

unsalted butter

, divided

1/2

cup

white wine

1 1/2

cups

chicken broth

1/2

teaspoon

garlic powder

1/4

teaspoon

paprika

2

lemons

(1 juiced and 1 sliced)

1

tablespoon

cornstarch

1

tablespoon

water
Instructions
Season chicken with salt and pepper, then coat with flour.

Add to egg, then to pan with 4 tablespoons of butter and sear until browned on both sides on medium high heat, about

3-4 minutes

on

each side

then remove the chicken from the pan

Whisk in the wine, broth, garlic powder, paprika and remaining butter and lemon juice over medium heat.

Whisk together 1 tablespoon cornstarch with 1 tablespoon water and add to the skillet and let the sauce thicken

3-4 minutes

.

Add chicken back in, topping with lemon slices and letting it reduce by half, another

8-10 minutes

.
Nutrition
Calories:
442
kcal
|
Carbohydrates:
21
g
|
Protein:
20
g
|
Fat:
29
g
|
Saturated Fat:
16
g
|
Cholesterol:
261
mg
|
Sodium:
748
mg
|
Potassium:
453
mg
|
Fiber:
2
g
|
Sugar:
2
g
|
Vitamin A:
1025
IU
|
Vitamin C:
35.5
mg
|
Calcium:
56
mg
|
Iron:
2.3
mg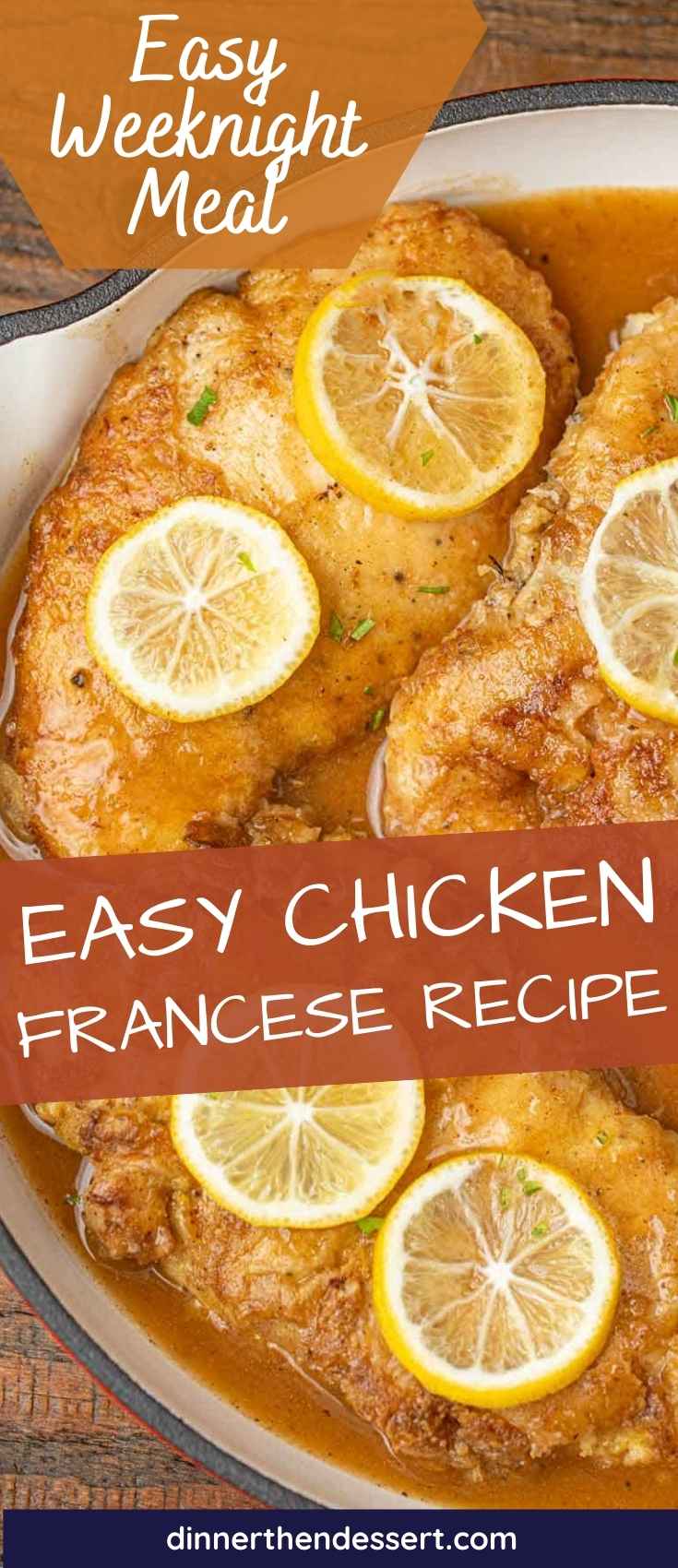 Photos used in a previous version of this post: