Bang Bang Shrimp from the Bonefish Grill is crispy, creamy, sweet and spicy with just a few ingredients and tastes just like the most popular appetizer on the menu.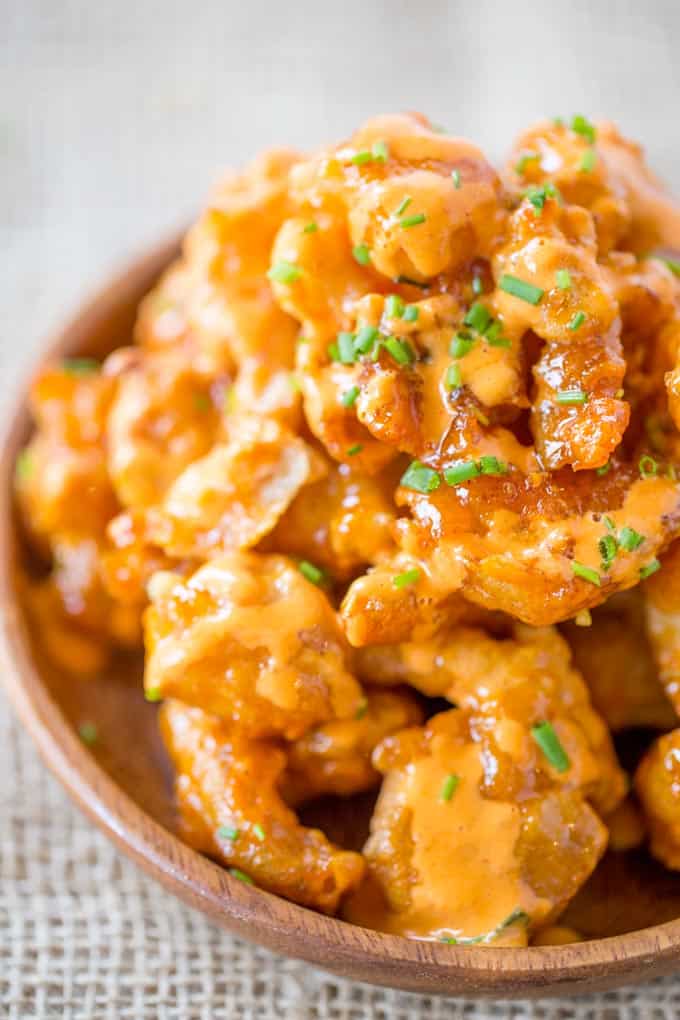 Bonefish Grill Bang Bang Shrimp is a recipe that in no way is authentic to another cuisine, but it is definitely a delicious appetizer and hands down the most popular item on the menu. When we go to the Bonefish Grill we actually order two of these appetizers to prevent fighting over them.
It actually reminds me of the Panda Express Crispy Honey Shrimp with Walnuts entree I did a recipe for last year. The main ingredients at play here are mayo, a very specific Thai Sweet Chili Sauce and Sriracha.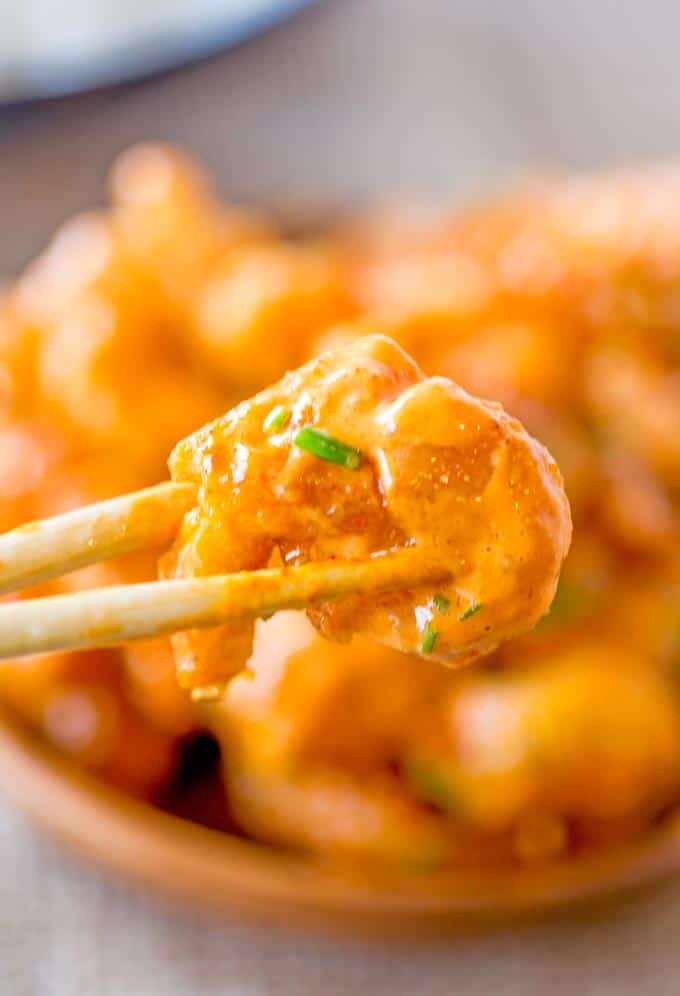 I've read countless versions of the recipes online for this Bang Bang Shrimp and came across a post where a reader said he worked for the chain and that they would soak the shrimp in buttermilk before breading. This made total sense to me because most of the recipes I'd seen didn't have enough body in the coating to be like the original.
I'd also caution you to use the right brand of sweet chili sauce as that is authentic to the recipe as well.  A friend who used to work at the restaurant confirmed the brand of sweet chili sauce used in the recipe.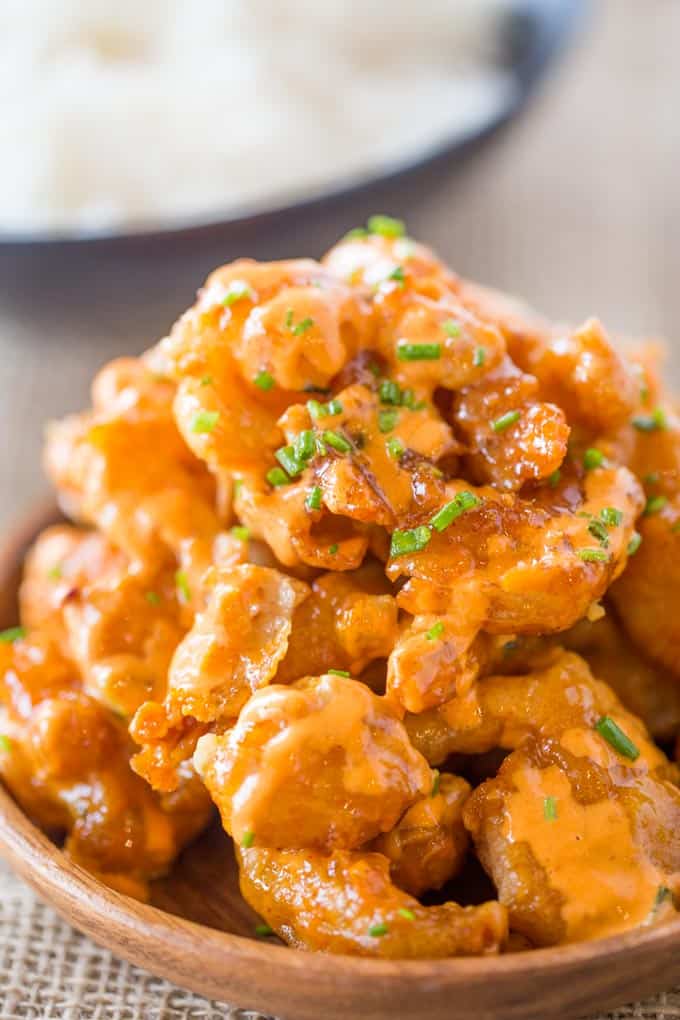 Looking for more Asian Food?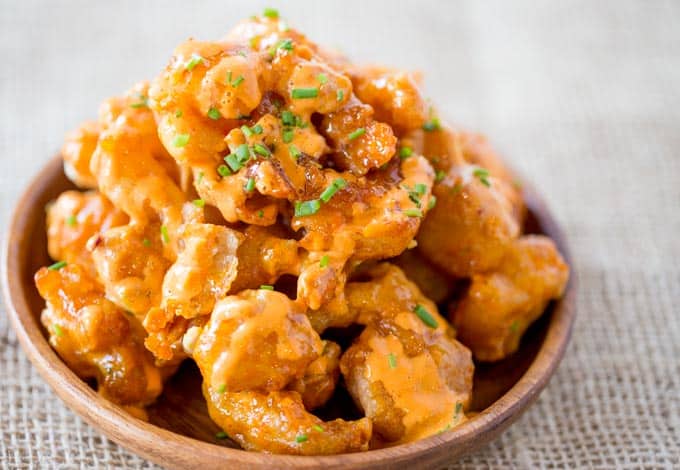 Tools used in the making of this Bonefish Grill Bang Bang Shrimp:
Thai Sweet Chili Sauce: The authentic sauce used in the Bonefish Grill kitchen, if you don't want to order it online, it is widely distributed in Asian grocery stores.
Sriracha: The king of chili garlic sauces, always keep this in your kitchen.
Dutch Oven: Perfect for deep frying, inexpensive pot and will last you for years.
Oil Thermometer: Keeping the oil at the right temperature will ensure you don't burn the shrimp or have soggy shrimp by frying too hot or too cold.S
Shrimp Deveiner: If you love cooking with shrimp you will love this tool, it makes cleaning shrimp a hundred times easier!


Ingredients
1/2

cup

mayonnaise

1/4

cup

Thai sweet chili sauce

1/4

teaspoon

Sriracha

1

pound

shrimp

shelled and deveined

1/2

cup

buttermilk

3/4

cup

cornstarch

canola oil for frying
Instructions
In a small bowl add the mayonnaise, Thai sweet chili sauce and Sriracha and stir.

In a second bowl add the shrimp and buttermilk and stir to coat all the shrimp.

Remove from the buttermilk and let excess liquid drain away.

Coat the shrimp in cornstarch.

In a heavy bottomed pan add 2-3 inches of canola oil and heat to 375 degrees

Fry the shrimp until lightly brown,

1-2 minutes

on each side.

Once fried coat with the sauce and serve immediately.
Nutrition
Calories:
413
kcal
|
Carbohydrates:
23
g
|
Protein:
24
g
|
Fat:
23
g
|
Saturated Fat:
4
g
|
Cholesterol:
300
mg
|
Sodium:
1099
mg
|
Potassium:
131
mg
|
Sugar:
1
g
|
Vitamin A:
70
IU
|
Vitamin C:
4.6
mg
|
Calcium:
199
mg
|
Iron:
2.6
mg