Beef Teriyaki with a ginger and garlic based teriyaki sauce is a delicious, beautiful easy dinner you can enjoy on weeknights!
Quick and easy Asian recipes keep are our bread and butter around here including General Tso's Chicken, Easy Mongolian Beef and Chinese Chow Mein.
 Beef Teriyaki
Teriyaki is a kid friendly introduction to Asian flavors because it's sweet and fairly safe flavors that aren't too salty. This Beef Teriyaki is the first Asian beef recipe I had the kids try and it's since led to a large variety of recipes they enjoy.
You could certainly buy bottled teriyaki sauce, many are delicious like Soyaki but there is no point in buying them if you keep any amount of Asian pantry ingredients on hand like soy sauce, mirin and even sesame oil (you won't need that here though).
Once you master making a nice and simple teriyaki sauce you can serve it over any protein including chicken, steak, shrimp, salmon and more.
If you want to try even an even more simple recipe try my super popular Ground Beef Teriyaki Ramen which has been making the rounds on Pinterest!
Like This
Like this recipe? Then Like us on Facebook!
Teriyaki Sauce is too thin?
If you've ever tried to make teriyaki sauce before and find your teriyaki sauce is too thin the answer isn't to reduce it, the answer is to add a bit of cornstarch added to room temperature water.
Cornstarch mixed in water is added to the sauce to help thicken it. If you just keep reducing the sauce you'll end up with a much too salty mixture.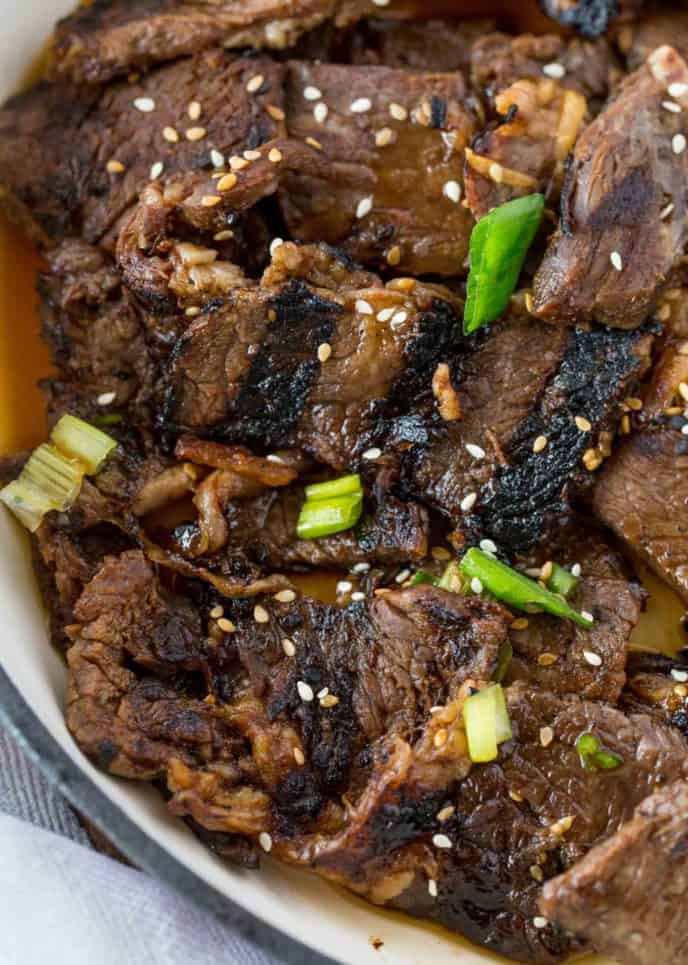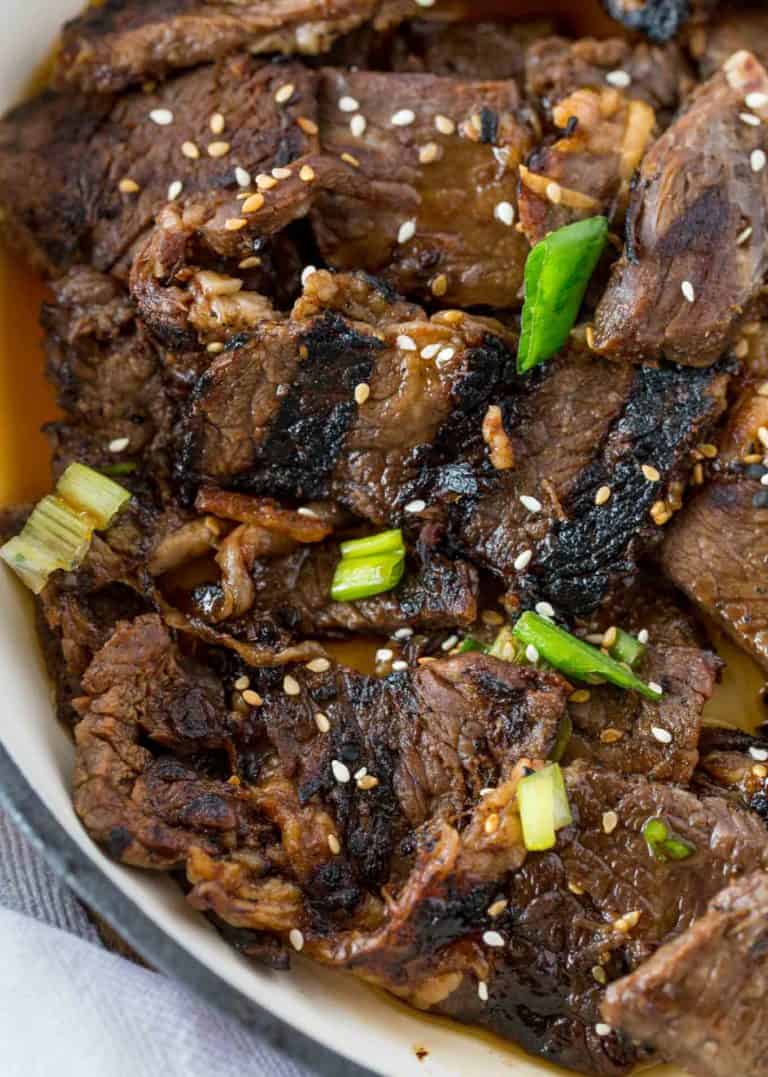 What to serve with Beef Teriyaki:
We serve beef teriyaki with rice or brown rice. You can also serve with noodles or roasted vegetables. You can even add veggies and serve the beef teriyaki on kebabs.
Beef Teriyaki Stir Fry:
Start with a small amount of fresh garlic and ginger you cook with a bit of canola oil and sesame oil. Add your favorite stir-fry vegetables like broccoli, onion, carrots, bell peppers and more to the mixture and cook only until just barely tender before adding in the cooked beef and the thickened teriyaki sauce.
Why Marinate Teriyaki Beef?
The beef teriyaki is added to a marinade for at least an hour before cooking. This allows the meat to absorb the flavors of the sauce and to tenderize a little. The longer you let it marinate the better the flavor but do not allow the meat to marinate for more than 24 hours.

Create a free account to Save Recipes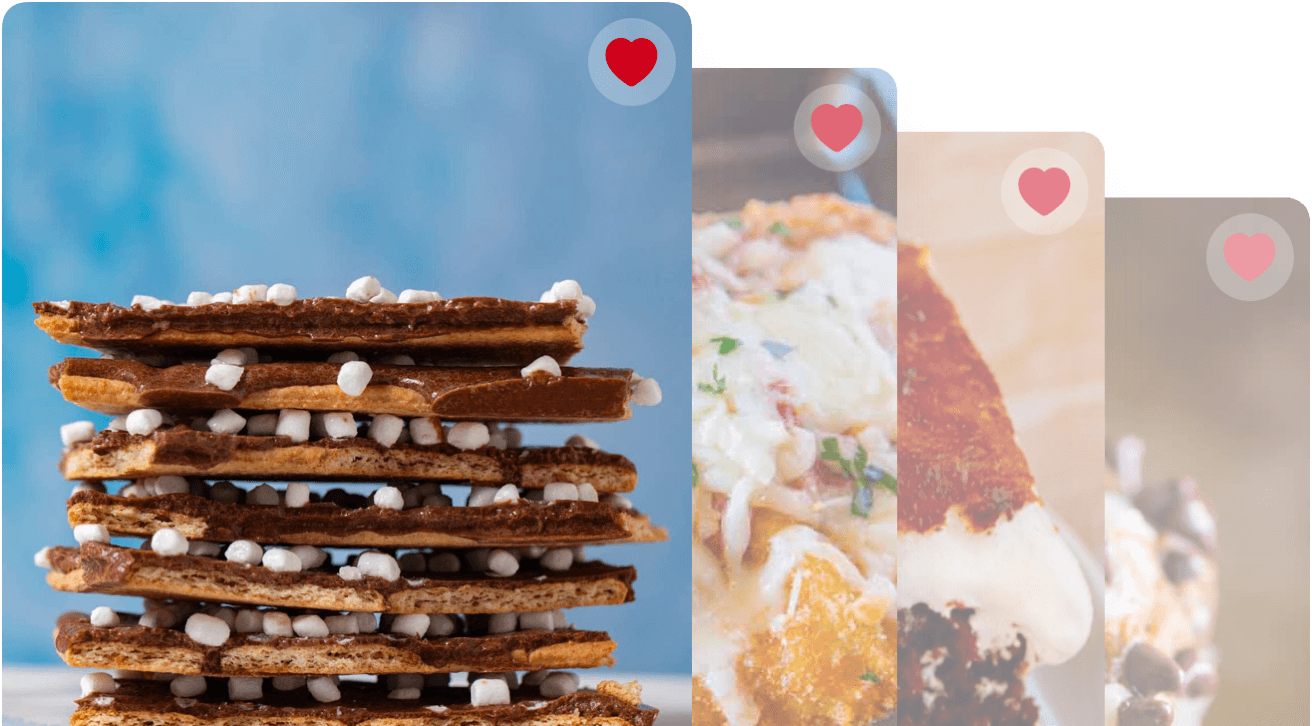 Can you grill the beef?
This beef is a thinner cut so grilling on an outdoor grill may be difficult but I cooked this teriyaki on an indoor grill pan. You can of course cook it on a normal cast iron pan or wok but the grill marks make for a great presentation.
If you're grilling the beef on a grill pan may I humbly also suggest that you add pineapple spears to the grill as well. Grilled pineapple is a no brainer for this recipe and is an absolutely flavorful side and it makes a great garnish to a platter of beef teriyaki for a large gathering.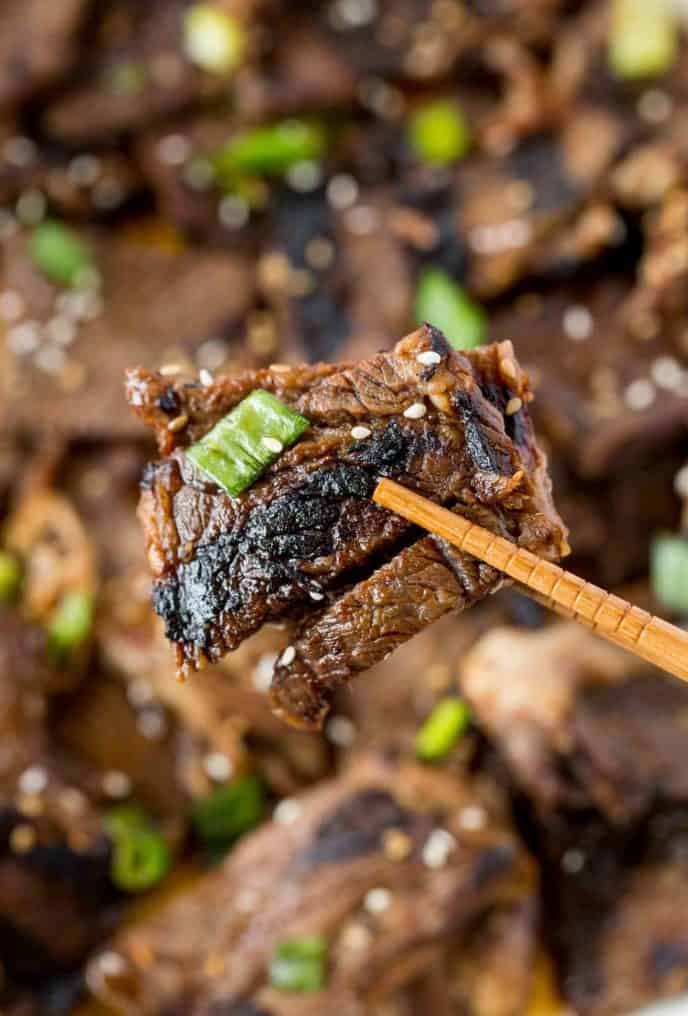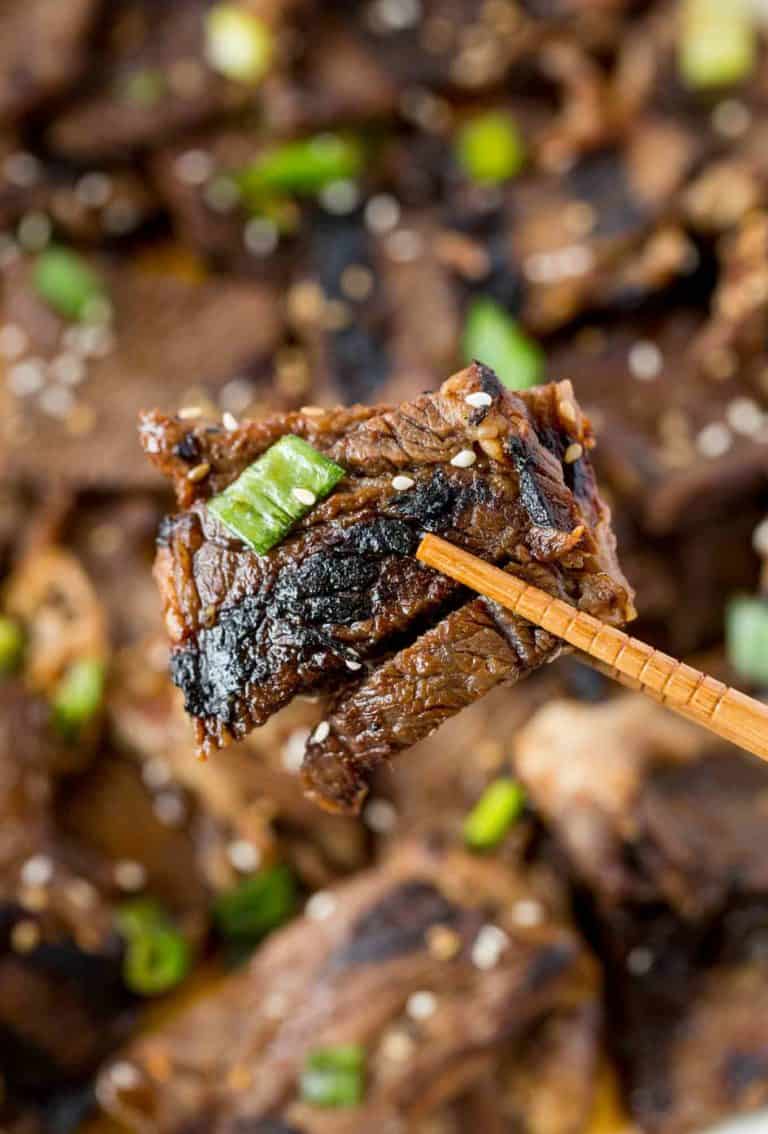 Ingredients
1/2

cup

low sodium soy sauce

2

tablespoons

mirin

1

tablespoon

honey

4

cloves

garlic

minced

2

tablespoons

fresh ginger

very finely mince

2

pounds

flank steak

sliced really thinly against the grain
Instructions
Mix the soy sauce, mirin, honey, garlic, ginger and beef in a bowl or ziploc bag and marinate for an hour.

In a grill pan or on a grill heat the flame to medium high heat.

Cook for

1-2 minutes

on each side until just cooked through.
Nutrition
Calories:
181
kcal
|
Carbohydrates:
6
g
|
Protein:
25
g
|
Fat:
5
g
|
Saturated Fat:
2
g
|
Cholesterol:
68
mg
|
Sodium:
624
mg
|
Potassium:
428
mg
|
Sugar:
3
g
|
Vitamin C:
0.5
mg
|
Calcium:
29
mg
|
Iron:
2.1
mg