Butter Mints are the perfect creamy, sweet treats made with just 5 ingredients and colored brightly. Perfect for gifts and parties!
There are so many Candy Recipes that are wonderfully easy to make at home! You can whip together your own Chocolate Fudge, Peppermint Bark, or even Marshmallows from your own kitchen. These Old Fashioned Butter Mints are another fun, delicious, festive recipe to add to the list.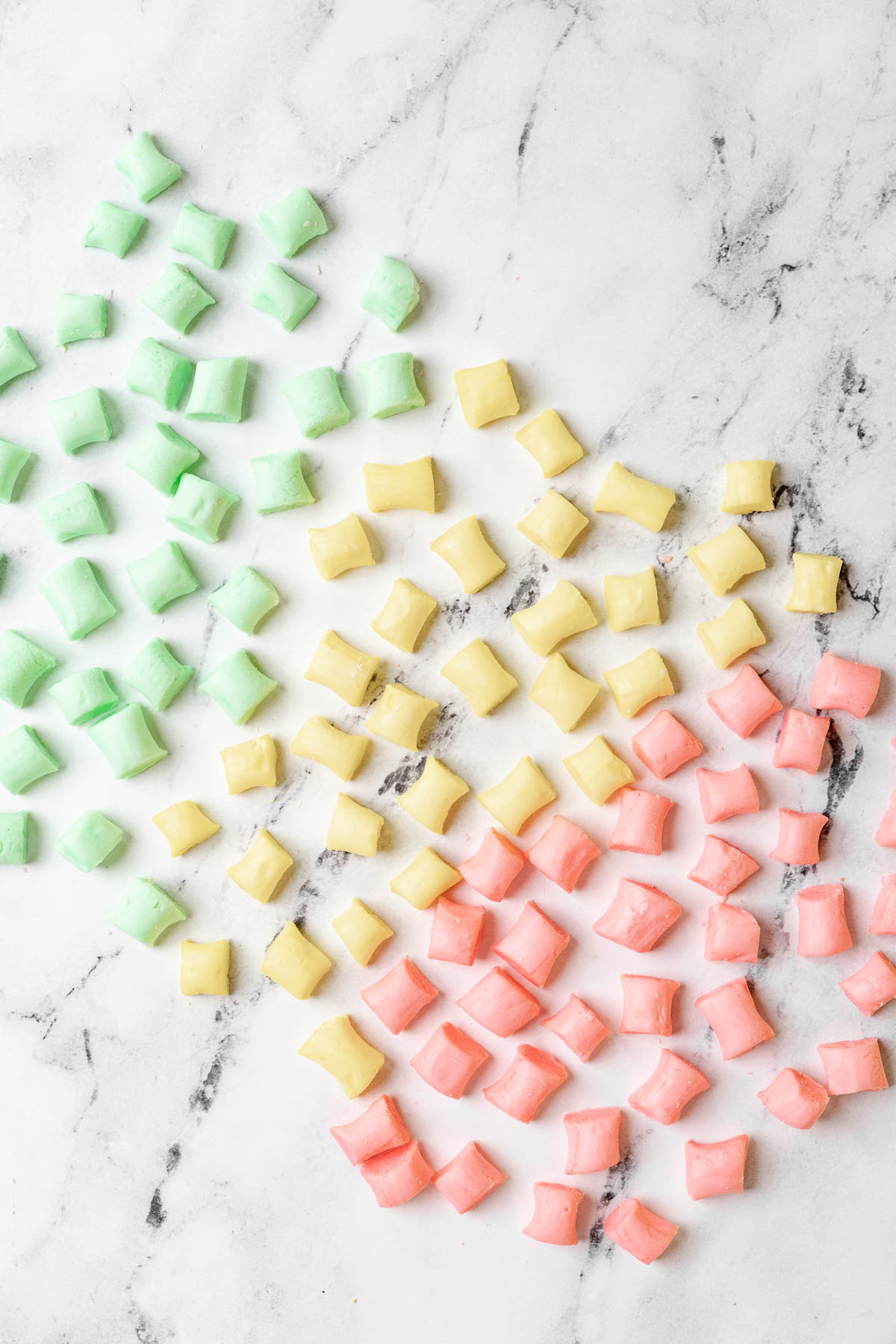 Just like our recipe for Cream Cheese Mints, these Butter Mints are simple to make, colorful, and easy to store! They are a nostalgic treat perfect to share and enjoy around the holidays! Use your favorite color combinations to celebrate the holidays or any special occasion.
You will love putting out a bowl of these mints at holiday parties or sending them out as packaged gifts along with other festive desserts. If you're serving them as a holiday treat, use red or green food coloring to make them even more festive. Of course, one of the best things about this recipe is that you can use different food coloring to serve them any time of year and for any occasion. It is common to use pastel coloring and put them out during the spring.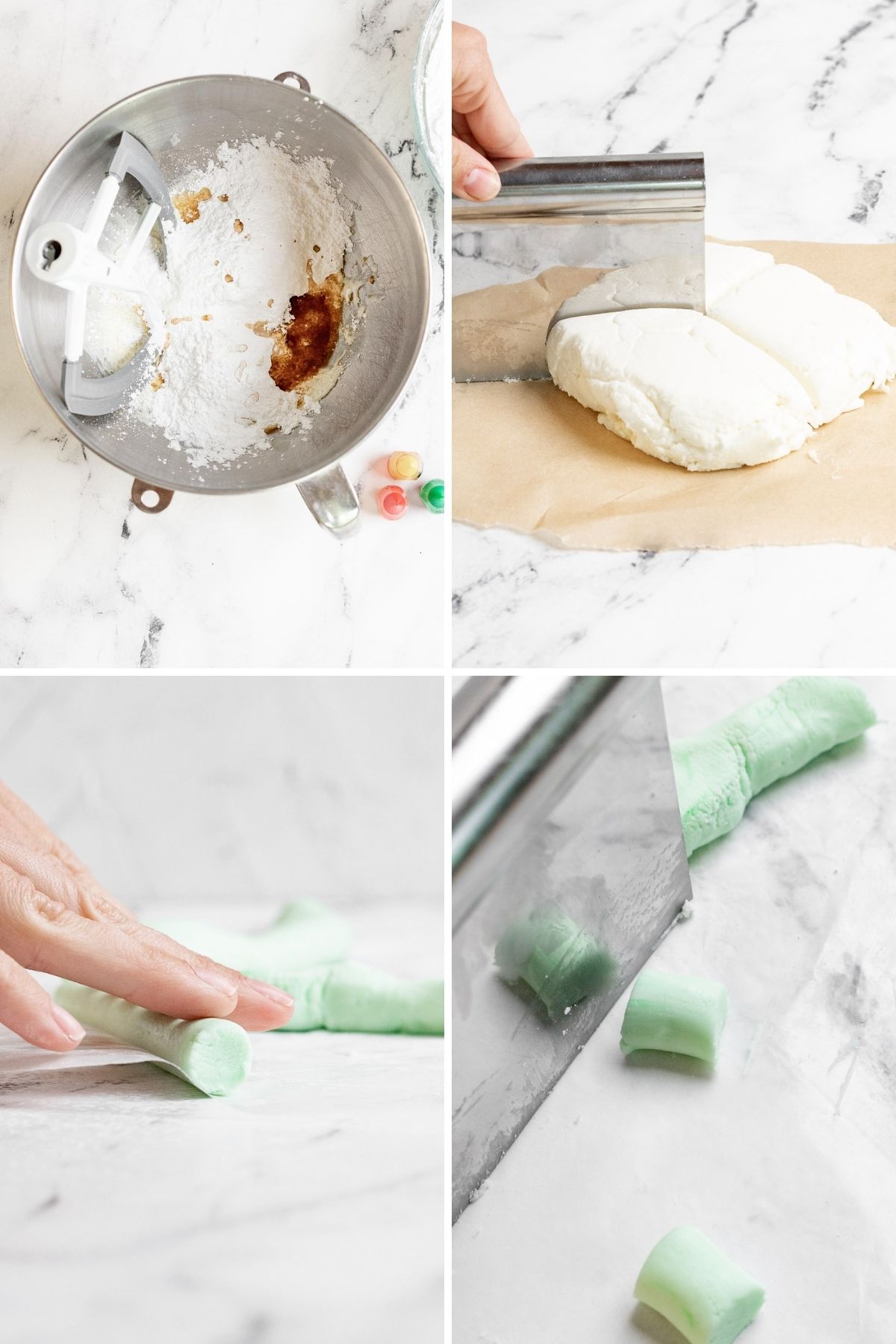 The softened butter makes the mint dough nice and creamy. Even after the Homemade Butter Mints harden they absolutely melt in your mouth! That buttery melt-in-your-mouth feel is probably something you're used to with after-dinner mints at restaurants, but this Butter Mint recipe makes it even better because you can enjoy them fresh!
The other perk of making your own Butter Mints is you can serve them for so many events. They make excellent wedding mints or baby shower favors. They are also a lovely touch at dinner parties. That way if you serve any spicy dishes, your guests can have an easy, cute palate cleanser to enjoy.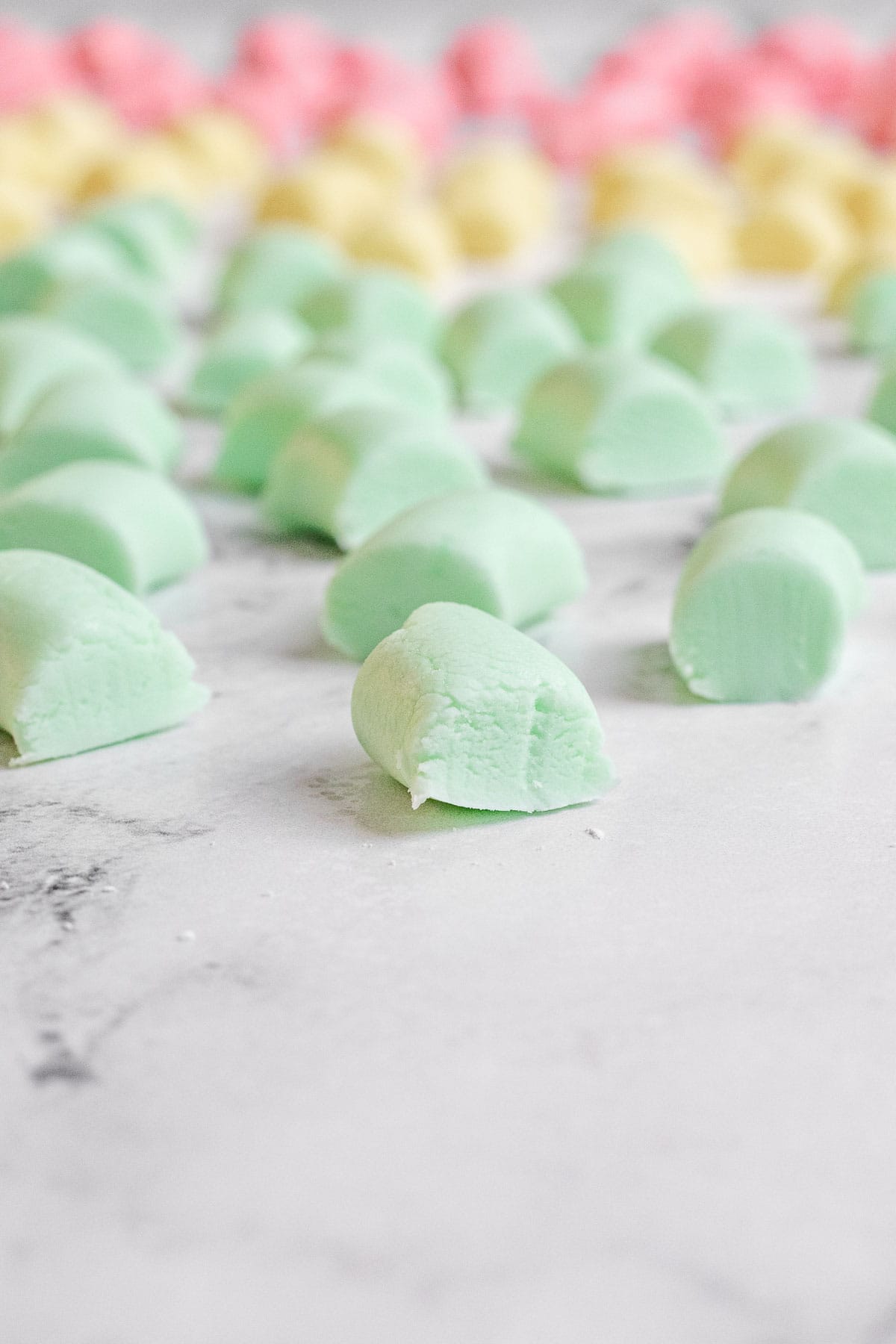 How to Make Easy Butter Mints
Prep time: To make sure you have soft butter ready for the recipe, take it out of the fridge several hours in advance. You can also prep your work surface with powdered sugar in advance. Either prep your countertop directly or lay out wax paper or a baking sheet to keep your counter clean.
Mint dough: Use a KitchenAid mixer with a paddle attachment or handheld electric mixer to cream the butter until light and fluffy. Add in 4 cups confectioners sugar, 1 tablespoon water, 2 teaspoons vanilla extract, ½ teaspoon peppermint, and your food coloring. Mix on the lowest speed then set it to medium after the powdered sugar is absorbed. If any sugar is sticking to the sides push it down with a rubber spatula as the dough forms.
Roll out: Place the dough on the prepared countertop or cookie sheet and roll it out until it's an even ½ inch thick layer. You can cut the mints into squares, circles, or use mini cookie cutters to make shapes. Leave the shaped mints out overnight to harden before serving.
More Homemade Candy Recipes
Frequently Asked Questions
What are Butter Mints?
Butter Mints are a soft mint candy made from butter, powdered sugar, water, vanilla and mint extracts, and colored with food coloring. They are an old fashioned treat that dates back to the late 1800s. They are known for their sweet, buttery flavor and melt-in-your-mouth texture.
How do I keep Butter Mints fresh for gifting?
It's best to make your Butter Mints the day before you plan to package and gift them. This way they have enough time to dry, and are still received when they are fresh. Use a plastic or cellophane gift bag, or airtight box, so that they stay fresh as long as possible. You may want to let the recipient know that they can be enjoyed at room temperature up to 1 week, or refrigerated up to 3 weeks for them to enjoy.
Why are my Butter Mints too soft?
Depending on the time of year and the weather, making homemade candy can be tricky. You want the butter to be softened to room temperature, however if your kitchen is especially warm the butter may become too soft. Keep the butter in a cool place while softening, so that it doesn't start to melt while you're working. If your powdered sugar mixture is still too soft, place in the refrigerator for a few minutes and try mixing again until you reach a dough like consistency.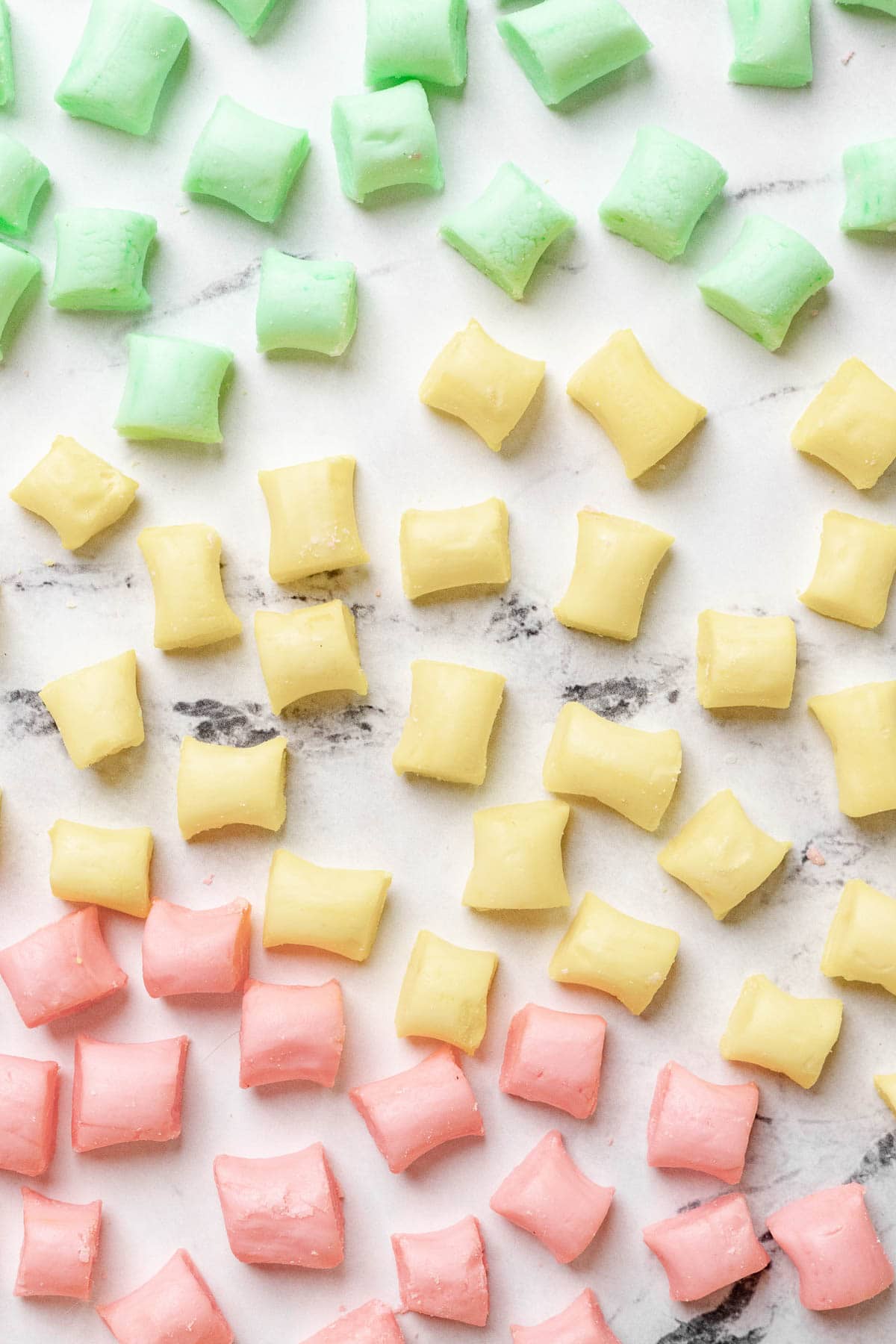 Create a free account to

Save Recipes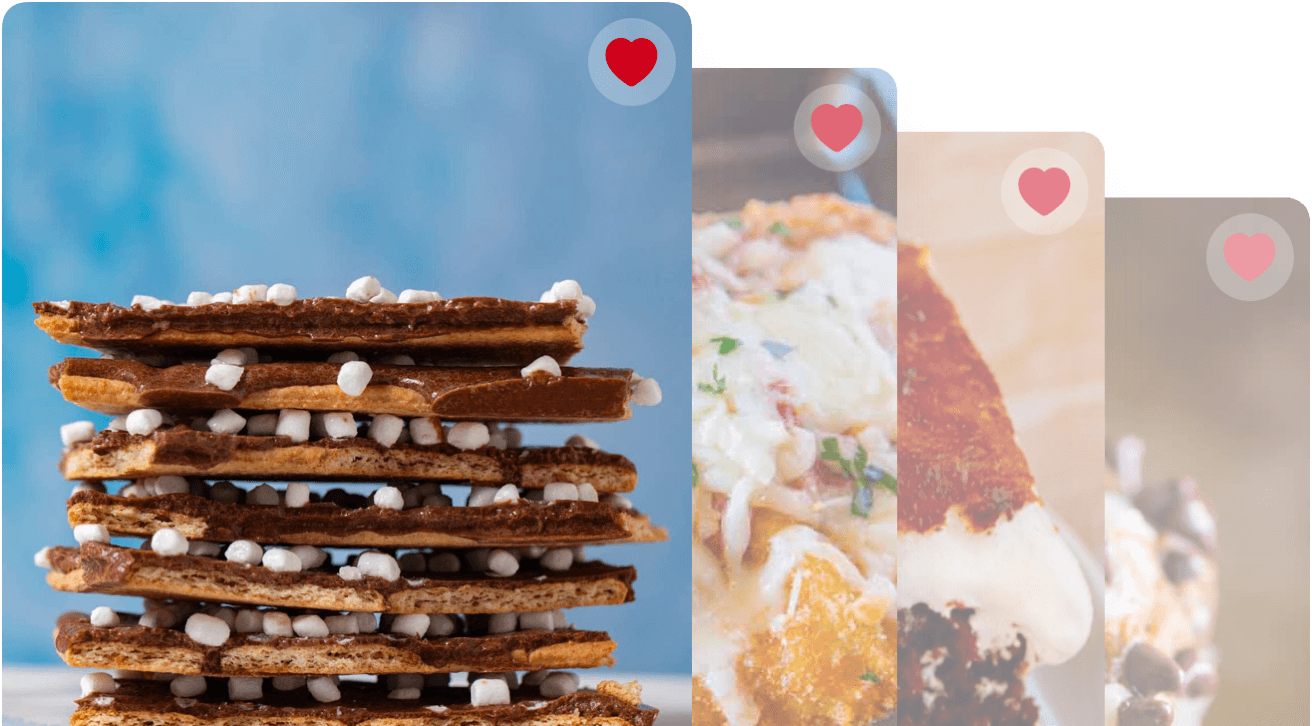 Key Ingredients in Butter Mints
Unsalted Butter: We always suggest using unsalted butter for dessert recipes, so that you can control the amount of salt, if any, that is added to your sweets recipes. Use a good quality unsalted butter, and take it out of the refrigerator a few hours prior to starting your Butter Mints so that it is softened enough to easily incorporate with the other ingredients. 
Powdered Sugar: It's a good idea to sift your powdered sugar before using it in any recipe to avoid having clumps or lumps. This is especially helpful for these Butter Mints to maintain their smooth, creamy texture. 
Extracts: Vanilla and peppermint extracts are both used to add balanced flavor to the sweet, buttery mints. The vanilla flavor adds a warm touch that helps cut some of the sweetness from the sugar. You don't need a lot of peppermint extract to have a fresh, minty flavor that shines through without overpowering.
Food Coloring: You can use any food coloring that you prefer. Start with just a few drops and increase gradually until you reach the shade you would like.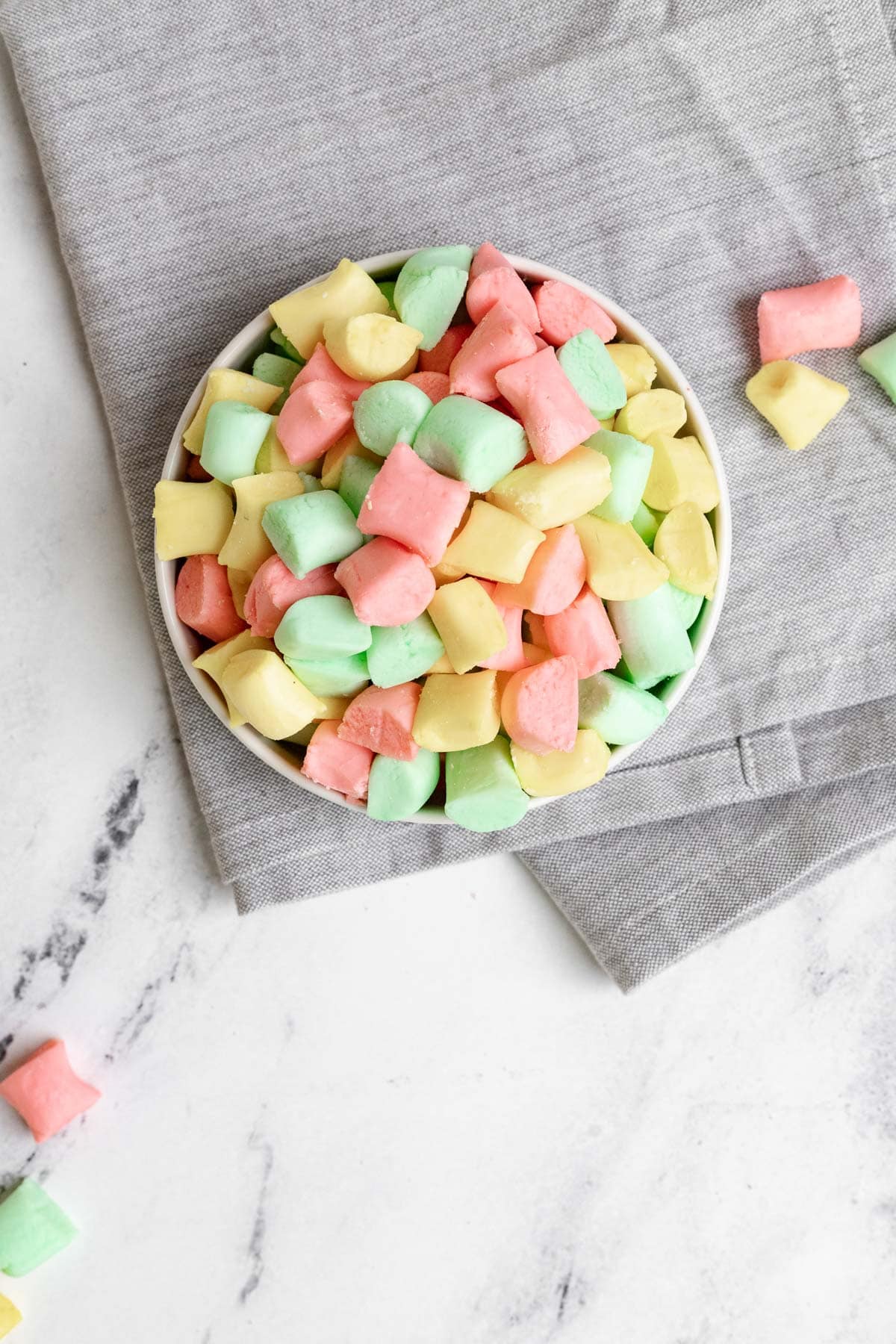 Variations on Butter Mints
Food coloring: There are multiple colors you can use in the Butter Mint recipe to make the perfect colors of mints for any occasion. You can make a portion of dough green and use red food coloring for the other to make Christmas mints. Pink or red can make adorable Valentine's mints. You can use multiple pastel gel food colorings for bright spring mints. It should only take a couple drops of food coloring to get a beautiful color.
Shapes: Use small cookie cutters to create fun shapes like hearts, stars, or scalloped circles. You can also use cutters to create mints that go with an event or holiday theme like mini Christmas trees or bunny shapes for Easter. 
Peppermint oil: If you have peppermint oil, you can use it in place of the peppermint extract in the recipe. Peppermint oil is stronger, so instead of using ½ teaspoon pure peppermint extract use ⅛ teaspoon peppermint oil.
Candy canes: For an intense holiday twist add crushed candy canes to the recipe. Mix the crushed candy canes into the dough before flattening it out and letting it harden.
Delicious Mint Flavored Desserts
How to Store Butter Mints
Serve: After letting the Butter Mints harden overnight, you can leave them out at room temperature for up to 1 week.
Store: Kept in an airtight container homemade mints will keep well in the fridge for 3 weeks.
Freeze: You can also store Butter Mints in the freezer for 1-2 months. Store them in an airtight container to make sure no excess moisture gets in.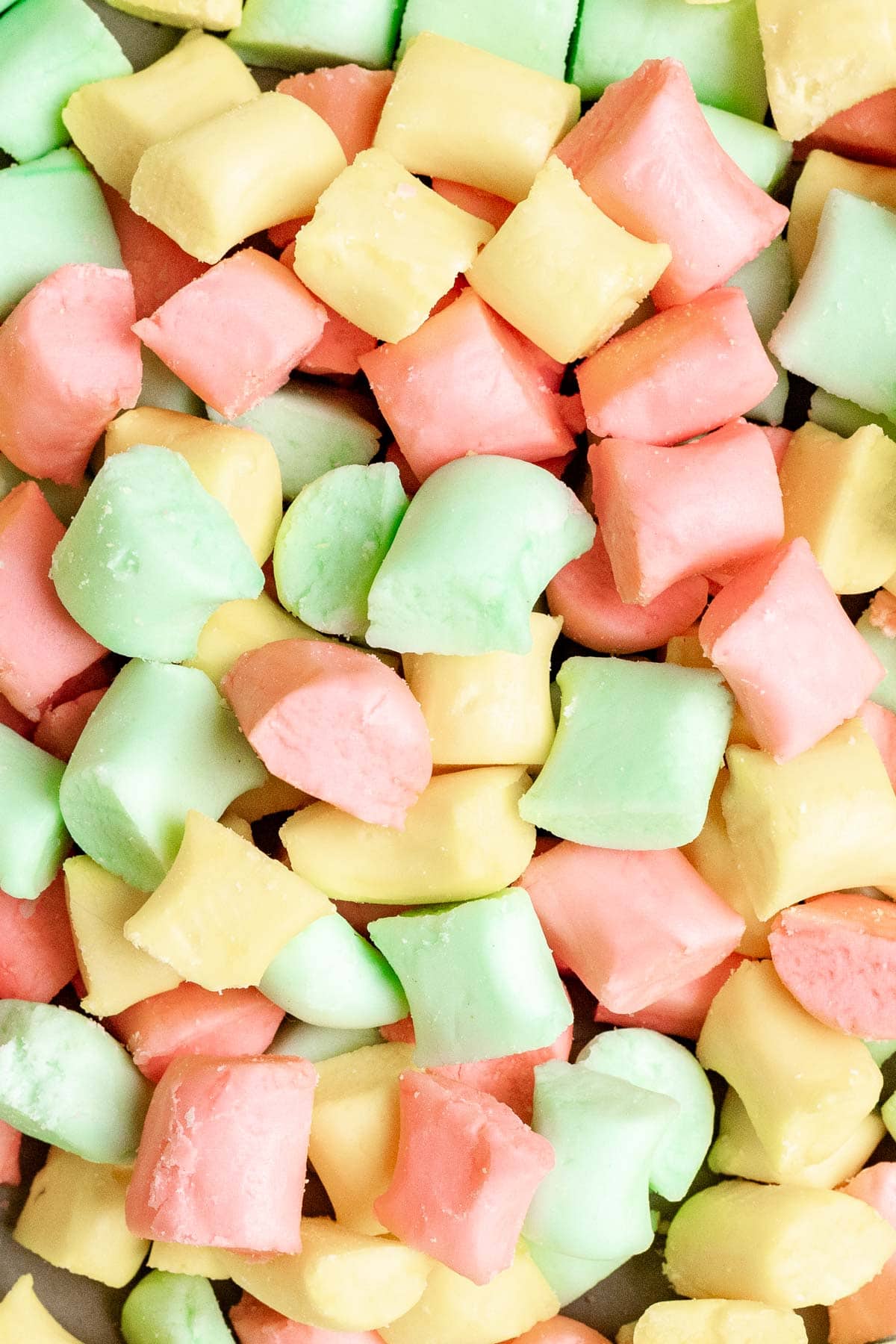 Ingredients
1/2

cup

unsalted butter

, room temperature

4

cups

powdered sugar

1

tablespoon

water

2

teaspoons

vanilla extract

1/2

teaspoon

peppermint extract

food coloring of your choice
Instructions
Add the butter to your stand mixer and beat on medium speed until light and fluffy, about

30 seconds

.

Add in powdered sugar, water, vanilla extract, peppermint extract, and food coloring (start with 5 drops, then add as you want the color to intensify).

Mix on lowest speed setting until powdered sugar is absorbed, then increase speed to medium for

1-2 minutes

.

On a surface with powdered sugar, roll dough ½ inch thick.

Cut into ½ inch squares or punch out small circles and let dry overnight.
Nutrition
Calories:
38
kcal
|
Carbohydrates:
7
g
|
Protein:
1
g
|
Fat:
1
g
|
Saturated Fat:
1
g
|
Cholesterol:
3
mg
|
Sodium:
1
mg
|
Sugar:
7
g
|
Vitamin A:
39
IU
|
Calcium:
1
mg
|
Iron:
1
mg