Cake Batter Blondies are full of sprinkle goodness, chewy and soft!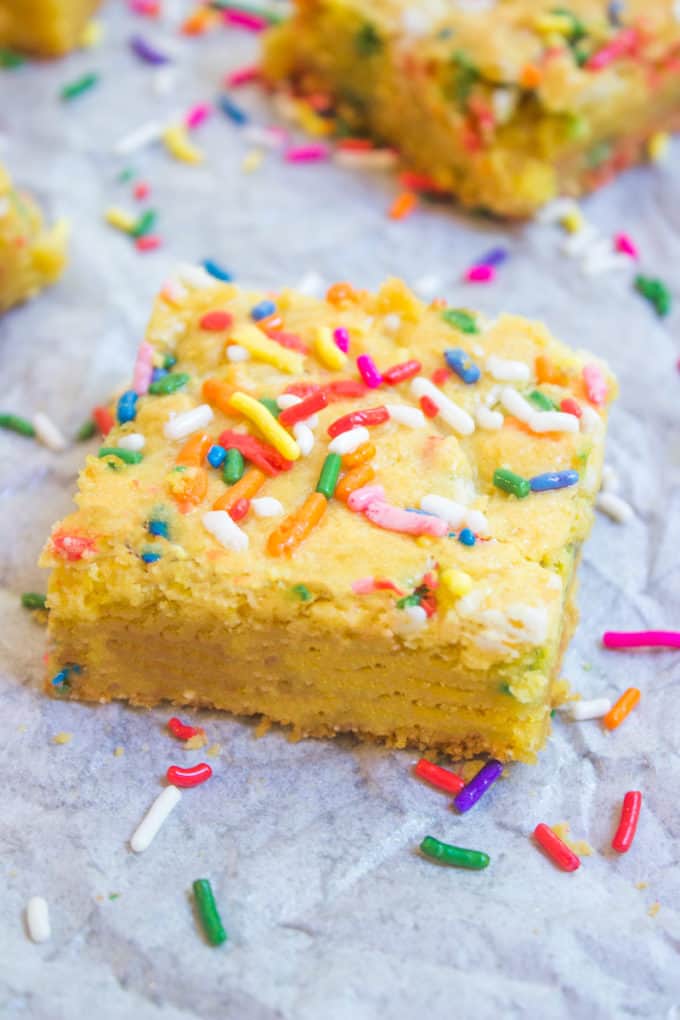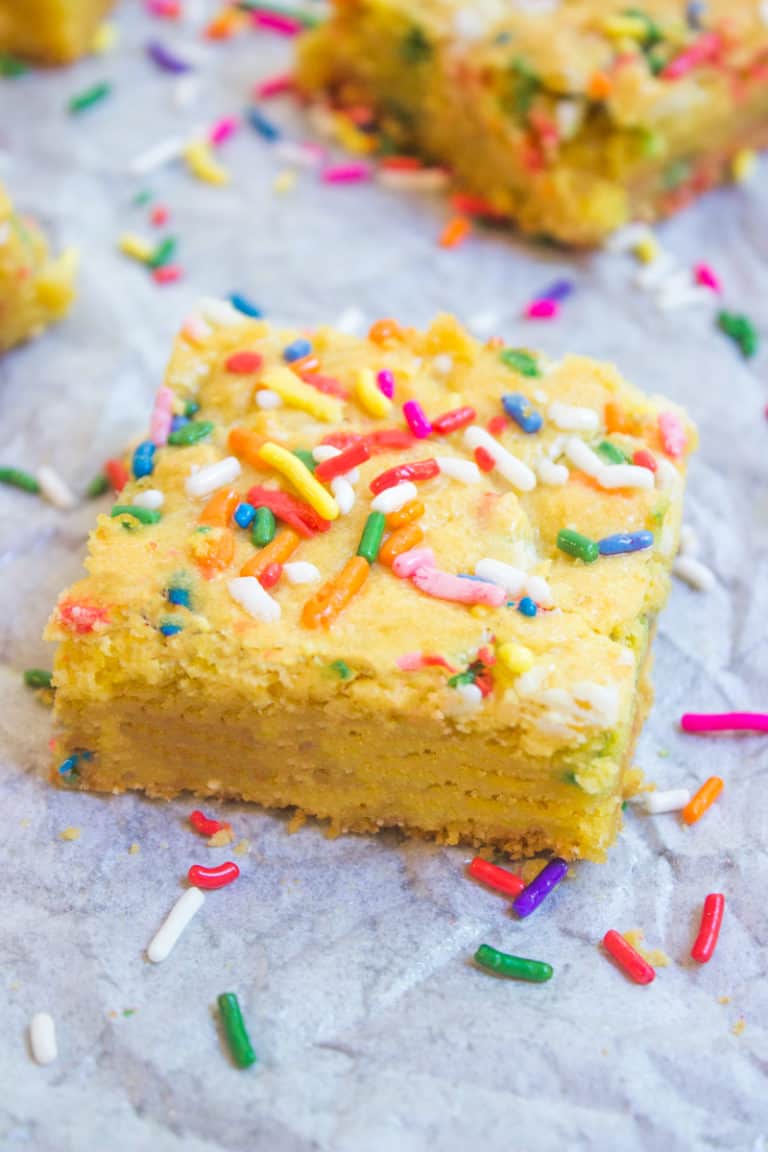 Cake Batter Blondies were one of the first recipes I made for a birthday party I had a few years ago. For the event I ended up using 10 pounds of rainbow sprinkles…yes…10 POUNDS. What can I say, I was a new mom and nothing seemed more important than a first birthday party with 60 people in attendance.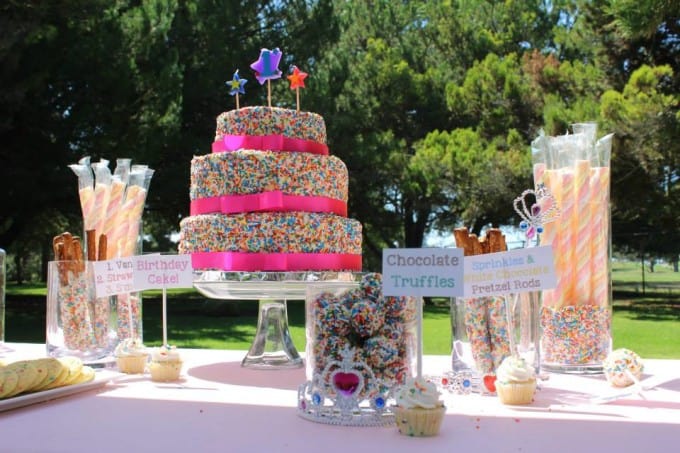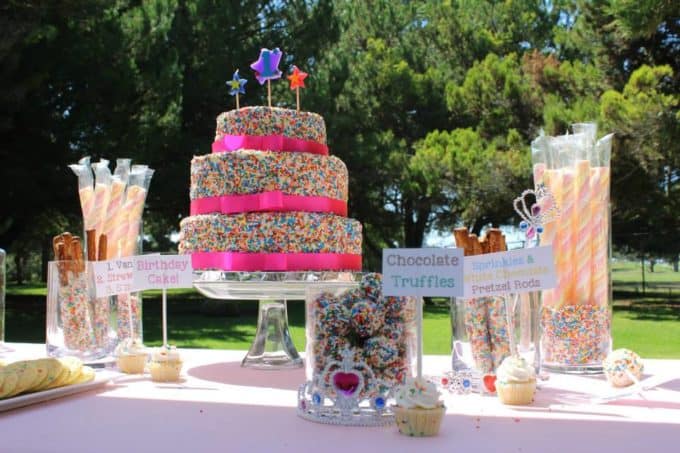 (That picture is about ¼ of the dessert table…not pictured – tons of additional first birthday crazy sweets.)
Anyway, so back to these Cake Batter Blondies, they were the first recipe I saw after that birthday cake and I knew I had a theme. They're moist and chewy, almost like a just freshly baked cookie before it has that time to cool and harden too much.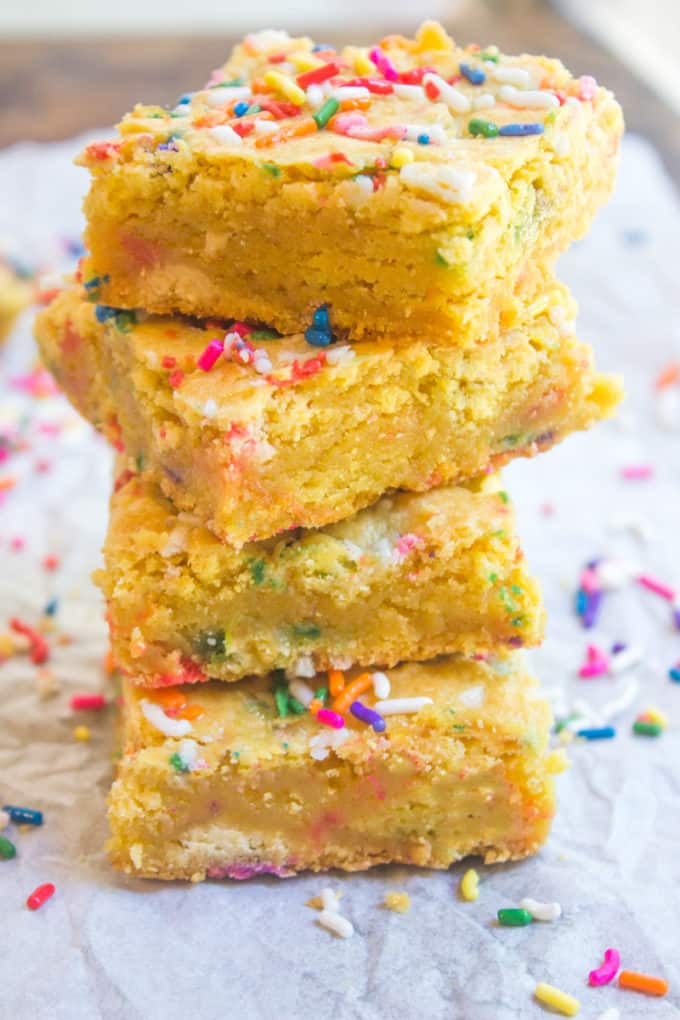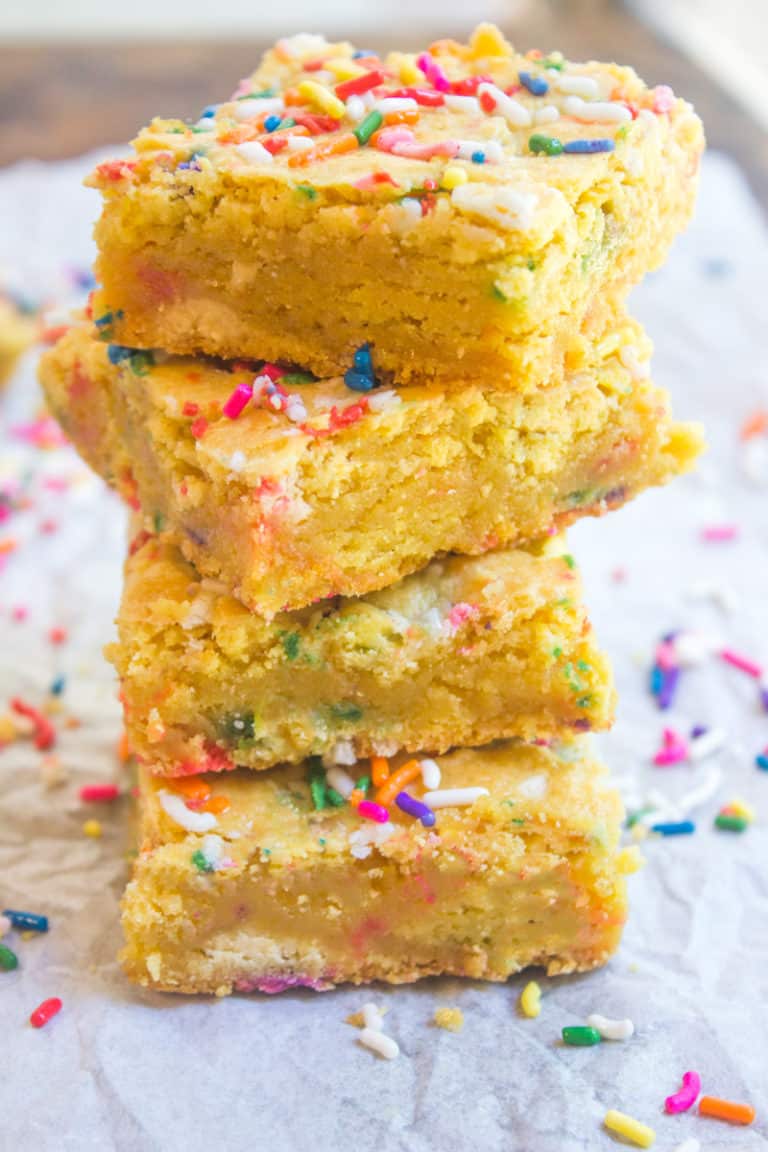 Cake Batter Blondies have been pretty popular on Pinterest for a long time because there are easy hacks that use cake mixes. I normally reserve cake mixes for when I make cake batter ice cream or my cake mix bakery style hack.
You can absolutely make these Cake Batter Blondies with cake mix, in fact Sally from Sally's Baking has a great version, but it is really pretty easy to ditch the cake mix here. It's really just a few extra ingredients and you get to skip out on all the stuff they add in to cake mix.
These Cake Batter Blondies just have your regular sprinkle jimmies in them, but you can add in a bunch of different mix-ins that you love and make them even better:
white chocolate chips (these even make it taste a bit like frosting) I did this in my Sprinkles Birthday Cake Cookies.
Toffee chips! Then you'll have a caramel like flavor to the blondies.
Any other flavor chips you like, milk chocolate may be best to not overpower the flavor of the cake batter.
Marshmallows! They baked into these delicious molten little pockets.
Top with your favorite cake frosting.
Wanted to mention something about chocolate chips (totally not sponsored by anyone, but I keep meaning to discuss it with you guys). I almost always link you guys to Guittard chocolate chips on Amazon. I link you to them to show you information about the kind of chocolate chips that I use. In reality, I don't buy them on Amazon.
Guittard is an amazing chocolate company, their products are amazing but in addition to that you can routinely find AMAZING pricing on them. I have a local store here called Winco. I don't use it a lot but there are a handful of things I only buy there, including chocolate. They have bulk Guittard dark chocolate discs for 2.60 a pound (at Sur La Table these would be probably $12 a pound) and they carry the whole line of bagged chocolate chips.
I would say probably 1 time a month they go on sale, usually for $2.00-$2.15 a bag, much less expensive than generic or even Nestle brand. When I see this sale, I buy in bulk (I buy for high volume baking too, so I usually get at least 6 of each if not 10),  and store in a cool spot. Because of this I always have high quality chips on hand. I think of it as my favorite baking hack, so moral of this long drawn out story is, check your local stores. Watch for pricing on these chips and when you see a good sale, stock up!
If I were to go to Whole Foods or even Safeway for these chips they would easily cost twice as much. So if you love baking, I recommend this brand, Guittard, and I recommend spending a bit of time locally sourcing it inexpensively. You'll find your recipes taste so different with this brand of chocolate.
Okay, sorry I know that as a long winded tangent from these awesome Cake Batter Blondies but I just wanted to put it out there. Sometimes I know recipes can get expensive and it doesn't hurt to source the best pricing when you can.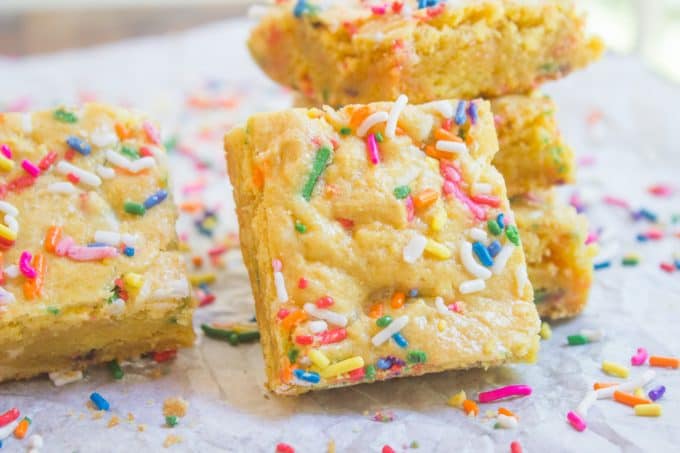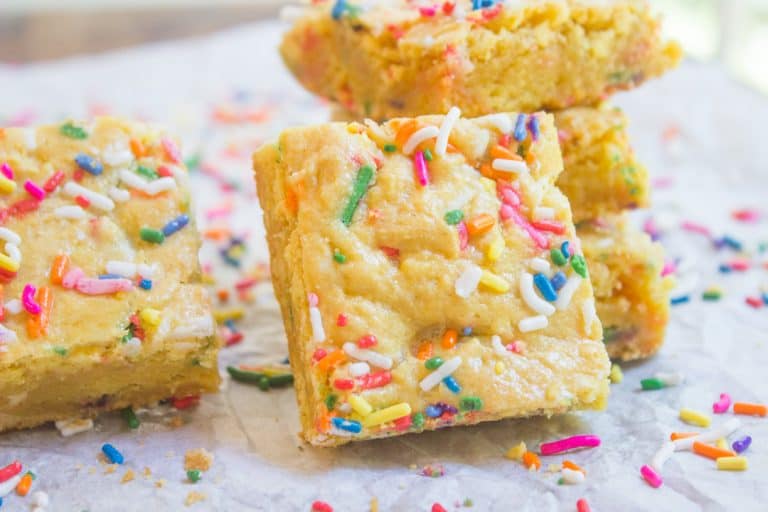 Ingredients
3/4

cup

granulated sugar

1 1/2

cups

packed brown sugar

3/4

cup (12 tablespoons)

unsalted butter

, softened

3

large eggs

2

teaspoon

vanilla extract

3

cups

all-purpose flour

1 1/2

teaspoons

baking powder

½

teaspoon

salt

3/4

cup

sprinkles
Instructions
Preheat the oven to 350 degrees.

Spray a 9x13 pan with baking spray or use the leftover butter wrappers and wipe all over baking pan then dust with flour and tap out the excess flour.

Using an stand mixer, cream the granulated sugar, brown sugar and butter until the color lightens,

2-3 minutes

.

Add the eggs and vanilla and mix until fully combined.

Add the flour, baking powder and salt and mix until just combined (basically stop as soon as you don't see raw flour anymore).

Fold in the sprinkles with a spatula or just let the mixer go for another 2-3 seconds.

Add the dough into the pan and spread with your spatula.

Bake the blondies for

23-25 minutes

, they may be slightly jiggly in the middle but you don't want to over bake them and brown them.

They need to be nice and chewy and if you bake until they brown they will be more on the crispy side.
Nutrition
Calories:
285
kcal
|
Carbohydrates:
48
g
|
Protein:
3
g
|
Fat:
8
g
|
Saturated Fat:
5
g
|
Cholesterol:
47
mg
|
Sodium:
82
mg
|
Potassium:
92
mg
|
Sugar:
32
g
|
Vitamin A:
275
IU
|
Calcium:
39
mg
|
Iron:
1.3
mg