Easy Chicken Kiev is a classic European dinner recipe of crispy pan-fried breaded chicken breast stuffed with herb and garlic compound butter.
Classic Chicken Kiev is a traditional Chicken Dish in Eastern European cuisine made by stuffing chicken breast with a garlic butter mixture. Try our Stuffed Chicken Breast recipe for another amazing dish of chicken with a creamy filling.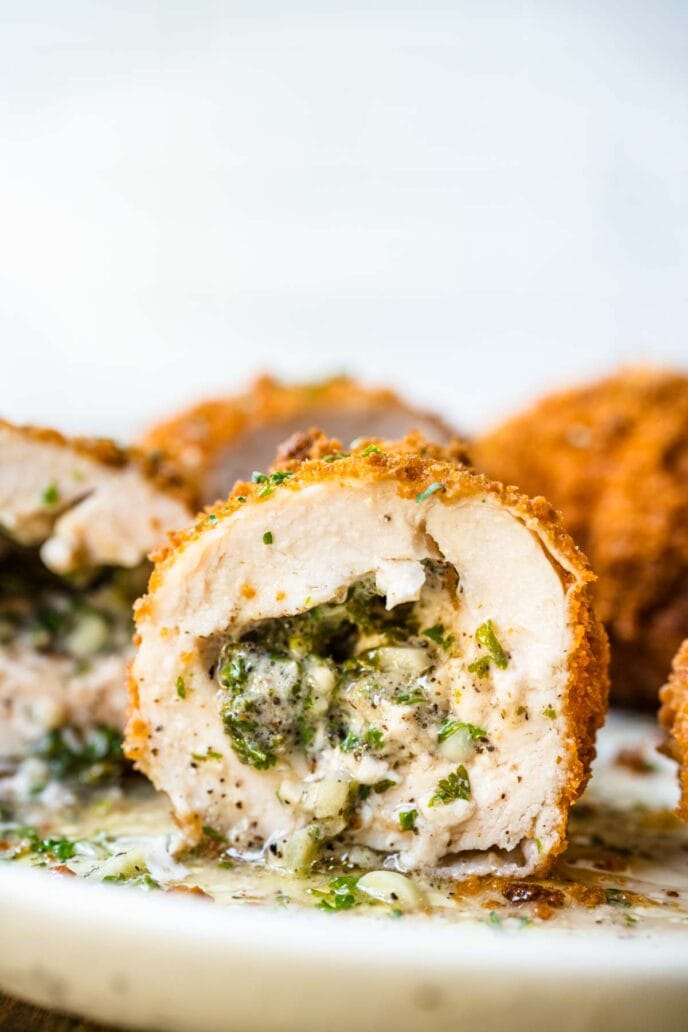 Sometimes spelled as Chicken Kyiv, Chicken Kiev gets its memorable flavor and texture from the garlic herb compound butter filling and crispy breading. The tender chicken breast is kept moist with the buttery filling and infused with flavor. This is a chicken dinner that is impressive and a lot easier than you think to make!
Flattened chicken pieces, or chicken cutlets, are wrapped around a premade butter mixture and then dipped in panko breadcrumbs. A few minutes of frying crisps up the outer layer without completely melting the butter, then it's all baked to finish the recipe. Each bite is an amazing combination of tender, juicy, buttery chicken, fresh herb flavor, and crunchy crust.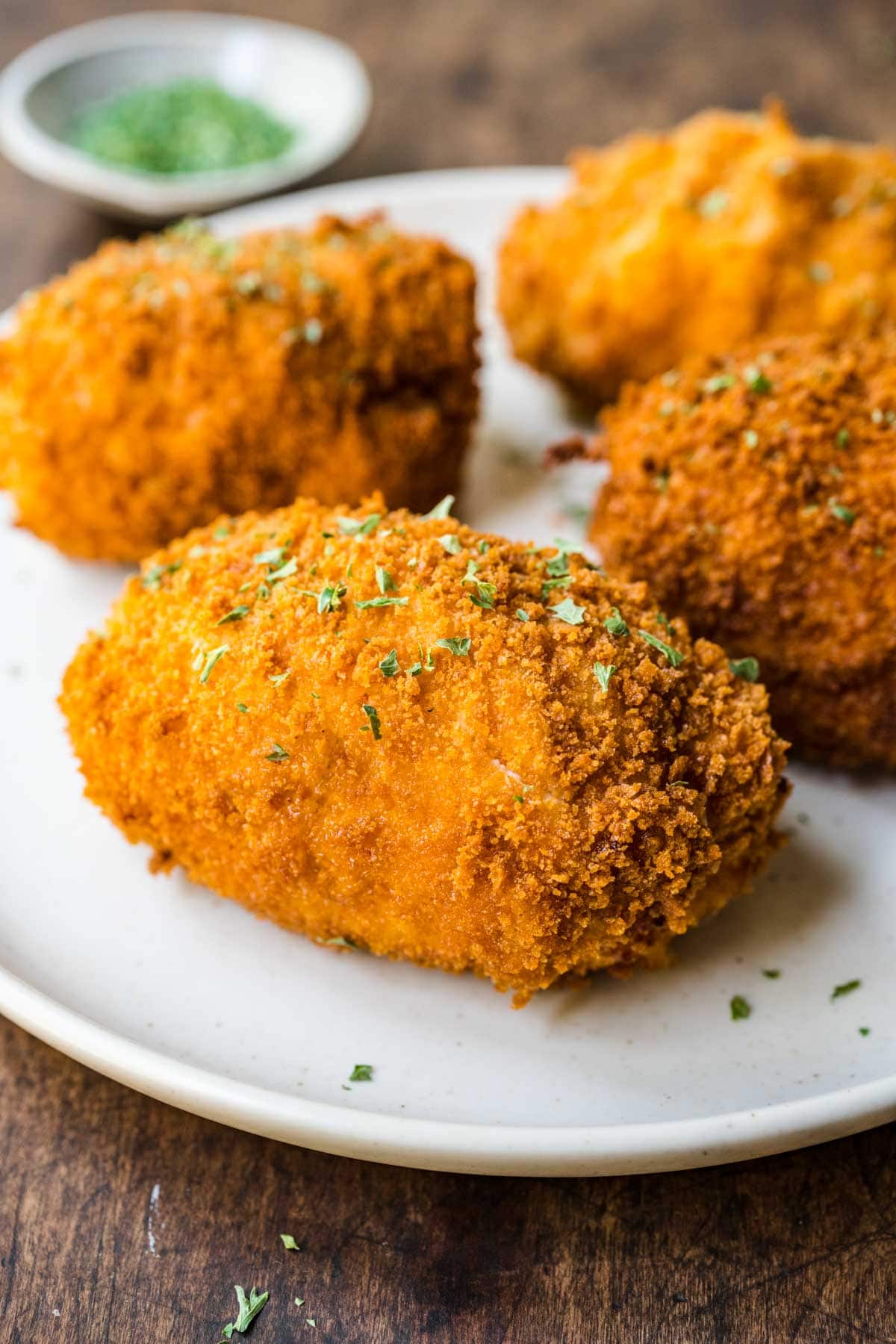 This is sure to be favorite dinner to make for guests because it never fails to impress without being too hard to make. There are a few steps to prepping the dinner between making the butter, rolling the chicken around it, frying, and then baking. Give yourself enough time to freeze the chicken and butter and you won't have any trouble making the perfect Chicken Kiev.
To finish this show-stopping dinner, serve it with a few classic side dishes. The crispy chicken would taste amazing with a comforting potato dish like Creamy Mashed Potatoes or flavorful Garlic Roasted Potatoes.
How to Make Chicken Kiev
This recipe is really easy to make, has simple ingredients, and will really impress your friends and family. Check it out!
Butter mixture: Mash together the butter, parsley, garlic, ½ teaspoon salt, and ¼ teaspoon black pepper. Then transfer the delicious compound butter to a large piece of plastic wrap. Roll the butter into the plastic wrap so, it's in a log shape. Place it in the freezer for 1 hour. Freezing the butter will ensure it doesn't just melt when you cook the chicken.
Prep chicken: Use a meat mallet to pound chicken breasts to ¼ inch thickness. Season chicken breasts with salt and pepper. Layout a piece of plastic wrap for each of the chicken fillets. Divide the cold butter and add it to the center of each breast. Fold up the ends of the chicken and roll it into a log. Wrap it tightly in plastic wrap to keep its shape. Place the chicken in the freezer for 30 minutes.
Coating: Add the eggs to a bowl and beat them well. Then add flour to a second bowl and panko breadcrumbs to a third shallow bowl. Dip the chicken in the flour, and tap off any excess before dipping them in eggs. Then dredge them in the panko mixture until coated.
Frying: Heat about 3″ of oil in a large skillet until it reaches 350 degrees. Fry the chicken for 3-4 minutes until golden brown.
Baking: place a metal rack on your baking sheet. Then place the fried chicken on top. Put the baking dish in the preheated oven and bake for 15 minutes until the chicken is cooked through to 165 degrees. Serve the warm Chicken Kiev.
More Chicken Dishes
Frequently Asked Questions
What is Compound Butter?
The butter used in this recipe is called compound butter. It is so named due to the various ingredients added and mixed into the softened butter creating a new flavored butter customized in your kitchen. The beautiful thing about compound butter is its ability to add quick and authentic flavors to just about any meal calling for the herbs in the butter.
How do you make your own bread crumbs?
While this recipe uses a premade Japanese style breadcrumb, you can make your own at home too! Simply dry out a couple pieces of bread in your toaster oven on low for about 10 minutes. Then once they've dried out and cooled down, blend them in a food processor or blender until pulverized. Voilá! You have your own breadcrumbs!
What's the difference between Chicken Kiev and Chicken Cordon Bleu?
While both are a chicken dish with stuffing, the Kiev version is made with the compound butter while Cordon Bleu is purely French and made with ham and cheese. We also have an excellent Chicken Cordon Bleu that you simply must try next!
Why is it called Chicken Kiev?
While its actual origins are a bit murky, Chicken Kiev is ultimately a fusion of both French and Slavic cuisines and styles. The dish has been around for about 200 years and was introduced in the USA the 1930's in Chicago.
How can I make the chicken wrap nicely?
By placing the prepped chicken into your freezer helps it keep its shape when being breaded and cooked. If you're worried about it unfolding, you can keep it for an extra 15 minutes in the freezer for a total of 45 minutes. But don't keep it in the freezer for more than 60 minutes or it will be too frozen to cook evenly.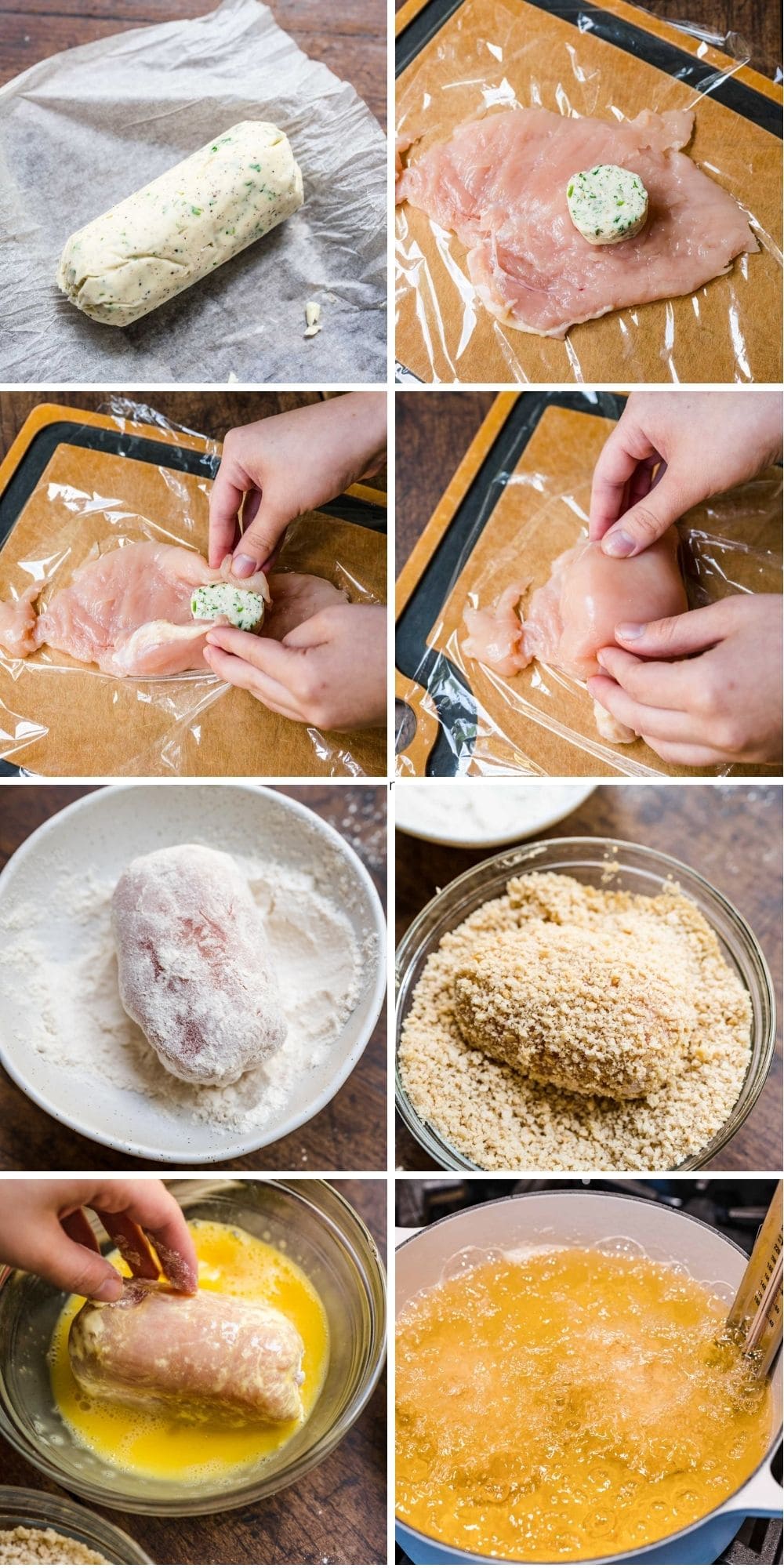 Create a free account to

Save Recipes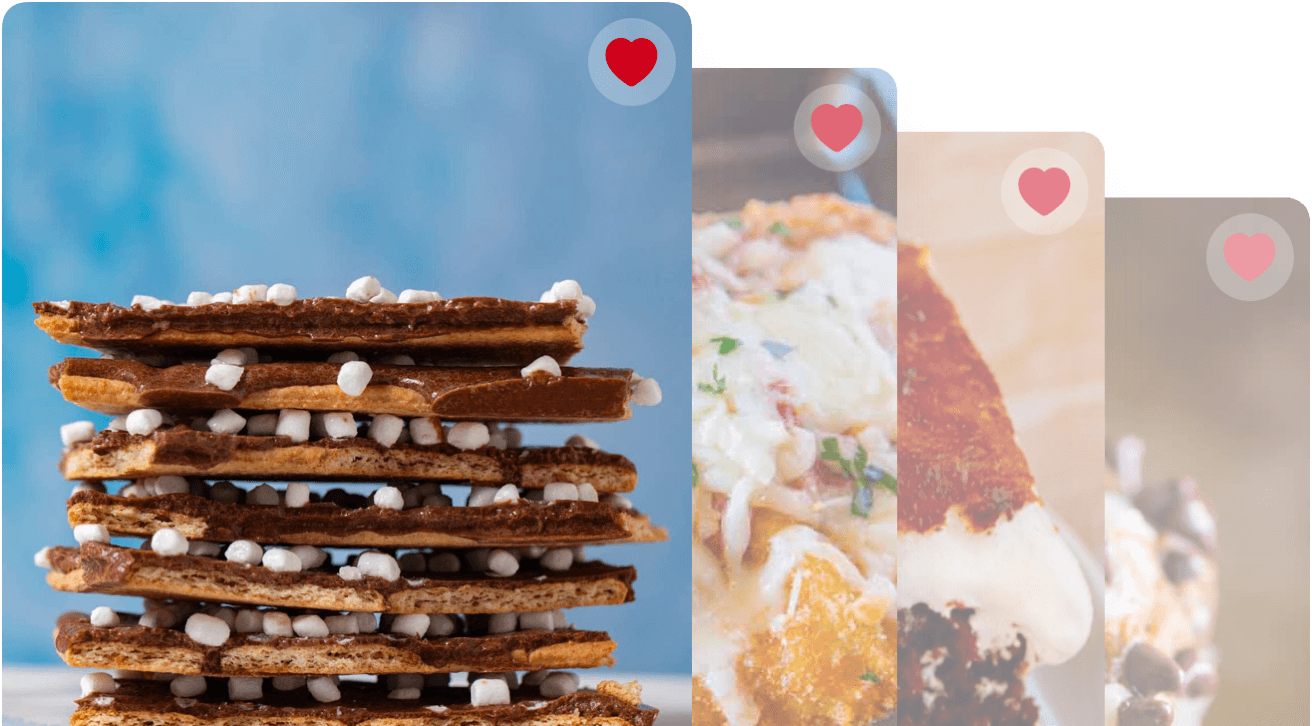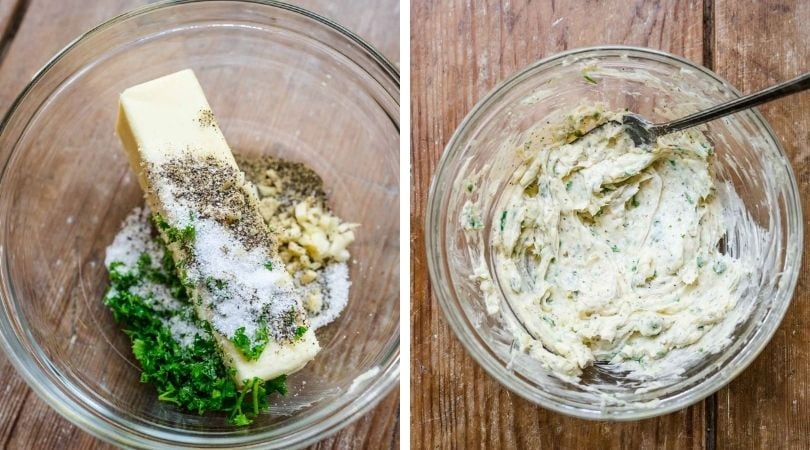 Key Ingredients for Chicken Kiev
We love this recipe because all of the ingredients are easily accessible from the local grocery store if you don't already have them in your pantry.
Butter mixture: To make the compound butter, all you need is regular butter, fresh parsley, minced garlic cloves, and some salt and pepper. After mixing the softened butter with the fresh herbs, you get wonderfully flavored butter that tastes amazing at the center of the chicken pieces.
Chicken: Boneless chicken breasts are perfect for this Classic Kiev Chicken recipe because you can easily pound them into the right shape and wrap them around the delicious compound butter.
Coating: The chicken gets an amazing crispy outer layer from a coating of flour, beaten eggs, and panko breadcrumbs. By frying for a few minutes the outside bakes to crunchy, golden brown perfection.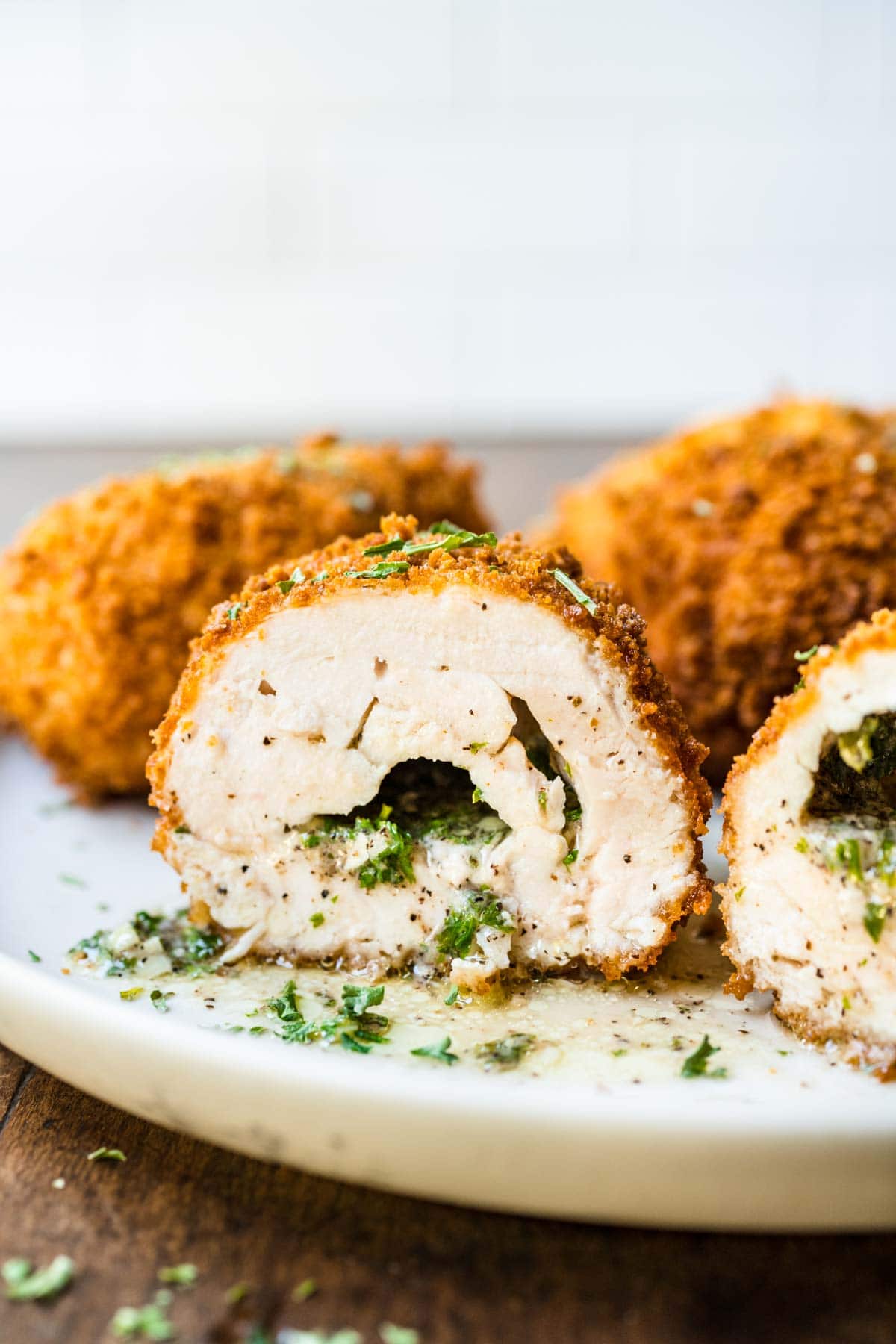 Variations and Substitutions on Chicken Kiev
There are several basic things to do to adapt this recipe and really make it your own.
Herb butter: There are plenty of different herbs you could try adding to the butter mixture like fresh thyme, rosemary, mint, oregano, or Italian parsley. You can use dried herbs or a seasoning mix too.
Lemon garlic butter: Add a bit of lemon juice to the compound butter filling for a refreshing citrus flavor. 3 teaspoons of fresh lemon juice should be plenty to flavor the butter.
Crumb coating: If you don't have panko breadcrumbs, you can also use cracker crumbs, cornflake pieces, or crushed pretzels to coat the Chicken Kiev.
Butter Substitution: If dairy-based butter doesn't work for you, feel free to try a butter substitute of your choice. Simply mix the ingredients as you would, just with the substitution.
Ground Chicken: There is a version of this recipe where ground chicken is seasoned with salt and pepper and shaped into two patties. The butter is wedged in between the patties and served.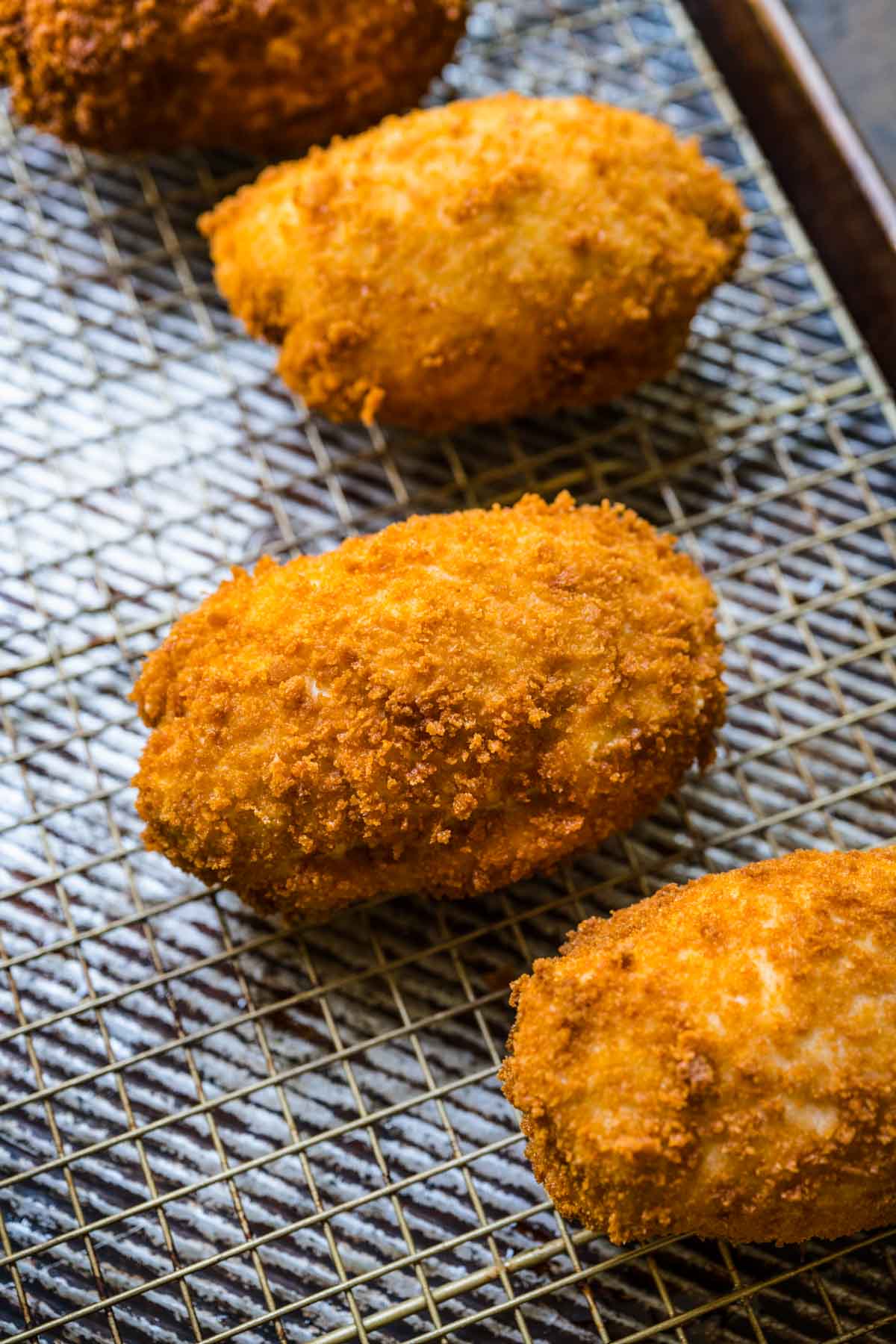 More Amazing Side Dishes
How to Serve Chicken Kiev
This dish is best served hot, as soon as you pull it out of the oven. Serve it on a strong plate with Creamy Garlic Mashed Potatoes and homemade Crusty French Bread Rolls for an unbelievably yummy dinner! Everyone should have a butter knife and fork to cut into and enjoy the Chicken Kiev.
For a super fancy dinner you can pair it with a rich white wine, like Chardonnay, or pair it with a light to medium red wine, like Merlot or Pinot Noir. Serve with a side of Sautéed Green Beans and a Winter Pear Salad to make it an unforgettable meal!
How to Store Chicken Kiev
Serve: Don't leave Classic Chicken Kiev at room temperature for more than 2 hours. Cool completely before storing or freezing.
Store: If you have any leftover chicken, you can store it in an airtight container in the fridge for 3-4 days. Reheat in oven to keep breading crispy.
Freeze: Freeze leftover Chicken Kiev for up to 3 months. Wrap chicken in parchment paper or foil so that they don't stick together and place in a freezer safe bag. Thaw overnight or reheat from frozen in the oven.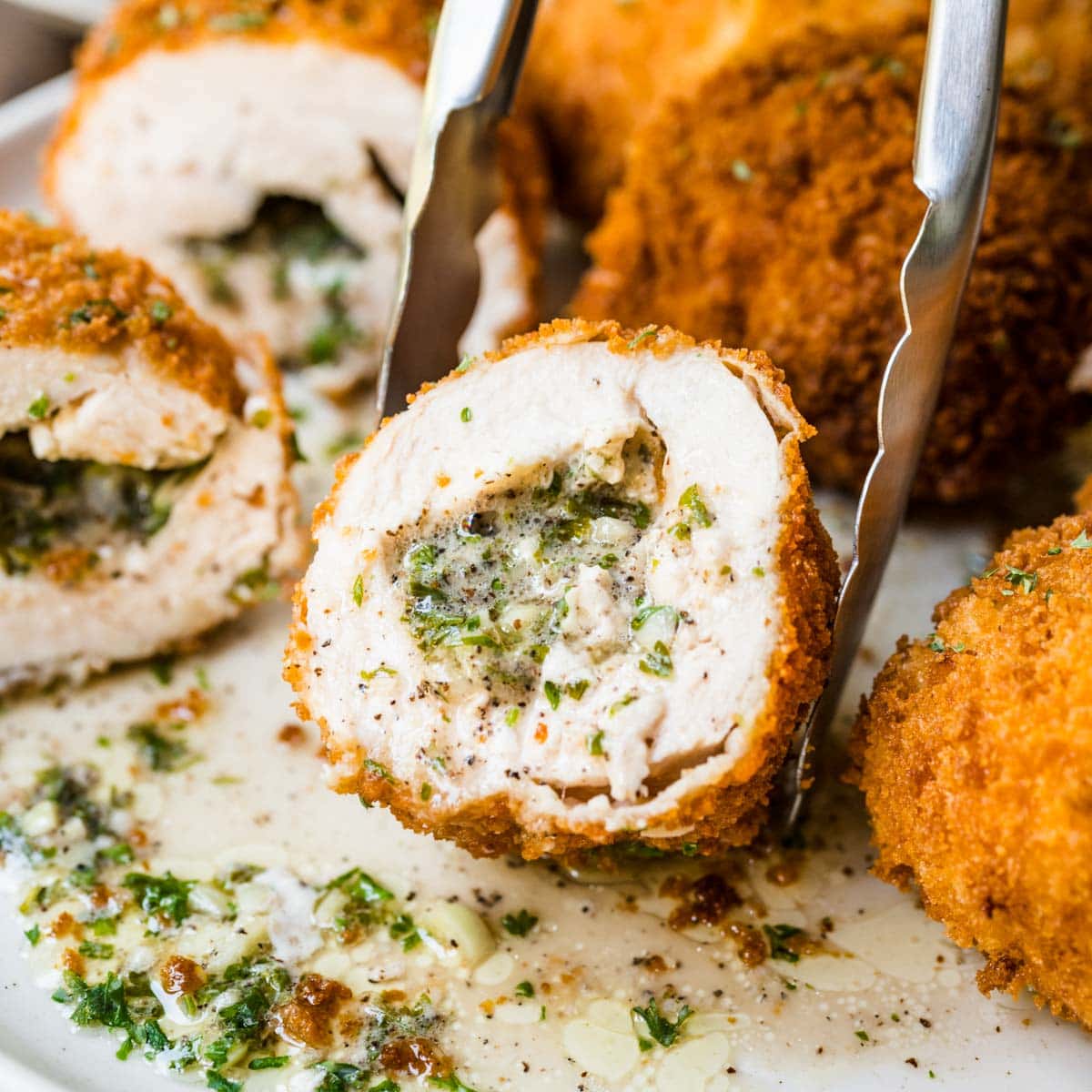 Ingredients
1/2

cup

unsalted butter

, softened

1

tablespoon

parsley

, finely minced

2

cloves

garlic

, finely minced

1

teaspoon

kosher salt

, divided

1/2

teaspoon

course ground black pepper

, divided

4

chicken breast halves

, boneless, skinless

2

large

eggs

1/4

cup

flour

2

cups

panko breadcrumbs

vegetable oil

, for frying
Instructions
Mash together butter, parsley, garlic, ½ teaspoon salt and ¼ teaspoon black pepper in a small bowl.

Add the mixture to a large rectangle of plastic wrap roll into small log, freezing for 1 hour.

Using a kitchen mallet, pound the chicken breasts to ¼ inch thickness.

Season each piece of chicken with remaining salt and pepper.

Lay 1 chicken breast on a new piece of plastic wrap and place ¼ of the compound butter in the center of each breast.

Fold in ends of breast and roll breast into a log (think of it like tightly rolling a burrito), very tightly.

Repeat with each breast. Place chicken in freezer for

30 minutes

.

Preheat oven to 400 degrees.

Add the eggs to a bowl and beat well.

Add flour to a second bowl and the panko to a third one.

Dip the partially frozen chicken into the flour, tapping off the excess.

Dip into the eggs, then into the panko breadcrumbs until well coated.

Repeat with all the chicken breasts.

Heat 3″ of oil in a large heavy skillet or pot to 350 degrees.

Fry the chicken for

3-4 minutes

until the chicken is golden brown on all sides.

Remove from frying pan, place on metal rack on a baking sheet.

Bake in the oven for

15 minutes

until chicken is cooked through to 165 degrees.
Nutrition
Calories:
518
kcal
|
Carbohydrates:
28
g
|
Protein:
32
g
|
Fat:
30
g
|
Saturated Fat:
16
g
|
Polyunsaturated Fat:
2
g
|
Monounsaturated Fat:
8
g
|
Trans Fat:
1
g
|
Cholesterol:
226
mg
|
Sodium:
972
mg
|
Potassium:
542
mg
|
Fiber:
2
g
|
Sugar:
2
g
|
Vitamin A:
964
IU
|
Vitamin C:
3
mg
|
Calcium:
88
mg
|
Iron:
3
mg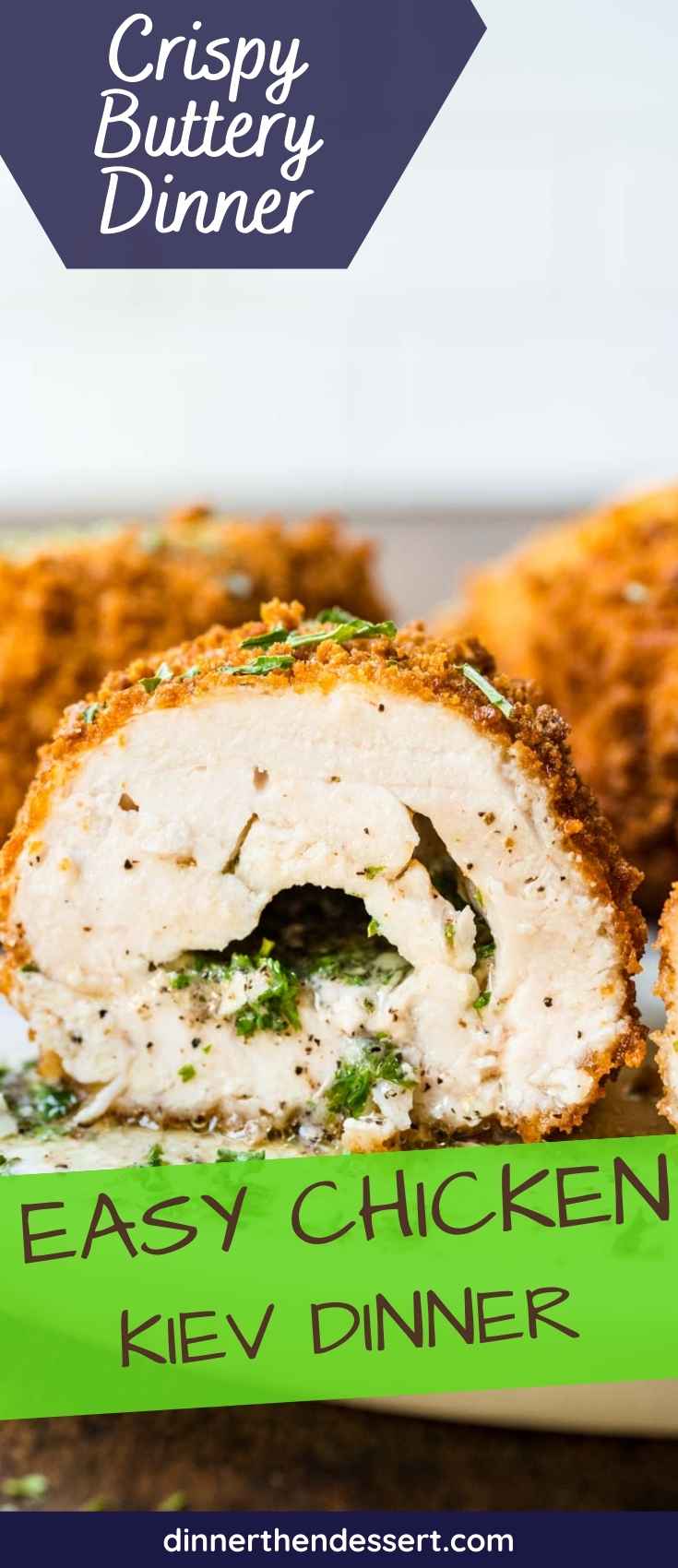 Photos used in a previous version of this post: