Disney Chocolate Covered Frozen Bananas dipped in melted homemade chocolate magic shell and covered in peanuts. The perfect slightly healthy treat!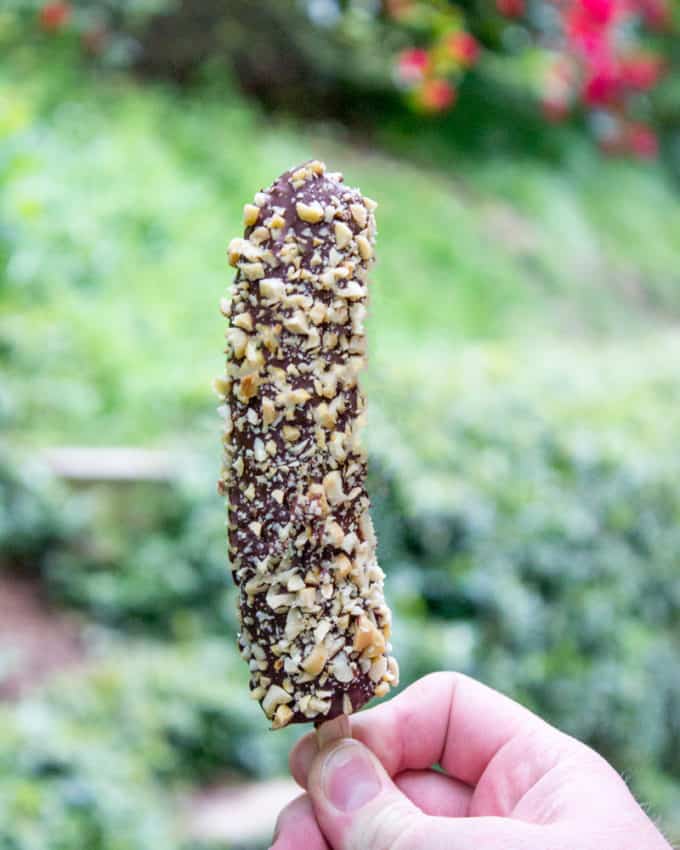 Disney Chocolate Covered Frozen Bananas have been a favorite of ours every time we would go to Disneyland. Rationally speaking they're actually a pretty healthy treat, with just a thin coat of chocolate, the frozen banana has a creamy ice cream texture and the nuts are a healthy snack that will keep you fuller longer.
Like my Klondike Bar copycat, these Disney Chocolate Covered Frozen Bananas benefit from my homemade magic chocolate shell that I make with bittersweet chocolate disks and coconut oil. The coconut oil helps the chocolate harden to a shatteringly thin and crisp texture. If you don't want the hint of coconut flavor (its not very pronounced, I promise) you can also substitute vegetable shortening.
So I thought I would be fancy and do half covered in peanuts so it wasn't just all one look….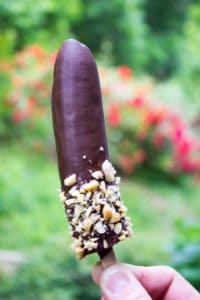 Oh My! These turned out a *bit* inappropriate, so back to the kitchen for more chopped peanuts!
I thought it could be just me seeing something nefarious, but no, every friend I asked confirmed it was not safe for work. In fact it was better suited to a bachelorette party which is why it was featured in this Buzzfeed Roundup today! So nevermind all the photos I took of half dipped Disney Chocolate Covered Frozen Bananas.
Want to use other toppings for the bananas? Here are some alternate options:
Chopped M&Ms or Mini M&Ms.
Sprinkles….so many kinds of sprinkles (I have over 60 types in my baking kit).
Chocolate Chips.
Alternate nuts like chopped almonds, cashews or pecans.
Graham cracker crumbs and cereal marshmallows for a frozen banana s'mores pop.
Drizzled chocolate of different varieties like white, milk or dark chocolate.
Dip the banana in caramel sauce first, freeze again, then dip in chocolate (THIS IS AMAZING!).
Freeze dried fruits like strawberries, raspberries, pineapple or mango.
Crushed Potato Chips (it works, I promise).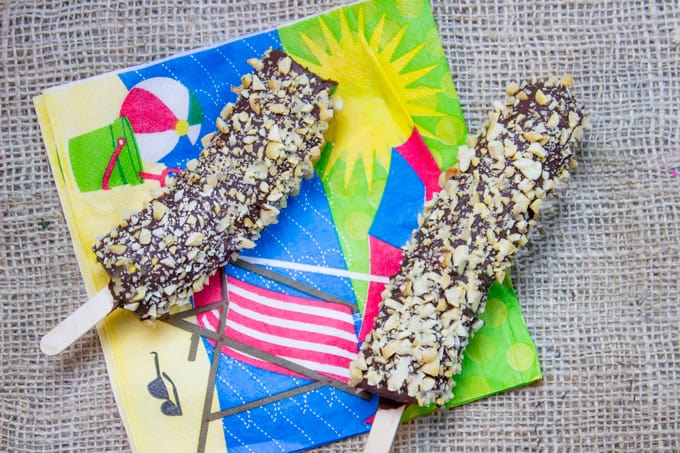 Ingredients
6

bananas

1 1/2

cups

chocolate disks or chips

(I use bittersweet, Disney uses semisweet)

1

tablespoon

coconut oil

1 1/2

cup

chopped peanuts
Instructions
Leaving bananas unpeeled, cut off the bottom inch or so, just enough to have the banana be mostly straight for easy dipping.

Into the cut side of the banana insert the popsicle stick leaving enough to comfortably hold (about 2 inches).

peel off the banana skin.

Add the chocolate disks and coconut oil to a cup.

Microwave in

30 second

increments until completely melted.

Dip the frozen, peeled, banana into the melted chocolate and remove, letting all the excess chocolate drip back into the cup, holding it at an upright angle.

If you let it drip upside down you are fighting gravity, the banana may slip off the popsicle stick and fall into the cup.

Either roll in the chopped peanuts or sprinkle the peanuts over the banana.

Put back onto the wax paper and repeat with the remaining bananas.

But back in the freezer until ready to serve.
Nutrition
Calories:
559
kcal
|
Carbohydrates:
63
g
|
Protein:
12
g
|
Fat:
31
g
|
Saturated Fat:
11
g
|
Cholesterol:
6
mg
|
Sodium:
39
mg
|
Potassium:
694
mg
|
Fiber:
7
g
|
Sugar:
42
g
|
Vitamin A:
175
IU
|
Vitamin C:
10.6
mg
|
Calcium:
97
mg
|
Iron:
2.3
mg