Easy Homemade Pastrami that tastes like your favorite deli sandwich without the high price tag using corned beef to skip the curing!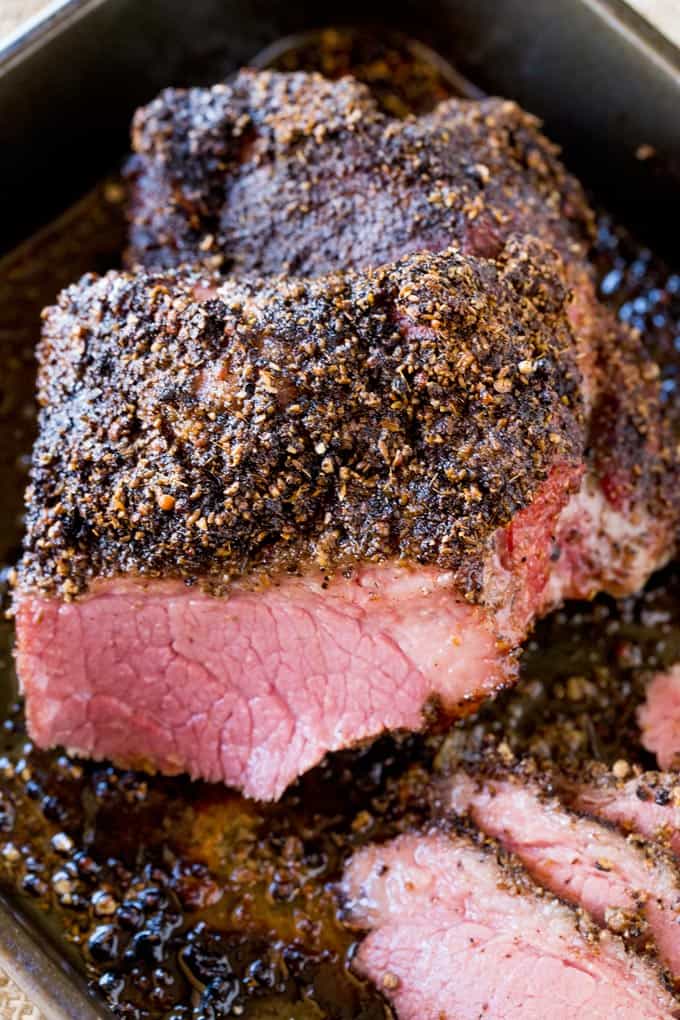 Easy Homemade Pastrami has been on my to-do list for quite a while. A few months ago I got the idea that I wanted to make slow cooker versions of all my favorite sandwiches. I am currently working on this but have Slow Cooker McRib Sandwiches, Slow Cooker Philly Cheese Steak Sandwiches and many more on the way.
The idea behind using corned beef for this pastrami is that corned beef and pastrami are like first cousins, they're both cured cuts of beef and have that signature pink coloring from the curing salt. There are just a few differences but with just a few ingredients you'll be on your way to some delicious, inexpensive Easy Homemade Pastrami.
Stock up on those cuts of corned beef while they are still on sale!
While reading through a list of the top 100 sandwiches online I came across one of my favorites, Pastrami. Coming soon are the slow cooker and sandwich version of the recipe, but for today I am sharing the original, Easy Homemade Pastrami.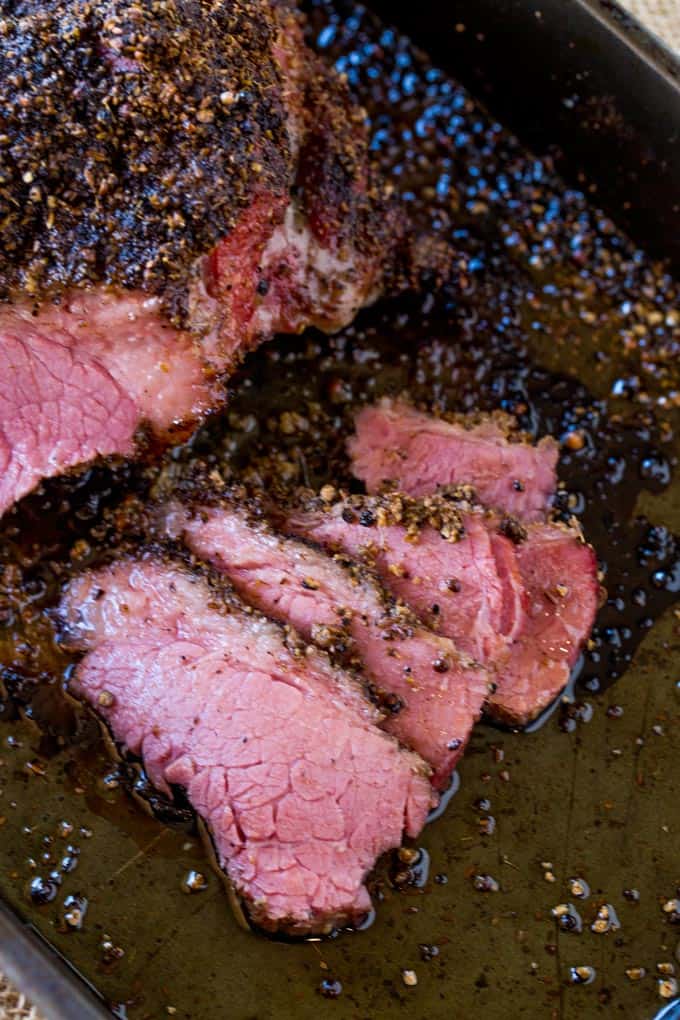 There's not a lot to the dish, it mostly comes down to the soaking in water and the topping which is just a few ingredients. I based the dish off a Food Network version online and from speaking to my butcher who told me he makes his with corned beef as I was looking for cuts of brisket.
The reason you're going to be soaking your corned beef is to get rid of some of the salt content. Corned beef is significantly saltier than Pastrami. While you're soaking you're adding in some brown sugar to cut the flavor as well as your spice packet.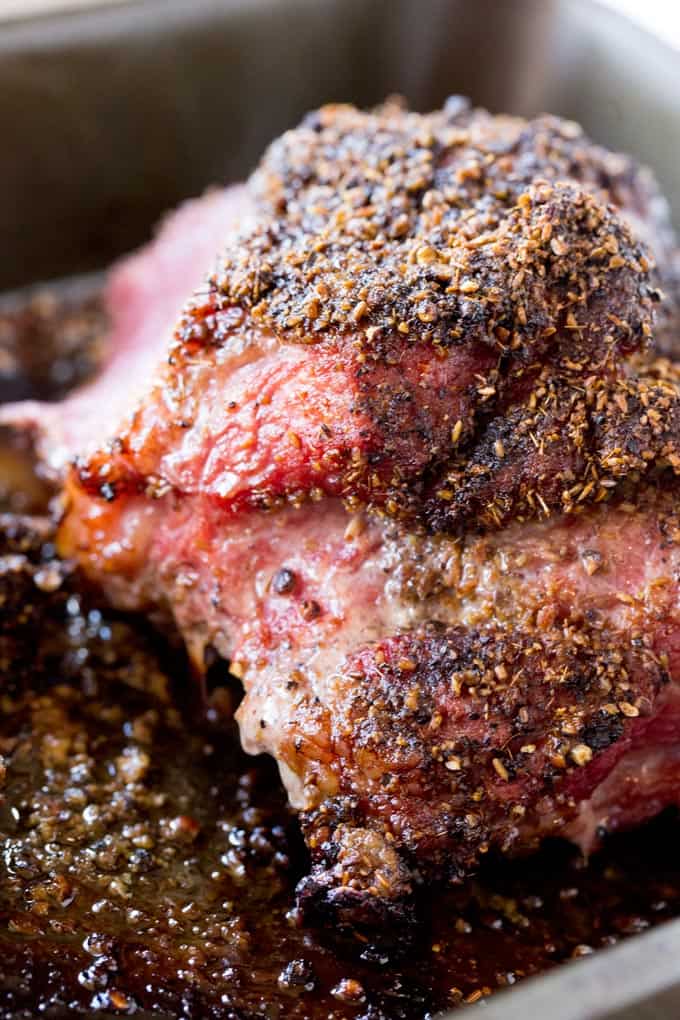 Once you've finished the soak, roll it in more black pepper and ground coriander than you could possibly think is normal. It's okay, remember when you get pastrami at the deli it has a crust all the way around the beef of a black pepper mixture. Forge ahead, don't be worried!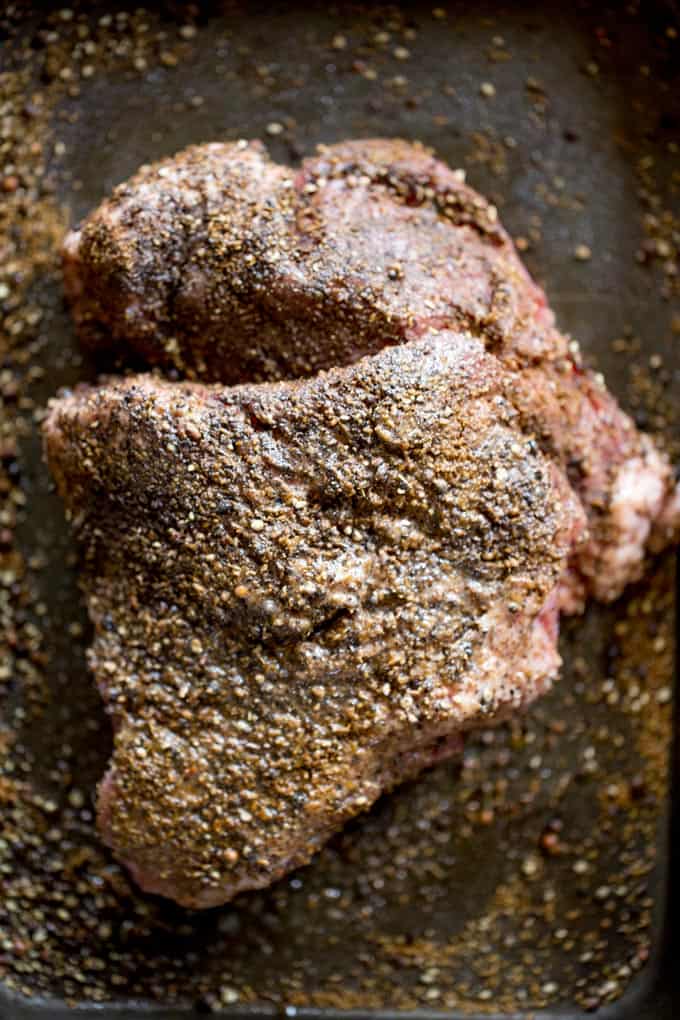 Tools used in the making of this Easy Homemade Pastrami:
Spice Grinder: Perfect for grinding spices, just don't switch back and forth between coffee and spices, your coffee will taste awful.S
Brining Container: I used this to brine meats because the size prevents having to cram larger cuts into smaller spaces and deform them. Also, the lid snaps on very tightly, I've never had a leaking issue.
Spice Rack – I buy spices in bulk from local grocers and from Penzey's. It's less expensive and significantly higher quality than buying the jars individually but I ended up being left with tons of little bags of spices. Enter the spice rack.
Baking Pan – This pan is the perfect size for the roast with high enough sides to cover it without ruining your spice topping


Ingredients
5

pounds

raw corned beef

in a package in your meat department

1/2

cup

brown sugar

1/4

cup

black peppercorns

1/4

cup

coriander seeds

1/2

cup

water
Instructions
Soak the corned beef in a bowl of water with it's spice packet and brown sugar for

24 hours.

Using a coffee grinder, add the peppercorns and coriander and grind until coarsely chopped, like a very coarse pepper mill would create. You should see the pieces of black pepper individually.

Preheat the oven to 300 degrees.

Mix the pepper and coriander seeds on a large plate

Dry off the meat once soaked and roll it in the spice mixture.

Place onto a rack if desired (I skipped this and it turned out fine).

Cook for

3 hours

, pour in a half cup of water, then cover with foil and cook and additional

half an hour

.

Wait for the meat to cool in the refrigerator, then slice thinly or use a deli slicer for even thinner cuts.

If desired you can steam before adding to your sandwich for the true deli experience.
Nutrition
Calories:
414
kcal
|
Carbohydrates:
10
g
|
Protein:
28
g
|
Fat:
28
g
|
Saturated Fat:
9
g
|
Cholesterol:
102
mg
|
Sodium:
2304
mg
|
Potassium:
595
mg
|
Fiber:
1
g
|
Sugar:
9
g
|
Vitamin C:
51.4
mg
|
Calcium:
33
mg
|
Iron:
3.5
mg